CF Alive full resources cheatsheet
In case you have the print version of the book "CF Alive: Making ColdFusion Modern, Vibrant and Secure" or just want a convenient page with all the 700+ tools and sites given in the book then here they are in one place.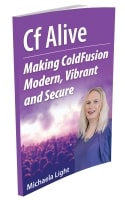 Introduction
The CF Alive Roadmap
The State of the ColdFusion Ecosystem
Chapter 1 – Legacy ColdFusion
Is ColdFusion dead? Not!
Common legacy ColdFusion project problems
The issue with legacy CF versions
The rise in popularity of Lucee CFML
How does ColdFusion stack up against its competitors?
Rapid Application Development
Third-party ColdFusion support
FusionReactor

for CF server monitoring

Foundeo

's security tools HackMyCF and FuseGuard

Ortus Solutions

suite of Box products such as the ColdBox framework, CommandBox, TestBox, MockBox and LogBox.

ColdFusion related conferences:

Excellent ROI

that CF offers
Chapter 2 – Modernization
Use Modern Technologies
Use the Current Version
Adapt and Integrate
Invest in CF
Security
Reliability
Scalability
Containerize
Docker

, runs your applications in virtual containers

CommandBox

, a standalone, native tool for Windows, Mac, and Linux that will provide you with a Command Line Interface (CLI) for developer productivity, tool interaction, package management, embedded CFML server, application scaffolding, and some sweet ASCII art.

Vagrant

, open-source software product for building and maintaining portable virtual software development environments

Cloud providers:

AWS

,

Azure

,

Google Cloud

,

Digital Ocean

Orchestration layer tools:

CF Alive podcast, "

Scaling Your ColdFusion Applications (Clusters, Containers and Load Tips) with Mike Collins

"

Results to the

2018 State of the CF Union

Continuous Integration (CI) Development Tools

TeraTech Article, "

11 Best Practices for a new Adobe ColdFusion Project

"
Improve CMFL
Mike Brunt

, Senior Server Engineer at Go2RIA

CF Alive episode, "

009 Tuning & Troubleshooting ColdFusion Using Native Tools with Mike Brunt

"

Development languages:

Ruby

, open source programming language with a focus on simplicity and productivity

Dominic Watson, Technical Director at

Pixl8 Interactive

CF Alive episode, "

007 Marketing Automation using the Preside Platform with Dominic Watson

"

Brian Klaas, Senior Technology Officer at the

Johns Hopkins Bloomberg School of Public Health's Center for Teaching and Learning

CF Alive episode, "

037 Level Up Your ColdFusion Web Apps With Amazon Web Services, with Brian Klaas

"

Adobe Dreamweaver

, a proprietary web development tool from Adobe Systems

Pete Freitag, President at

Foundeo, Inc

CF Alive episode, "

020 Secrets of High-Security ColdFusion Code, With Pete Freitag

"

Saravanamuthu J, Founder & CTO at

MitrahSoft

Node

is a JavaScript runtime built on Chrome's V8 JavaScript engine.

Brian Klaas, Senior Technology Officer at the

Johns Hopkins Bloomberg School of Public Health's Center for Teaching and Learning

CF Alive episode, "

037 Level Up Your ColdFusion Web Apps With Amazon Web Services, with Brian Klaas

"

Lucee

,

an open-source version of CFML. It is popular among the CF community due to its ease of use and it being free

Dominic Watson, Technical Director at

Pixl8 Interactive

CF Alive episode, "

007 Marketing Automation using the Preside Platform with Dominic Watson

"

Patrick Quinn, CoFounder, CEO and CTO of

Webapper

CF Alive episode, "

039 CFML Secrets with Patrick Quinn (AWS, Lucee and SeeFusion)

"

ColdFusion Enterprise edition,

currently $2499 for Standard and $9499

ForgeBox

, one of the best places to find open-source CF code
Chapter 3 – State-of-the-Art Tools
Lucee CFML

, open source software that implements a lightweight dynamically-typed scripting language for the Java virtual machine, facilitating the rapid development of web applications that compile directly to Java bytecode.

Samuel Knowlton, Founder of

inLeague
Containerization Tools
Docker

, is driving the modern container movement

Portainer.io,

an open source Docker management UI

CommandBox

, has developed Docker container images for Adobe ColdFusion or Lucee CFML from ACF 9 and up and Lucee 4 and up
Source Control Tools
Git

, best open source source control tool

Other Git tools that can be used with ColdFusion
Other Tools
CommandBox
Frameworks and Methodology
Eric Peterson, CFML and Javascript developer at

O.C. Tanner

in Salt Lake City, Utah

CF Alive episode, "

023 Modules Make Your Projects Have Superpowers, with Eric Peterson

"

Nolan Erck, Owner and Chief Consultant at

South of Shasta Consulting

CF Alive episode, "

059 Migrating legacy CFML to MVC (Model View Controller) with Nolan Erck

"

Results to

State of the ColdFusion Union 2018

Nolan Erck, Owner and Chief Consultant at

South of Shasta Consulting

CF Alive episode, "

059 Migrating legacy CFML to MVC (Model View Controller) with Nolan Erck

"

Nathaniel Francis,

 

ColdBox Alliance Partner

CF Alive episode, "

008 The Best REST You've ever Had: ColdBox REST with Nathaniel Francis

"

Coldbox

, ColdBox is a convention-based

HMVC

(Hierarchical Model View Controller) framework used specifically for CFML.

Jon Clausen, President,

Silo Web

CF Alive episode, "

011 Portable CFML with Cloud deployments, Microservices and REST with Jon Clausen

"

CMS (

Content Management System

), a software application that helps to manage your digital content.

Seth Engen, Co-owner of

Computer Know How

CF Alive episode, "

016 Adventures with ColdFusion and ContentBox in the Wild, with Seth Engen

"

ContentBox

is an open-source modular CMS engine from Ortus Solutions that allows you to create websites, blogs, wikis, web apps, and RESTful web services.

Third-party ContentBox libraries:

Mura CMS

, one of the most mature ColdFusion CMS

Preside

, an open source Enterprise class CMS application

JavaScript Libraries

, a great way to enhance your CFML experience, they provide frameworks that can be used to help develop frontend code

CSS Frameworks

, are prepared frameworks designed to allow for easier web design through the use of the CSS language

Dependency Injection

(DI) frameworks help you create your CFC instances

Dependency injection frameworks:

ORM (Object Relational Mapping)

frameworks, a programming technique for converting data between incompatible type systems using object-oriented programming languages

TestBox

, most popular testing framework

Testing and Mocking frameworks used by CFers

MockBox

is a good mocking framework with TestBox

PhoneGap

, mobile development framework

HackMyCF

scans all your CF servers regularly and emails you a report on any out of date CF or JVM versions

FuseGuard

is a ColdFusion specific Web Application Firewall (WAF) that protects against common hacker hacker exploits

LogBox

is a miscellaneous tool, part of the

Ortus Box family

, but it is a standalone program

Uma Ghotikar, Web application developer at

ICF

CF Alive episode, "

077 Fundamentals of Unit Testing, BDD and Mocking (using TestBox and MockBox) with Uma Ghotikar

"

Elishia Dvorak, Technical Marketing Manager at

Adobe

CF Alive episode, "

063 Adobe API Manager (the business case) + CF Summit sneak peak with Elishia Dvorak

"

ColdFusion 2016

Enterprise Edition

Release of

ColdFusion 2018

Taffy

, alternative to Adobe's API Manager

CF Alive podcast episode, "

What's New In CF 10, 11, And 2016 That You May Have Missed? with Charlie Arehart

"
Package Management Tools
Matthew Clemente, Founding Partner at

Season 4

CF Alive episode, "

055 send.Better() – Giving ColdFusion Email a REST with Matthew Clemente

"

ForgeBox packages:

Eric Peterson, CFML and Javascript developer at

O.C. Tanner

in Salt Lake City, Utah

CF Alive episode, "

023 Modules Make Your Projects Have Superpowers, with Eric Peterson

"

Mark Drew, Director at

Charlie Mike Delta

CF Alive episode, "

035 Getting started fast with Docker, with Mark Drew

"

CF Alive episode, "

029 Design Patterns for amazing app architecture (16 patterns), with Brad Wood

"

CF Alive episode, "

CommandBox + ForgeBox: ColdFusion Code, Package, Share, Go! with Luis Majano

"
Chapter 4 – Outreach
List of CF training resources
TeraTech article, "

Comprehensive ColdFusion training list (17 resources)

"

Gavin Pickin, Software Consultant for

Ortus Solutions, Corp

CF Alive episode, "

010 All things ContentBox (new API, ContentStore, Themes and more) with Gavin Pickin

"

CF Community:

Eric Peterson, CFML and Javascript developer at

O.C. Tanner

in Salt Lake City, Utah

CF Alive episode, "

023 Modules Make Your Projects Have Superpowers, with Eric Peterson

"

Giancarlo Gomez, Owner of

CrossTrackr

, Inc and Fuse Developments, Inc. and Senior Web Application Developer at Duty Free Americas

CF Alive episode, "

001 Amazing Adventures with CF WebSockets with Giancarlo Gomez

"

Gavin Pickin, Software Consultant for

Ortus Solutions, Corp

CF Alive episode, "

010 All things ContentBox (new API, ContentStore, Themes and more) with Gavin Pickin

"

Jon Clausen, President,

Silo Web

CF Alive episode, "

011 Portable CFML with Cloud deployments, Microservices and REST with Jon Clausen

"

Brad Wood, Software Architect and Platform Evangelist

Ortus Solutions

CF Alive episode, "

028 Design Patterns for amazing app architecture (16 patterns), with Brad Wood

"

Gert Franz, CTO Rasia Switzerland & Senior Solutions Architect at

Helsana Versicherungen AG

CF Alive episode, "

024 CFML Debugging Jedi Tricks and Templates, with Gert Franz

"

Brad Wood, Software Architect and Platform Evangelist

Ortus Solutions

CF Alive episode, "

028 Design Patterns for amazing app architecture (16 patterns), with Brad Wood

"

Uma Ghotikar, Web application developer at

ICF

CF Alive episode, "

077 Fundamentals of Unit Testing, BDD and Mocking (using TestBox and MockBox) with Uma Ghotikar

"

David Tattersall, Co-founder,

Integral

CF Alive episode, "

022 FusionReactor Application Performance Monitor – Why It's Different Than Other APM Tools and What's New in Version 7 & the CLOUD, with David Tattersall

"

TeraTech Article, "

Comprehensive ColdFusion training list (16 resources)

"

SaravanaMuthu J, Founder & CTO at

MitrahSoft

SaravanaMuthu J, Founder & CTO at

MitrahSoft

Tridib Roy Chowdhury, General Manager and Senior Director of Products at

Adobe Systems

CF Alive episode, "

065 The Future of ColdFusion (it is Bright) with Tridib Roy Chowdhury

"

Jon Clausen, President,

Silo Web

CF Alive episode, "

011 Portable CFML with Cloud deployments, Microservices and REST with Jon Clausen

"

Results to

State of CF Union Survey

Alex Skinner, Founder

Pixl8

CF Alive episode, "

019 A Whirlwind Tour of Preside Application Framework in the Wild, with Alex Skinner

"

Thomas Grobicki, CEO of

Avilar Technologies, Inc

CF Alive episode, "

The true ROI of ColdFusion (How to Sell CF to your Boss or Client) with Thomas Grobicki

"

Esmeralda Acevedo, Software Consultant for

Ortus Solutions, Corp

CF Alive episode, "

015 Better ContentBox Themes and Easily Creating an Amazing UI, with Esmeralda Acevedo

"

John Farrar, CEO,

SOSensible Group

CF Alive episode, "

018 VUE More With Less, with John Farrar

"

Luis Majano

President of

Ortus Solutions

CF Alive episode, "

012 Extreme Testing and Slaying the Dragons of ORM with Luis Majano

"

Brian Klaas, Senior Technology Officer at the

Johns Hopkins Bloomberg School of Public Health's Center for Teaching and Learning

CF Alive episode, "

037 Level Up Your ColdFusion Web Apps With Amazon Web Services, with Brian Klaas

"

Mike Collins, Senior ColdFusion Consultant at

SupportObjective

CF Alive episode, "

062 Scaling Your ColdFusion Applications (Clusters, Containers and Load Tips) with Mike Collins

"

Tridib Roy Chowdhury, General Manager and Senior Director of Products at

Adobe Systems

CF Alive episode, "

065 The Future of ColdFusion (it is Bright) with Tridib Roy Chowdhury

"
Community Engagement
Peter Ivanov, Founder of

Virtual Power Teams

CF Alive episode, "

060 Virtual Power Teams for ColdFusion Development (3 mistakes to avoid) with Peter Ivanov

"

Elishia Dvorak, Technical Marketing Manager at

Adobe

CF Alive episode, "

030 Everything CF Summit That You Need to Know, with Elishia Dvorak

"

Matt Gifford, Consultant Developer,

Monkeh Works

CF Alive episode, "

049 OAuth 2 for Me and You (Social Login Lowdown) with Matt Gifford

"

Charlie Arehart, Veteran server troubleshooter

CArehart.org

CF Alive episode, "

013 Are spiders eating your servers? The impact of their unexpected load and how to counter it with Charlie Arehart

"

Geoff Bowers, Founder of

Daemon Internet Consultants

CF Alive episode, "

045 Secrets From the Folks Who Make the Official Lucee CFML Docker Images, with Geoff Bowers

"

S

cott Coldwell, Developer and Sysadmin at

Computer Know How

CF Alive episode, "

017 Managing an international team, Git, CFML, Node, Joomla, Headaches and Heartaches, with Scott Coldwell

"

Gavin Pickin, Software Consultant for

Ortus Solutions, Corp

CF Alive episode, "

010 All things ContentBox (new API, ContentStore, Themes and more) with Gavin Pickin

"

Gavin Pickin, Software Consultant for

Ortus Solutions, Corp

CF Alive episode, "

010 All things ContentBox (new API, ContentStore, Themes and more) with Gavin Pickin

"

Mary Jo Sminkey, Senior Web Developer at

CF WebTools

CF Alive episode, "

027 Advanced Error Handling Strategies for ColdFusion, Javascript and SQL with Mary Jo Sminkey

"

Gavin Pickin, Software Consultant for

Ortus Solutions, Corp

CF Alive episode, "

010 All things ContentBox (new API, ContentStore, Themes and more) with Gavin Pickin

"

Brad Wood, Software Architect and Platform Evangelist

Ortus Solutions

CF Alive episode, "

028 Design Patterns for amazing app architecture (16 patterns), with Brad Wood

"

Matt Gifford, Consultant Developer,

Monkeh Works

CF Alive episode, "

049 OAuth 2 for Me and You (Social Login Lowdown) with Matt Gifford

"

Charlie Arehart, Veteran server troubleshooter

CArehart.org

CF Alive episode, "

013 Are spiders eating your servers? The impact of their unexpected load and how to counter it with Charlie Arehart

"

Elishia Dvorak, Technical Marketing Manager at

Adobe

CF Alive episode, "

030 Everything CF Summit That You Need to Know, with Elishia Dvorak

"

Matt Gifford, Consultant Developer,

Monkeh Works

CF Alive episode, "

049 OAuth 2 for Me and You (Social Login Lowdown) with Matt Gifford

"

Brad Wood, Software Architect and Platform Evangelist

Ortus Solutions

CF Alive episode, "

028 Design Patterns for amazing app architecture (16 patterns), with Brad Wood

"

Elishia Dvorak, Technical Marketing Manager at

Adobe

CF Alive episode, "

030 Everything CF Summit That You Need to Know, with Elishia Dvorak

"

ColdFusion-related conferences that you should know about
Chapter 5 – Marketing
Improve PR
Evangelize CF
#coldfusion
Talk with CFers
Rebrand
Promoting new versions of CF
Chapter 6 – CF Alive Podcast Behind the Scenes
Background
How the CF Alice Podcast started
The CF Alive Revolution
Chapter 7 – CF Alive Reward
Language shame
Appendix A – The Interviewees
Alex Skinner

April Graves

Bouton Jones

Brad Wood

Bret Fisher

Brian Klaas

Brian Sappey

Carol Hamilton

Charlie Arehart
Christine Ballisty

David Tattersall
Dominic Watson

Ed Bartram

Elishia Dvorak

Elliotte Bowerman

Eric Peterson

Esmeralda Acevedo

Gavin Pickin

Geoff Bowers

George Murphy

Gert Franz

Giancarlo Gomez

Grant Shepert

Guust Nieuwenhuis

Igor Ilyinsky

Jeffrey Kunkel

John Farrar

Jon Clausen

Jorge Reyes

Kai Koenig

Kevin Jones

Kirk Deis

Kishore Balakrishnan

Logan Mayville

Luis Majano

Mark Drew

Mary Jo Sminkey

Matt Gifford

Matthew Clemente

Mike Brunt

Mike Collins

Miles Rausch

Nathaniel Francis

Neil Cresswell

Nolan Erck

Patrick Quinn

Pete Freitag

Peter Ivanov

Rakshith Naresh

Sami Gardner

Samuel Knowlton

Saravanamuthu J

Scott Coldwell

Seth Engen

Sophia Eng

Steven Hauer

Steven Neiland

Sumit Verma

Thomas Grobicki

Tridib Roy Chowdhury

Uma Ghotikar