Below are the results for the 2017 State of the CF Union survey. See how you compare with other CFML developers. Discover what most developers use for tools, languages, databases, and development methods.
Can you help? If you have a blog, are on a ColdFusion list, LinkedIn, Facebook, Google group please share the survey so that we can get a more complete picture of the current State of the CF Union. Thanks!
Scroll down to see all results and comments.
1. What version of CFML Engine do you use? (Check all that apply)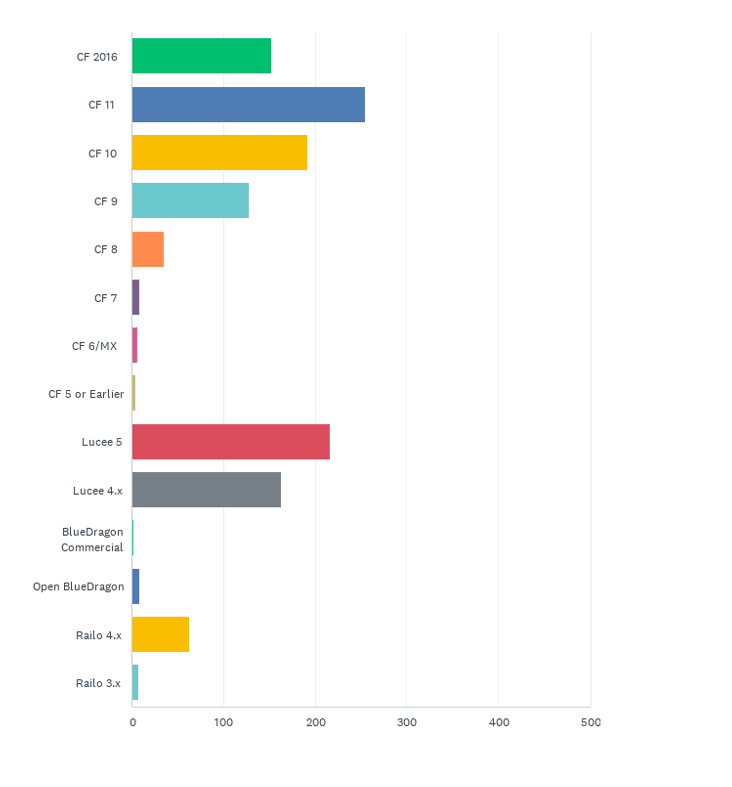 Other
No CF – Groovy and Grails
Using cf 10, moving to cf 11 (testing now)
API Manager
None any more
Migrated away, no longer using CF
Django
No longer use CF
2. What type of CFML Engine are you running? (Check all that apply)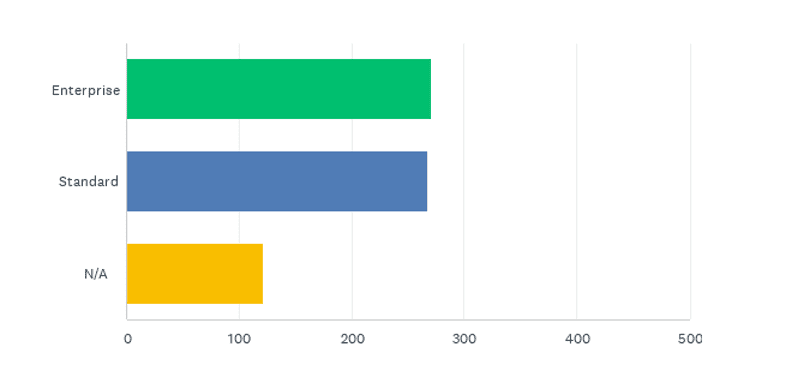 3. What CF Server OS are you using? (Check all that apply)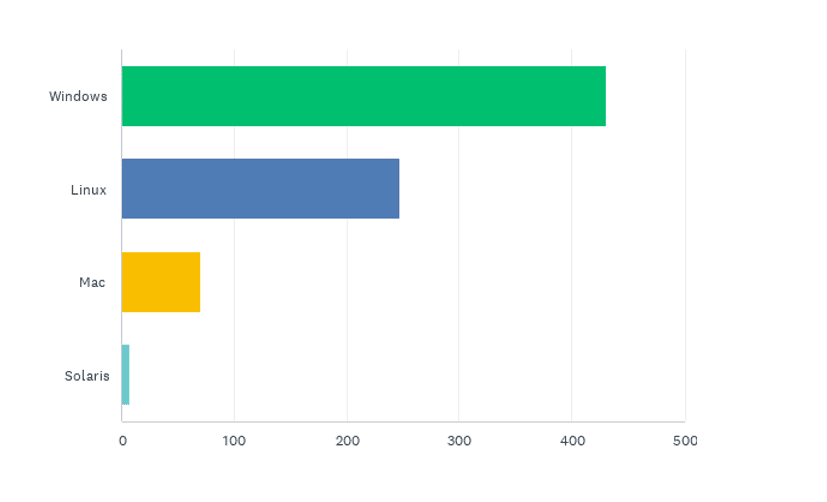 Other
Windows for dev, Linux for test and production.
On a VPS, answer to #2 above is Enterprise, but…I'm not running it.
Ubuntu
CentOS
N/A
N/a
No longer use CF
4. What OS do you run on your laptop/PC? (Check all that apply)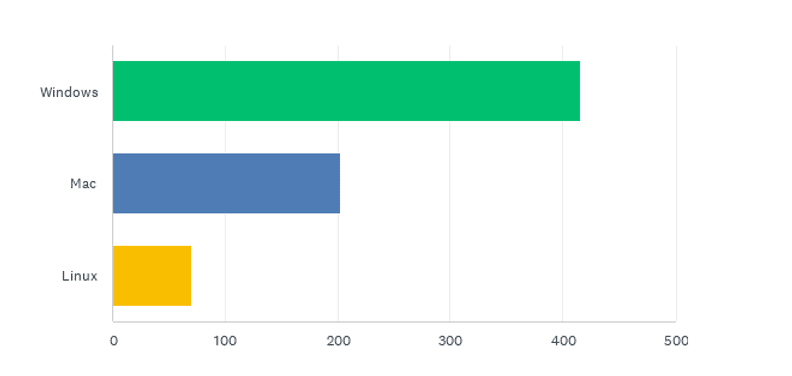 Other
Mac on the Metal, then Vagrant or VMWare for various others
Windows laptop but VM for dev environment
Chromium OS also
Windows using Parallels
Vagrant for the Linux
5. What browsers/client platforms do you support in your apps? (Check all that apply)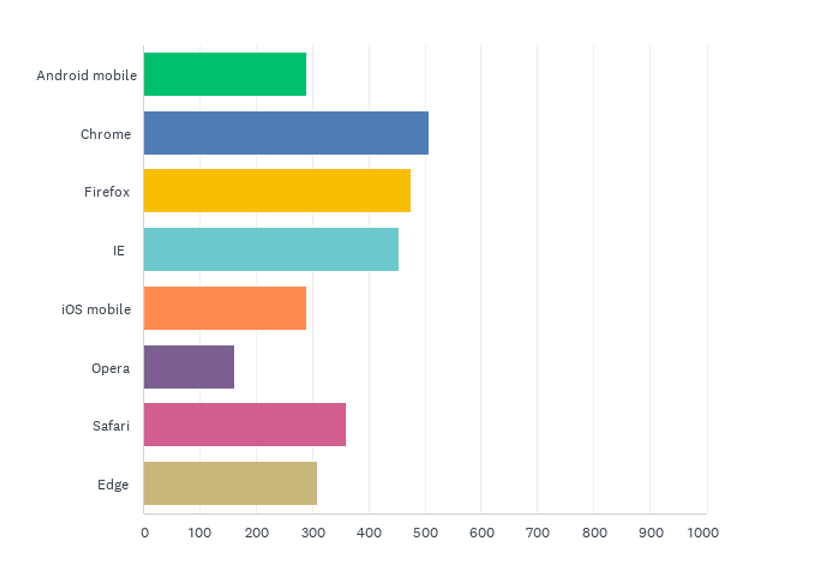 Other
If by "android mobile" you mean the old built-in Android browser, I do not support that. If you mean, say, Firefox on Android, yes I do support that.
N/A
For most projects I can focus on "evergreen" browsers; but there are still the semi-rare client that feels the need to support, say, IE 9 or 10. Though I'm trying to avoid that at all costs.
Cordova Crosswalk webview
All web browsers
min IE9
Whatever works
All web-based platforms
Vivaldi
6. Databases you use? (Check all that apply)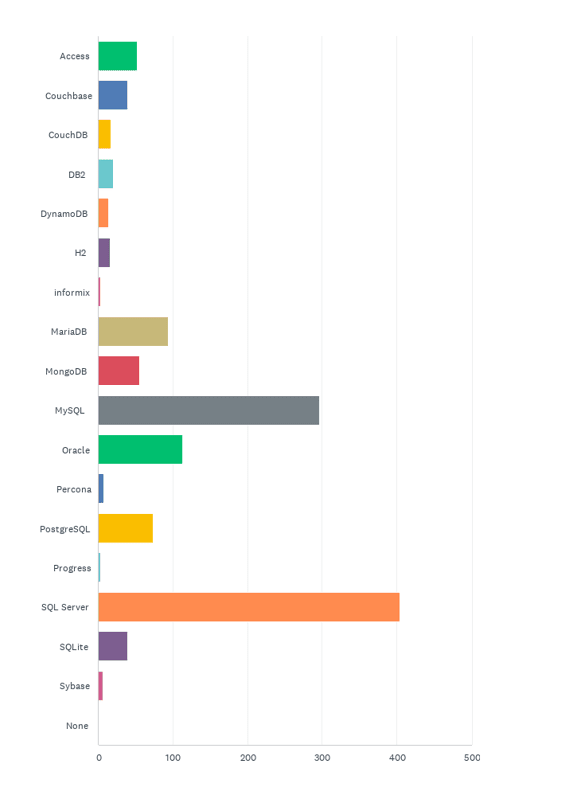 Other
Azure SQL
Redis
Universe
ElasticSearch
Teradata
Cassandra
Azure SQL + PouchDB
BaseX
HSSQL
Universe
UniVerse
Redis
ReThink DB
Filemaker
redbrick
redbrick
I also use PostgreSQL,SQLite, and MySQL, but not with CF.
Aurora
ArangoDB
Redis
Aurora
cassandra, elasticsearch
7. What code frameworks do you use? (Check all that apply)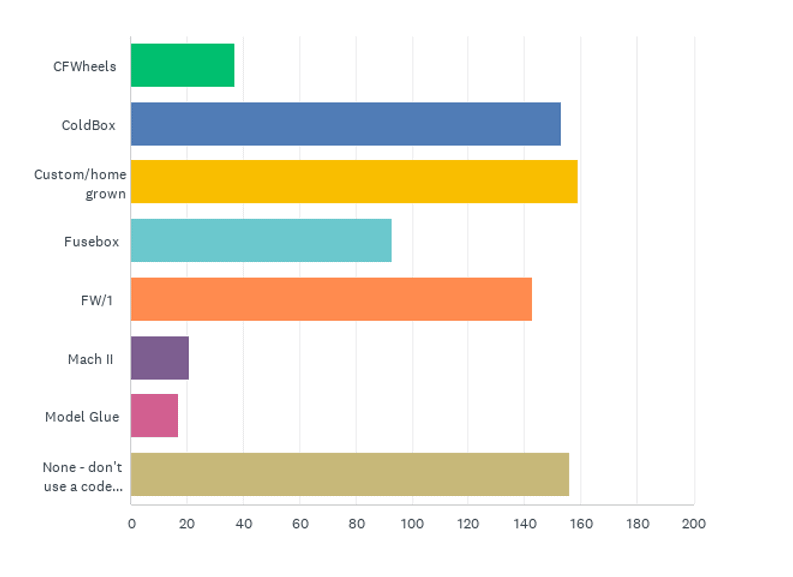 Other
It depends on the project/client.
Most of my work is to remove the CF application from a framework as clients do not understand it once developers have left
Groovy and Grails
Taffy?/running some older apps on PLUM
Commonspot cms
I have some clients still on legacy CF codebases that do not use a framework. It varies from project to project.
Homebrew
custom
Farcry
Internal (Diimes)
Taffy
FarCry Core
Taffy
MVC
Code Charge
Farcry
Taffy
Building Single Page Applications doesn't require an MVC Framework
FarCry Core
Taffy
homemade
No longer use CF, migrated away
Mura
No longer use CF
Taffy
Taffy
FarCry
custom
custom solution
And Taffy
8. What CF-based CMS do you use? (Check all that apply)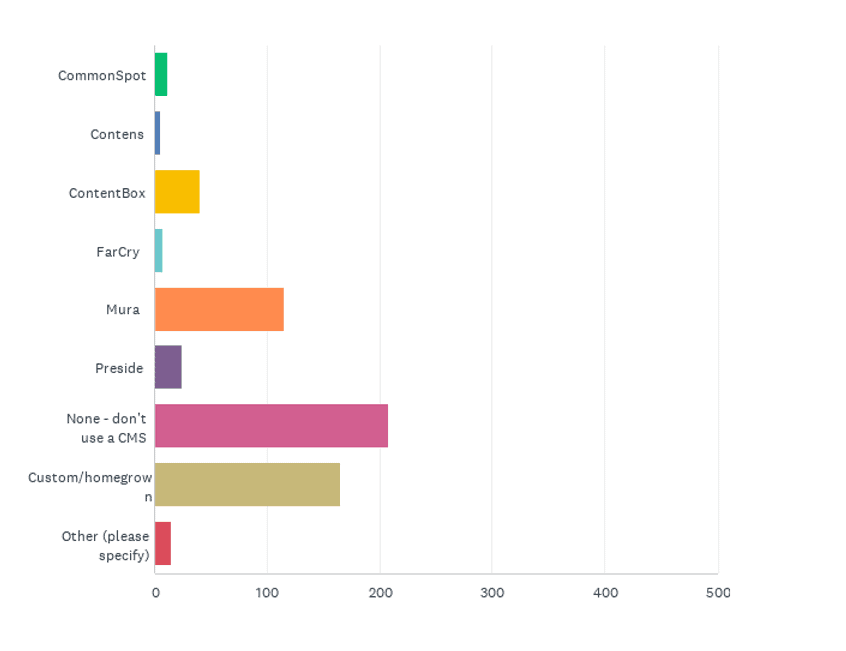 9. What JavaScript libraries do you use? (Check all that apply)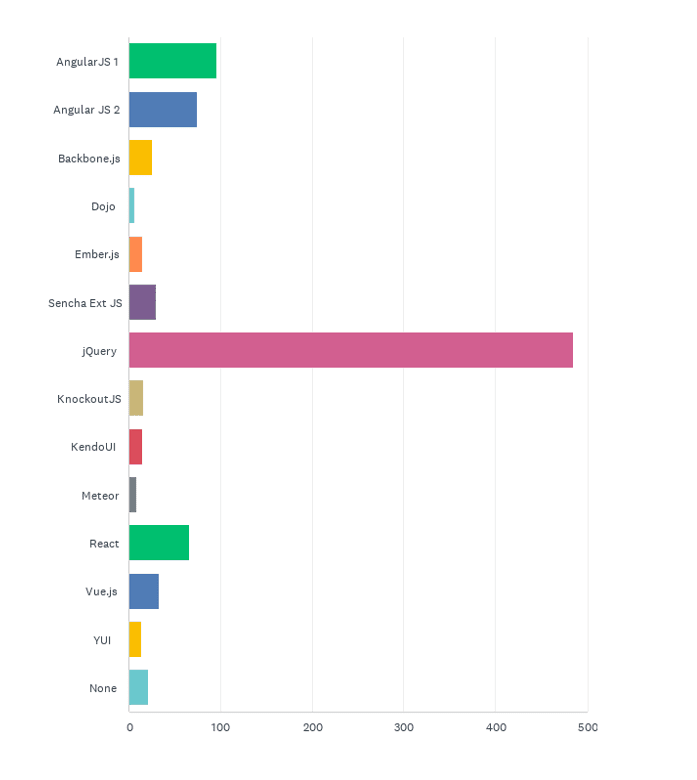 Other
Immutable.js
JQWigets
Mootools
Node.JS
Vanilla with polyfils
RxJs
Most js is custom code. Use jQuery when convenient
sails.js, syncfusion
Technically Node.js is a JavaScript library too. Why isn't it listed as an option here?
prototype.js
jQuery Mobile
gadget-ui, alt-7
Ionic 2
Raphael
Webix
Prototype 🙁
Render. Js
underscore
highcharts
webix
modernizr, moment, respond, taffy, PIE, eCharts
bootstrap jQuery UI
HandlebarsJS
Prototype/Scriptaculous
Prototype. Yeah I know.
EnyoJS
lodash
http://www.js-data.io/
10. What CSS frameworks do you use? (Check all that apply)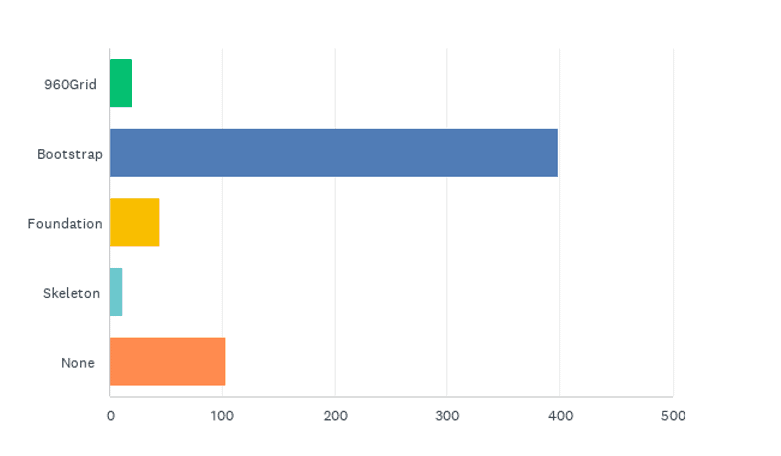 Other
Gumby
Uikit
basecss
Custom
On small stand-alone app.
I'm not a designer
semantic-ui
Custom, stripped down lite version similar to bootstrap
Semantic UI
Tachyons
http://tachyons.io/
jqueryui
None
Gumby
Nisaba.it
99Lime
Bulma
semantic-ui
FlexBox
11. What CFC dependency injection frameworks and tools do you use? (Check all that apply)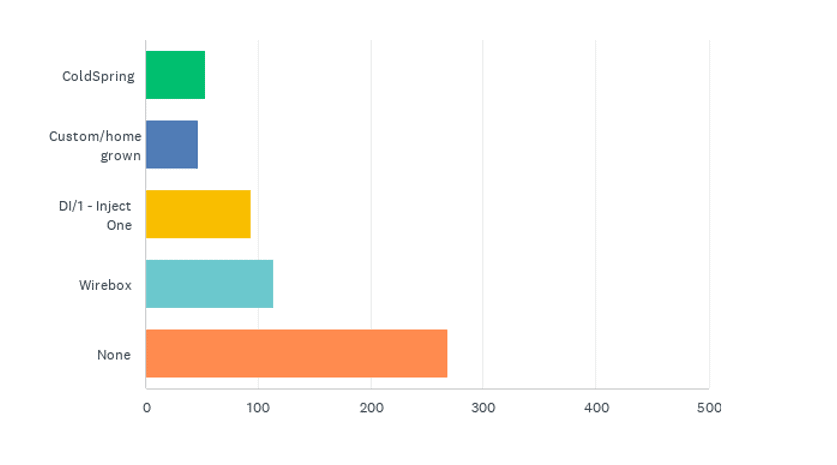 Other
Custom / Homegrown
Litewire
Home grown
Internal
None
No longer use CF, migrated away
12. Which persistence frameworks do you use? (Check all that apply)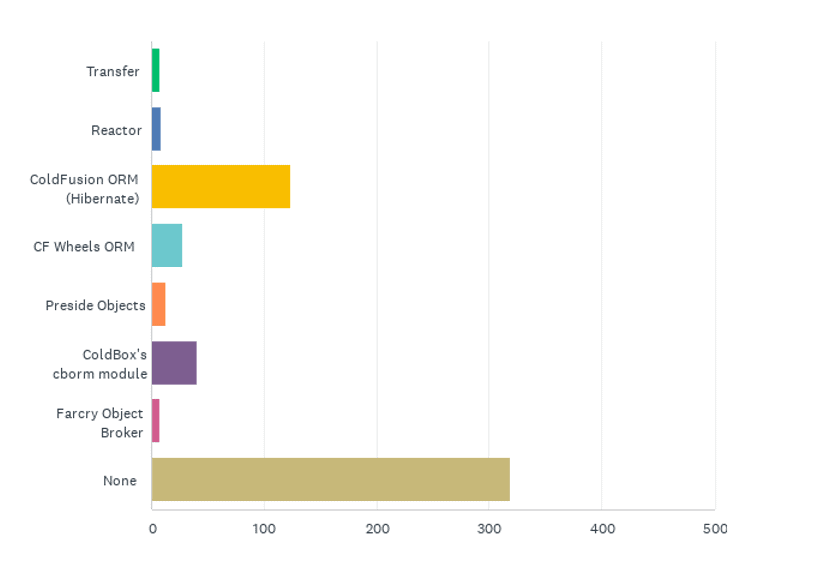 Other
I have a home-grown ORM library that I use for some clients, in addition to / instead of CFORM or ColdBox CBORM
MuraORM
GORM (Hibernate)
Custom / Homegrown
Mura ORM
I also use Mura ORM and a home-grown ORM library (soon to be released as open source).
DataMgr
Mura ORM
DataMgr
Internal
cfmlDataMapper
Homegrown
Homegrown-ish
None
No longer use CF, migrated away
Mura ORM
Mura ORM
Django ORM
DAO/NORM https://github.com/abramadams/dao
MuraORM
Datamapper – https://github.com/cfGothChic/cfmlDataMapper
own
13. What testing and mocking frameworks do you use? (Check all that apply)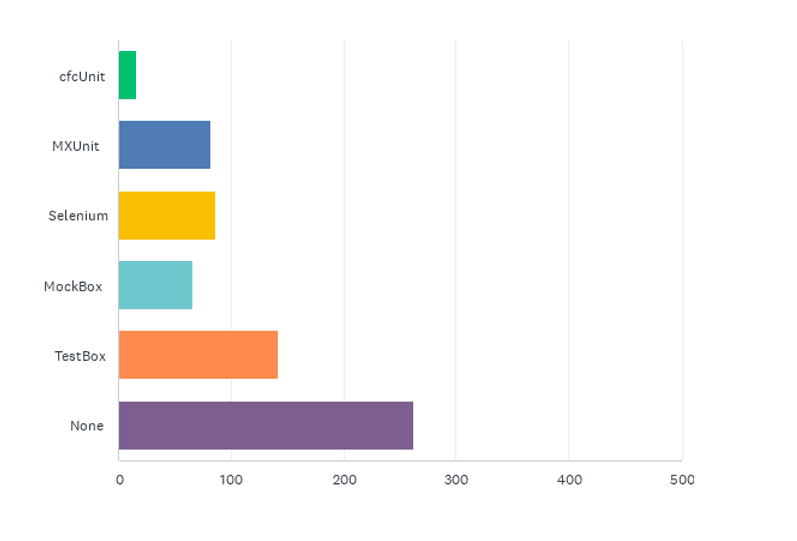 Other
not sure
rocketunit
Jamine
cfdump
Not system-wide, just a few small scripts
home grown
Testlink
Siesta
RocketUnit
Working with Mockbox and Testbox is a goal for this year.
RocketUnit
None
home grown
RocketUnit
No longer use CF, migrated away
Internal
RocketUnit
Cucmber
CF Wheels test framework
RocketUnit
RocketUnit (Built into CFWheels)
rspec, airborne
RocketUnit
cucumber
14. What CF features do you use for code reuse? (Check all that apply)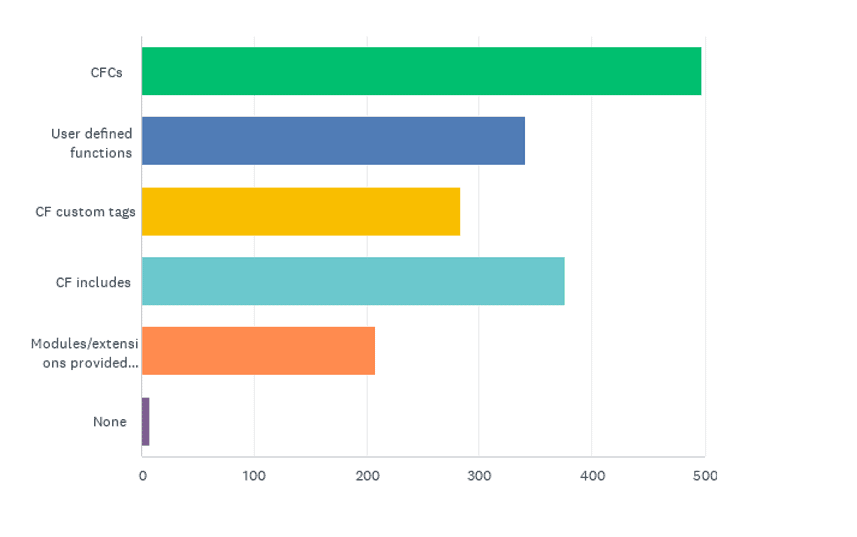 Other
CFincludes rarely (mostly just inside Mura themes). CFCs get used the most, the rest are on a case-by-case basis.
Lucee cfc tags
Udfs are old, not used for new dev.
CFincludes get used the least; most of my work is in CFComponents whenever possible (and some Custom Tags for UI libraries).
The cool Lucee features
N/A
No longer use CF, migrated away
gateways, CFX
15. What do you use for source code control? (Check all that apply)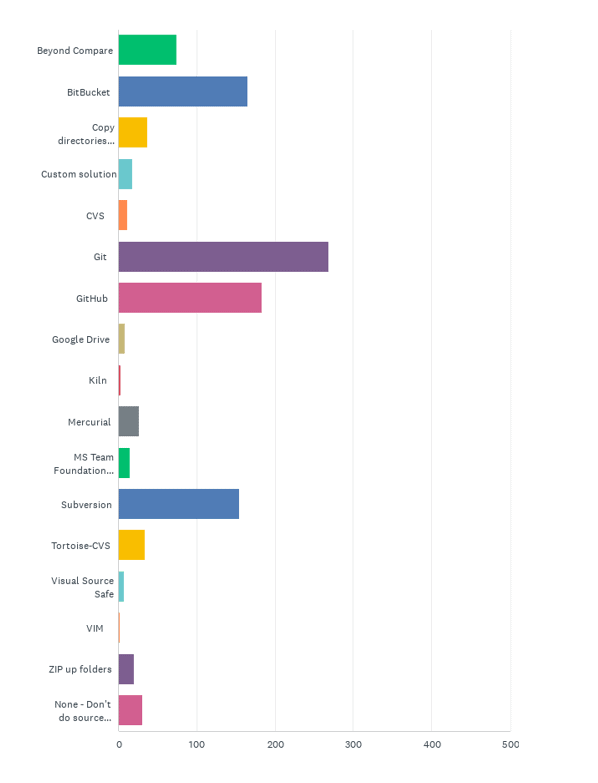 Other
It depends on the client/project.
GitLab specifically
We have 3 developers who manage their own code locally because we each have different objectives. (i.e. Intranet dev, and public Internet dev)
Perforce
Crashplan Enterprise
Beyond Compare is not "source control" so I didn't check the box. That being said, I do use Beyond Compare on occaission to diff 2 files/folders.
Perforce
Perforce, just like everyone else. Why Perforce is not on the list???
Perforce
Perforce
Gitlab
smartGit
GitLab
MS One Drive
Cloudforge
VersionRecall
Gitlab
TortoiseSVN
HomeGrown
Gitlab
Gitlab
aws code commit
Tortoise SVN
Homegrown
BOAR
team foundation server
gogs
GitLab
GitLab
Release Code to Production System (RCPS) – Home grown
MKS
aws codecommit
PTC Integrity
Winmerge, AWS CodeCommit
Gitlab
gitlab
GitLab
16. What tools/IDEs do you use? (Check all that apply)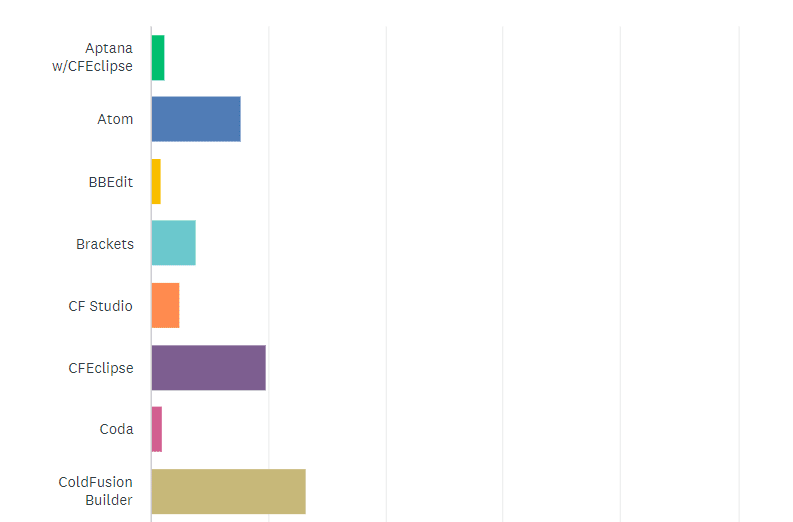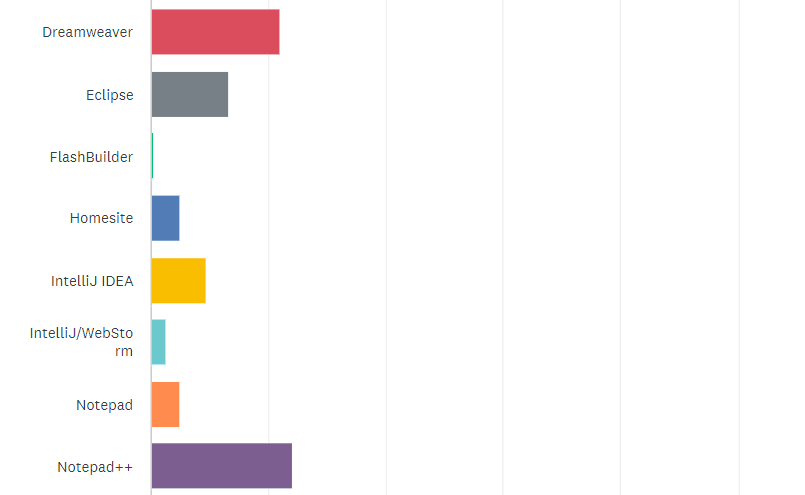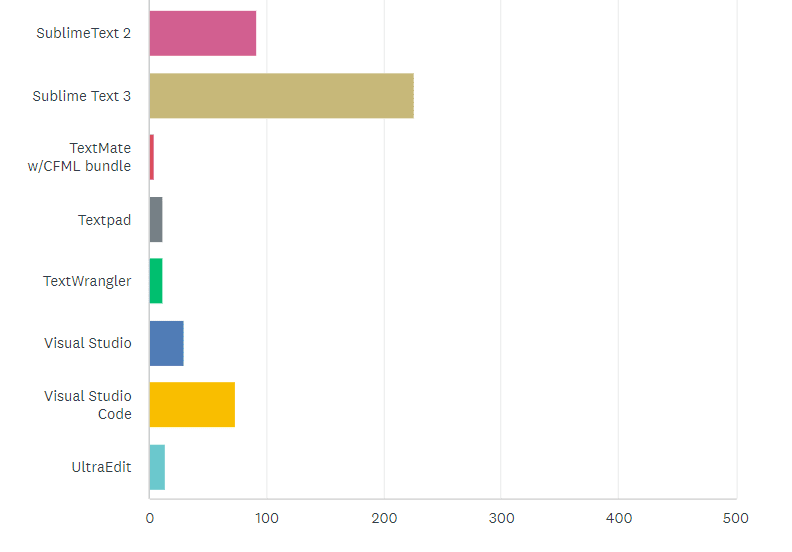 Other
emacs
vi
TextMate – no Bundles
Dw cs6
Far Navigator
vim
Sencha Architect
Vim
None of them are good, rolling my own.
Code Charge
Toad for Database
VIM
1st Page 2000
PyCharm
vim
PyCharm
EditPlus
gedit
17. What Browser Dev Tools do you use? (Check all that apply)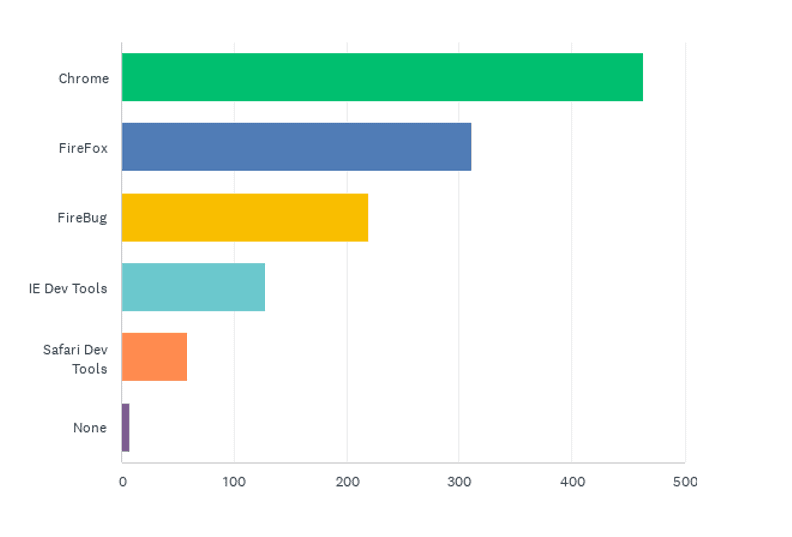 Other
Blisk
Opera
Wave
Postman
18. How many years have you used CFML?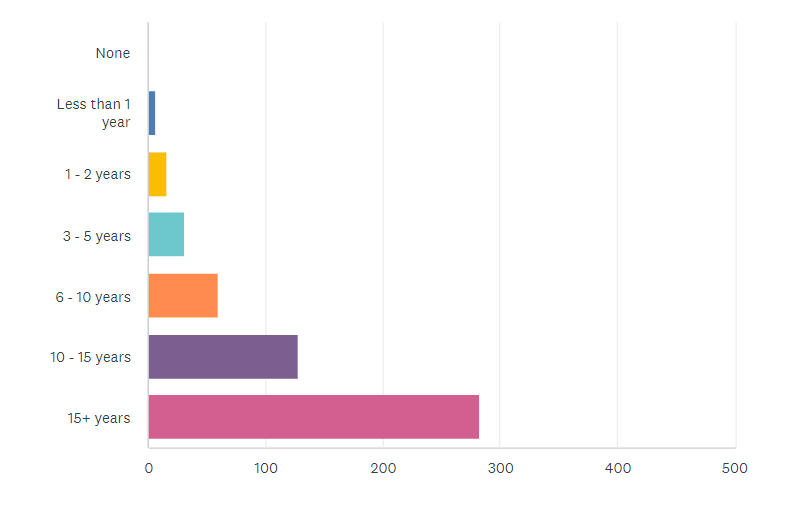 19. How many years have you used OO?
20. Other languages/environments you use? (Check all that apply)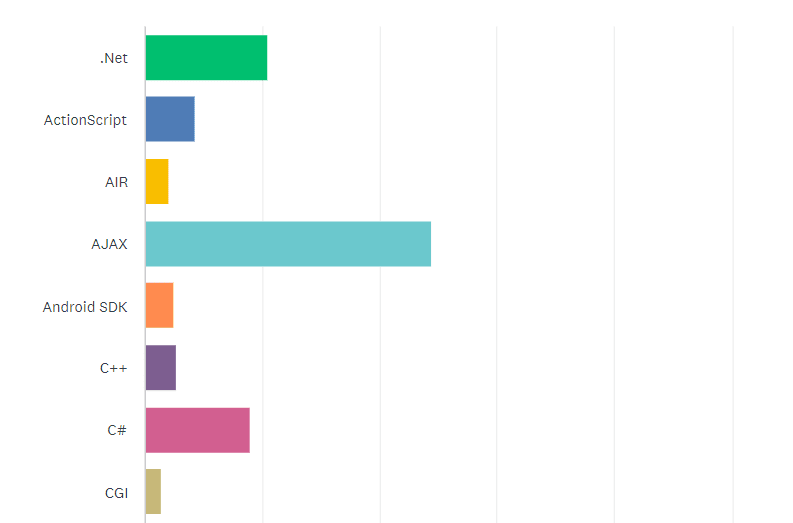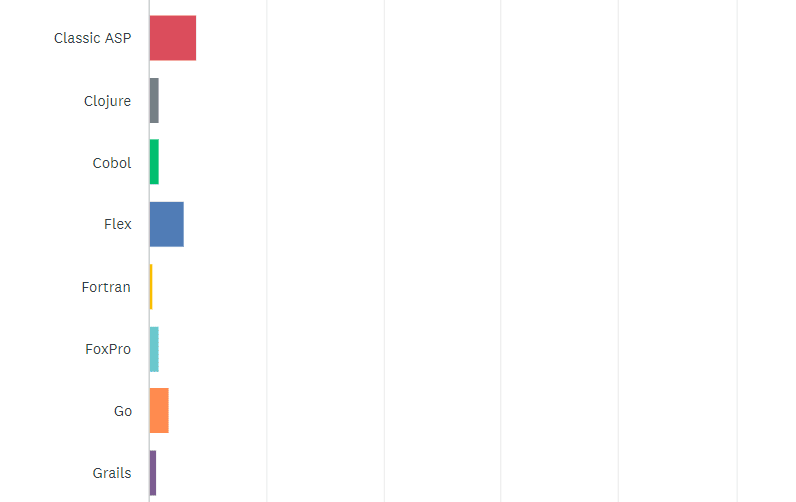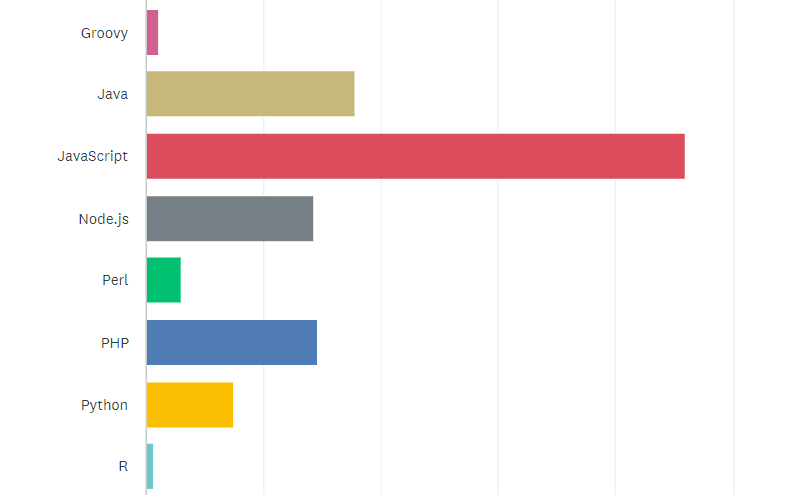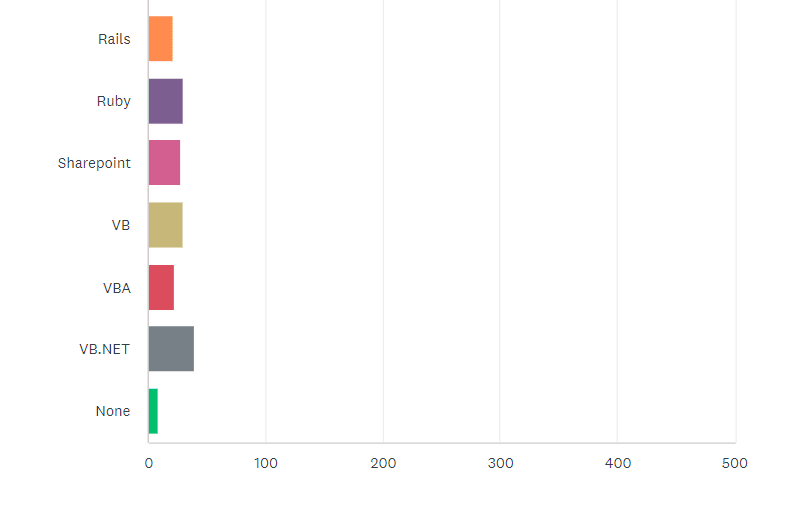 Other
Swift
Automation Anywhere RPA
DustJS
PowerBuilder
Moving to .Net later this year
Flex and Actionscript are just about dead…thanks Adobe!
SQL
Elixir
scala
Kotlin
Android Studio
Elixir, Object Pascal
Typescript
bash scripting, arduino C
Swift
TRS-80 basic
Xojo
Bash shell
Swift
Powershell, batch, bash
Django
C
Rust
21. How many CF developers at your organization?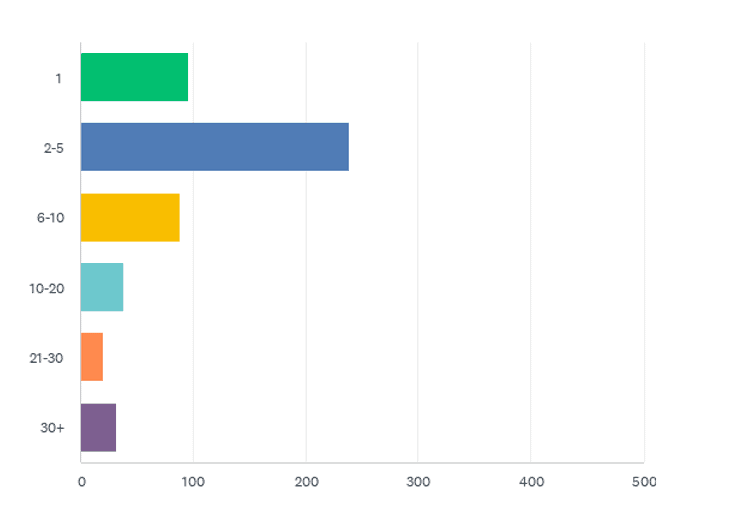 Other
not sure
In my group. It's a big company and a couple of other group use cf but we don't interact with them at all.
don't know
don't know, we are working at clients
Not sure
None
0
Over 300
None left
22. How many total employees at your organization?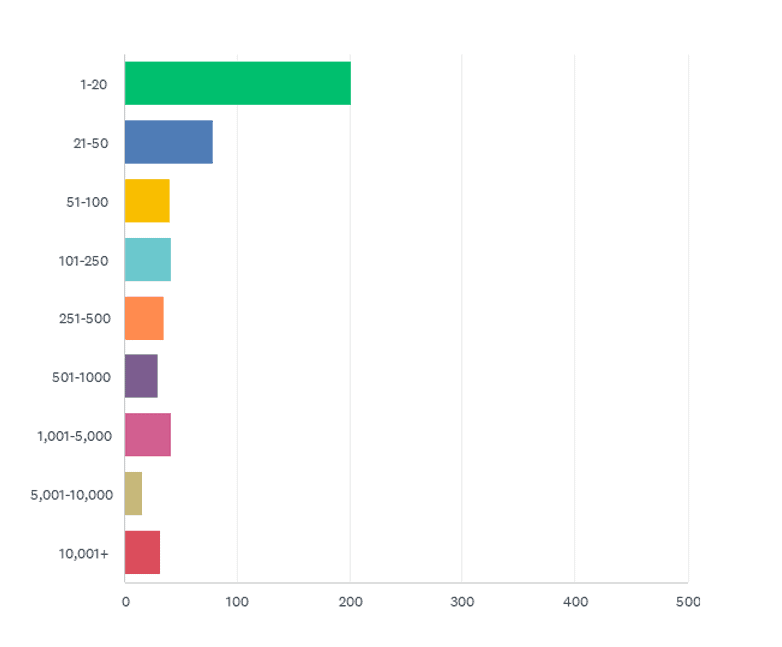 23. How often do you attend ColdFusion User Group meetings?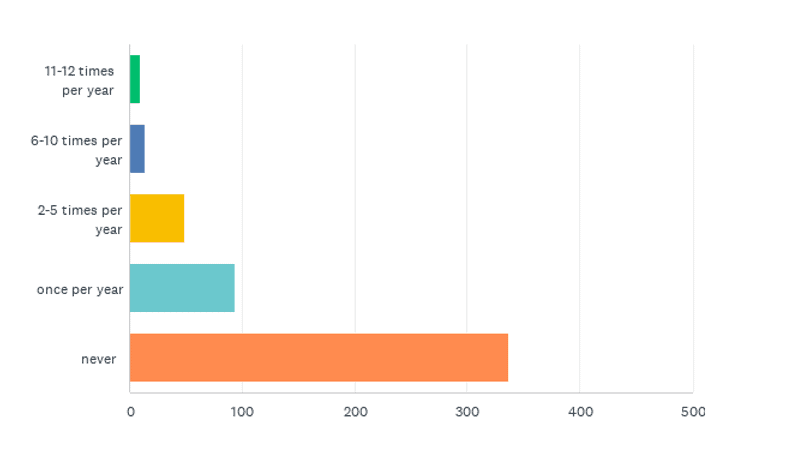 24. Which conferences will/did you attend this year? (Check all that apply)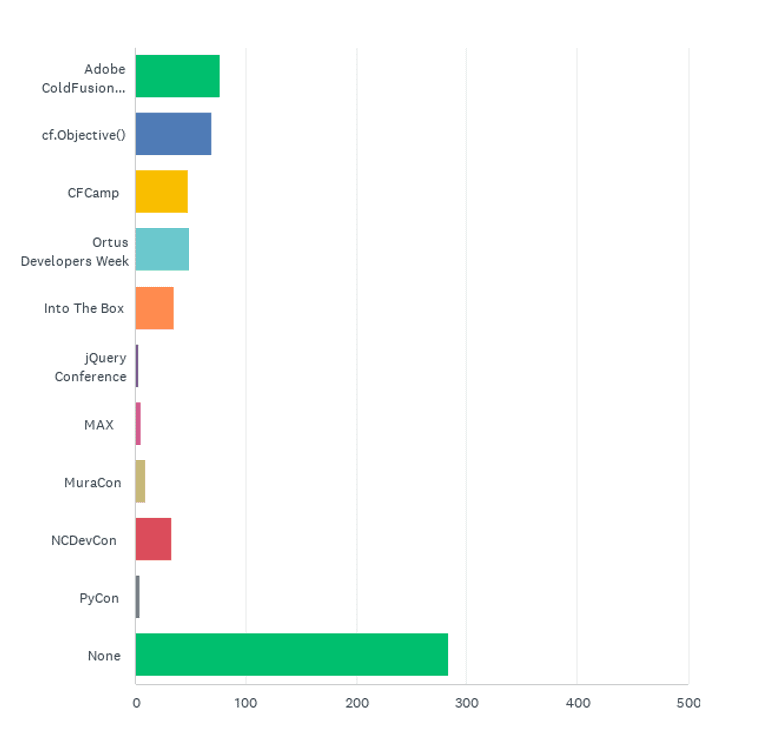 Other
Clojure/West, Clojure/conj
css dev conference
Nodevember
KCDC
We are looking into attending at least one this year. Not sure which yet.
CF United (I wish).
DockerCon
None in Mexico
Java / Scala / Misc DB / JS conferences
Droidcon Berlin, Droidcon UK, DroidKaigi
None in my area 🙁
ngeurope
I miss SOTR. 🙁
Clojure/West, Clojure/conj
Not yet decided
Anglebrackets
AWS summit
Australia doesn't have any that I know of
ConnectJS
RailsConf
CascadiaFest
AWS re:Invent
SharePointFest Seattle
DjangoCon
No budget
O'Reilly Fluent
South Dakota Code Camp
MWC, mobiconf
PresideCon
FullStack
Laracon
Fosdem in Brussels (opensource conf, not CF)
25. What type of mobile development frameworks are you using?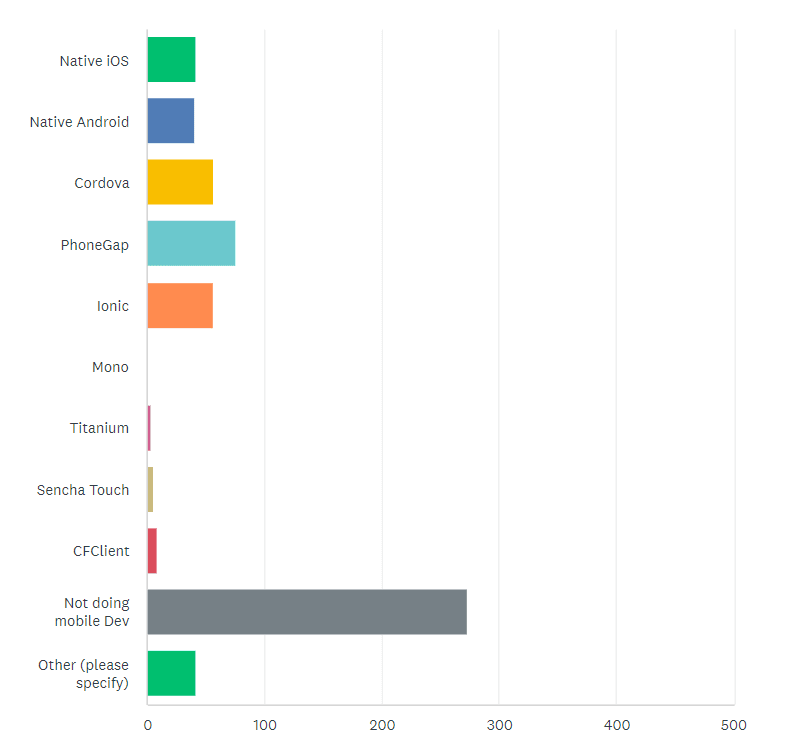 Other
NativeScript
RhoMobile
React Native
Xamarin
Progressive Web App
ReactNative
Custom Hybrid
PWA
can't remember name
Bootstrap responsive design
Flex/Air, though moving to PhoneGap/Cordova
Looking to use Xamarin
PWA
Responsive design
Xamarin
jQuery Mobile
Mobile first architecture (not technically a framework)
React Native
Xamarin
Progressive Web Apps
Phaser
Just rocking responsive design for now
NativeScript
FluidDesign
nativescript
Xamarin
Xamarin
Xamarin??? Wtf
Bootstrap responsive
Bootstrap
Responsive webpages
Use Bootstrap to accomplish responsive design
Responsive Design
foundation
React Native
UWP
Telerik
Ionic
React Native
Using Bootstrap for responsive for mobile clients.
Corona Labs
Telerik
26. What aspects of CF are keeping you and/or your company using it?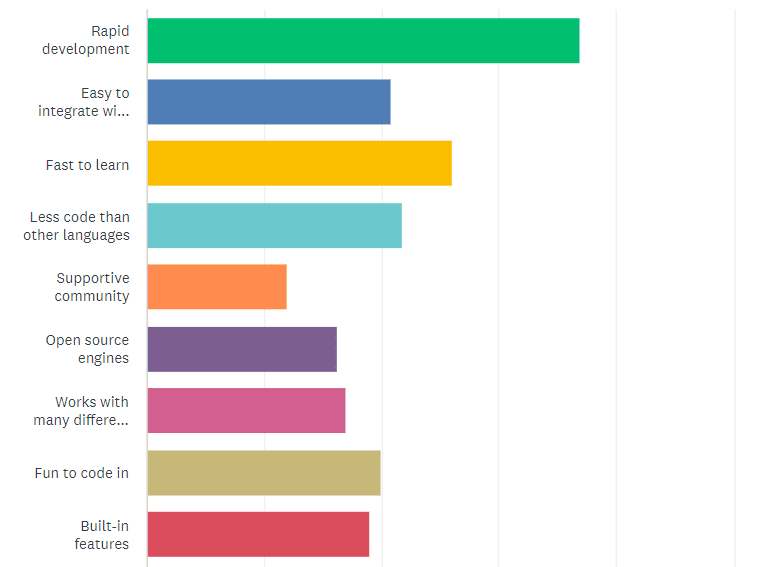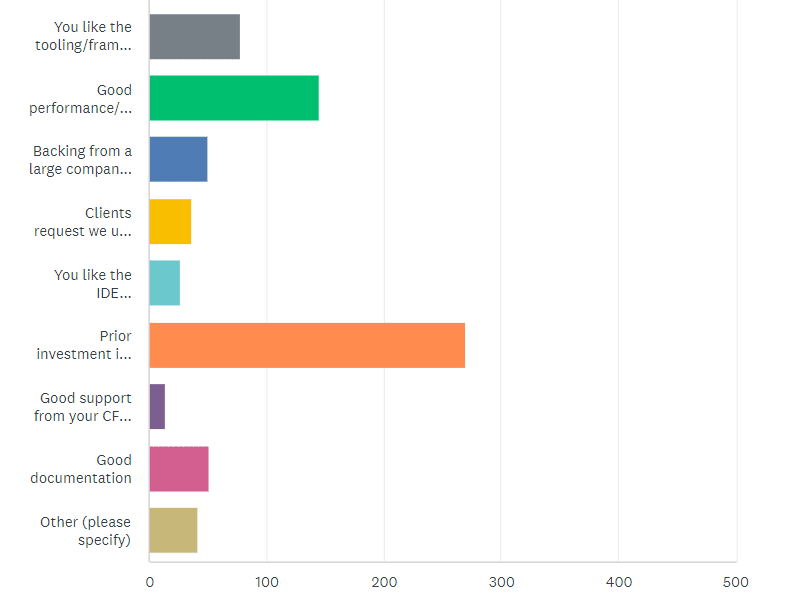 Other
My job actually is no longer in development. My current work is occasional adhoc updates for charity sites.
No hope left here.
inertia
I do CF side-work, but the company I work for does no CF
The new young pup CIO is forcing us to abandon CF
Long term plan to move away from CF
Groovy and Grails forces an MVC pattern… and doesn't allow Procedural Coding
We are moving everything to Drupal and salesforce a few of the apps will stay in cf for a while
For our company all benefits now outweighed by lower numbers of cf devs
It's what I know…though moving to node.js/sails.js…I think.
A
Company is moving toward outsourcing all coding.
Non-programmers in my company need to feel useful by writing code. The results are as bad as you think it is.
legacy code
Organization is trying to push it out the door.
Years of not changing
Pdf support
No longer a preferred platform
I thank god for Lucee
We dropped CF
Lucee has made using CFML viable in the Enterprise again. I wish I could personally replace all Adobe Coldfusion installations with Lucee
Legacy while the apps are sunsetted and replace by other apps/services mostly on node.
CFWheels framework
ample documentation and plenty of community support
No longer use CF, migrated away
we are moving away from cf to goto react and angular
CMS Vendor still uses
We're phasing CF out in favor of C#.net.
No longer use CF
We are phasing it out
Cost 10 times less than Java
"You like the IDE choices/plugins" hahahahaha
We are moving off it
Difficulty in switching jobs to other languages.
Company is unwilling to invest in retraining
Great Framework: COldbox
cost of conversion
Lucee is *fast*!
Huge codebase
Frankly almost none of the other reasons given here are true, the opposite is usually the case and why most clients want to plan for migrating away from CF
Do not actually feel a need to move off but its just what everything was already written in
I still love it
27. What aspects of CF are preventing you or your company from embracing CF?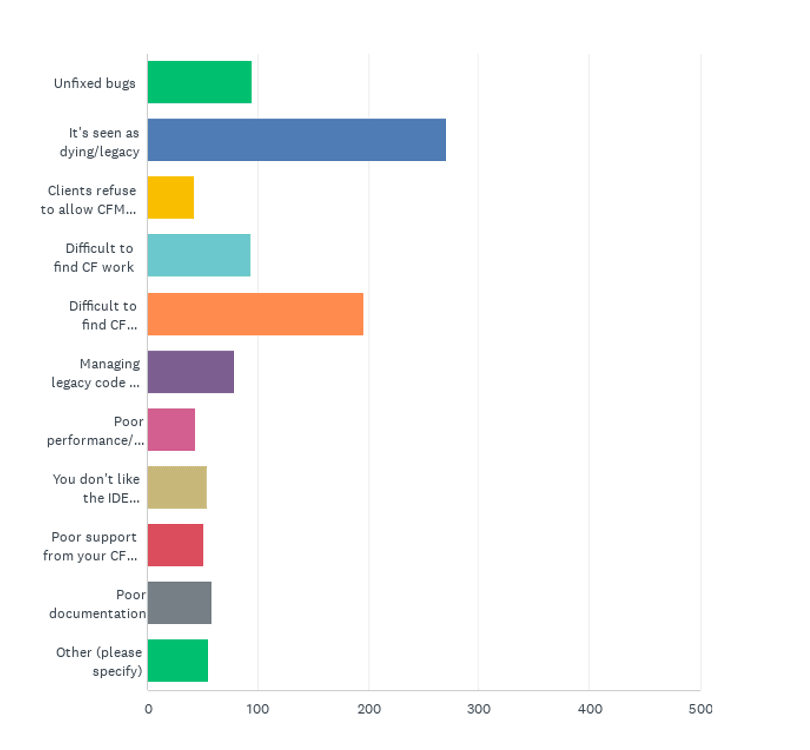 Other
I run a developer consultancy. We use whatever the best solution is for the given project. Sometimes (often), it's CFML. But not always, it depends on the client needs.
Cost
It's career suicide
The server is expensive
license cost
The ecosystem is poor – libraries, open source, packages – it's years behind
Management
n/a
I HATE Adobe.
costy version upgrades
small community
Poor performance from ADOBE! Nothing but bad.
Used to be superior to .net – now inferior.
adobe should care more about programming and systems development i general than bells and whistles
the backwards compatibility
We're all in!
poor infrastructure (qa tools, e.g. in php there is phpmd, php-loc, php-dox etc…)
Security concerns
Poor support
Lack of libraries
Executive Management direction to move away
Aquired by larger company whose primary language is not CF
Fleeting CF Community.
Cost
Price
I
Adobe is not helping
N/A
Tooling isn't nearly as strong as elsewhere
Nonexistent support or even acknowledgement from Adobe
Lacking ecosystems of other languages
none
Very poor support from Adobe
India leadership is horrible – Killing CF tags that keep one from having to code JavaScript is just plain stupid
Specifically CFScript documentation. I lot of the time I feel that I am programming through trial and error instead of using a reference guide like in Java/ActionScript/C#.
Lack of command line sucks
don't understand this question
Not easily deployable to cloud like Azure — takes to many resources and needs to large of virtual machines
Gartner.
Security concerns.
Hard to find jr. developers. Most CF developers have been around for sometime and require a premium salary.
Gartner declared CF to be in "Dusk of Obsolesce" so all CF development has been prohibited.
Expense of CF developers
Upper management decision.
None
Adobe/Lucee marketing sucks – doing nothing to change image. Slow to adapt to changing landscape.
Tooling and open source projects available do not come close to comparing with other more popular environments
poor effort to lead standardization by vendor
Adobe's stewardship is lacking. Developers are leaving.
Adobe doesn't seem to care about CF anymore
Licensing is not cloud friendly for small projects in the cloud. Doesn't appear to be embracing cloud or package based development at all.
We specialize in CF but all of these are reasons clients no longer want to use CF
Adobe servers prices
None, we love CF and so do our clients
Price
28. What caching solutions are you using? (Check all that apply)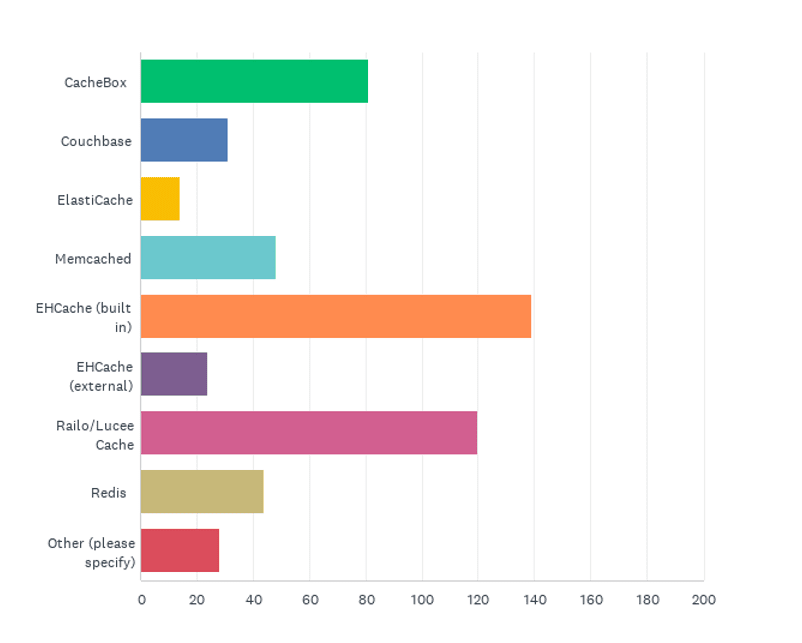 Other
Home grown
none
n/a
Front-end caching; CDN
none
Commonspot built in
n/a
Custom
Internal
Built-in, Mongo remote sessions, CloudFlare
Not sure; another team does that
Not sure if this is addressed by the enterprise
HomeGrown
Home-grown
Infinispan
custom tag
CFWheels has caching built in
Ignite
IIS Built-in caching
A few home made caching solutions
None
None
None.
None
na
Na
Cache-O-Matic
None. It's a whole thing.
29. What miscellaneous frameworks/tools are you using? (Check all that apply)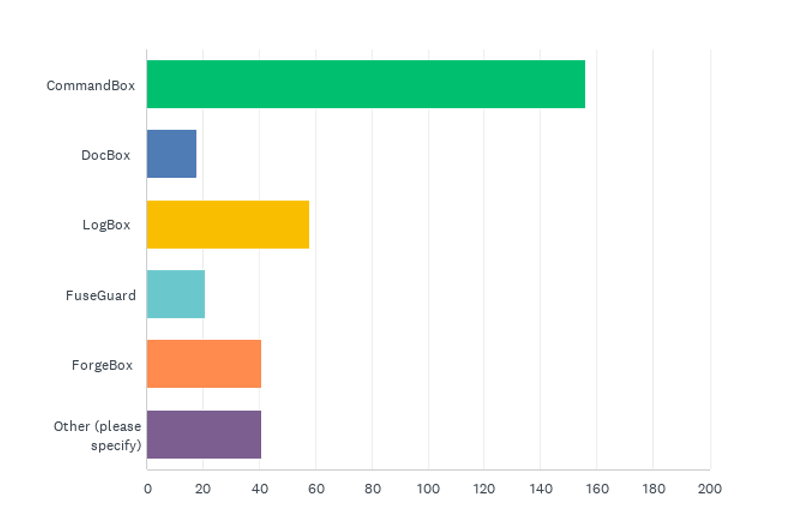 Other
none
custom
n/a
none
home grown
Grails
Taffy
TestBox
none
Not sure
None
n/a
Internal (Diimes)
na
FusionDebug
not using at all
Not sure if this is addressed by the enterprise
none
Tinkered with CommandBox but not used consistently
None
CFWheels
none
No longer use CF, migrated away
None
Don't use CF anymore
BugLogHQ
None
None
None
None
None
na
BugLogHQ
Na
Gulp, Ant
dataMgr
None
None
BugSnag
CommandBox deserves 2 because it so awesome
none
30. What monitoring tools are you using? (Check all that apply)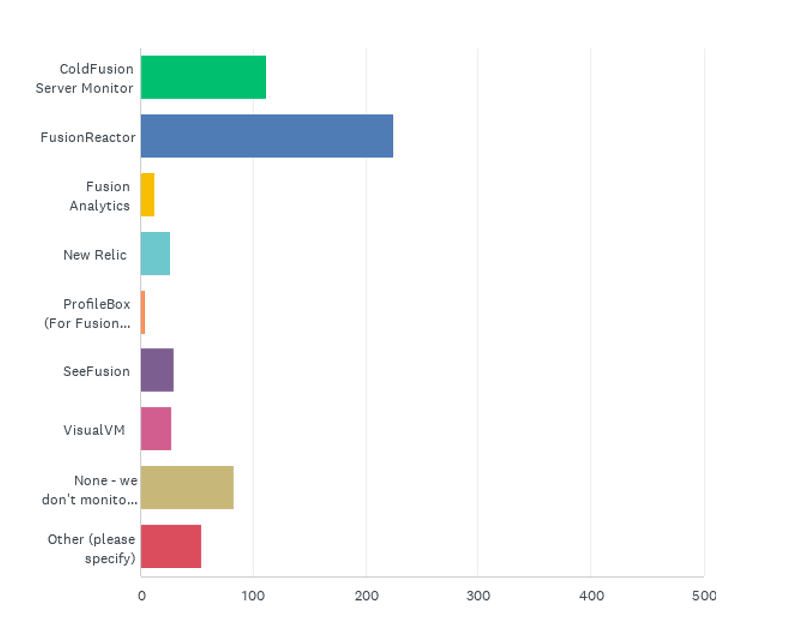 Other
dynaTrace
customer's tools
OS tools (e.g. process monitoring), SQL (Activity monitor), custom log monitoring
n/a
Zabbix
The client monitors the server envronment and calls when required.
AppDynamics
hosting company monitors
AWS Cloudwatch
Custom built
PRTG
We use something but I don't know what it is. Sys admin is separate.
Icinga2/zabbix
home grown
AppDynamics
Rolled my own CF monitoring
BuglogHQ
solar winds
Zabbix
Datadog
Custom built utilities
Custom Built
Splunk
Rolled my own
Custom CFML tools
Not sure; another team does that
Custom stuff we built
Not sure if this is addressed by the enterprise
Not my position to manage, so I'm not sure
HomeGrown
External tools
JavaMelody
JavaMelody
we just use a pinging tool to let us know if the server is down, no real monitoring
CheckMK
No longer use CF, migrated away
HackMyCF
Netdata
Alertra
Don't use CF anymore
windows internal
AWS Watch
Pingdom
Elasticsearch & metribeat
Google Cloud Monitoring
Our own in-house built monitoring systems
In house monitoring
Homegrown code profiling application.
Dynatrace
PRTG
Host monitors sites
Dynatrace
Uptime Robot, Dynatrace
uptimerobot – but nothing for performance, etc.
31. What types of deployments do you use? (Check all that apply)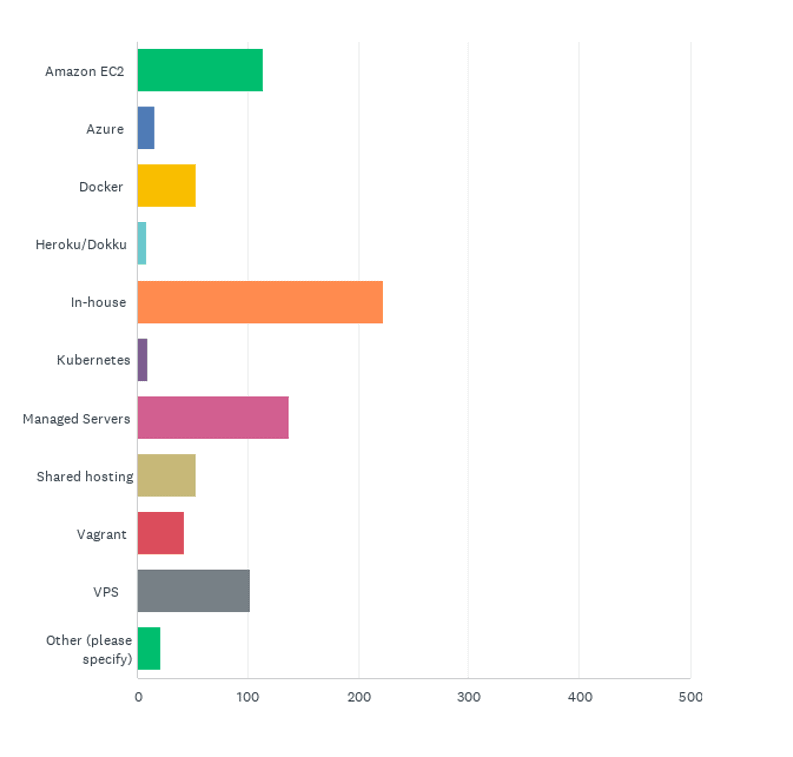 Other
Rented servers
Copy to production and then go home.
Assembla.com
Amazon Elastic Beanstalk
Don't know
Manual deploy
Self-managed dedicated servers
RackSpace
Digital Ocean
Proxmox
Digital Ocean Ubuntu Server
google cloud
Peer1
OpenShift
Co-located rack, self managed
Puppet
None
Heroku for Django applications
We are the hosting company 🙂
Digitial Ocean
docker cloud
32. What do you use to build REST APIs (Check all that apply)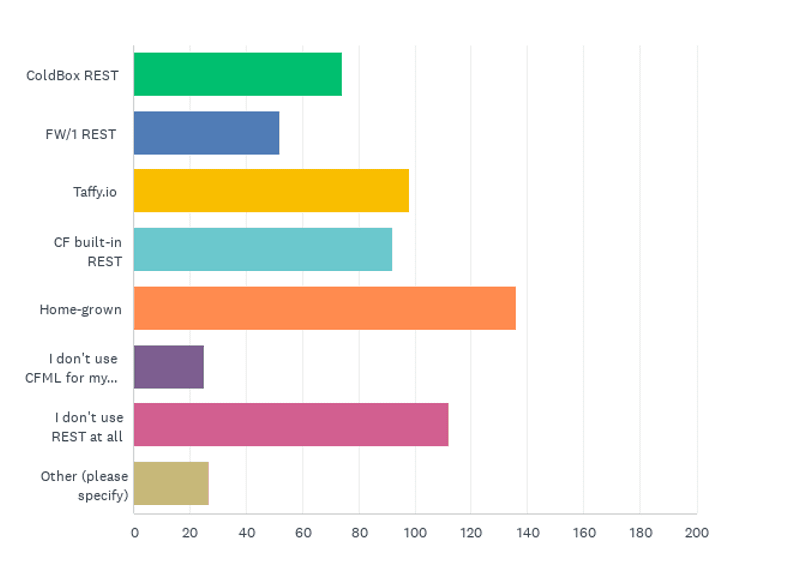 Other
Azure Functions
I have not found a use for this and the documentation is difficult to understand
PowerNap
Our API is not pure rest but is home-grown
Mura JSON API
Visual Studio
Preside
PresideCMS API / CF API Manager
PowerNap
FarCry Core
NodeJS
Cfwheels
FarCry Core API Plugin
java
Preside REST
Customized CFWheels
Mach-II Endpoints
Not currently using any REST APIs, but planning on it soon
ASP.NET REST
Java library
Django REST Framework
though we will be in upcoming iterations of our app
CFWheels REST
Springboot
CFWheels REST
CFWheels ColdRoute Plugin
powernap
33. What deployment/build tools do you use? (Check all that apply)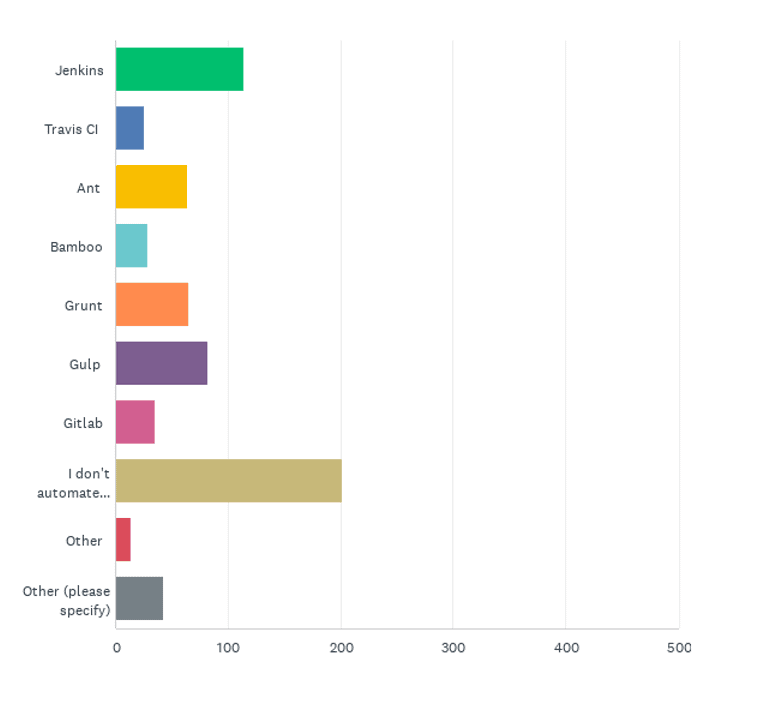 Other
It depends on the client/project.
Own tools
Webpack
NPM, but nothing when working on CFML
circle-ci
Assembla.com
Teamcity
Powershell Scripts
BitBucket Pipelines
but I would like to
Can't think of the name. The CM person uses it. Begins with H and is crappy.
deploybot
GitHub
Bitbucket Pipelines
but not with cf
Salt Stack
TeamCity
Azure Tools / Powershellssssssssssss
FlyJS
beanstalk
deployHQ
Make
Docker Cloud, quay.io
code deploy
Das
Anthill Pro
Git
Deploy
custom tools – investigation Jenkins and Travis
Beyond Compare
Visual Studio Team Services Deploy
repliweb
TeamCity/Octopus
Internal
Cloud 66 for Docker, Dandelion gem for traditionally-hosted apps
ColdBox Elixir, Webpack
npm scripting
Teamcity
AWS CodePipeline
ColdBox Elixir
DeployBot
docker cloud
Webpack
34. What is your approximate salary range in USD? (Remember, this is anonymous)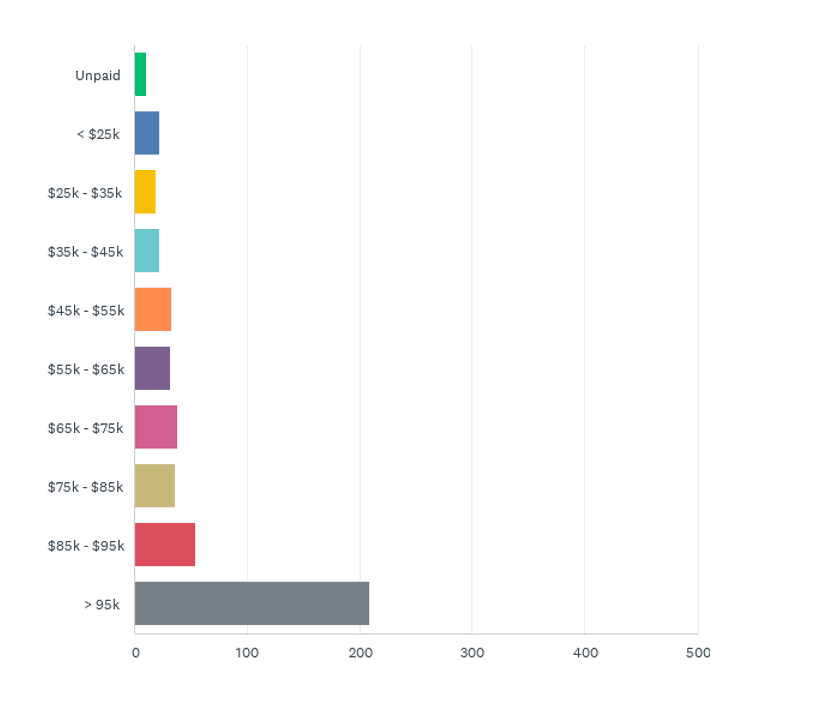 35. How do you lock down your servers for security? (Check all that apply)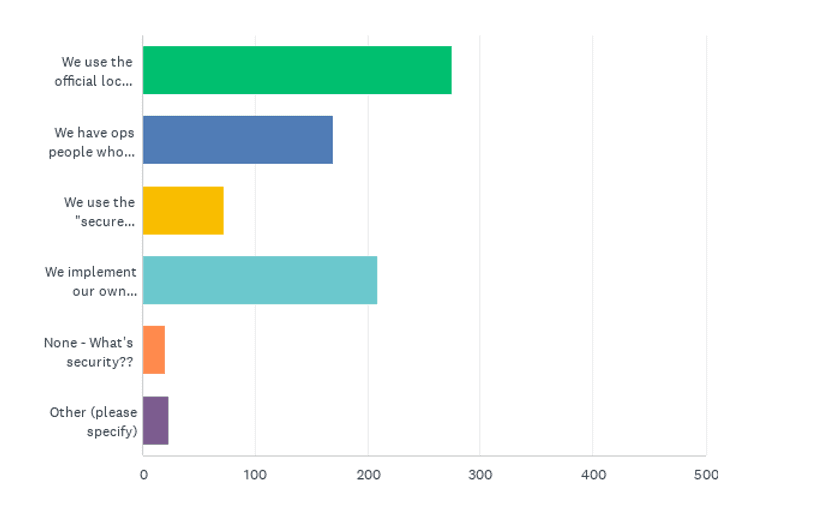 Other
it depends on the client/project.
n/a
Don't know
Hackmycf service
not telling you
I'm the security specialist
URLRewrites to 404 lucee admin. Managed hosting, etc. for server access security
fuseguard
Not my position to manage, so I'm not sure
We have hired Rasia to help us
our VPS server has datacenter level security
secret
PCI DSS
DISA STIG
Gov't supplied STIGs
Don't use CF anymore
Consult with Charlie Arehart
Shared — us and VPS provider
Web Application Firewall
HackMyCF.com
HackMyCf scans
Incapsula
FuseGuard
36. Have your CF servers suffered from a hacking exploit in the last 2 years due to a CF-based vector? (Remember, this is anonymous) (Check all that apply)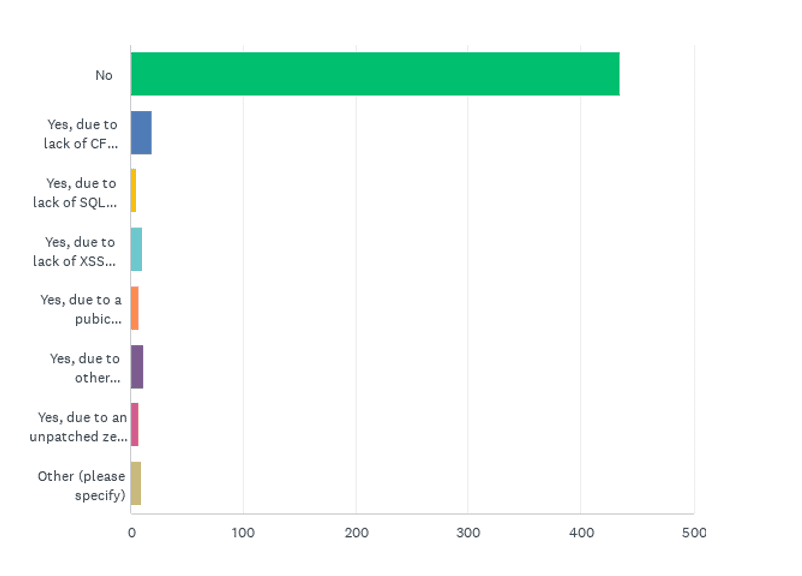 Other
Yes but I don't know the vector, not sql parameters
A couple clients with legacy codebases did not have CFQueryParam on all their code and someone was able to do a SQL injection. This is a classic example of the problem with CF: it's too easy to write BAD code in an app. We need to fix that. Not w/ a Security Analyzer that's only in the Enterprise product, but in a tool that ALL developers can access!
no idea
I don't know
The cf9 st hack
yes – pen testers found one
a CF8 server. Adobe stopped supporting.
IIS Hacks
None successful that we know of. We only have on client that seems to have been targetted.
Hope not
37. What CF communities do you participate in? (Check all that apply)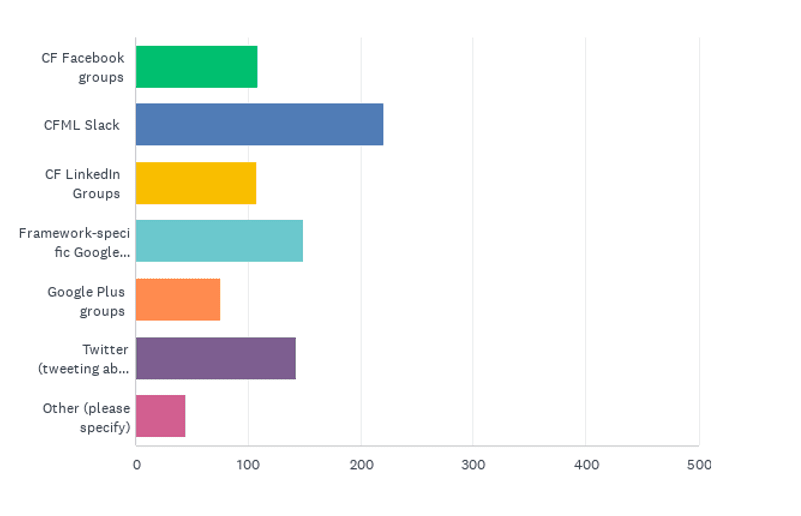 Other
Lucee Discourse
dev.lucee.org
Stackoverflow
Email newsletters
Stackoverflow
none
Boeing user groups
FB
Atlanta user group
don't participate
stackoverflow.com
Stackoverflow
Lucee Google Group
CFUGs on Meetup
Meetup.com
stackoverflow
None – you probably forgot to add this answer
Slack sux
cfwheels
google groups
Can't keep up with the volume in Slack. Minimally use Twitter, but with all the political crap going on in the word, reading my timeline, well, sucks. So I stay away from it.
Lucee
PresideCMS Slack
Google Groups for engine
Facebook
none
StackOverflow
no participating at all
None at this time
Blogs – remember ?
I read many of the above but almost never contribute
Don't know of any other. Seems everyone is leaving.
lucee google groups
CFWheels Google mailing list
Meetup
Answer questions on Stack Overflow
StackOverflow occasionally
User Groups
StackExchange
None
None
None
In the past 5 years or so, none.
Stackoverflow
Local Meetup
38. What percentage of your PROFESSIONAL development time is spent on CFML (as opposed to other languages)?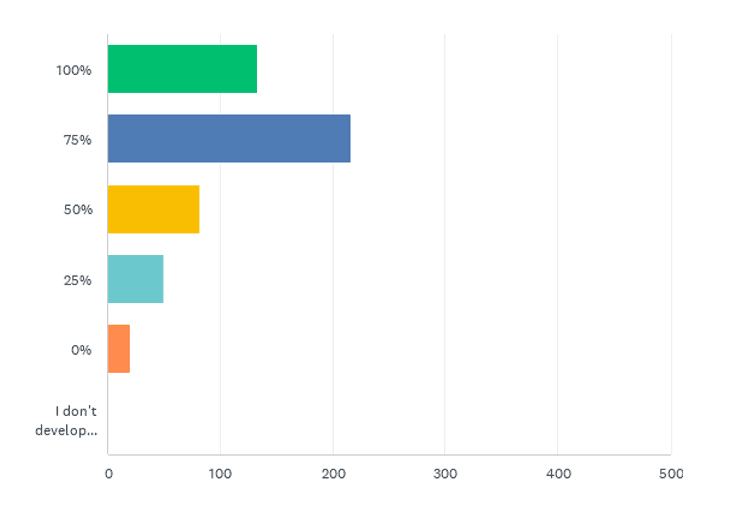 39. What percentage of your HOBBY development time is spent on CFML (as opposed to other languages)?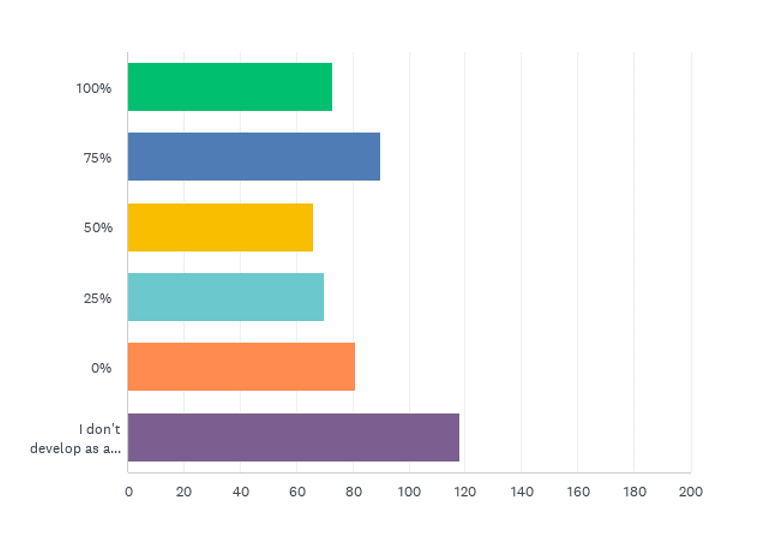 40. What is your current arrangement for CF work? (Check all that apply)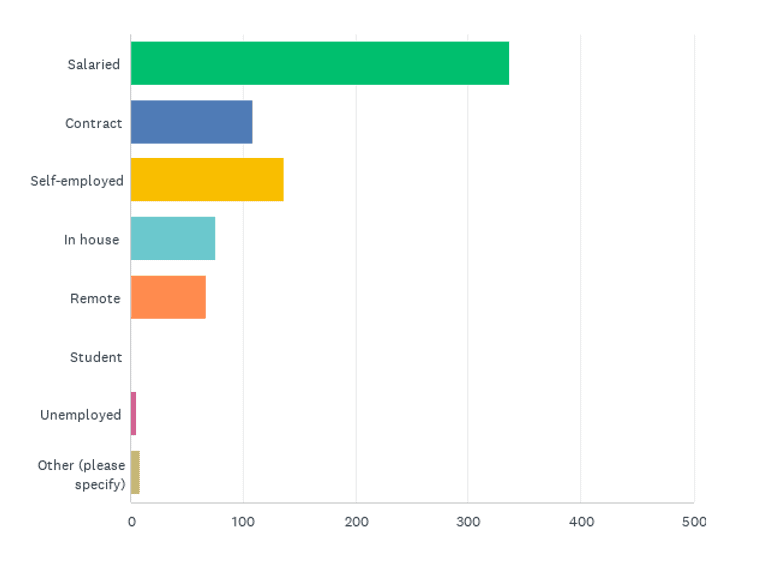 Other
No longer doing CF work. Last job was moving CF to .Net
Part-time by choice, salary above is FTE
Volunteer
Always looking for work
I both work for a company as a salaried CFML dev, but also run my own consulting.
I was working as CFML developer a few months ago
hourly, permanent part-time
Don't do CF anymore
Owner of Company
41. Any additional comments?
CommandBox has changed how we use CF and is solely responsible for bringing sanity to our continuing use of CF.
After 19 years of Coldfusion development I have had to move to other languages now to continue my career. I am now a RPA Developer and .Net Developer
Thanks for continuing to do this survey. It is very helpful to me to see what technologies are being actively used by the community and make decisions about platforms that are likely to have an engaged developer base as well as public knowledge (e.g. how to articles, troubleshooting info, tools, etc.)
We're moving to PHP and WordPress.
This language needs to grow. We need more CF developers, they are hard to come by in NC. Server needs to be cheaper.
Could Adobe offer licenses for previous versions, I have a number of clients who cannot upgrade or add servers because they have a particular version of ColdFusion which they do not wish to upgrade.
After 15+ years as a CF developer I found work as a full-time front-end developer in an organization that doesn't use CF, making more money than I ever made as a CF developer.
Love Cold Fusion – has served me well for many! years.
Let's bring CFML to the masses!
I love CF.
We still have a legacy CF Server running data imports but have moved all new development over to Groovy/Grails. We made this transition in 2011.
I enjoy CF and fear for it's future. I am actively looking at other languages to fallback on if CF is discontinued. Possibly .net. Would suck to become a junior developer after the years it took me to attain Lead status. Kinda my fault though for relying on CF alone.
Decision to abandon cf was not mine, I like cf and am looking for other cf work at my company or another company.
I'd like CF to be quicker by default, without the need for caching options. I'd like more outreach to the government. We're a contractor for the govt and they're always asking us if we should switch to a different technology.
I am still convinced ColdFusion is the best language to use to develop web applications.
Disappointed that we are finally having to move away from CF but it will still be several years before all of our apps have been completely moved to .Net
Bring back CF United…smaller scale maybe, but it was really fun and local.
Love CF and always will. It needs a MASTER MARKETER combined with a promotional site as it does anything that other hyped languages do. Cutting edge is not the real world.
Went to last years CFSummit, was very disappointed in Adobe's commitment to small and medium businesses using Cold Fusion. We started looking for other solutions shortly after the conference.
Identify & fix the inconsistencies of Built-In Functions in ColdFusion 10 before EOL.
Put cf back in dreamweaver!!!!!!!!!
Feel free to email me if you'd like any more info.
CF 11 sucks.
Based on the terrible marketing – I have to assume Adobe gave up on CF years ago. At this point I don't know that it can recover without a major cash infusion.
Thanks for this initiative. Looking forward to the results
I had no idea so many options were available for CF development. You should publish a paper. With these options and catagories with clickable links to there sources. SEND ME ONE IF YOU DO
Please beef up marketing Coldfusion is awesome for Mobile and Middleware solutions
A few things I believe that are hurting the promotion and adoption to Adobe CF is pricing (It prices itself into oblivion- and when a dev offers the pricing options for acf, almost always a manager or budget-conscience official will migrate to an opensource, or low cost alternative), the community, (while overall well-being, there are some bullies in there), and overall support (while it has improved in recent years, is still a little wonky and unintuitive).
Thanks for doing this
Executive Management and an Architect can't get CF out of our organization fast enough. However, the enormity of the effort to replace, still mean that we support CF, but no new features are being added. New applications are being written in PHP/Laravel and will eventually replace CF. I've approached them about going with Lucee, but after what happened with Railo, that will NEVER happen.
nothing about J2EE stacks?
No
Send me some useful. Books to mails like coldbox, wirebox, commentbox to gain some knowledge through it.. Thanks…
CF needs more marketing, promotion, and training. We need to bring it to emerging markets (South Amaerica and Asia). I have built many awesome apps and customers are always impressed, we can build fast and cheap and effective, we need this to be known for new developers in emerging markets! I would love to help Adobe make this happen!
I love CF.
I love that you do this every year. But please remember that not all CF devs are also CF managers. I know many devs who have zero access/involvement in the security configurations, monitoring or "why we use/don't use" discussions. My last job had 20+CF devs who just coded and another 6 who were involved in those conversations. So, maybe make an answer available for some of those questions to actively opt-out instead of just not answering. Also, maybe a "what is your role" question could be beneficial. We could then see how the answers of managers answering for an enterprise vs coders answering for themselves compares. For example, I have a git repository for my code at work. But as an enterprise, we have no source control. I speak for myself, my boss speaks for the official line of 10 people. Just some thoughts.
Love CF. It needs more love in the general development community. Every language has warts.
I am a big fan of ColdFusion. However, it is viewed by many as a dying language. What can be done to change this perception and attract new developers?
Sadly only have a few legacy CF apps as the company is only allowing Java and .net development
Thx!
ColdFusion is the best language
I've been using CF since version 1.5 and still find it to be great for building apps fast. I wish Homesite would get revived as I still use it today.
Documentation has gone downhill bugbase has gone downhill cf11 is most likely the last version because of 2016+ core restrictions instead of CPU
Please thank Adobe for me for killing Adobe ColdFusion, Dreamweaver, Flash and Flex.
Lucee is the future.
CF PRODUCT Leadership is just horrible
If you are looking to improve ColdFusion. I would like to request consistent JSON serialization. It would also be nice to have better examples and documentation for CFScript.
After the disappointing release of CF 2016 our boss started planning a phase out of ColdFusion and a replacement with .Net. This hasn't started yet. I have tried to push him towards Lucee as an option but he has his mind set on .Net. Finding resources to support applications is the biggest issue I see as there aren't many new developers coming through with CF skills or that want to learn CF. I have just returned to Australia from being in Canada for 5 years and the same issues are apparent in both countries.
We are being pushed to drop ColdFusion though it will be awhile because we have a lot of legacy code in ColdFusion. The plan is to move to React.js frontend with ColdFusion backend and then move backend to Node.js.
I love Lucee! Can't wait for my infrastructure folks to update to V5.
If there was not the FOSS alternative in Lucee we would absolutely be off of CFML for good. Even of Adobe ACF cost $1.00 – not interested in paying for use of a language. It's not the money either, it's the principle of it.
Looking to Rails for future. CF is a career dead-end.
good initiative.
Thanks for doing this survey and sharing the results.
would be nice to see cfquery output ready to consume arrays/structs for angular/react
ColdFusion too expensive and doesn't perform as well as modern server side components, like Node.js and ASP.NET Core. It also requires too many resources for server. Need to replatform to run on small Virtual Cloud machines and support more than just AWS. Many enterprises are also Microsoft Shops and therefore are moving towards Azure.
I'm deeply frustrated with Adobe, and cautiously optimistic about the open source world.
Moving off CF is the best thing my company could have done, and was also a fantastic move for me professionally. I would encourage all CF developers to do the same.
Thank you!
Please keep CF alive and well !!!
CF is dying. It's being phased out at my company. I've learned C#.NET to I can continue developing. There are no job listings for CF in Washington State. Adobe's poor support for CF is one reason its dying.
I know a lot of long time cf developers scoff at the "cf is dying" talk, but the fact is that cf has been dying a slow death for quite some time now. Adobe might still be putting out new versions, but that doesn't change the fact that there are fewer people using it every year (I don't think it's a coincidence that there are few new developers responding to these surveys). We're dependent on contract help to supplement our team when things get busy… Compared to ten years ago, it is next to impossible to find anyone who has experience with it, and we're likely going to be switching to something else like .net because of it.
A year ago we decided as a company to move away from CFML for a huge internal application rewrite. We ran a parallel proof of concept project on both C# and NodeJs. Truth be told we are now looking to go back to CFML (Lucee) for this application. The other platforms were fine, but were overly complex or had too many options (NodeJs, I'm looking at you; typical for a product still in it's youth). We will still develop NodeJs apps, but found nothing compelling us to drop CFML wholesale.
keep on the surveys
I'm hearing like everyone, and since years, CFML is dying… Some customers are afraid of that and stay away. OK fair enough. We are diversifying our devs, having move Java/Spring applications. Productivity in CFML is at leat 4x better and most of the case around 10x! So, we've tried to figure out which other "trendy" language to switch too: Scala… nop, functional, too difficult to handle for beginners Groovy… I would even prefer to code in PHP (joking) Go… Seriously, why? Python…. Ruby… interesting, but not so better than CFML in term of image I still try to figure out why CFML is so proficient. One of the key points IMHO is the readability of the language, thanks to: – no over needed syntax (like := while = is just enough) – high level functions to manipulate all those string, list, array, struct And the other ends, I'm concerned about where the world is going about Front-End. This single page applications, most of the time is not worthing the time and the money you put in. We are almost to declare a moratorium in our organization about all Angular and other stuffs. Very high cost, very long delivery, refactoring needed every two months, and seriously not so good user experience (first load…. look at LinkedIN, seriously). CFML rocks, still alive and on facts it doesn't deserve this (bad) reputation.
Please share/publish the results and conclusions of this survey.
Lucee is the best!
After spending more time in Python, Ruby, and Node.js, a lot of the benefits that were keeping me in the CF world just don't seem to be as valid anymore. I'm looking to switch to something else, but it's difficult to make the transition from a language senior developer to a neophyte. I don't expect my company will continue to grow/operate in the CF world for many more years, due to difficulties in finding work, good staff, and developer salaries.
I love ColdFusion and will always use it in my business. But I think more organizations and developers need to be introduced to ColdFusion's vast capabilities.
In progress of migrating to Lucee 4.5 Reluctant to upgrade to Lucee 5 due to osgi issues with third party libraries and lack of solid documentation.
I love CF and won't give up on it! I learned .NET from the ground up and became pretty good at it, but I'll take CF 6 days a week and twice on Sunday!!!!
CFWheels all the things! 🙂
You should ask if you are in the process of converting an existing CF application to another tech stack, either all at once, or a piece at a time. For example, we're breaking down a monolithic, years old CF app into separate SaaS based solutions that we're creating on another tech stack. Odds are, CF won't go away entirely, but we'll rely on it less in many places.
I see a very poor future outlook for CF Developers unfortunately. Since Adobe took over the language and particularly since it off-shored it to India, it's been mostly downhill. There has been almost no attempt to grow the language and attract new developers and that makes it a dead-end, dying language.
We develop primarily for many different clients using many different development scenarios.
Hi, I'm organizing CFCamp every year. If I can help you or you'd like to visit cfcamp, please let me know. Best, Michael Hnat
Nice one!
I hope more people answer the survey this year. I knew 9 CFers that didn't even know about last years survey
We have a large CFML setup, and love it as a language. We have fought to keep it in our company.
We are not upgrading our ACF10 licences. Working on migrating everything to Lucee.
---
And to continue learning how to make your ColdFusion apps more modern and alive, I encourage you to download our free ColdFusion Alive Best Practices Checklist.
Because… perhaps you are responsible for a mission-critical or revenue-generating CF application that you don't trust 100%, where implementing new features is a painful ad-hoc process with slow turnaround even for simple requests.
What if you have no contingency plan for a sudden developer departure or a server outage? Perhaps every time a new freelancer works on your site, something breaks. Or your application availability, security, and reliability are poor.
And if you are depending on ColdFusion for your job, then you can't afford to let your CF development methods die on the vine.
You're making a high-stakes bet that everything is going to be OK using the same old app creation ways in that one language — forever.
All it would take is for your fellow CF developer to quit or for your CIO to decide to leave the (falsely) perceived sinking ship of CFML and you could lose everything—your project, your hard-won CF skills, and possibly even your job.
Luckily, there are a number of simple, logical steps you can take now to protect yourself from these obvious risks.
No Brainer ColdFusion Best Practices to Ensure You Thrive No Matter What Happens Next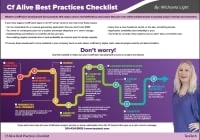 ColdFusion Alive Best Practices Checklist
Modern ColdFusion development best practices that reduce stress, inefficiency, project lifecycle costs while simultaneously increasing project velocity and innovation.
√ Easily create a consistent server architecture across development, testing, and production
√ A modern test environment to prevent bugs from spreading
√ Automated continuous integration tools that work well with CF
√ A portable development environment baked into your codebase… for free!
Learn about these and many more strategies in our free ColdFusion Alive Best Practices Checklist.