What is Into The Box conference?
Into The Box conference is for all ColdFusion developers, and while it focuses on the Box CF products and tools, it also covers other topics.
I like it because it promotes modern ColdFusion and modern best practices. While some still see it as a legacy code, and the old, spaghetti code, I will repeat it again; it is FAR FROM IT. ColdFusion is a modern and vibrant language. Adobe's latest version 2021 is out of this world, and the only thing that might still keep you in the legacy land is yourself… update, and modernize 🙂
What is Into The Box conference in detail?
Started with ColdBox Developer Week, then Ortus Developer Week.
2023 is the 10th edition.
Started as a pre-conference before CFObjective
Houston 2016 was the first ITB standing on it's own legs without piggy backing onto another Conference.
1 day before a 3-day conference was tough, we moved so we could get 2 days.
We have PLENTY to TALK ABOUT – so didn't take us long to need more than 2 days in our own conference.
Box products and general CF topics
Why did we need our own conference?
Made a name for ourselves at Ortus at first with Documentation, and now through tools
Great way to network as a Professional Open Source company, meeting clients and our contributors.
ColdFusion as a whole, likes to keep most talks framework agnostic, so we needed our own conference to show all of the content we get demands for.
Every year is improving.
Great response when we offered one-day workshops, and in the past, even 2 days of workshops, plus 2 days of the conference, 4 great days of content, and the attendees loved it.
And ITs GROWN AND GROWN until this year's conference, and it looks like the best one yet!!!!!!!
Into The Box 2023 – Modernize (ColdFusion) or Die
When is it?
Into The Box 2023 Conference goes from May 17th – 19th of 2023, in Houston, TX.
Here's the agenda by day:
May 17th – pre-conference show; make sure not to miss it!

May 18th – Conference Day + Happy Box Mariachi Party
May 19th – Conference Day
How was last year at ITB?
I have to mention a CF expert, Charlie Arehart, and his talk at the CF dev week 2022, about how ColdFusion is more modern than most realize. Check it out, it will make your day.
Gavin Pickin talks about "Into The Box ColdFusion Conference 2022 (new details revealed) " in the episode of ColdFusion Alive Podcast with host Michaela Light.
"…with the [ITB] conference, it's a great way to look at a lot of different things. …usually people have heard of ColdBox, it's the biggest of the three MVC frameworks still left in ColdFusion, (according to the … state of the CF Union survey). Framework One is still up there, but it doesn't have the same support now that Sean Corefield moved on, and then CFwheels has been revived in that doing well, too…"
Don't miss the opportunity to attend Into The Box 10th edition for Free!
If you are a student interested in learning about the latest Web and Mobile Development Innovations and Tools and you want to network with like-minded professionals to expand your knowledge in the field; Then you don't want to miss our upcoming Leading Web Development Conference in Modern CFML, Into the Box 2023!
How to win a Free Ticket?
As a student, you can win one of five free tickets to the conference; join us at Into the Box 10th edition for free by following the two steps mentioned on ITB website 
Into The Box 2023 Speakers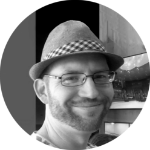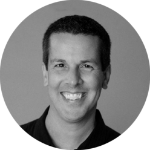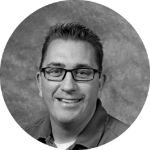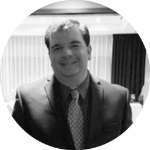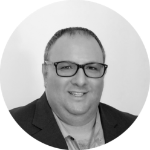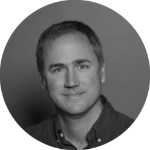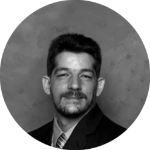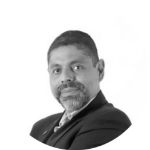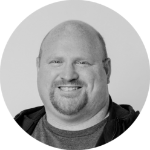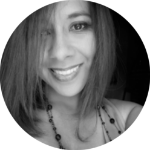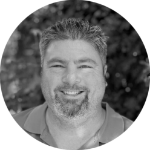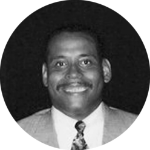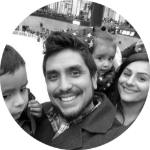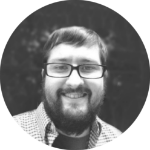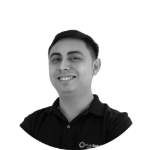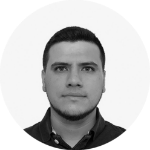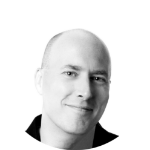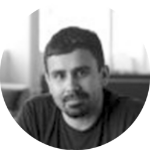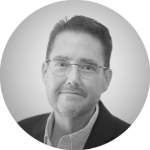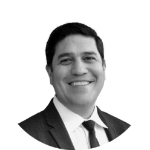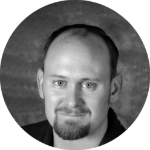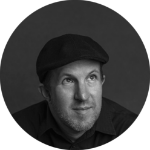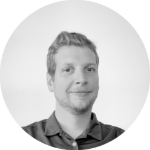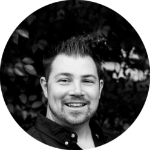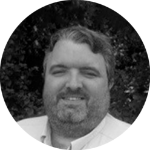 Shawn Oden
Organizers and hosts
Ortus Solutions is a multinational company based in the US, Europe, and LATAM. As a leading provider of open-source products, tooling, and training, they are passionate about training, mentoring, modernizing the CFML language, and growing their community of amazing developers.
Into The Box 2022 (ColdFusion Development Conference)
Into The Box conference is one that I truly enjoy being a programmer and CFer.
2022 has finally brought us back to "old reality" and let's keep it that way. The event was in Houston, TX.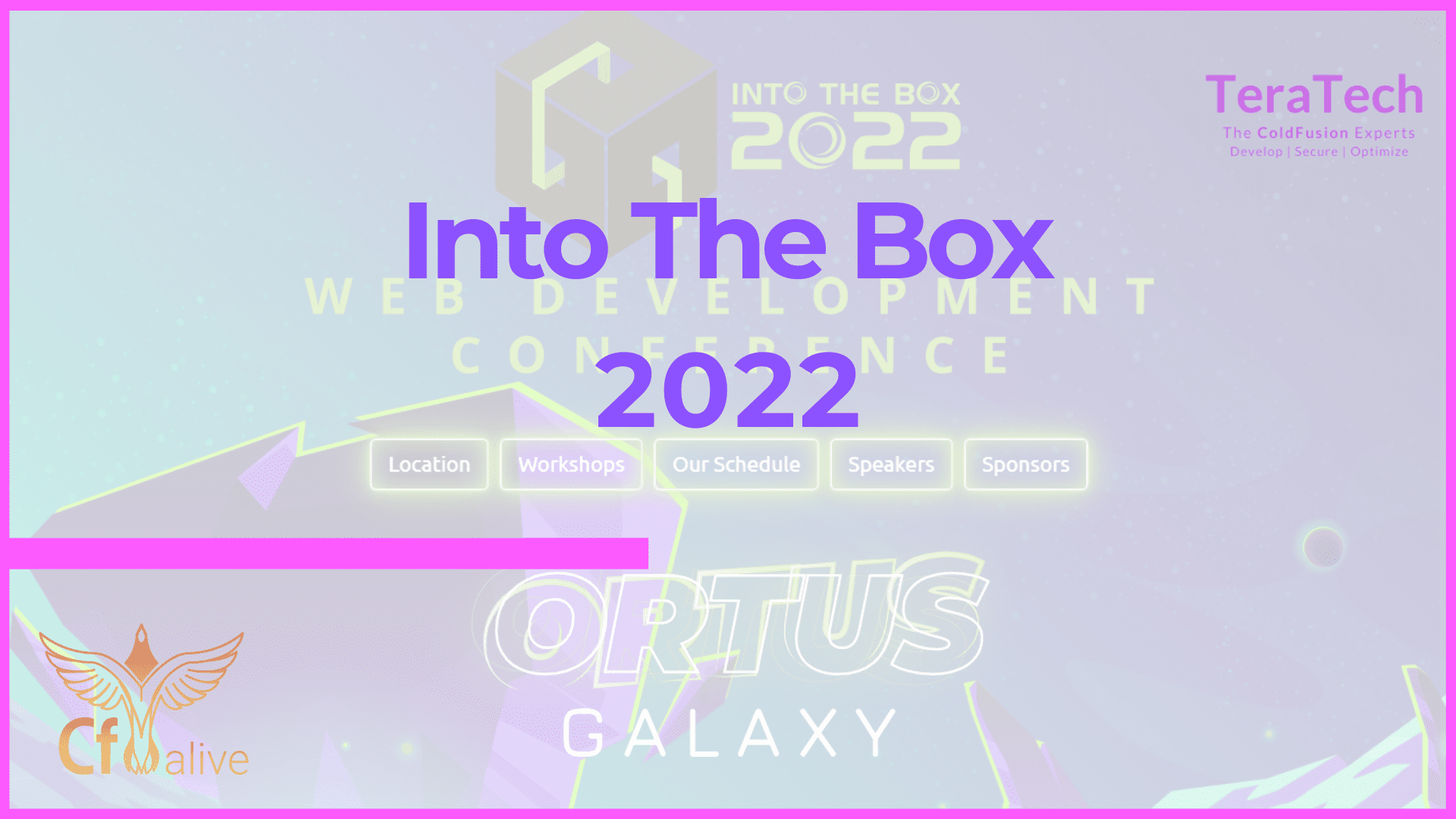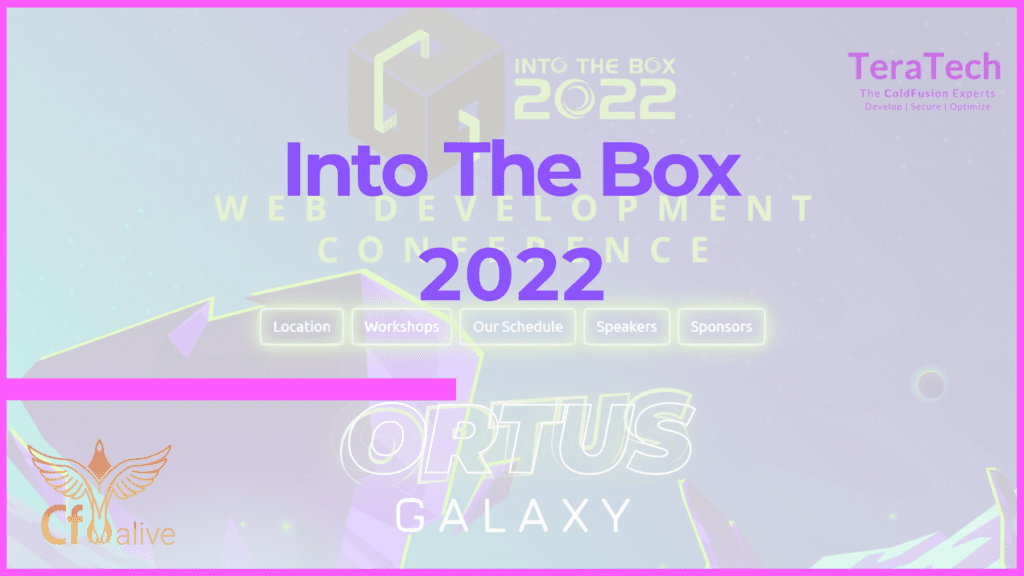 When was it, and can I see any recordings?
Into The Box 2022 Conference went from Tuesday, September 6, to Thursday, September 8, 2022. at Houston CityPlace Marriott at Springwoods Village.
Here's the agenda by day:
September 6th -Choose 1 of the 5 full-day Hands-on workshops
September 7th – Conference Day + Happy Box Mariachi Party
September 8th – Conference Day
Into The Box 2022 Speakers
Abram Adams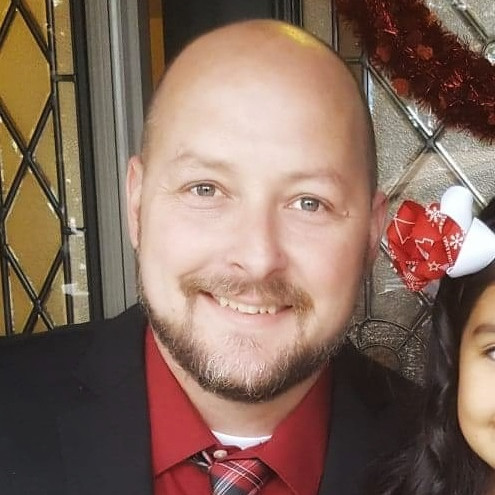 Abram has a long history with CFML and has spent the majority of the past 22 years building and supporting solutions built with the stuff. As a father of 7 children, he wanted to teach his kids how to develop software at a young age, however he found that the conceptual knowledge required to set up a working CFML environment was too steep a curve for the average 14 year old. That's when he developed TryCF.com as a way to effortlessly write code in a browser and watch it work (or fail miserably). That project is still helping many CFMLers today – over 10 years later! So far, two of his 7 have followed in his footsteps to become accomplished software developers in their own right. The others are a work in progress 🙂
Though nowadays he works primarily as a Senior DevOps Engineer, his love for the CFML platform and its usefulness in so many areas keeps him bound to this awesome community.
Brad Wood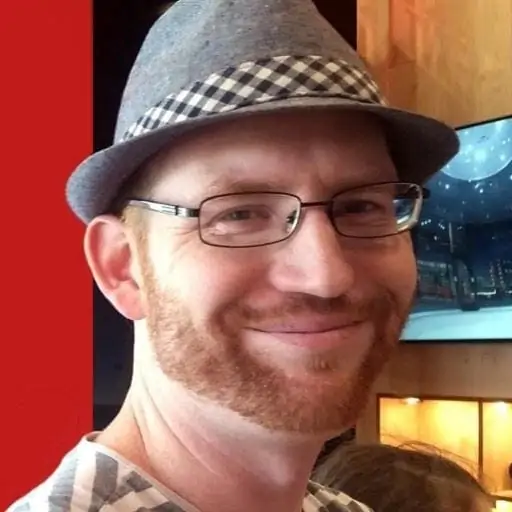 Brad grew up in southern Missouri and after high school majored in Computer Science with a music minor at MidAmerica Nazarene University (Olathe, KS). Today he lives in Kansas City with his wife and three girls. Brad enjoys all sorts of international food and the great outdoors. Brad has been programming ColdFusion since around 2002 and has used every version of CF since 4.5. He first fell in love with ColdFusion as a way to easily connect a database to his website for dynamic pages. He enjoys configuring and performance tuning high-availability Windows and Linux ColdFusion environments as well as SQL Server.
Brian Rinaldi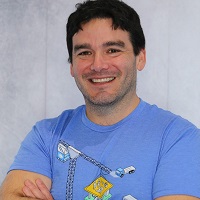 Brian Rinaldi is a Developer Experience Engineer at LaunchDarkly with over 20 years experience as a developer for the web. Brian is actively involved in the community running developer meetups via CFE.dev and Orlando Devs. He's the editor of the Jamstacked newsletter and co-author of The Jamstack Book from Manning.
Charlie Arehart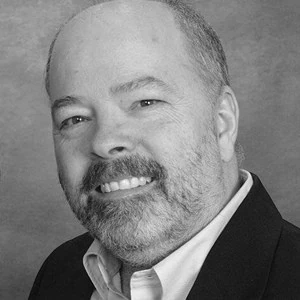 A veteran server troubleshooter who's worked in enterprise IT for more than three decades, Charlie Arehart (@carehart) is a longtime community contributor who, as an independent consultant, provides short-term, remote, on-demand troubleshooting/tuning assistance for organizations of all sizes and experience levels (carehart.org/consulting).
Dan Card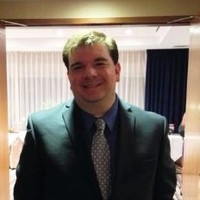 Dan Card has been using CFML for nearly 20 years in a variety of settings, including the education, non-profit and for-profit sectors. His current project specializes in developing interactive, collaborative and educational online experiences. He lives north of Boston and is an educator at UMass Lowell in the Division of Online and Continuing Education.
Daniel García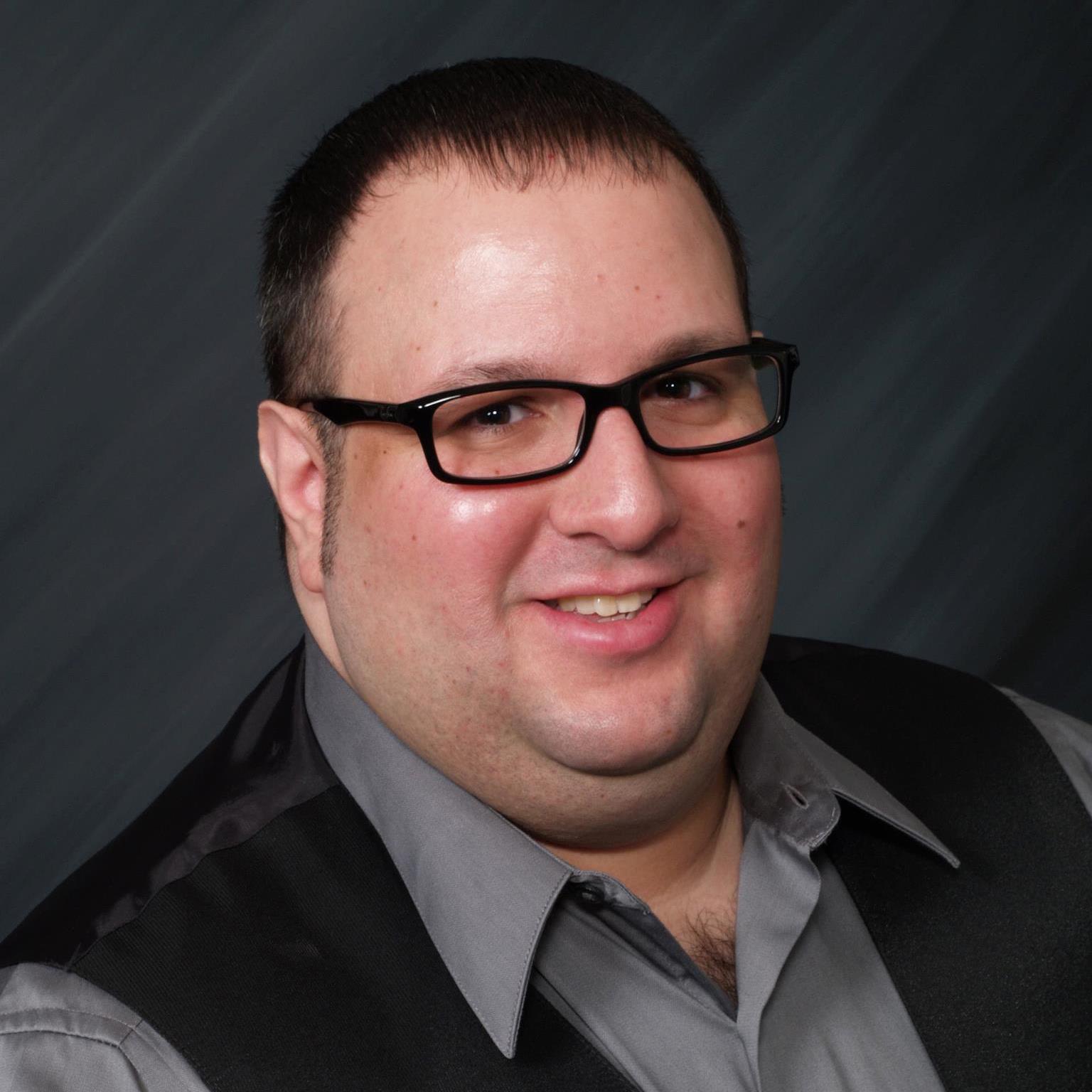 Daniel Garcia lives in Plainfield, IL, has been working with ColdFusion since 1999, and is passionate about the language. He founded and managed the Chicagoland ColdFusion User Group starting in 2012 and most recently joined Ortus Solutions. He is a husband, father, cinephile, regaler of useless knowledge, smoker of meats, Taekwondo practitioner, barbershopper, part-time college student (go Hawkeyes!), and has an irreverent sense of humor. His mantra is "work smarter, not harder" and "KISS (Keep it Simple Stupid)".
Eric Peterson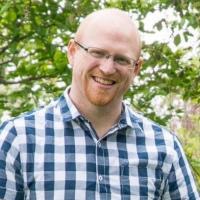 Eric Peterson (@_elpete) is a CFML and javascript developer at Ortus Solutions (ColdBox, CommandBox, etc.). He is a prolific module developer and the creator of projects like QB, Quick, and ColdBox Elixir.
In his spare time, he enjoys spending time with his family, playing geeky card and board games, and participating in theatre.
Esmeralda Acevedo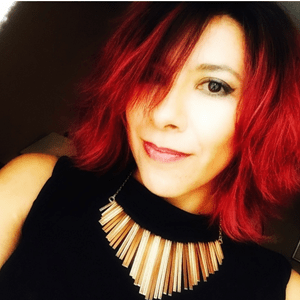 I am a Software Consultant for Ortus Solutions, Corp. My professional journey began about 17 years ago as a graphic/web designer, in the time of tables and frames. After graduating from California State University with a major in Art and a minor in Computer Science, I was hired to work along CFML developers. Although I was mainly involved in the design aspect of the projects, I gradually became more involved in assisting the programming team.
Eventually, I returned to school to complete a technical degree, with an emphasis in software development. Now, in addition to my experience with graphic design tools, such as Photoshop, Illustrator, Fireworks, Indesign, etc., I have added application development tools, which include CFML, MySQL, Javascript, CSS, Bootstrap, Coldfusion, Coldbox, ContentBox to the list.
Away from the computer, I have a love for the outdoors. As John Muir said, " Keep close to Nature's heart… and break clear away, once in awhile, and climb a mountain or spend a week in the woods. Wash your spirit clean." Besides washing the spirit clean, nature clears my mind to solve programming issues or inspires me to create designs.
Gavin Pickin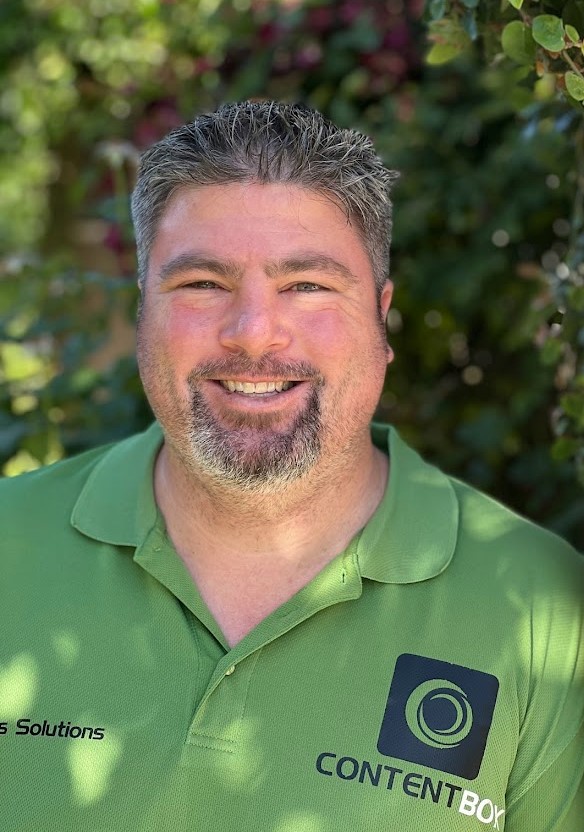 Gavin started using ColdFusion in 1999 when working for the university of Auckland in New Zealand before moving to California. He has lead teams, trained new developers and worked the full stack from graphic design, HTML CSS JavaScript through to ColdFusion MySQL and server administration.
Gavin has a passion for learning and cannot understand why the 9-5ers aren't listening to podcasts while changing diapers, watching video tutorials while cleaning baby bottles and folding clothes, or putting the kids to sleep with soothing phone gap mobile application cookbook recipes. You will find him blogging atgavinpickin.com and on twitter @gpickin and occasionally being mocked on cfhour's podcast.
George Murphy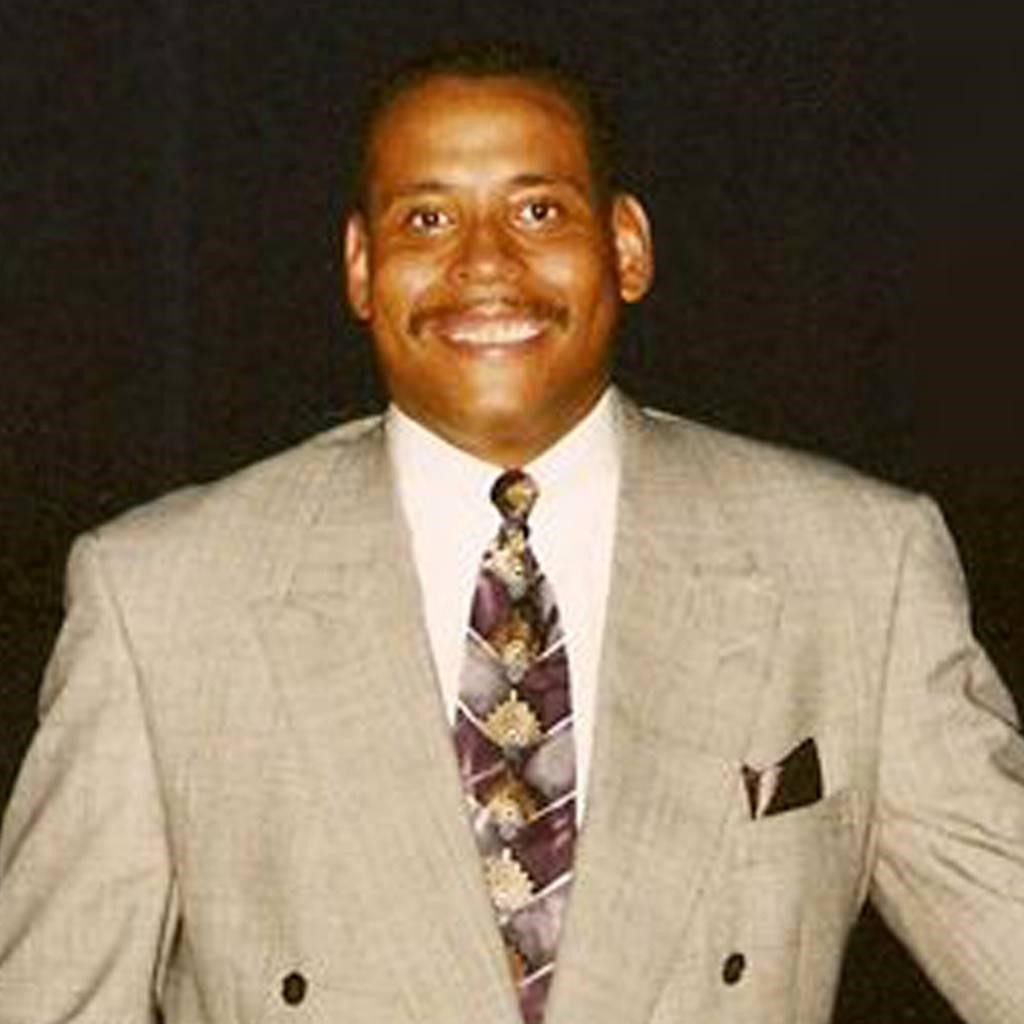 I am a Christian, husband, father and software design engineer. Client Relationship Management, Development Methodologies, Customer Requirement Analysis, Full-Lifecycle Management, Team Leadership, Conformity Assessment Specialist, Specification Development, Object-Oriented Design, Process Improvement, Web/Graphic Design, Visual Information Specialist, Webmaster, Social Media Expert, Scripting Specialist.
Grant Copley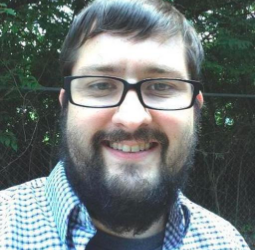 Grant grew up in western Kentucky and began creating websites for local events at 14 years old. Those early experiences quickly developed into a life-long passion for web development and computer programming. Grant has been slinging CFML for 22 years, starting with Allaire ColdFusion 3.1. He lives with his wife and daughter in Nashville, TN, and their two fur babies and turtles. When he isn't at the computer, you can find Grant outdoors enjoying the sun or inside pretending he can shred on the guitar.
Javier Quintero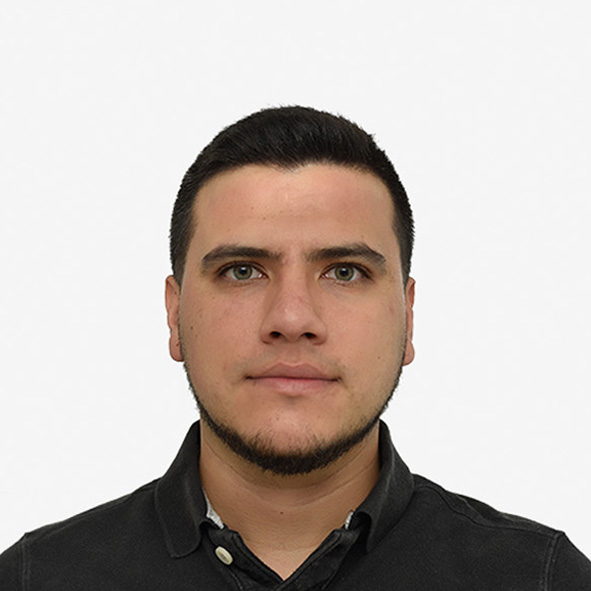 A systems engineer born in Colombia has developed software since 2010 mainly in languages ​​such as Java and Coldfusion. He currently works for Ortus Solutions Corp, as a web developer and aims to explore and learn all areas of software development in order to become a Full Stack Developer in the near future. He is passionate about technology and in his spare time he likes to listen to music, go to the beach and play tennis.
John Farrar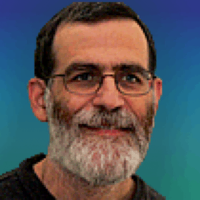 John Farrar started programming in the late 70's on a Commodore PET. He served in the U.S.Navy and then met his wife during his reservist years. This was when the Amiga drove his computer interest for several years. Eventually he became a web developer and in the later 90's he started using ColdFusion building dynamic web sites.
With about twenty years of web development John has become known for his work with jQuery, Knockout and Vue AJAX libraries. Sustainable and profitable come together when the right technology is applied to the correct challenges. John enjoys focusing on strategy that will bring impact without getting delayed by over engineering.
Jon Clausen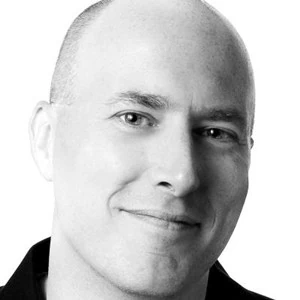 Jon hails from Grand Rapids, Michigan and has been developing CFML applications for almost 20 years. He was born and raised in South Dakota and attended SDSU, DePaul University and Aquinas College. In 2004, after 14 years with a Fortune 100 company, he founded Silo, a full-stack development and technology consulting firm in Grand Rapids, Michigan, before coming to work full-time for Ortus in 2018. Jon has developed and written applications in CFML, Javascript, PHP, and Ruby in addition to dabbling in Java, Python, Bash, Scala, Clojure as the need warrants. He keeps current with both old and new database technologies including SQL Server, MySQL, MariaDB, Oracle, PostgreSQL, Couchbase, and – his personal NoSQL favorite – MongoDB. Elasticsearch and the ELK stack, along with containerization are his current "shiny new pennies".
After hours, Jon enjoys theatre, fishing for smallmouth bass on the Great Lakes, and being a "horse show Dad" to his 17 year-old.
He is currently a Senior Software Developer at Ortus Solutions, after many years as a "box aficionado" and is eternally grateful for tools like Coldbox, CommandBox, and Testbox, which continue to evolve and demonstrate a bright future for CFML development.
Kai Koenig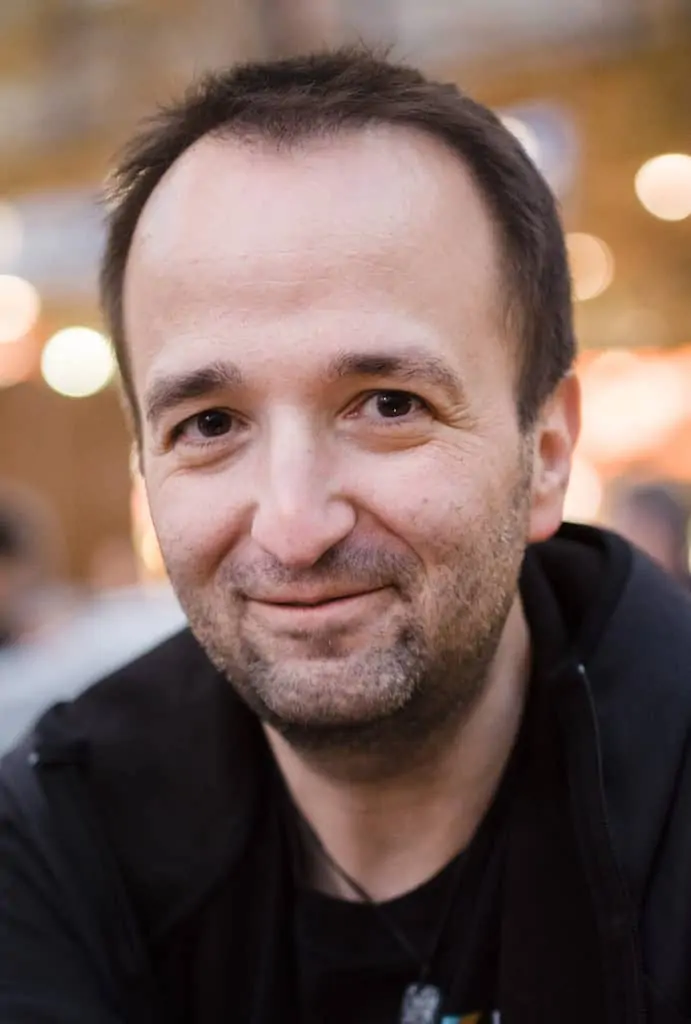 I am a Software Solutions Architect specialised in web and mobile technologies using client-side platforms such as Flutter and Android.
Another focus of my work is building and the integration with JVM-backend platforms such as Java, Kotlin, CFML, Lucee and others like Go and Python.
I spend most of my work time contributing to projects of various clients and sizes, fulfilling the role of an architect, principal developer, consultant or mentor/instructor.
Luis Majano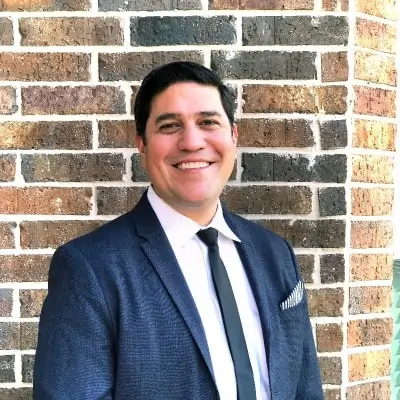 Luis Majano is a Computer Engineer born in El Salvador and is the president of Ortus Solutions, a consulting firm specializing in web development, architecture and professional open source support and services. His background includes over 16 years of software development experience, architecture and system design. He is the creator of the ColdBox Platform, CommandBox CLI, ContentBox Modular CMS and is an Adobe Community Professional.
Mark Takata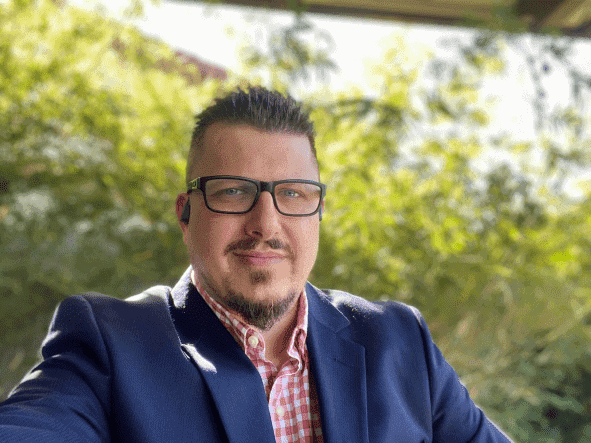 Mark Takata is a 20+ year veteran of application development with professional experience in more than a dozen languages & frameworks. He is a multi-time speaker at CFSummit & other events. He currently serves as Adobe's Technical Evangelist for ColdFusion.
Matthew Clemente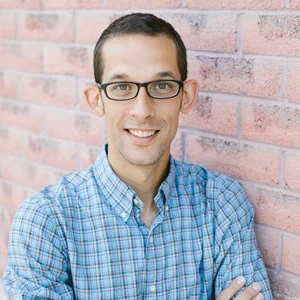 Matthew is a Founding Partner of Season 4, LLC, a team of designers, programmers, and writers working in the legal industry. After studying English, he took the road less traveled and one day realized, much to his own surprise, that he had become a developer. Perhaps because code can be poetry and applications are the built on creativity, logic, and language, he, like Alice, decided to keep going down the rabbit hole, to see where it would take him. He's been building with ColdFusion since MX 7.
He's a husband, father, and always trying to be better. You can find him on Twitter (@mjclemente84), Github (@mjclemente) and he blogs, time permitting, at the cleverly named blog.mattclemente.com.
Michael Born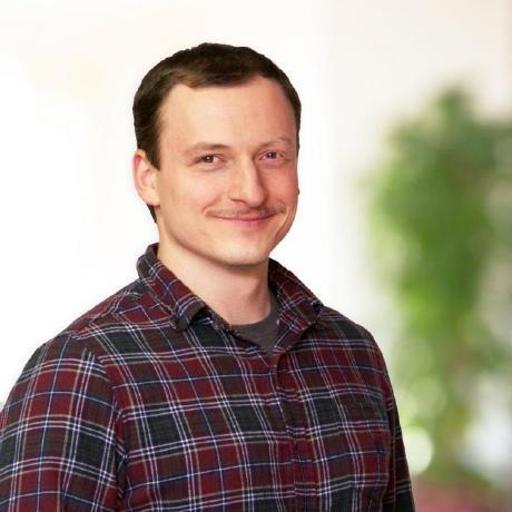 Michael Born is a serial web developer from Central New York, where he spent eight years writing vanilla CFML at a web design agency before branching into ColdBox in 2018. Michael and his wife Kira live in a fixer-upper in the country, and when Michael is not writing code or renovating his home he enjoys road cycling and making music.
Nolan Erck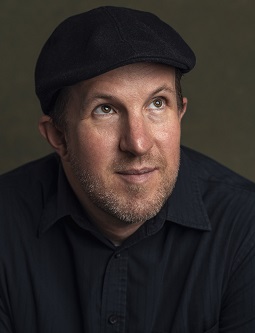 Nolan Erck has been developing software professionally for more than 19 years, starting in the video game industry as a Tools Programmer advancing to web development in 1999. He has worked on high profile projects for LucasArts, Maxis, Lisa "Left Eye" Lopes, Schools Credit Union, and Alive N Kicking Magazine among others. His list of credits includes Grim Fandango, Star Wars: The Phantom Menace, SimPark, and SimSafari, as well as high-traffic websites for a variety of technology based companies.
Nolan currently co-manages the SacInteractive User Group and is an active member of the Web Developer community, giving presentations on Object-Oriented Programming and Web Development for groups across Northern California. Nolan is also certified in Adobe ColdFusion, and is an in-demand consultant, providing training and development experience for a variety of companies.
When he's not consulting or talking about himself in the third person, Nolan can usually be found working on one of several music projects.
Raymon Camden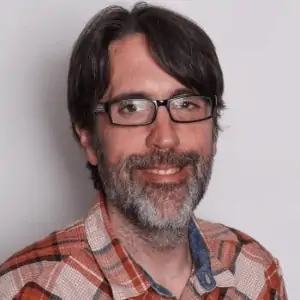 Raymond Camden is a Senior Developer Evangelist for Adobe. He works on the Document Services APIs to build powerful (and typically cat-related) PDF demos. He is the author of multiple books on web development and has been actively blogging and presenting for almost twenty years. Raymond can be reached at his blog raymondcamden.com, @raymondcamden on Twitter, or via email at [email protected]
Scott Steinbeck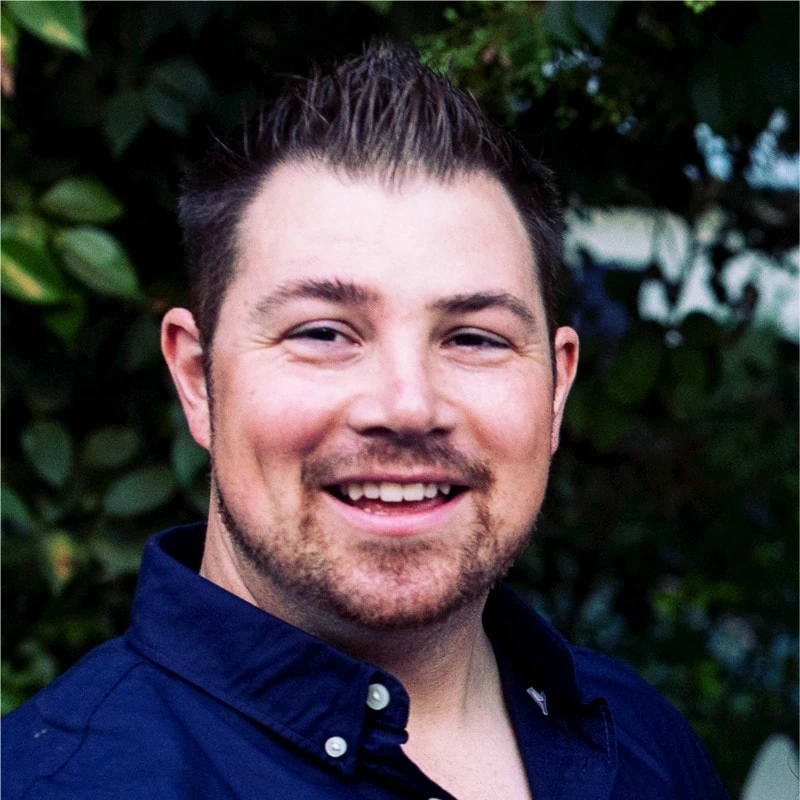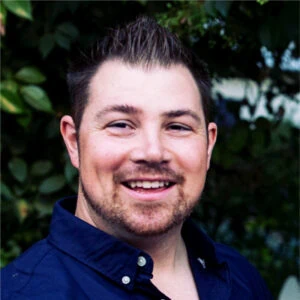 Software engineer specializing in web and mobile application development. Over the last 10 years I have produced 100+ websites including site for: Company Storefronts, Online Shopping, Customer Relationship Management, Content Management Systems, Engineering Plan Rooms, Educational Testing, Learning Information Systems, Agricultural Tracking & Analysis, Automated Billing, Report Forecasting, Agricultural Scouting, GIS Mapping Solutions, Irrigation Management, just to name a few. I enjoy working with ColdFusion, and all sorts of JavaScript Frameworks like: ReactJS, Angular JS, ExtJS, Ionic Framework, jQuery, etc. When I'm not programming you will most likely find me tinkering with electronics or woodworking.
Seth Stone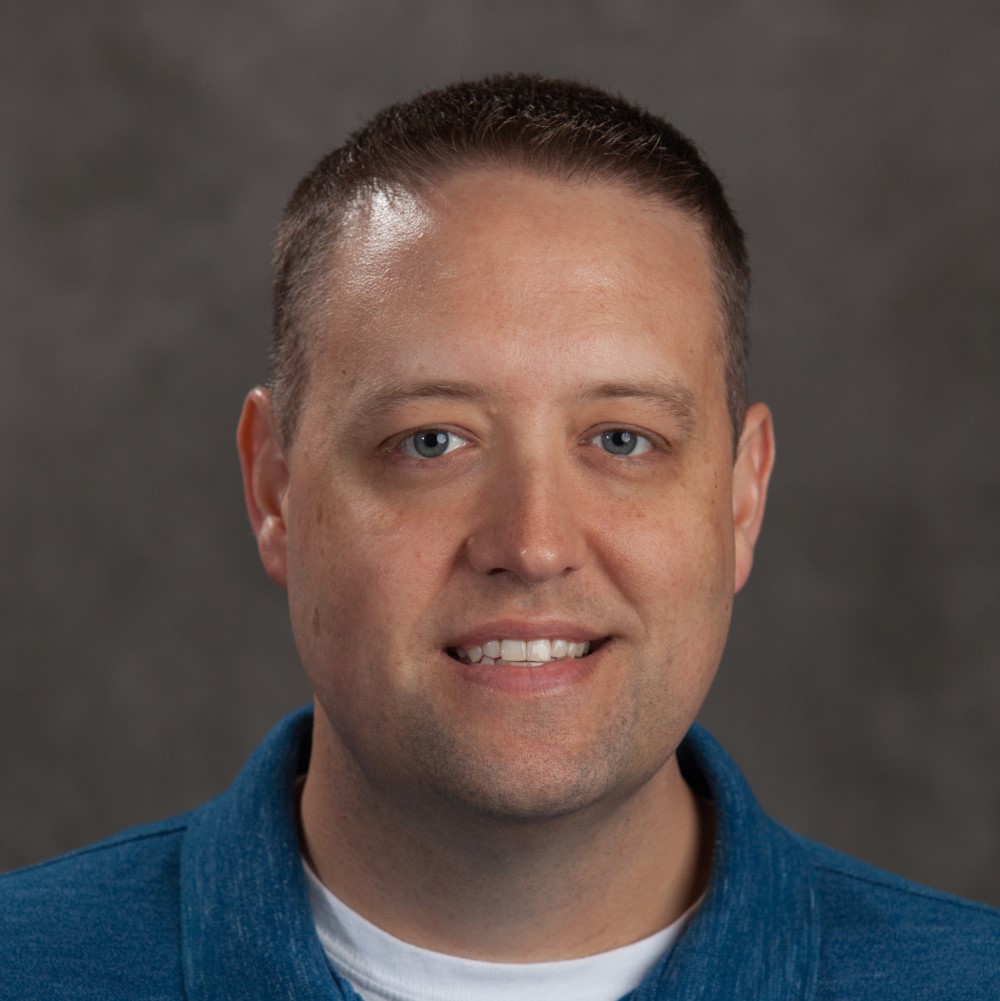 I'm a native Texan who got started in web development in the 90's by checking out books on Perl and "CGI Programming" from the public library. Now days I get to apply my passion for technology and software development at Pine Cove – a non-profit Summer Camp ministry. And by night I run Flintex Data Studio – my cloud strategy and development LLC. When not playing with cloud services I enjoy traveling the USA with my wife and collecting retro video game "stuff". Still trying to figure out how to build Gameboy games with CFML…
Shawn Oden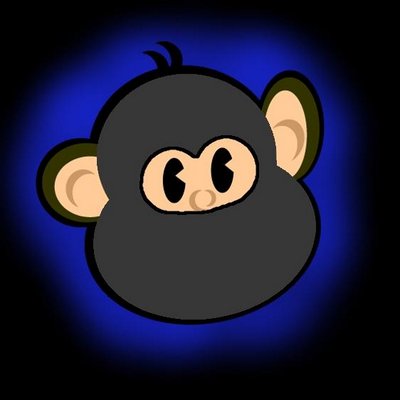 Back in the olden days, before that thing we call Y2K, I was a pilot, but then I accidentally became a programmer. And now I'm a data monkey. Nearly all of my career has been spent working in Background Screening, Healthcare, Insurance, Government or Military, where cybersecurity has played a fairly heavy role. I've learned quite a bit about quite a lot, and my interest has been piqued in more topics than I can ever hope to master.
On the current step of my adventure, I find myself on the path as a DBA for the U.S. Army.
And I'm still more curious than is probably good for me.
Zac Spitzer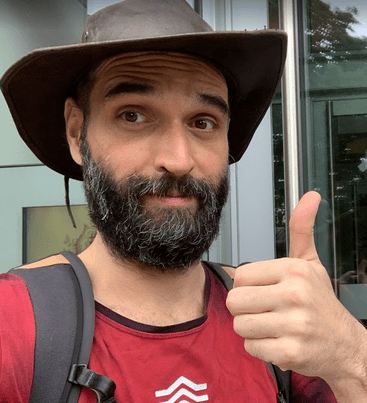 CFML Developer since 1996, Allaire CF 2.0 * Senior Software Engineer @ Rasia * 80% Senior Software Engineer @ Distrokid * 20% Community Manager @ Lucee Association Switzerland Originally from Melbourne, Australia. Lives in Berlin, Germany
Into the Box 2022 Pre- Conference
If you went online, you could attend bonus Pre-Conference Sessions. The access was included in the conference ticket. It went from Mon Aug 29th – Friday, Sept 2nd.
Each day had 2 x 50-minute Online Sessions.
Monday – August 29th
Meilisearch: A Search Platform for the Rest of Us, by Michael Born.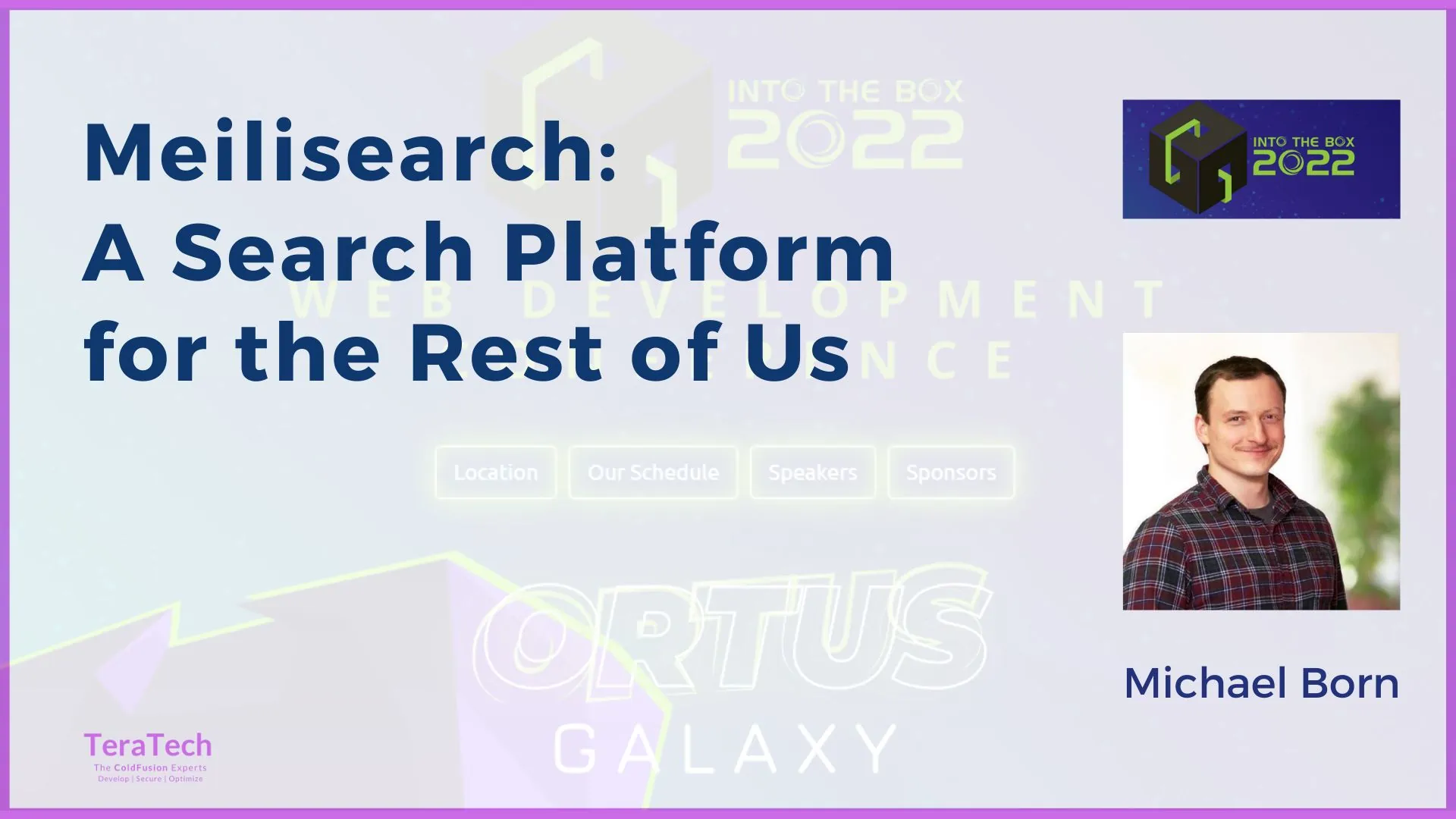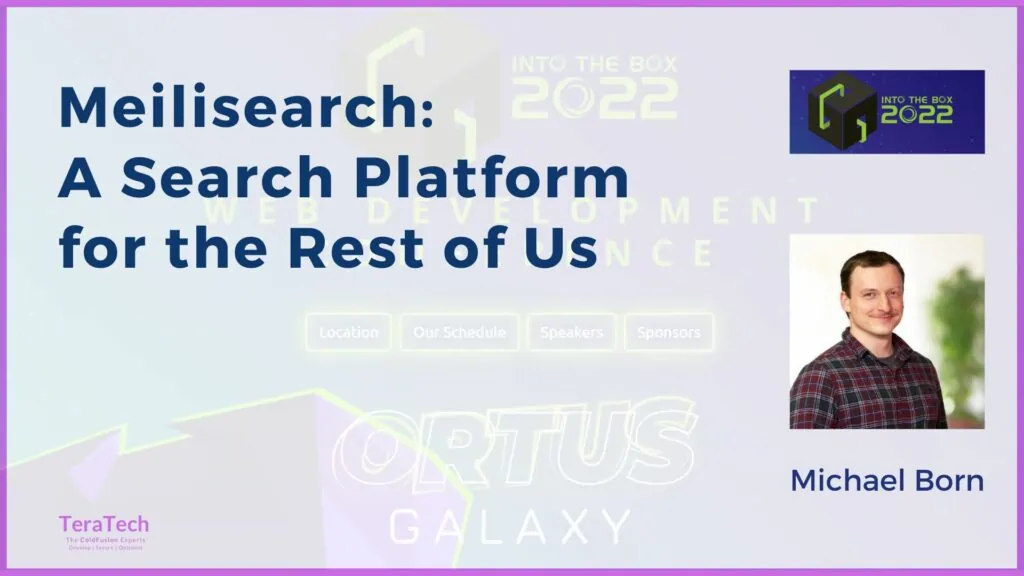 Cold Brews: Getting Started with Java in Your CFML Apps, by Matthew Clemente.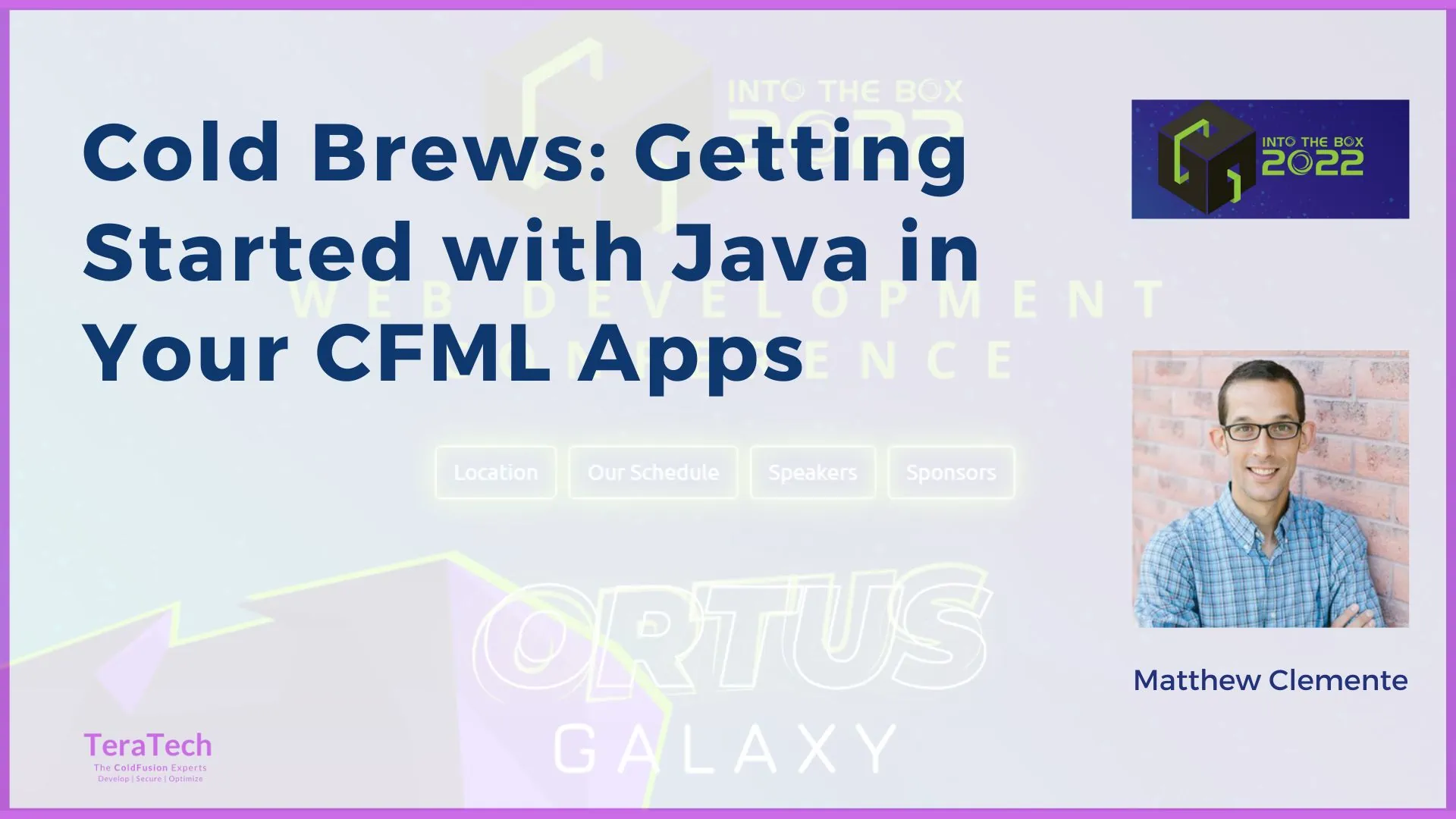 Tuesday – August 30th
Lucee – Behind the Scenes, by Zac Spitzer,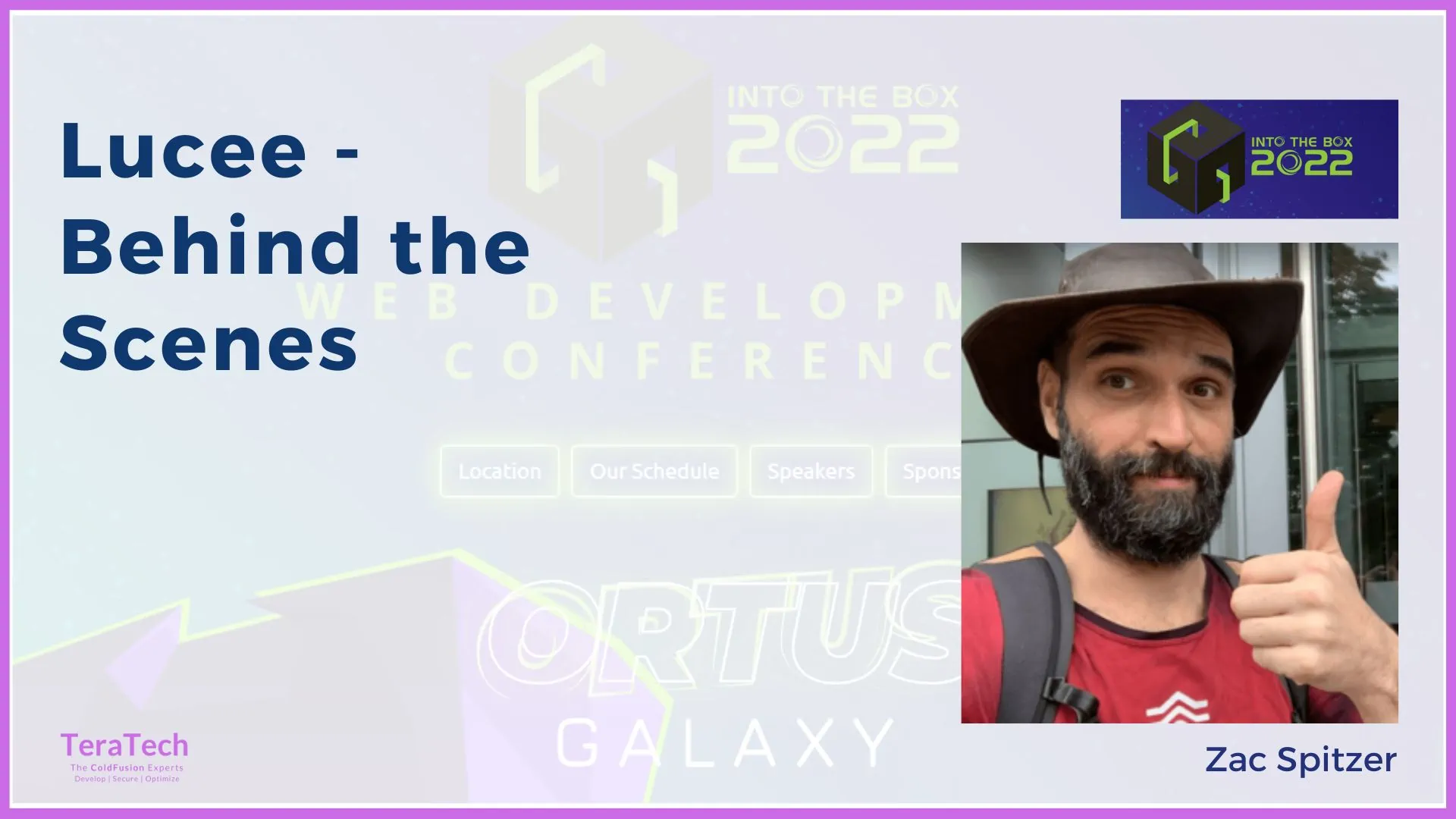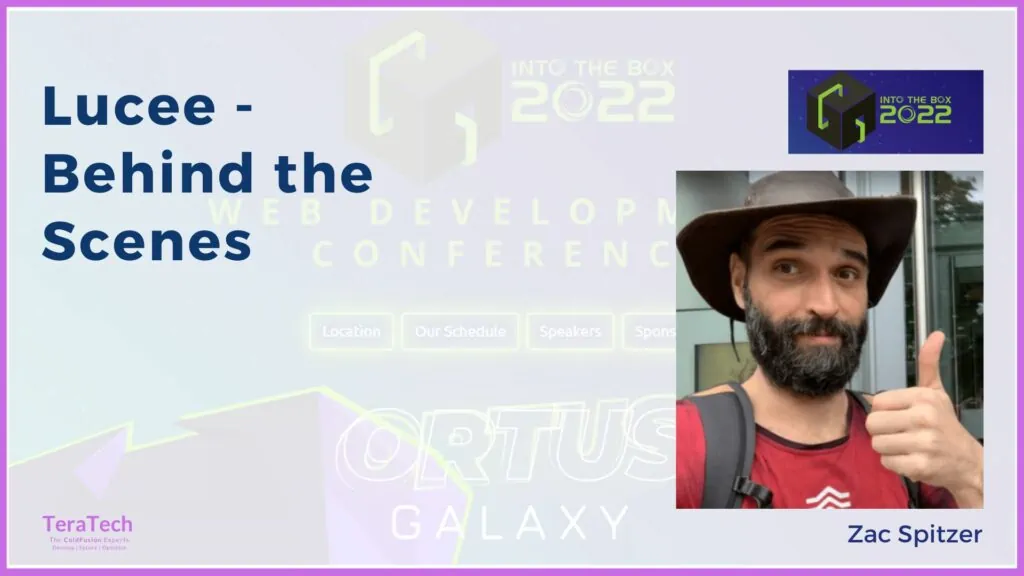 Modern ways to keep on top of crashes and errors in your applications, by Kai Koenig.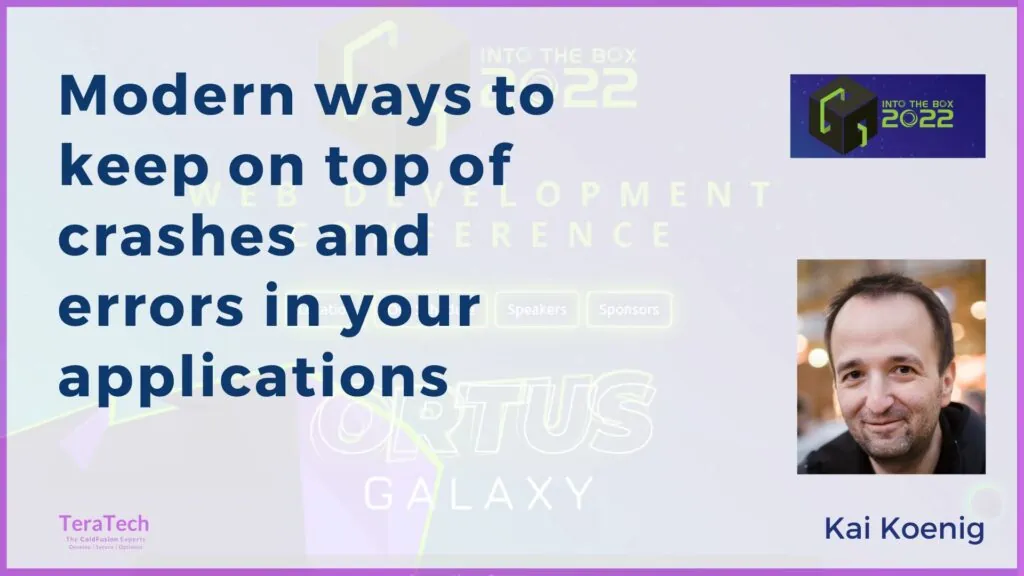 Wednesday – August 31st
CFScribe – Rules and Filtering for your Logging, by Dan Card.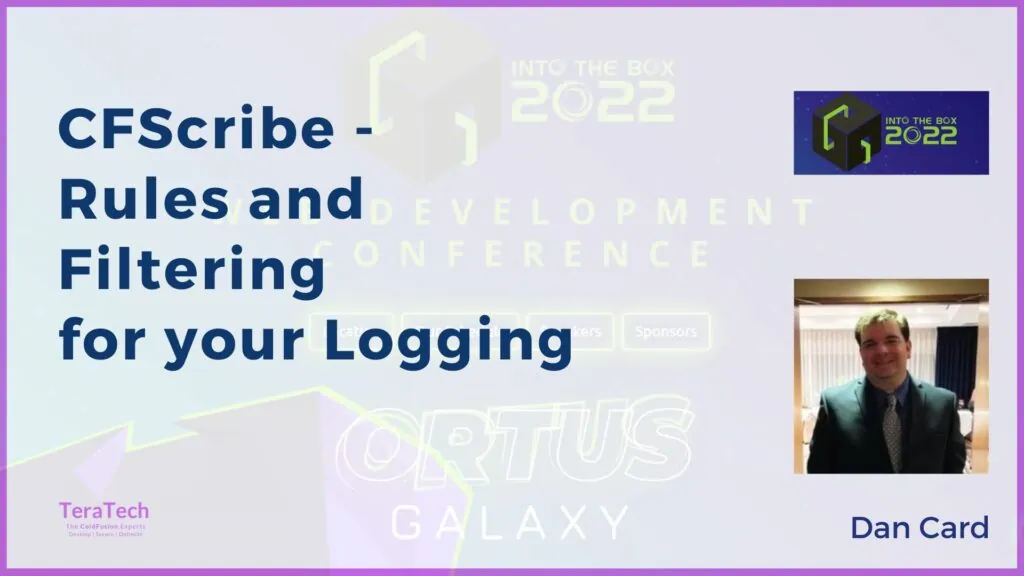 Feature Flagging is Just Simple Booleans: False, by Brian Rinaldi.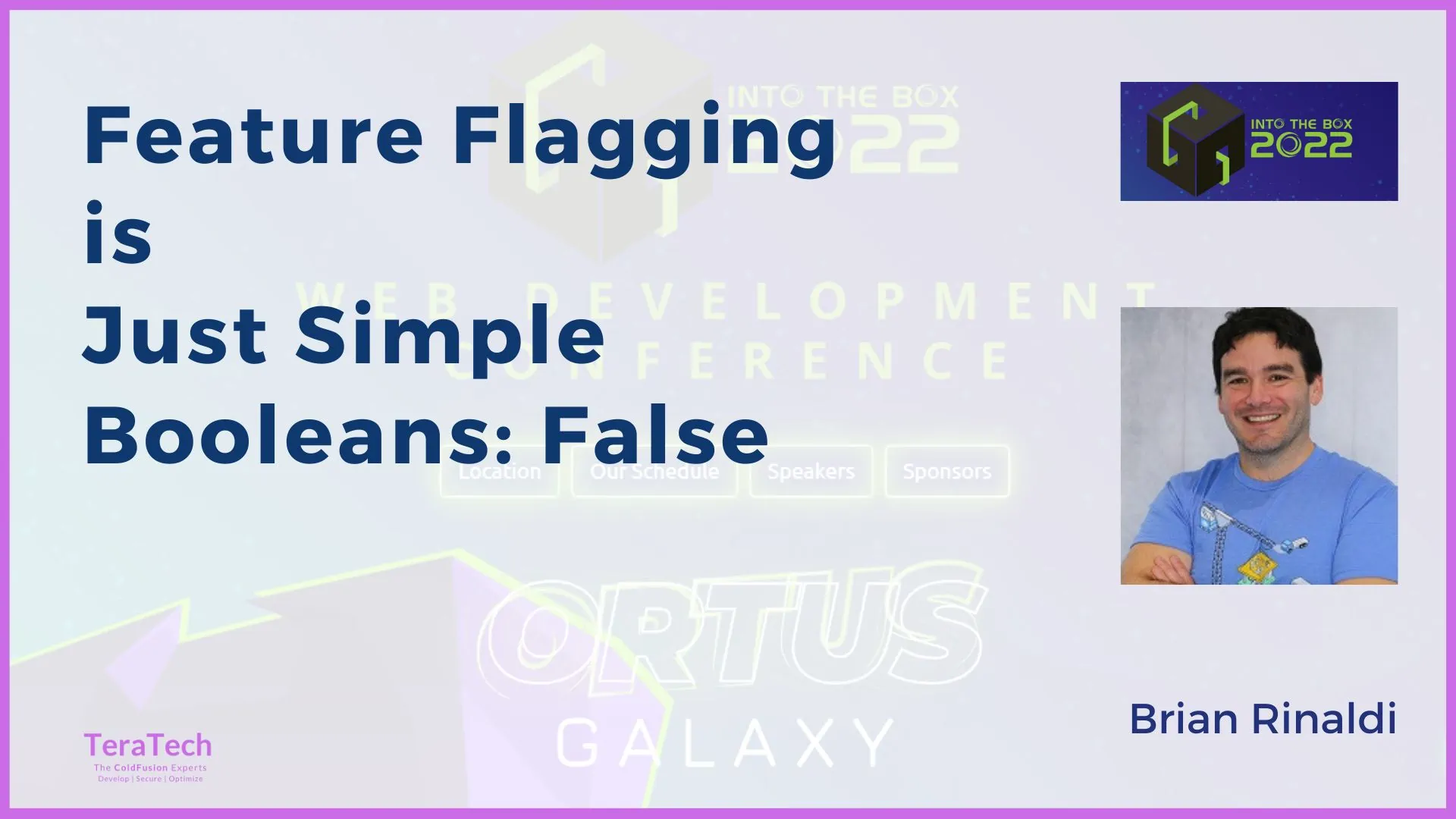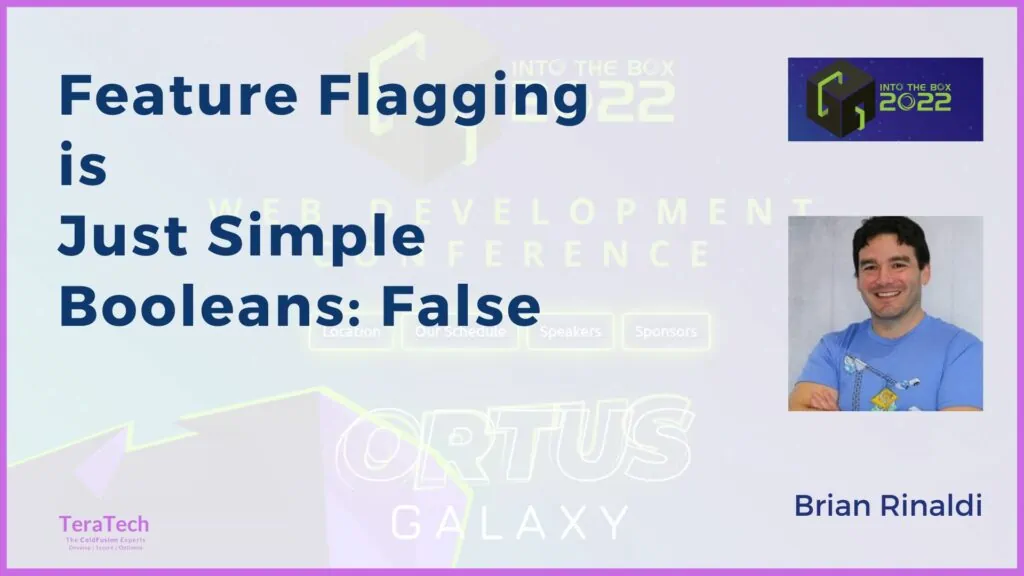 Thursday – Sept 1st
Comparing and contrasting Docker images from Ortus, Adobe, and Lucee, by Charlie Arehart.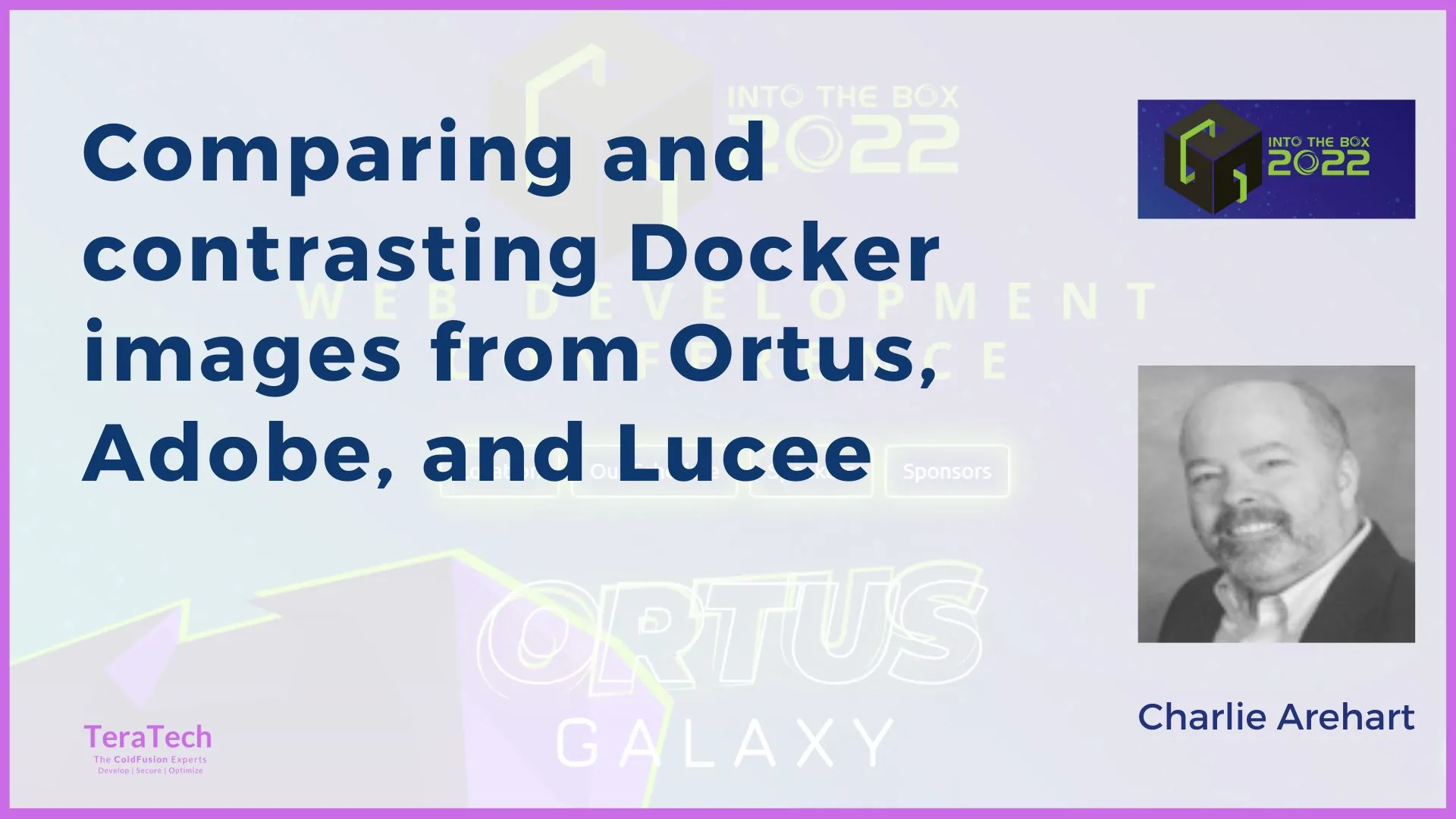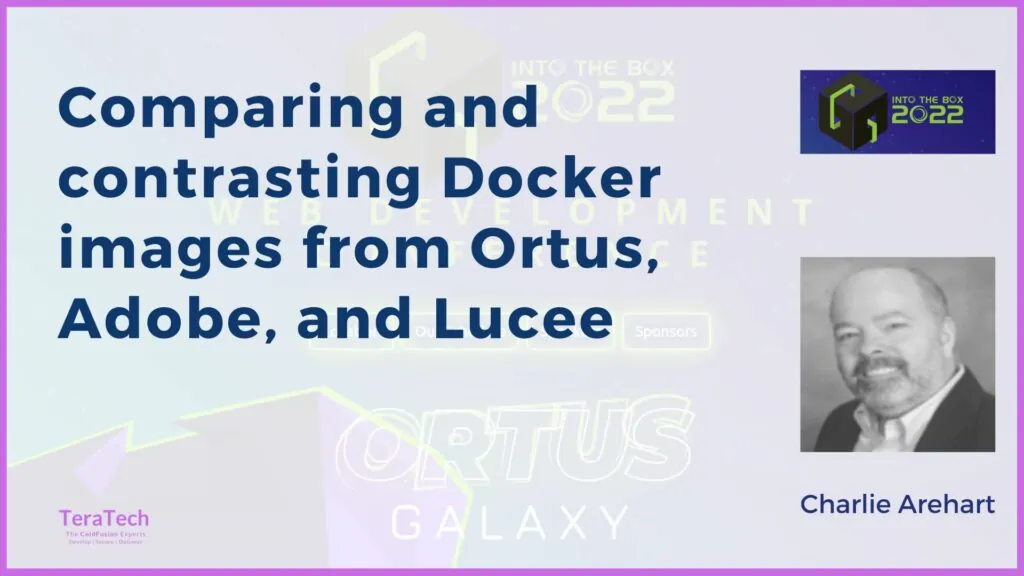 cbValidation: Validate all things!, by Javier Quintero.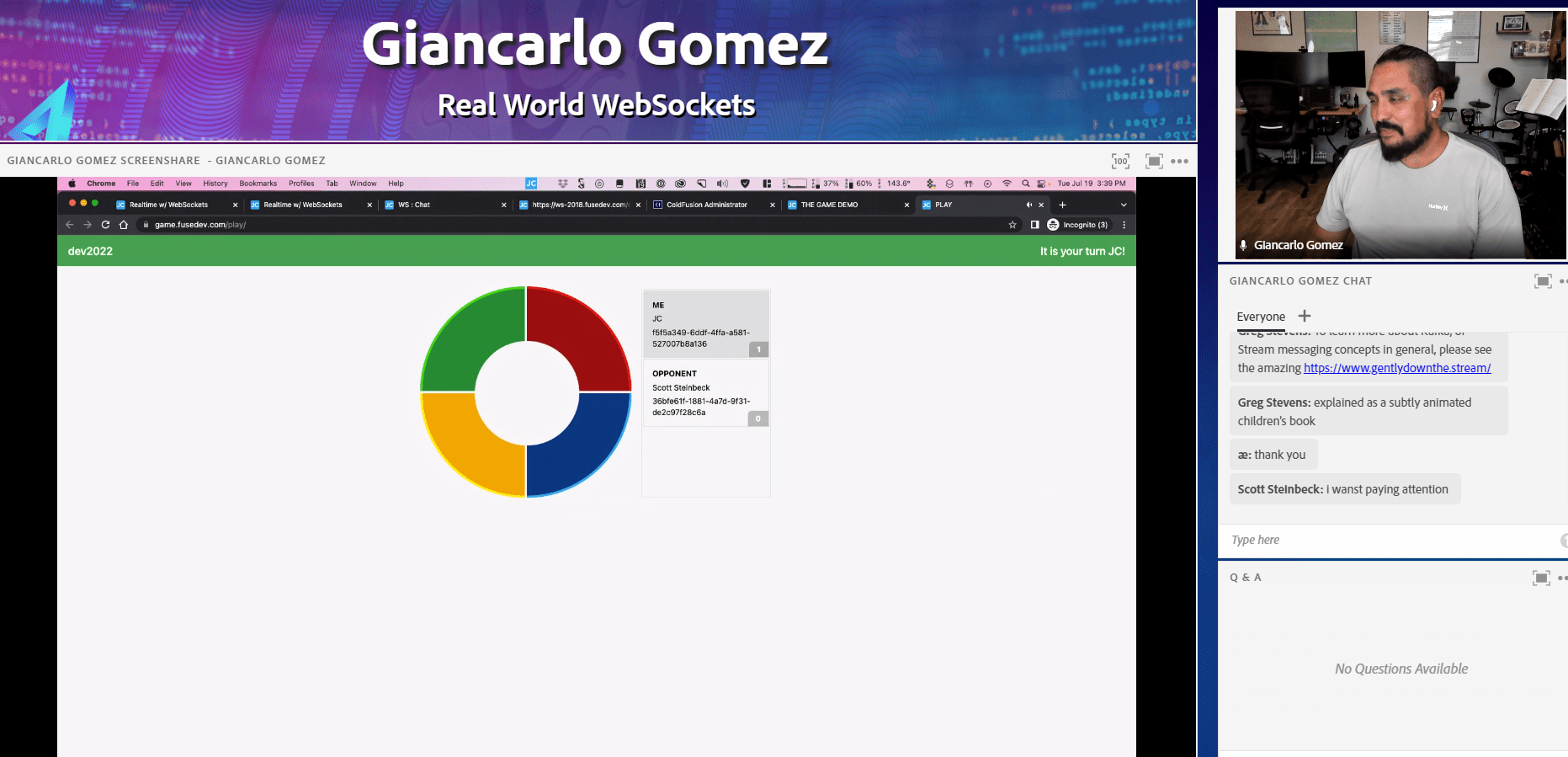 Friday – Sept 2nd
Advanced Manipulation of PDF Documents using Adobe ColdFusion DDX, by Mark Takata,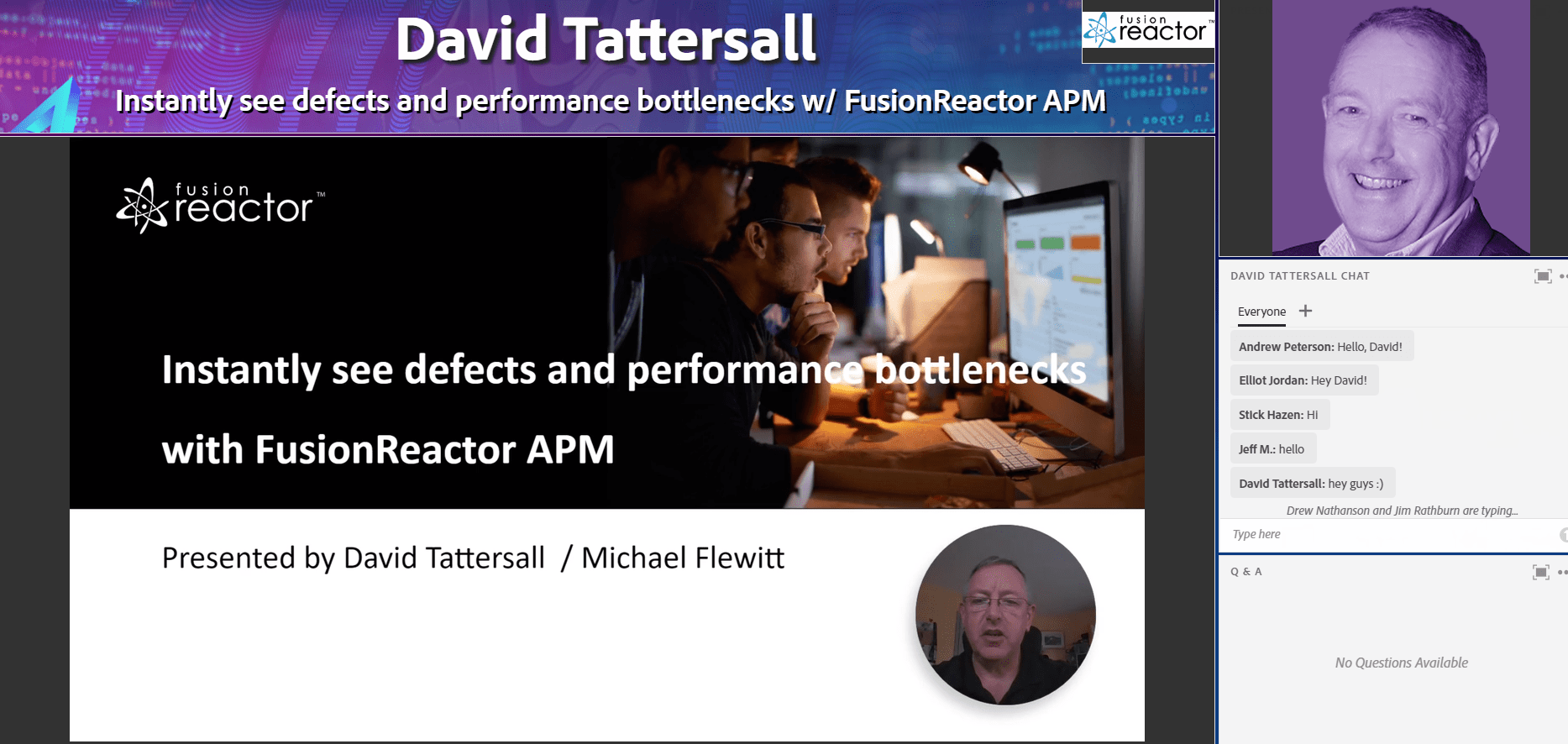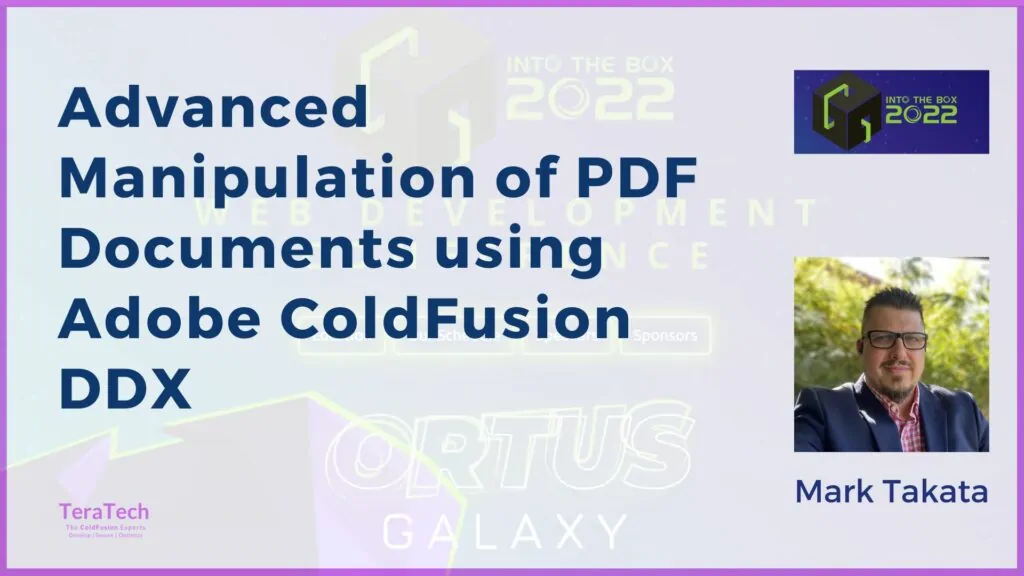 Extending PDF Capabilities With Adobe Document Services, by Raymond Camden.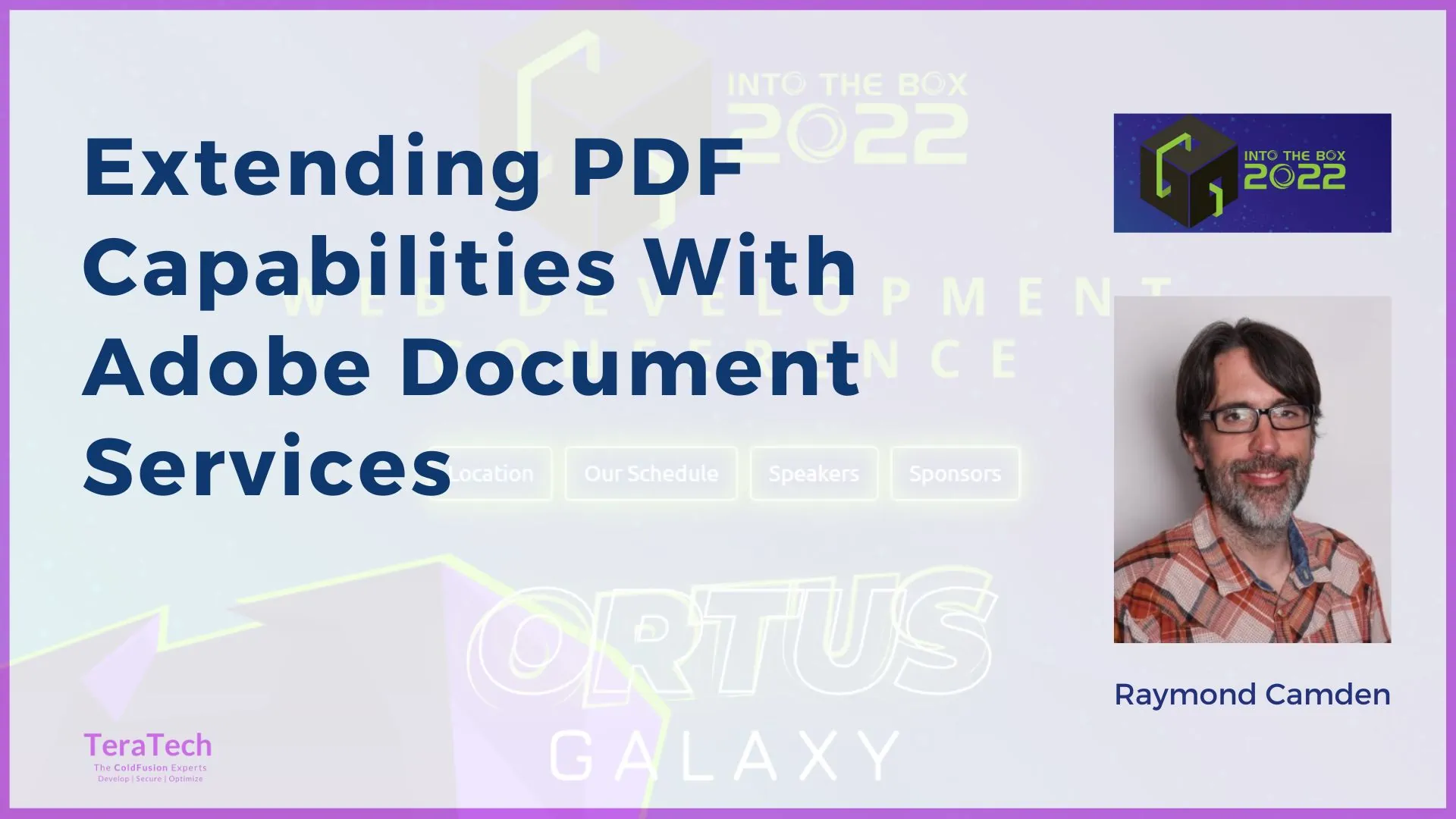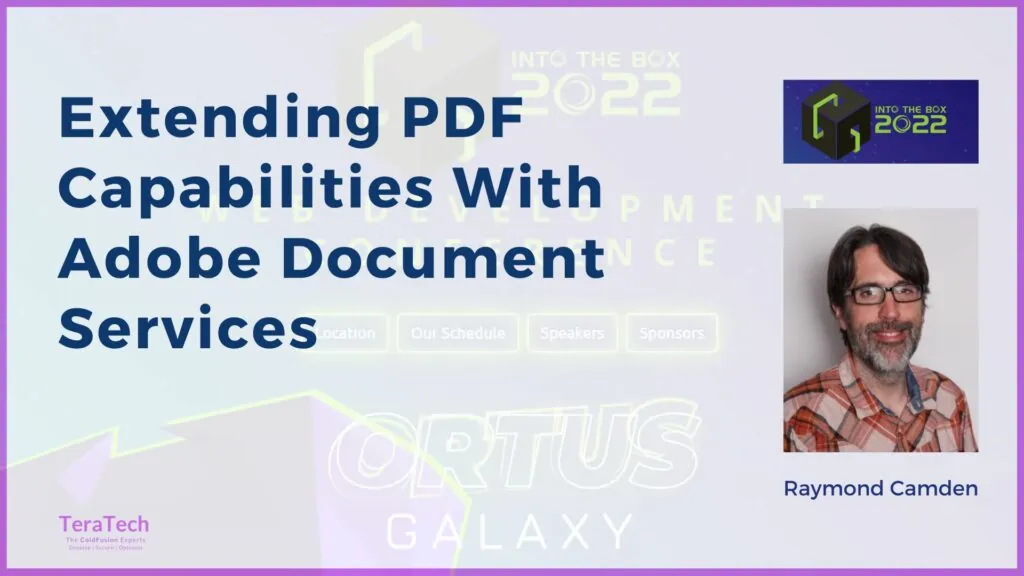 Into the Box 2022 Workshops
Luis Majano & Eric Peterson | Async Programming & Scheduling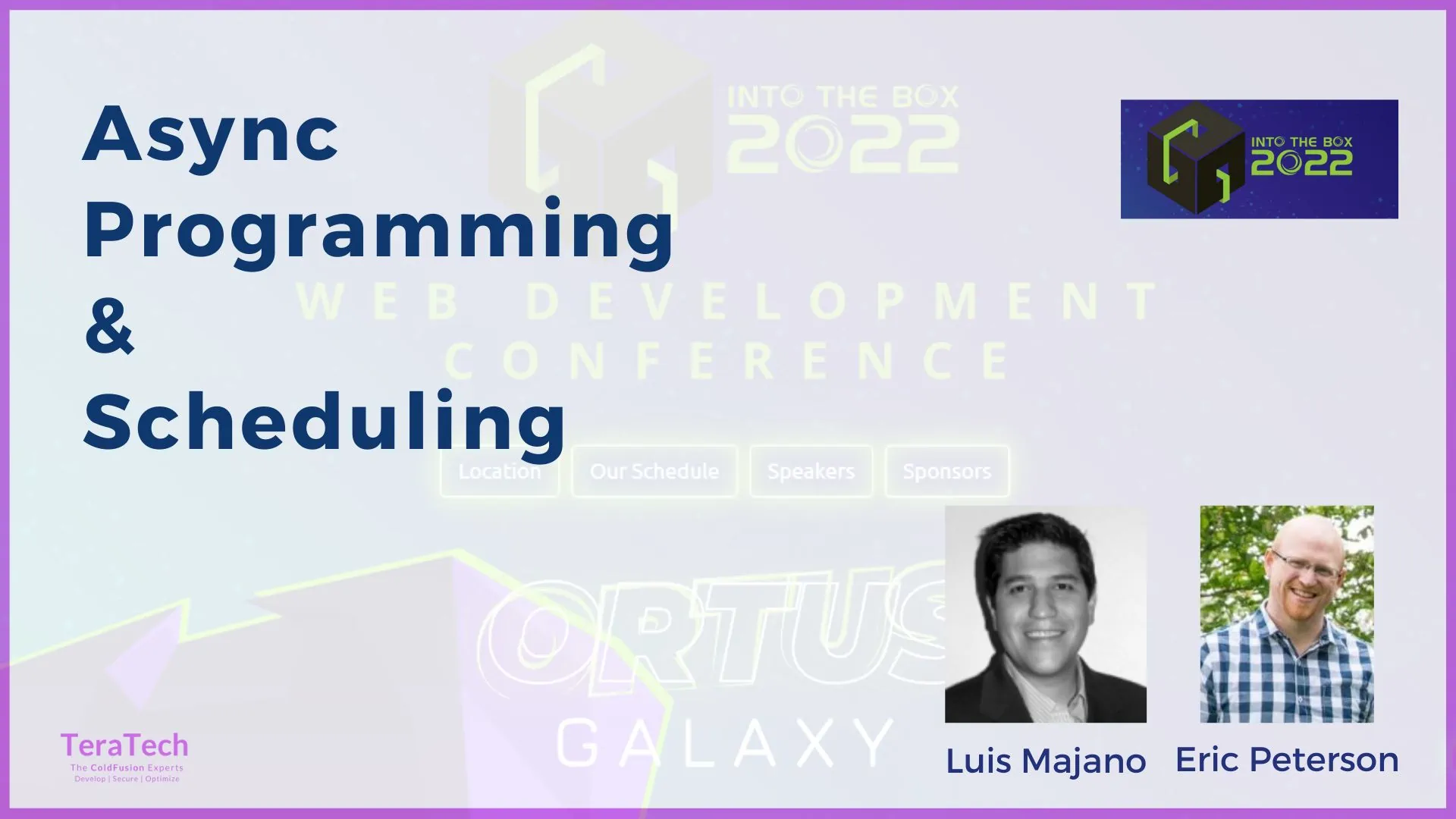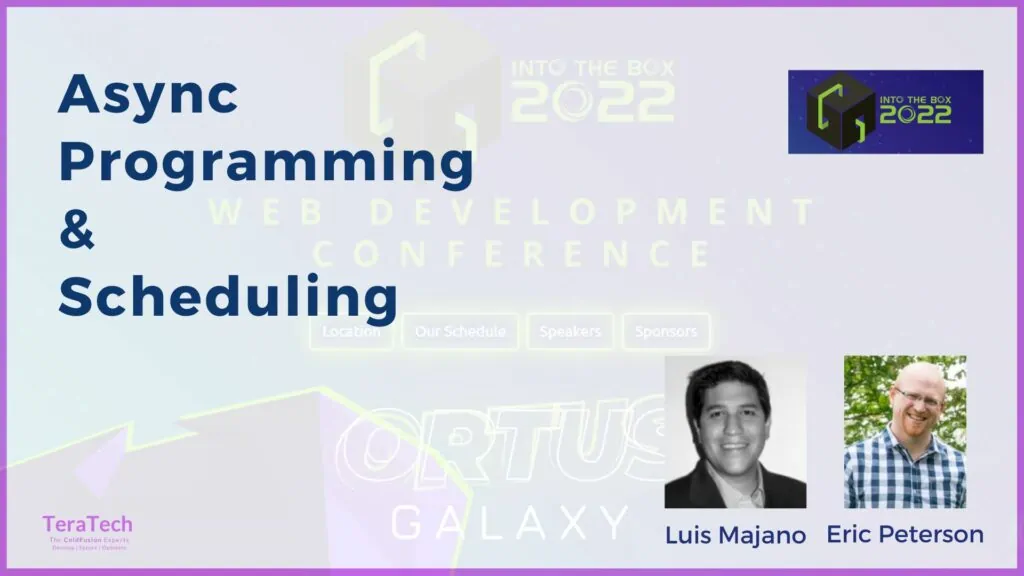 Jon Clausen & Grant Copley | Containerizing & Scaling Your Applications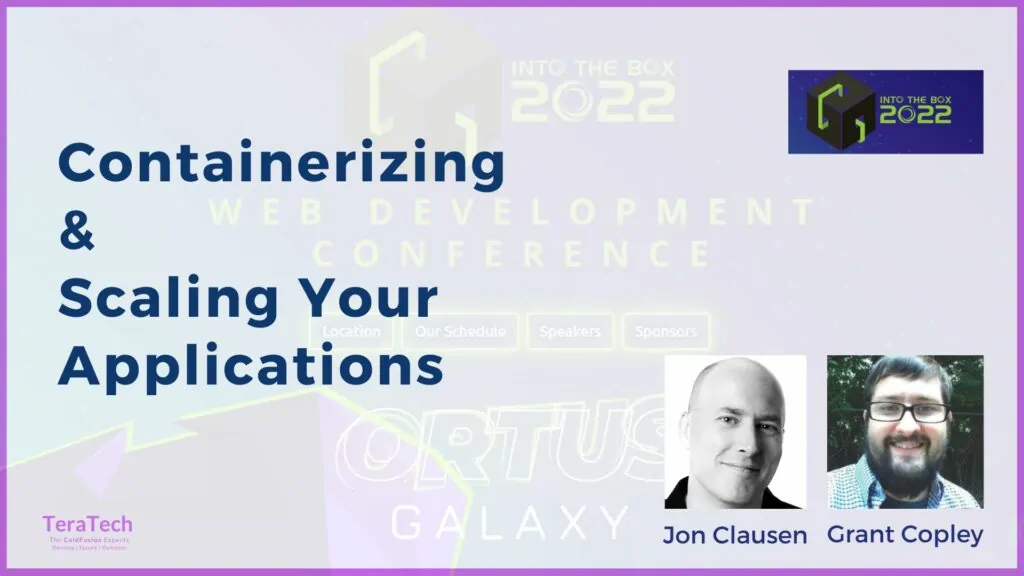 Dan Card & Alan Quinlan | Legacy Code Conversion To The Modern World!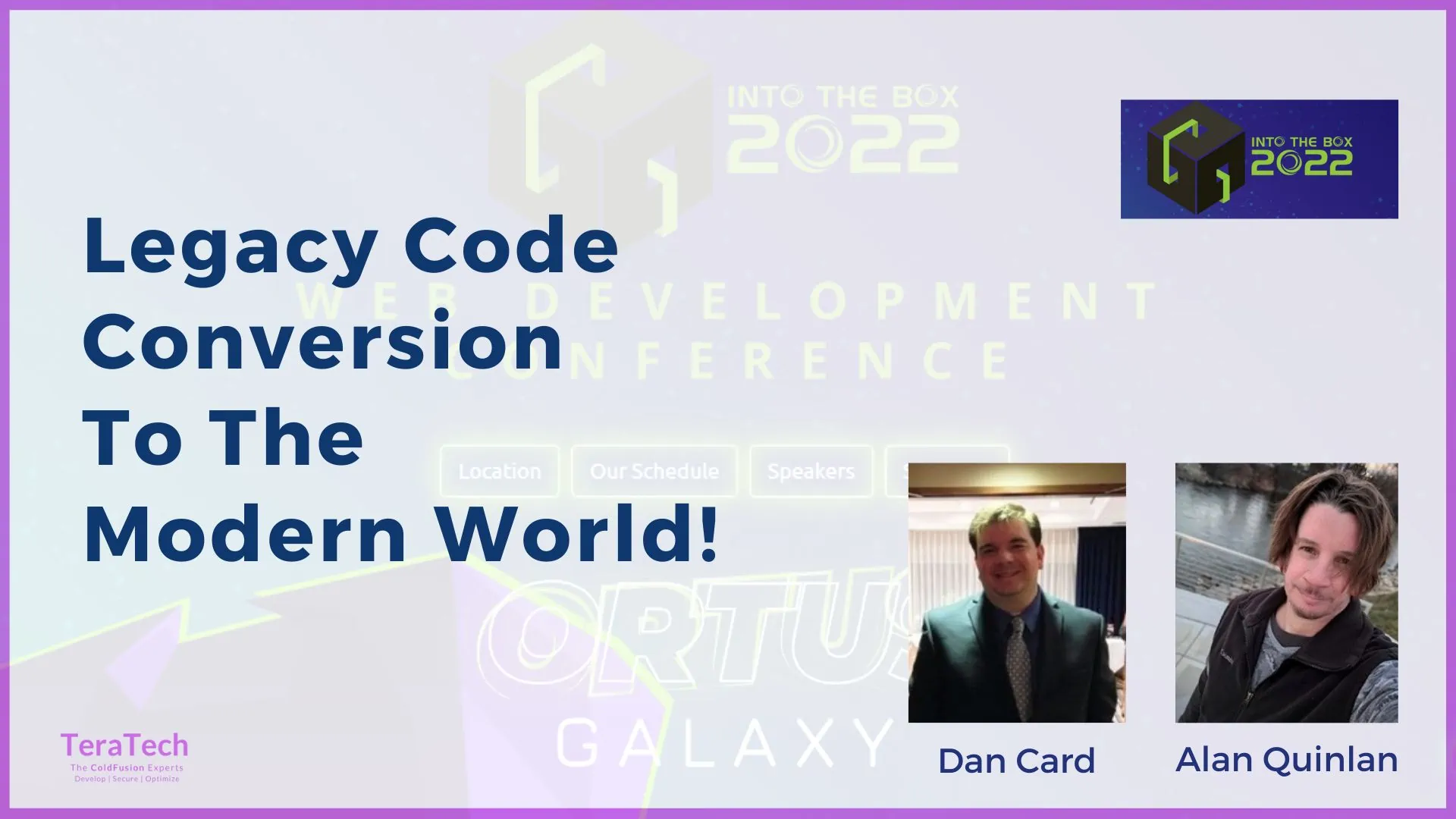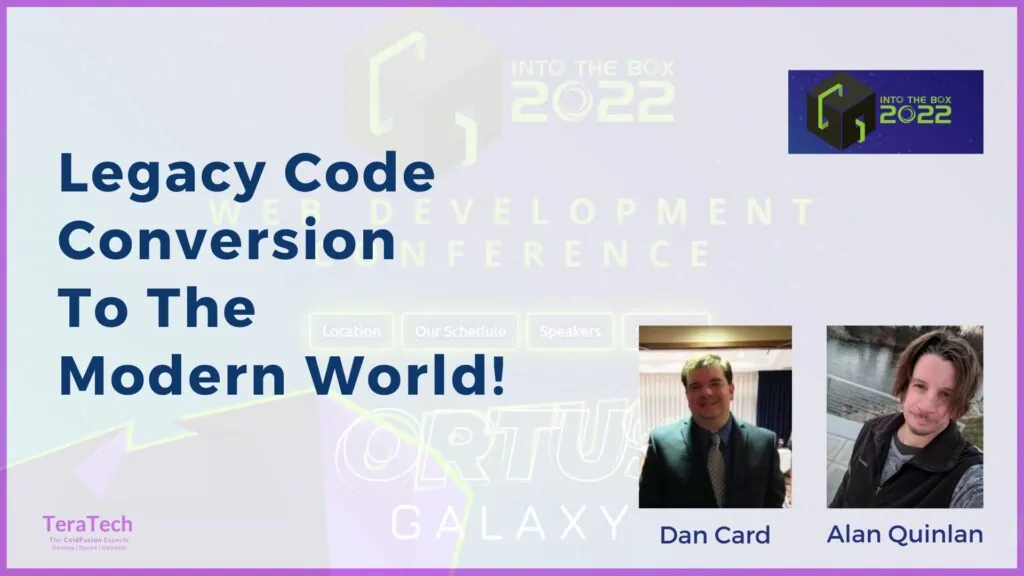 Brad Wood & Javi Quintero | TestBox: Getting started with BDD-TDD Oh My!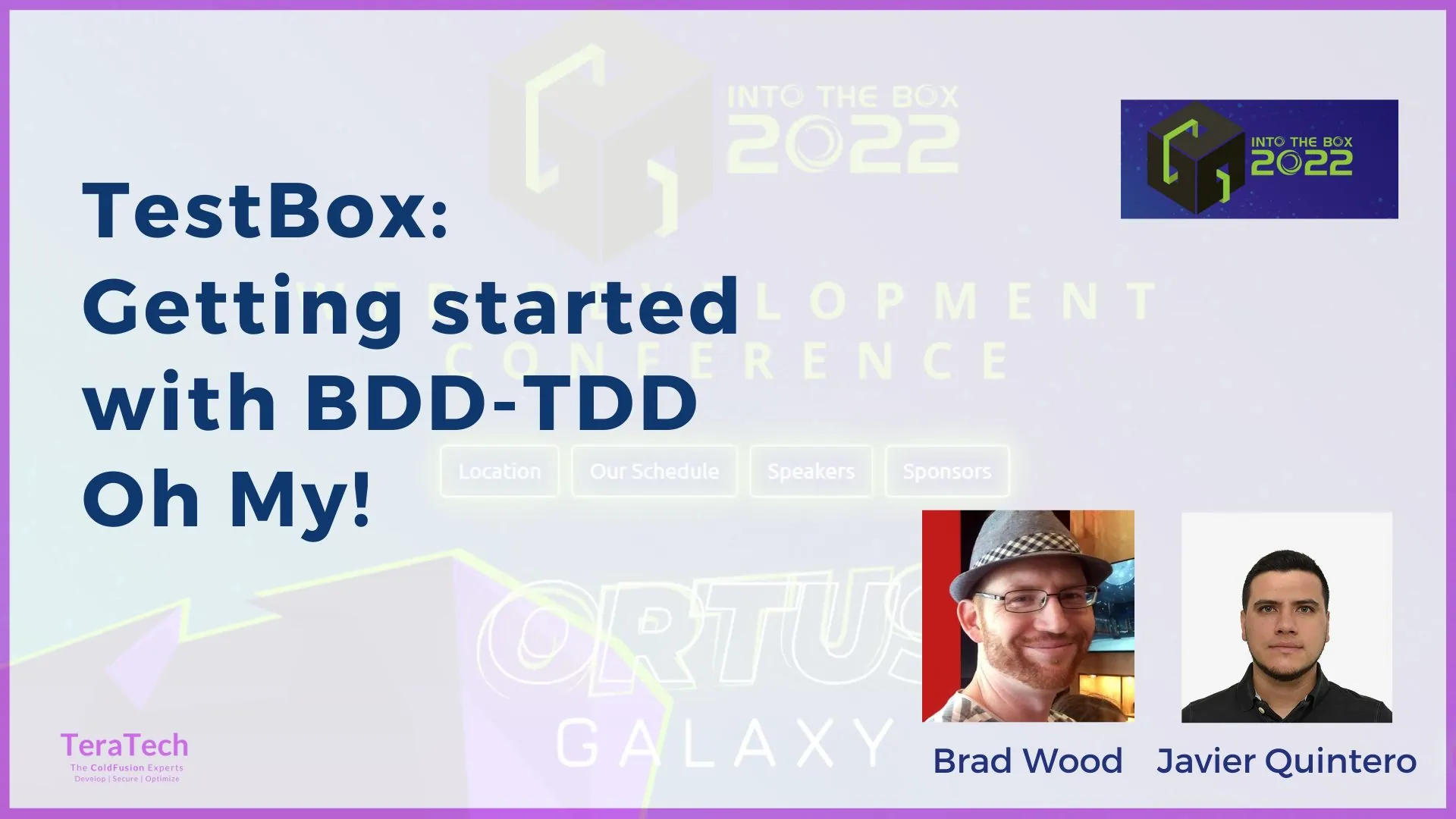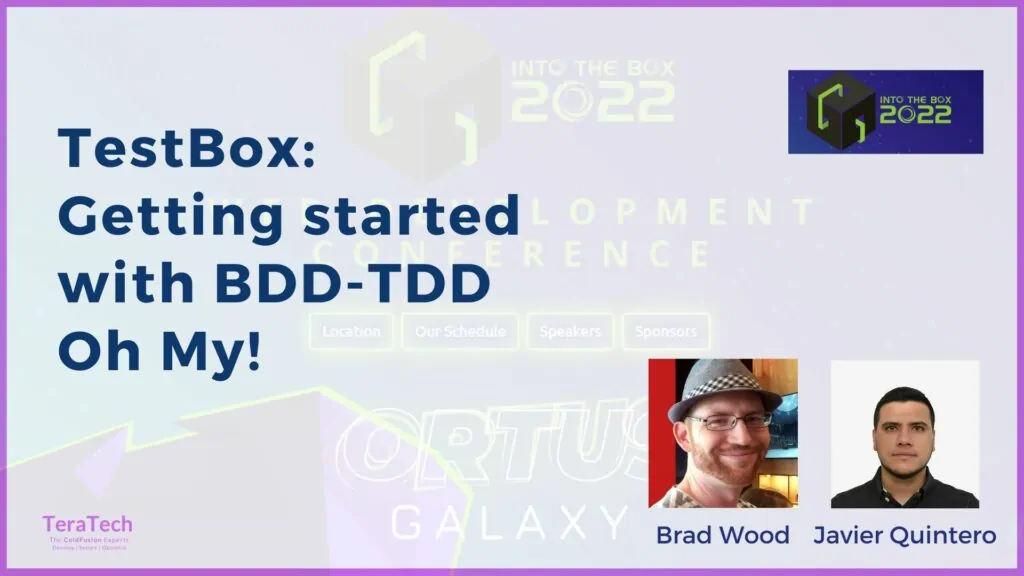 Gavin Pickin & Daniel Garcia | VueJs SPA and Mobile App with Rest APIs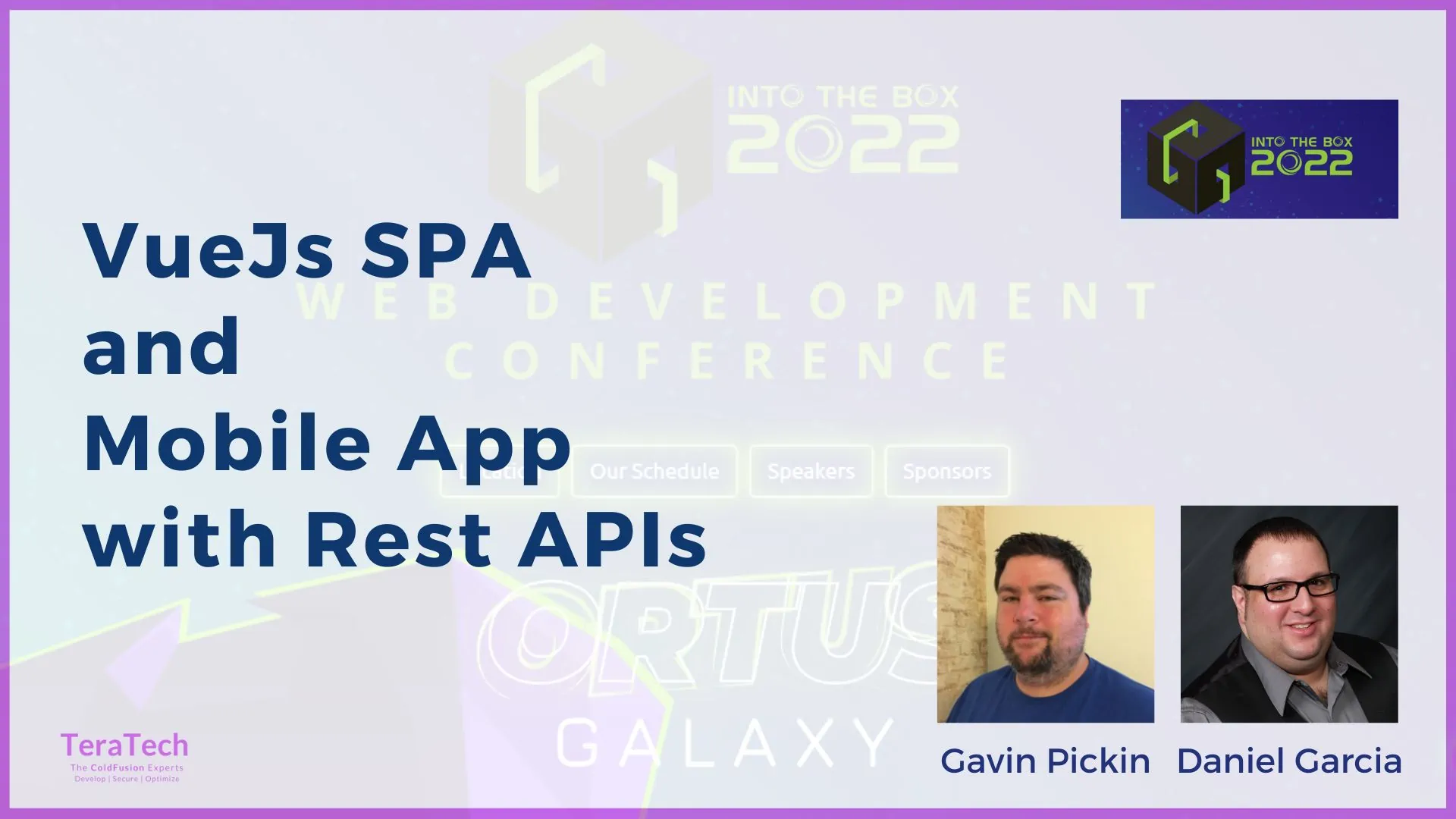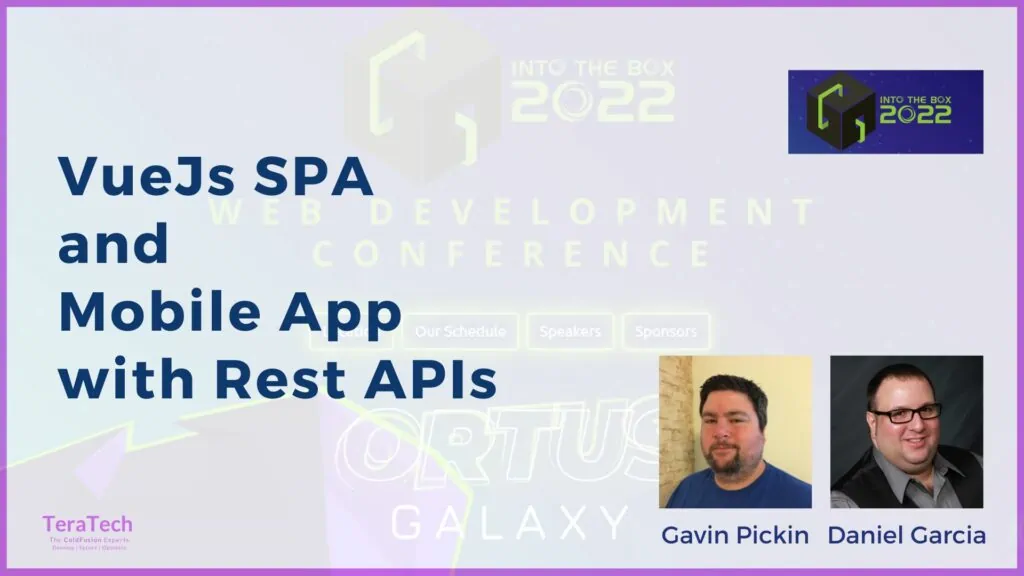 Into The Box 2022 Conference Agenda
Day one of the conference, September 7, 2022.
Ortus Keynote 2022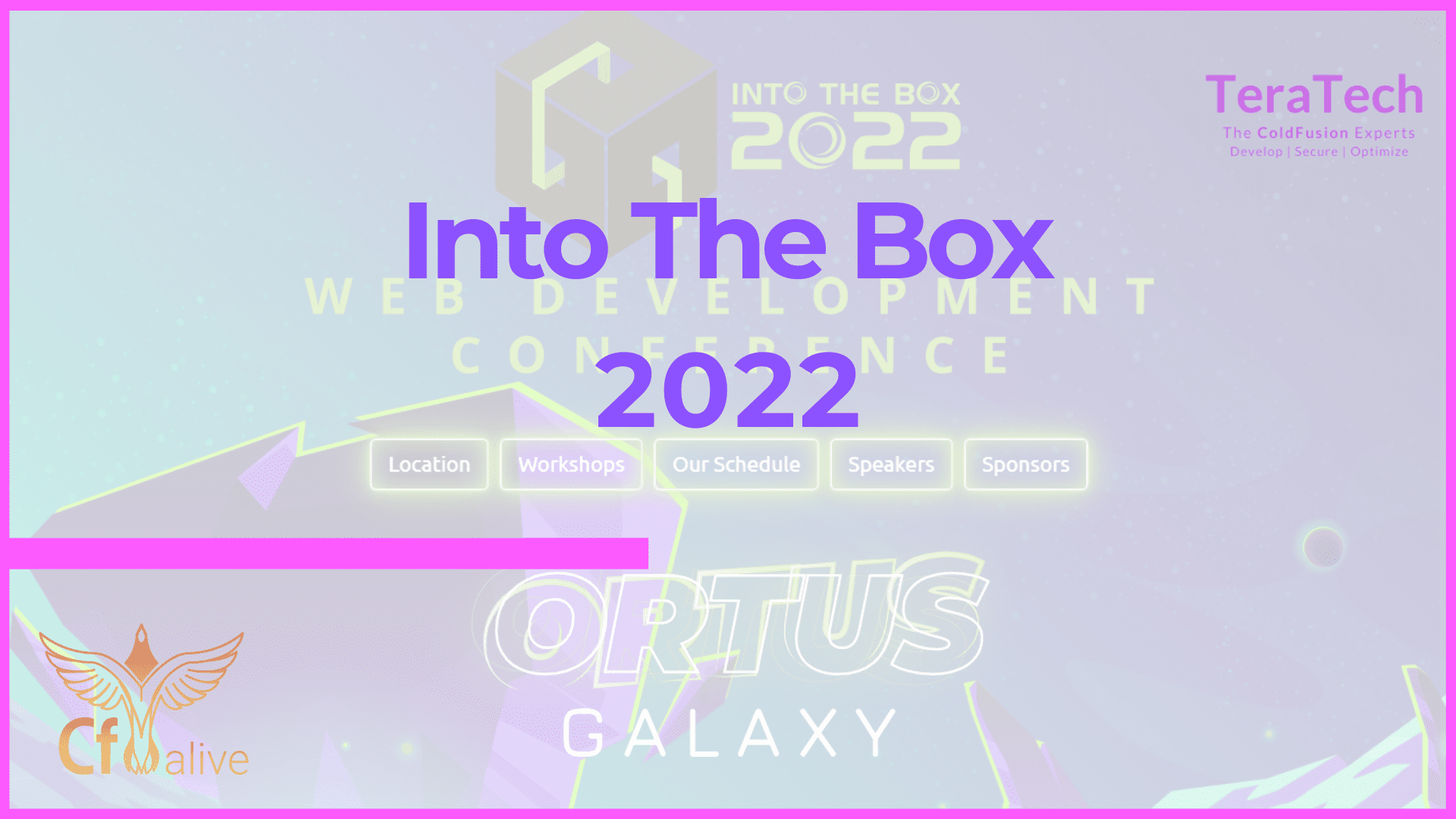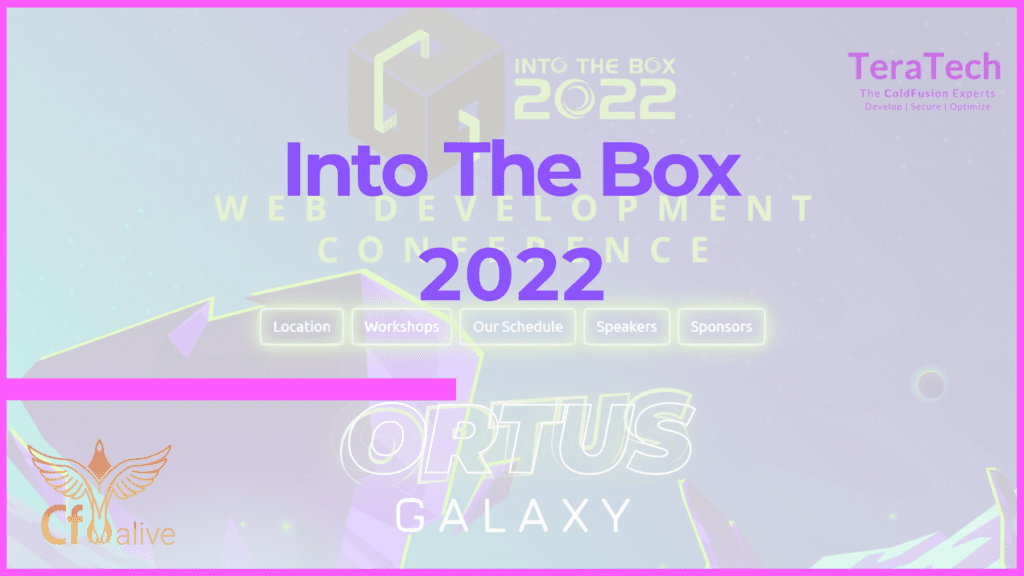 The Ortus Keynote gives you insight into Ortus Solutions, the past, present and future. You'll meet the members of Team Ortus, community members, speakers and sponsors. We'll tell you a story about CFML, which we think you will want to hear and learn what Ortus and the community are doing for CFML and the future of CFML. You will get updates on an array of Ortus *Box products, including recent releases & upcoming plans and features in our roadmaps. We will finish with Ortus's plans for the future… as well as remind you of a driving force behind all things Ortus.
BoxTrek
cbCommerce – A flexible, modular e-commerce solution by Jon Clausen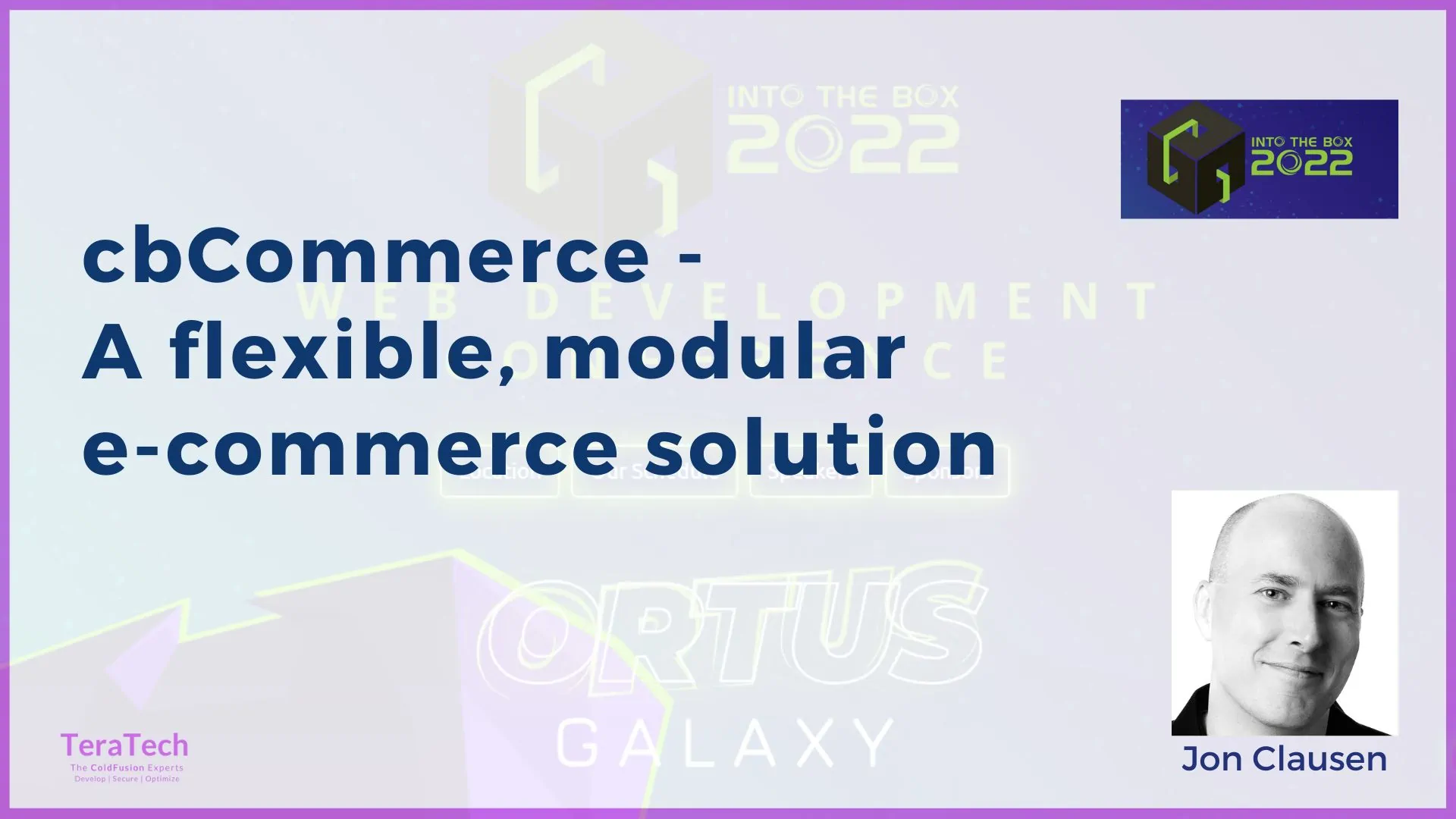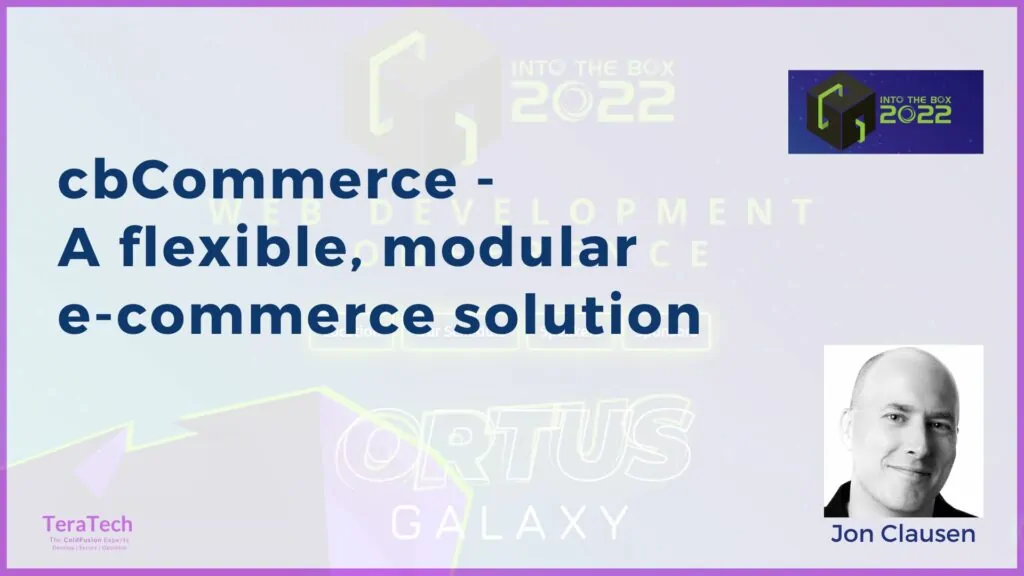 In this session, you'll learn about a full featured e-commerce module from Ortus Solutions, cbCommerce. **cbCommerce** is built with Enterprise e-Commerce in mind, and it uses ContentBox modularity to allow non-technical users to manage inventory and pricing. Additionally, it has built-in support for shipping, sales tax/VAT, event and inventory lifecycle pricing and multiple payment processor support.
cbfs: Abstract, Extend, Integrate Any File System by Luis Majano and Grant Copley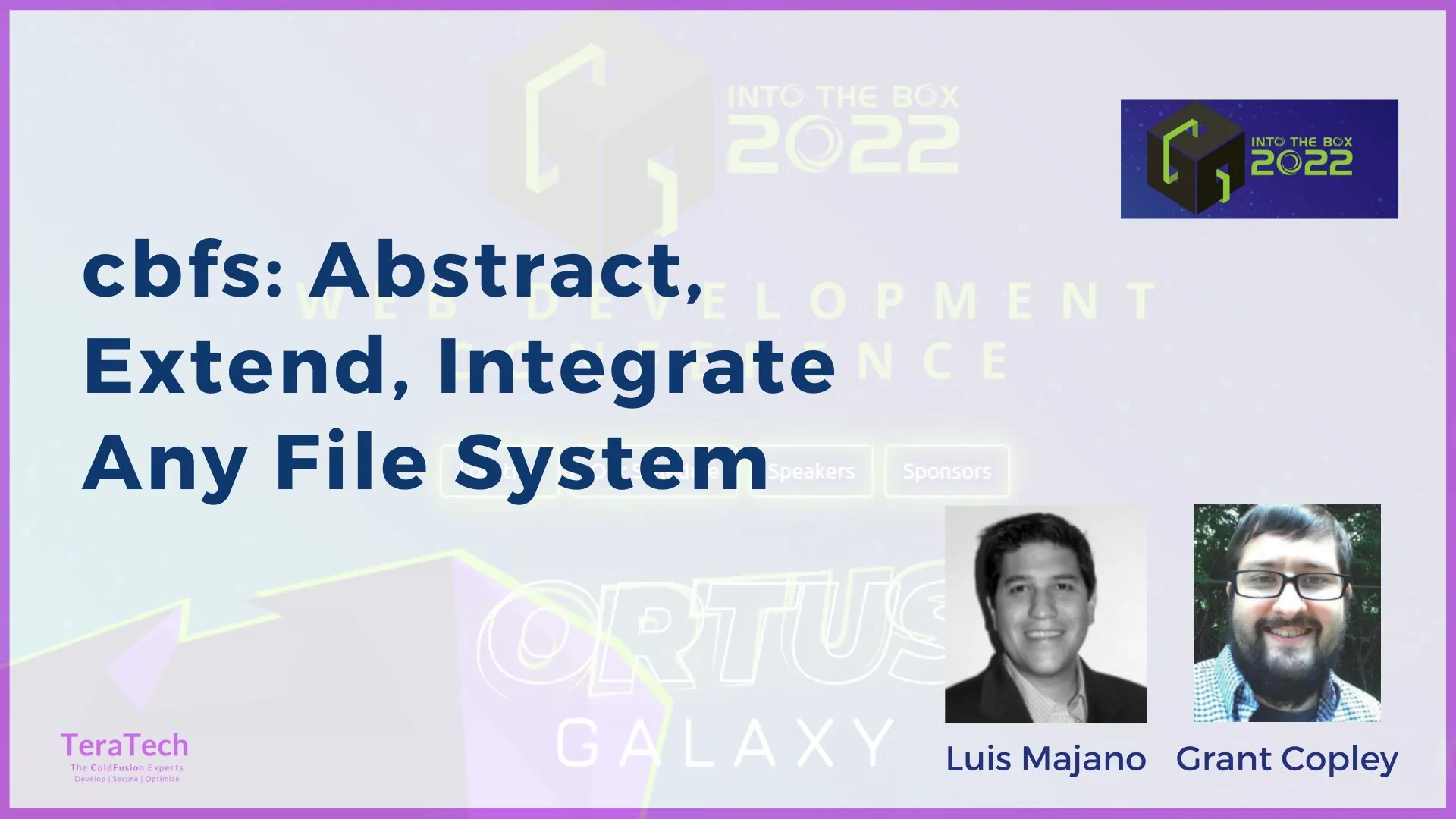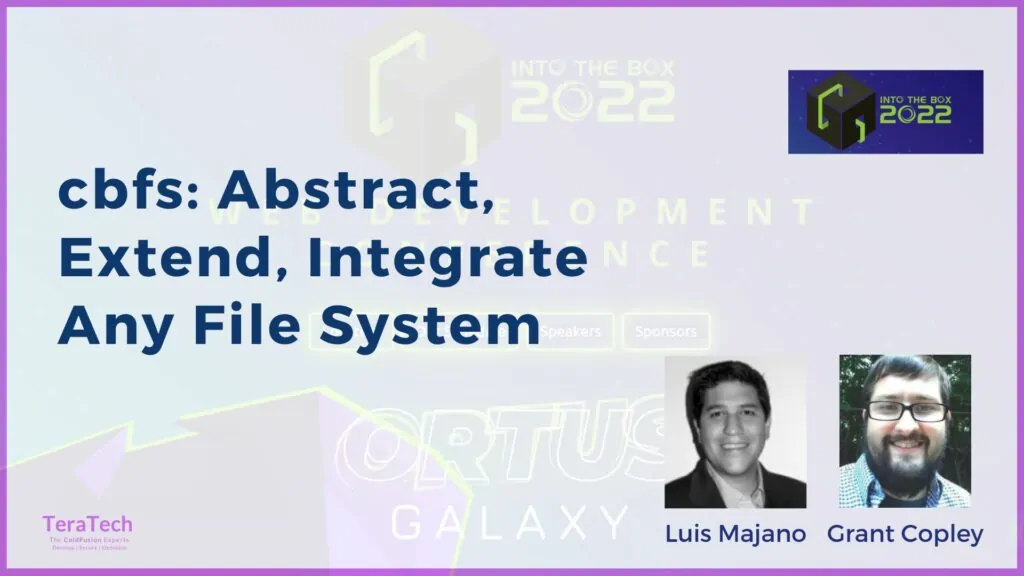 cbfs is short for ColdBox File System. It is an abstraction API to help you integrate with any file system, from S3, Local, SFTP, Ram, Mocks, and much more. Built to be fluent and human friendly, working with file systems via cbfs will allow your applications to abstract, extend and integrate with ANY file system.
advanced pdf generation + Building a gitbook markdown conversion process by Scott Steinbeck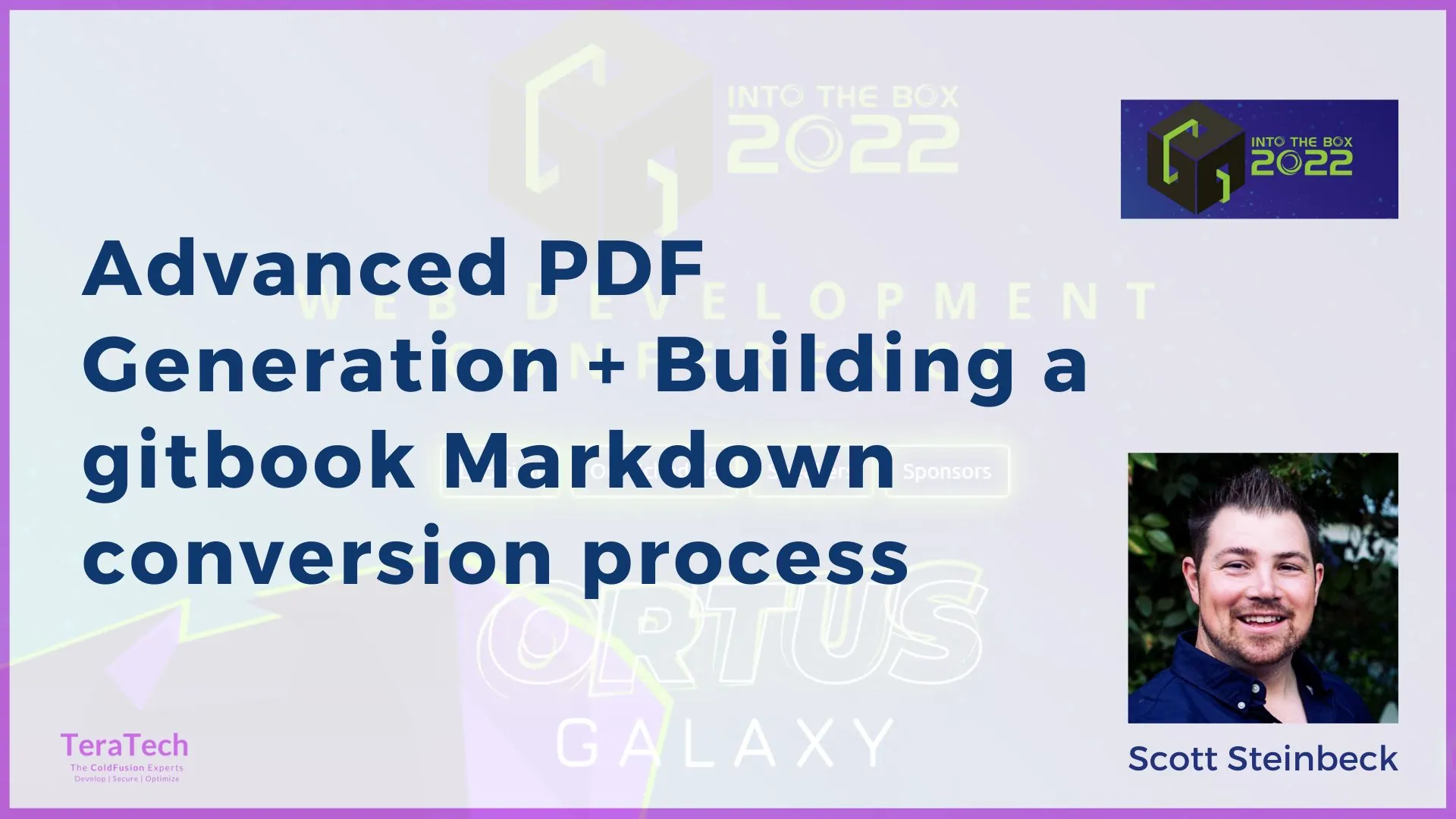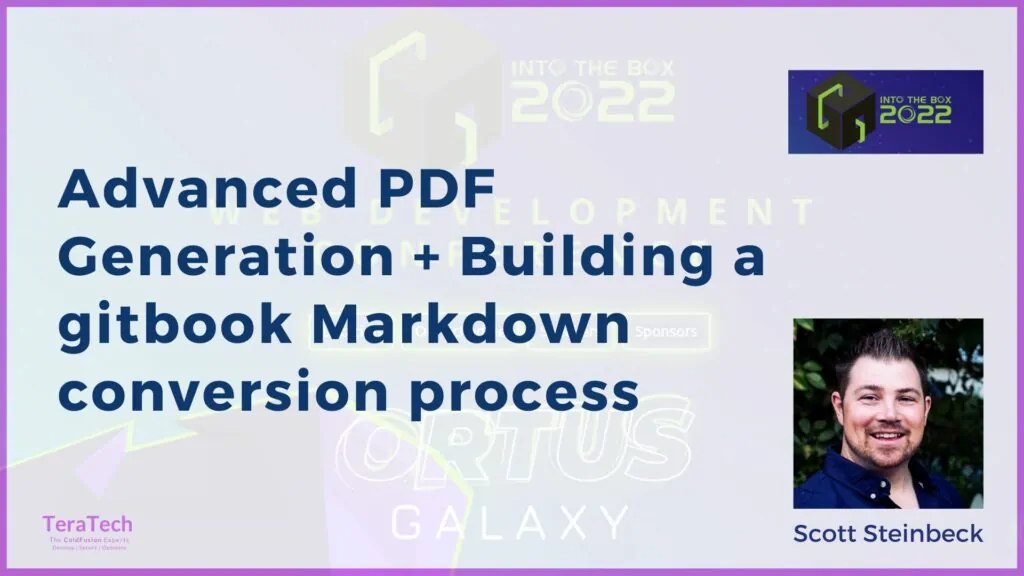 advanced pdf generation + Building a gitbook markdown conversion process
Alpine.js : Declare and React! by Gavin Pickin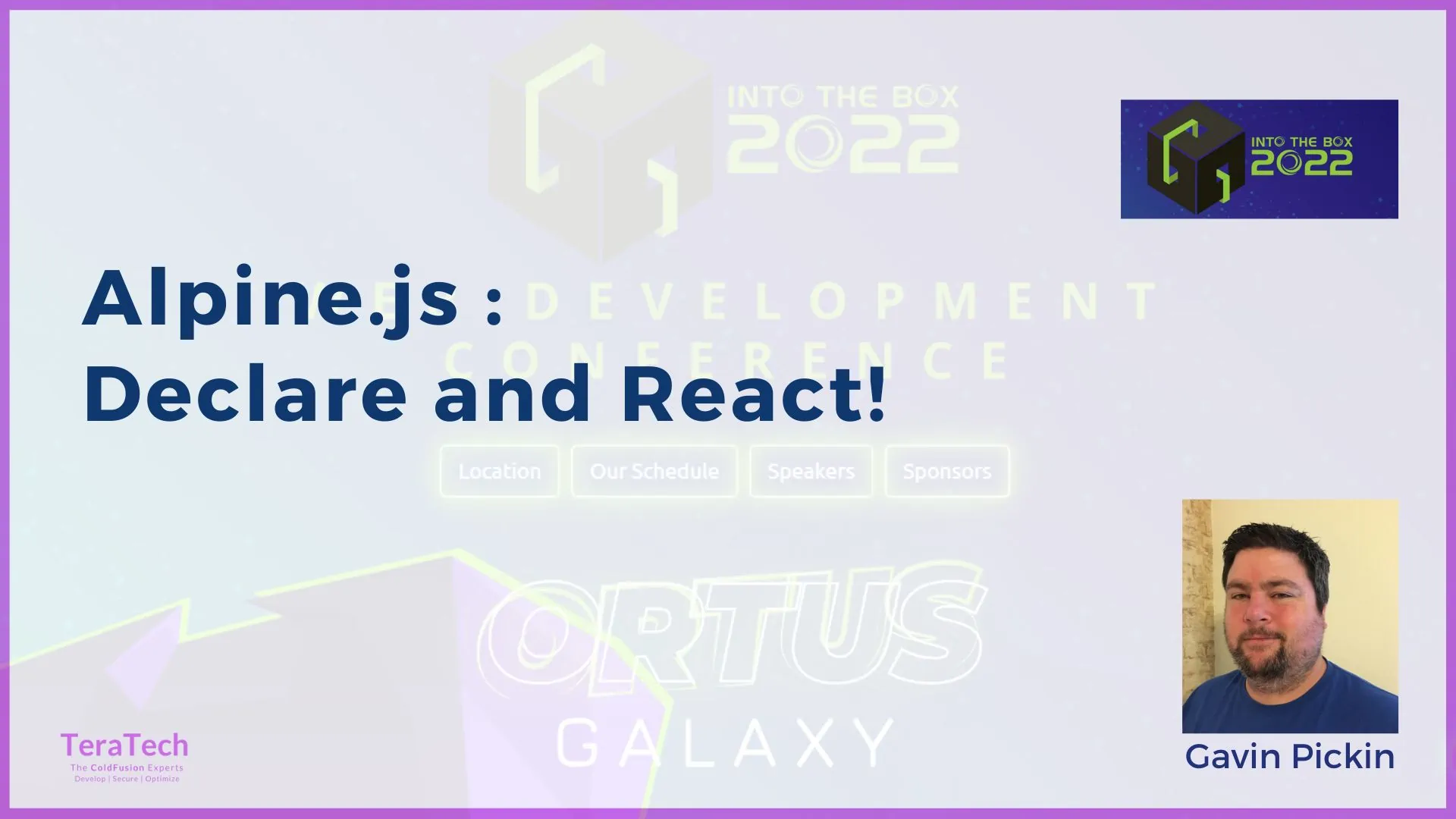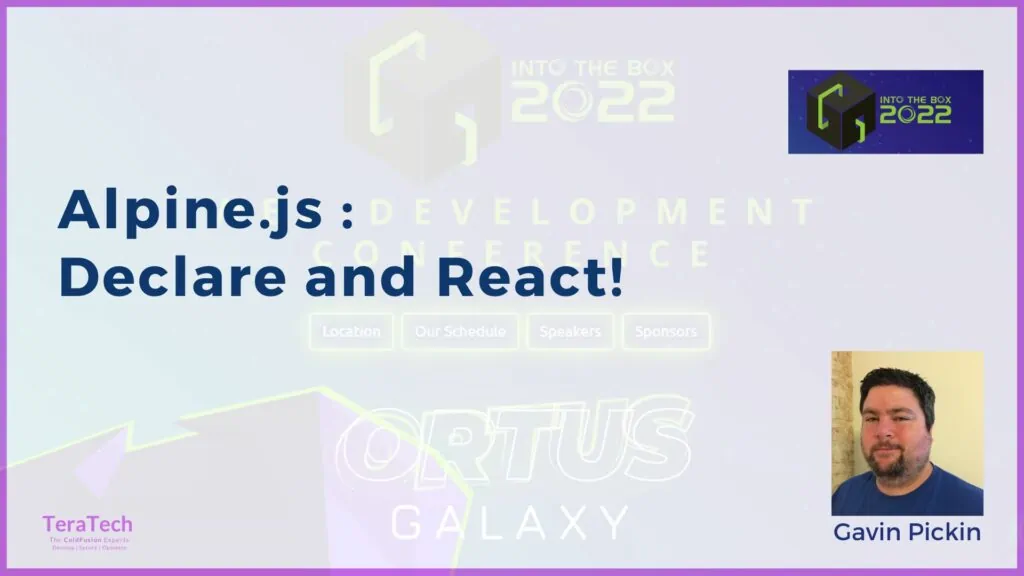 Alpine.js : Declare and React!
Sublime Reactivity with CBWIRE by Grant Copley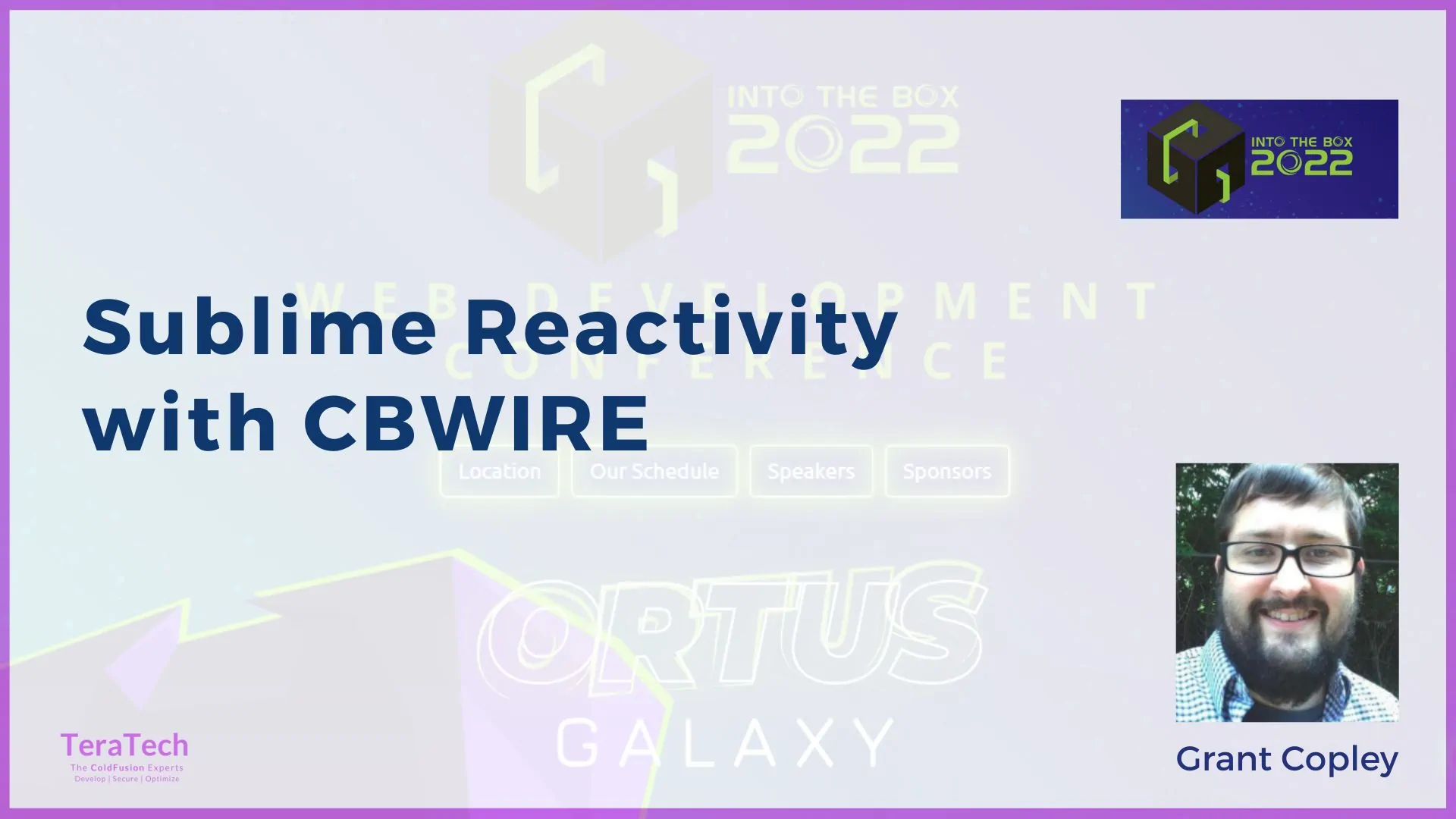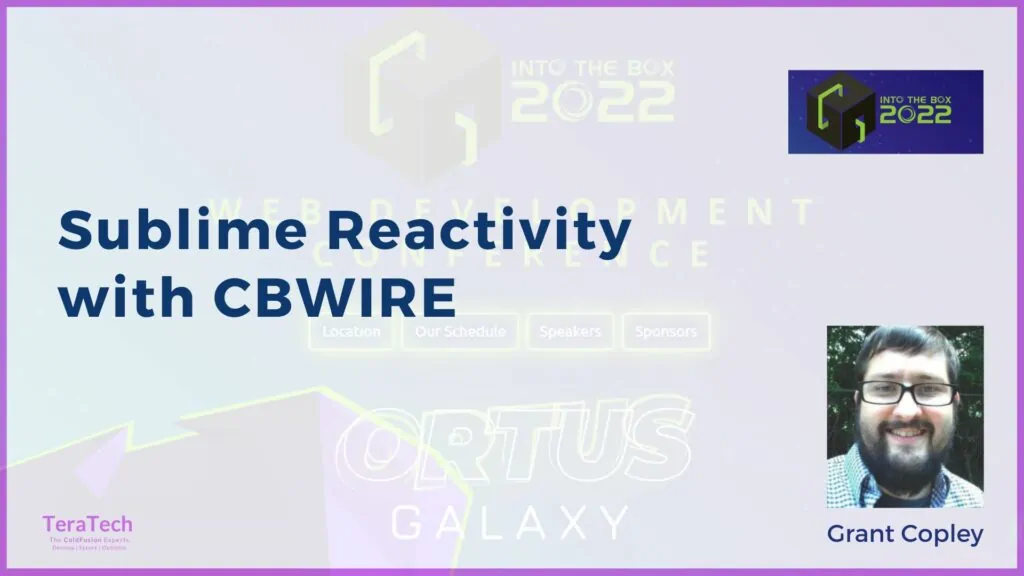 CBWIRE is a ColdBox module that makes building reactive, dynamic, and modern web applications a joy without leaving the comfort of CFML. Join us as we review how to add reactivity to your apps with almost no JavaScript, as well as look at the new features included in CBWIRE's latest release.
Unpacking The Box – Why so many boxes and what do they do????? by Dan Card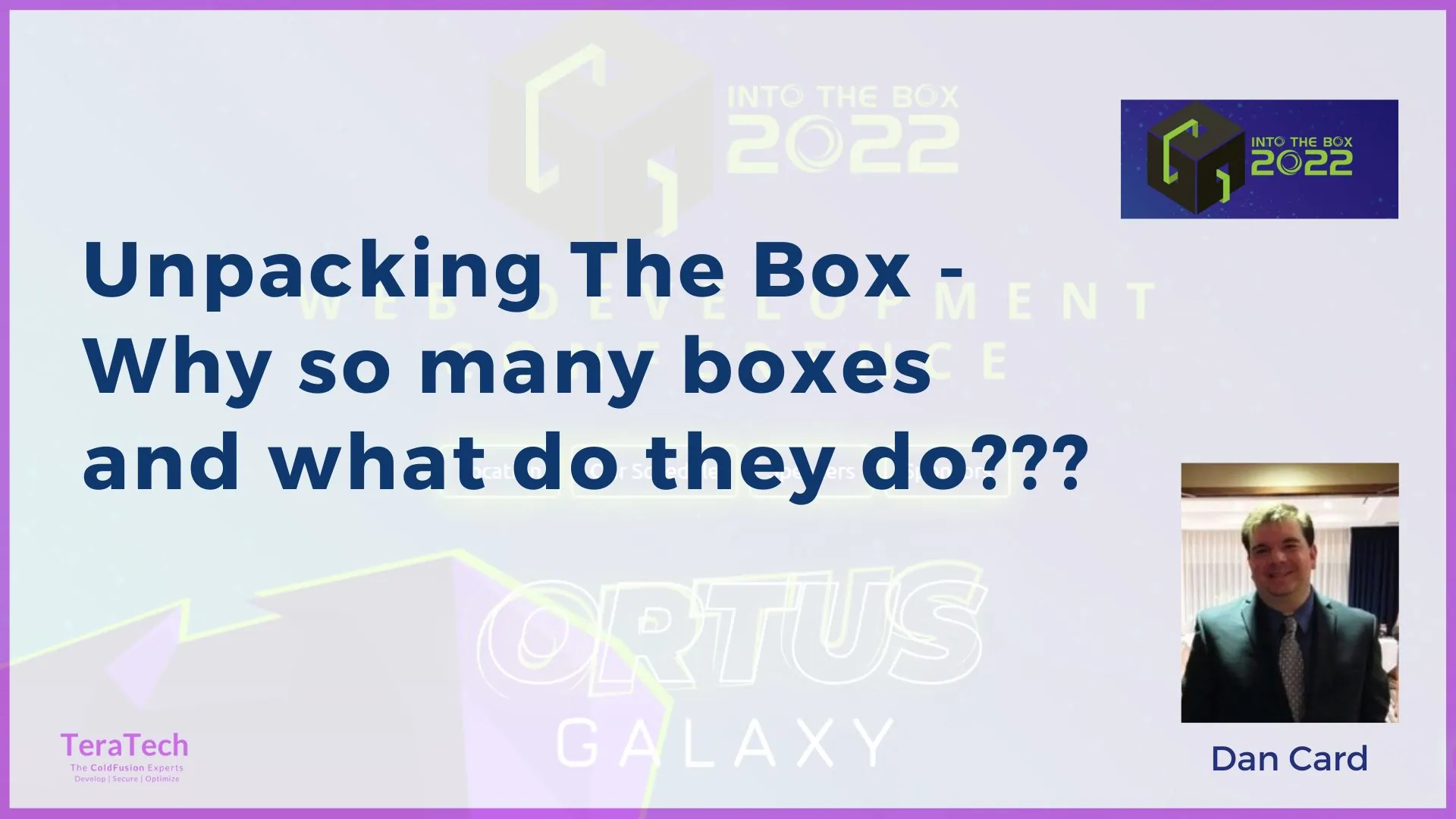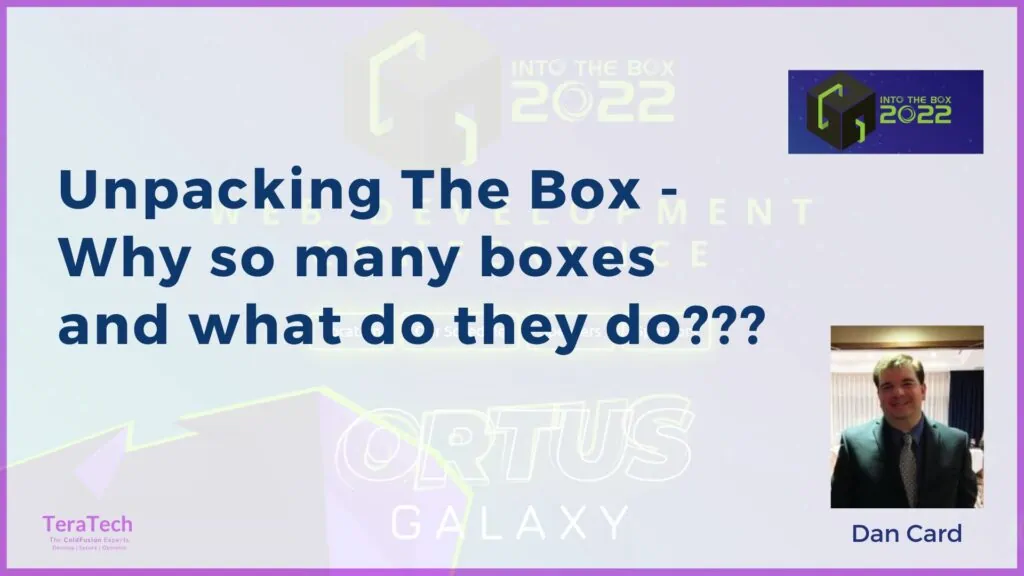 Coldbox, TestBox, Wirebox, Rulebox, CommandBox, Forgebox, CBElixer, CBSwagger, Colbox MVC, Coldbox HMVC, Coldbox Relax, ContentBox, CacheBox, MessageBox, CFConfig, Quick, CBORM, QB, CBAuth, CBSecurity, CBLivewire, Codechecker, DocBox, DotENV, CB HostUpdater, CFMigrations, CFMongo, CFRedis, Cors, ColdBox Mail Services, CB Validation, CBStreams, CBCollection, Hyper, CB Elastisearch, LogBox, Mementifier, …….you get the idea. There are a lot of "boxes". What are they and what do they all do???? Are they all necessary??? Do I need to learn all of them???? This session will "tell the story" of all the boxes based on the problems they are trying to solve. We'll start from the metaphorical "blank sheet of paper" at the beginning of a web project and we walk and talk through its planning and development, we'll anticipate the real world snag and difficulties that we and the team will go hit and show how "there's a box for that".
How to Debug Your CF Apps by Daniel García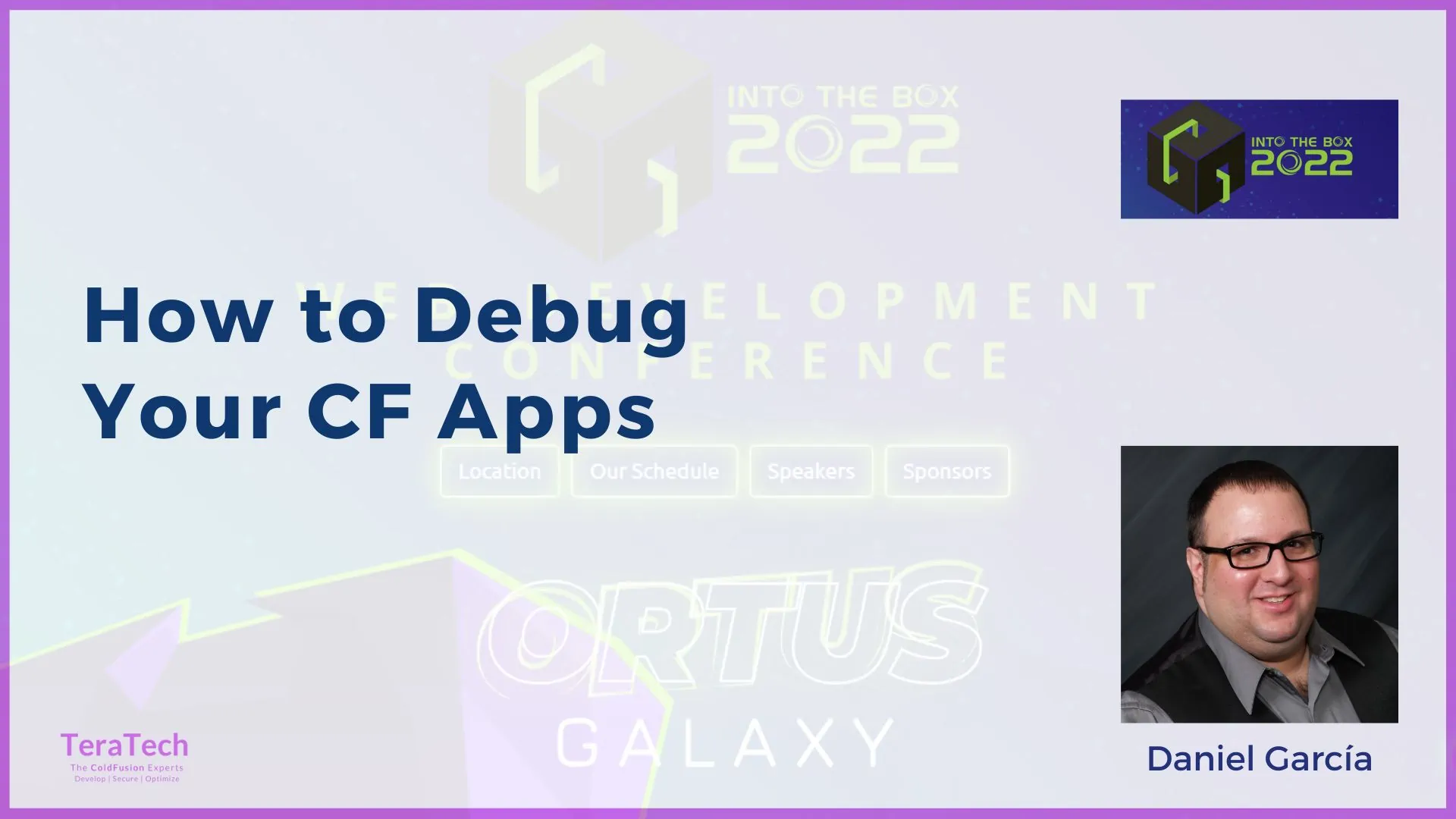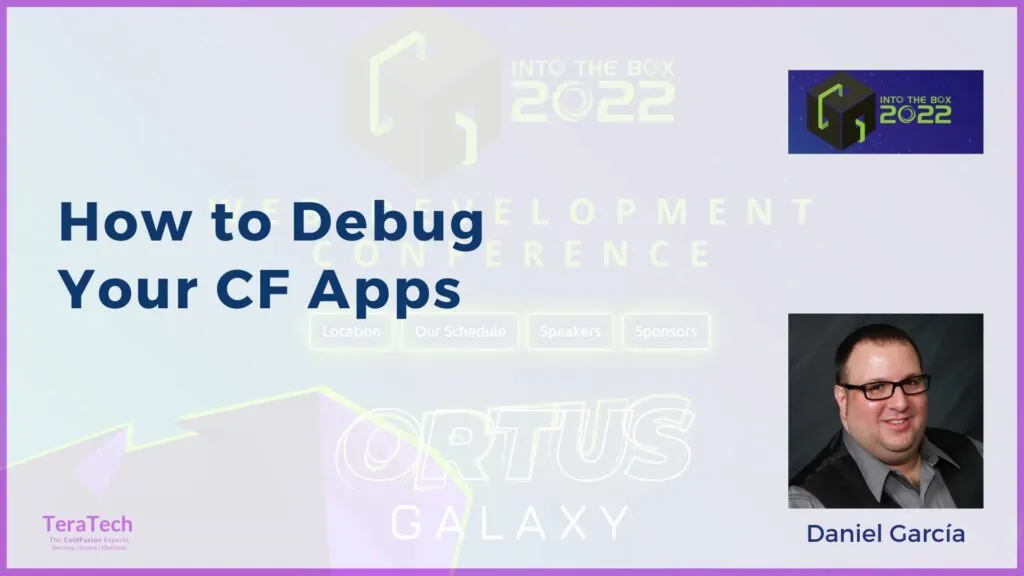 How to debug your CF Apps. Using cbDebugger, Fusion Reactor, bundled Lucee and Adobe ColdFusion debugging, as well as good old fashioned writedumps and emails to figure out what is going on.
BoxWars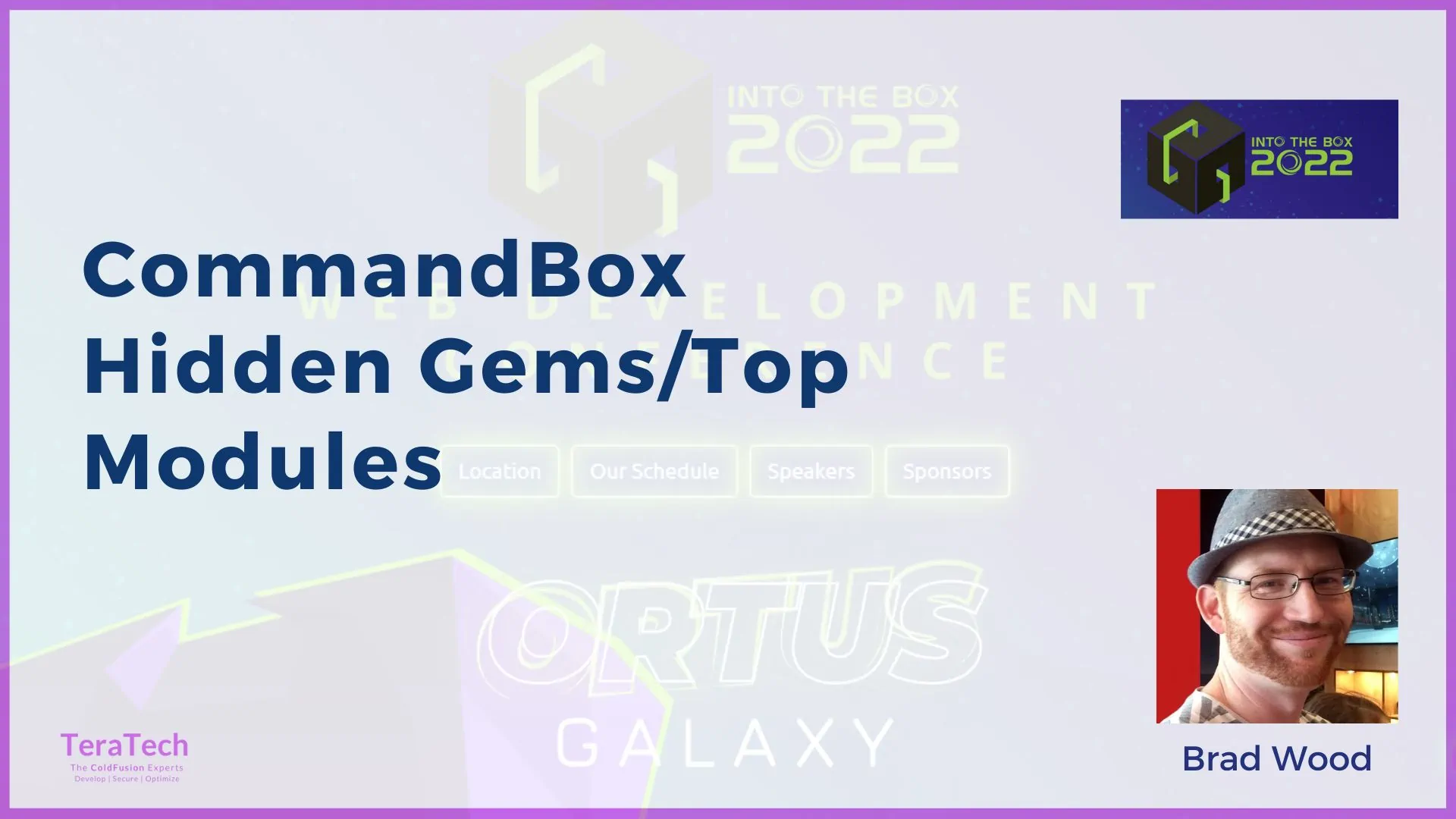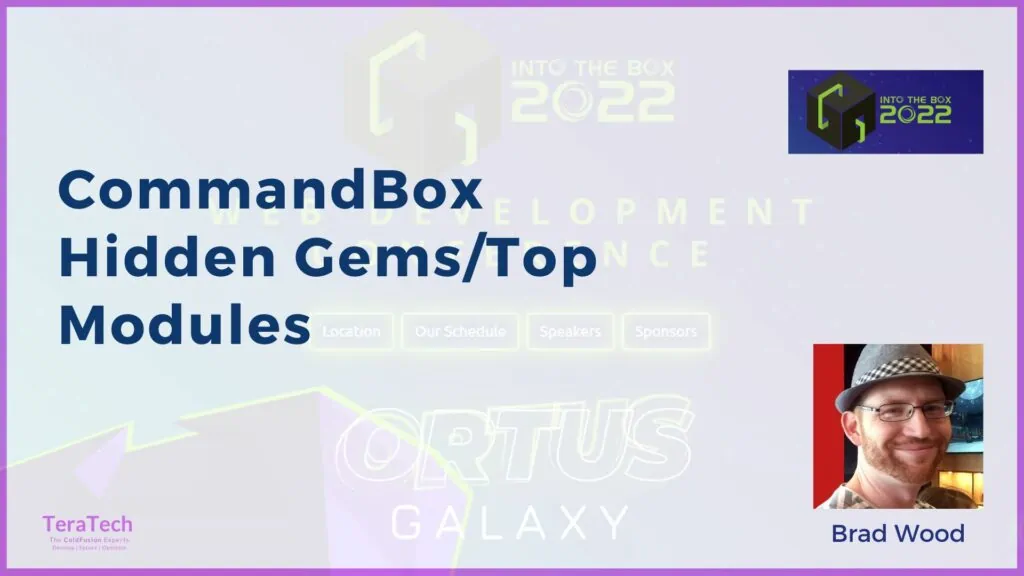 CommandBox has a lot of features out of the box so to speak, but it can also be extended via a modular architecture. In this session, we'll cover the best features, and top modules you need to be using in order to increase your productivity and get the most out of CommandBox.
Web Components in Your CFML Application by Nolan Erck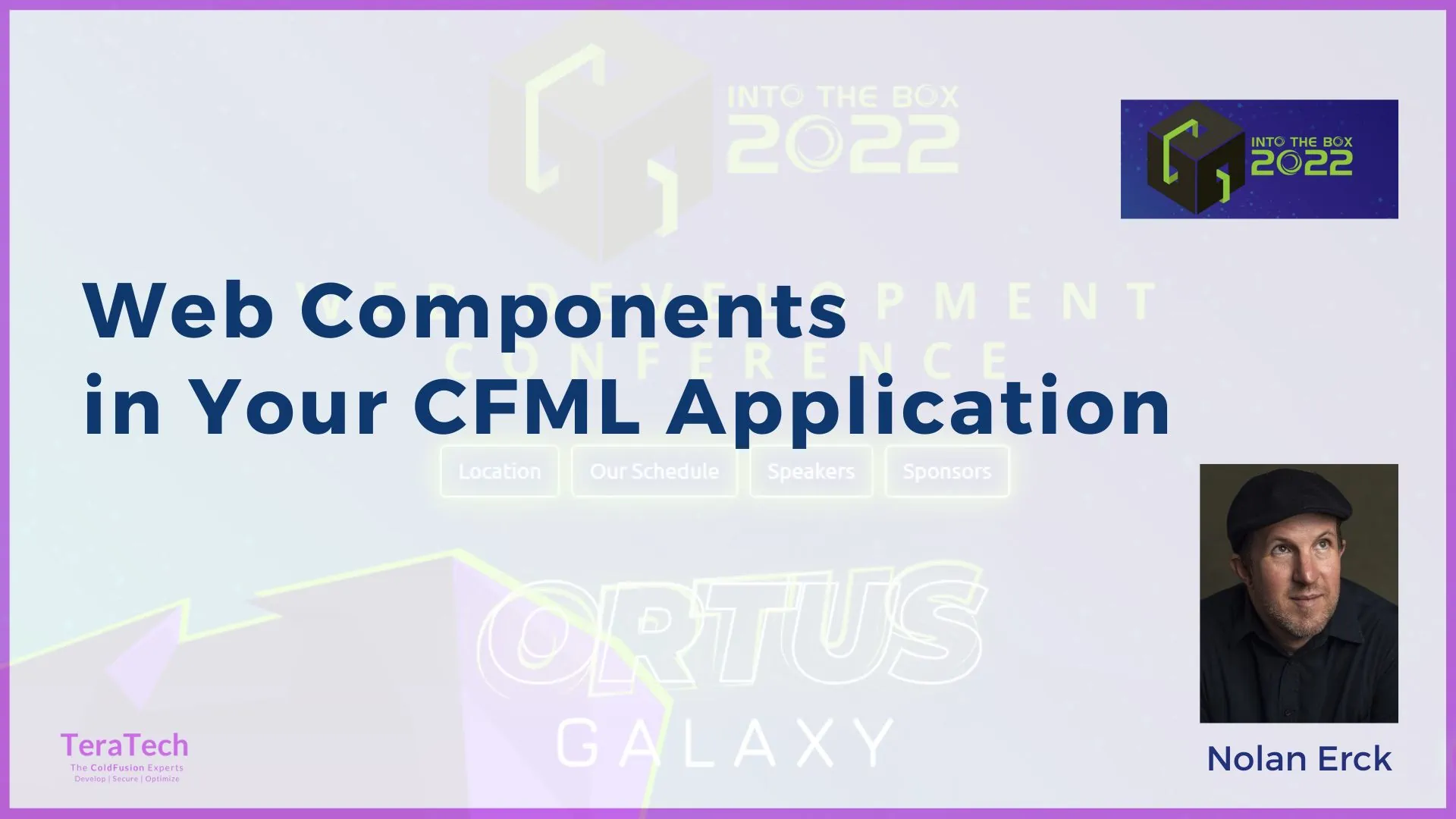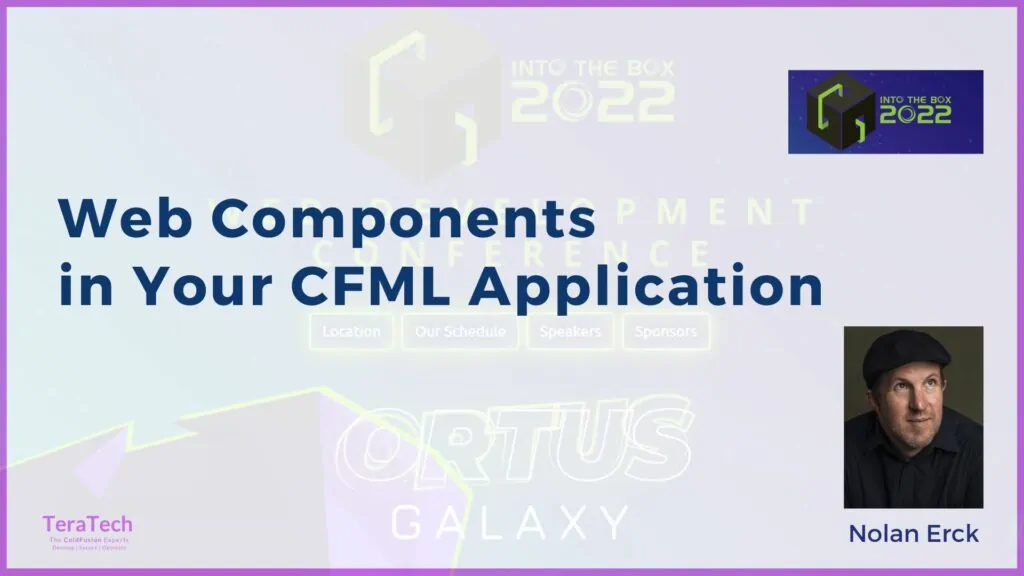 Web Components provide a modular way to build a consistent design system and user experience across your entire application. Instead of copy/pasting the same chunks of coded into various places, you can have a JavaScript/HTML expert focus on getting the UX correct, without them needing to worry about what's happening in the CFML layer at all. Web Components offer reusable functionality on the front-end, with native JavaScript. They are a great middle-ground between standard request/response based CFML applications, and apps that aren't quite ready to move to a full-on JavaScript SPA framework. Web Components themselves are 100% native JavaScript – no new libraries required! Let's learn how Web Components work, then look at integrating them into a CFML application — I promise it's easier than you think! Target Audience: Developers looking to learn more about writing reusable JavaScript and UI components that are platform independent. This talk will spend a little time going over connecting the front-end code to a CFML application, but attendees should already be well versed in CFML and understand how to build a JSON API endpoint. Main Takeaways: – Creating your first Web Component – Interactivity with Web Components – Connecting to a CFML back-end – A quick look at using Lit to build things – Pros and Cons – Next steps and other resources.
Securing and Tuning CommandBox Servers for production by Brad Wood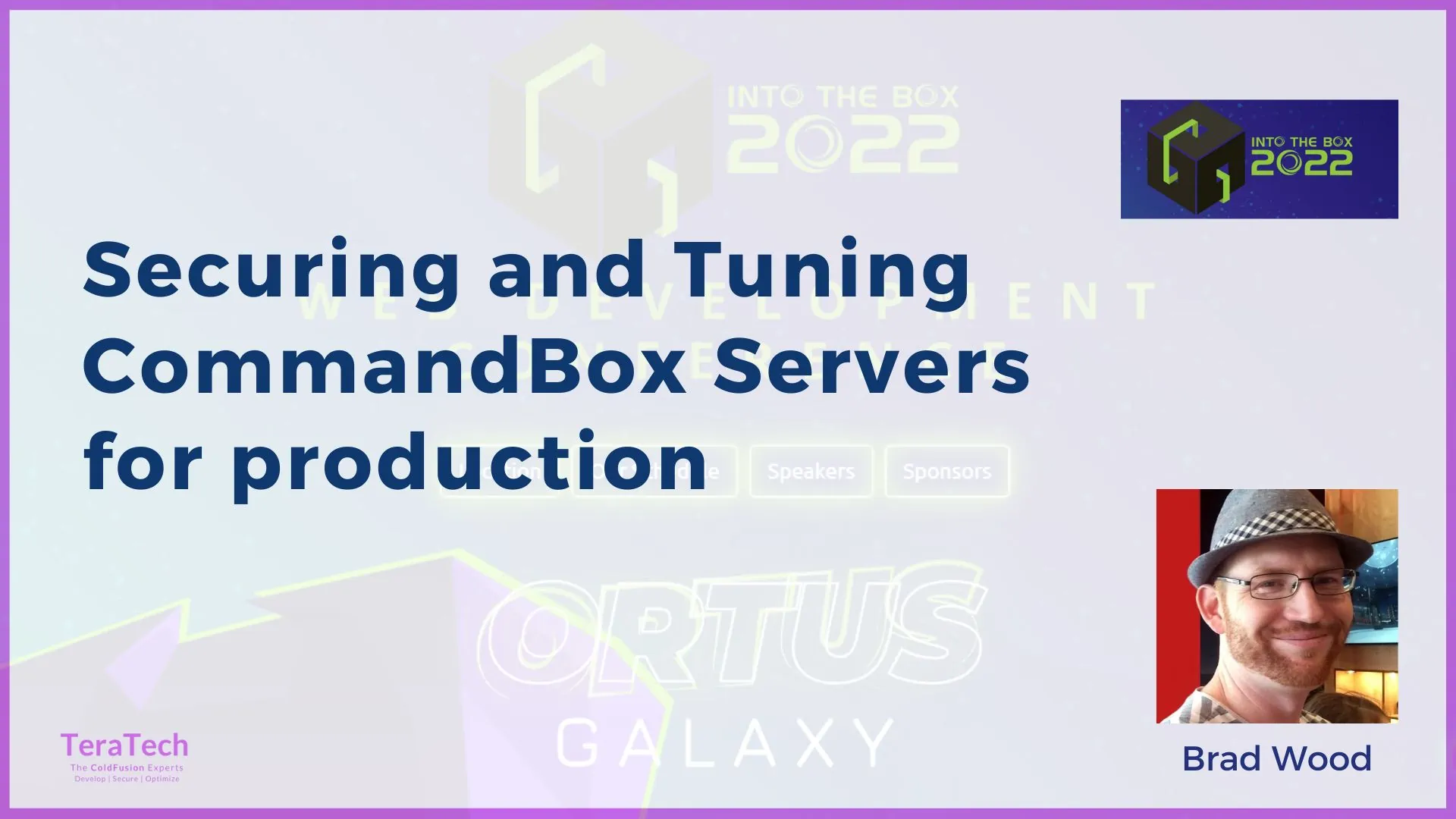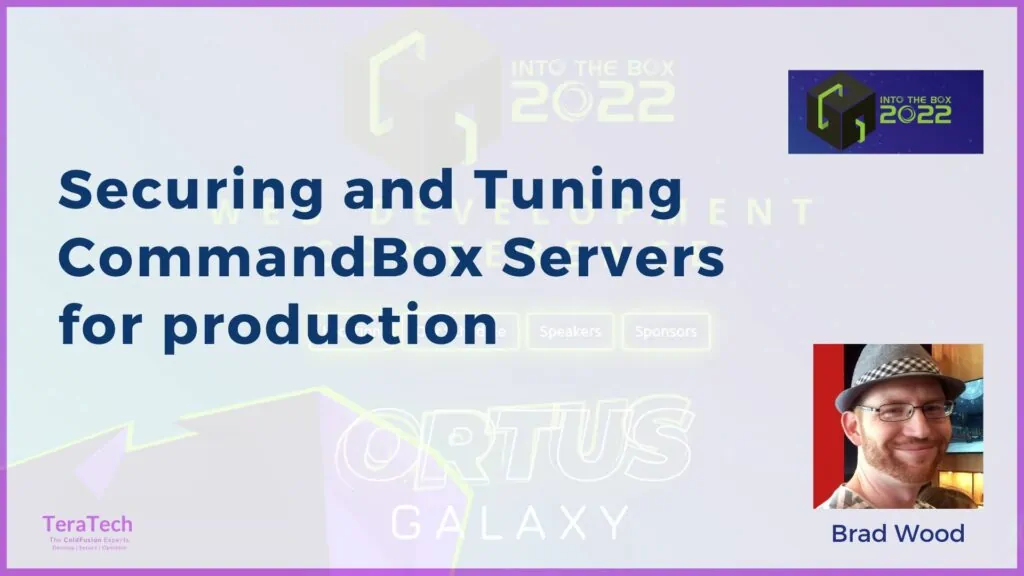 Securing and Tuning CommandBox Servers for production
Writing Command Line Utilities With CommandBox Modules by Abram Adams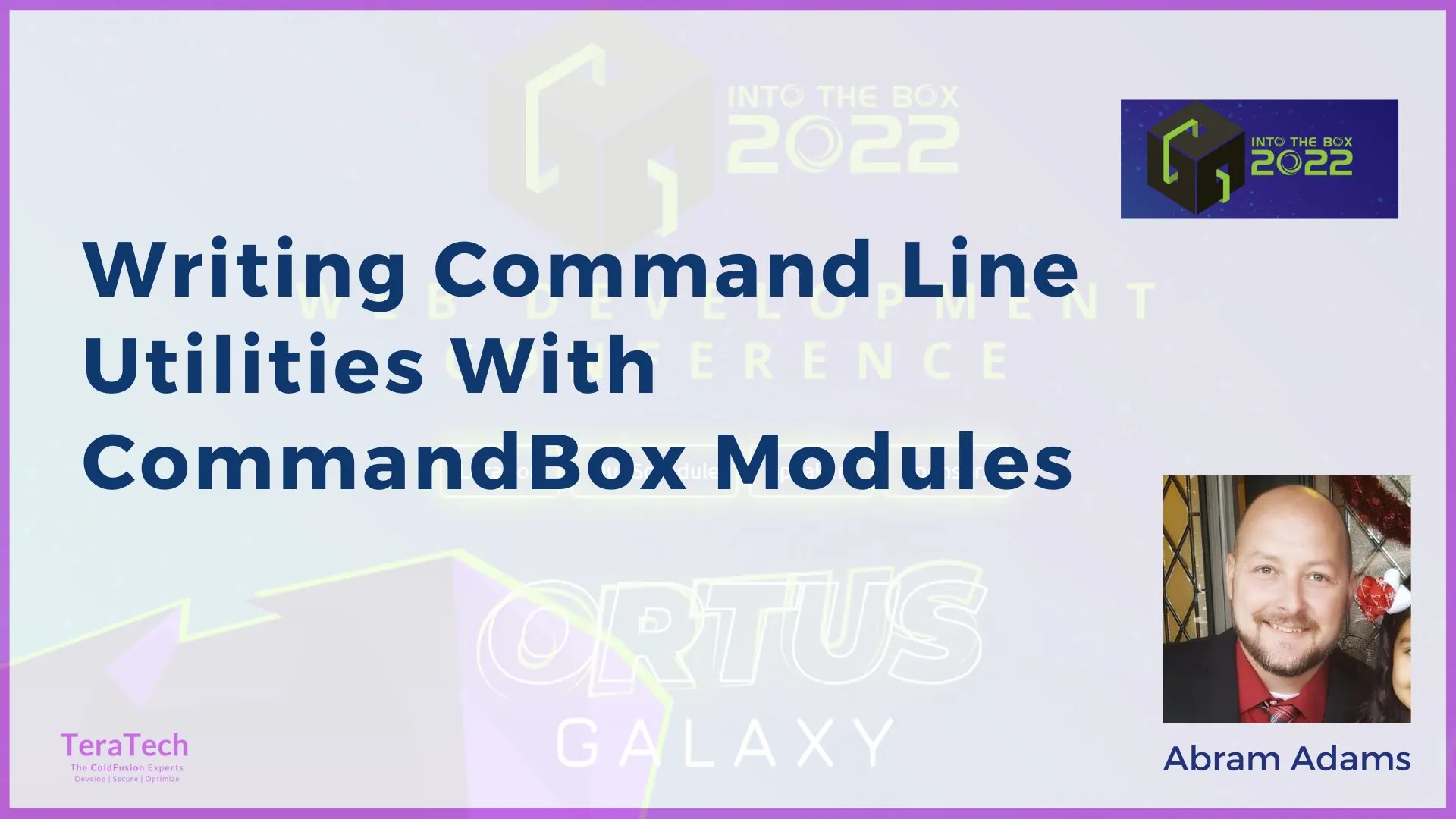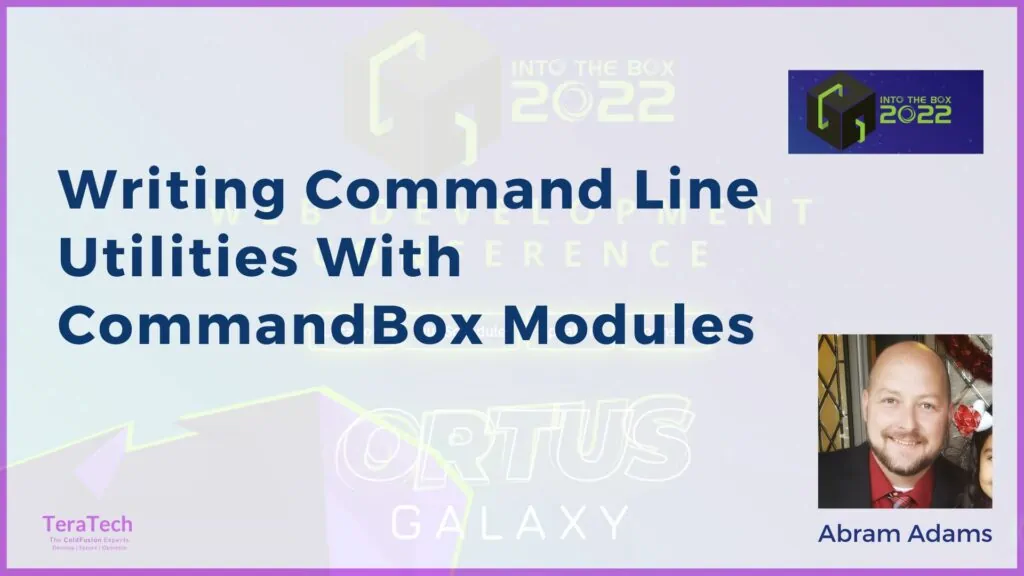 Having a consistent development environment between engineering teams is crucial for the success of any project. What's even more crucial is to have this environment as close to production as possible. This may seem easy with tools like Docker, CommandBox, etc…, but what happens as we add new applications to our lineup? or change some underlying infrastructure? or introduce some new technology to the stack? How do we manage keeping everybody on the same configuration? How will your app behave in a clustered/load balanced setup? How will this new Lucee update impact your app? Will my Adobe ColdFusion app run on Lucee? How will our nodeJS or Ruby app integrate with our CFML app? These were all problems we solved at Cavulus by leveraging the power of CommandBox modules to make order from chaos… or more pointedly: Khaos. In this session we'll walk through what Khaos is, and how it can help you standardize your complex environments, share exact configs between developer, QA and product teams, manage self-signed SSL certs in a trusted fashion between applications and much more. Khaos internally makes use of many common tools, like Git, GitHub, Docker, Docker Compose, Mkcert and CommandBox to make spinning up a new environment as easy as `box up my-app`.
Quick Start for CI/CD Automation on AWS by Seth Stone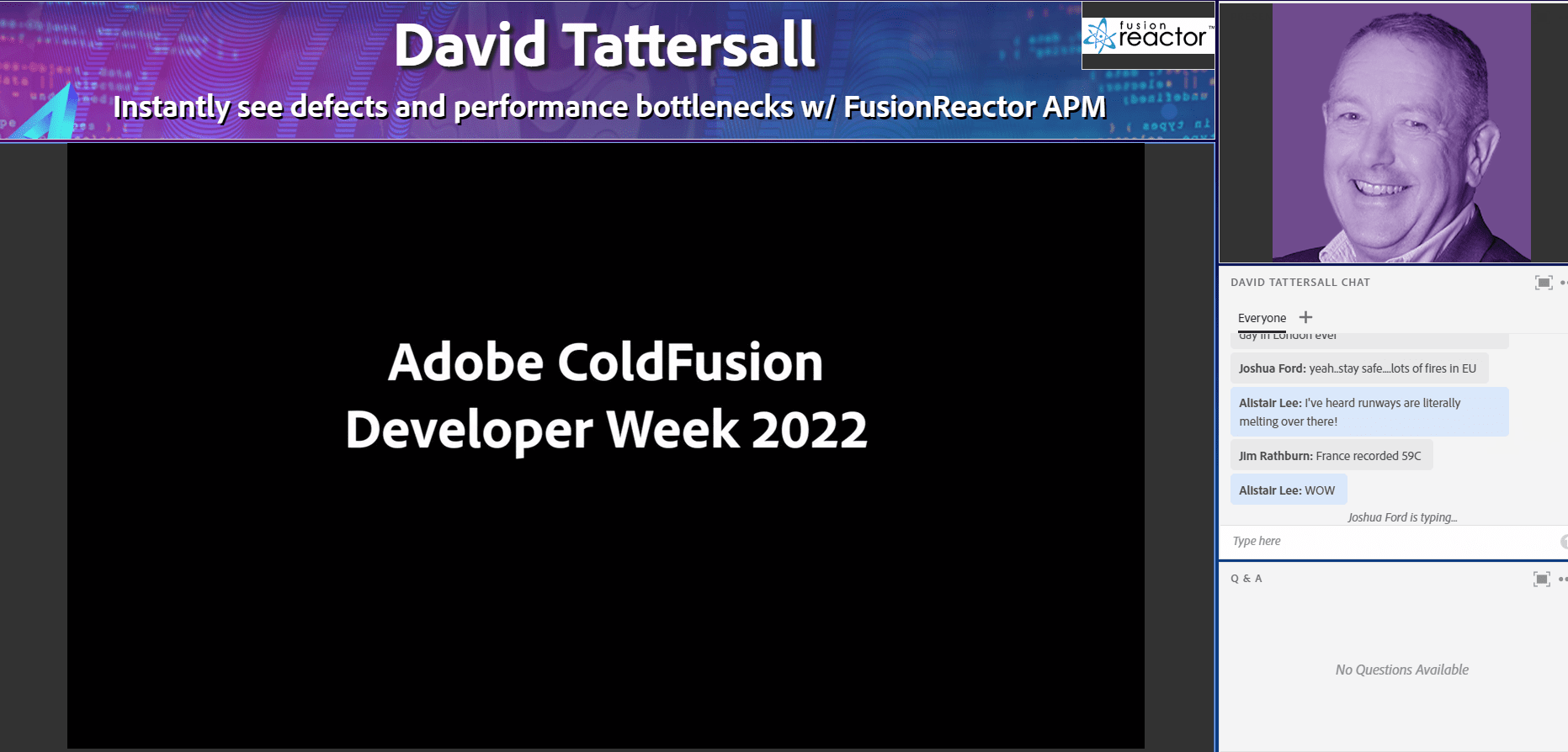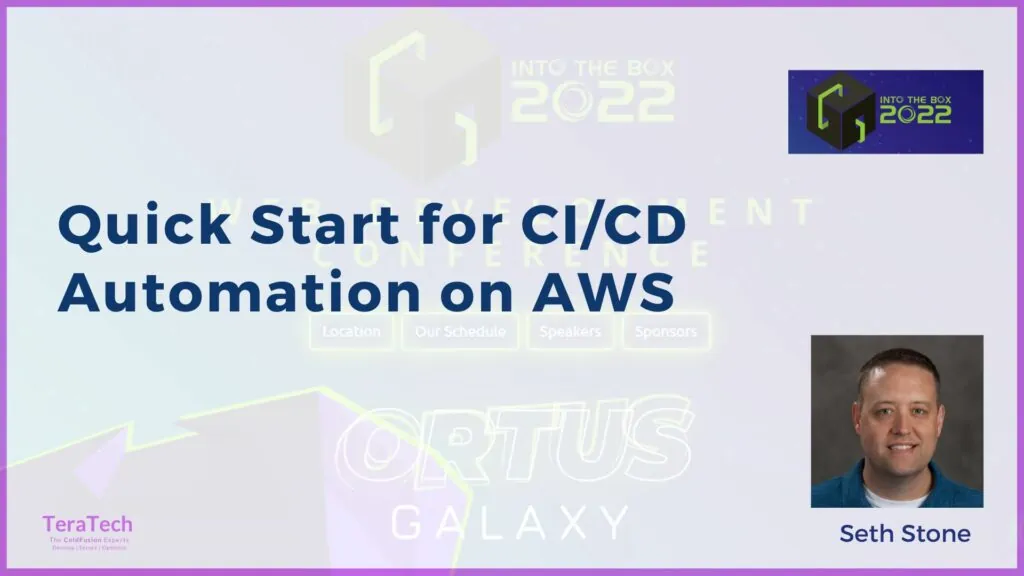 In this talk, Seth demonstrated using CommandBox to generate CloudFormation templates on-the-fly that deploy to AWS as fully-configured and fully-automated CI/CD pipelines. Then we'll further explore how to customize the system for your application by securely injecting environment variables (secrets), automating testing with TestBox and configuring auto-scaling. In less than an hour we'll accomplish what would normally take days to piece together from scratch using AWS documentation alone.
I'm Just Here For The T-Shirt by Shawn Oden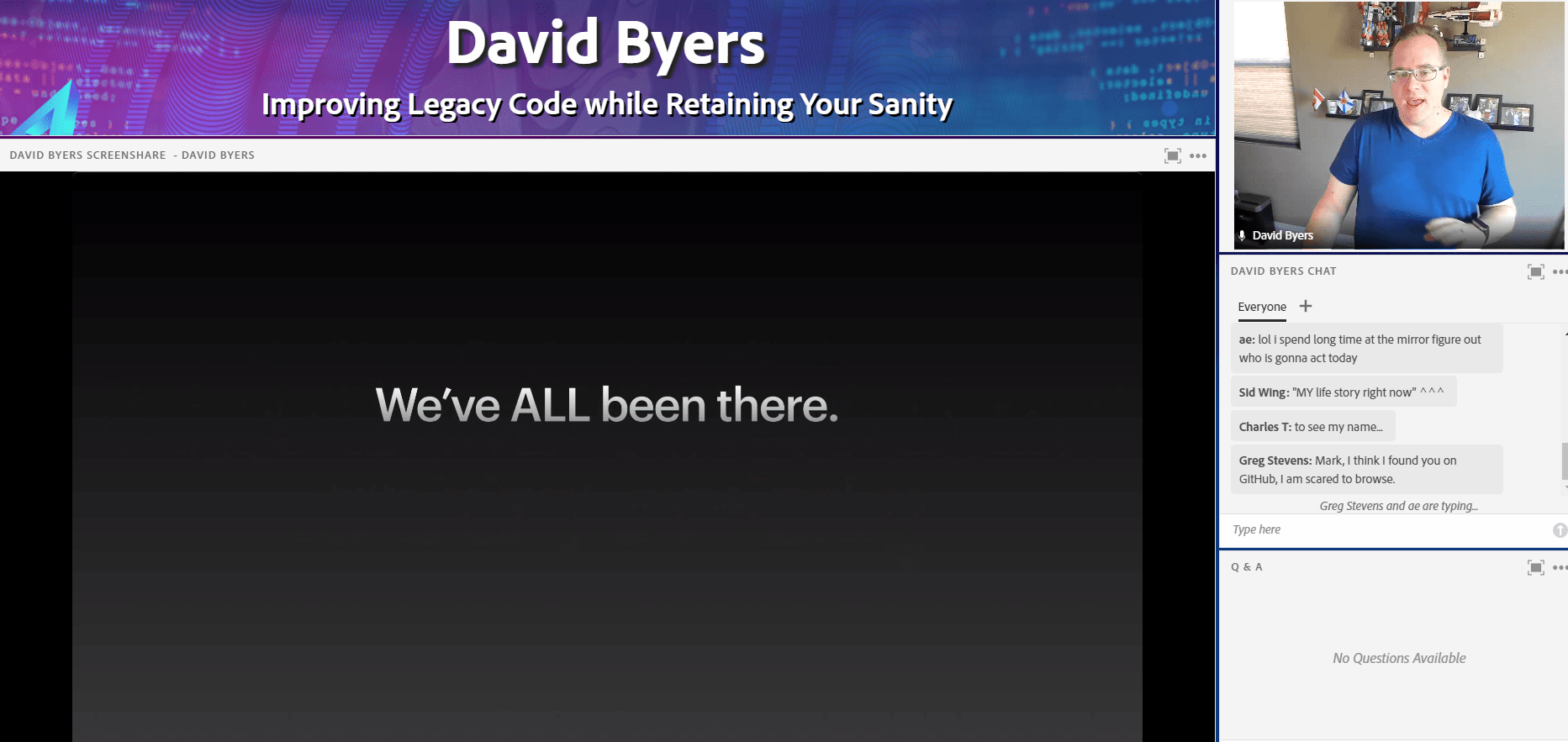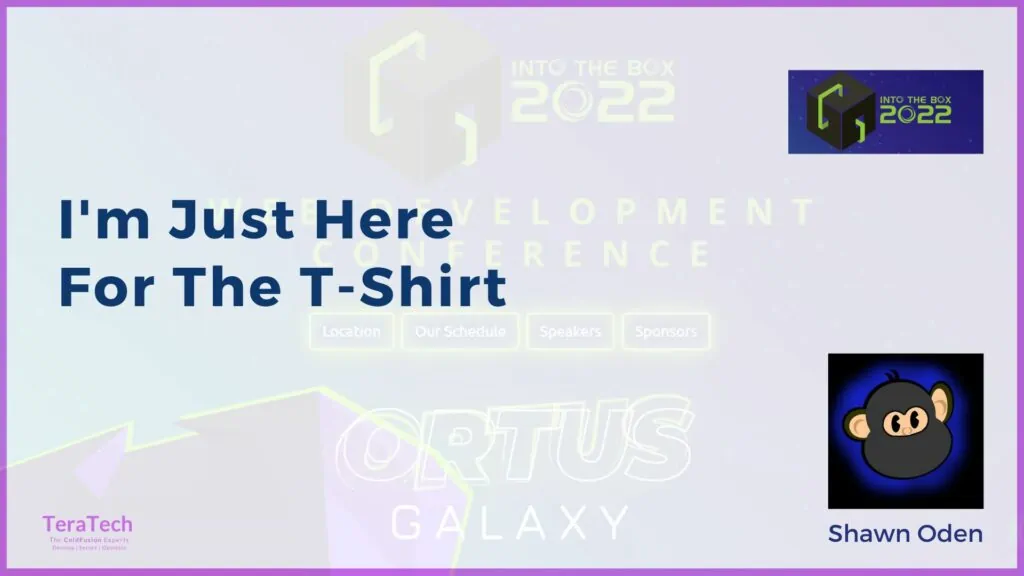 I've been a professional geek for over 20 years, but I still feel like I'm out of my zone. Technology moves so fast. There are so many things to know. Everyone is so much smarter than me. I don't know what I'm doing, and it's just a matter of time before someone finds me out. Or something like that. Imposter Syndrome is a problem. But it can be dealt with.
Modernizing Your Vue Developer Skills by John Farrar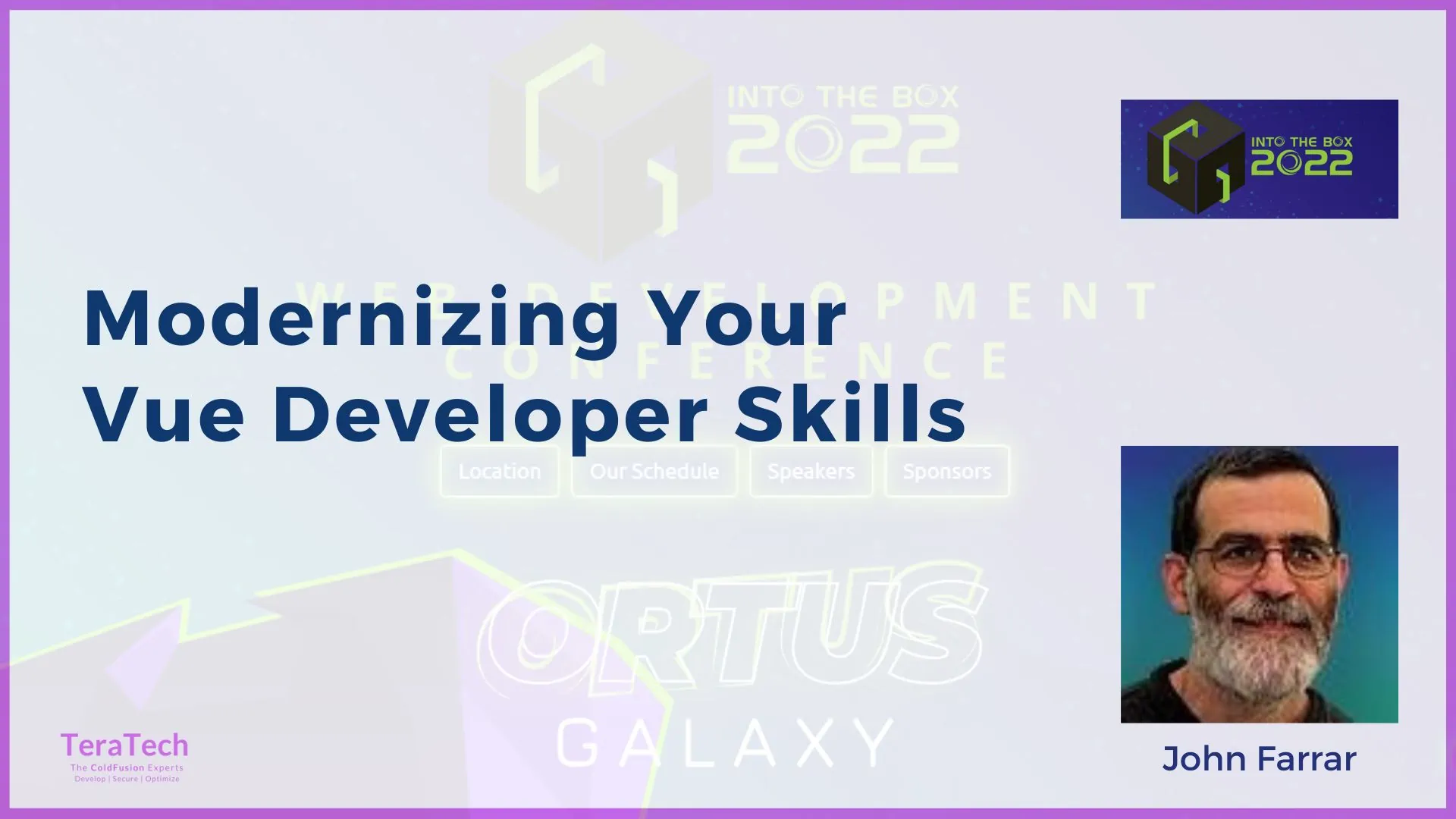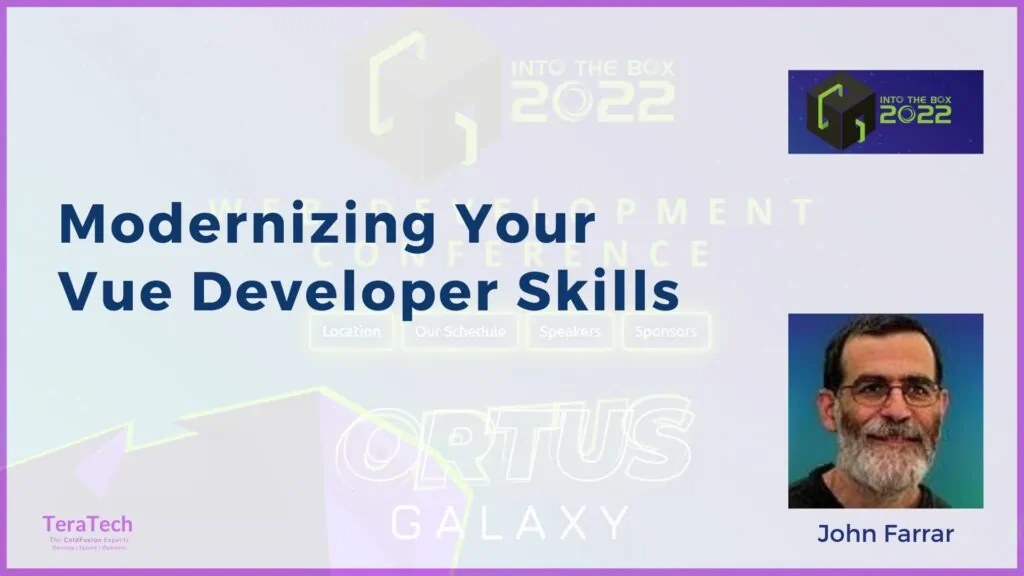 What has changed in Vue 3? John talked about how Vite upped the game over WebPack, why Pinia is the update for Vuex, ViTest is the new testing standard, and why it's time to add in tools like VueUse. Oh, don't forget to throw in TypeScript.
Day 2 of the conference, September 8, 2022
Ortus Keynote 2022 Day 2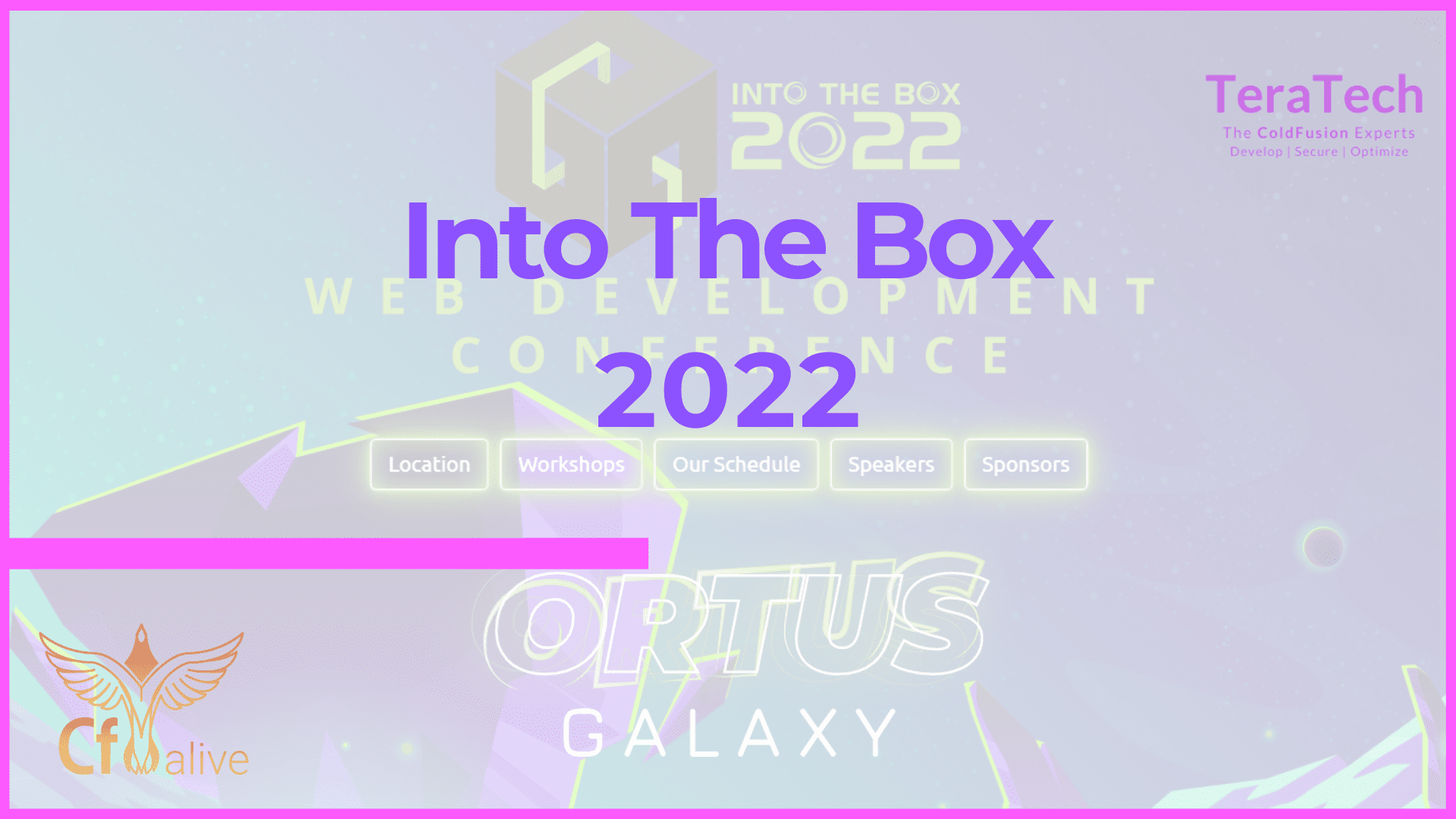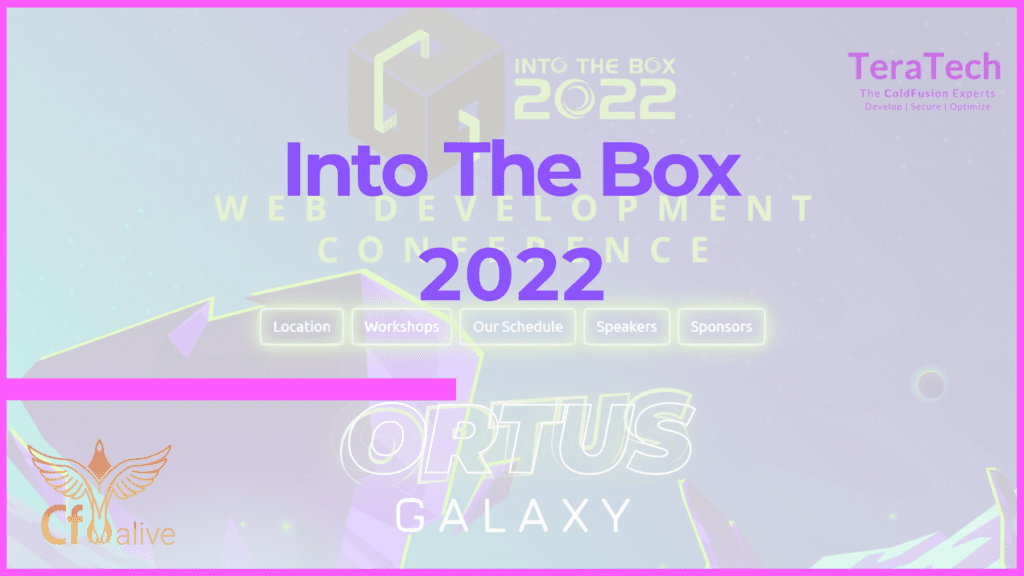 The Ortus Keynote gives you insight into Ortus Solutions, the past, present and future. You'll meet the members of Team Ortus, community members, speakers and sponsors. We'll tell you a story about CFML, which we think you will want to hear, and learn what Ortus and the community is doing for CFML and the future of CFML. You will get updates on an array of Ortus *Box products, including recent releases & upcoming plans and features in our roadmaps. We will finish with Ortus's plans for the future… as well as remind you of a driving force behind all things Ortus.
BoxTrek
cbq — Jobs and Tasks in the Background by Eric Peterson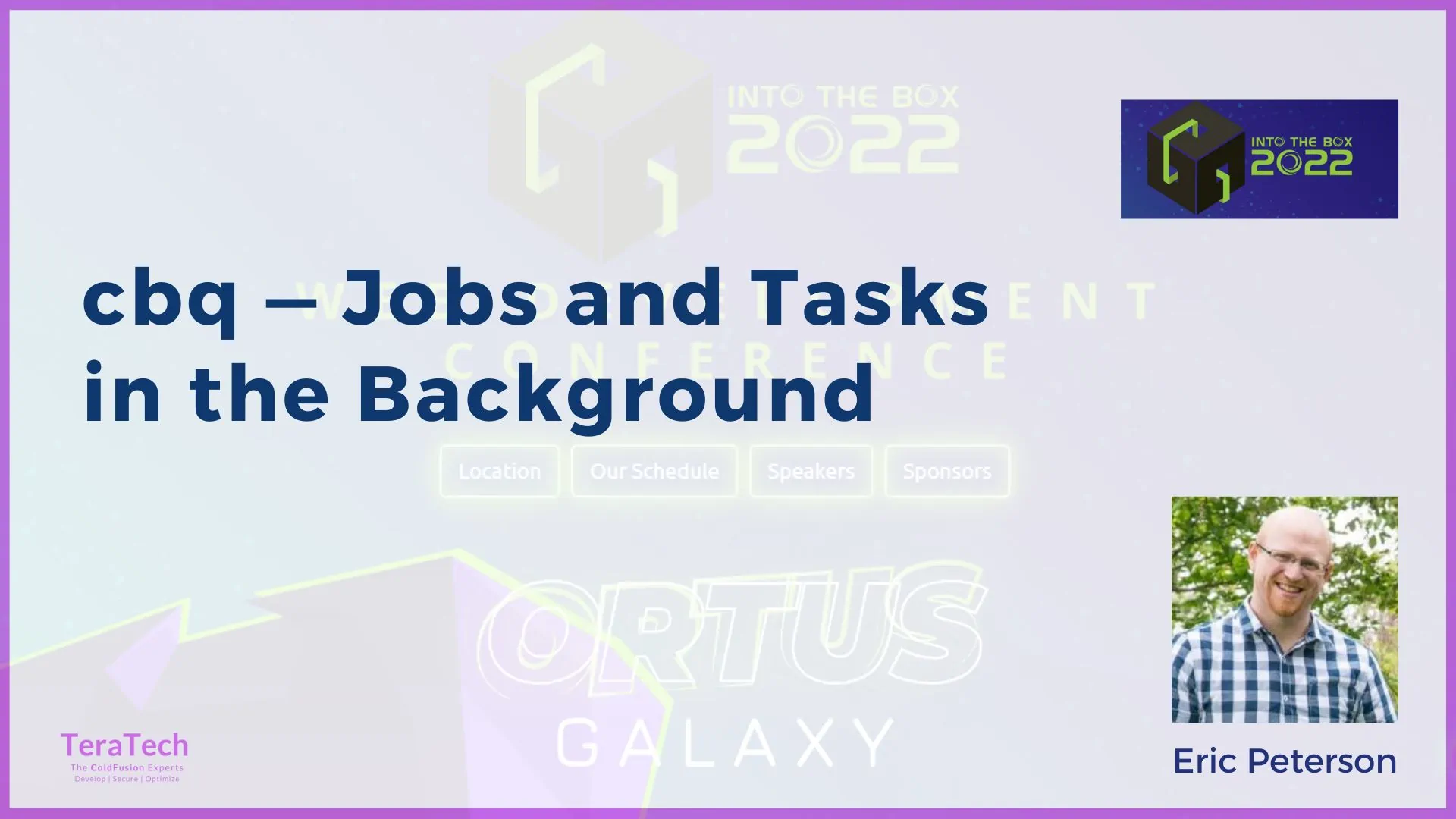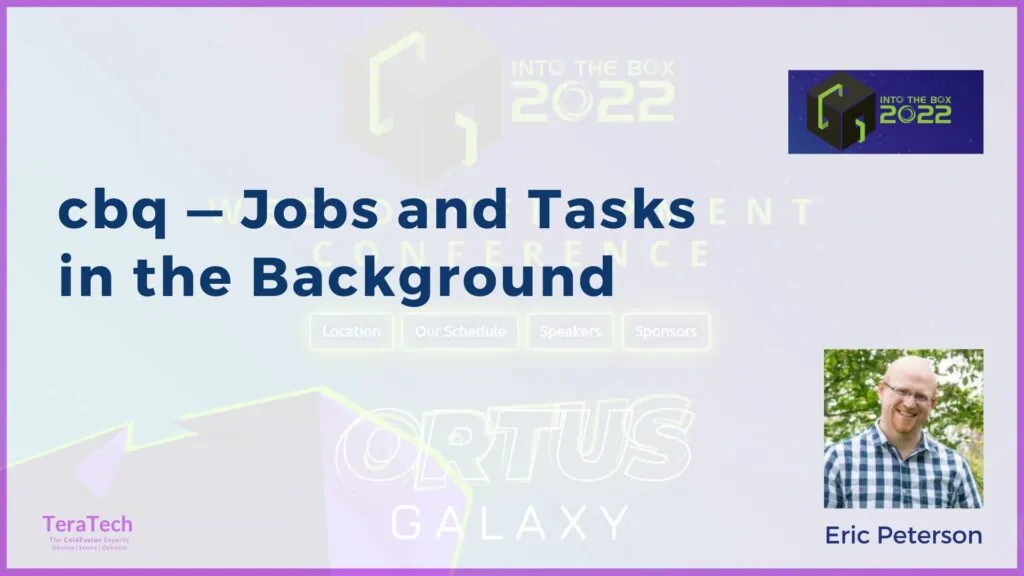 Many actions in our applications need to happen in the background. This could be because the job takes a long time, for a snappier user experience, for visibility into what jobs are running, working with websockets, or because another system processes the jobs. Message Queues are an ideal tool for this job, but setting them up hasn't always been easy. cbq aims to make this easier for you by providing a protocol-based interface to multiple queue backends including the ColdBox Async engine, databases, and RabbitMQ. Learn how to set up a queue and see the benefits it brings to your application.
Building Collaborative Applications with Websockets and MQ Services by Jon Clausen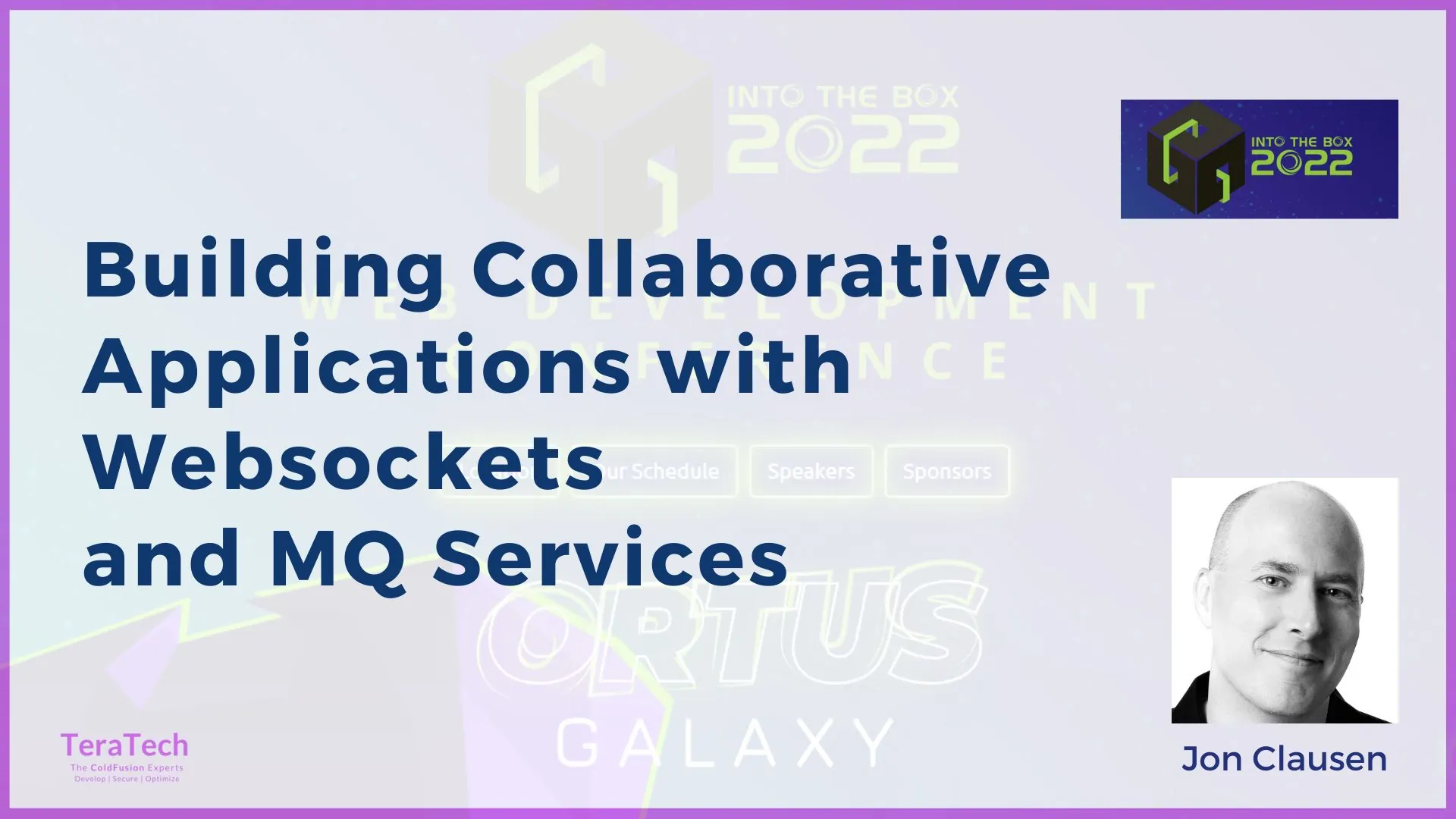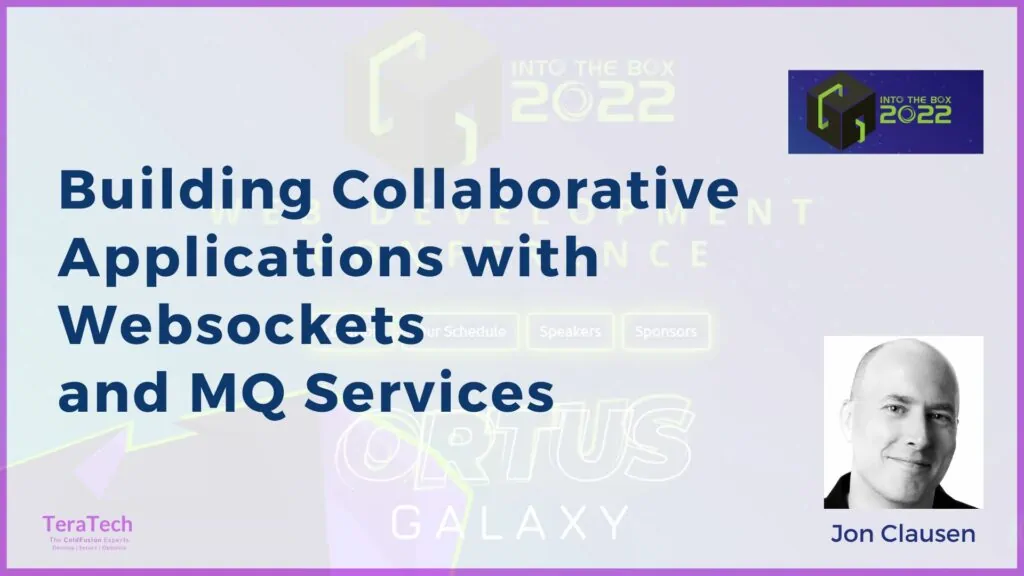 https://redis-cache.ortusbooks.com/essentials/pub-sub
Building a CFML API powered Quiz Game with VueJS and deployed with SPA and Android + more by Gavin Pickin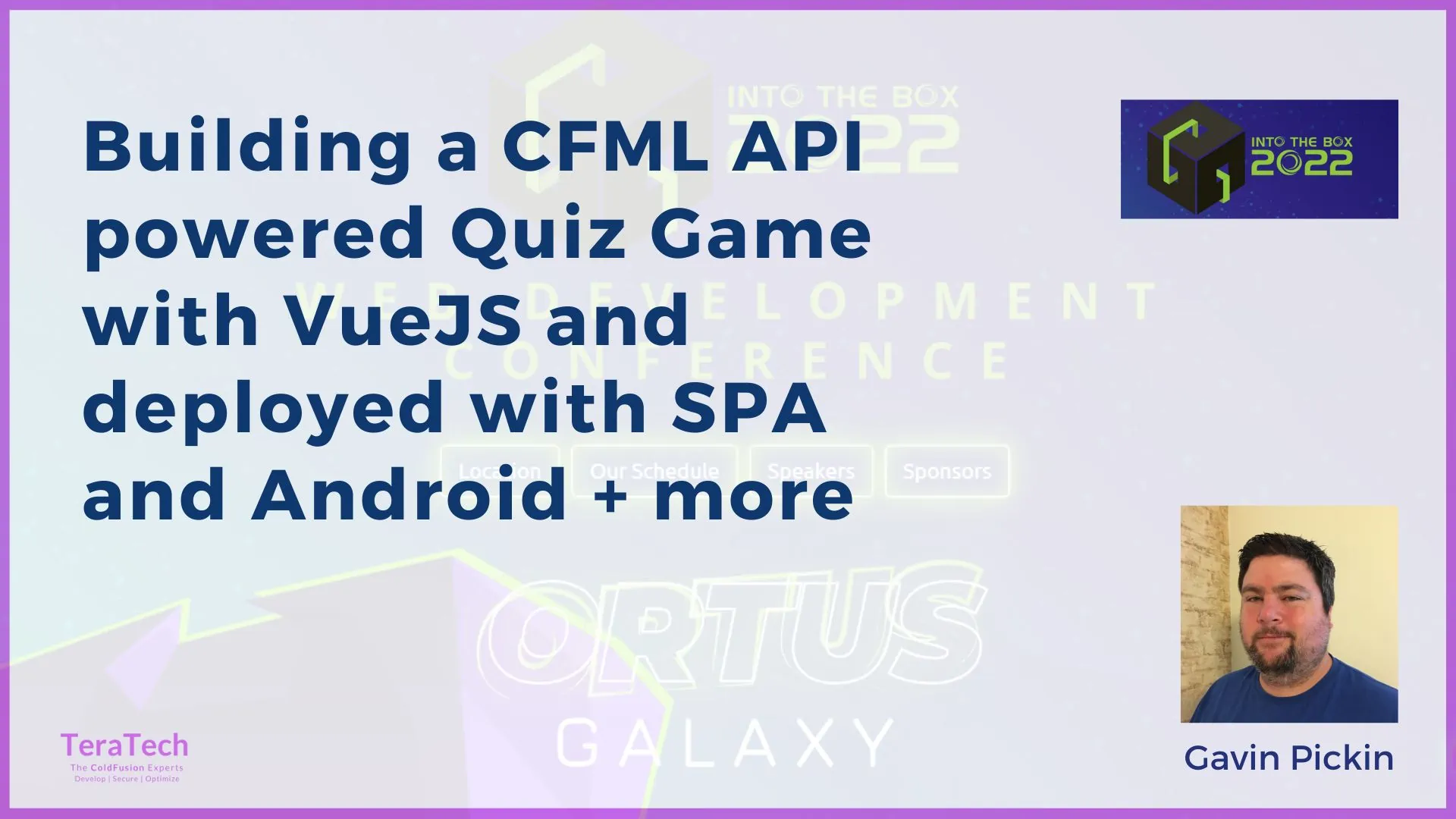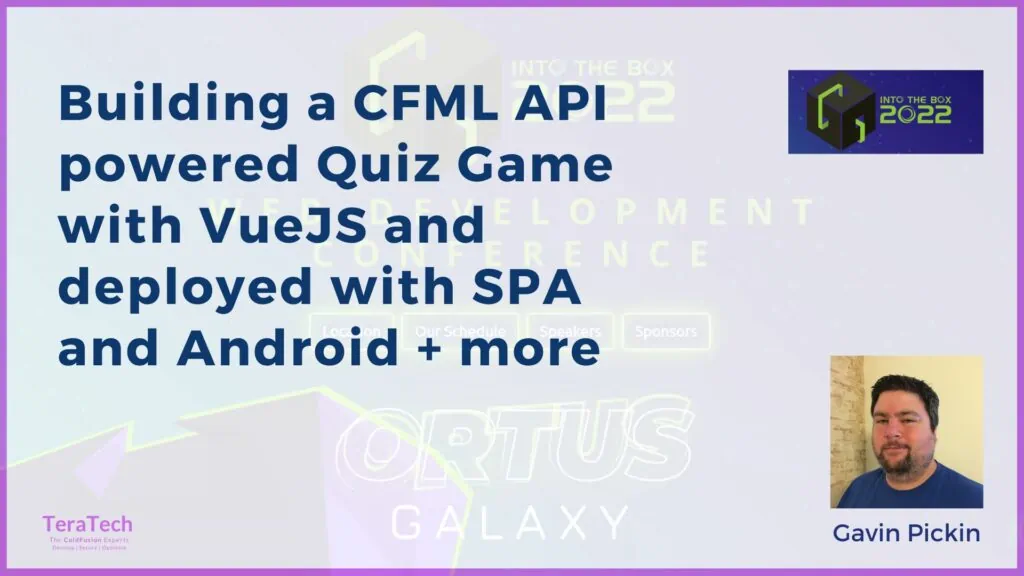 In this session, Gavin was building on top of the Developer Feud Quiz Game REST API I built in Online CF Meetups and Adobe Developer Week which I hope we get to play at Happy Box. We will see how I built a New VueJS Quasar App for the Multiplayer Admin and Leaderboard side of the game. To finish, we will deploy to SPA and Android and Windows just because we can!
cbPlaywright — End-to-End Tests with Playwright and TestBox by Eric Peterson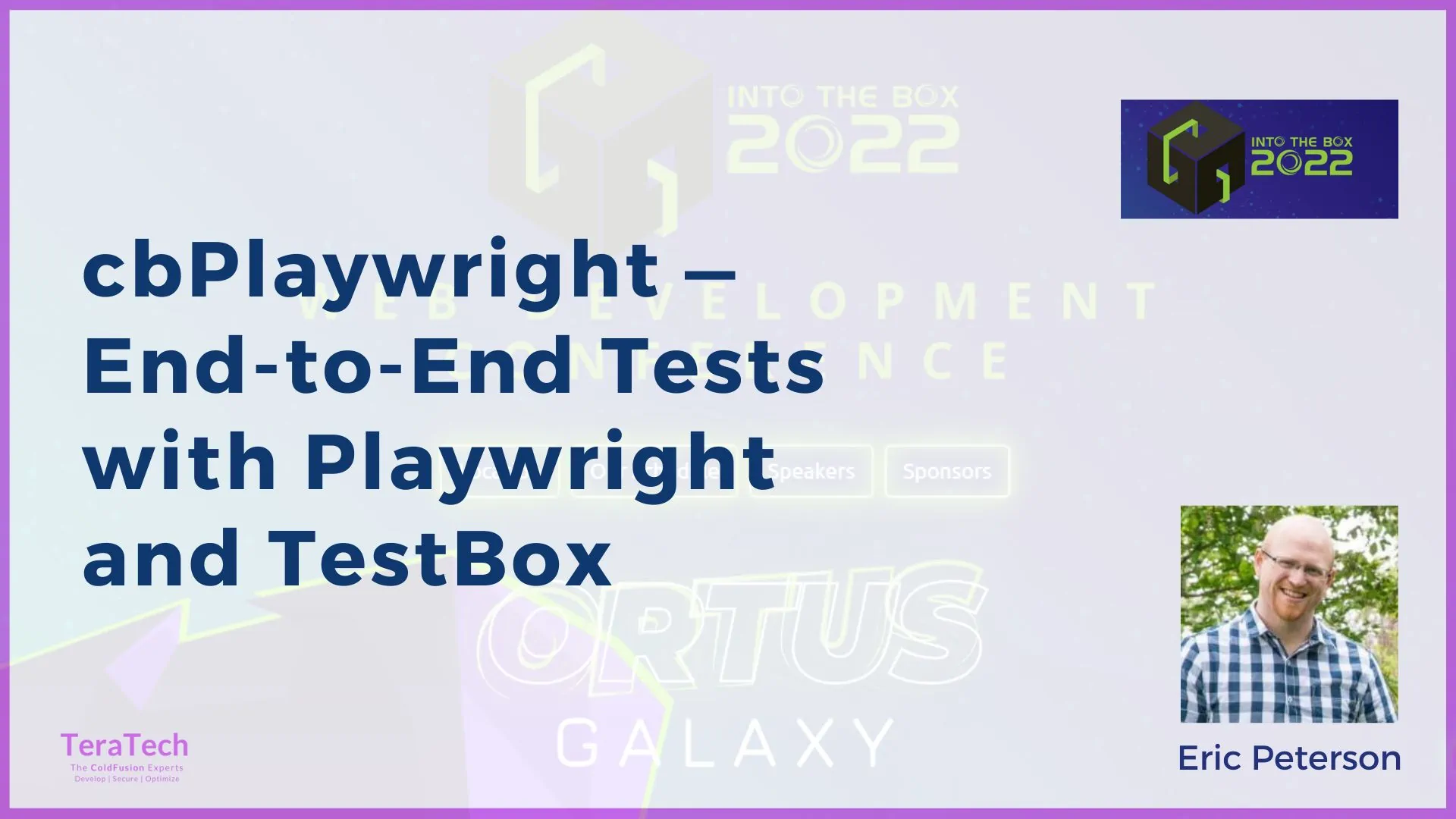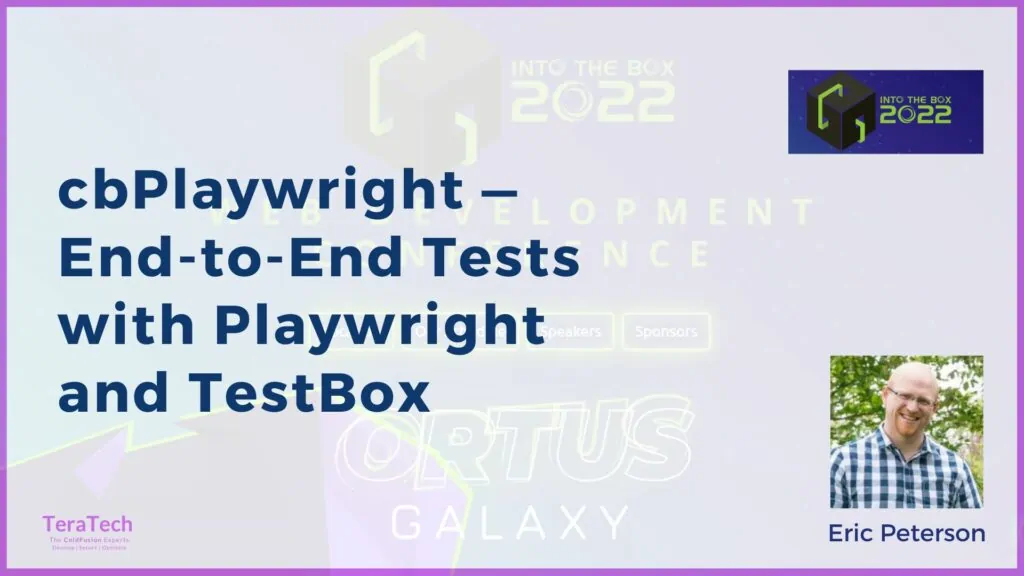 Playwright is end-to-end testing tool by Microsoft. It can be used to simulate a browser visiting your website like Selenium and Cypress. The real fun for us comes from the Java SDK for Playwright which we can use to run Playwright from our TestBox tests! In this session you will learn how to get started testing your website end-to-end with Playwright and TestBox.
I'm Still Scared of Aspect Oriented Programming! by Nolan Erck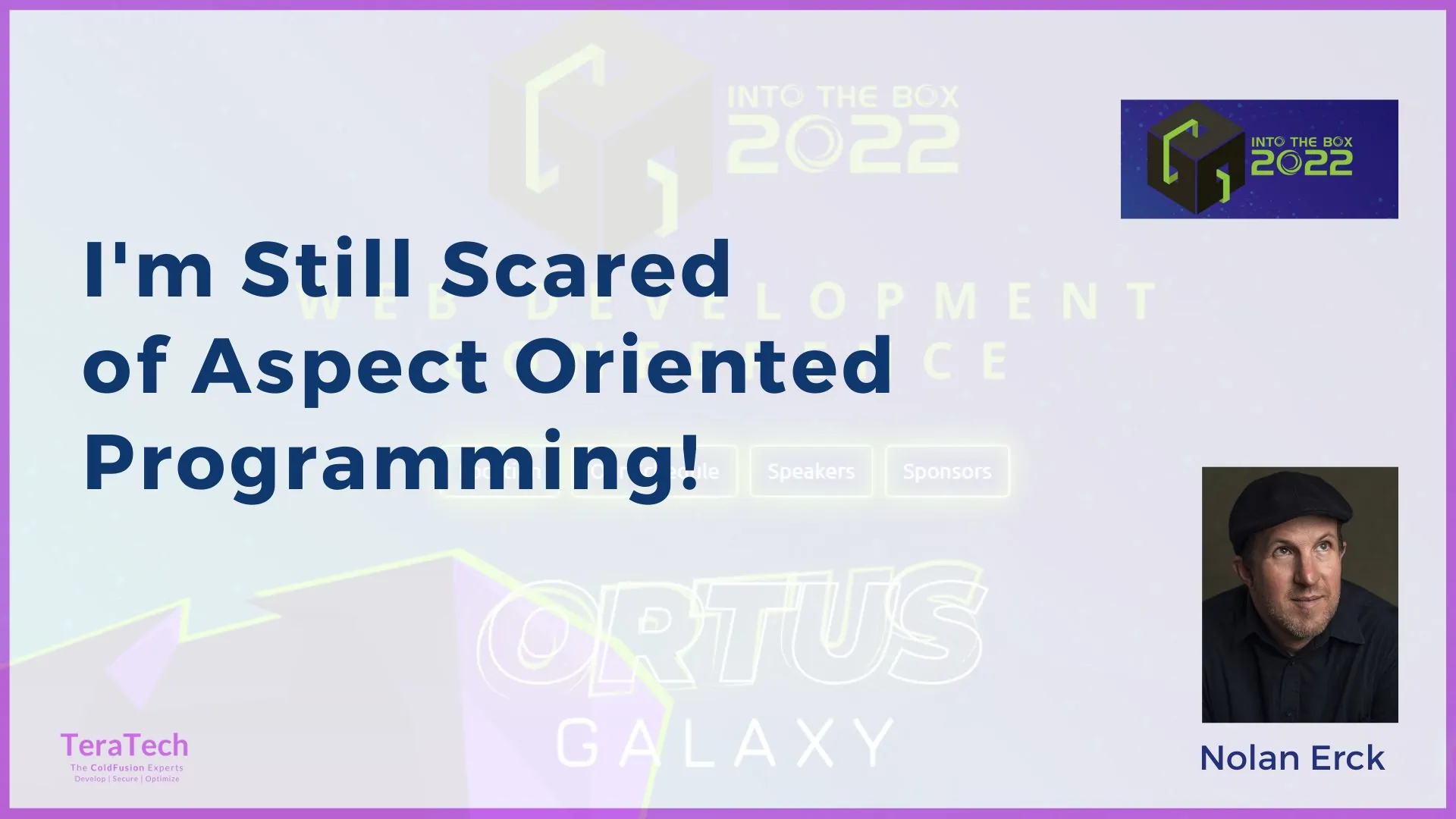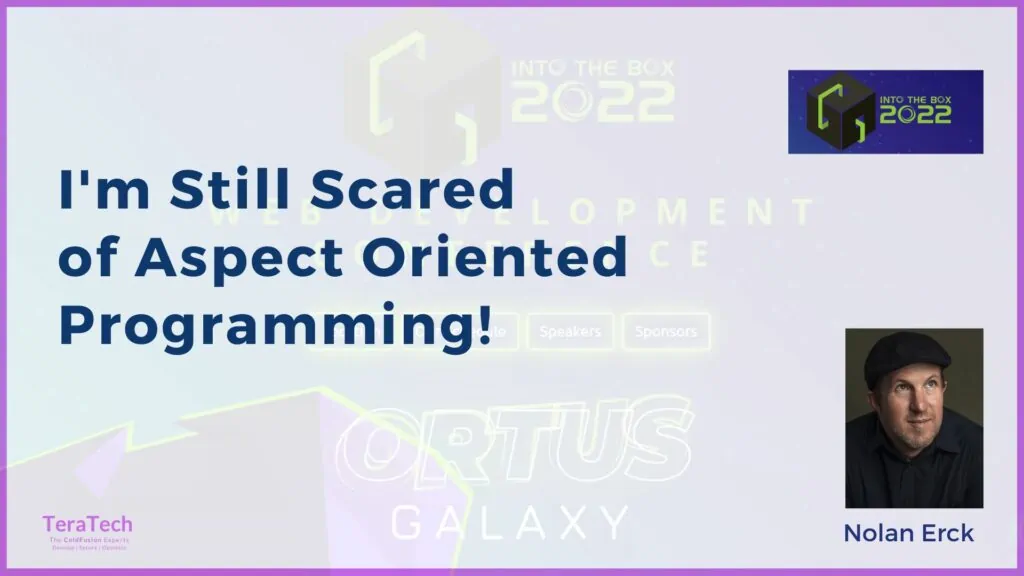 So you've figured out what Model View Controllers do, and even wrapped your head around using Dependency Injection for bean management. Excellent! But that pesky Aspect Oriented Programming (AOP) layer is still a complete mystery! It's not that bad, I promise. And in this talk we'll go over the basics of what AOP does, plus show you some ways to implement it in your applications. There are several AOP libraries available in CFML — you can use any of them in your existing applications, without needing to do a complete rewrite of your code. Let's learn how!
Building Modules by Scott Steinbeck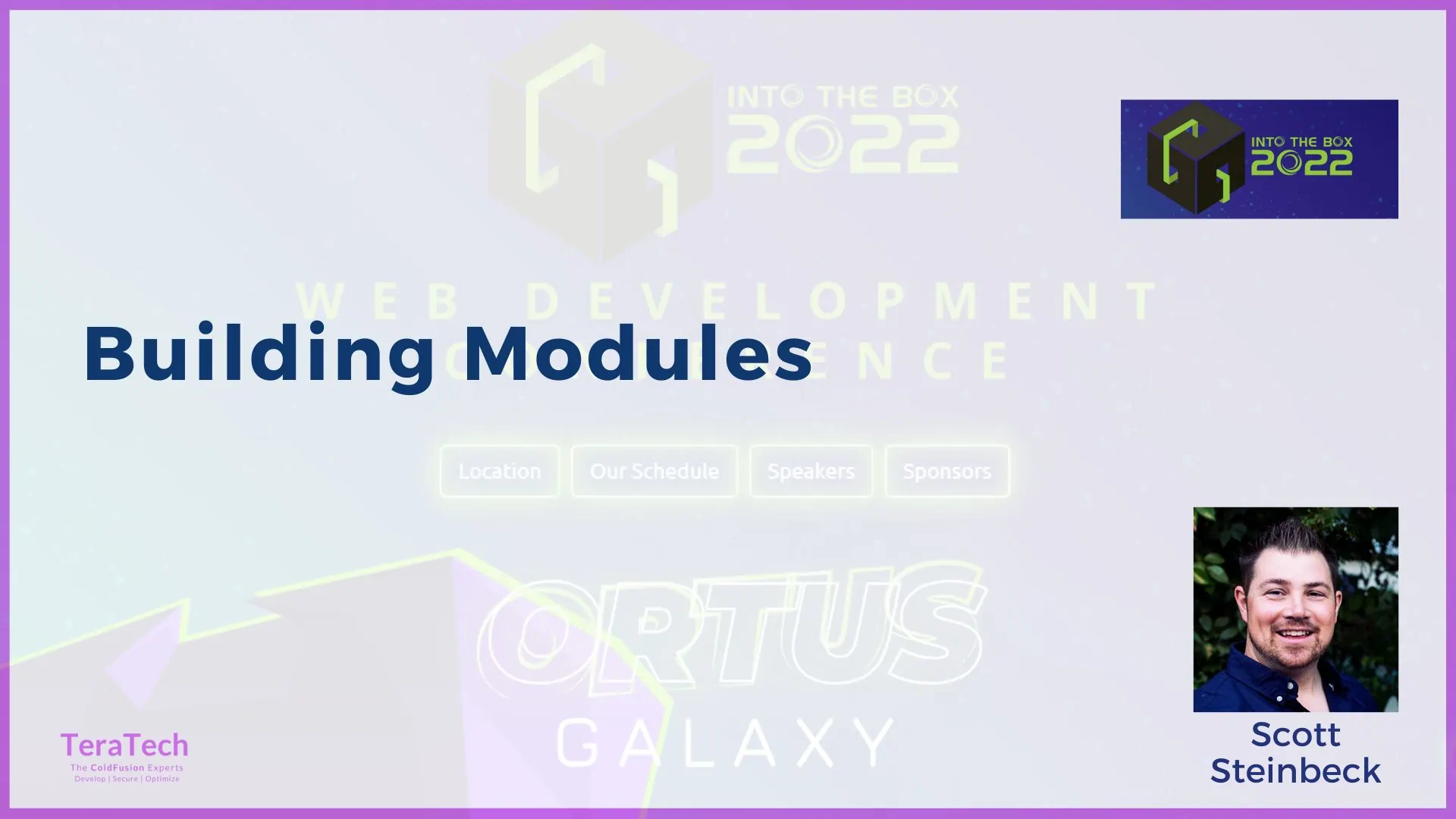 Often times you have a common problem in development that you know there has to be a common solution to. If you come to the conclusion that there is not a solution easily available to you, your next option is to find a solution in another language, or build it yourself. The task seems daunting but I assure you it is easier than ever. In this session, you will learn about how to create a module from scratch and set it up to be used as a: standalone module, a coldbox module, or a commandbox module. You will also learn how to create a module as a wrapper (from a java library) or convert it from another language like javascript.
BoxWars
ContentBox 101 by Daniel García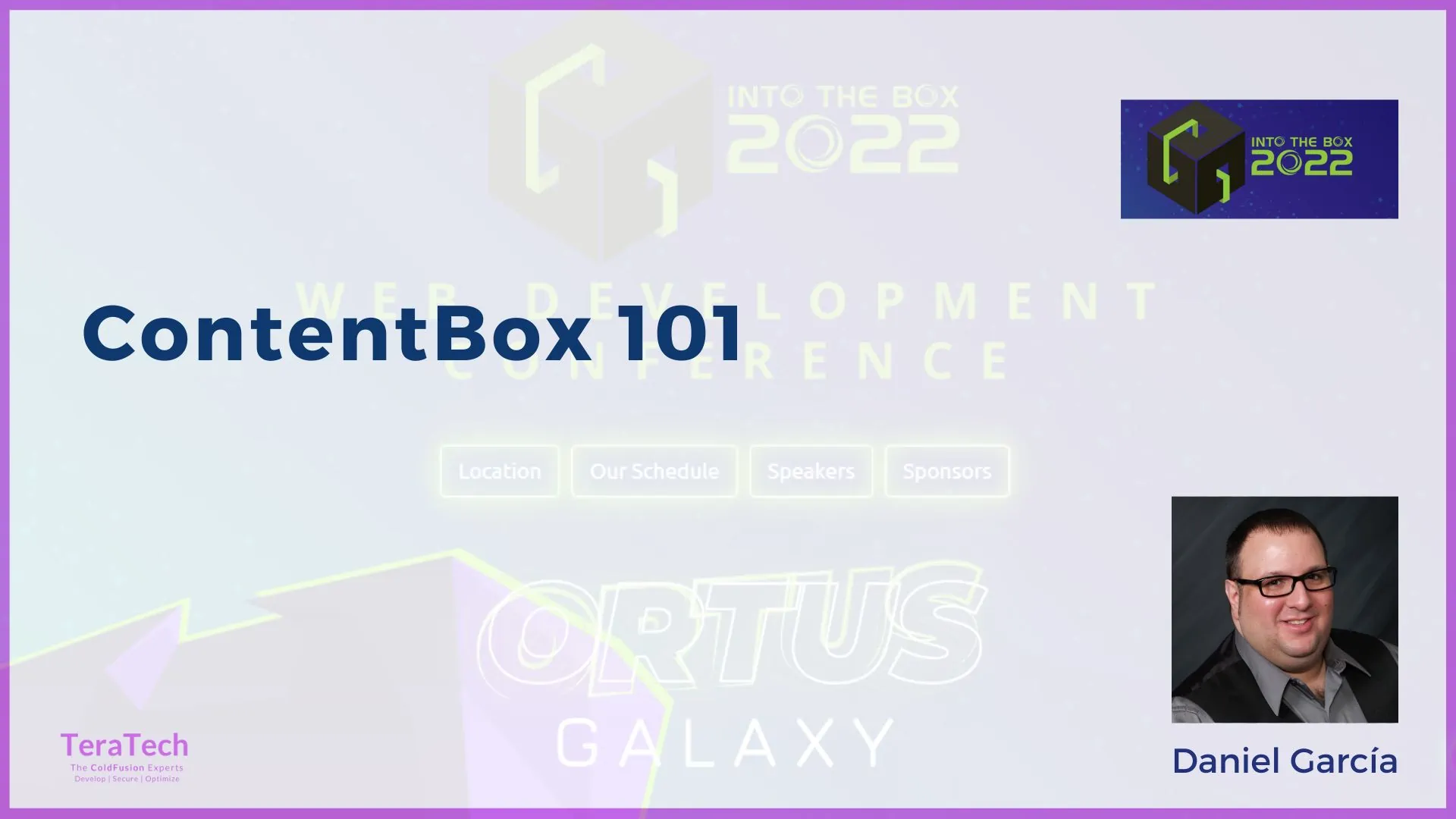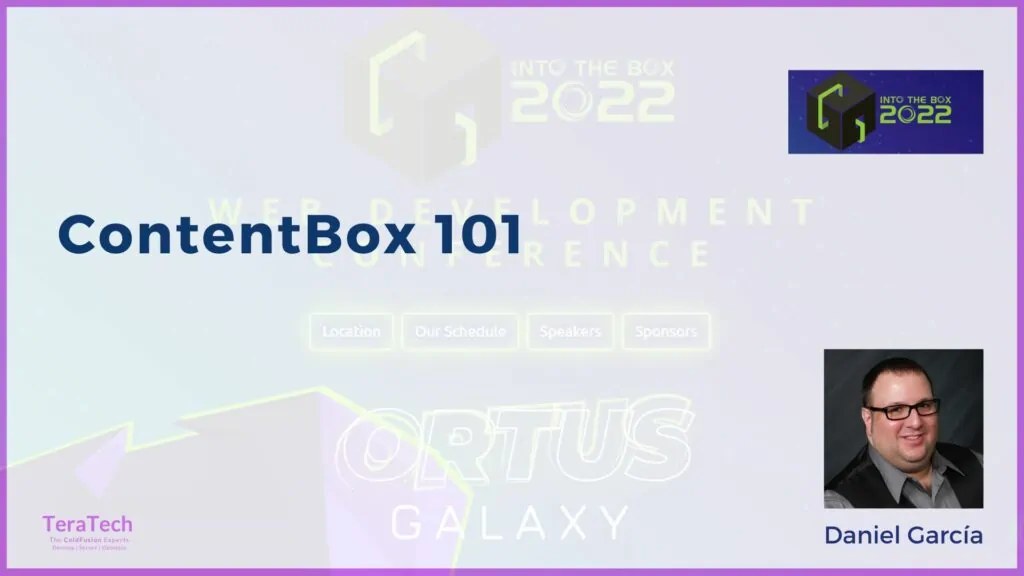 This session will give you an introduction to ContentBox CMS, what it is, what can you do with it, and why you should consider ContentBox for your next ColdFusion/CFML project. ContentBox is a professional open source (Apache 2 License) modular content management engine that allows you to easily build websites, blogs, wikis, complex web applications, and RESTFul web services. It can also be used as a full Headless CMS or a hybrid CMS. Built with a secure and flexible modular core, designed to scale, and combined with world-class support, ContentBox will get your projects out the door in no time. ContentBox CMS can be deployed to any ColdFusion/CFML engine or any Java Servlet Container.
Off with their heads → ContentBox 5 : Headless CMS by Esmeralda Acevedo and Javier Quintero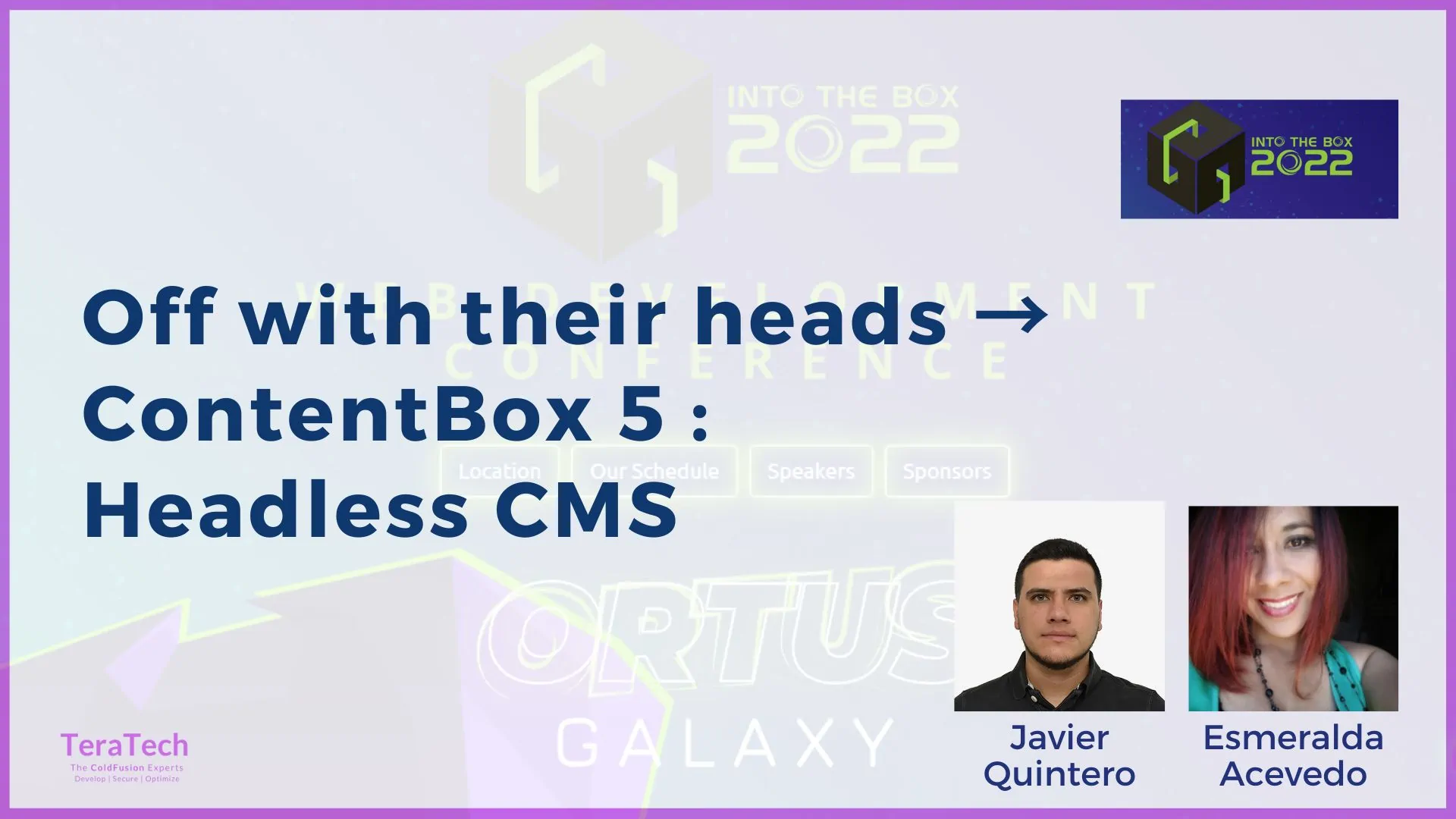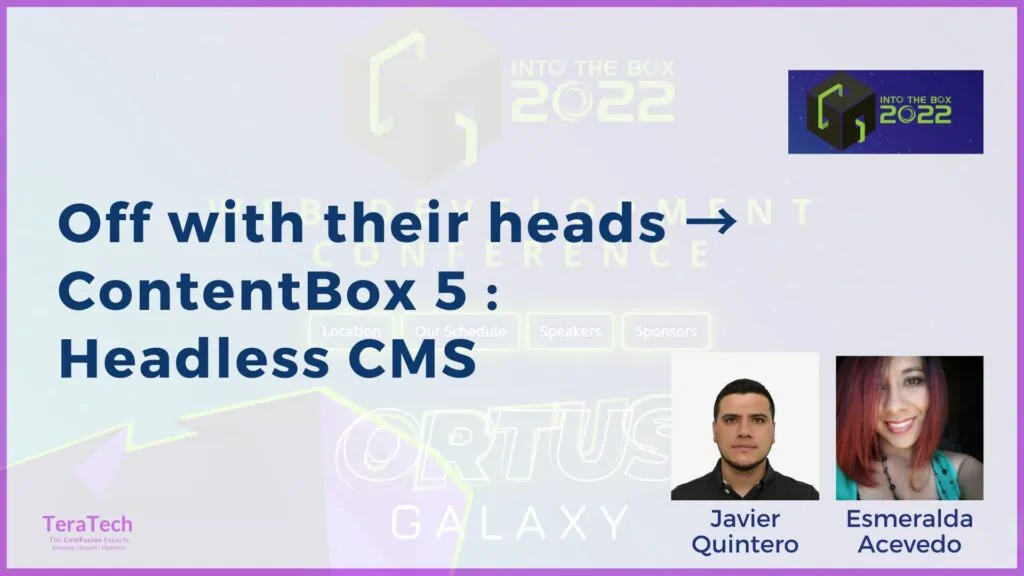 Overview of ContentBox
Configure ContentBox 5 In the Cloud the easy way by George Murphy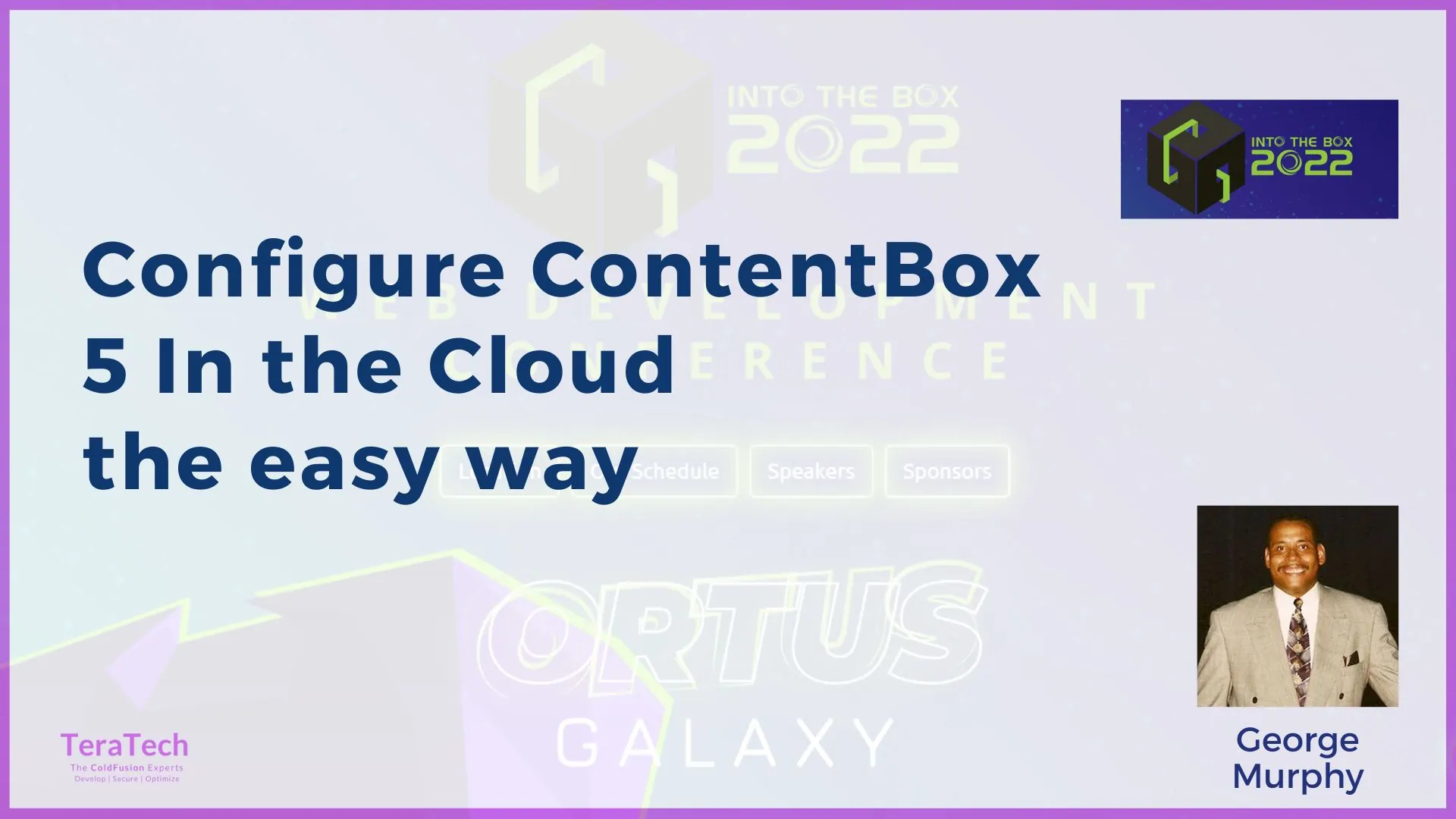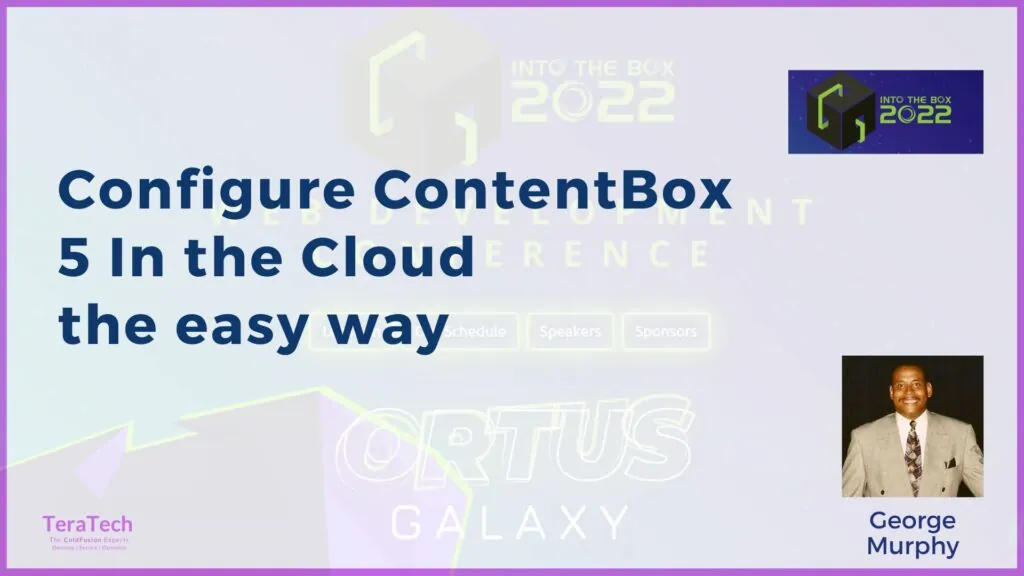 We have a new way to easily deploy ContentBox 5 with Environment Variables. How cool is that? We will use Cloud Formation to quickly create an Ortus AMI and have it running very in a very short amount of time. This presentation is for the beginner or intermediate user.
To the future with cbFutures! by Luis Majano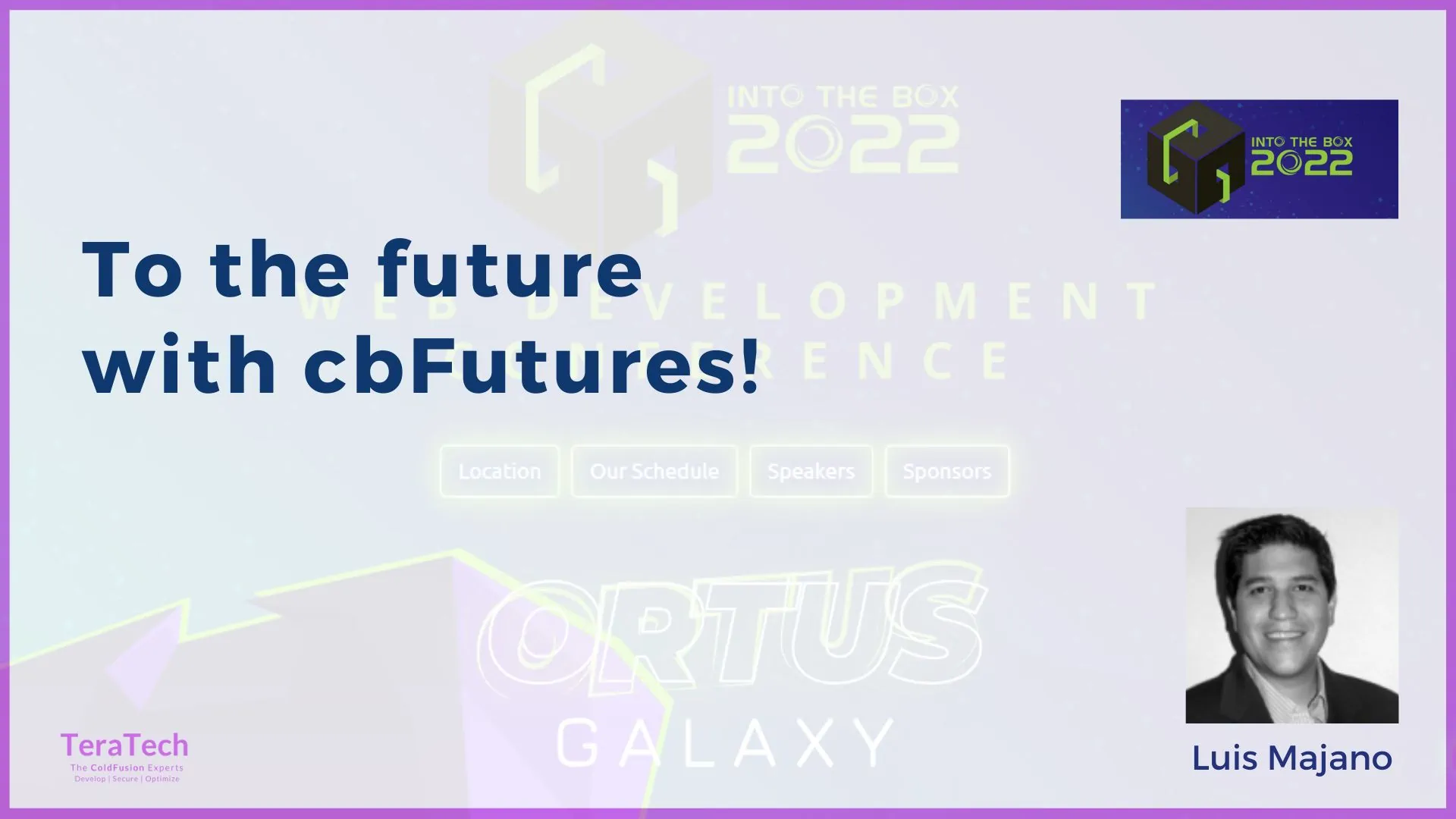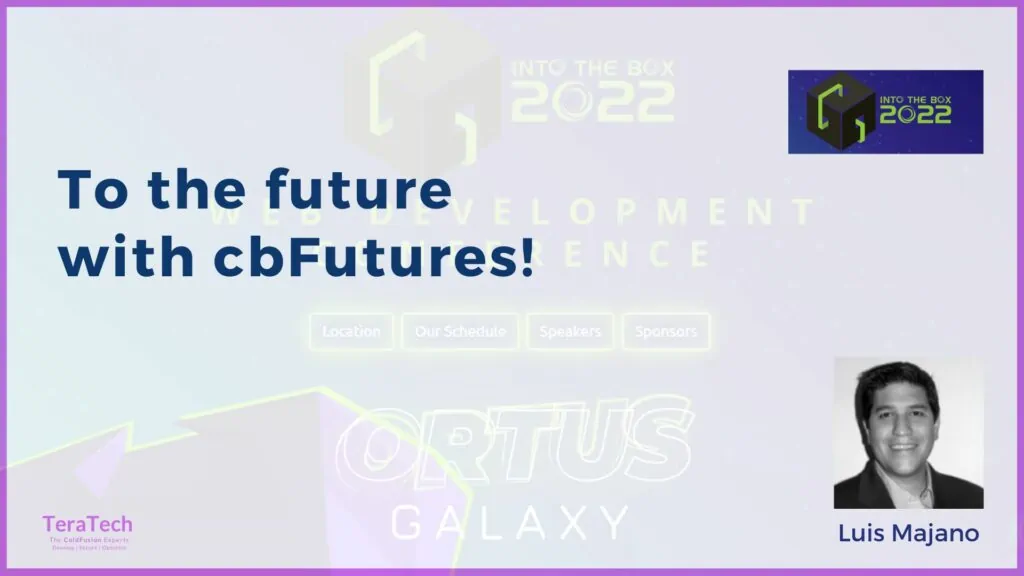 This session explores the asynchronous and parallel programming constructs built into ColdBox 6. Java has supported a robust and functional approach to asynchronous programming since JDK8 and now it is available to us all in the Coldfusion (CFML) ⚡ World! To the future!
ColdBox Task Scheduling Demystified by Brad Wood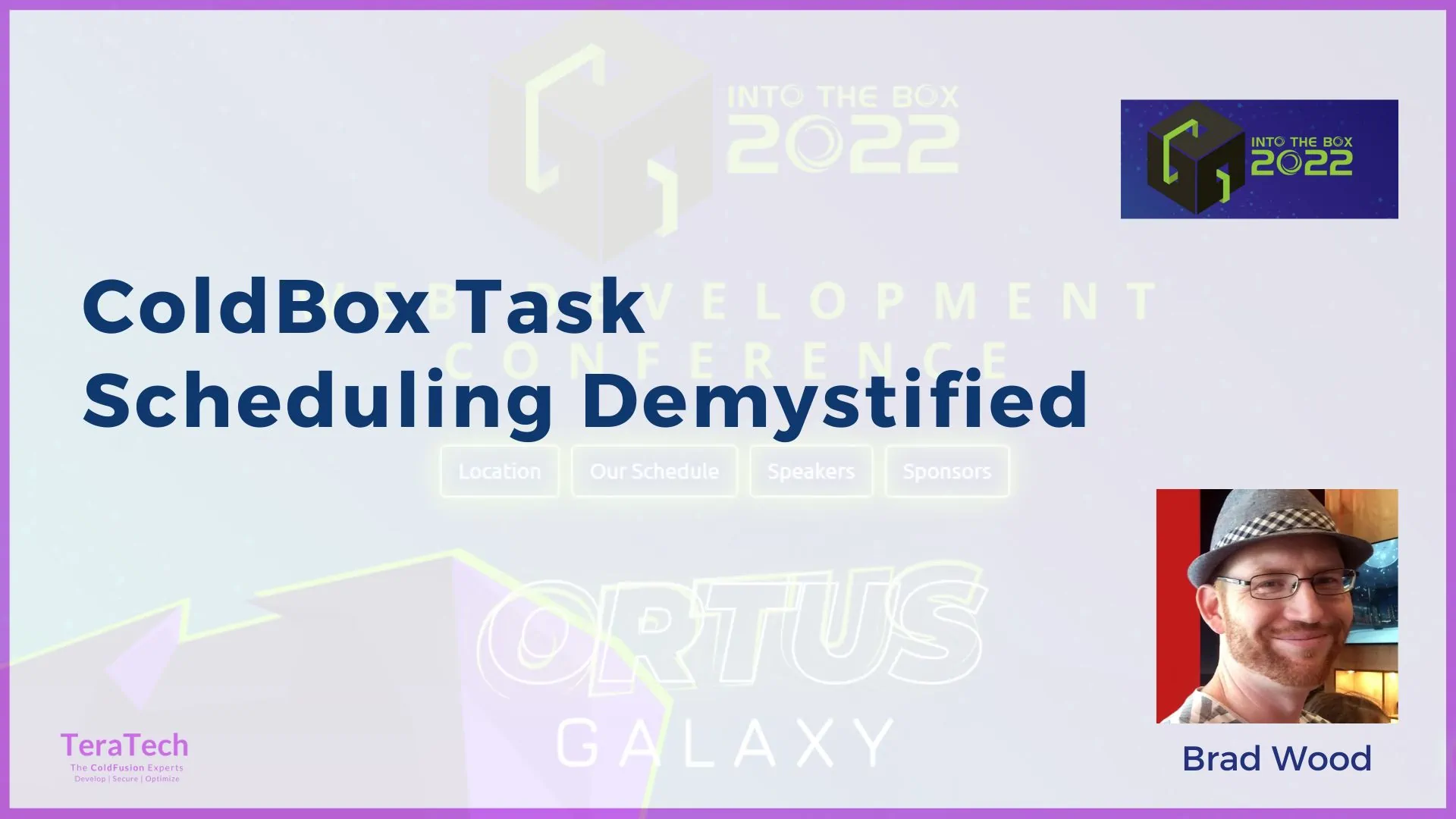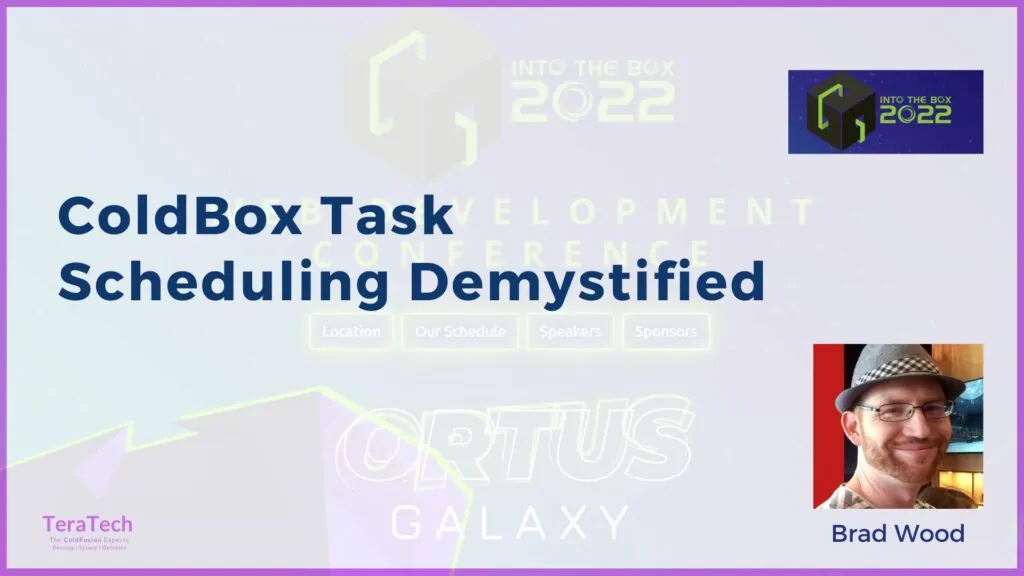 ColdBox Task Scheduling Demystified
What I learned about Mental Health from my computer and its network by Dan Card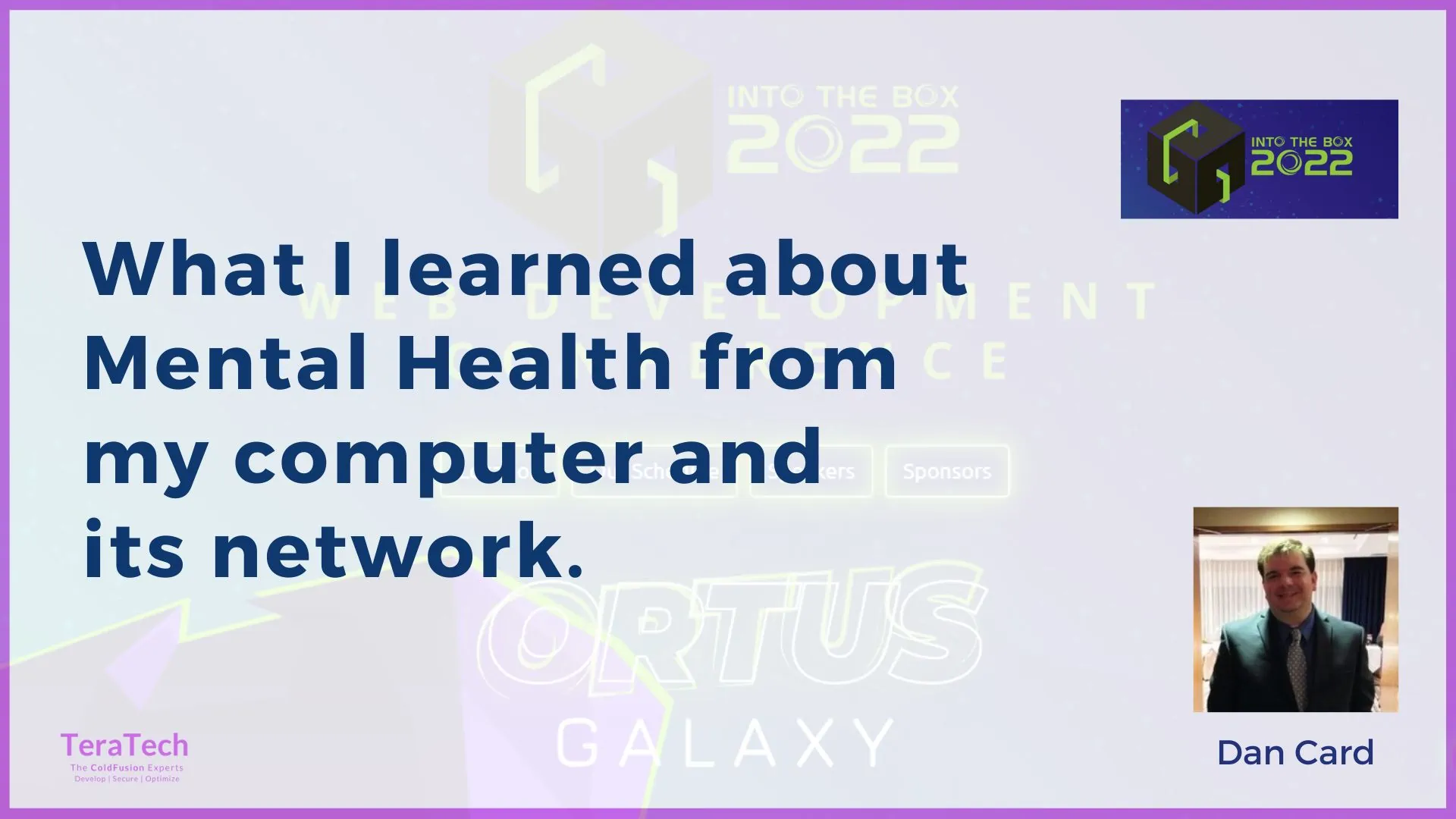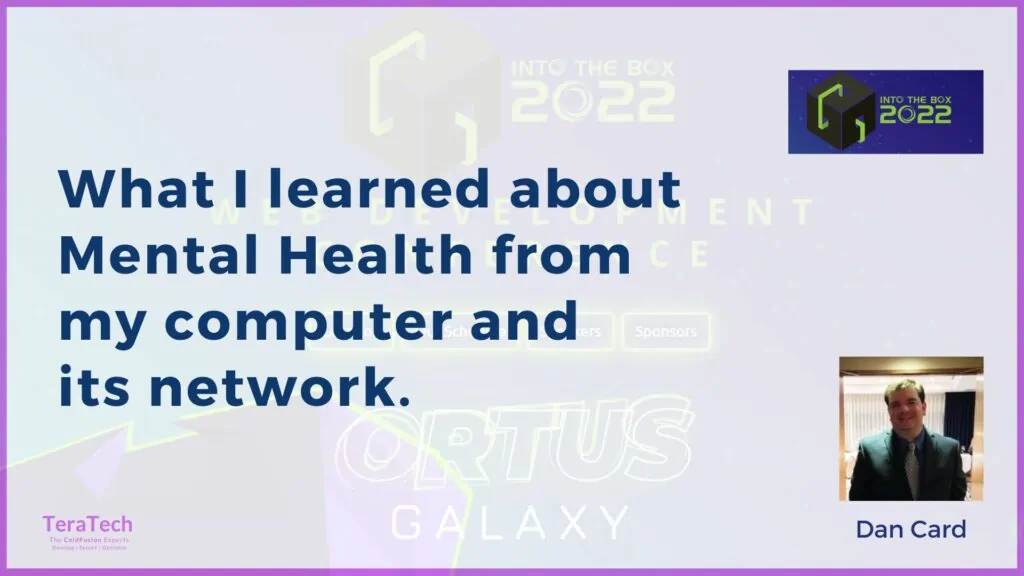 With all the conversations about self-care, self-help, counseling, higher powers, identity, defining ourselves, being defined, alone time, group time, isolation, introversion, extroversion, no-traversions and so on, I found myself more and more thinking that it was just as easy to get lost and stressed by all the things you "should" be doing as it was to get lost in the "life stuff" that was causing issues in the first place. As I tried to untangle some of these things, I found myself wishing there was a framework or "meta" framework where I could start attaching concepts so I could at least have a starting point to think about them. Then I found one right in front of me that I used every day.
So how was it?
It was awesome. Here are some photos from  the sessions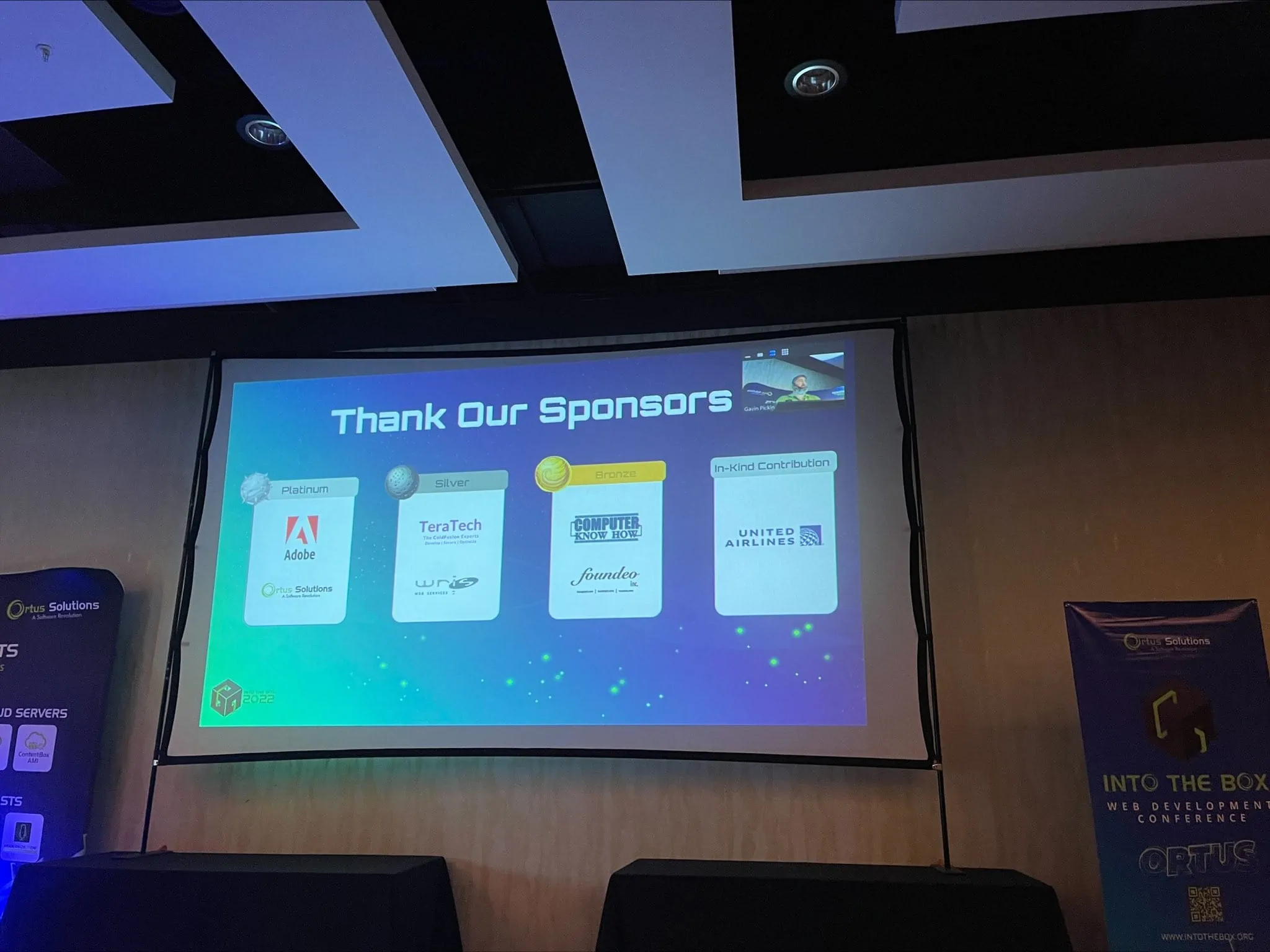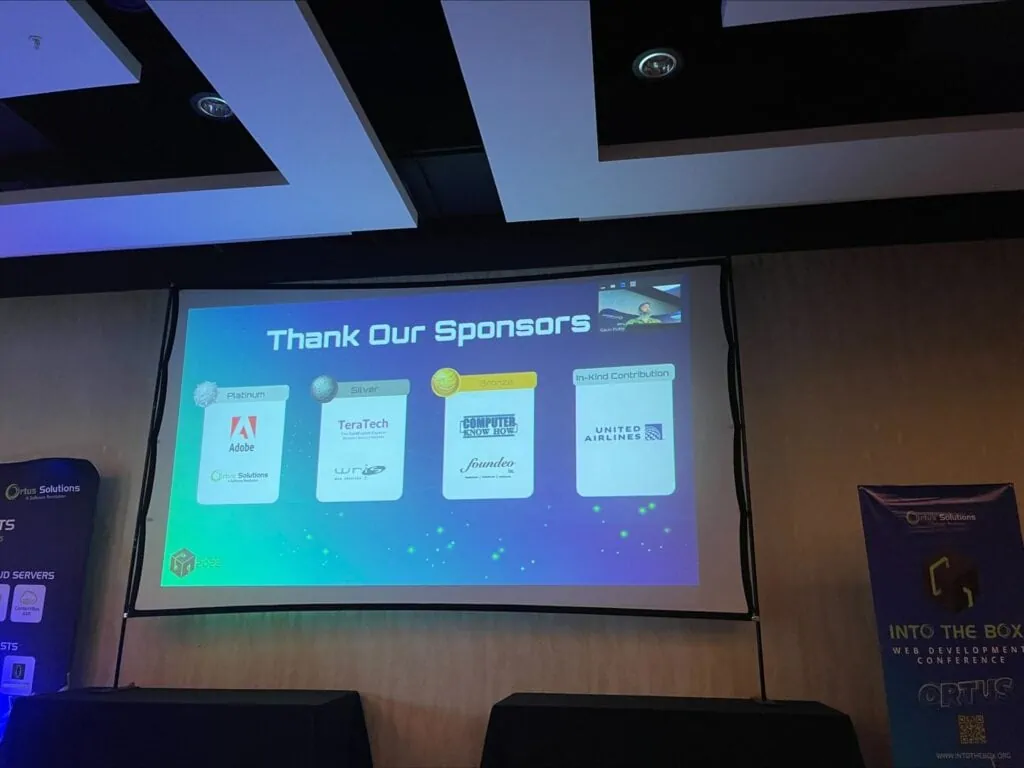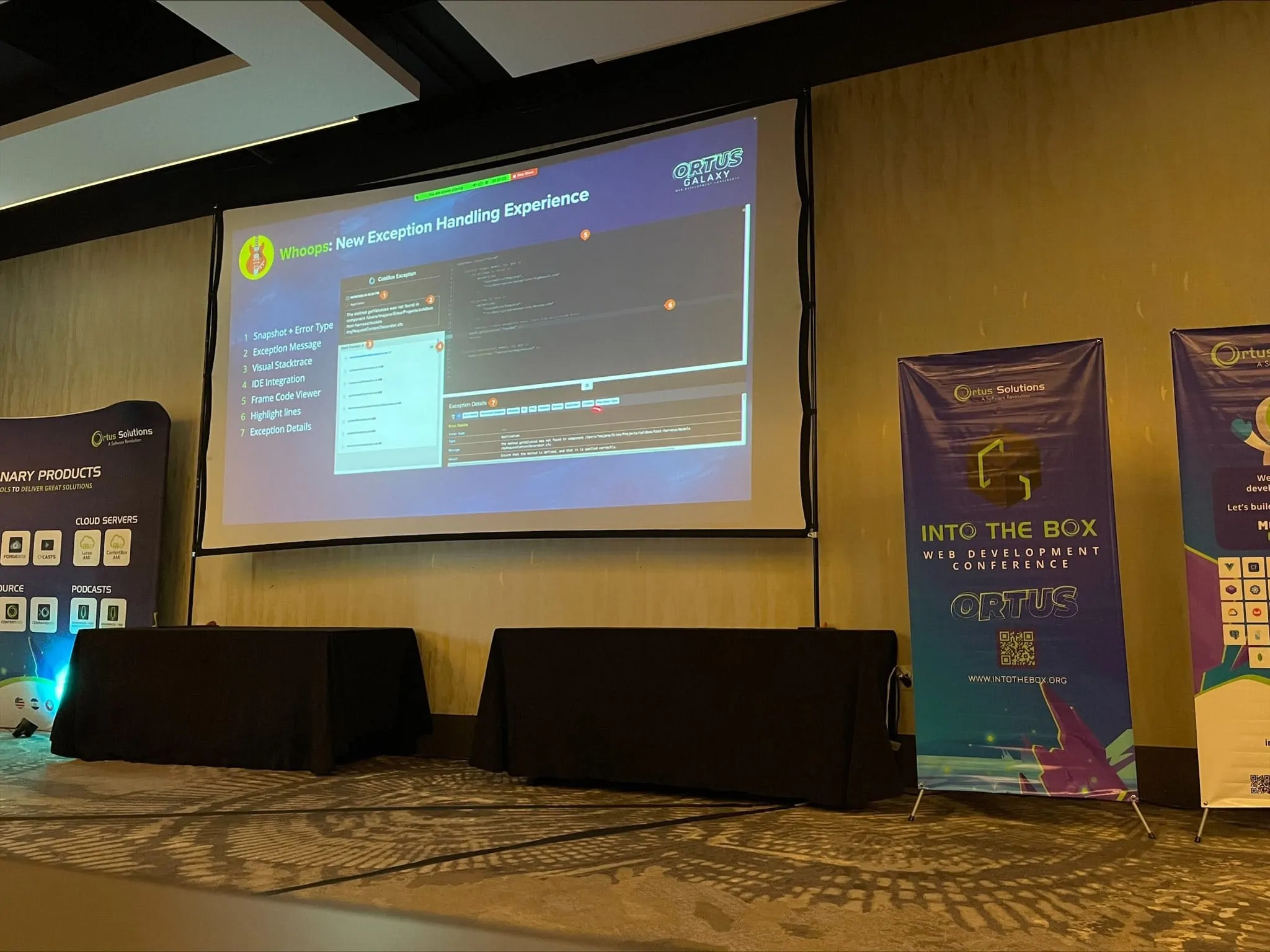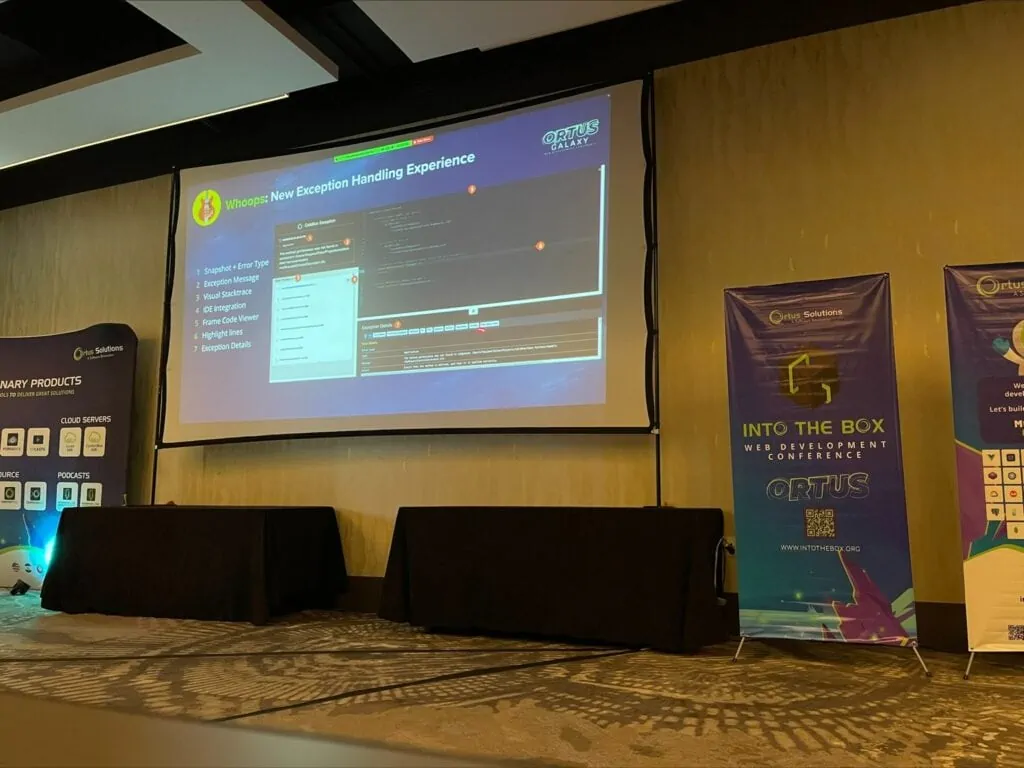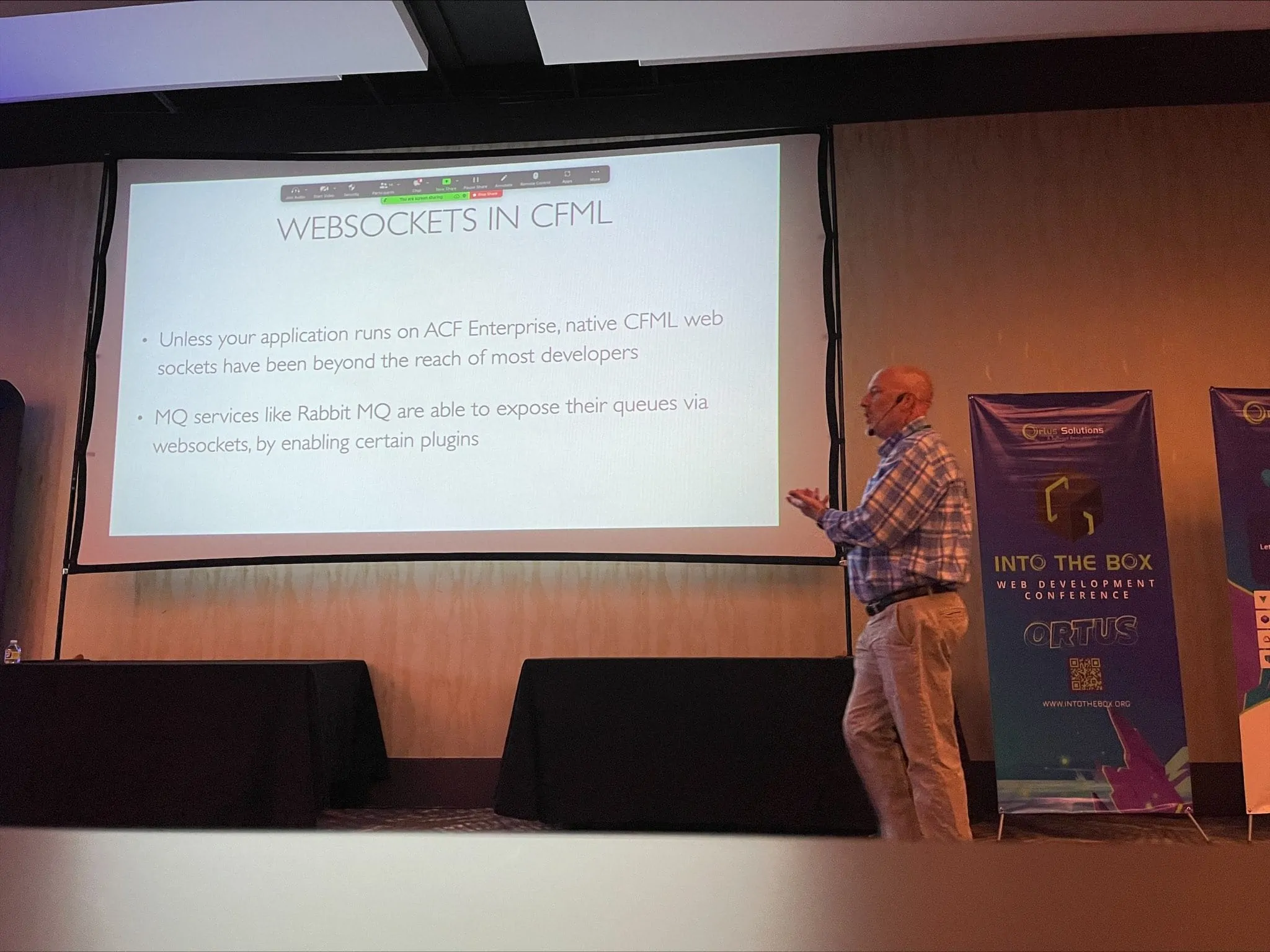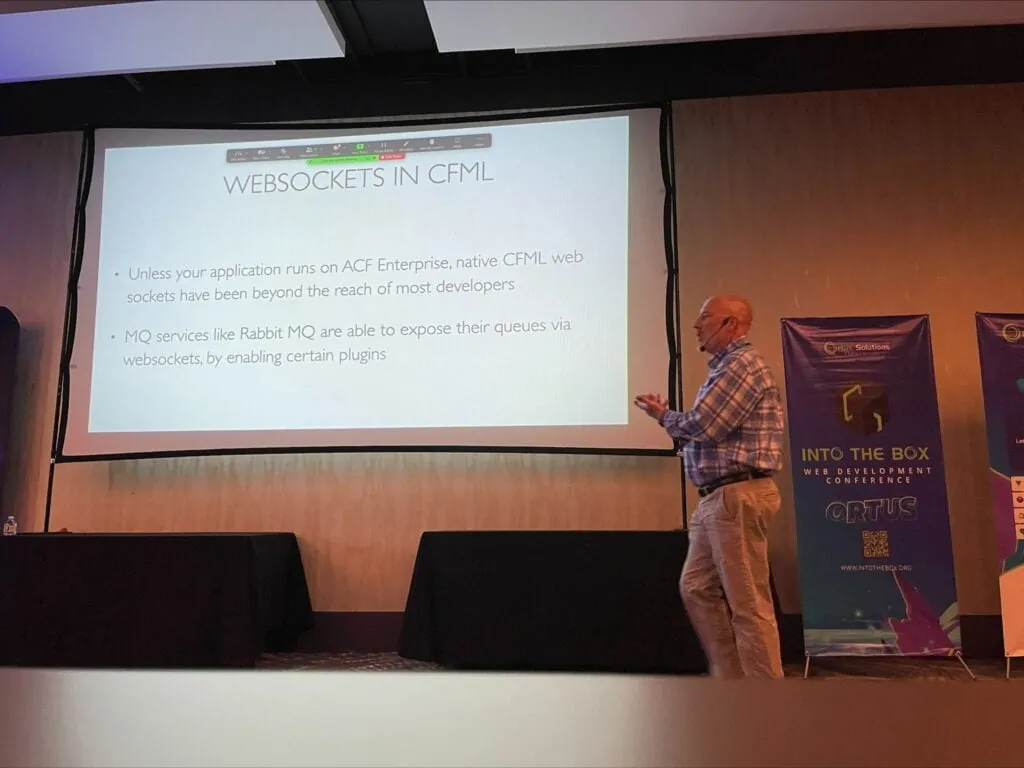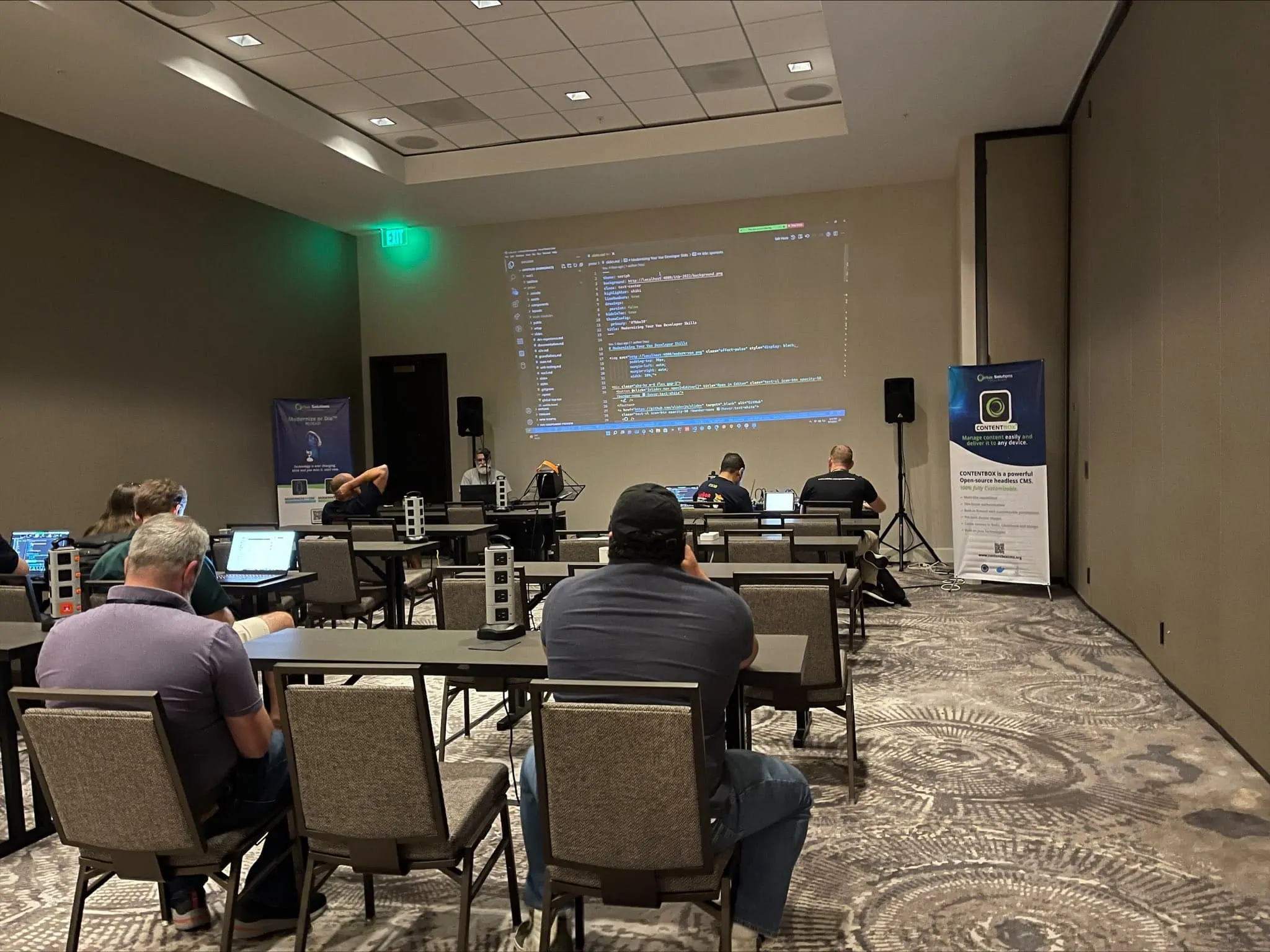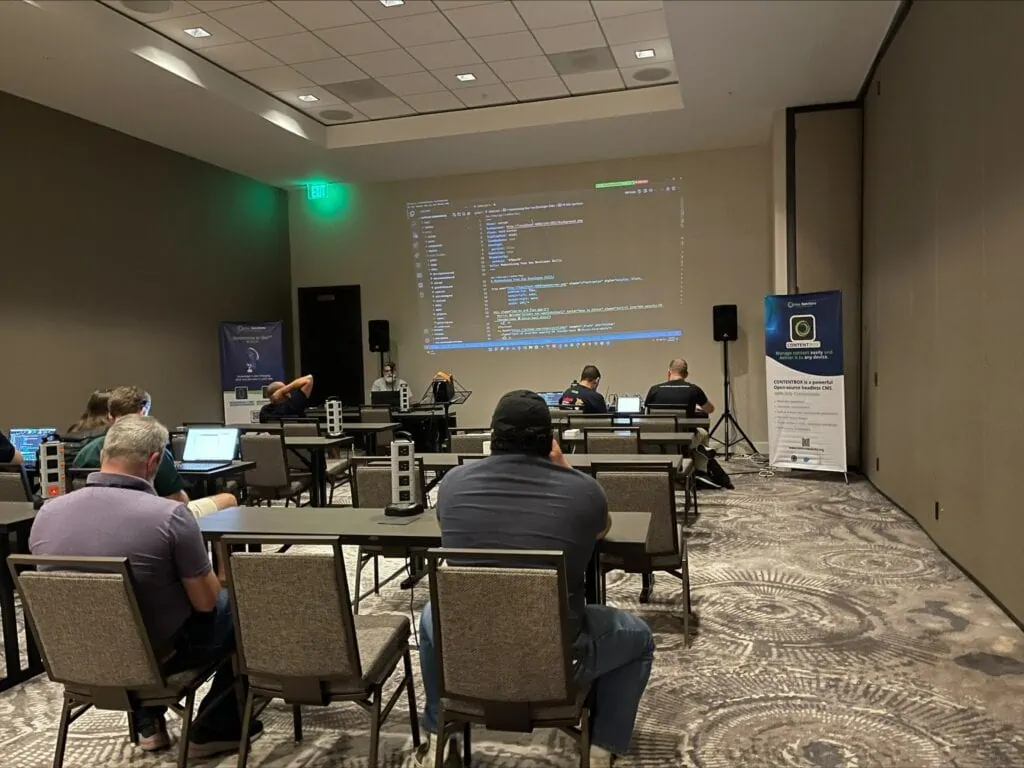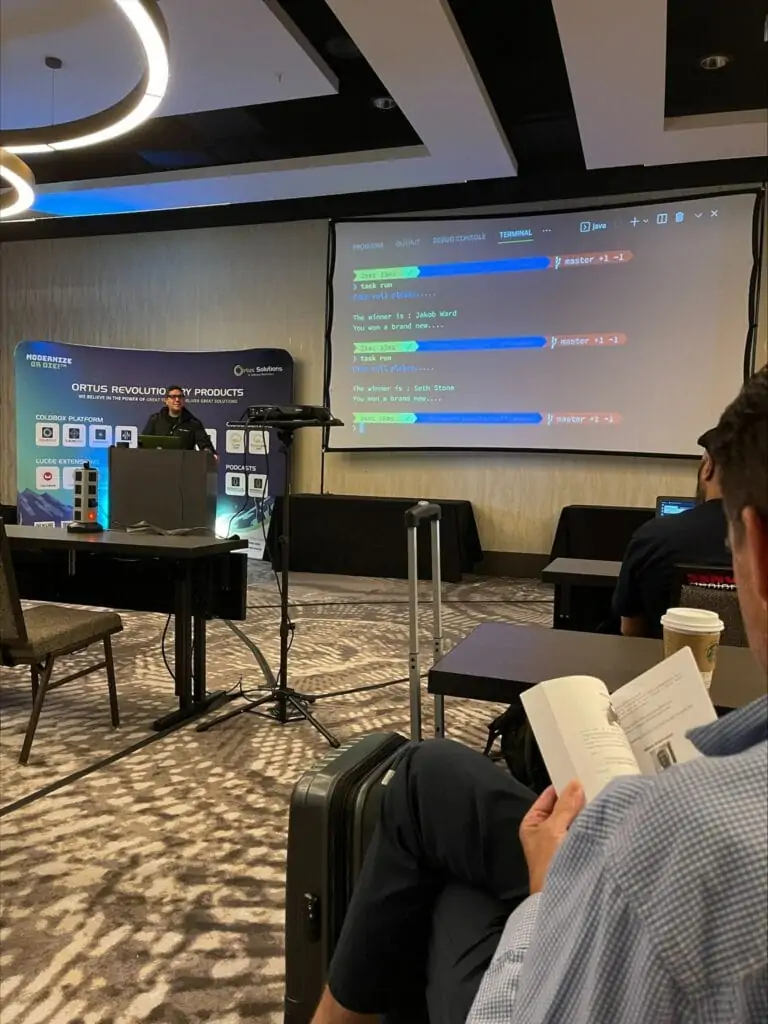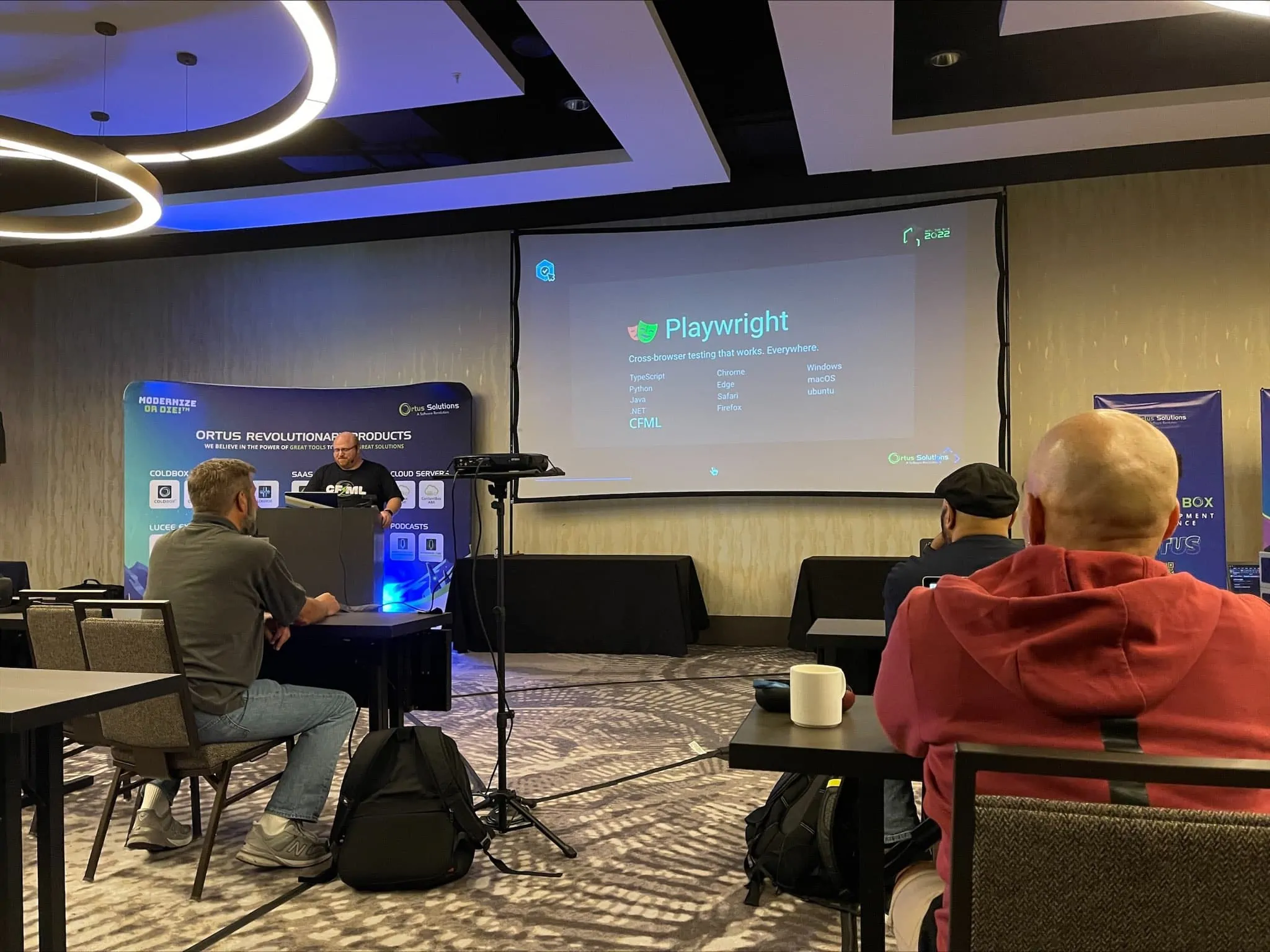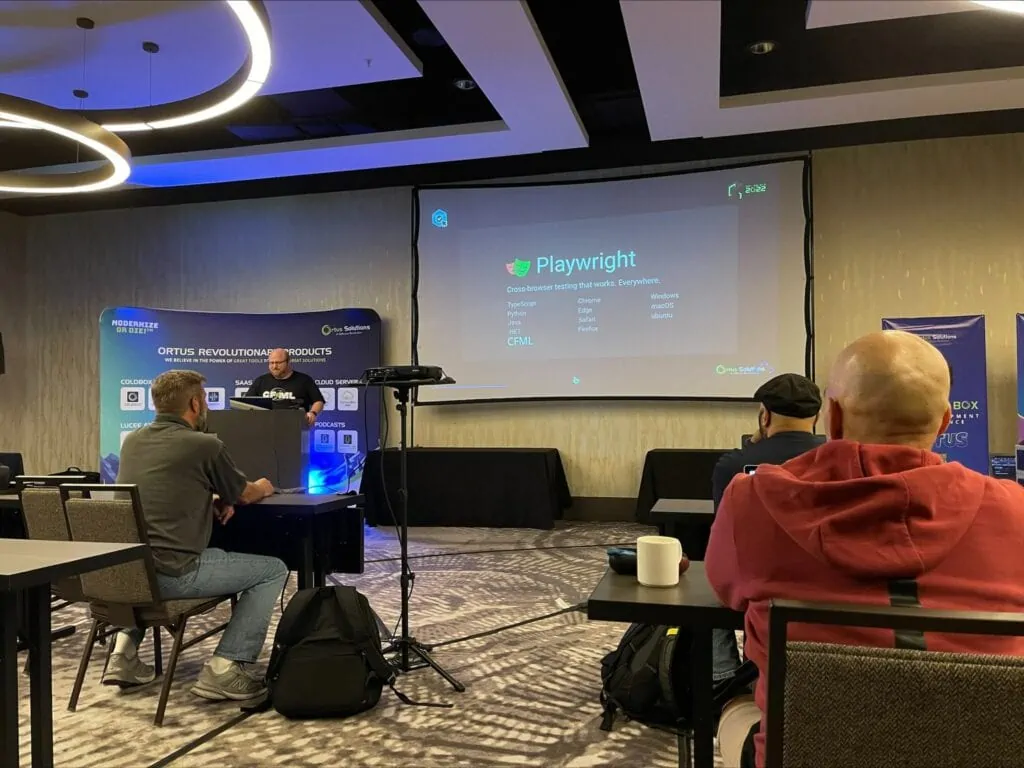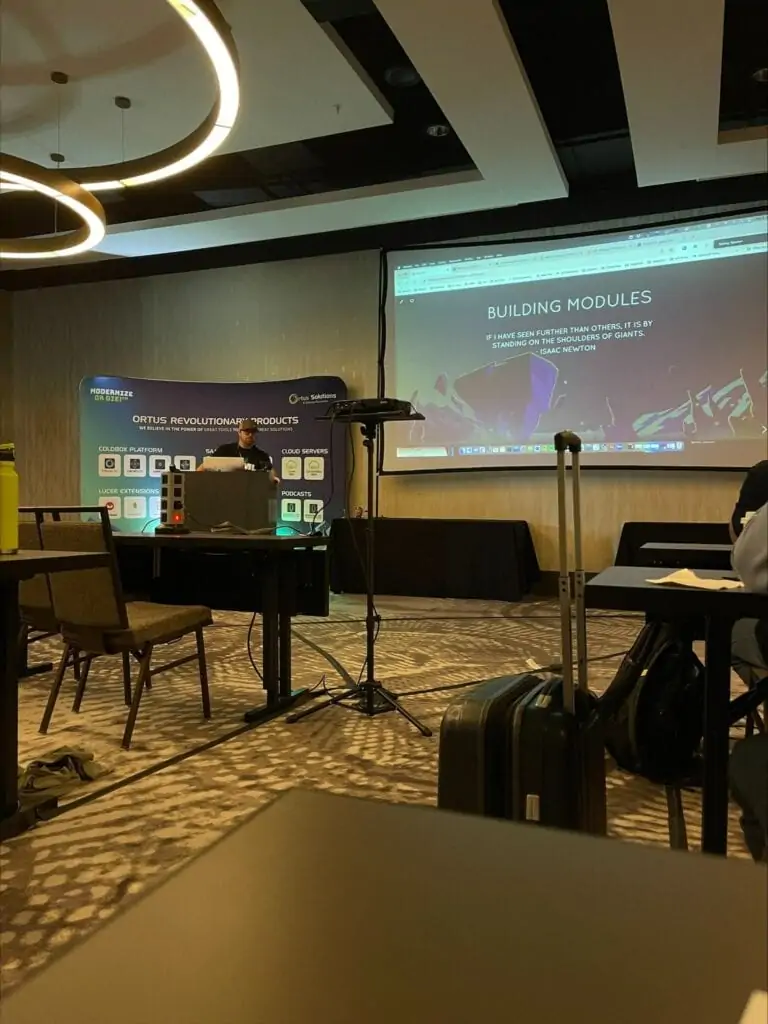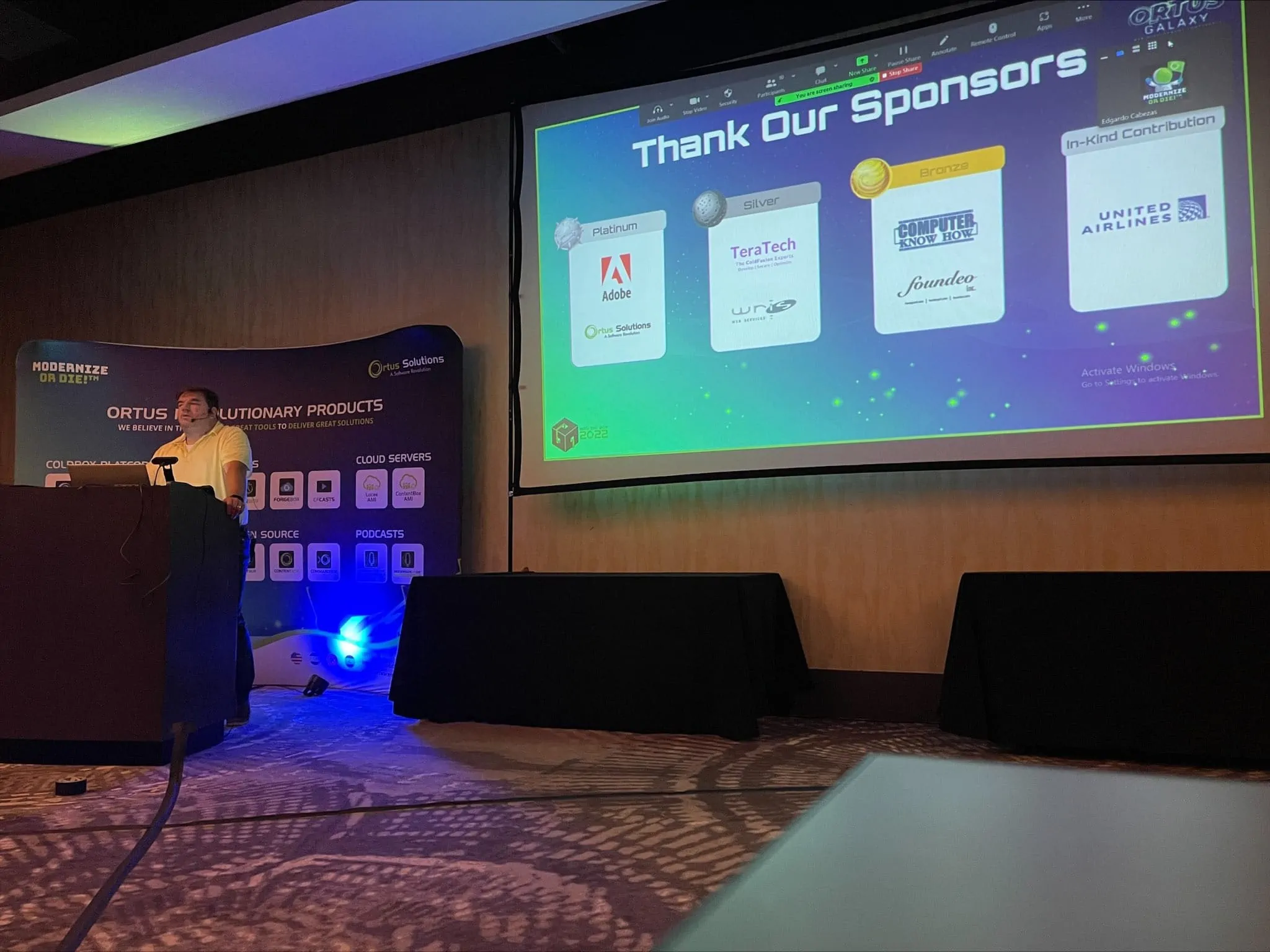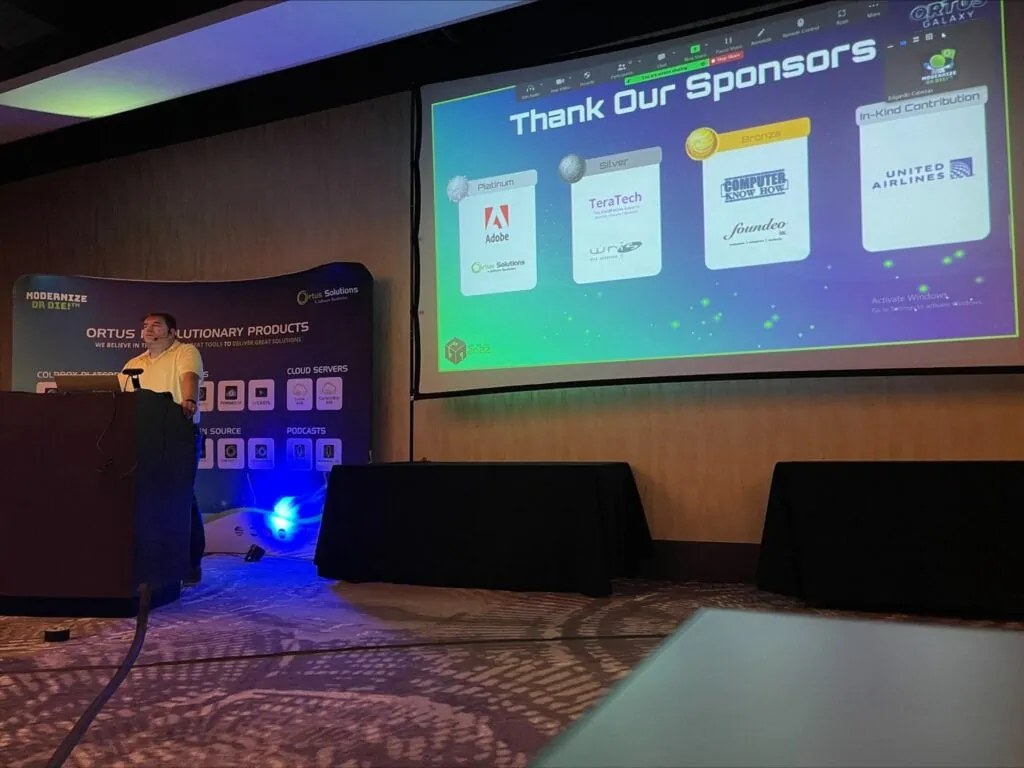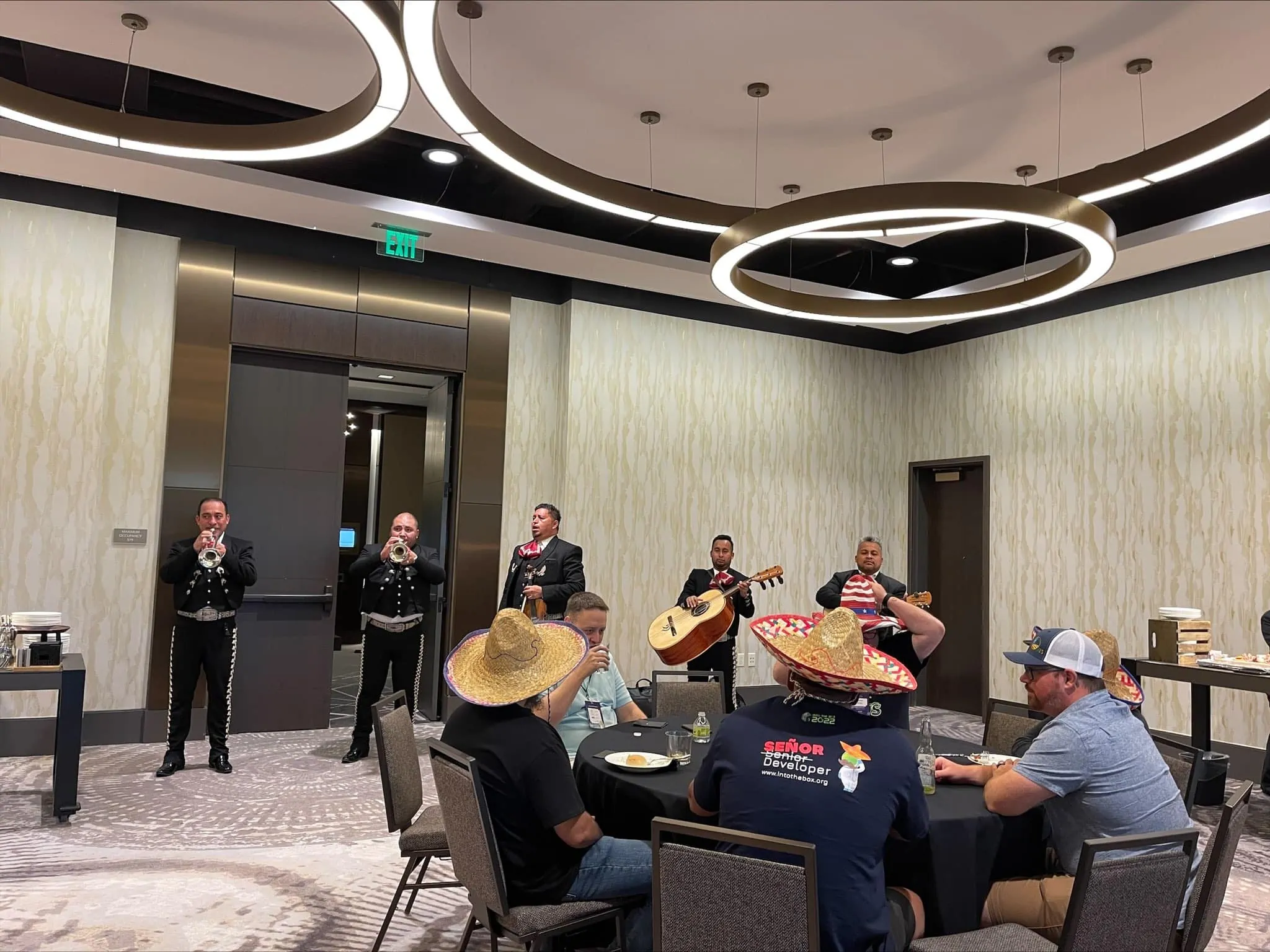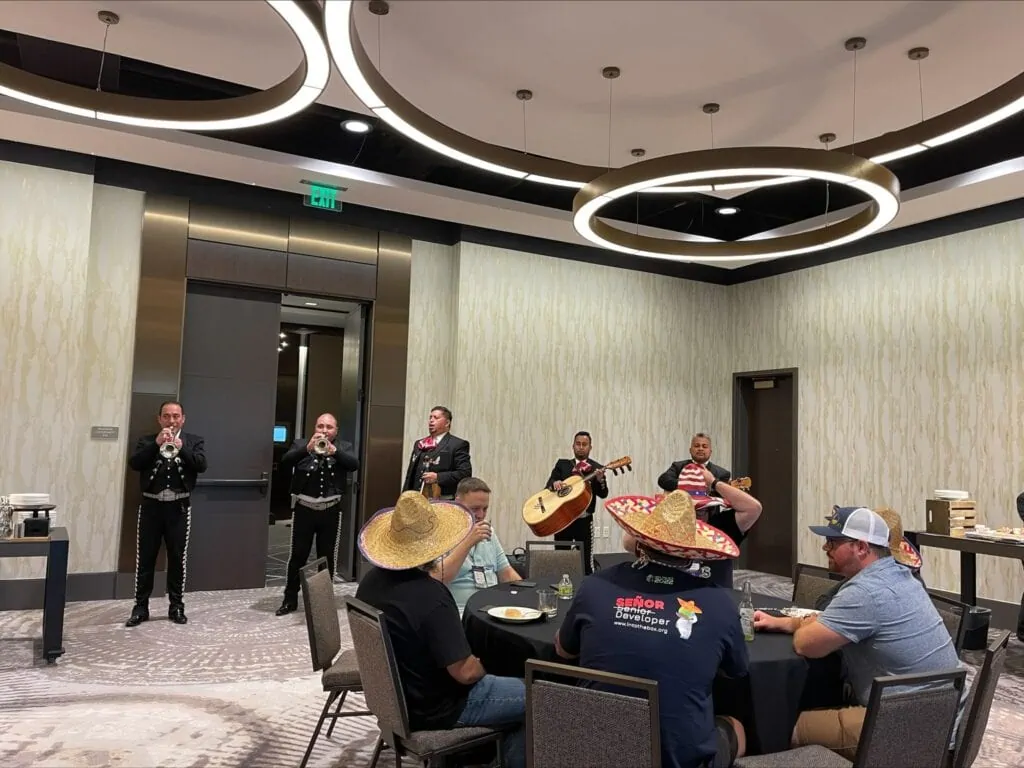 Learn more details about ITB in the episode of CF Alive Podcast I recorded with Gavin Pickin.
Into The Box 2021, Web Development Conference
Into The Box 2021 conference starts today! Even better, it is happening LIVE in Houston, Texas. All ye who are not able to make it there, ZOOM is the way to go.
So, do not wait, and go to the conference!
About the event
"Your mission, if you choose to accept it, will be to conquer planets BoxTrek and BoxWars. Throughout this journey, you will surpass challenges, gain knowledge, and achieve the unimaginable.
Do not fret, Pioneers will guide you on this trek, and they'll be by your side."
The event goes for two days, and on both days, you get to choose between two rooms: BoxTrek and BoxWars. Yes, it is hard to choose, but do not despair, since there will be recordings for all attendees.
The official website for Into The Box
Speakers and agenda
Day 1, Thursday, September 23rd
09:00 AM – 09:50 AM
Ortus Keynote 2021
The Ortus Keynote gives you insight into Ortus Solutions, the past, present and future. You'll meet the members of Team Ortus, community members, speakers and sponsors. We'll tell you a story about CFML, which we think you will want to hear, and learn what Ortus and the community is doing for CFML and the future of CFML. You will get updates on an array of Ortus *Box products, including recent releases & upcoming plans and features in our roadmaps. We will finish with Ortus's plans for the future… as well as remind you of a driving force behind all things Ortus.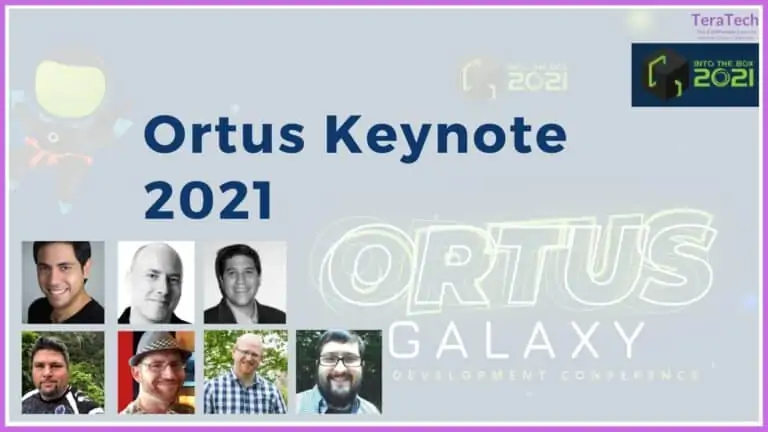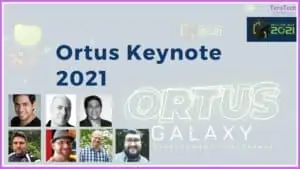 10:00 AM – 10:50 PM
cbwire: ColdBox + Livewire, by Grant Copley
Introducing cbwire: a ColdBox module that makes building reactive, dynamic, and modern interfaces delightfully easy without leaving the comfort of CFML and with little-to-no JavaScript.
Room: BoxTrek
Up with ContentBox 5 to the cloud, by George Murphy
We will show you how to bring up ContentBox 5 multi-site on Windows & Linux. You can literally be up and running with a few clicks. Have you ever felt that t