Samuel Knowlton talks about "The Great ColdFusion Entrepreneurial Adventure (from side jobs to freelancing to your own biz)" in this episode of the CF Alive Podcast, with host Michaela Light.
Show notes
His journey from side jobs to freelancing to his own biz
Moved to NYC to become an actor – did CF side jobs to pay the rent
Side job risks
Missed taxes and compliance

Liability
What to expect
Accounting

Separate biz bank a/c and credit card
Incorporation options
LLC, LLP, S-corp, C corp

Delaware

Wyoming
Government compliance
The unincorporated biz tax in NYC
Liability concerns
Biz insurance
Workers Comp

General liability insurance

Errors and omissions

Umbrella
Your own biz
Employees vs Subcontractors
Payroll and employment taxes
Use a payroll service!

Quickbooks

Xero
Perks
Healthcare

401k

Write-offs

Home office deduction
Infrastructure
Support of your clients
Good will

Legitimacy with clients

Support system eg Jira
Toolsets – hardware and software common to all staff
Why are you proud to use CF?
WWIT for you to make CF more alive this year?
What are you looking forward to at Into The Box?
Building and managing your own enterprise: Infrastructure, Support, Payroll, Taxes and Toolsets. An introduction to your own business from the founder of inLeague (15+ years in the market) with an emphasis on how ordinary developers can manage a shop, grow a team, and still write code. Topics will not include Getting Rich Quick or Venture Capital.
Into the Box – Samuel Knowlton
Mentioned in this episode
Listen to the Audio
Bio
Samuel Knowlton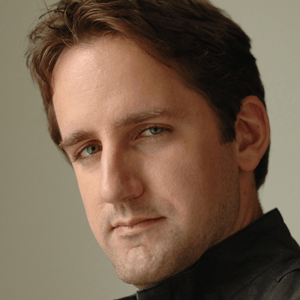 Founder and president of inLeague, boutique ColdFusion software development house.
Interview Transcript
Michaela:        Welcome back to the show. And today, we're going to be looking at the great entrepreneurial adventure using ColdFusion. How Samuel Knowlton went from side jobs to freelancing to his own business. And we'll look at some of the risks involved in doing side jobs you might not be aware of in particular is this really wacky taxi came across that didn't even make sense to be honest to me. And we'll also look at some of the liability concerns you may have in working for other people; freelancing or in your own business. And some of the perks you can make some money by incorporating as well so. We'll also look at infrastructure you might want to set up, and how you support your clients if you start a business, and the tool sets you use for your ColdFusion business. So welcome Samuel.
Samuel:           Thank you very much Michaela.
Michaela:        Yes and if you don't know Samuel is the founder and president of in league which is a beauty ColdFusion software development house. Been around for about 16 years now. Congratulations! I think in dog years that's probably about four lifetimes right.
Samuel:           Well that said still what half your company so you have something to look forward to.
And to continue learning how to make your ColdFusion apps more modern and alive, I encourage you to download our free ColdFusion Alive Best Practices Checklist.
Because… perhaps you are responsible for a mission-critical or revenue-generating CF application that you don't trust 100%, where implementing new features is a painful ad-hoc process with slow turnaround even for simple requests.
What if you have no contingency plan for a sudden developer departure or a server outage? Perhaps every time a new freelancer works on your site, something breaks. Or your application availability, security, and reliability are poor.
And if you are depending on ColdFusion for your job, then you can't afford to let your CF development methods die on the vine.
You're making a high-stakes bet that everything is going to be OK using the same old app creation ways in that one language — forever.
All it would take is for your fellow CF developer to quit or for your CIO to decide to leave the (falsely) perceived sinking ship of CFML and you could lose everything—your project, your hard-won CF skills, and possibly even your job.
Luckily, there are a number of simple, logical steps you can take now to protect yourself from these obvious risks.
No Brainer ColdFusion Best Practices to Ensure You Thrive No Matter What Happens Next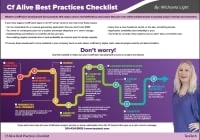 ColdFusion Alive Best Practices Checklist
Modern ColdFusion development best practices that reduce stress, inefficiency, project lifecycle costs while simultaneously increasing project velocity and innovation.
√ Easily create a consistent server architecture across development, testing, and production
√ A modern test environment to prevent bugs from spreading
√ Automated continuous integration tools that work well with CF
√ A portable development environment baked into your codebase… for free!
Learn about these and many more strategies in our free ColdFusion Alive Best Practices Checklist.