Steven Hauer talks about "Behind the Scenes at CFObjective" in this episode of ColdFusion Alive Podcast with host Michaela Light. He is currently the International Business Manager for Bridges for Peace.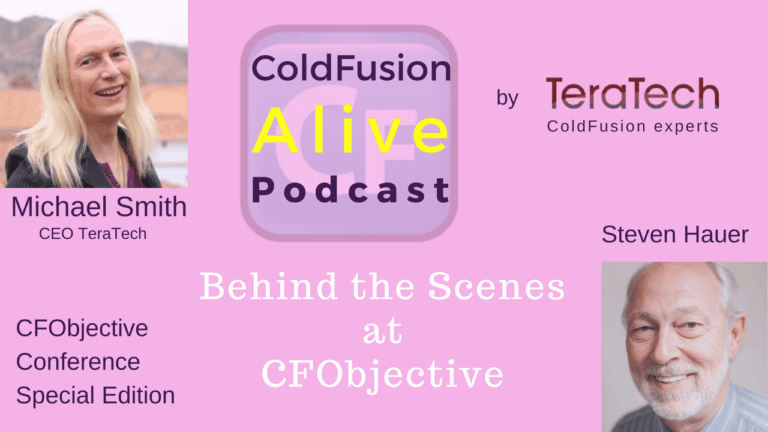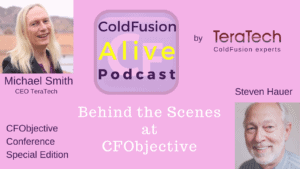 Episode topics
What CFObjective is

Where CFObjective is being held this year?

When is CFObjective

Wed night opening event

Thurs and Friday

4 tracks
Who should come
Advanced CFers

Government CFers

Speakers

low speaker to attendee ratio – easy to interact with them

Why should CFers come to CFObjective

Why are you proud to use CF?

WWIT for you to make CF more alive this year?

What are you looking forward to at CFObjective?
Mentioned in this episode
CFObjective

CFObjective Speakers
Bio
Steven Hauer is currently the International Business Manager for Bridges for Peace.  He is married to the love of his life Cheryl Hauer and living in Jerusalem, Israel.  He likes to play the guitar. With his son Jared, he is instrumental in the development and evolution of dev.Objective().

Interview Transcript
Michael:                           Hi, welcome back to the show. I'm here with Steven Hauer from cf.Objective(). We're going to be talking about everything cf.Objective(). Welcome, Steven.
Steven Hauer:                Well thank you, Michael. It's good to be able to talk to you today.
Michael:                           What exactly is cf.Objective() for anyone who hasn't heard of it? I know it's been around for 11 years, but maybe someone out there hasn't heard of it. It's a ColdFusion conference, right?
Steven Hauer:                It is a ColdFusion conference. It initially started in 2006 in Minneapolis and a simple one line description of the conference  CFML and web-centric conference. It covers a wide variety of topics relating to software development.
Michael:                           Why the objective in the name?
Steven Hauer:                That was sort of a play on a CMFL tag at one point when we originally started the conference. It was, I guess we were making it our objective to put on a conference that was meeting the needs of the community that were in an area that weren't particularly being addressed by what was available at the time. The conference has always had a focus on the strong intermediates to high-level user rather than the beginning user of CFML. That was … most conferences come off as either to the general population within a community or a product specific conference where somebody has whatever it is that they're developing, they want to  support for that. With cf.Objective() we were targeting the best of the best, the programmers that either were already or wanted to go beyond what the everyday average developer's going to do.
And to continue learning how to make your ColdFusion apps more modern and alive, I encourage you to download our free ColdFusion Alive Best Practices Checklist.

Because… perhaps you are responsible for a mission-critical or revenue-generating CF application that you don't trust 100%, where implementing new features is a painful ad-hoc process with slow turnaround even for simple requests.

What if you have no contingency plan for a sudden developer departure or a server outage? Perhaps every time a new freelancer works on your site, something breaks. Or your application availability, security, and reliability are poor.

And if you are depending on ColdFusion for your job, then you can't afford to let your CF development methods die on the vine.

You're making a high-stakes bet that everything is going to be OK using the same old app creation ways in that one language — forever.

All it would take is for your fellow CF developer to quit or for your CIO to decide to leave the (falsely) perceived sinking ship of CFML and you could lose everything—your project, your hard-won CF skills, and possibly even your job.

Luckily, there are a number of simple, logical steps you can take now to protect yourself from these obvious risks.

No Brainer ColdFusion Best Practices to Ensure You Thrive No Matter What Happens Next

ColdFusion Alive Best Practices Checklist

Modern ColdFusion development best practices that reduce stress, inefficiency, project lifecycle costs while simultaneously increasing project velocity and innovation.

√ Easily create a consistent server architecture across development, testing, and production

√ A modern test environment to prevent bugs from spreading

√ Automated continuous integration tools that work well with CF

√ A portable development environment baked into your codebase… for free!

 

Learn about these and many more strategies in our free ColdFusion Alive Best Practices Checklist.