Matt Gifford talks about "OAuth 2 for Me and You (Social Login Lowdown)" in this episode of CF Alive podcast, with host Michaela Light.
Show notes
Why use OAuth 2?

Saves complex login code

Easier for user – no more forgotten passwords

Single Sign On

Less PCI security issues – not storing emails and password

What is OAuth 2

Social login using FB, TW, Google, GitHub, BitBucket, Link, Microsoft Live, Instagram, Yahoo

OAuth 2 is totally different protocol from OAuth 1

Much simpler now

More secure

Adds scope – what permissions does it want from your FB (name, email, can post etc)

How does it work?

Header based

Signature = Token + key

JSON or URL

What are the the alternatives?

How to use OAuth 2 from ColdFusion

What is your favor wrapper?

How to register your app with FB and other providers

Local dev, staging and production URLs

Call back URL

Scope

Client ID + token secret value

Save locally (not in the cloud)

Later option to revoke or regenerate these if you are hacked

What does OAuth 2 Cost?

Open source – free

Time to set up code and registration

CF in Cyprus

Why are you proud to use CF?

WWIT for you to make CF more alive this year?

Modern

CommandBox REPL

ForgeBox package management

Open source contributions

What are you looking forward to at CFCAMP?
Authentication is key when dealing with the web, certainly when calling, liaising with and using external API services. You may even need to implement ( or may already have ) your own authentication service for your apps or for others to use.
In this session, Matt will discuss the OAuth 2 protocol, what it means to be a consumer or provider, and how to navigate the handshake communications between the service. At the end of this session, you will walk taller, safe in the fact that you are filled with knowledge of OAuth 2, how to use it and how to build your own service.
Mentioned in this episode
Listen to the Audio
Bio
Matt Gifford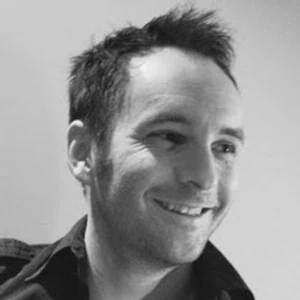 Matt Gifford is owner and primary primate at his own development consultancy company, monkehWorks Ltd. His work primarily focuses on building mobile apps and ColdFusion development, although he's such a geek he enjoys writing in a variety of languages.
He's a published author and presents at conferences and user groups on a variety of topics. As an Adobe Community Professional and Adobe User Group manager, Matt is a keen proponent for community resources and sharing knowledge.
He is the author of "Object-Oriented Programming in ColdFusion" and "PhoneGap Mobile Application Development Cookbook" and also contributes articles and tutorials to international industry magazines. Visit Matt at www.monkehworks.com or @coldfumonkeh on Twitter.
Interview transcript
Michael:          Welcome back to the show. I'm here with Matt Gifford, and he's joining me from Cyprus which is hot and sunny as opposed to England where I am right now which is kind of a little dreary actually. I think I was a good move you made there Matt. And we're going to be talking about OAuth 2, and how you can use that do really amazing logins on your ColdFusion apps. And we'll look at how it works, what it is, how you can use it in ColdFusion. And we'll ask him what his favorite rapper is; and I mean code rapper, not music rapper there.
And we'll also look at some of the intricacies of registering your app with Facebook, and Twitter, and Google and some of the other providers you can use OAuth with. And so, if you haven't met Matt before, he is a cool guy. He used to run the user group for ColdFusion in England, and he's also presented a lot of different conferences. And his company 'Monkey Works' does mobile apps in ColdFusion development. And he's also written a book. What's your book Matt?
Matt:               I've written a few books. The first one, I was object oriented programming in ColdFusion. I've written 'Find Out Application Development', and very quickly updated 'Find Out For Application Development'. And a lot of magazine tutorials, and articles for UK, and [inaudible] [01:28] magazine as well.
Michael:          Well, great! Was wonderful to have you on the show today.
Matt:               Thank you very much for having me. It's a pleasure to be here.
And to continue learning how to make your ColdFusion apps more modern and alive, I encourage you to download our free ColdFusion Alive Best Practices Checklist.
Because… perhaps you are responsible for a mission-critical or revenue-generating CF application that you don't trust 100%, where implementing new features is a painful ad-hoc process with slow turnaround even for simple requests.
What if you have no contingency plan for a sudden developer departure or a server outage? Perhaps every time a new freelancer works on your site, something breaks. Or your application availability, security, and reliability are poor.
And if you are depending on ColdFusion for your job, then you can't afford to let your CF development methods die on the vine.
You're making a high-stakes bet that everything is going to be OK using the same old app creation ways in that one language — forever.
All it would take is for your fellow CF developer to quit or for your CIO to decide to leave the (falsely) perceived sinking ship of CFML and you could lose everything—your project, your hard-won CF skills, and possibly even your job.
Luckily, there are a number of simple, logical steps you can take now to protect yourself from these obvious risks.
No Brainer ColdFusion Best Practices to Ensure You Thrive No Matter What Happens Next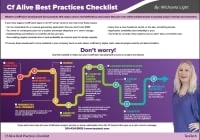 ColdFusion Alive Best Practices Checklist
Modern ColdFusion development best practices that reduce stress, inefficiency, project lifecycle costs while simultaneously increasing project velocity and innovation.
√ Easily create a consistent server architecture across development, testing, and production
√ A modern test environment to prevent bugs from spreading
√ Automated continuous integration tools that work well with CF
√ A portable development environment baked into your codebase… for free!
Learn about these and many more strategies in our free ColdFusion Alive Best Practices Checklist.