Nolan Erck talks about "Font Awesome and ColdFusion (never build icons again)" in this episode of the CF Alive Podcast, with host Michaela Light.
Tired of having to make "delete", "edit", "new", "save", "confirm", and "purchase" icons for your clients? In 3 different sizes (desktop, tablet, mobile)? And new versions for each color scheme you use? Enter Font Awesome!  Font Awesome gives you scalable vector icons, that are totally customizable, all by just including a CSS file in your project. It's free, compatible with current devices and browsers, easy to use and customize to your liking.  Font Awesome is compatible with Bootstrap, various other frameworks, screen readers, retina displays and cuts down the time you spend doing "boilerplate" work in PhotoShop for every project!
Target Audience: Designers and CF developers that are tired of having to rebuild the same icons for every project.  Attendees should know some basic HTML and CSS, no further programming or PhotoShop skills are required.
Show notes
What is Font Awesome
A vector based CSS font that you can use in CF apps that displays icons without graphic files
Why should CF developers care?
Auto sizing for desktop, tablet and mobile

Easy to change the look and feel in code – no need to go back to a graphic designer.

Display or change icons in code (JavaScript)

Faster page loading.

100s of commonly used icons included

Vector based graphics – no pixelation on zooming
Pricing
Free open source version

900+ icons

Automated Accessibility

Paid version with themes $60/year

500+ more icons

Font CDN

Subset only the icons you need into a custom font

Version 5
Demo
The <i> tag "icon" – overrides the old meaning of italic

Treating icons like fonts – changing sizes and colors, applying styles

Bordered, spinning and rotated icons

Stacked icons

Rotating icons
Installing Font Awesome
Add one line of javascript to your header code.
CSS Lint
Documentation
Online docs

Blog

Support (paid version)
How does it work with Bootstrap?
Pros and cons of Font Awesome
Pros
Saves grunt work

Better UX

No pixelation

Responsive ready

Faster site
Cons
30 Mb download to install on website (vs CDN)

A 700k file overhead on Free version

Paid Subscription (on Pro version)
Why are you proud to use CF?
WWIT for you to make CF more alive this year?
What are you looking forward to at Into The Box
Mentioned in this episode
CSS Lint tools

Jazz conference 

a 3-day event, March 21-23, 2018, on Web & JavaScript Development! All tickets include workshop day, and there will be 4 concurrent tracks. Workshops and sessions include:

Vue,

CSS3, 

tools, techniques.

This is not a mega-conf – rather it is an intimate event with less than 250 attendees
Listen to the Audio
Podcast: Play in new window | Download | Embed
Subscribe: RSS
Bio
Nolan Erck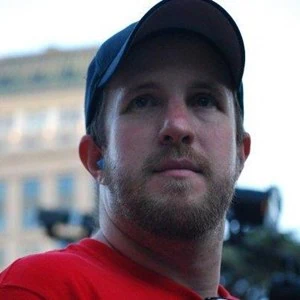 Chief consultant at South of Shasta
Nolan Erck has been developing software for 19 years. Starting in the video game industry working on titles for Maxis and LucasArts, then advancing to web development in 1999, his list of credits includes Grim Fandango, StarWars Rogue Squadron, SimPark, SimSafari as well as high-traffic websites for clients. Nolan manages the SacInteractive User Group, teaches classes on aspects of software development, and regularly gives presentations at conferences and user groups across the country.
Links
Interview transcript
Michaela:        Today, we're looking at Font Awesome and ColdFusion and how you can never have to build icons for your apps again and we're here with Nolan Erck. And he is the founder of. South of Shasta productions.
Nolan:             South of Shasta Consulting.
Michaela:        South of Shasta Consulting?
Nolan:             yes
Michaela:        Consulting! He's like an expert ColdFusion consultant and he's always speaking at different conferences. In fact, he's gonna be speaking I think in like five or six conferences this year including 'Into the Box' which we'll talk about a bit more later.
And to continue learning how to make your ColdFusion apps more modern and alive, I encourage you to download our free ColdFusion Alive Best Practices Checklist.
Because… perhaps you are responsible for a mission-critical or revenue-generating CF application that you don't trust 100%, where implementing new features is a painful ad-hoc process with slow turnaround even for simple requests.
What if you have no contingency plan for a sudden developer departure or a server outage? Perhaps every time a new freelancer works on your site, something breaks. Or your application availability, security, and reliability are poor.
And if you are depending on ColdFusion for your job, then you can't afford to let your CF development methods die on the vine.
You're making a high-stakes bet that everything is going to be OK using the same old app creation ways in that one language — forever.
All it would take is for your fellow CF developer to quit or for your CIO to decide to leave the (falsely) perceived sinking ship of CFML and you could lose everything—your project, your hard-won CF skills, and possibly even your job.
Luckily, there are a number of simple, logical steps you can take now to protect yourself from these obvious risks.
No Brainer ColdFusion Best Practices to Ensure You Thrive No Matter What Happens Next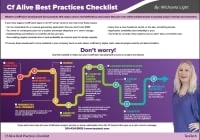 ColdFusion Alive Best Practices Checklist
Modern ColdFusion development best practices that reduce stress, inefficiency, project lifecycle costs while simultaneously increasing project velocity and innovation.
√ Easily create a consistent server architecture across development, testing, and production
√ A modern test environment to prevent bugs from spreading
√ Automated continuous integration tools that work well with CF
√ A portable development environment baked into your codebase… for free!
Learn about these and many more strategies in our free ColdFusion Alive Best Practices Checklist.