David Tattersall talks about "What is new in Fusion Reactor 7 (20 new features)" in this episode of ColdFusion Alive podcast with host Michaela Light.
Show notes
What is Fusion Reactor

Monitor and Alert for server problems

Highlights of Fusion Reactor

Crash Protection

Memory, CPU

Multiple JVMs supported

Debugger

Code profiler

Less than 1% of CPU used

What is new in Fusion Reactor 7

20 new major features

100 minor improvements and bug fixes

Memory profiler

Soft released August 2nd 2017

Currently on version 7.04

MBean requests and 100s of attributes

Full SQL statements in each request (from Request History)

Pricing $39/mo/server $79 for Ultimate

Do you have a developer edition? $199/year

Why are you proud to use CF?

WWIT for you to make CF more alive this year?

What are you looking forward to at CFCAMP?
Mentioned in this episode
APM = Application Performance Monitor
JVM = Java Virtual Machine

JDBC = database requests
Listen to the Audio
Bio
David Tattersall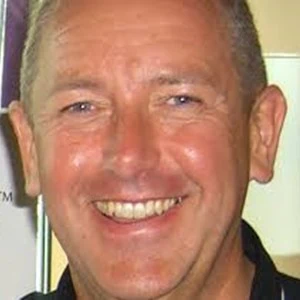 David Tattersall has been in working in IT for over 30 years. Since co-founding Integral in 1998, he focused on company management, business development, and sales & marketing. Integral has become a leader in server monitoring and application performance monitoring (APM) solutions in the ColdFusion / Java segment. His flagship product – FusionReactor – www.fusion-reactor.com is used on over 25,000 production servers and has been purchased by over 5,000 customers.
Links
Interview Transcript
Michaela  0:00
Welcome back to the show I'm here with David has or co founder of integral and make us a fusion reactor and today we're talking about what's new in the freshly released fusion reactor seven with over 20 new features in it. And we're going to be doing a demo later in this which I'll will be talking through. So those of you are listening by audio will be able to get all the exciting stuff and welcome David. Thank you, Michael. Thanks for having me. So just for the people who haven't heard of it, what exactly is fusion reactor?
David Tattersall  0:32
So fusion reactor is a lightweight application performance monitor, it supports all the major Java containers, Tomcat jetty web sphere, J boss, of course, while fly also cold fusion. So fusion reactors been around since 2005 now. And we are the number one monitoring. So solution for cold fusion.
Michaela  1:03
So basically, if you have a cold fusion server that slow or crashing you, you want to have fusion reactor to help figure out what's going on
David Tattersall  1:11
and prevented Absolutely, yeah, so there's two main areas that we focus on those performance related issues, or those some defects and the code bug in the code that you're trying to find out. And, as you rightly say, so the job of the monitor generally monitors do two things a measure, and they alert so measure is in terms of metrics. So things like web requests, JB bc activity, memory and CPU, all the metrics in and around there.
And to continue learning how to make your ColdFusion apps more modern and alive, I encourage you to download our free ColdFusion Alive Best Practices Checklist.
Because… perhaps you are responsible for a mission-critical or revenue-generating CF application that you don't trust 100%, where implementing new features is a painful ad-hoc process with slow turnaround even for simple requests.
What if you have no contingency plan for a sudden developer departure or a server outage? Perhaps every time a new freelancer works on your site, something breaks. Or your application availability, security, and reliability are poor.
And if you are depending on ColdFusion for your job, then you can't afford to let your CF development methods die on the vine.
You're making a high-stakes bet that everything is going to be OK using the same old app creation ways in that one language — forever.
All it would take is for your fellow CF developer to quit or for your CIO to decide to leave the (falsely) perceived sinking ship of CFML and you could lose everything—your project, your hard-won CF skills, and possibly even your job.
Luckily, there are a number of simple, logical steps you can take now to protect yourself from these obvious risks.
No Brainer ColdFusion Best Practices to Ensure You Thrive No Matter What Happens Next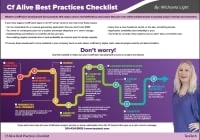 ColdFusion Alive Best Practices Checklist
Modern ColdFusion development best practices that reduce stress, inefficiency, project lifecycle costs while simultaneously increasing project velocity and innovation.
√ Easily create a consistent server architecture across development, testing, and production
√ A modern test environment to prevent bugs from spreading
√ Automated continuous integration tools that work well with CF
√ A portable development environment baked into your codebase… for free!
Learn about these and many more strategies in our free ColdFusion Alive Best Practices Checklist.