Logan Mayville talks about "Marketing Dark Arts for ColdFusion developers (FB Advanced Audience Creation and Tracking)" in this episode of the CF Alive Podcast, with host Michaela Light.
Show notes
Marketing best practices
How marketing strategy is different from Google AdWords (push vs pull)
Ungated value for free (paid

FB: Give – give – ask/offer

Replace "sell" with "give"

Multi-touch even before email

How to find your target audiences on Facebook

Turn cold audiences warm by building trust and authority with content

Advanced retargeting strategies to convert warm audiences into leads

FB pixel and retargeting

9 standard tracking events → infinity events with Google tag manager

Google tag manager

Scroll depth

Button clicks

Video plays

Time on site
The key to success
Audience (re)targeting

Different messaging
Ad creative tips and tricks
Mobile > desktop

Sponsored content vs ads

Eye catching (not FB blue)

One thought < 90 characters

Sell the "click" not your product

Literal headline

Landing pages and ads need to work together

Ad scent – does the ad and landing page feel the same

Google s
Lead generation for enterprise and B2B
Marketplace over-saturated with ads

Use to accelerate existing B2B lead gen system

Information architecture of the site. Page goals

Holistic strategy encompassing content marketing and personalization

Pain points > actions (6-8 touches before ask)

Negative keyword to eliminate research clicks in expensive PPC
FB quasi monopoly on your social identity

Network Switching cost
Privacy and FB data breaches
Targeting and creepy advertising
FB privacy scandal

Political FB marketing

FB experiments on the content you see

Echo chambers

More polarizing of the voters

$350million fundraiser from small donors

Look-a-like

Tripwire to upsell
WWIT to make CF more alive this year?
What are you looking forward to at MuraCon?
Mentioned in this episode
Listen to the Audio
Podcast: Play in new window | Download | Embed
Subscribe: RSS
His Session Description:
Topic:
The 2018 Guide to Facebook Advertising for Lead Generation.
In 2017, global digital ad spending ($209 billion) surpassed television ($178 billion) for the first time. In the U.S., Google and Facebook account for more than 63% of digital ad spending. But in addition to huge brands using their ad spend on digital instead of TV, Facebook has actually seen a renaissance in direct response marketing. But what about lead generation for enterprise and B2B? Can you sell on Facebook?  

In short, yes. But in a marketplace over-saturated with ads, a holistic strategy encompassing content marketing and personalization in conjunction with display advertising has never been more important for lead generation. Savvy marketers looking to use Facebook ads for lead generation need to replace "sell" with "give" and let the business roll downhill from there.In this presentation, Logan will demonstrate:
How to find your target audiences on Facebook

Turn cold audiences warm by building trust and authority with content

Advanced retargeting strategies to convert warm audiences into leads
Bio
Logan Mayville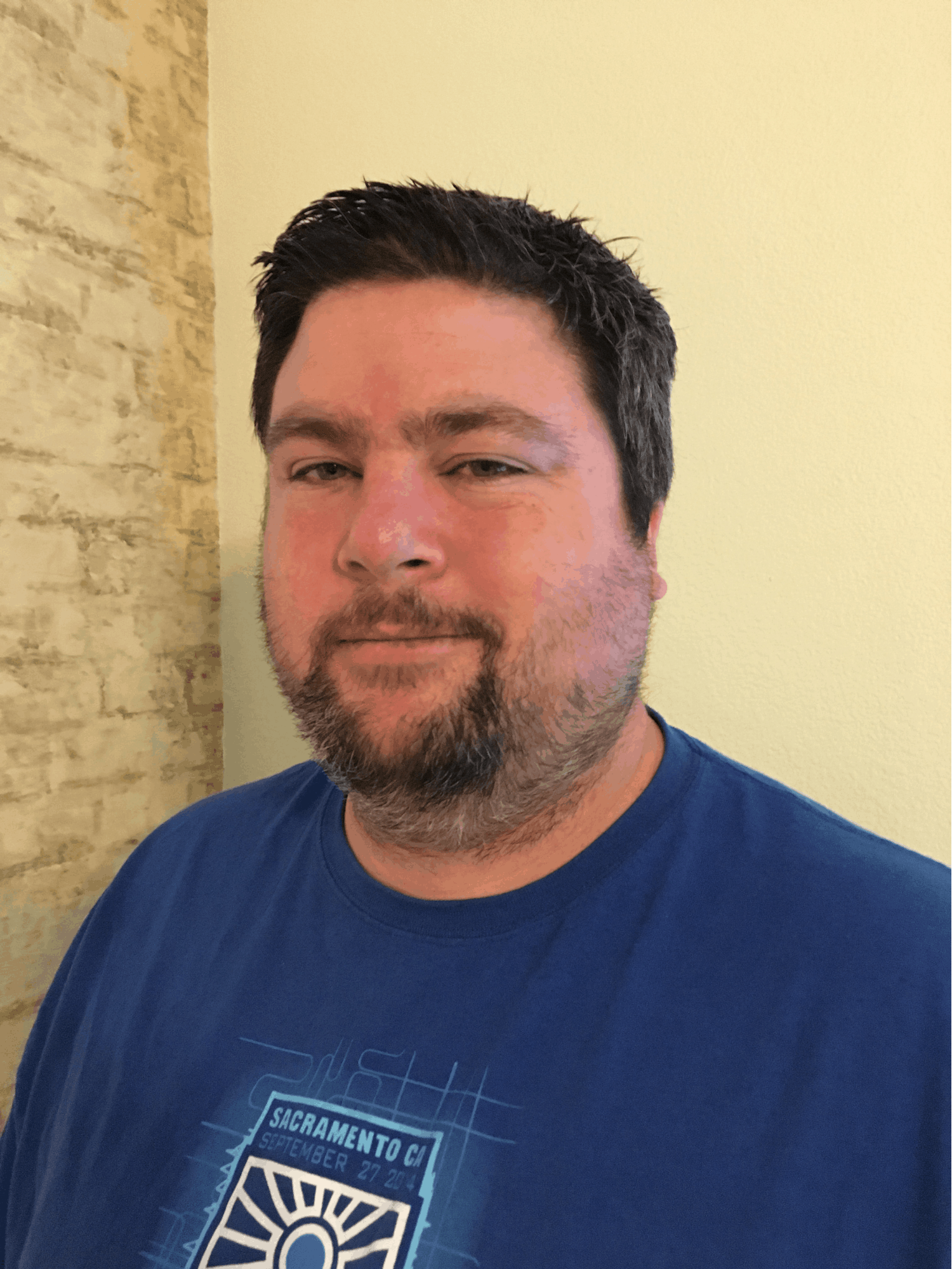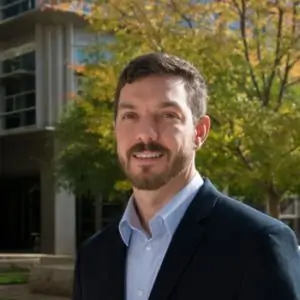 Logan Mayville is a digital marketing consultant for Southwestern Consulting specializing in direct-response initiatives like lead generation and e-commerce. As a certified Facebook advertising buyer and content strategist, he believes in the power of digital marketing to transform companies in terms of marketing ROI, sales, and customer service. Based in Sacramento, CA, Logan enjoys various mountain-related activities when he's not helping grow businesses.
Links
Interview transcript
Michaela:          Welcome back to the show. Today, we're going to go deep into the marketing dark arts for ColdFusion developers with Facebook advanced audience creation and tracking and I'm here with Logan Mayville. And he is speaking at Muracon in the digital experience tracked. (I think remember that right.) And we're gonna look at how Facebook strategy is different from Google Ad Words; totally different way of doing things.
And what the keys to that are. And also, we'll look at some creative tips and tricks you can use in advertising your products and services and how lead generation for enterprising B2B can be done using this as well. And we'll also look at privacy and some of the Facebook data breaches that have being in the news recently. And some of the creepy advertising that goes on and how that works and what you could do about it. So welcome Logan.
Logan: Yeah, thank you for having me. Pleasure to be here.
Michaela:          And just in case you don't know Logan, he is a digital marketing consultant for Southwestern consulting and he specializes in direct response niche tips for lead generation and e-commerce. And he has done work together with Shawn at Mura. So Blue River Mura. So let's just come back to that. How is Facebook so different from Google Ad Words? Because a lot of people are familiar with using Google Ad Words and using that to generate traffic to their site or maybe they had to work together with a marketing team in their company to do this. But Facebook is quite a different animal.
Logan:              Yes and so the strategy you use is quite different. So the basic differences is that Google ad result we call poll marketing. You already know what the person wants because you've established their intent to their search. So basically, you're in the middle of what they're looking for and you can just slide your product, your service in front of them with a well-placed ad. Facebook is totally different. It's push marketing which is like interruption marketing as familiar with like radio and T.V., right. We don't necessarily know… The persons are looking for us, we just kind of jam an ad in front of them and hope for the best. Now of course the better you are with targeting, the more relevant your ad will be hopefully. So that's a key distinction.
And to continue learning how to make your ColdFusion apps more modern and alive, I encourage you to download our free ColdFusion Alive Best Practices Checklist.
Because… perhaps you are responsible for a mission-critical or revenue-generating CF application that you don't trust 100%, where implementing new features is a painful ad-hoc process with slow turnaround even for simple requests.
What if you have no contingency plan for a sudden developer departure or a server outage? Perhaps every time a new freelancer works on your site, something breaks. Or your application availability, security, and reliability are poor.
And if you are depending on ColdFusion for your job, then you can't afford to let your CF development methods die on the vine.
You're making a high-stakes bet that everything is going to be OK using the same old app creation ways in that one language — forever.
All it would take is for your fellow CF developer to quit or for your CIO to decide to leave the (falsely) perceived sinking ship of CFML and you could lose everything—your project, your hard-won CF skills, and possibly even your job.
Luckily, there are a number of simple, logical steps you can take now to protect yourself from these obvious risks.
No Brainer ColdFusion Best Practices to Ensure You Thrive No Matter What Happens Next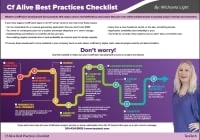 ColdFusion Alive Best Practices Checklist
Modern ColdFusion development best practices that reduce stress, inefficiency, project lifecycle costs while simultaneously increasing project velocity and innovation.
√ Easily create a consistent server architecture across development, testing, and production
√ A modern test environment to prevent bugs from spreading
√ Automated continuous integration tools that work well with CF
√ A portable development environment baked into your codebase… for free!
Learn about these and many more strategies in our free ColdFusion Alive Best Practices Checklist.