This is my initial thoughts on WorkFlowy intuitive productivity app that I started using a week ago for my todo lists, project planning, requirements and Getting Things Done system. Curious if anyone else is using WorkFlowy and what your tips and thoughts on it are?
I got the Pro version of the app free for a year from this AppSumo offer https://workflowy.com/downloads/windows/
Stewart Butterfield and his team used WorkFlowy to brainstorm and implement the first version of Slack.
I have organized my todos/planning many ways over the years, I wasn't satisfied with my prior methods, so I thought I would play with WorkFlowy for a week to see if I liked it. Turns out I love it!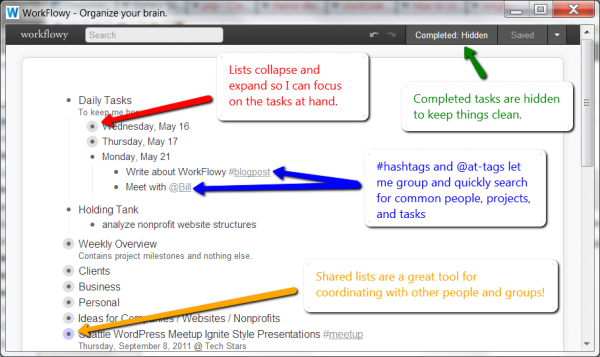 What is WorkFlowy and what do I love about it (++ items below)?
Half to-do list, half planning software
folding editor for indented lists – so easy to hide stuff you are not currently focused on
web, Android and iOS versions
++ no extra fluff features or bloatware (I am looking at you Evernote!)
++ no need to create notes or save documents – just type in your stuff
++ search across list
++ smart tagging using # and @ (more on how I am using that below)
++ Fast zoom in and out of lists from details, projects, 30,000 foot level using the levels breadcrumbs or clicking on the little bullet icon at the front of every list item
++ It is freeform – you can create your own structure of list hierarchy, tags, starred pages.
can share just parts of your lists with others eg for requirements
Other organizing tools didn't work for me
Other organizing tools I have used and issues I had with them
Just remember it (human brain)

+instant notes even in the shower or other places where you don't have computer/phone/notebook
– limited to about 7 items in short term memory, long term memory is apparently infinite but retrieval is spotty, uses up a lot of CPU if you have more than 1-2 items to remember, no checking off an item satisfaction when task is completed, hard to share with others unless you shell out for the telepathy 2.0 addon
can be improved with mnemonic devices plug in (costs extra learning time to install) to remember long lists, still waiting on chip implant for direct storage to cloud

paper notebook 

+ fast to add items, free form, satisfying to check to do off
– can't move items around – have to rewrite lists, can't add space if a list grows, undone items get orphaned pages back from current page, no organization to notes

planner pad/other organizer systems

+ organized sections and prioritizing built in, include calendar
– same issues as paper notebook

separate pieces of paper/index cards

+only have to carried one piece of paper with you
-very limited storage, tends to get a mess once you have a bunch of cards/pieces of paper
bar napkins can expand storage but tend to be hard to read later

Evernote

+can organize with tags/notebooks/titles, search all notes, todo check boxes, bullet lists, web, PC, Mac, Android, iOS
-has gotten bloated and buggy over last 18 months, search, typing and adding notes can hang for a minute or more

Word or Google docs

+expandable, lots of formating tools (too many for list making!), can include images, google docs easy to share
– too many features/bloat, hard to zoom in or collapse lists without using advanced features

Basecamp/other PM software

+great for project task lists, deadlines, seeing calendar of all tasks, good discussion features
-heavy weight adding new items vs just typing a list, no sub-sub lists or tagging, hard to just share parts of a list with others
Workflowy Before Zooming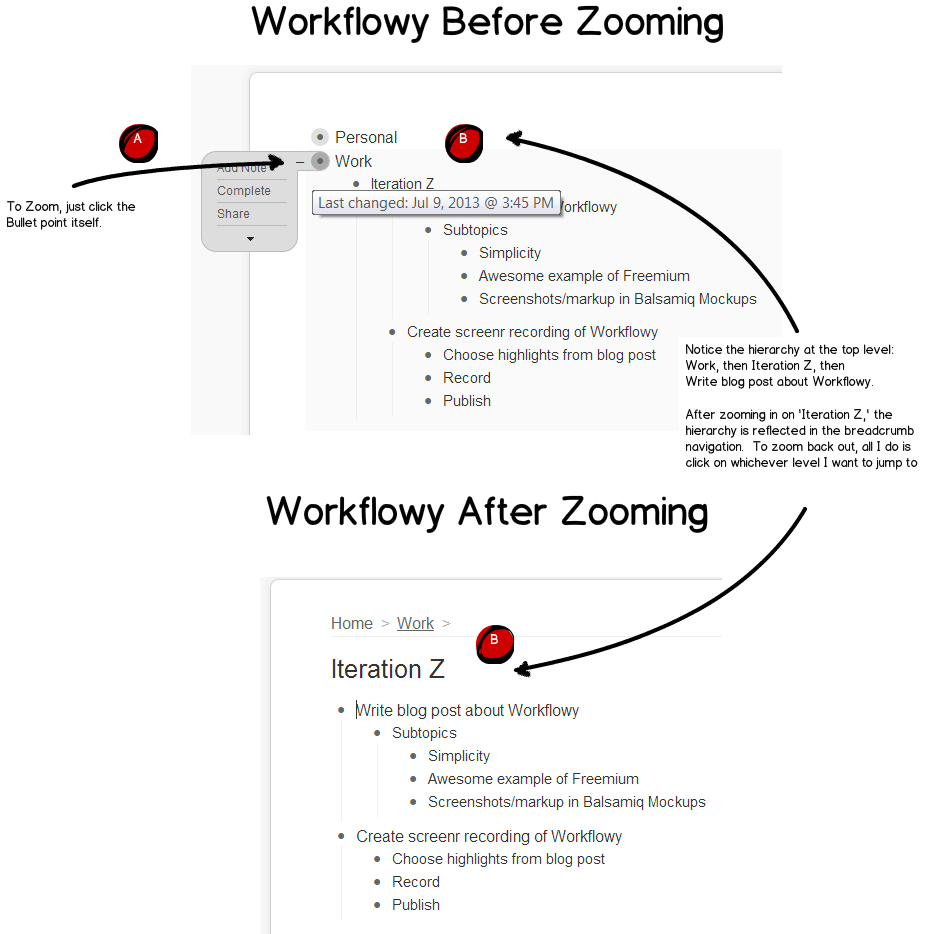 [images from article http://iterationz.com/2013/07/09/task-management-with-workflowy/ which is also a great review of WorkFlowy ]
WorkFlowy Tips
Just start dumping items from your brain, paper, planning docs or other GTD systems into it for the first day or so. Then figure out what top level sections make sense for you. It is easy to drag and drop or cut/paste lists around, so no need to "get it right" the first time
For GTD I use # tags for #today, #waiting, #week, #someday-maybe, #goal, #NextAction

I love that tags automatically get added to a smart drop down list so when I start typing #t up pops #today.
Also love that tags are hyperlinks to search by that tag
When you search by a tag it shows all items with that tag across all lists. This is super powerful if you just want to focus and bang out stuff. Or if you want to take a 30,000 view of your goals

To track delegated items I @ tags eg @John

again you can search by tags to see all the tags you delegated to John
I also use for location specific tasks eg @phone, @shopping, @UK
To prioritize put *s in the list item. * = important, **= super-important, *** = mega-super-important. These are not WorkFlowy tags and the cool thing is that when you search for * it shows all of these list items, then as you enter another * it narrows down to more important items and so on

There are keyboard shortcuts that can speed up your work eg Esc = search, Tab = intent, Shift-Tab = Outdent, ctrl- Space = Collapse/expand list, ctrl-? = display/hide keyboard shortcuts
Hovering over the bullet at the start of any list displays a little menu for completing a task, exporting that sublist , sharing, duplicating list etc.

Clicking the bullet drills down to just display items in that list. At the same time you see a "breadcrumb" menu of list sub levels so you can navigate fast back up to a higher level view
Clicking the + or – expands or collapses that list, so you can see the big picture or details fast

You can star any list that you use a lot (note that staring is not the same as typing *s that I mentioned earlier)

Hitting the star shows all the starred lists
A starred page remembers the last search you used in it – useful for regular GTD searches like Today's tasks

You can duplicate a list and all it's sub items  – great for templates of common tasks
You can share sublists with other users (I haven't tested this yet)
Use it for both current todo items, longer term planning, jotting down ideas or business/life planning. Easy to move items around during your weekly GTD review or 30,000 reviews.
Conclusion About WorkFlowy
If you haven't tried WorkFlowy I highly recommend playing with it for an hour to see if you love it or not. I was skeptical at first at Yet Another GTD app and figured it is free, let me play with it. Their 5 minute onboarding training/try it out had me hooked!
I wanted to try out a new productivity app for my to-do lists, project planning, and Getting Things Done system. I came across WorkFlowy and decided to give it a shot. I got the Pro version of the app free for a year from an AppSumo offer.
I've tried many different methods of organizing my todos and planning over the years, but none of them really worked for me. WorkFlowy, however, is half to-do list, half planning software, and has turned out to be a great fit for my needs.
One thing I really love about WorkFlowy is the folding editor for indented lists, which makes it so easy to hide stuff you're not currently focused on. Another thing I appreciate is that it doesn't have any extra fluff features or bloatware like Evernote does. You can just type in your stuff without needing to create notes or save documents. The search function is also really helpful, as is the smart tagging using # and @ symbols.
WorkFlowy is available on the web, Android, and iOS, and it's freeform, so you can create your own structure of list hierarchy, tags, starred pages, etc. You can even share just parts of your lists with others if needed.
I've tried a lot of other organizing tools in the past, but none of them quite hit the mark for me. For example, relying solely on my human brain to remember things has its limitations. Paper notebooks are fast and satisfying to check off items, but they can't be easily moved around or expanded if needed. Planner pads and other organizer systems suffer from similar issues. Separate pieces of paper or index cards can be limiting in terms of storage, while Evernote has gotten bloated and buggy over the years.
Overall, I'm really happy with WorkFlowy and would definitely recommend it to others looking for a powerful yet flexible tool for organizing their to-dos and planning.
What are your WorkFlowy tips and thoughts? How do you stay organized with your todos, requirements and planning? Let me know in the comments.