Learn about Four Ways to Recognize a Good ColdFusion Consultant Before Hiring Them!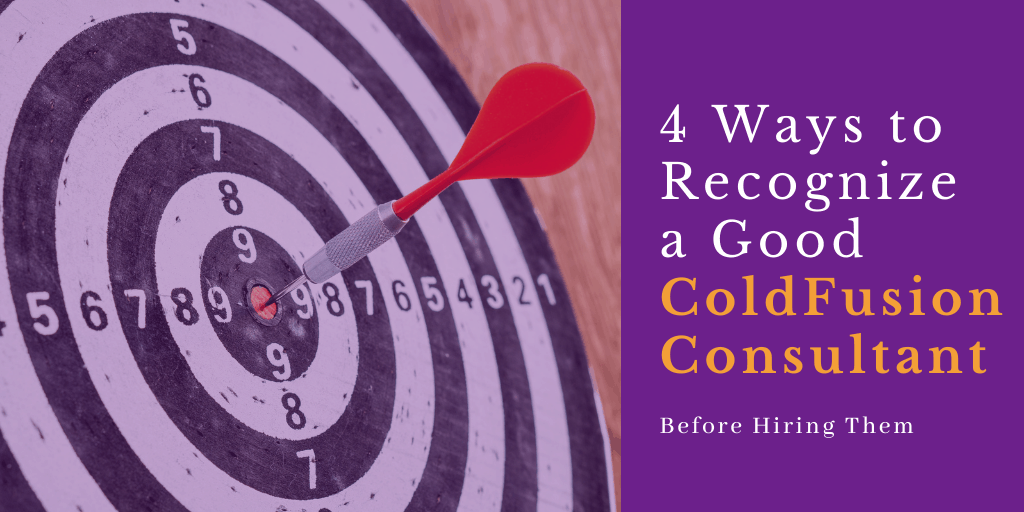 Looking for the right consultant can be a demanding task. But done right, it could save your company money in the long term.
You're about to dive into the confounding, cut-throat world of ColdFusion consultants, looking for someone to help your company. It can be rough out there! (Trust me, I've been doing this for over 25 years).
But you'll need to be able to whittle down the list of ColdFusion consultants to something manageable and find a good fit for you, your company, and your project.
How?
In this article, you will learn the best ways to pick a ColdFusion consultant:
Check their testimonials, referrals, and reviews.

Favor companies with teams rather than solo developers.

Make sure they're responsive to inquiries.

Be sure they pass a personality test.
Let's dive in!
Learn how to hire the right consultant, and save!
Any consultant worth their salt will leave behind them a stream of happy customers willing to sing their praises. Thankfully, we live in an era where customers feel almost duty-bound to praise (or punish) companies for their work and products.
That's why you must check every potential consultant's testimonials, referrals, and reviews.
First, get a good understanding of what exactly your company needs. Talk to your developers and team and see what gaps in knowledge or problems pop up consistently. 
Is there a security hole that nobody can fix?
Does spaghetti code drive your app to the brink of collapse?
Do your company's servers crash under heavier loads?
Figure out what you need from a consultant — at least in a general sense. Then go hunting.
How to find the best ColdFusion consultant




There are several ways to find out if a consultant's experience and quality stack up to your company's needs:
Check their website and

LinkedIn

profiles for testimonials or reviews from past clients. Can't find any? Be cautious. Do a deeper search on social media to see if they're actually a great-but-humble consultant that avoids bragging.

You'll want a consultant who can say "Been there, done that."




See if any of the potential consultant's previous clients had a problem similar to yours. Experience is worth gold in this industry. A consultant well-versed in your company's issues will be able to understand your company's goals clearly — they've been there before!

If they don't have any venue for reviews or testimonials, ask for referrals. Ask other CIOs in adjacent industries if they have any recommendations. (Don't ask a competitor — you never know if they'll use a crappy consultant to sabotage your app.)

If you decide to take a risk on a fresh-faced consultant without a strong track record — make sure you pass that risk off in the negotiation over price. Don't pay top dollar for a noob consultant. Better yet, avoid them altogether!
Favor companies with teams rather than solo developers
We all like to romanticize the lone genius working away in solitude to produce something incredible. In reality, those types of solo workers are a rarity. Consultants with teams offer a better bet for several reasons.
Much like with developing apps, you want to avoid a "single point of failure" when dealing with a consultant. Hiring a company with a team creates redundancies, in human form.
Multiple members can work on your project at once, and a rotation of developers in the consultant's team increases the odds of a "Eureka" moment when tackling your ColdFusion app.
Relying on a solo consultant could lead to less institutional knowledge or experience to handle a snafu specific to your company's app. A team can have diverse backgrounds, and greater odds they've faced a situation similar to your company's.
I'm talking from experience here. I originally started TeraTech as a solo operation. I quickly realized even the most talented developer can't conduct a consulting business properly and deliver worthwhile work to happy clients.
So now, TeraTech has a team. I consider its members my business family. And much like any family, I know their strengths and preferences, letting me delegate every client's needs accordingly.
There's an element of risk in choosing a free agent developer posing as a consultant.
There are much higher odds that consultant will disappear for other clients, or take on too much work. That means missed deadlines, poor focus, and awful results.

They have no one to back them up or help in a pinch. A colleague can, at the very least, offer a bit of calm during frustrating moments.

Your company will have no back-up option if the consultant gets sick or is otherwise indisposed.



Make sure they're responsive to inquiries
You should never tell a potential consultant, "I've been trying to get in touch with you."
Google me.
Go ahead. I'll be here when you get back.
Barring some sort of typo, entering "Michaela Light" into a search bar will leave you a few clicks away from contacting me directly. Be that via LinkedIn, TeraTech's site, Twitter, Facebook, or many other venues.
A consultant's most important tool is communication. Clients must be able to reach their consultant promptly and be sure they were understood by the end of the conversation.
From the get-go, there must be a clear means of communication, with reasonable responsiveness. An urgent email going unanswered is infuriating and could cost your company money. Here are a few tips to predict if there may be communication problems with a potential consultant:
If they're hard to contact right off the bat, you will only face bigger headaches while they're hired to do work. Be sure all your cold calls and initial inquiries are answered promptly. If they aren't responding quickly, be direct and ask if they're currently swamped with work.

Ask a lot of questions, and be sure they're answered. Here are a few suggestions:

Company size, especially the number of developers available to handle your project.

How long have they been around?

Any specializations — what sort of work do they do most often. (security, database tuning, etc.)

Which software development cycle they deploy — if that's what you need.

Which CF tools they use, especially third party additions — be sure they match with yours.

How many clients are they actively working with. This will give a sense of where you'll be in the food chain and how responsive they'll be to your inquiries.

Have they worked with companies that are a similar size to yours?
Be sure they pass a personality test
Let me be blunt for a moment: as a consultant, I pick clients as much as they pick me. And while I'm great, I know what clients are a good fit for my company and which aren't.
Sad to say, but personality goes a long way towards making a consultant-client relationship work. This may be the biggest stumbling block for many CIOs. Things will go wrong in the tech world. Deadlines will be missed. Hacks and security holes will remain a constant threat. But it's all so much worse if you also strongly dislike the people you're working with — or for.
If you and the point of contact at a ColdFusion consulting firm do not get along, it'll be a long slog rather than a joyful collaboration.
I've got a few tricks to help guide this hiring decision which could also apply to consultants:
The "hell yes!" rule: If you're showing any doubts about a potential collaboration, it's a no. Your only response should be a "Hell yes!"

Make sure you've already defined what your ideal consultant will be: the characteristics and skills they'll need to display in order to do the job right.
I'm a bit colorful myself. Clients who cannot get around me, Michaela Light, in all my glory, will not be worthwhile to work with. Be sure you keep this in mind when choosing a consultant.
Hiring the wrong ColdFusion consultant can set your company back both in terms of time and wasted money. Being able to recognize the contenders from the pretenders among the sea of ColdFusion consultancy can help keep operations at peak performance. Remember, in the end, results matter with a ColdFusion consultant as much as an employee!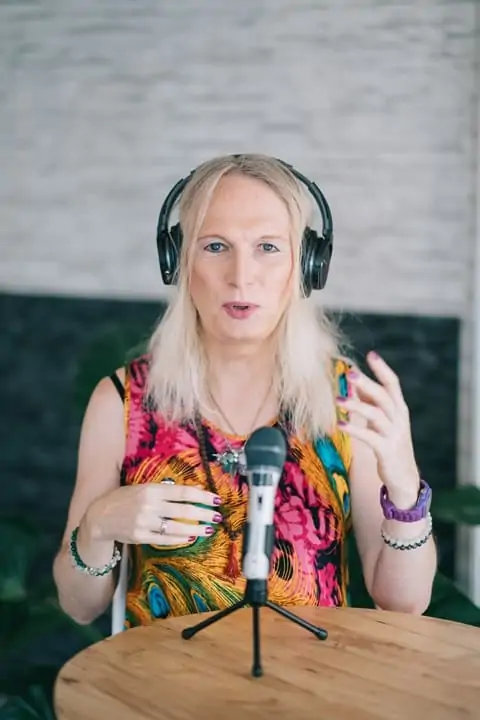 Michaela Light is the host of the CF Alive Podcast and has interviewed more than 100 ColdFusion experts. In each interview, she asks "What Would It Take to make CF more alive this year?" The answers still inspire her to continue to write and interview new speakers.
Michaela has been programming in ColdFusion for more than 20 years. She founded TeraTech in 1989. The company specializes in ColdFusion application development, security and optimization. She has also founded the CFUnited Conference and runs the annual State of the CF Union Survey.
And to continue learning how to make your ColdFusion apps more modern and alive, I encourage you to download our free ColdFusion Alive Best Practices Checklist.
Because… perhaps you are responsible for a mission-critical or revenue-generating CF application that you don't trust 100%, where implementing new features is a painful ad-hoc process with slow turnaround even for simple requests.
What if you have no contingency plan for a sudden developer departure or a server outage? Perhaps every time a new freelancer works on your site, something breaks. Or your application availability, security, and reliability are poor.
And if you are depending on ColdFusion for your job, then you can't afford to let your CF development methods die on the vine.
You're making a high-stakes bet that everything is going to be OK using the same old app creation ways in that one language — forever.
All it would take is for your fellow CF developer to quit or for your CIO to decide to leave the (falsely) perceived sinking ship of CFML and you could lose everything—your project, your hard-won CF skills, and possibly even your job.
Luckily, there are a number of simple, logical steps you can take now to protect yourself from these obvious risks.
No Brainer ColdFusion Best Practices to Ensure You Thrive No Matter What Happens Next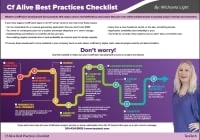 ColdFusion Alive Best Practices Checklist
Modern ColdFusion development best practices that reduce stress, inefficiency, project lifecycle costs while simultaneously increasing project velocity and innovation.
√ Easily create a consistent server architecture across development, testing, and production
√ A modern test environment to prevent bugs from spreading
√ Automated continuous integration tools that work well with CF
√ A portable development environment baked into your codebase… for free!
Learn about these and many more strategies in our free ColdFusion Alive Best Practices Checklist.