Streaming Video to a Browser with no plugins
The world of streaming video has been constantly evolving, with solutions moving from one browser plugin to the next (Real Player, Windows Media, Quick Time, Flash, Silverlight, etc.)  However, with advances in the open standard MPEG-DASH as well as extensions to the W3C specification, it is now possible to stream video directly to a browser without the need for any plugins.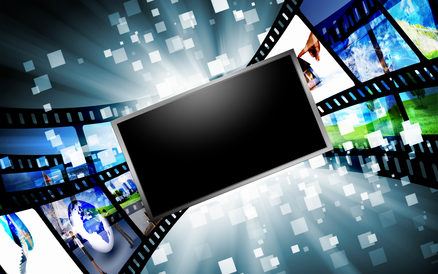 MPEG-DASH & dash.js
This session explored the leading edge in the world of video delivery, an open standard, supported by the industry's biggest players, named MPEG-DASH and its companion project dash.js. While we are constantly building DASH players offers the promise of high-quality streams in a JavaScript client for platforms including:
Desktop

Browser

Flash

Connected TVs and Mobile Devices

dash.js
As the lead architect on the dash.js project, Jeff has intimate knowledge of the inner workings of this project, and he is actively collaborating with contributors from Microsoft, Google and others.
The technology for dash.js is new, and it's not yet supported on every device, but we are working with many of the key players to make it a reality and the list of supported devices grows daily. So join us as we explore:
DASH standard
discuss how dash players are built
dig through the dash.js codebase
see dash playing on mobile devices
Jeff Tapper

Presenter bio:
Jeff Tapper has over a 19 years of experience developing Internet applications for a myriad of clients, including ESPN, Major League Baseball, CNBC and many others. He is actively involved in the Streaming Media industry, and is a frequent speaker at NAB, IBC, Streaming Media East and West. He has authored over a dozen books on internet technologies. Jeff is a founding partner at Digital Primates and the lead architect of the dash.js project.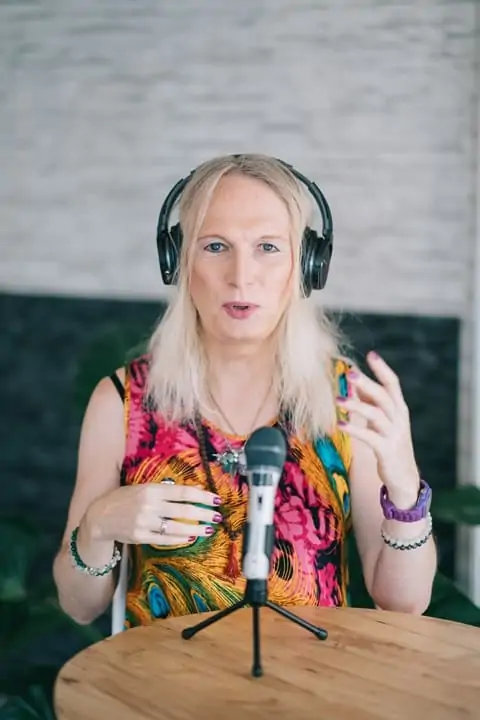 Michaela Light is the host of the CF Alive Podcast and has interviewed more than 100 ColdFusion experts. In each interview, she asks "What Would It Take to make CF more alive this year?" The answers still inspire her to continue to write and interview new speakers.
Michaela has been programming in ColdFusion for more than 20 years. She founded TeraTech in 1989. The company specializes in ColdFusion application development, security and optimization. She has also founded the CFUnited Conference and runs the annual State of the CF Union Survey.
And to continue learning how to make your ColdFusion apps more modern and alive, I encourage you to download our free ColdFusion Alive Best Practices Checklist.
Because… perhaps you are responsible for a mission-critical or revenue-generating CF application that you don't trust 100%, where implementing new features is a painful ad-hoc process with slow turnaround even for simple requests.
What if you have no contingency plan for a sudden developer departure or a server outage? Perhaps every time a new freelancer works on your site, something breaks. Or your application availability, security, and reliability are poor.
And if you are depending on ColdFusion for your job, then you can't afford to let your CF development methods die on the vine.
You're making a high-stakes bet that everything is going to be OK using the same old app creation ways in that one language — forever.
All it would take is for your fellow CF developer to quit or for your CIO to decide to leave the (falsely) perceived sinking ship of CFML and you could lose everything—your project, your hard-won CF skills, and possibly even your job.
Luckily, there are a number of simple, logical steps you can take now to protect yourself from these obvious risks.
No Brainer ColdFusion Best Practices to Ensure You Thrive No Matter What Happens Next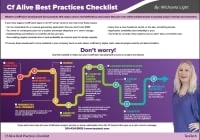 ColdFusion Alive Best Practices Checklist
Modern ColdFusion development best practices that reduce stress, inefficiency, project lifecycle costs while simultaneously increasing project velocity and innovation.
√ Easily create a consistent server architecture across development, testing, and production
√ A modern test environment to prevent bugs from spreading
√ Automated continuous integration tools that work well with CF
√ A portable development environment baked into your codebase… for free!
Learn about these and many more strategies in our free ColdFusion Alive Best Practices Checklist.