Intense two days of presentations, meetings, and networking at Las Vegas and all that under the Adobe hat. And an awesome pre-conference training. And a great breakfast!


From November 15-17 2017 Adobe organized its yearly conference with the main topic ColdFusion. We took enough time to track down and put together a nice list of 13+ useful resources and slides from the speakers. Let's dive into it right away.
1. 3 ways to test your ColdFusion API by Gavin Pickin
Here's what Gavin talked about:
How to use Testbox to test your CFCs 2 different ways
Different types and ways to test JavaScript
Overview of client/server side testing tools
Building testing into your workflow
You are one of many that are not testing your APIs thoroughly
The slides are available here
2. CFConfig – A New Way to Manage Your ColdFusion Engine Config by Brad Wood
Brad covered the generic JSON format that's used and talked about how you can distribute your code with a full generic set of configuration including CF mappings, datasources, custom tags, or request timeouts without needing to worry about what version of CF the end user is going to have. This tool is a must for anyone using Vagrant, Docker, local development environments, or just managing more than one server.
The slides are available here
3. What's new in CF 10, 11, and 2016 that you may have missed? by Charlie Arehart
ColdFusion veteran as everyone knows Charlie talked about moving up to CF2016, or 11-> In doing so, are you skipping over 11, or perhaps even 10, in that move?
The slides from his presentation are available here
4. Adventures With WebSockets by Giancarlo Gomez
We already talked about this in our very own CF Alive Podcast episode 1 with Giancarlo. The full presentation and slides are available here
5. Practical Digital Accessibility: Problems and Solutions, by Bouton Jones
It addresses the compelling reasons — including legal — for applying Accessibility to digital documentation: Word, PDF, PowerPoint, and Web. Examples of poor Accessibility are presented with illustrations of the resulting effects for users with disabilities. And, it's covering strategies and solutions.
Slides are available here
6. Solving problems in ways never before possible, with FusionReactor 7 and FR CLOUD, by David Tattersall
See how FusionReactor goes beyond just "monitoring" to deliver more depth & insight to your production applications and servers – both on premise and (now) in the cloud.
Slides are available here
7. Level Up Your Web Apps with Amazon Web Services, by Brian Klaas
Get super fast, infinitely scalable file storage with Amazon Simple Storage Service (S3)
Invoke on-demand microservices through AWS Lambda
Create entire asynchronous, serverless workflows with AWS Step Functions
Utilize a high-throughput NoSQL datastore with DynamoDB
Plan for common problems when dealing with cloud service providers
Slides are available here
8. Power of Simplicity in FW/1 Framework, by Masha Edelen
Targeting intermediate level of developers this presentation shows ideas for the use of the framework as well as demonstrate commonly used functions.
Slides are available here
9. HMVC Modular Architecture, by Luis Majano
Don't get stuck back in 2005!
What is a package/module in CFML
How to create distributed MVC
The power of drop-in module conventions
How to manage your app's dependencies
Sharing your modular code with the community to stop reinventing the wheel
Slides are available here
10. Keep Control of your PDF Files, By Shirak Avakian
Learn how easy is to securely share confidential information within and outside your organization with controlled access and permissions.
Slides are available here
11. send.Better() – Giving Email a REST, by M. Clemente
The session covered:
The benefits provided by using a transactional email service
A pragmatic, use-driven comparison of the major players in the space
Pitfalls, considerations, and tips when configuring your DNS records and integrating a transactional email service with your application
Interacting with the actual APIs, and showing how easy they are to use with ColdFusion
Slides are available here
12. From Legacy to Modern, Techniques to update your Legacy Sites, by Dan Fredericks
Tips to take that legacy CFML site and make it more modern. Dan went over some thoughts on what to look for in a legacy site which can help you determine if you should refactor or not.
Slides are available here
13. Building Better SQL Server Databases, by Eric Cobb
Direct explanations that can be incorporated immediately into your daily development, without all of the overly technical DBA mumbo-jumbo. Regardless of your skill level or programming language of choice, if you use SQL Server this session is for you.
Slides are available here
14. Writing Secure CFML, by Pete Freitag
Pete did another full day training on Writing Secure CFML for the pre-conference. It was sold out at 50 seats and was a lot of fun to present. The demo code for that session can be found here: github.com/foundeo/cfml-security-training.
Stay tuned as we will be updating the list in the next few days.
Some of the material and info about the speakers and their presentations were picked directly from Adobe CFSummit website and we thank them for that.
Interesting articles:
ColdFusion Summit official Adobe website
And to continue learning how to make your ColdFusion apps more modern and alive, I encourage you to download our free ColdFusion Alive Best Practices Checklist.
Because… perhaps you are responsible for a mission-critical or revenue-generating CF application that you don't trust 100%, where implementing new features is a painful ad-hoc process with slow turnaround even for simple requests.
What if you have no contingency plan for a sudden developer departure or a server outage? Perhaps every time a new freelancer works on your site, something breaks. Or your application availability, security, and reliability are poor.
And if you are depending on ColdFusion for your job, then you can't afford to let your CF development methods die on the vine.
You're making a high-stakes bet that everything is going to be OK using the same old app creation ways in that one language — forever.
All it would take is for your fellow CF developer to quit or for your CIO to decide to leave the (falsely) perceived sinking ship of CFML and you could lose everything—your project, your hard-won CF skills, and possibly even your job.
Luckily, there are a number of simple, logical steps you can take now to protect yourself from these obvious risks.
No Brainer ColdFusion Best Practices to Ensure You Thrive No Matter What Happens Next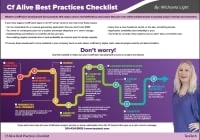 ColdFusion Alive Best Practices Checklist
Modern ColdFusion development best practices that reduce stress, inefficiency, project lifecycle costs while simultaneously increasing project velocity and innovation.
√ Easily create a consistent server architecture across development, testing, and production
√ A modern test environment to prevent bugs from spreading
√ Automated continuous integration tools that work well with CF
√ A portable development environment baked into your codebase… for free!
Learn about these and many more strategies in our free ColdFusion Alive Best Practices Checklist.