Adobe's CF Summit conference 2022 is something that marks the year ending for CFers. After all the delisioushnes around the ColdFusion conferences this year, this will be the last one (unless there is a CF Summit India, but still to be confirmed).
And finally, it is in-person, again.
Get ready, it's almost here. October 3rd is when I hope to see you there.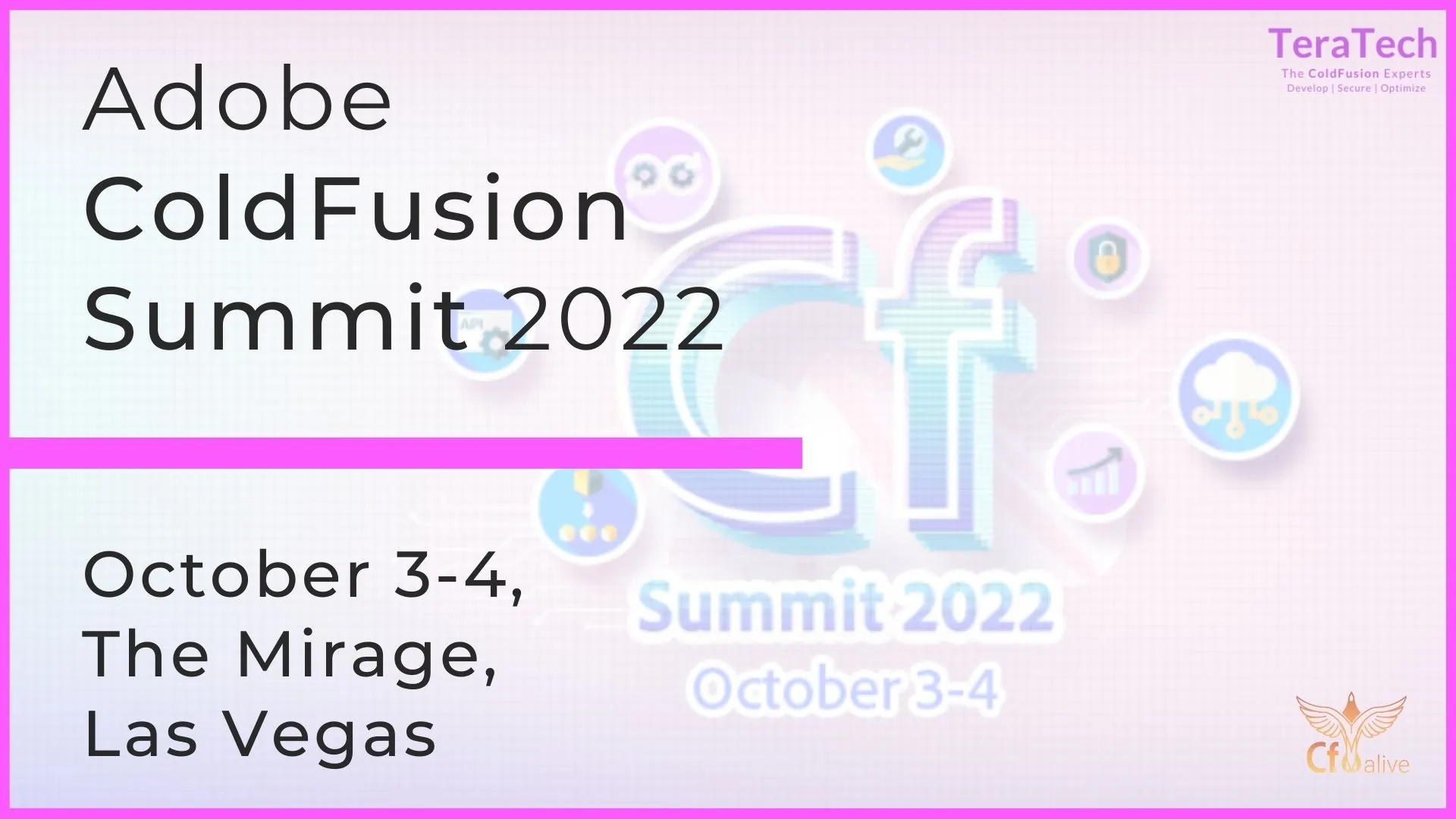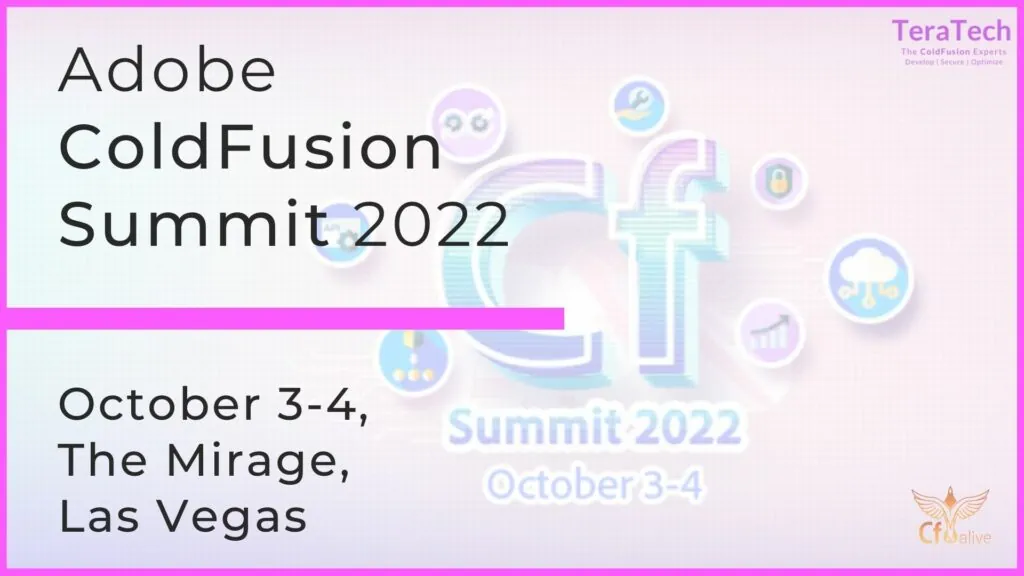 What is it?
CF Summit is a conference organized by Adobe. It happens in Las Vegas, Nevada, at The Mirage Hotel. Over the last two years, we were able to attend it online, as it was happening in the virtual world. Which was awesome, considering the circumstances. But, nothing beats the "real" conference, and this is how it will be this year. (so happy…)
Tickets
You can choose two sets of tickets.
Event Pass, or
Premium Pass.
Event pass gives you access to
all sessions,
workshops,
two stages
all keynotes,
panels,
speakers' Q&A,
first day party.
Premium Pass provides access to all of this and access to the Adobe ColdFusion Certification training. I have provided a more detailed description of it below.
Adobe ColdFusion Certification Program
It is a very cool thing that you are a CF developer. How about becoming Adobe Certified Professional?
Adobe ColdFusion is an industry-leading certification program from Adobe, for Adobe ColdFusion developers. It consists of 50+ online videos and is designed for professionals with basic to advanced level proficiency in any computer language and a basic understanding of how web pages work.
Successfully passing an assessment test at the end of the program will reward participants with a badge and certificate from Adobe.
It is a one-day workshop on Oct 5 after which you can take the certification exam at the CF Summit or later whenever you choose.
I talked with Adobe's Elishia Dvorak in the CF Alive Podcast episode, so check it out.
Learn more about the Adobe Coldfusion Certification program in this article.
Speakers
Keynote Speaker Joel Cohen
Joel Cohen was born and raised in Calgary, Canada. A graduate of the University of Alberta (B.Sc.) and York University (M.B.A.), he has been a writer and Co-producer
for the last twenty years on "The Simpsons."
Joel has written 35 episodes of the Simpsons, has won 3 Emmy awards, 3 Writer's Guild Awards and also once scratched a lottery ticket and won a free ticket! (He won nothing on that free ticket but did learn a valuable life lesson).
In addition to writing several movies, TV and online projects, Joel is also the author of the best-selling book "How to Lose a Marathon" and the mediocre-selling book "The Incredibly Inaccurate Biography of Andy Richter". He has also, for the last 20 years, been engaged as a speaker to groups, conferences and corporations around the world. Blending his experiences in the corporate world and his creative career, Joel delivers unique and humorous insights on the creative process, group dynamics and a culture of innovation. While speaking, he usually drinks 4 bottles of water, so please budget for that.
Featured Speakers
Andy Powell
Andy Powell is a technical leader within the SaaS space, with over 15 years of experience designing and implementing a host of enterprise systems. He has extensive experience with both consulting and product development firms, working in domains spanning human capital, retail, automotive, healthcare, education, and enterprise software. Andy joined AWS in 2017 as a member of the SaaS Factory team, and spearheaded SaaS Factory's growth into EMEA from Munich. Prior to joining AWS, Andy was Chief Architect for Deloitte Consulting's Human Capital Platform. He is a recognized industry expert, speaking at numerous industry events including multiple 360|Conferences events, Adobe MAX and AWS re:Invent. Andy holds a Bachelors of Business Administration from Mercer University's Stetson School of Business and Economics in Atlanta, GA.
Brad Wood
Brad grew up in southern Missouri and after high school majored in Computer Science with a music minor at MidAmerica Nazarene University (Olathe, KS). Today he lives in Kansas City with his wife and three girls. Brad enjoys all sorts of international food and the great outdoors. Brad has been programming ColdFusion since around 2002 and has used every version of CF since 4.5. He is a software engineer at Ortus Solutions, lead developer of CommandBox CLI, and open source contributor.
Brian Bockhold
Brian is co-founder of Coalesce Holdings and serves as Vice President and CIO. He has developed systems in ColdFusion for over 20 years, both in his current and prior roles leading global organization system development and architecture teams. Brian is a certified AWS Solutions Architect – Associate and AWS Developer – Associate.
Brian Klaas
Brian Klaas is the Senior Technology Officer at the Johns Hopkins Bloomberg School of Public Health's Center for Teaching and Learning. As the architect for online learning technology at the School, he leads a team that designs and delivers custom online courseware to students and members of the public health workforce around the globe. In addition to designing software and delivering courses, Brian teaches graduate courses on communication design and online learning, and leads faculty training and development. Brian has presented on software development and eLearning at conferences throughout the country, including jQuery US, dev.Objective(), CF Summit, NCDevCon, and Adobe MAX.
Brian Reilly
Brian Reilly is a security engineer focused on application security, penetration testing, offense, and vulnerability research. He enjoys working with product teams to build and deploy secure software. His professional experience has included various roles within the financial services, technology, higher education, and state/local government sectors. His exposure to ColdFusion began almost 25 years ago, when helping to secure user-developed applications was a small part of his efforts to protect a large research university network. He holds degrees from Georgetown University and the George Washington University.
Charlie Arehart
A veteran server troubleshooter who's worked in enterprise IT for more than three decades, Charlie Arehart (@carehart) is a longtime community contributor who as an independent consultant provides short-term, remote, on-demand troubleshooting/tuning assistance for organizations of all sizes and experience levels.
Chase Cabrera
Chase Cabrera is Co-Owner and Senior Software Engineer at iDONATEpro. His background includes over 10 years of consulting in system architecture, software development and 7+ years of developing in ColdFusion. Chase received his BS in Computer Science from San Diego State University. He lives in San Diego, California with his fiancé Andrea and their two dogs Bear and Blue.
Christoph Schmitz
Chris has been among the early adopters of ColdFusion since version 1.5 in 1996 (then still named "Cold Fusion"). He has been freelancing for over 20 years and has been working for clients like Siemens, Vodafone, DHL, just to name a few. His focus is on creating maintainable and well performing code and teaching other developers how to do so. He was ColdFusion User Group Manager for CFUG Germany for almost 10 years and during this time brought the German CF Camp conference to life.
Daniel Garcia
Daniel Garcia lives in Plainfield, IL, has worked with ColdFusion since 1999, is a Senior Developer at Ortus Solutions, helps co-host the Modernize or Die podcast, and is passionate about the ColdFusion language and community. He is a husband, father, cinephile, regaler of useless knowledge, smoker of meats, and has an irreverent sense of humor. His mantra is "work smarter, not harder" and "KISS (Keep it Simple Stupid)."
Dave Ferguson
Dave has spent the majority of his life living in sunny Southern California. Over the past almost 20 years has worked in information technology after his attempt at being a career restaurant manager failed miserably. He has spent the majority of that time specializing in large enterprise-class systems. While he continues working on those types of systems he now focuses a large amount of his free time in the mobile application space.
David Byers
David Byers was previously promotions director for a rock radio station, but chose to change careers in the 1990's when he simultaneously got tired of eating Top Ramen, and fell in love with development. For over 23 years, he has focused his expertise on the ColdFusion platform, developing software for a multitude of businesses ranging from small mom-and-pop shops to enterprises of over 900 employees. A former ColdFusion User Group manager, he has been a proponent of CFML, and regularly provides content to the ColdFusion Community Portal. He is currently CIO of Modloft; a luxury e-commerce brand. Born in Canada, David lives in Las Vegas, Nevada with his wife, three cats, three house bunnies, and two bearded dragons.
David Tattersall
David Tattersall has been in working in IT for over 30 years. Since co-founding Intergral in 1998, he focused on company management, business development and sales & marketing. Intergral has become a leader in server monitoring and application performance monitoring (APM) solutions in the ColdFusion / Java segment. His flagship product – FusionReactor – www.fusion-reactor.com is used on over 25,000 production servers and has been purchased by over 5,000 customers.
Emma Fletcher
Gavin Pickin
Gavin is a proud ColdFusion developer, starting with ColdFusion in the late 90s. His first exposure to ColdFusion was while working for the University of Auckland under supervision of big ColdFusion Contractors. He got his feet wet early, with systems ranging from small, to extremely large and complex.
Gavin's strengths lie with ColdFusion and he works in all areas of the application design work flow, from Customer Project Specifications, ColdFusion Integration and Database Design, all the way through to the User Interface design and implementation, Customer Training and Support.
Guust Nieuwenhuis
Guust is a Full Stack Web Wizard with experience in a wide range of technologies. Over the last couple of years, I've been involved in projects for various clients like the European Commission, NSHQ (NATO), Adobe, AS Adventure Group, NS (Dutch railways), CZ Groep, Proximus, Avery Dennison and Mediagenix.
In his free time, he plays the double bass and drums, crosses the forest on his mountain bike and coaches the youth at his local soccer club. He likes spending time with my wife and two kids or meet friends for a chat, game or drink.
When he still has some time left, he mainly spends it behind his computer to fulfil his hunger for the latest trends in IT.
Kevin Wright
Through his consulting company, Kinetic InterActive, Kevin provides businesses insight into the use of technology to solve a variety of business challenges. Providing business workflow analysis, user experience design, website usability and custom software, Kevin helps organizations understand the importance of technology in today's business environment. Past projects have included work for VirginMobile, NBC Universal, Fox Home Entertainment in addition to many local small businesses and startups.
Luis Majano
Luis Majano is a Computer Engineer born in El Salvador and is the president of Ortus Solutions (www.ortussolutions.com), a consulting firm specializing in web development, architecture and professional open source support and services. His background includes over 19 years of software development experience, architecture and system design.
He is the creator of the ColdBox Platform, ContentBox Modular CMS, TestBox BDD, CommandBox CLI and many more open source projects. He lives in The Woodlands, Texas with his beautiful wife Veronica, baby girl Alexia and baby boy Lucas!
Mark Takata
Mark Takata is the Technical Evangelist for Adobe ColdFusion. He has been an application developer for over 25 years, with professional experience in over a dozen languages & frameworks. He lives in West Sacramento, CA with his wife & two dogs.
Masha Edelen
Lifelong learner, versatile entrepreneur with a passion for technology, Masha has been leading Momenta, a digital creative agency, since the early days of web development into the modern era of digital experiences. Selecting ColdFusion as the technology of choice since Macromedia version 5.0, she and her team developed numerous web applications including custom CMS and eCommerce platforms for a wide variety of clients. While living in Los Angeles Masha got involved with blockchain technology, helping establish Ownerfy.com, an NFT as a service platform. In her free time she enjoys traveling and investing in stock market.
Matt Gifford
Matt Gifford is a keen proponent of open-source CFML and knowledge sharing. He has spoken at conferences around the world and is the author of Object-Oriented Programming in ColdFusion. Matt lives in Cyprus and is a Systems Architect and Software Engineer for DistroKid.
Michael Hayes
While working as an Azure solutions architect and head of research and development at Media3 Technologies, Michael Hayes has had the opportunity to work with some of the newest technologies that have emerged on top of Microsoft's rapidly growing IaaS platform Azure. This has formed unique expertise with Applications, and Identity Management built on top of what he says to be one of the most robust APIs a developer can have in t oday's market.
Nick Juntilla
Nick has been at the forefront of technology as a software engineer for 20+ years innovating for some of the premier corporations in Los Angeles. He has designed and built eCommerce platforms, social network sites, eBook publishing, art installations, and accounting software for companies like Sony Interactive, Disney Store, Beachbody, Ubiquity, Trailer Park Pub., and Chromeriver Inc.. Since 2012 he's been working with blockchain technology as an early adapter of Bitcoin, transitioning to Ethereum in 2017. He wrote some of the first NFT source code and founded one of the first NFT companies Receiptchain, which later became Ownerfy.com. Since then he has helped people create hundreds of thousands of NFTs all around the world, as well as launched several NFT collections with world famous artists and established brands. He is a subject matter expert for NFT best practices and applications.
Nikhil Dubey
Nikhil Dubey works as Computer Scientist in the Adobe ColdFusion team. His areas of work include Performance Monitoring Toolset, language features – integration of cloud Services like SQS, SNS and Azure ServiceBus, ColdFusion Builder. When free, he likes to spend some time with family, with books, with tech blogs, with sports and travelling.
Pete Freitag
Pete Freitag has well over a dozen years of experience building web applications with ColdFusion. In 2006 he started Foundeo Inc (foundeo.com), a ColdFusion consulting and products company. Pete helps clients develop and architect custom ColdFusion applications, as well as review an improve the performance and security of existing applications. He has also built several products and services for ColdFusion including a Web Application Firewall for ColdFusion called FuseGuard (fuseguard.com) and a ColdFusion server security scanning service called HackMyCF (hackmycf.com). Pete holds a BS in Software Engineering from Clarkson University.
Raymond Camden
Raymond Camden is a Senior Developer Evangelist for Adobe. He works on the Document Services APIs to build powerful (and typically cat-related) PDF demos. He is the author of multiple books on web development and has been actively blogging and presenting for almost twenty years. Raymond can be reached at his blog (www.raymondcamden.com ), @raymondcamden on Twitter,
or via email at [email protected].
Suchika Singh
Suchika Singh works with ColdFusion Engineering Team as Senior Lead Software Engineer . She has worked on ColdFusion Language , Scheduler , File Management & Docker. Her technical skills include Java , JavaScript, SQL & NoSQL databases , Docker and Cloud Services .
Terrence Ryan
Terrence (Terry) Ryan is a Developer Advocate for the Cloud Platform team. He has 15 years of experience working with the web, both front end and back. Before Google, he spent six years at Adobe Systems in job roles that included Developer Evangelist for ColdFusion.
He also wrote Driving Technical Change for Pragmatic Bookshelf, a book that arms technology professionals with the tools to convince reluctant co-workers to adopt new tools and technology.
Uday Ogra
Uday works with the ColdFusion Development Team as Senior Computer Scientist . He has worked on Scheduler, SOLR, Modularization, Security Analyzer, Java integration, Caching, Ajax & Mobile.
Agenda
The event starts on October 3rd, at 9 AM PDT. Adobe ColdFusion keynote is usually the first thing that conference starts with and it is the same this year. Grab a nice breakfast, and head to Grand Ball Room A, @ The Mirage hotel.
Here is the full agenda, and the materials for your convenience
You will find all the information about the times, schedules and speakers so download it and save it for knowing how to get around. The Mirage is awesome, and you'll easily get lost there if you're not paying attention 😉
How to register?
First you will choose your package, Event or Premium pass.
After that it's all downhill, so go and do it now.
Here's the registration page link
All that is left to say is- see you at the CF Summit 2022!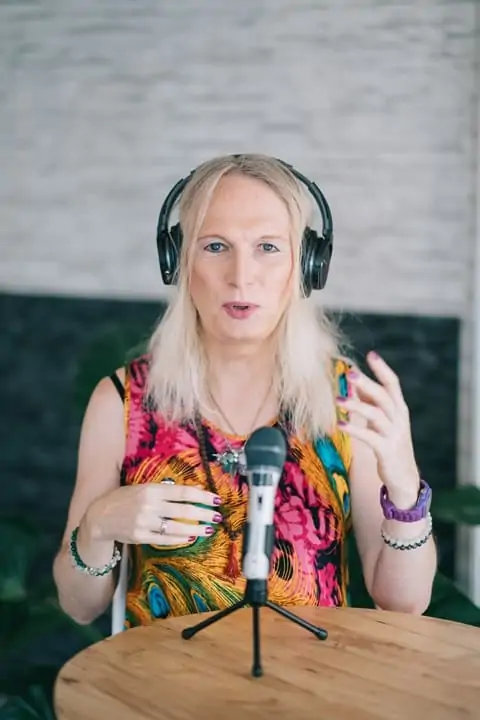 Michaela Light is the host of the CF Alive Podcast and has interviewed more than 100 ColdFusion experts. In each interview, she asks "What Would It Take to make CF more alive this year?" The answers still inspire her to continue to write and interview new speakers.
Michaela has been programming in ColdFusion for more than 20 years. She founded TeraTech in 1989. The company specializes in ColdFusion application development, security and optimization. She has also founded the CFUnited Conference and runs the annual State of the CF Union Survey.
And to continue learning how to make your ColdFusion apps more modern and alive, I encourage you to download our free ColdFusion Alive Best Practices Checklist.
Because… perhaps you are responsible for a mission-critical or revenue-generating CF application that you don't trust 100%, where implementing new features is a painful ad-hoc process with slow turnaround even for simple requests.
What if you have no contingency plan for a sudden developer departure or a server outage? Perhaps every time a new freelancer works on your site, something breaks. Or your application availability, security, and reliability are poor.
And if you are depending on ColdFusion for your job, then you can't afford to let your CF development methods die on the vine.
You're making a high-stakes bet that everything is going to be OK using the same old app creation ways in that one language — forever.
All it would take is for your fellow CF developer to quit or for your CIO to decide to leave the (falsely) perceived sinking ship of CFML and you could lose everything—your project, your hard-won CF skills, and possibly even your job.
Luckily, there are a number of simple, logical steps you can take now to protect yourself from these obvious risks.
No Brainer ColdFusion Best Practices to Ensure You Thrive No Matter What Happens Next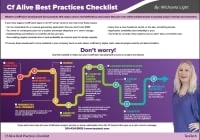 ColdFusion Alive Best Practices Checklist
Modern ColdFusion development best practices that reduce stress, inefficiency, project lifecycle costs while simultaneously increasing project velocity and innovation.
√ Easily create a consistent server architecture across development, testing, and production
√ A modern test environment to prevent bugs from spreading
√ Automated continuous integration tools that work well with CF
√ A portable development environment baked into your codebase… for free!
Learn about these and many more strategies in our free ColdFusion Alive Best Practices Checklist.