How many times did you hit "refresh" on Monday?
The #GoogleDown, a massive outage among the search giant's many services, affected many IT systems and websites. Was your company able to navigate the outage easily? Or did you all freak out?
Google Down… What Exactly Happened?
There's a way to cover your ass, so to speak, in these situations. I'll get to that later, but first let's explore what exactly happened.
The company said the outage was part of a glitch in its push to update its authentication system, according to 9to5google.com. (For those wanting a complete dissection of what happened, check out Google's own report here.)
The issue mainly hit the suite of Google's workplace apps — Gmail, Drive, Docs, etc. In other words, the tools we spend the most time using when not coding. It mainly hit customer-facing services, and not its cloud hosting capabilities.
Are Big Tech Companies Too Big to Fall?
But the incident reveals a much bigger problem: the big tech companies are not too big to fail, at least not for their users. (I hightly doubt the companies' shareholders would face a similar panic, but that's another matter.) Relying on one for a single service — whether that be workplace suites or cloud hosting — seems daft for two reasons.
First, there's no guarantee the big tech companies will stay big that much longer. Google alone is facing its third anti-trust lawsuit. The tide seems to be turning against these companies, which have over time allegedly become too aggressive in shutting out the competition.
Marrying your company's IT infrastructure to just one company's cloud and web services — say Amazon or Google — ensures you'll be tied to their fate. As goes AWS, so does your company.
Second, the cat's out the bag: even the top five big tech companies are fallible when it comes to retail-level services. You'd imagine that Gmail has been in operation for so long, an outage of this magnitude remains out of reach. Yet it happened. Should you be just as confident using only one service for your cloud needs?
A single cloud service outage on par with the #GoogleDown could cost your company worthwhile revenue and make you seem unreliable to customers. Over time, that adds up to major drops in your company's bottom line.
Let's also not forget the recent spike in hacking over the last week, with US government services being the latest target.
So how can you keep your company safe from these mass outages?
Well, Adobe released an easy way to keep yourself and your company's site secure: ColdFusion 2021. The most modern iteration of Adobe's development platform lets your company use several cloud hosting services.
This multi-cloud approach lets you distribute the vital parts of your company's web app and IT infrastructure across several hosting services, keeping you free from the hegemony of a single provider. Variety is the spice of life, after all.
Another and obvious solution is to keep a regular backup and recovery plan that your company tests and reinforces regularly.
What's the Plan? Solutions?
This plan should:
Inventory all hardware and software, vital or trivial.

Follow the company's priorities. It will restore key components necessary to keep the essential operations functioning.

Predict scenarios where key components of a system fail individually, in unison, or in random groupings.

Minimize costly outages, and delegates tasks.

Restore components in a logical fashion. For example: hardware necessary to keep data flowing gets top priority, and further down the line.
You can find out more about keeping your backups up-to-date here.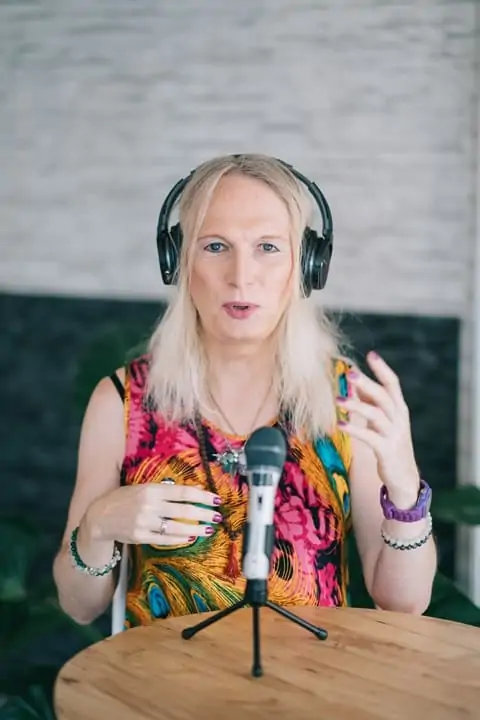 Michaela Light is the host of the CF Alive Podcast and has interviewed more than 100 ColdFusion experts. In each interview, she asks "What Would It Take to make CF more alive this year?" The answers still inspire her to continue to write and interview new speakers.
Michaela has been programming in ColdFusion for more than 20 years. She founded TeraTech in 1989. The company specializes in ColdFusion application development, security and optimization. She has also founded the CFUnited Conference and runs the annual State of the CF Union Survey.
And to continue learning how to make your ColdFusion apps more modern and alive, I encourage you to download our free ColdFusion Alive Best Practices Checklist.
Because… perhaps you are responsible for a mission-critical or revenue-generating CF application that you don't trust 100%, where implementing new features is a painful ad-hoc process with slow turnaround even for simple requests.
What if you have no contingency plan for a sudden developer departure or a server outage? Perhaps every time a new freelancer works on your site, something breaks. Or your application availability, security, and reliability are poor.
And if you are depending on ColdFusion for your job, then you can't afford to let your CF development methods die on the vine.
You're making a high-stakes bet that everything is going to be OK using the same old app creation ways in that one language — forever.
All it would take is for your fellow CF developer to quit or for your CIO to decide to leave the (falsely) perceived sinking ship of CFML and you could lose everything—your project, your hard-won CF skills, and possibly even your job.
Luckily, there are a number of simple, logical steps you can take now to protect yourself from these obvious risks.
No Brainer ColdFusion Best Practices to Ensure You Thrive No Matter What Happens Next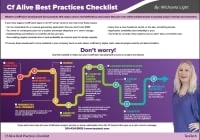 ColdFusion Alive Best Practices Checklist
Modern ColdFusion development best practices that reduce stress, inefficiency, project lifecycle costs while simultaneously increasing project velocity and innovation.
√ Easily create a consistent server architecture across development, testing, and production
√ A modern test environment to prevent bugs from spreading
√ Automated continuous integration tools that work well with CF
√ A portable development environment baked into your codebase… for free!
Learn about these and many more strategies in our free ColdFusion Alive Best Practices Checklist.