Find the show notes and download the episode here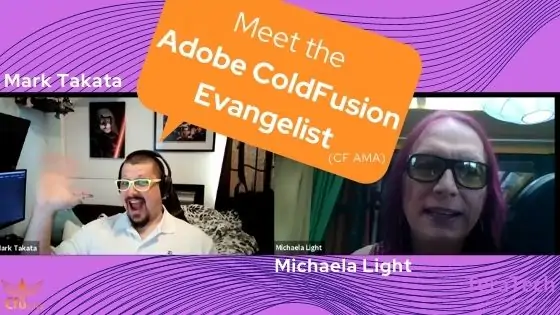 Michaela Light 0:02
Welcome back to the show. I'm here with Mark Takata. And he's the Adobe ColdFusion. Evangelist. And we're going to do an Ask Me Anything episode. So I've been asking questions from listeners, got a lot of tough questions, he's agreed to take them. He does have a few boundaries. But you know, he's very open and transparent guy. So welcome, Mark.
Mark Takata 0:27
Thank you. Thank you. I'm really glad to be here. Thank you for having me.
Michaela Light 0:31
And for those of you don't know him, he's been doing full stack application development for more than 20 years. He's been doing it a long time in cold fusion, but he's also done a bunch of other languages. So he comes with an interesting perspective on, you know, arguments about the role of cold fusion and how wonderful it is. And he also lives in California or, and does lots of outdoor stuff and even plays wacky computer games. So poorly welcome.
Mark Takata 1:01
I play them poorly, unfortunately. Thank you. Okay.
Michaela Light 1:03
Yeah. So I guess the first thing maybe some people are wondering is what the heck is an Adobe, Adobe ColdFusion technical evangelist?
Mark Takata 1:13
That's a really good question. And it's maybe not an easy question to answer. And I did want to, I did want to kind of clarify that in previous iterations of evangelists that Adobe has had a technical evangelist is a little bit different than the role, for example, that Alicia Devorah, who was the previous ColdFusion evangelist, her role really was more centered on the support and sales side of things versus the technical side, which comes from her background, she was she was in sales, she was in marketing, she was in support, I come from a technical background, I was a deaf, I'm in the trenches with all of you. And so when they hired me on my role, really focused more on developer experience, Developer Relations, the technical side of things alongside of course support, because that gets rolled into it as well. But it helps to have that technical background to know, alright, these are the things that these are the issues, for example, that a client might have, maybe it's something I can guide them on myself. Or, more importantly, I can tell, okay, this is the group that they need to go to, to actually get a solution. These are the engineers I need to connect them with, or maybe just the support, or in some cases, it's the sales team. Sometimes it's it's actually a sales issue. They don't recognize it as such, but it is. So that's kind of so all of those things encompass what I do, I do talks, I am on social media, and I'm there to listen to the community and engage the community and help the community. I'm not necessarily there to do high level trainings, but I do, you know, conference, conference talks on subjects, I do webinars on subjects, which do fall under training, in some ways. And I also tell people about other trainings that we have, right. So some of the things like this year, we're really going to focus on education of the developer community, we're going to be having a lot of trainings out there. And so if you're not following me on the various social media, please jump on there, Mark Takata, that's where I am, you know, all over Twitter, LinkedIn, I'm going to be sharing opportunities for you to learn, the vast majority will be free. So it's a really great opportunity to go in and take these classes. So that's kind of my role. And it changes from day to day, which is why it's a hard thing to answer. Because some days, I'm an ear, I'm like a bartender. I'm there to listen to you. And other days, I got to roll up my sleeves and and fix something. You know, I there was a client that came to me that needed a solution for their code, and I actually programmed it for them. I wrote a bit of code, I don't do that very often. It's not really my job. But in this particular case, it was a high enough priority that I just went in, and I did it and now my code is in production with with that, which is kind of terrifying, but also awesome.
Michaela Light 4:18
So I think if you know, in normal times, you'd be flying around the United States and maybe other places and visiting key clients. Yes, it's very useful groups around the country and conferences are not cold fusion and waving the cold fusion flag and all that sort of thing. And we'll, we'll talk more about conferences in a bit. And then also, I have noticed that as well as promoting cold fusion related trainings, you also were happy to promote cold fusion job posts where you know, someone's or an organization having trouble hiring someone, you'll amplify that, you know, I think really, to be honest listeners, anything If it's related to cold fusion, you can ask Mark, can he help out? He's always quite good at saying no. So And chances are, he might be, he can help, or he can route your request, you know, to the right person there. So, and I think you work pretty closely with the product manager for ColdFusion. Two, you know, if people have suggestions for the future versions,
Mark Takata 5:25
that's a really good point. And, and definitely to focus on that I, I really want to hear from the community, what your pain points are, what are the reasons that you might consider, you know, not moving up to the next version of ColdFusion are the things that kind of bother you with using ColdFusion? Today, and I'm talking everything, you know, from, from language features, to maintenance, to migrations to, you know, even things like licensing, which I think we're going to chat a little bit about later.
Michaela Light 5:55
All these Oh, yes, definitely gonna talk about the L word, The L
Mark Takata 5:59
Word, we want to hear about it, I want to get that information from you. Because if we don't have data, you know, so I can tell you right now, the leadership, a few levels above me, they feed on data, they're very metrics based folks. And so to speak their language, we need that data, we need that information from the community, I want to hear from you, I want to see examples that I can I can give where people have tried to migrate to the cloud and haven't been able to, for example, that's a great, you know, thing, because we're trying to make it easy to get into the cloud. And if it's not, I want to know, and I want to fix it. And Aditya is is on board. 100% as well. He is also a really, really great person to chat with. He's also very available. He's on Slack, he's on the Facebook group, he's on LinkedIn, you can email him, as well. So you know, and we're both very, like, I tried to make myself very available. You know, like, I don't want to be the person kind of hidden away, and oh, well, you have to talk to my secretary. Do you email me to cut it? Uh, do
Michaela Light 7:08
you have a secretary?
Mark Takata 7:14
Actually, I don't wish I don't want a secretary, I want
Michaela Light 7:16
to handle it myself. Okay. Okay, we're not living in the age of Mad Men anymore, where people had three hour Martini lunches at secretaries. No good. You know, I look pretty good. But yes, oh, we have to see a photo of you in a suit. That would be quite entertaining. I think I have photos me in a suit. That's entertaining, too. So. So you, you worked at UC Davis for a long time, I think that tell us about doing cold fusion, of course. And they're an enormous customer of Adobe ColdFusion. I think they are groups use it for what
Mark Takata 7:58
they do, they have a lot of groups that use it. So I actually began my career at UC Davis many, many, many, many years ago. And I began my career in cold fusion at UC Davis. So it's a really good kind of intro into into that. They had one of the biggest ColdFusion user groups around there. And in Davis, and I just remember going my very first time to it, and just being totally blown away. I mean, it was a huge room full of people, all of which were, I just dropped something about that. Just everyone was so passionate about ColdFusion. And I was like, wow, this is amazing. This community is really great. And, of course, you know, moved on from there to other places using ColdFusion. And learned other languages, you know, JavaScript, C sharp, all of these other languages and kind of filled out my, my various capabilities. But eventually, that led me to come back to UC Davis. And over the last, maybe five to six years, I've been working with various groups, they're sometimes in cold fusion, sometimes not. But often, I would be hired because I had the cold fusion background, because they would have some cold fusion. Literally, nobody knew anything about I Can I maybe I'm not super, I hacked into my share of ColdFusion servers, because nobody had any way to get into them. They had long ago lost the passwords for the administrator. And so I have to use a variety of techniques. You know, I know don't tell anyone to get it of course, you know,
Michaela Light 9:36
I have access to pretty easy to find articles on the internet, but I think even Charlie has written about it.
Mark Takata 9:40
Yeah, and if you have access to the to the file system, it's not that hard to get in and change the, the password and things like that. But, um, so And that led actually to my latest, before I joined Adobe, I had started my own consulting company, and about half of my work was being done with a group actually UC Davis, which actually does the student registration system, which is like one of their biggest systems, completely ColdFusion driven, they had had issues in the past, we went in there optimize things upgraded into the latest version, the issues all went away, it was a really, really great example of where ColdFusion was being blamed for a lot of things. And when you actually get in there, and you, you know, take the dust off, it wasn't cold fusion, it was it was the way that the code had been set up, it was older code was older servers. And really, when it came down to it, it was just the way it was interacting with the database, which often, you know, as they always say, it's almost always the database, that ends up being the problem, but they weren't optimizing that interaction in the way that they should have been. And we fixed it. And suddenly, they stopped having problems like they used to systems would go down when students tried to register, because everyone wants their classes, right. They hop in and like, boom, boom, boom, I want this class, I want this class, there's a limited number of seats. We made it so that they could do that. And they have a fairly sophisticated system. They're behind a five, it's load balanced, clustered, they're running, I think 2018. And they're in the midst of a 2021 migration. So they all run on their private cloud, internally to UC Davis. So it's a really, you know, it's a really great place to kind of see what ColdFusion can do in a really major enterprise setting. That's used constantly, right? Because, of course, students don't just register once. There's like, seven, I think different times because there's like, three or four summer sessions. There's quarters, there's special sessions. I mean, it's it's it's wild. So that's one group that does cold fusion. The registrar also uses it. The chancellor's office also uses cold fusion. And so yeah, there's a lot of groups there that I've I've pretty much worked with all of them. And they're all friends of mine. So they get they get all the info.
Michaela Light 12:01
Yeah, I've met a bunch of the folks from UC Davis and CF summit in Las Vegas last time it happened live. So let's talk about cold fusion conferences, because, gosh, it seems quite a while ago was 2019. we last had in person, Adobe ColdFusion conference. Now mid to late last year, otters had their into the box conference in Austin, Texas. It was a hybrid conference in person and virtual. And then Adobe has been having I think three events a year there's been CF summit quotes East CF Summit, close Western and Oh, CF dev week last year, if I remember correctly, plus, right, various random European training events. So tell us about your Adobe's thoughts on conferences for 2022. And forward?
Mark Takata 12:52
Yeah. So our thoughts on it are ever changing because of the ever changing? You know, reality of COVID? I think we originally had thought we would begin again doing in person types of things starting with Adobe Summit East, we were gonna do who here in a few months. I think at this point, I haven't I haven't really gotten official word on it being cancelled, but I can't imagine that it will go forward considering that numbers are COVID numbers are so off the charts. I'm not sure if we're going to convert it to a virtual event. I think probably what we'll end up doing. And you know, we'll hear you'll hear more about this as as the year continues, is we're going to do dev week, again, about mid summer. Right. And that will be like, like last year, fully virtual. And my hope is, and we'll know more about this as spring and summer come around. And my hope is that we will be able to do an in person Vegas summit this year. That is my like, very, very adamant hope, I think with precautions and masking, I think we could probably pull it off safely. And, you know, unless you know, who knows what the next variant brings, right? If there if something else, you know, something else comes out of the woodwork that that dream may go away. I really, really want to do it because I miss you. All. Right, like I think
Michaela Light 14:21
It partly depends on the location. It depends. For me, it depends on a few variables. One is what what states you decide to do it in because some states are very like California where you are quite restrictive. Other states like Texas or Florida are incredibly open. And I don't think they really have any restrictions at this point. You'd have these enormous 70% football games with no consequences. So I can't imagine a you know, 3000 posts and cold fusion events kind of face them. And I will say my saying was I lost yes you go run an event in the United Kingdom but they just, you know drop Were restrictions this week. I think it was partly a sacrificial device by the Prime Minister to avoid having to resign. But it was also based on the fact that it just wasn't working. Right.
Mark Takata 15:13
Yeah. And I think there's a few things there. I mean, I think we certainly won't have a 3000 person event just because I don't think people are ready to come out to big events, it will almost I
Michaela Light 15:25
was I was pushing you there. I know, last time, you had four, five or 600? So yeah, I think I've seen 950 person ColdFusion events, I hosted him.
Mark Takata 15:37
I think we our biggest one was something like eight something like 800, something showed up to 2017. Maybe it was I'm not sure which one.
Michaela Light 15:47
But the other. The other factor is not just where do you decide to locate it, and Las Vegas is a wonderful location for conferences, you know, for many reasons, flights, hotels, wild excitement outside of the conference. Also, the other factor, I think, is just the corporate culture, or the legal department wanting to reduce risk. And you know, fear of being risky, you know, what happens if someone gets sick or dies, because they come to the CF Summit, that's going to be terrible publicity, it might be legally, you know, rambunctious or whatever the correct technical term is, right. So I could totally get it. And it's a lot easier for a small company like Ortus, to, like, you know, push the envelope with these things. And I know, they had a waiver, you had to sign if you're going to go and say, I'm not going to sue Ortus for getting sick. So, right and, and they had precautions in place, I'm not trying to say they were wild west or anything because they weren't, they were very careful.
Mark Takata 16:46
I think to have the Dhobi they, they want to practice what they preach us as it were. And for us, you know, just as an, as an employee of Adobe, they've been very, very careful, like, I have not been able to travel, even after the the restrictions were lowered, it was actually like, I would have to get a VPS a sign off, to actually travel in the US and outside the US. Forget it, they just, they just weren't allowing it for safety for making sure that our employees were, we're staying safe and trying to keep folks from getting sick. And, you know, we we are continually changing our, our restrictions in the offices and, and, and that kind of thing, just kind of watching what, you know, all the experts are saying and trying to listen to them and trying to, you know, balance that against doing business, because we're a business, right, like we need to, we need to keep moving forward. But we obviously don't want to endanger our folks. So my hope, my hope is that a lot of what we're seeing today, with COVID out there kind of burns out and lowers down and it becomes something that you just have to be careful about. But isn't, you know, rampaging across the landscape, like it is current,
Michaela Light 18:02
maybe we should have a new hotfix for COVID, you know, oh, I would love that, that would address all the issues, you know, and it would just automatically update and be gone.
Mark Takata 18:12
Or we can all where maybe we could always be that sea diving suits.
Michaela Light 18:17
With a you go, we could do it. We could do a scuba event and we'll be an underwater in person, and then there will be a first. Alright, anyway, you've given me some ideas for what potential things I just mentioned autists thinking about doing into the box in Houston, Texas, and I imagine they're going to do the into the box last time event in El Salvador again, both of those have a hybrid that you could go in person or attend online. Right. And as we segue into the training concept, I'll just mention, you know, Adobe have a great YouTube channel with a lot of you know, they're all the videos from CF summits past on the YouTube channel. So I'll stick the link to that channel in the show notes. But do check it out along with TurboTax YouTube channel and the autist YouTube channel. And there's probably a few other ColdFusion YouTube channels, let us know in the back to me or comments on the episode. Watch out other channels, you used to see things and we actually put a channels question in the next state of the union. Oh, great survey that's coming out soon. So yeah, I had a reprieve on the deadline for that because usually the State of the Union surveys like the end of January or the latest early February, apparently this year is March 1, so a bit later in the season. But I'm always interested how people learn about ColdFusion and the Adobe channels are a way to do that. And then the other thick channel out there that's really good. That's a paid one is CF casts. I don't know if you've seen that, but that's an autist training channel. It's got a lot of great stuff. It's freemium, right? You can go on for free, and see some things but you won't see everything It's like, right cable TV, you can get the basic channels for free. And then you can pony up and get all their content. But tell me about ColdFusion training and videos and things like maybe I've already said, no, no,
Mark Takata 20:15
there's, there's, there's more. So I'm going to start with certification, because that's actually going to lead into some of the training info that that I wanted to share. So when we first we first made a, a certification for ColdFusion, a few years back, which I ended up getting. And then after a couple of years, we kind of determined that that certification was a little bit flawed. Like we, we kind of put it together ourselves. We hadn't gotten external help. And we've we had gotten feedback that, you know, we were not using proper certification protocols, not to say that it wasn't, it's not worth anything. I mean, I'm very proud that I have that, that certification, but we decided to go back in and refactor it with the help of a professional certification development company. And I was actually hired alongside Nolan and Dave Ferguson and the whole engineering team. And we all got shoved into a hotel in Napa, California for a week, and sat there and just, you know, grinded out with a lot of yelling, certification, that was, you know, much more rigorous, and much more, like, covered a lot more info. And then after that, we had videos made. And so what the program did was at the time, it was, you know, many hundreds of dollars, you would get access to the videos, and then you could take at the end of it, you would take this certification test. And if you passed it, you would get in Adobe Certified Professional ColdFusion. So a CP CF certification, I don't like a super long name. So since that point, we've made a lot of changes to it. So first of all, we lowered the price, literally, to the point where, like, we are just barely paying for what it costs us to have the certification go through the channels that make it official. So you know, things like, wait,
Michaela Light 22:22
what's the new lower price? It's not 1000s of dollars? It's not hundreds of dollars? What is it?
Mark Takata 22:27
Well, it's $149, which is a 40 949 bucks, it used to be like three, I think when I did it, it was 385. Like originally or for something. So it's 149, which, I don't know, I feel like that's definitely worth getting the cert, you know, to put on
Michaela Light 22:47
yours was getting at three hundred, it was 24 hours of video training. I think there was interactive help if you had questions, is that still true?
Mark Takata 22:57
Yes. So you can connect with, with instructors and things like that. Now, something that
Michaela Light 23:04
you've got you take you can take, I think you can take the test multiple times, can you?
Mark Takata 23:10
Yeah, if you fail it, you can retake it for free. I
Michaela Light 23:13
believe honest, if you actually spend your time, don't you spend 24 hours going through those videos, if you get stuck anywhere you ask questions, it's pretty impossible to fail. I'm sure I'm sure someone succeeded. And I know people did fail when they took it at CF Summit West a few years ago. But you know, it's like, by failing, you see here are the areas I'm weak.
Mark Takata 23:36
Right. And I will say this new CERT is more difficult to pass than the old certification. Oh, it is. It is. Yeah, significantly more. Wow. Yeah. It's it really delves into more deep language features like you really got you really have to know how to be a modern ColdFusion developer to pass this to
Michaela Light 23:55
so so take it give you get feedback, you know, like, Here are six areas for modern ColdFusion development. We have many areas there are in Adobe's view and here area one, you're strong an area two you medium and this area, you absolutely suck.
Mark Takata 24:12
We still have that's a good, that's a good suggestion, though.
Michaela Light 24:18
Just some kind of kind of feedback, like here are the I mean, yeah, the person wants to be certified or not, but for them personally not for public consumption, it would be helpful for okay, I'm really good in these areas. But these are areas I need to spend more study time on.
Mark Takata 24:33
For sure. Yeah. And it's, it's more it's not necessarily designed as a training. It's more of a cert, but it's kind of being seen as both these days and so because of that, we are going to be releasing the video portion of it for free. And we're we're working on it
Michaela Light 24:55
three videos for training 20 How many asset videos
Mark Takata 24:59
but all of them All the all of the training videos 24 hours, I think it's like now I think it's like 20 Something hours? Yeah, I'd have to look again and see but we need to unwrap, how do
Michaela Light 25:10
we get how, how will we be able to get those they're not free not available yet,
Mark Takata 25:14
they're not available yet, the way that you will get access to it is you'll go to the Adobe website, you'll go to the certification program, and you will sign up. So you know, we'll take your info, and you'll begin the program without paying. So so you'll begin, you'll begin the training program to get to the certification, you'll have access to all the videos in perpetuity, you can do whatever you want with them take as long as you need, at the end of the training sessions, when you get to the very end, you will then be given the option to pay to take the test, if you wish to. If you don't, if you just want to do the training part of it. Totally awesome. We're super glad to have people go through it and get better at being ColdFusion developers. That's my goal. And if you want that cert if you want that shiny badge, then yes, you know, you can pay to do it. So
Michaela Light 26:07
you can excellent, we're gonna great idea to do that. I'm just gonna throw a few other ideas out and we can chat about them offline in more detail. But that idea that learning what areas you're strong in, where are you weak. And the other related idea is a kind of gamification of the training, you know, where you kind of, as you're learning, it kind of evaluates to you. So you can see how you're progressing. I mean, that almost I'm not suggesting you go crazy here, because some people do a kind of machine learning AI evaluation of students and maybe UC Davis. Not doing that department. But just something to make it more fun. And so they can you know, you're getting through let like levels and in a game, you're in game stuff. So you know what I'm talking about?
Mark Takata 26:55
I am and I will say to that we do have a learning management system in my business unit so Captivate Captivate prime. Well, those are
Michaela Light 27:06
maybe it was a marriage made in heaven there possibly
Mark Takata 27:09
there isn't, are actually constantly trying to work together and collaborate. So that's actually a really good idea is to try and leverage some of the new and we just came out with a new version of Captivate, which has more features that it was totally rewritten. It's in a new format, which is more extensible. So that's actually a good idea is to extend that into maybe some gamification. Gamification is a really big topic, because it makes it more fun to learn, gives you feedback, right? So that's been a target
Michaela Light 27:43
get all time high score, as well to show off to your ColdFusion developer friends. Yeah, that's true. That's true. And then the other crazy idea that came to me and I have no idea if it's technically possible, or even feasible, but couldn't couldn't you have a tool that looks at your code and does a similar thing and says, Well, you're really good at using these kinds of features in ColdFusion, but you realize you're missing out on these other features that could have helped you and, and you write really crappy, insecure code? Well, that part exists. That part. I know, that part is a security audit tool exists, the migration tool exists, and they tell you various things. But it would be I have no idea if this is technically possible, or even Adobe would want to do it. But it would be really nice to have a thing that you could you would have analyze your code and say, here are your strengths. Here are your weaknesses, both in the ColdFusion language to turn on, you know, areas. And you know, are you writing modern ColdFusion code? And possibly in terms of architectural stuff? Anyway, I'll see ya, blabbering.
Mark Takata 28:47
I don't know if you have used it. GitHub online has an IDE, essentially, that does kind of what you're talking about, like, as you're writing your code, it will make AI ml based suggestions. So if you're, if you're writing a class, for example, and you know, you begin to write stuff, it will actually say, Oh, I think you're trying to do this, and it'll make a suggestion that you can just say, Yeah, that's exactly what I'm doing. And then like, it will fill out, you know, 90% of what you need, and then you fill in the details. Now, they don't have that for ColdFusion yet, just because it's not one of the you know, juggernauts of the industry necessarily, like, you know, JavaScript is, but that's something to maybe consider is having like, I'm wondering if there's a language engine that we could help develop to make that a possibility. It would certainly help developers who use that, right. Today I'm
Michaela Light 29:51
just having I'm having a dream here. I have a dream that sometime in the future you're coding away in, in what have you and what have you called the Adobe extension to the As code for cold fusion, you probably have some snazzy codename out, oh,
Mark Takata 30:05
gosh, no, no, I wish we keep people keep calling it builder. And okay. And it's, it's, I don't know, I think we're just gonna end up calling it builder even though it's not the old builder,
Michaela Light 30:16
but anyway it would be like, it will be an AI coding system will be you know, it could give you tips like, you know be like doing pair programming but with machine learning, you could turn it ON OFF, it was getting irritating. And it would you know, suggest refactorings or just hey, you should be using this newer feature or ColdFusion or what I like to do anyway. Anyway, that's not for this year guys listening. That's a future. Yes, Star Trek edition of CF live
Mark Takata 30:43
2023 For sure, though, but not this. Yeah,
Michaela Light 30:46
you go. Yes, it's on the roadmap. Let's talk about training videos. Cold Fusion training. What we wanted to say something about that, I think before we go to the L word, and no,
Mark Takata 30:59
no, we covered that. So that was that always commented Oh, yeah, the videos were the ones that were related to the certification. And I will say though, there are of course, that like webinars are available on coldfusion.adobe.com. Not sure if you if you had covered that before webinars or their old videos from summits, and Dev weeks are also up there. So if people have missed a variety of things from previous events, you know, we've been running events for a long time. A lot of those videos are up there from you know, the past few years and will continue.
Michaela Light 31:33
Classic presentations. Yes. Classically, your one is up there from a few years ago.
Mark Takata 31:38
It is it is several of mine are up there from from multiple online events. Now, unfortunately, the the first talk that I ever did is not up there, because we weren't recording at the time. And this one of my best talks, which is my classic single page applications with JavaScript and ColdFusion. I did this talk in 2018, I think it was and I had a full room. It actually scared the bejesus out of me. I walked in and I went, Oh, they they put me in a huge room like I had, I was not expecting that. Because the previous times, and I had like 40 people. So they put me in this room with like hundreds of people. And it was great. It was super fun. I built a game the night before while drunk out of my mind. And we got to we got to like refactor in a time. And they were recording it quote. And then when it came time to put it up there, they said someone had unplugged the camera. Oh, no, they had been unplugging their, their their laptops and stuff. And they
Michaela Light 32:46
just unless. So yes, that can happen.
Mark Takata 32:49
Unfortunately, the only stuff that that exists of me is stuff that I've recorded in the
Michaela Light 32:55
virtual conferences, worry not in wherever the CF Summit West occurs. You know, I'll be back. You'll be back here. Exactly. And I added it into the show notes. I wrote a blog post comprehensive list of training resources on ColdFusion. We'll double check with all the ones you mentioned are in there. If not, we'll add them in, we're always updating it. So great resource for finding out I know we've already got most of the ones you talked about there. So let's turn to licensing. Because when I'm out talking to ColdFusion developers and CIOs, that's often a, you know, an issue that having or confusion. So I know some of the licensing terms changed with ColdFusion 2021. And we can talk in general about that. But maybe we should start with the thing that I think one of the things that causes consternation, which is using cold fusion in the cloud, you know, yeah, people expect to just be able to run cold fusion in the docker instance, load it up on any cloud vendor, they feel like it have some way to pay you guys, you know, for having a production server in the cloud. And right now, the only way you can do that was on AWS through their marketplace, which is great. And you've had, how many downloads you have there is no 300,000 or something.
Mark Takata 34:18
375,000 is the last number that I saw when when I went
Michaela Light 34:25
to be that shows how many people are using ColdFusion. And, you know, we know other languages have more users? Like node, I think you had 1.5 million AWS downloads, but, you know, it's in the same ballpark guys, you know,
Mark Takata 34:40
it's a lot. It's a lot and no one was like we thought we would get 70,000 To be honest, and we we would have been super excited. If it was like 70 or 100,000 when we saw those numbers growing the way they were. We were kind of like we literally went to AWS and said Is this a mistake? Like really? We have this many people interested? In downloading ColdFusion as a Docker, they said, Yeah, it's not even like they checked, it's not bots, it's people out there who are left to pay for it, right?
Michaela Light 35:08
Well hang by the hour or whatever the model is with AWS.
Mark Takata 35:12
So so no, let me let me clear with that thing. Oh, what does that number mean? So that number is people who go into Docker, and at the command line, put in the, that they want to pull down the Docker image that we have, okay, that gets loaded into Docker, wherever the heck that they want to put it. So they can be putting it on AWS, Google locally, local cloud, whatever, because you can run Docker, like literally anywhere, right. So that's what that's what that is. Now, we do also have a licensing agreement with, with coalesce solutions, on AWS, which is like one of the easiest ways to use CF, you just go in there. And you say, I want to use this and you click a button, and then like, you enter in a couple things, and now you're using cold fusion in the cloud. And it's, it's running. It's limited, though, and I'll be the first to say it's limited, because it's, you have to use a particular level of of machine to actually make it responsive, because it is it's an enterprise install. Right. So unless you really know what you're doing, you have to, you know, have the whole thing running, which takes RAM. And one of the things that we did improve since I joined, which was an ask that I had, and they actually ended up doing this was, we now you now have the ability to use it for free for 30 days on a free machine from AWS. So that's a that's a big deal, I think to try out the product, you used to have to pay for the machine. But you'd get 30 days free on the actual license in the cloud with AWS. So that's, that's a nice thing. And it wasn't a lot, right. I mean, it was like I forget, it was like a four core six, you know, six gig RAM machine. I don't know, I think the first time I did it, it was like five bucks. Because I was just playing with that I was you know, it's not something if you're trying it out, intrinsically, that's not putting it into production, right. But again, it's it's this is one solution that we have, it's through a partner, right? And we get people all the time that are saying, well, we want to take CFX and put it into a VM, we want to run an EC two instance and run it in a VM, we want to spin something up in Azure, and have maybe multiple VMs and mesh them and and do all that. Like how do we license that? How do we get it running? And this is the place where I'm you know, I'm kind of with you guys. I think the licensing terms are so complicated and so difficult to understand that it hurts, it hurts everyone, it hurts us because we make less sales, it hurts the community, because I have people come to me all the time, not because they don't want to pay for ColdFusion or whatever that but literally saying, I just want to make sure I'm doing this right. They don't want to get a call from our lawyers. Right? That's fine.
Michaela Light 38:13
Maybe we need to gamify the licensing. So they play a licensing game. And they either I'm only semi on Sirius I mean we No, no, you're right. It goes through a little quiz. And then you kind of answers. Here's what you need.
Mark Takata 38:28
And you know, you're more right than probably you even imagined, we have a worksheet that our sales and engineering team uses to determine what type of license is correct.
Michaela Light 38:39
Share that worksheet has it got or could you sanitize it? So it could be shared? I think on a flow chart on it, we could follow I mean,
Mark Takata 38:47
that's what I'm saying. I think we could take that potentially, and maybe make it something that's easier for people to put in their information. And then and bring something out of it, we would just need to make sure that you know, like legal was okay with it that the sales team was was okay with it. Because part of what they want to do. And I and I totally understand this, they want to have the touch, right? They want to have the human touch. They want to talk to someone, because if you come to me
Michaela Light 39:14
and do it, like you talked about with certification, and you have quotes free level, right, where you go in and you plug in your stuff, it says this is what we think you need. And then here's how you have a call the sales team or buy it on the website or whatever. Right? Yeah. And then you're on the level, right? If it's if the number of licenses is less than a certain amount, I'm sure the sales team just want you to go to the website and buy one license Corporation standard. But if you've got, you know, a complicated situation and it's multiple instances licenses, then you know, then I'm sure they'd be delighted that assist.
Mark Takata 39:51
Yeah, I think we're also behind in a very important part, which is something I'm passionate about it's documentation. Right so I was an English major in college. And so for me to not have detailed documentation about I mean that just licensing everything, right and and we have a documentation channel on Slack, literally because I said please can we have something like this because I want to get our Doc's better. But if we could improve, like, I'll give you an example of something that happened just the other days, someone was looking for blue green testing, information about licensing in Docker on a blue green type type of situation. There really wasn't information available even to me, like I
Michaela Light 40:35
remind remind listeners what blue green might even mean.
Mark Takata 40:39
So blue, green, this is first in first out. So if you have let's say, you've got one instance that's running here, and there's a failover, that needs to happen, for whatever reason, whether it's because this one is going down, the machine needs to change. You've you've done a a node, a node downtime, migration to a new version, whatever that happens to be, technically, there are two servers running, which you would think, you know, you would need two licenses for it. But really, what's happening is this one here, the blue is dying, right? No more new people are coming to this one. Everything is getting routed to the to the new one until there's nothing here and then the docker instance, goes away. Right? So really, what does that mean? What does production actually look like from a licensing standpoint? Is it one or is it two? Right? That was the question, and I didn't have a good answer. And so we we were going back and forth on that. And I think, and hopefully I don't get fired for saying this. I think the answer ended up being after a lot of discussion that really, the most important thing is the final production place, which is the green, which is one license. If this one over here is actively dying and going away and not hosting new ones, then the end point is the most important thing, which would require one,
Michaela Light 42:10
we could simplify your licensing right now. pay us money, be fair, you know, and keep make it simple kiss or whatever the principle is, we're gonna keep it simple. Right. Okay stands
Mark Takata 42:23
for. And you know, and there's a lot of stuff out there too, that that, you know, we're we're our licensing model is kind of old, you know, we're still
Michaela Light 42:32
based on physical hardware, not virtual private servers, not cloud instances, not containers, not lambda. It's not time for microseconds. Yeah,
Mark Takata 42:41
yeah. Time Time on Compute. Right. That's the That's what's out there. Right now is time on Compute. How many seconds? Did you use this? How many?
Michaela Light 42:49
I think you need to apply some hot fixes legal department back into the current century. Yeah, it's,
Mark Takata 42:58
we're working on it. We really are. I really am. And I mean, I want to make that clear to everybody out there that, you know, I am, I'm, I'm kind of on your side, I want to make this easy. Because to be honest, it makes my job easier, because people, that's a huge ask, and a huge pain point for so many people. That's almost the first thing that people talk to me about is why does your licensing caused me so much consternation?
Michaela Light 43:27
I think I think it's I think the issue is it's legacy licensing, you know, the legal language, it's legal legacy licensing language. And it needs refactoring.
Mark Takata 43:38
It is no seriously, and and things are moving. You know, part of it is course legal departments move very slowly. Right. And the internet does not right, like, like, I'll give you I'll give you a good example. Um, this is a funny story. So I was I was I was talking with somebody I was talking with with one of the content folks at Brian class we were I was chatting with Brian class and Aditya and a few folks in Adobe. And he kind of offhandedly said something like, oh, there's 14 different ways to host Docker in AWS. Right. And I laughed, because I thought he was totally out of his mind can't be 14 different ways. And I went on there. And he was right. There were 14 different ways. I counted him. So then maybe three weeks later, I'm talking with an AWS person from from Australia. You may know him, Paul, and I were chatting and he said, Yeah, you know, there's like, 17 different ways that I said, I said, Paul, there's 14, right? And he said, he said, No, they're 17. Now we have three new ones that they came out with last week. Are you kidding me? Really said, oh, yeah, yeah, they named them off. They were these three new ways to host like one of them was LightSail now supported Docker instances right? They had another and and so the speed with which the environment in the cloud moves is very difficult to keep up with I'm not making excuses, this is kind of the reality is like we are constantly tailing the
the just chaotic, put, you know, like, put the put the iron to it like we gotta we got to catch up because it's not going to slow down by any means, right? It is going to keep going at the speed that it's going and maybe even speed up more.
Michaela Light 45:39
So it's speeding up more generally, technology is speeding up more. So it is a challenge. And I you know, I remember reading a sci fi novel where, you know, set I forget how many years in the future this was set, but the guy they have the what they call entrepreneurship 2.0. And he had legal machine learning bots that would come in and change the terms of service dynamically on the fly. Oh, wow, when stuff changed in the real world. So and because they could do it quicker than a human legal team, they were more successful. And I'm not saying you should do that. But one thing I definitely think and whether you want the vision, I put out there a fair sample and pay us or you have some other vision, I think you for any successful project I've ever worked on, whether it's computer, or human or whatever, there needs to be a clear vision, if you don't have a clear vision, you won't get to where you're going. And I think the licensing almost certainly there is no clear vision about what do we want our licensing to be for Adobe for our customers, you know, for the legal department, you know, what, how will we know if we succeeded? Because if you don't have a clear vision, you're never going to know if you get a good endpoint. Yeah. And in addition, when great people like you have, you know, been promoted up to, you know, super evangelist or whatever, you know,
Mark Takata 47:07
I'm gonna suggest that to my manager evangelist
Michaela Light 47:09
is like Superman, you'd go into a phone closet and you change and then you'd be able to solve three times as many problems, you know. But yeah, the point is, if you just have people who are really Hartfield and clever and passionate about this, but then they move on to another role, then the thing starts to degrade is like software, right? If you've got a great developer on a project, and they're looking after it, because it's their baby, and then they, you know, get promoted on another project, and there's no vision for the project, the project tends to get extra Congi features or it starts to degrade and get technical debt. And, you know, that's my experience, Cobra, Cobra. Cobra, if you don't have a clear vision, why, you know, way trying to have the thing be? Well, you get what Microsoft have with Microsoft Office, right? It's got 17 zillion features of which I use 17, or 14, or whatever the correct number is. Whereas Google Docs seems to do a better job of this. They're always refactoring it and moving the menus around and, you know, making it easier based on the fact that they get millions of data points on what what do people really use in Google Docs day to day? And where do they seem to have trouble? So
Mark Takata 48:20
yeah, that is actually but by the way, that's a really good point is, is we are working actively to try and understand the way that people are using ColdFusion a lot better than we have in the past. That's been a really important thing for us. I don't want to get
Michaela Light 48:36
all sneaky and three letter agency spy on us while we do it, but maybe there needs to be a checkbox option. You know, do you want Adobe to study what you're doing with your code, to you know, give feedback on what what you're doing, you know, whatever. I didn't phrase that very well, but you get the idea.
Mark Takata 48:52
I do. And I think a lot of what we're looking at is maybe less intrusive than that. But just things like how many times are people downloading and installing some of the packages that we have in package manager? Right,
Michaela Light 49:04
like now now, I mean, that's something not a lot of people know about to be honest. So let's just dig into that for a moment. It used to be when you install cocoa fusion, you need to put away quite a lot of time on the, your cloud server or whatever, because it's a one gigabyte download and it has everything in the kitchen sink in there. But now with the package manager, it just has it how small the Install Now I forget 100 135 Meg's so only 150 down from one gig to 135 Max so smaller. Yeah. And and I know Lucy, you know, to mention a different L Word. Lucy hasn't even installed smaller install image, I believe. I forget how big theirs is. But anyway, they spent a lot of time optimizing for that. And obviously you guys said yeah, we can do anything you can do, we can do better, or whatever you did say you probably were inspired. I think it's friendly competition, calm cooperation or whatever. But the point is this package manager only you can tell it to only bring in features when you need them. And if you don't use the PDF features of ColdFusion, you don't need all that code and Ditto with all the other stuff. Well, I
Mark Takata 50:14
think the really important thing about the package manager that that I and you're right, a lot of people don't know about this, which is really important that that we continue to get information out about this, because it's a really awesome feature. Like, when you download ColdFusion, and you drop the 1.2 gigs or whatever onto there, you get, you get connectors for Oracle, you get connectors for SQL Server, you get connectors for Maria, you get connect, right? Who in their right mind would use all of those things? Nobody? Nobody, right? Nobody uses nine different databases in their in their code, no one is using soap, and restful and this and like, you use a subset, that's how you use it, right? So you should only need to pull down the packages that you need for your particular use case. And that's the way kind of the computing world has worked for a long time. I mean, node NPM, right, that's how that's how you do it, you pull in the packages that you need, you install them, you require them. And in in C Sharp, same thing, right, you have Nougat, you go into Nougat, and you pull down just the packages and the classes and all that that you need for your particular thing. You know, you can take
Michaela Light 51:30
a tool built into ColdFusion 2021, to scan your code to say, here's what we think you're using, yes, you can add in some more if you have some dynamic stuff going on. But yeah,
Mark Takata 51:41
it's that we better do that. That's that's one thing actually, that I've given my feedback to the team. And they are looking at making that better. Because currently, you have to do that at the in the CLI in the in the command line interface. There is no GUI for it. I'm asking them to try and improve that so that it's available and more exposed and visible to a wider range of ColdFusion users. because not a lot of people honestly drop into the CLI. As CF users. They just don't you know, you have to use the CLI if you're a JavaScript developer these days. So
Michaela Light 52:17
yeah, so anyway, let's, let's, um, I did want to inject one other thing on licensing, you know, I highly suggest, if you haven't already, you or the engineering team, look at what integral did was fusion reactor for licensing, because they have a similar challenge, they have a paid, you know, they have a product that looks at performance on cold fusion, and they let people use it in the cloud. And you can either use it on premises, or you can have their cloud version. And they had a great challenge with that. Because, you know, well, first of all, they had to come up with the pricing model. But on the technology side, you know, they've got to count the hours, they've got to have, you know, whatever. How much is good as your credit card, you know, you're going wacko crazy on how many hours of use you're using. Right? And I guess in your case, because you've gotten I don't know if they do this, but if you have enterprise clients, they sometimes like to have the business every month kind of thing. And you your sales team, at that point probably has to evaluate, are they a good credit risk? I don't know how that works. But the other point I was gonna make is they sell some government agencies that use their stuff. And it's not even connected to the internet. So they had to come up with a way how do we meet a stuff when it's not even regularly on the internet, and I think they sell bunches of as new, plop it onto your hidden secret server, your three letter agency and and then it counts down the clicks until you've used them all up, and then you have to reload it, or I think that's how it works. But my point is, why don't you talk to them? Or even you know, I'm sure you could just talk to David Tattersall CEO there and say, Look, David, you're a great guy. Couldn't you just sell us this technology to license to us? We'll give you lots of Yeah, or at least, you know, look at what they did. So the other thing on so there's technologically problems. I know, I want to talk to Ashish about this a couple of years ago, that was one of his concerns that there are technology issues with licensing, right. And then as you said, there's legal issues. So that the other two licensing things are just briefly mentioned. So I knows the clock is running down on our time slot is CPUs, you know, now you have to pay the more CPUs they have, you have to pay and many years ago, having more than one or two CPUs on a server was like a miracle. But now service can have a gazillion CPUs, well, at least 16 And that's not unusual. And yeah, I think the licensing wants you to pay quite a lot more when you have more than a certain number of
Mark Takata 54:55
CPUs. Yeah, now now we're in in here it's whatever. Yeah, they of course. course
Michaela Light 55:00
I think a lot of chips have a zillion have how many chips? How many cores just come on one chip these days, you know, minus 1212
Mark Takata 55:07
minus 12. I think I think I saw that. I'm shopping. I'm shopping for a new system, which is like, so expensive now. But I think that one in 16. So you know, this is sanded. Now
Michaela Light 55:22
is my point. But when that licensing was written there, you wouldn't expect to have that many cores on on someone's laptop.
Mark Takata 55:29
Right, right. Yeah, like back then having four cores was like a big deal. Now, this is this is totally outside of my my like wheelhouse, I don't understand enough about this to probably speak intelligently about how this works. I do know, you can assign cores to processes. So and so now you can,
Michaela Light 55:50
you can rack it down. But my point is, you shouldn't have to do that there should be some far away in terms of CPU horsepower per minute, you know, we'll something I don't know. Why are we even worrying about it? You know?
Mark Takata 56:04
You got me. i This is yeah, this is this is an area where I'm just like, I
Michaela Light 56:08
know, I know why they did it. They wanted to segment between one man and her dog. development agencies and big enterprise. People make the big enterprise people pay more because they've got more money. That's I'm being a little blunt here. But that's basically why they do this. They figure Yeah, these people have more horsepower on server, they got more users, they should pay more. That's sort of the thinking, I think. And one way to one indirect way to measure how much money an organization has is how many cores we put on the server. That was true in in 2010, or whatever it is, this was done.
Mark Takata 56:45
Right now you can't find running without Yeah, you can't find you can't find machines with less.
Michaela Light 56:50
So my my, I mean, it's up to you guys what you do, but my personal suggestion is probably just get rid of that core clause. Because the core of that Apple has gone rotten.
Mark Takata 57:01
Yeah, I mean, I think for the cloud, it might make more sense because you don't you don't buy a machine on the on the cloud.
Michaela Light 57:09
No. Cloud, you're getting a I mean, you can follow whatever AWS does, right? You know, however they charge their metering, right. But they're, they're not trying to lock you in. It's like, you've got to pay an extra whatever, because you bought the machine there, you're paying by the hour, and you can ramp those things up and down. Right,
Mark Takata 57:29
right. Or even autoscale them. Yeah, yeah. So no, I mean, it's this, this kind of falls back into the whole like, we're, we're trailing technology, right? And things aren't necessarily clear. Like, if you were to just assign two cores to a machine would that's when that make the license? I don't know that. I don't actually don't know the answer to
Michaela Light 57:50
that. Well, here's the here's the other issue that's related, okay. If you're in the cloud, and you've got several Docker, containers running, you're presumably paying for each of them, assuming they're all production and not development containers. And the future vision not I'm talking about now I'm just talking about future vision, okay. What would be fair is, hey, I'm running 10 Docker containers on this app, because the Superbowl ad just ran. And we've got a lot of people hitting our site. And it's fair that I'm paying more for ColdFusion. Follow the time, I've got 10 containers up, right. But here's a related question. Okay. How many cores do I stick on each virtual machine in the cloud, right? Because I could either have 10 containers with only two cores, or I could have, you know, five containers, whether you will have four or whatever the math is to make it work. So there is something with court, but I don't know what the answer is.
Mark Takata 58:44
But well, I can make it more complicated. You can Oh, I can unfortunately, yeah, this makes it this. This is a this is almost a nastier problem. And it's a Docker specific problem is you can you can auto scale and add, you can do Docker Swarm. So if you're getting hit, and you can say, Okay, I'm at 75% CPU capacity on it, spawn a new Docker and put it into the cluster, and they call it swarms. Right? Well, that new one has to have something assigned to it, right? Like, that's
Michaela Light 59:15
why I'm saying it needs to move to a metered thing you pay per hour or per minute, or whatever the time unit is, for you, you know, use of having a container. I mean, that to me, is the fair way to do it. You shouldn't have to upfront decide, oh, I may have up to 15 containers. So I'm going to pay 15 licenses. That's ridiculous, right? Most of the time, on average, I've got three licenses.
Mark Takata 59:39
What right and it changes constantly, right? Like, what's my, what's my load? My load changes throughout the years. So yeah, I don't I don't know. I mean, obviously, AWS does that. And so does Azure for their action. So
Michaela Light 59:54
just just do something similar to what they do where they meter it. If it's possible to do that, if it's funny, yeah. But anyway, let me just let me just bring up the one other thing I've heard people get upset about or confused, or, you know, and which is, if you have a SaaS product you wrote in ColdFusion, I think there's a new license clause that turned up in 2018. Because cf 2018, right, saying you have to pay more because you wrote a SAS. Whereas if you have a regular website or an intranet or something you don't. And I think the reasoning there was, well, if you have a SAS, you have the ability to make trillions of dollars, because you've got all these users pounding into your site, and we want some of that money. Some of that action. I think that was the thinking, I don't know, I'm making this up. My crazy imagination, right? And I've had people be very confused. Are we a SAS? Should we be paying this? And then they go talk to Adobe sales and like, well, you're not really a SAS or you're too small. We're not worried about Yeah, don't worry about it. It just causes a lot of confusion. Yeah, to be honest, in my view, it isn't even there. Adobe shouldn't be concerned about what people write in their software, they create a confusion programming language, it's over the wall over the Chinese wall, you developers do whatever you want to create whatever you want in this software, it's not our concern or our responsibility. That's my personal.
Mark Takata 1:01:19
I mean, I, for the most part, agree, I think there are places that you do have to be a little worried like hosting, right. Like, I think I think there is something to be said about, you know, people who host the stuff, and we have a hosting agreement, and our hosts are happy with it. Like we have a lot of very happy hosts that that
Michaela Light 1:01:39
they're they've got they've got a different issue, right, that they don't you know, they charge by the month, typically. Right? And they don't, they can't guarantee, you know, how many months will this client stay for? Right? Right. I need to be able to ramp it up and ramp it down easily. It's kind of analogous to the cloud situation with containers except, you know, horizontal instead of vertical.
Mark Takata 1:01:59
Right, right. Right. Right. Yeah. And it's a different it's a different what am I trying to say? Like, the economics of it are different for their users, like, they come on, they leave, I actually had a my business ran on Hosek, who was a partner of Adobe's, and the great, I love them. And I was actually a cultivation reseller through them. So I would host confusion cites through, you know, through Hosek, and resell them and all that. So, you know, and they make it work and, and they seem to be happy with with their with their stuff. Yeah, the soundbar. They're a great, great host. I like this, the SAS thing. You know, it happened before my tenure at at, at Adobe. And I remember I was actually at Summit, when this thing came up, there was a lot of people yelling about it. And then it kind of went away. For the most part and and I don't, I am not really sure whether there was someone that was misinterpreting something in the licensing and went after people and then got people mad. And and I don't know, if people went, Well, you know, what we can try to quiet. But I do know, actually host tech, reached out to me and said, If anyone from Adobe ever contacts you about about SAS type things, let us know. We will work it out. We have everything was calm, which was really cool with them.
Michaela Light 1:03:32
Yeah, as you know, who do you know who listeners might reach out to a host actually just go? Anyone? Or?
Mark Takata 1:03:40
Yeah, you can, you can go ahead and just reach out to their sales team. Yeah, go through their sales team. So if you go to host tech, they have a chat window. And you can choose either technical sales or something Oh, billing, or billing? Yes, thank you. And then you can just say sales, and someone will will chat with you about that information. Now, since that happened, you know, that's that was 2018. That was, you know, what, three, four years ago that was a while back. I haven't really heard too much about that that coming up. And I have some some friends who run what could ostensibly called SAS platforms in in CF, and they haven't really run into many problems with it. I tend to agree like we really being in the business of what people do with your software unless it's something nefarious, right, which we don't want to enable people to do nefarious
Michaela Light 1:04:29
things. I even there. I don't think that's anything of that. That isn't the language manufacturers problem. And your license should make it very clear that what you write with your code is none of their responsibility. And you shouldn't try and police it because if you open that Pandora's Box, yeah, you've opened enormously liability that you're supposed to be policing what kind of code people write, and it's not a good idea. That's a good point. But um, you know, oh, God, I mean, I know you don't want people Right, right naughty things with it. But people are going to write whatever programmers do what program is to, and some of them are going to write things not so pretty. So, anyway, we've got seven minutes left. Let me just mention someone asked me to to ask you about ColdFusion Report Builder, which I forget what version of ColdFusion that was in, it must be at least 10 years ago. 2016. I know, those are 2016 was the last version that ended anything? Yeah. So is there any way that that code could be released, you know, on the open source or something so that the folks who use ColdFusion Report Builder could do cool things with it?
Mark Takata 1:05:49
I don't know about that. I know that we are, we're hearing a lot of people bringing this up. And I think it's, it's more people were using it than we really were aware of. And it's, it's pretty important to a lot of people who've just kind of kept quiet about it, or they haven't had the channels to reach out. And now that we're we've opened the doors to that we're beginning to hear people who either have used it in the past and have reports that that now can't change, but they still use them. Or they still actively try and use the 2016 product, which in many ways is not capable of doing things. So you know, we've changed the language so much since 2016. That now they'd like to be able to use some of the new features, but they can't in it. So I think what we're looking at is, what do we do language? If
Michaela Light 1:06:37
that's something you're sorry. That's something you guys are looking into what you could do to
Mark Takata 1:06:46
resurrect it. Yeah, or resurrected, or find an integration with it, because report building is extremely important. Clearly, right. Like, I mean, businesses build reports, they build dashboards and reports, right, that's like huge. And for a long time, we were just kind of expecting people were building their own reports, like I did that, I would just use whatever charts.js and d3, and I would build my own front end to something that would pull data and and display it. But it's become more and more clear that people kind of want a framework for that to happen in that's, that's first party. And I think that's really the important distinction here, either first party or very tight second party integration with some other tool. Right? So it's, it's it's definitely on the whiteboard. And it's being looked at we we are actively trying to get feedback. By the way, if you are a listener here, and you use report builder, and you have opinions on it, please let me know, like I want to hear I want to hear the community telling me about what they're using it for what they'd like to see from that. That kind of thing. It's it's very important for us, because it's it kind of came out of nowhere, like we didn't expect this level of passion. And so is this a little
Michaela Light 1:08:05
bit? Yeah, may maybe that feature usage to, you know, feet, you we're gonna measure what it's of ColdFusion people use is would help you in the future in this regard. And I know, one of the other initiatives that has happened in the past is, you've asked people to volunteer a private copy of their code base, so you can use it for testing and to optimize the code. And I don't know if there's a way to extend that out to kind of scan what features people have used in their code on a voluntary basis. That's a good idea. Also, yeah, yeah. Well, I think that's gonna have to be the final, meaty topic. I know, we had an idea of automatic cloud coding with automatic scaling, and you just drop your code onto the cloud, and it would run and scale automatically, but I don't think we have time. That sounds a deep topic to discuss. And I know someone was also asking about a development version of the API Manager. And then someone else is asking when is the VS code ColdFusion add on from Adobe coming out? Soon to be can just answer that soon.
Mark Takata 1:09:16
Soon. trademark. So early q2, is now our target. It was going to be late q1, and we just we've just been hit from so many angles by you know, the lock for JFA have kind of delayed things. You know, COVID obviously, has been just generally speaking, a friction point across all industries. And all companies are just doing things more slowly. So it's coming. It's it. And to be clear, and I don't know how much people know about the product. This isn't a code coloring slash tag completion tool. It does that but It's going to have most if not all of the features from builder, the builder Eclipse tool, which is a lot. Language, I mean that there's a language engine, there's suggestions, there's going to be tie ins to the security scanner, all of these things are going to be in this product, it's gonna be awesome. You know it, we might need a little bit of refactoring at the beginning, because full disclosure is the first time we've ever built a VS code plugin. So you know, hopefully, we get it mostly right. But we're dedicated to making this an OS making this the best IDE for cold fusion period drop my like, that's what we want this to be.
Michaela Light 1:10:47
Well, I can tell we need a separate episode just to talk about that when there are more concrete details, either with you or someone else on the engineering team. We'll both. So appreciate you coming on the show. Mark. If people want to reach you online, what are the best ways to do that?
Mark Takata 1:11:07
Up? Sure. Yeah. So the easiest way is just to email me to [email protected]. That's, that's, that's the easiest way that goes right to me. I'm also on Slack, at Mark, Mark TOCOM, on the CFML slack, if you're part of that group. I'm on LinkedIn. Of course, if you just search for Mark kata, and pick the one that works at Adobe, that's me. You can you can add me as a as a contact there and DM me if you'd like I'm also part of the CFML. Programmers group on Facebook as well. So kind of everywhere. I'm, I'm eternally online, I'm on I'm on Twitter as Mark at Mark Takata. You can you can contact me there as well. So yeah, I'm, I'm all over the emails probably the best because I'm, you know, I try and really focus on getting that some of the social stuff. You know, I don't necessarily when my phone pings with a Twitter thing at two in the morning. I don't necessarily answer that right away. But if my email hits, then that's, you know, a little more important, because I know that's going to be not necessarily something new and destined if someone wanted to tell me about but is more important and work related. So
Michaela Light 1:12:30
Well, great. Well, thanks for explaining your evangelist role, and thanks for going out into the world and evangelizing ColdFusion it's really great to see all the cool things you do.
Mark Takata 1:12:39
Thank you. It's been an honor. Thank you so much for having me on. I've had a great time. And I'm looking forward to hearing feedback from from everyone and meeting even more ColdFusion users out there.