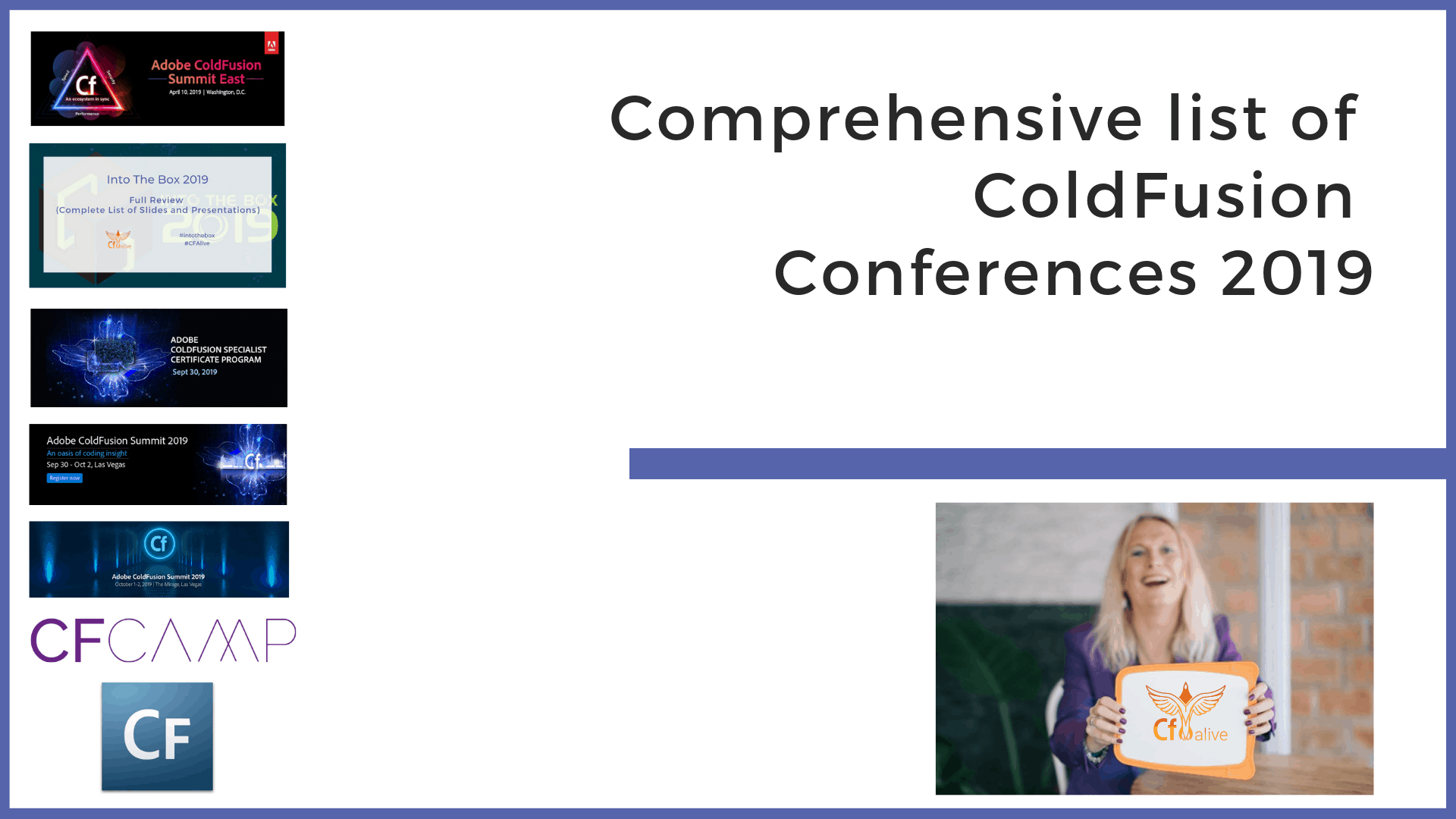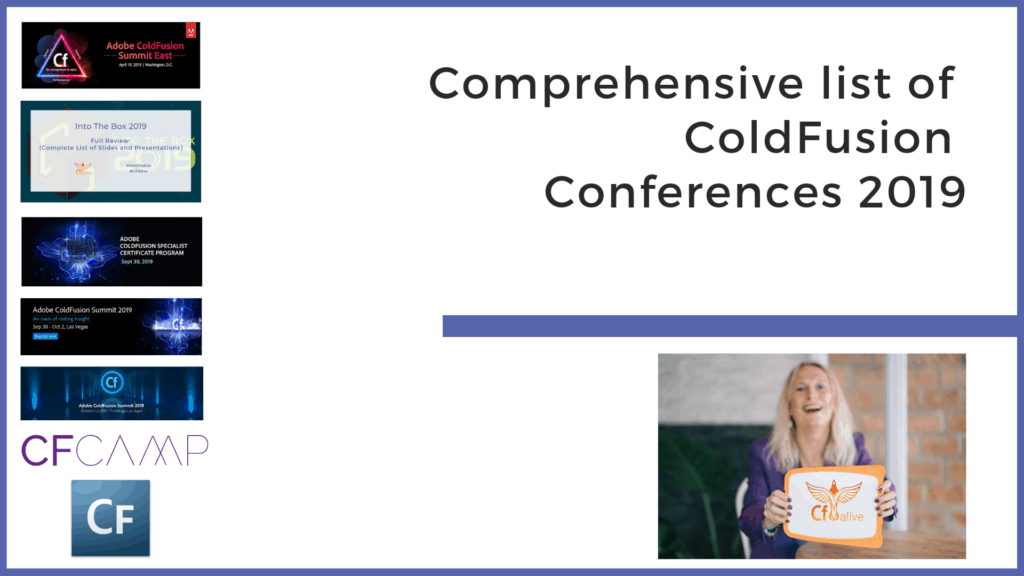 The first half of the year 2019 has passed and we can say that so far it was very interesting and fruitful for ColdFusion.
But, let's start from what you might have missed in 2018.
Is ColdFusion Dead?
Believe it or not, some people, among them some CIO's as well, still ask is CF dead? Yes, they do think that it's slowly dying and that it's time has long passed.
Let's take a quick look why is that.
ColdFusion has been around for 24 years, and in IT world that might be considered as  a dinosaur. Let's look at the facts.
In it's third decade, ColdFusion is more alive, secure and more vibrant than ever!
Legacy code is still a big issue for most of the companies. What this means, is that so often companies don't keep their CF regularly updated, which means, less security and more spaghetti code. But, this is easily solved by keeping your CF up to date, modern and secure.
24 years of ColdFusion thriving
Here's an example. Websockets is becoming very popular now. ColdFusion has had it since 2011. In order for CF to be relevant for the next decade, Adobe plans to go to the cloud. Serverless is what the world is aiming now, and for CF to be a relevant player in the game, it is planning to become the most productive platform.
Cloud containerization and serverless is the goal for Adobe.
CF is working on becoming a multi-cloud platform. Which means it won't be dependant on only one cloud.
But, we'll get there soon.
Adobe ColdFusion 2018: Step into the Aether
After the public beta went live in April 2018, great things were said by the community about some of the new changes made to Adobe ColdFusion. Here are just a few features debuted in the Adobe ColdFusion 2018 family.
Asynchronous Programming

REST Playground

Server Monitor

Modern Admin U/I

Comment Exchange across Files

Standardized PDF Metadata

Auto Lockdown
And a lot more!
Lucee CFML 6
During the 2018 CFCamp in Munich, a bombshell was dropped- the announcement of Lucee 6.
Lucee 6 in true Lucee fashion is being named after another famous dog who has helped mankind.
Which ColdFusion conferences marked 2018?
Well, they all did. Each of the CF conferences had their own specific mark and they were all a big success.
Here's the full CF Conferences 2018 report
ColdFusion 2019 First Half of The Year
In the first half of 2019, there were two major conferences.
Adobe ColdFusion Summit East 2019
The 4th Annual Adobe ColdFusion Summit East was held on April 10th in Washington, D.C. At the interactive summit, attendees joined Adobe ColdFusion experts to learn how agencies across the U.S. are leveraging ColdFusion to rapidly build and deploy web and mobile applications.
The day was filled with engaging sessions and concurrent breakout tracks that:
Discussed how Adobe is committed to ColdFusion, both now and in the future

Provided insight into ColdFusion improvements and its surrounding ecosystems

Explored product improvements Adobe has in store for the future roadmap of ColdFusion
Into The Box 2019
After the success at the CF Summit East in Washington DC, the spring conference season is over.
Into the Box 2019 was awesome!
The conference was held in just inside the Houston, TX region at The Woodlands. It went for three exciting days starting on May 1st with pre-conference workshops and culminating on May 3rd with Closing remarks and a raffle. It had 50% (!) more attendees than last year! Wow!
Register now for the Adobe ColdFusion Summit West 2019
You still have time to register for the main event, which is set to occur on the 1st and 2nd of October, 2019. The early bird special ended on May 31st.
Program details for the Adobe ColdFusion Summit 2019 will be out soon!
Read the full report and follow the updates
here
CFCamp 2019
CFCamp 2019 will be held on 17+18th October at Munich Airport Marriott Hotel, Freising.
If you're interested in giving a talk at CFCamp 2019, get in touch with organizers, and provide some information about the session you would like to give along with some information about yourself.
ColdFusion Summit India 2019
We are still waiting for the official announcement, but we hear that it's going to be very big this year. The last year conference in India had more than 200 attendees, so we hope to see a 2-day conference, perhaps?
ColdFusion Events
Adobe ColdFusion Specialist Certificate Program
You still have the chance to catch the special offer and book your seat for the Adobe ColdFusion Specialist Certificate Program at just $399. The offer ends on May 31st, so make sure you
Adobe Evangelizing for ColdFusion at Developer Week
Some people say that Adobe isn't doing enough to support and promote ColdFusion. That's not true.  Adobe's own Kishore Balakrishnan and Elishia Dvorak attended the DeveloperWeek in San Francisco, California.
Read the full report
here
ColdFusion Webinars 2019
Continuous security for your CFML code with Fixinator Webinar with Pete Freitag
In this webinar Pete explained how to scan a code base, produce reports, and let Fixinator fix some of the issues it finds. Another takeaway was on how to setup Fixinator in a continuous integration workflow, so it runs every time you commit code to the repository, giving you instant, automatic, continuous feedback.
Read the full report
here
Clean up your legacy code with Codechecker with George Murphy
Take a look at a free open source tool for checking your ColdFusion code for vulnerabilities. There are several rules that it can check for. Those include missing cfqueryparams and un-var scoped variables. The value of this code checker is that you can build rules for it.
So, if you find something that is not included in the tool it can be added. It can run in a browser or in the CommandBox CLI. We will take a deep dive into some legacy code to look for vulnerabilities and items that make up the best practice list. This application was developed to modernize and update about 300 legacy applications. The tool can also print all of the findings to an Excel spreadsheet with a link to the offending items.
Join the CF Alive revolution Discover how we can all make CF more alive, modern and secure this year. Join other ColdFusion developers and managers in the CF Alive Inner Circle today.

Get early access to the CF Alive book and videos
Be part of a new movement for improving CF's perception in the world.
Contribute to the CF Alive revolution
Connect with other CF developers and managers
There is no cost to membership.