This article sadly marks the closing of our CFCamp 2018 in Munich. As the only CF conference in Europe, CFCamp had a pretty big responsibility to properly showcase ColdFusion and CFML in the region.
It did not disappoint.

Day 1 was chock full of great sessions along with two free premium goodies: a Yubikey and a license for FusionReactor Developer's Edition. So, how was Day 2 going to turn out?
Day 2 started out with a bang! The first session of the day was with Gert Franz and Micha Offner-Streit. Some of you might know them from popular platforms such as Railo and Lucee. The name of their session was titled Lucee 5.3 and Beyond.
And that's exactly what it was about. They spoke all about Lucee 5.3 and the new features it would bring. They also spoke on the integration of Lucee 5.3 will have with ACF 2018. So, you can have the best of both worlds. Lastly, they talked about Lucee 5.4.
(Actually, no they didn't.)
Lucee 6 Announcement
They announced Lucee 6! Named Swansea Jack after a famous Welsh dog, Lucee 6 looks to be the answer to many CFML users prayers. It will include many features such as:
Improved Startup Times

Improved Serverless Deployment

Headless Deployment

Built In support for syslog

Native Support for cfconfig

Hibernate Upgrade

Event Driven Architecture

New Operators

And Much Much More!
We will definitely keep you updated as the stories around Lucee 5.3 and Lucee 6 unfold.
So, if that bombshell announcement wasn't enough… The day was filled with other great sessions held by titans of our community.
Like the previous day, the sessions were divided into two separate tracks. So let's break those down.
Track 1
Flutter – The Next Generation of Cross-Platform App Development
Session Briefing: 

Kai explained just exactly what Flutter is and how fast it is to develop new apps with the tech. He built a simple app using Flutter and introduced us to Flutter's concept of UI widgets.

About the Speaker: (Kai König)

Kai is one of the co-founders of and works as Software Solutions Architect for Ventego Creative Ltd in Wellington, New Zealand. He's also the CTO of Zen Ex Machina, a recently launched startup in the fields of digital & user experience consultancy.
AngularJS + ColdFusion
Session Briefing: 

This session was a great session to beginning developers or those new to AngularJS or ColdBox. Nolan talked all about getting started with AngularJS and building APIs with JSON. Afterwards, he showed us how to marry the two in order to create an app with an Angular front end and ColdFusion back end.

About the Speaker: (Nolan Erck)

Nolan Erck has been developing software for 21 years. Starting in the video game industry working on titles for Maxis and LucasArts, then advancing to web development in 1999, his list of credits includes Grim Fandango, Star Wars Rogue Squadron, SimPark, SimSafari as well as high-traffic websites for a variety of clients.
Preside Platform (Open Source Digital Experience Management & Competing with Salesforce & MS Dynamics)
Session Briefing: 

Dominic showed us just how powerful the Preside platform really is especially when competing with Salesforce and MS Dynamics.

About the Speaker: (Dom Watson)

Dominic trained as a Musical Theatre actor before embarking on a career in London's West End. Fortunately, this folly was cut short by an overtaking love of all things programming that led to a decisive career change building web applications.
Building a Customer Data Platform using Lucee & Piwik PRO
Session Briefing: 

Our two speakers introduced us into the arena of Customer Data Platforms. They showed us how to integrate them into Lucee with the help of the Piwik PRO Marketing Suite.

About the Speaker: (Guust Nieuwenhuis)

Guust Nieuwenhuis is a Full Stack Web Wizard with experience in a wide range of technologies. Over the last couple of years, he has been involved in projects for various clients like the European Commission, NSHQ (NATO), Adobe, AS Adventure Group, NS (Dutch railways), Proximus and Mediagenix.

(Vincent de Winter)

Vincent de Winter is active as Manager Business development for Piwik PRO (https://www.piwik.pro). The Piwik PRO Marketing Suite (Cloud/OnPremise) is the number one choice for data-sensitive enterprises and government organisations around the world that look for a solid web-analytics and marketing platform. Its flexible and integrated products adhere to the strictest privacy and security regulations while still guaranteeing 100% data ownership.
JVM Security Manager
Session Briefing: 

In this session, Alexander spoke about the JVM Security Manager and how Elasticsearch can improve your experience with it.

About the Speaker: (Alexander Reelsen)

Alexander Reelsen. Husband, Dad, Developer for Elasticsearch and its commercial extensions. Backend only developer, productivity fan, likes distributed systems & the new serverless era.
Track 2
Integrating MVC into Legacy
Session Briefing: 

This was the first of Brad's Track 2 sessions. Here he instructed those lost or confused on converting your legacy code into modern, vibrant CFML. He focused primarily on the ColdBox MVC module.

About the Speaker: (Brad Wood)

Brad has been programming ColdFusion for 12 years and has used every version of CF since 4.5. He first fell in love with ColdFusion as a way to easily connect a database to his website for dynamic pages. He enjoys configuring and performance tuning high-availability Windows and Linux ColdFusion environments as well as SQL Server.
RuleBox : A Modern and Natural Language Rule Engine for CFML
Session Briefing: 

Luis spoke about RuleBox, the modern and natural rule language engine for CFML.

About the Speaker: (Luis Majano)

Luis Majano is a computer engineer residing in Southern California. He was born in San Salvador, El Salvador and he is the president of Ortus Solutions, a consulting firm specializing in CFML web development, architecture, and professional open source support and services.
Session Briefing: 

Charlie took an in-depth look at some underrated features of CF2018. Like all of Charlie's sessions… this wasn't one to miss.

About the Speaker: (Charlie Arehart)

A veteran server troubleshooter who's worked in enterprise IT for more than three decades, Charlie Arehart is a longtime community contributor who as an independent consultant provides short-term, remote, on-demand troubleshooting/tuning assistance for organizations of all sizes and experience levels.
Command Line Tooling via CFML
Session Briefing: 

During Brad's second session, he went over how you can build your very own command line tools using CFML. He also reviewed a bunch of existing CLI tools such as cfconfig.

About the Speaker: (Brad Wood)

Brad has been programming ColdFusion for 12 years and has used every version of CF since 4.5. He first fell in love with ColdFusion as a way to easily connect a database to his website for dynamic pages. He enjoys configuring and performance tuning high-availability Windows and Linux ColdFusion environments as well as SQL Server.
Sadly, with the exception of the closing remarks, this marks the end of the 2018 CFCamp in Munich. There were a few takeaways and lessons learned here though. First off, kudos to all those involved in making this event happen. This was a wonderful event full of knowledge sharing, developer interaction, and outright fun.
Honestly, I'm really looking forward to next year's event already! Another big thanks goes out to David Tattersall and the folks over at Intergral. That FusionReactor Developer Edition license was a heck of a freebie. Same goes to Rob Dudley for the Yubikey 4. I am sure everyone who received it is excited to take their authentication to the next level.
This conference also helped to champion my own personal cause. To make CF more alive, vibrant, and modern. I am so excited to see what the community has in store for us next.
And to continue learning how to make your ColdFusion apps more modern and alive, I encourage you to download our free ColdFusion Alive Best Practices Checklist.
Because… perhaps you are responsible for a mission-critical or revenue-generating CF application that you don't trust 100%, where implementing new features is a painful ad-hoc process with slow turnaround even for simple requests.
What if you have no contingency plan for a sudden developer departure or a server outage? Perhaps every time a new freelancer works on your site, something breaks. Or your application availability, security, and reliability are poor.
And if you are depending on ColdFusion for your job, then you can't afford to let your CF development methods die on the vine.
You're making a high-stakes bet that everything is going to be OK using the same old app creation ways in that one language — forever.
All it would take is for your fellow CF developer to quit or for your CIO to decide to leave the (falsely) perceived sinking ship of CFML and you could lose everything—your project, your hard-won CF skills, and possibly even your job.
Luckily, there are a number of simple, logical steps you can take now to protect yourself from these obvious risks.
No Brainer ColdFusion Best Practices to Ensure You Thrive No Matter What Happens Next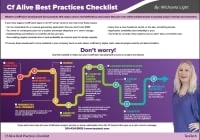 ColdFusion Alive Best Practices Checklist
Modern ColdFusion development best practices that reduce stress, inefficiency, project lifecycle costs while simultaneously increasing project velocity and innovation.
√ Easily create a consistent server architecture across development, testing, and production
√ A modern test environment to prevent bugs from spreading
√ Automated continuous integration tools that work well with CF
√ A portable development environment baked into your codebase… for free!
Learn about these and many more strategies in our free ColdFusion Alive Best Practices Checklist.