Some of you (CFers) didn't think it's worth it to attend this conference. This might cost you some valuable knowledge. Although organized by Mura it wasn't just about Mura CMS.
Don't worry! We've compiled this extensive list of all the speakers and we will be updating you with their presentations as they come. Keep reading
Muracon 2018 sessions
"At MuraCon 2018, you'll get great sessions by industry leaders from our Digital Experience track, in addition to Mura experts sharing insights into best practice development approaches, future developments, tips and tricks, and much, much more."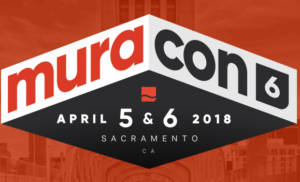 Storytelling: Digital's Most Disruptive Hack by Park Howell
Park Howell talked about
Why storytelling is more important now than ever to rise above the digital noise and connect with an increasingly lonely and alienated customer
What is a proven system to craft and tell compelling human impact stories on any platform
Improve and clarify your personal brand story to amplify your impact and simplify your life
There's so many talk about AI vs. humans and how we (humans) will become obsolete. Park says this is why artificial intelligence will never replace the humanity, meaning and wisdom found in true stories well told online or off.
The complete presentation link is here
Here's a bonus for you dear reader- an excellent blog post on the similar subject that you might find very interesting.
Finding Flow at blueriver: A Branding Story by Sean Schroeder
Sean Schroeder is blueriver CCO deeply involved in the creation, stewardship, management and development of Mura Platform including Mura CMS and the Mura Experience Platform. He talked about the process of redefining the blueriver and mura brands.
The complete presentation link is here
I also found one interesting podcast with Sean as a guest "How blueriver™ Found the Flow in Their Brand Story" worth of listening. Check it out!
Seans's second presentation was
Accelerating the Customer Journey with Content Personalization
Why are so many organizations worried about missing a great opportunity to connect with their audiences and customers by not knowing where to start? Content Personalization has become a hot topic and Sean talked about the why, what, and how of content personalization through Intuit's firmofthefuture.com.
The complete presentation link is here
How Docker is Changing IT by Bret Fisher
Bret has highlighted the far-reaching effects of this pivotal technology and how it's blazing a trail for the future of app development and deployment. He provided valuable insights into how Docker is changing the IT today, as well.
The complete presentation link is here
For 25 years Bret has built and operated distributed systems as a Sysadmin and helped over 30,000 people learn dev and ops topics. He is a Docker Captain, the author of the wildly popular Docker Mastery series on Udemy, and also provides DevOps style consulting and live workshops with a focus on immutable infrastructures, containers, and orchestration.
A special treat for you is a discount coupon for Bret's Udemy courses, and here's the link
Expert Insights: Mura 7.1's Flexible Theme Architecture by Steve Withington
Steve talked about The Mura v7.1 release. It introduces a completely new directory structure and the new directory structure. He talked about  Mura v7.1's flexible theme architecture, including "modules" (formerly known as "display objects"), and how you can use them to integrate exciting new functionality into your sites.
The complete presentation link is here
Steve Withington is the Director of Training & Events as well as a Software Engineer for Mura CMS. He's also been serving as a Steering Committee Member of cf.Objective() since 2010. As a published author, he literally "wrote the book" on Mura CMS. As an experienced instructor and speaker, he's worked with audiences and clients both online and in-person throughout a wide variety of industries including the military, colleges/universities, government agencies and large multi-national corporations. While he's not working, you can try to catch him (and you probably will) by swimming, biking, or running in triathlons and marathons around the world.
Surviving a Marketing Technology Implementation: How to Avoid Common Pitfalls by Peg Miller
How marketing technology decisions impact our teams before, during and after implementation?
How to sell your project internally and how to set your team and organization up for success?
The complete presentation link is here
Peg Miller consults with high growth companies on their marketing, content and product strategies to achieve revenue results, drawing upon her +20 years' marketing and business experience at organizations ranging in size from startups with 60 employees to multi-billion dollar organizations with 40,000 employees. She held multiple executive roles at Kapost, a SaaS content marketing platform for B2B marketers, including VP of Product Marketing, and VP of Customer Success, putting her at the convergence of marketing, technology, and customer experience.
I have found one very interesting blog post from Peg which might be interesting as well. Take a look! Full Funnel Account-Based Marketing: How the Post-Sale Team Helps Drive Revenue
CSS Is Awesome by Evan Dunham
Evan talked about:
CSS History & Browser Evolution
Development Tips, Tricks & Tools
Naming Methodologies
Advanced CSS Selectors
Illustration, Animations
…and much more.
The complete presentation link is still not available. We will keep you updated.
Evan is a Sr. Front End Developer at BlueRiver and has been part of the professional services team for eight years. Evan joined the team shortly after getting his degree in graphic design. He is passionate about Mura CMS and constantly pushing the boundaries of how we can use the product in new and unconventional ways. Evan loves cleverly crafted CSS and to communicate his point of view through his work. He elevates every project he is associated with by bringing his unique perspective and an uncompromising attitude.
Deep Dive Into Mura.js & JSON API by Matt Levine
Matt has thoroughly explained how to how to use Mura.js to interact with Mura's JSON/REST API, but also:
How to create a simple Mura ORM entity
How to then access that entity from Mura's JSON/REST API directly
How to work with content "rendered" via the JSON/REST API
How Mura.js simplifies the process
The complete presentation link is here
Rest, Swagger, & OAuth With Mura
You could learn can how to use Mura's native OAuth and Swagger support to quickly access and manage content from third-party systems.
The complete presentation link is here
Matt Levine is the original creator of Mura CMS, and also created the Mura Experience Platform to provide a way to create content experiences that extend the nurturing capabilities of Marketing Automation to all of your owned content properties, even if they're on different platforms, hosted in different locations. When he's not working tirelessly to continue pushing the entire Mura Platform forward, he can sometimes be found around the Sacramento region, and other parts of the U.S., playing guitar with his band, Soft Science.
Why Lead Source is Fake News by Ronnie Duke
Why 'Lead Source' may not be telling you the full story, and what data is actually needed to accurately track lead attribution. Ronnie wants you to be able to think more critically about your leads and how your content marketing is really affecting your sales pipeline.
The complete presentation link is still not available. We will keep you updated.
Ronnie is Marketing Operations Manager DemandRamp amd he's been in digital marketing for over 10 years.
Slatwall: eCommerce Unleashed by David Crouch and Sumit Verma
The guys provided a closer look at some new Slatwall Projects that launched in 2017. How have these businesses leveraged the flexibility of the Slatwall platform to solve very complex eCommerce requirements while maintaining their legacy platforms?
They've also highlighted new features available in Slatwall:
Collections
Pick, Pack, Ship
Accounting and Inventory Enhancements
Point of Sale
The complete presentation link is here
David founded ten24 in 2008 and has built the business around honest communication, strong support and delivering solutions that fundamentally change a client's business. He leads the overall direction of the company and has assembled an outstanding team of software development experts that build custom applications for our clients and products like Slatwall Commerce and send24 Email Marketing.
David has been involved in the development of over 200 complex web projects since 2002, and is most proud of how many times clients come back to work with ten24 or refer us to colleagues.
Sumit brings over 15 years of RIA, web development and technology management expertise to ten24. He is directly responsible for overseeing the development process for each project and managing ten24's technical infrastructure.  Sumit has successfully implemented projects calling on his diverse skills that involve: E-Commerce Applications, ERP Applications, CRM Applications, Client/Server Solutions, System Analysis & Architecture, Database Designing and Administration, for clients such as Working Advantage, Pongo Resume, Stonyfield Farms and White's Nursery.
Sumit also brings knowledge of core programming languages including: C, C++, COBOL, ColdFusion, Flex, PeopleSoft (Financials, HRMS), CRM (Siebel), Client / Server Solutions (Visual Basic) and Databases (Oracle, MS SQL Server, MySQL) using OOAD methodologies and modeling tools (Convoy DM, Rational).
Interfacing with Humans: Communication Hacks to Boost Your Dev Career by Jeff Hadfield
What C-3PO and Spock can teach developers about communicating
What can developers do to improve communication once and for all? Jeff Hadfield, a member of SAP's Developer Advisory Board, former president/CXO of CodeProject and editor/publisher of Visual Studio Magazine, JavaPro, Enterprise Architect and more, talked about the ways in which developers can more effectively communicate with peers and boost their career in the process.
The complete presentation link is still not available. We will keep you updated.
Jeff is an award-winning technology marketing and publishing expert, with a main focus on the developer market. He has held senior management positions at Developer Media (CodeProject) and Fawcette Technical Publications (Visual Studio Magazine, JavaPro, Enterprise Architect and many more magazines, conferences and online properties). He has advised hundreds of companies, from startup to global, including Google, Microsoft, Apple, Amazon, Adobe, Intel, AT&T, Visa, PayPal, Plantronics, ESRI, and hundreds of developer tool, component and services companies.
Integrate "Create React App" Into Mura by Eddie Ballisty
Eddie gave a presentation about how to take your shiny new React.js app and integrate it into Mura. He explained 2 options to help make the transition.
Mura's headless mode with Express.js. This will let React and Express.js handle all the front end logic and display, but let Mura manage the content.
Wrap React.js as a Mura module. This will let Mura behave in a more traditional manner, but you'll have the option to drop your app in via the Layout manager.
The complete presentation link is still not available. We will keep you updated.
Eddie is the Lead Architect of the Professional Services Division of Blue River interactive and has over 16 years of experience in the industry and over 10 with Blue River. Eddie is passionate about the latest technologies that have been rapidly evolving and expanding in the past few years and is always looking for opportunities to push Mura CMS forward. Eddie is a server guru and has recently turned his attention to one of the newest and groundbreaking technologies called Docker. He is also an expert in the Amazon Web Services platform.
The 2018 Guide to Facebook Advertising for Lead Generation by Logan Mayville

You can learn more about Logan's presentation and about him in our talk in CF Alive Podcast episode "Marketing Dark Arts for ColdFusion developers (FB Advanced Audience Creation and Tracking) with Logan Mayville"
The complete presentation link is here
Alexa, ask Mura …
Alexa Skills and how they can work with Mura
Paul gave a presentation about Alexa Skills Developer Console on AWS, discuss intents, utterances, slots and have Alexa interact with Mura.
The complete presentation link is here
Paul is an application developer with the Blue River Professional Services team. He's been developing web sites and web applications for twelve plus years. He's a highly motivated, creative professional with a commitment to providing quality service with a smile.
That's all for the day 1. Day 2 was as interesting as the first one.
CF Rocks!
And to continue learning how to make your ColdFusion apps more modern and alive, I encourage you to download our free ColdFusion Alive Best Practices Checklist.
Because… perhaps you are responsible for a mission-critical or revenue-generating CF application that you don't trust 100%, where implementing new features is a painful ad-hoc process with slow turnaround even for simple requests.
What if you have no contingency plan for a sudden developer departure or a server outage? Perhaps every time a new freelancer works on your site, something breaks. Or your application availability, security, and reliability are poor.
And if you are depending on ColdFusion for your job, then you can't afford to let your CF development methods die on the vine.
You're making a high-stakes bet that everything is going to be OK using the same old app creation ways in that one language — forever.
All it would take is for your fellow CF developer to quit or for your CIO to decide to leave the (falsely) perceived sinking ship of CFML and you could lose everything—your project, your hard-won CF skills, and possibly even your job.
Luckily, there are a number of simple, logical steps you can take now to protect yourself from these obvious risks.
No Brainer ColdFusion Best Practices to Ensure You Thrive No Matter What Happens Next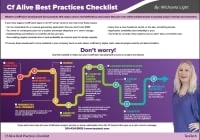 ColdFusion Alive Best Practices Checklist
Modern ColdFusion development best practices that reduce stress, inefficiency, project lifecycle costs while simultaneously increasing project velocity and innovation.
√ Easily create a consistent server architecture across development, testing, and production
√ A modern test environment to prevent bugs from spreading
√ Automated continuous integration tools that work well with CF
√ A portable development environment baked into your codebase… for free!
Learn about these and many more strategies in our free ColdFusion Alive Best Practices Checklist.