"It's not about what we make, it's about what we make happen."
     – Park Howell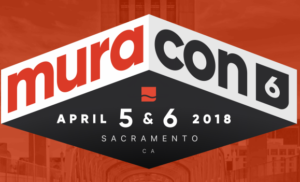 After the first day, no one seemed tired!
Workshop: Intro to Docker & Containers by Bret Fisher
Day two of the conference started strong. Bret Fisher gave a great presentation about Docker.
This fast-paced hands-on workshop took you from Docker 101 to an understanding of how to use Docker Compose for easy local Mura development.  Bret talked about some basic "daily docker commands" for working with software on your machine. Very informative "what, why, and how" on Docker for development while getting your hands dirty running and managing containers.
The complete presentation link is here
Workshop: How to Clarify Your Story to Amplify Your Impact and Simplify Your Life by Park Howell
The second workshop by Park Howell was about:
Clarify your personal brand story to grow your influence, or professional brand story to grow your business
Dial-in the why you do what you do as your personal passions drive your professional pursuits
Create a powerful value proposition to make your offering timely, relevant and irresistible
The complete presentation link is still not available. We will keep you updated.
How Adobe ColdFusion Continues to Deliver Tools for Performance, Scalability, and Security by Elishia Dvorak
As always, interesting to hear what Elishia Dvorak talks about.
Elishia Dvorak is the Technical Marketing Manager at Adobe supporting both eLearning and ColdFusion product lines. In that role she provides sales & marketing support, technical guidance, education & training for those products and integrated technologies. She has a long history of assisting customers with server support, consulting and training with over 10 years performing enterprise dedicated support and Technical Account Management for the largest Adobe customer architectures. Prior to her current role, she spent time as an Adobe Reseller and Solution Provider specializing in ColdFusion solutions.
It's an exciting time for ColdFusion as Adobe plans for its next major release! Her session gave an overview of all the benefits that Adobe ColdFusion Aether brings to your organization, from productivity and performance to security and language goodies. Aether is currently in development and scheduled for release this year, so it's a great time to see what the future of ColdFusion will bring to make your applications lightning fast, while maintaining continued reliability and security your team needs. The session focused on how the Adobe development toolset frees up your time to allow you to focus on completing your goals and objectives with confidence.
Session highlights
The complete presentation link is here
The DPM's Guide to Creating Project Flow for Digital Teams by Christine Ballisty
With almost 10 years of project management experience at the enterprise-level, Christine Ballisty has a wealth of expertise and understanding in effectively conceiving and executing complex software application and web development solutions. Christine has a successful track record of positive feedback from clients, key partners and colleagues with a proven ability to single-handedly manage a pool of onsite & remote Application Developers & User Interface Designers.
As she frequently manages several projects simultaneously, Christine also oversees budgets and cares for project lifecycles in an experienced, proficient and meticulous manner; all in tandem with leading the Project Management Office of Blue River. She currently provides oversight and guidance to a number of project managers and coordinators in the Professional Services division.
Session highlights
The role of a digital project manager today goes well beyond managing tasks, schedules and budgets. DPMs are tasked with communicating direction, interpreting vision, foreseeing issues, managing dependencies and maintaining the health of their team during the process. DPMs are account managers, business analysts, project managers, scientists and sometimes therapist. Considering this rapidly changing role, there is a lot of opportunity for error. Christine (Sr. Project Manager of Blue River) will shared what it takes to be a digital project manager in this day and age and provided insights on how to effectively create flow for her projects, clients and her team.
The complete presentation link is still not available. We will keep you updated.
Journey to Docker Production by Bret Fisher & Eddie Ballisty
Bret and Eddie took us through many of the factors that help to be successful in creating a production-ready Docker server cluster, including Docker best practices and Docker Swarm infrastructure templates. They showed off some example configurations specific to Mura, as well as complementary solutions that are necessary for production.
The complete presentation link is here
Design Sprints: From Idea to Prototype in a Week by Matt Stuart
Matt Stuart is the UX director at blueriver. He has over 15 years of experience, 7 of those spent founding and operating his own agency which he sold in 2016. He thrives in leading design teams who provide innovative and intuitive solutions. Those inventive solutions measurably improve and enhance the way a business's brand, products & services can be elevated through superior interactive experiences. Matt has done exactly this working with companies and organizations such as Kaiser Permanente, Intel, Stryker, Apple, Penn State, HID, Newtex Industries, GuideSpark, The California Railroad Museum, Sacramento International Airport, and many more.
Session highlights
Matt showed how the blueriver UX team uses Design Sprints to put their creative flow and productivity in overdrive. Quickly glean project requirements, design and build realistic prototypes and validate solutions in a single week!
The complete presentation link is still not available. We will keep you updated.
A Modern Development Pipeline with Mura and AWS by Nick Sollecito
Managing the technology team focused on development and operations for web content and e-commerce efforts across ScientificAmerican.com.
Session highlights
An overview of the experience and lessons learned migrating Scientific American's infrastructure and automation pipeline using Travis-CI, Docker Swarm, and Amazon Web Services
The complete presentation link is here
Personalization and 4 Other Great Superpowers of Marketing Automation by David Hurley
Drawing from his experience leading and contributing to the Joomla! open source project, David Hurley pioneered the world's largest open source marketing automation project helping build a cutting-edge, intuitive platform and grow adoption to over 200,000 organizations using Mautic. He is currently the CTO and Founder of Mautic, the company offering the world's only open marketing cloud solutions that enable brands of all sizes to connect all their digital properties and channels into a seamless customer experience.
Session highlights
David explained how you can take advantage of the power of marketing automation to drive your business forward. Attendees heard a presentation about:
Personalizing messages across channels
Aligning a content strategy to your buyer's journey
Optimizing the effectiveness of your campaign tactics
Using actionable data to inform decisions
Creating a seamless digital experience for your audience
The complete presentation link is still not available. We will keep you updated.
Mura AMP'ed Up! by Paul Denato
Introduction to Google AMP with Mura
What is AMP and how you would use it?  Showing how to take advantage of Googles' Accelerated Mobile Pages with Mura.
The complete presentation link is here
Amplifying Discoverability & Engagement with Your Search Audience Data by Tom Rusling
Tom is the founder and managing director of Reflexive Media, a digital marketing agency that provides strategic search and content marketing services. Included in Reflexive's body of work was the strategic engagement in developing Intuit's FirmOfTheFuture.com, leveraging the power of the Mura Experience Platform to create an award winning accounting news and information site.
Prior to launching Reflexive, Tom's five year tenure as EVP of Agency Operations at iAcquire oversaw building a small upstart agency into an award winning ninety member content marketing agency. Tom holds a BA in German Literature from Colgate University and an MBA in strategy and finance from the U. of Rochester's Simon School.
Session highlights
It started with a few simple questions that almost no business has a firm grasp on answering:
How many searches occur each month that relate to our product or service?
How much of this do we currently have coverage in organic and paid?
What's the upside and how do we best proceed?
This session delves into the process of intelligently quantifying a prospective search audience and the power these developed insights bring to an organization's approach to organic search and content strategy. At the end, Tom talked about how better upfront analysis leads to clearer decision making and driving more effective action geared towards a stronger presence in online discoverability and engagement.
The complete presentation link is still not available. We will keep you updated.
Content as a Service: Going Headless with Mura 7.1 by Luke Wilson
Luke is an Application Developer at Blue River. He has worked in web development for six years, starting out in project management before transitioning to a more hands-on development role. He's a full stack developer specializing in JavaScript and is very familiar with React and other frontend JS libraries.
Session highlights
This lightning talk went over the ins and outs of building Blue River's new website which uses Mura as a headless CMS, leveraging the JSON API to pull content into an all React frontend.
The complete presentation link is here
Undiscovered Mura: A Client Case Study by Chris McCarty
Chris McCarty has been developing web applications for nearly 15 years. First with Blue Cross Blue Shield of Michigan, then while running his own consulting firm and now for Blue River.
Chris has a unique background which allows him to see projects from a technical perspective while not losing focus of the ultimate business goal.
Chris has a undergraduate degree in Management Information Systems from Central Michigan University and an MBA from the University of Notre Dame.
Working with EIA, the blueriver team is doing some things with Mura you might not have known were possible.
The complete presentation link is still not available. We will keep you updated.
Stay tuned for the rest of the slides and presentations. In the meantime, let us know what was your favorite session at Muracon 2018.
CF Rocks!
And to continue learning how to make your ColdFusion apps more modern and alive, I encourage you to download our free ColdFusion Alive Best Practices Checklist.
Because… perhaps you are responsible for a mission-critical or revenue-generating CF application that you don't trust 100%, where implementing new features is a painful ad-hoc process with slow turnaround even for simple requests.
What if you have no contingency plan for a sudden developer departure or a server outage? Perhaps every time a new freelancer works on your site, something breaks. Or your application availability, security, and reliability are poor.
And if you are depending on ColdFusion for your job, then you can't afford to let your CF development methods die on the vine.
You're making a high-stakes bet that everything is going to be OK using the same old app creation ways in that one language — forever.
All it would take is for your fellow CF developer to quit or for your CIO to decide to leave the (falsely) perceived sinking ship of CFML and you could lose everything—your project, your hard-won CF skills, and possibly even your job.
Luckily, there are a number of simple, logical steps you can take now to protect yourself from these obvious risks.
No Brainer ColdFusion Best Practices to Ensure You Thrive No Matter What Happens Next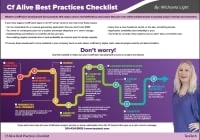 ColdFusion Alive Best Practices Checklist
Modern ColdFusion development best practices that reduce stress, inefficiency, project lifecycle costs while simultaneously increasing project velocity and innovation.
√ Easily create a consistent server architecture across development, testing, and production
√ A modern test environment to prevent bugs from spreading
√ Automated continuous integration tools that work well with CF
√ A portable development environment baked into your codebase… for free!
Learn about these and many more strategies in our free ColdFusion Alive Best Practices Checklist.