You can listen to the podcast and read the show notes here.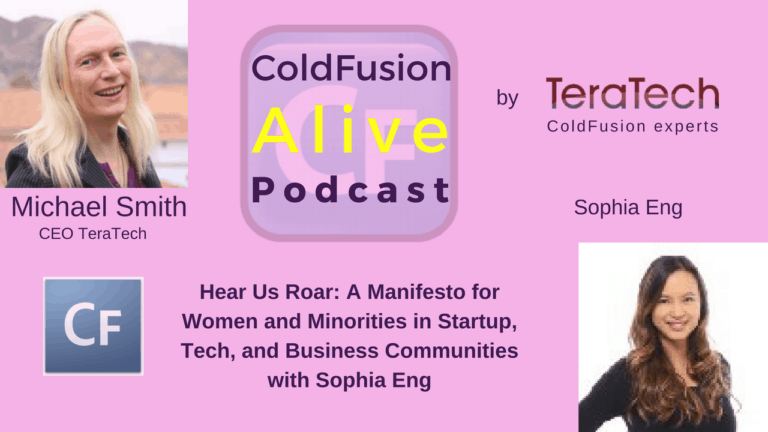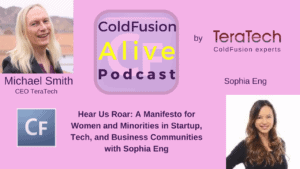 Michael:          Welcome back to the show. I'm here with Sophie 00:03 [Eng] who published a blog post that went viral talking about women in tech. Her post was all about 00:12 [inaudible] role. It was a manifesto for women and minorities in startups, tech and business communities.
So, we're going to be talking about how men and women are different and the same in tech. And how traditional female characteristics actually can help in programming. And that applies to both men and women who have those characteristics.
And how she came to overcome her fear about publishing her first article that went viral. And how writing articles and speaking at events can help your career. So, we'll talk about a number of other things too. So, welcome Sophia.
Sophia:            Thank you so much Michael, very excited to be here, really appreciate and really honor the opportunity to share more of my story and my experiences on being a woman, a minority in tech.
Michael:          Yeah so, you actually have been researching this for a while. You're basically a growth hacker or you help people improve their conversion rates and marketing on their websites and startups particularly with women. And also, you're involved in the Google 'I am remarkable' movement and several other initiatives. And we'll talk more about those later.
But you've been researching how men and women are different online or maybe they're just the same and you can't tell. What's the scoop?
Sophie:            So you know, I have been sitting on some of this research for a couple of weeks now. And looking at the differences not just biologically but even how women and men make different purchasing decisions, right. And how important it is for businesses to understand how to speak directly to women and men as well and how to create products around that.
So, it all just came to head that week when the Google manifesto came out that Friday and I was leading an event right at Google 02:07 [inaudible] The headquarters building for their 'I am remarkable' campaign which is essentially to help women share their voices.
So I thought well, there's no better opportunity than this weekend. So there'll really be head down and put all my research together and address this manifesto and encourage women and empower women to speak up in their lives and in their workplaces.
Michael:          So we'll put a link to the manifesto you put out hear me role in the show notes. But, what are some of the key things you have discovered in all the research you've done between men and women in tech.
Sophia:            So, I would say the number one thing is understanding that women are the main purchasing; that we make the main purchasing, buying decisions for all households. It's like eighty percent. Yet, when we do research, when we run tests online just primarily, what I do you know we usually it's based off of general buying patterns which are typically more male centric.
So, it's hard to tell whether or not the messaging, the design; a button color for example is resonating with a male or female. But it's really important for a business to understand the differences in when you can target a woman because we're also the hyper buyers but we're also the most loyal.
And so, we're likely to buy from a brand we're most likely to purchase again. And not only that, who we are very social creatures so, we tend to share that out with our family and friends which is really important. Which is very important for businesses to understand because word of mouth marketing is one of the best ways to market.
Michael:          Wow! So that means if companies not paying attention to this and they're selling to consumers or selling anything on their website, they could be missing out in a big way.
Sophia:            They're missing out in a big pool and I'm actually writing a huge blog post. So, that's my second article that will be coming out following this manifesto that I wrote in response to the 04:05 [inaudible]
Michael:          Yeah so, all the stuff you've looked at, is it that men and women are just totally different at birth and there's nothing you can do about it? Or is it social conditioning? Or where do these differences come from?
Sophia:            In terms of all that, we've obviously got biological differences, yes. And there are also social conditioning that happen then, takes place. And specifically, in my response to this manifesto was the fact that social conditioning is what allows more of the men and boys to be attuned to more of the tech advances and education and experiences. Where for at a young age for example, girls are introduced to more of the softer skills or playing with dolls and less of the robotics, less of Legos.
And so, that's what I'm hoping to change is to bring more awareness to it. I've got daughters and starting at a young age yeah, we've got some dolls and we've got some playhouses lying around. But I'm also exposing them to things in stem, right. So not just all of what would be considered like a female dominated, girl dominant toys. But things like Legos and robotics and she enjoys it. Although, even now in those classes they're mostly boys.
So, I'm working with girls in tech and I've come into a community of girls in tech and cosmos to really talk about how we can encourage girls more. The data shows that girls even though we graduate with over more than half of college graduates are women in the U.S., only thirty percent of women are actually represented in the larger co-operations. So there's something there and I'm hoping to change that.
Michael:          So, what kind of skills are you talking about as far as tech skills that men and women have? Because when we think of developers you know, we made the traditional people. People certainly who don't do development might think oh yeah, that's like a totally pocket protector and glasses kind of nerds thing. Which that's not to say there aren't women who wear pocket protectors or glasses. What are the things the skills that good people in tech have?
Sophia:            I think for number one it would be empathy, right. And if you're talking about technology, you're talking about innovation. And innovation comes from empathy and empathy comes from understanding the consumer, the buyer. Understanding the pin point so that you can create creative ideas and products to solve that problem.
Michael:          So, being able to understand other people. You know, it's not typically people don't write software or locked into a basement, not interacting with other people. I think that's part of it. First of all, you're going to interact with other developers, testers, clients. So having the skills, communicate is important there.
Sophia:            It's very important.
Michael:          And secondly, most software is written for other humans to use. I mean there is software that's written for other computers to use but, that's a very small fraction of software development.
Sophia:            right absolutely
Michael:          So, what about some of the things. You know, the ability to think logically and be goal focused. Is that something that's either male or female or?
Sophia:            To be goal focused?
Michael:          yeah
Sophia:            To think logically I think that that's definitely something that is gender mutual, right. But it's how we approach it. And so again, logic is mingled focus. It's just in terms of what I wrote about being systematized is that manifesto. He addressed the fact that women are less systems oriented.
And so, my argument is we are systems oriented, right. We are the ones that are balancing a lot of the things in our lives and also understanding the biology, the programming history of computers. The early inventors of computer science and programming were women and even in our daily lives, right. Even in our daily lives for how we balance everything.
Women, women in tech, minority, balancing family, friends, social life and all of that. Like we have to have systems in place in order to do all of this.
Michael:          Yeah I think 09:03 [crosstalk]
Sophia:            Not to say that men are less systems oriented but just to counter argue the fact that women are systems oriented.
Michael:          Right, I mean I know in your article you mentioned you have lots of systems you use at work and a home just to get everything done in the time you have available.
Sophia:            Yeah, I think it just stems from being an optimization and working in optimization. It just always constantly looking at how are things producing, how is my time spent, how is money spent and how best to optimize that. So kind of spills over to every other areas of our lives to be very honest.
Michael:          And just for folks who don't know some of the key women involved in software. Ada Lovelace helped Charles Babbage create the first ever computer program. I think that's a hundred and fifty years ago. That was a mechanical computer. And then Grace Hopper pioneered the invention of COBOL which I know that's not a popular language these days. It did have billions of lines of code written for it so. And many other important women too so.
So, let's talk a little bit more. You mentioned empathy is important in technology. Are there any other traditional female characteristics that either men or women have but are viewed as female characteristics that help in development or programming?
Sophia:            I say honestly, empathy is one of the things that helps a lot with design thinking and developing products and be innovative. And I found that throughout the businesses that I've created and also working with large rights even startups, small businesses and large enterprise software companies. It all boils down for me in the way that I found it to be really successful is really understanding empathy.
Case in point just 11:01 [inaudible] hacking … hacking this article, letting it go viral or having it go viral. A lot of it is empathy in there. And it applies through all is you know, obviously programmed as well but how we do businesses and how products and services should be creative.
Michael:          And you mentioned before we hit record an organization called 11:26 [Mother coders] helps younger women get involved in coding. Tell us about that.
Sophia:            Yes so actually, Mother coders is a nonprofit organization that I am involved in. And it's essentially to you know… because knowing that women are we have empathy and even more so mums, right. Having that, we need that input of design and thinking into our products and services. Mothers need to be a part; women need to be a part of the product development cycle.
So, what Mother coders set to do is to essentially provide childcare for women, moms, women with children to actually sit in a classroom to get the training for coding skills. And I haven't seen any other organization that's done this. But this is a phenomenal organization and so many women a lot of my co-herd have gone on to be reintegrated into the tech world and gotten promotion and raises.
And then, there's also an entrepreneurial track which is the track that I'm on. And so, it's really helped out a lot in terms of getting women back into the marketplace but also, the businesses also benefiting from the fact that women are part of the decision making and part of the product development for their products and services.
Michael:          Yeah, I think that's a key thing. Often, when people have children it's hard to do a full time job. They take time off for a year or two with their children and they want to go back into work. But maybe they don't want to go back full time, maybe they want something part time, maybe they want to be able to telecommute some of the time.
Certainly, in my company, we encourage people to do that because there's… You have people who are very skilled but they're sitting at home doing nothing and they can really doing an engaging hard job. And it's a lot of opportunity there for companies too.
Sophia:            Absolutely, for companies to embrace this. We are more flexible with workplaces but you know…
Michael:          And that's for both men and women. I've met men who have young kids and they don't want you know, they want to spend some time with their kids.
Sophia:            Absolutely and men; I talk about this in the article but I truly honestly feel that men are very critical part of this journey for us. We work alongside the men and men also they need to become our allies to help other women get the recognition, help us with the supportive community, bring us into the conversations that we may not be involved in and to really include us.
Michael:          So, you mentioned this was the first article you published and you were a little nervous getting published. Tell us how you overcame that fear you had.
Sophia:            Yeah, so it was a big moment for me honestly. I mean it was really the entire week and I had to focus on writing a really good article as a response to the Google manifesto. But the moment where I came where I had to hit that big green button to publish, I hesitated. You know, I hesitated.
This is me in the raw, it's a vulnerable moment. It's apparently like an eighteen minute read. I think it was like ten pages single space that I worked on. So a lot of that and it was a fear of what are people going to think, what are they going to take? But ultimately, at the end of the day, what got me to hit that publish button was knowing the fact that what other woman and a woman a minority is going to be able to respond at this time to this manifesto. And if I didn't do it, who else is going to do it?
And so it was a mission for me to hit that publisher. And I'm glad it got the recognition that it did and in terms of hearing the feedback, getting the feedback from other women who have been really grateful. And I have like a running 15:30 [inaudible] just to remind myself of why I'm in this fight. Of the comments that I've gotten from the women who are really grateful for me stepping up and speaking on their behalf.
But really just now being a part of a global I'm remarkable campaign, how do I help other women do this as well? And that's the mission.
Michael:          It's almost like publishing, deciding to publish this article was almost a microcosm of the 'I am remarkable movement' because you decided to be heard and to speak up.
Sophia:            right
Michael:          And that's what the whole 'I am remarkable' thing is. I don't know if people listening have seen this. I've seen videos of it. It's a group of people who get together and they each take a turn to stand up to say why they are remarkable. And maybe for the first time hearing their own voice saying great cool things they've done.
Sophia:            Right, yeah so, Google did a study and they found that women are less likely to self-promote which is why we're not in you know, you see fewer women in VP and senior level positions, right.
And so the 'I am remarkable' initiative was set up to really help women self-promote in a way that's authentic to them and still say and also call upon other women to support each other. And that's what the 'I'm remarkable' series is about.
Michael:          And it's… I mean it does help you get a raise or get a promotion or get a new job. And whether that self-promoting in person or putting it on your resume in a clear way or writing articles or speaking at events. But there's a second reason, it feels good to be heard for the things you do.
Sophia:            Yeah, for the things that you stand for; right, absolutely. And the things that you do whether at work or at home.
Michael:          So, when you were saying that you did it anyway, what occurred to me is. I'll see if I can read where this came from. If someone is thinking of should I speak up or should I write out an article or should I present some conference or even attend a conference. And we'll talk about that topic in a moment. If not me, who? If not now, when? And I'll look up who said that. I think of someone famous.
Sophia:            I'm pretty sure.
Michael:          yeah
Sophia:            very inspiring
Michael:          Yeah so, do you feel writing articles or speaking at events helps people's careers? Has it helped your career?
Sophia:            Sure, it has. But I think more importantly than that, it's really helped me grow personally. And I'm sure because I've grown personally it will spill out into my professional career. But I wrote about this in the article about how it's social conditioning right. I was not girls and personally for me with my culture, I was not raised to speak up.
And so, being able to be invited to the speaking opportunities and being able to take on, write this blog post that went viral or even taking this interview with you Michael. It's been a growing opportunity, learning opportunity that yeah definitely, helps with your … This is my personal growth but also, it helps with my professional career as well.
Michael:          So you're in the culture you grew up in which was Vietnamese American I think.
Sophia:            yeah
Michael:          You were encouraged to be silent.
Sophia:            Yeah, I remember it distinctively with the adult sitting at the adult's table. And even now when I gather with my relatives, we have a distinct 'the adults' table and we have the children table. And even though the children outnumber the adult at this point we're still considered… we have kids now, right.
We're still considered the children. Like different conversations happen and in our culture, it's just not acceptable for you to join the adult conversation. But it's something that I've struggled with as a child and something I continue to struggle with, it's easier.
Michael:          So, I used to organize a big tech conference called C.F. United and it. You know, I deliberately noticed there weren't that many women speaking and I get outreach to get more women speakers. But it often was like pulling teeth to get women to speak.
Why do you think so few women speak at conferences or even attend conferences? Because I know that development; if it's not fifty-fifty men and women it's moderately equal. Maybe it's thirty-seventy or whatever the exact number is. But when it comes to conferences, it's like ten or fifteen percent women.
Sophie:            yeah
Michael:          So, very few women even attend conferences compared to their numbers in the tech community. And then even fewer speak. Why is this?
Sophia:            I think for me when I've gone to ten conferences number one. It also requires you to sell this to your manager, right. That is the talk about what happens in the workplace is being able to sell this. And why I want to go, why this is going to help me. And what we talked about with the I'm remarkable series, women tend not to speak up. And especially, there's a survey that came out and said that women are even less likely to speak up with men in the room.
Right; with the discrepancy with men and women being in the workplace right. Most likely are going to have a male manager and so, being able to speak up and sell yourself, sell this benefit is already set a hard hurdle to overcome.
But then on top of that, when you get there, you'll see the discrepancy women see there's more men. Like what you said there's only about fifteen twenty percent women and my experience is almost like a fat party. And for me being a mum in tech, right. I've gone to conferences in San Francisco in heels and a hospital grade pump, right.
I'm sorry 21:49 [inaudible] but I'm carrying a pump with me and unfortunately, I've been the one to like during times when we should be networking, those are my times where I need to duck away into a private room or I need to. You know bathroom [inaudible] sometimes. And it's unfortunate it's not set up for women.
And then, you're talking about women speaking up as a speaker. Okay so, how do you think that we mentioned all of the above and then asking women? So now, you're looking for women who are on top of their game, staying on top of the industry, being comfortable enough to speak.
And there are a tons of women who are top of the industry, the amount of women who don't want to speak and then those that want to speak, do the opportunities come for them? And so, it's an uphill battle and so the numbers start dwindling when you get to that point.
Michael:          Yeah well, what would it take for more women to attend events? What would it take for more women to speak at events? Because they have a lot to share. If you've got half of your community and they're not speaking, they're not sharing what they've learned their experiences and their insights, the whole community misses out.
So and I found that on my podcast you know, I mean 23:13 [inaudible] I've done my podcast outreach mostly through going to ColdFusion conferences and asking speakers if they'd like to appear on the podcast which will kind of pre-selection for everyone who's already a speaker. But it has been challenging to get women guests even on the podcast.
Sophia:            Yeah and so what I had and what's helped me is I've actually had conferences reach out to me and say hey, we'd really like for you attend. I think you're the prime demographic we're looking to target. Obviously, there's other ulterior motives in having you attend. But then, they have actually said hey, here's a free ticket from the C.E.O., from the organizer of the event. And just makes it easier for women to take that step in having to ask. But also, for managers in the workplace there's an opportunity there to actually talk about, having a conversation about personal development, what conferences do you want, here's our budget you know, give me a list. And my manager, my previous manager is in attendance.
It's been accepted but it's just hard to have that conversation and to justify which conference you want to go to. There's a lot of great conferences. Maybe it's again like I'm just kind of thinking about ideas here but women are more social. So, maybe if you know a woman friend who's going to a conference maybe there some sort of an offering that you can provide to other women can join as well. And the organizer benefits, right. The conference benefits from having more women attend.
Michael:          Yeah, I think those are great suggestions. I've certainly seen conferences that have get two friends to come with you and you'll get a discount which is a great way to encourage people.
Sophia:            The growth marketing conferences, they do it really obviously right 25:09 [laughing]
Michael:          right
Sophia:            They do a really good job. At really reaching out and giving out free tickets to both men and women but really growing their user base. And so, it's just the way that just if we can grow the user base target more women; that's a great way to do it.
Michael:          The other thing I've noticed sometimes conference like you said they have a bit of a frat party atmosphere or could be sexist behavior sickly involving beer it seems to be. And I'll see if I can remember the name of this conference. It was a tech conference a few years ago that had a problem with people harassing other people at the conference.
A lot of conferences now have a code of conduct that you don't go around harassing all the people. Is that part of why women don't go to tech conferences or what was your experience?
Sophia:            For me, you know, I can't speak on behalf of all the other women in why they can't go. But for me personally, that's not something that would stop me. I mean I haven't been… I tend to go for more of the technical conferences too.
And just there to learn but I just yeah, I haven't personally experienced it. But I would imagine if that was an issue where conferences now have to unfortunately have a code of conduct in place for conferences. I could see how that could be a reason why women don't show up. Nobody wants that.
Michael:          Yeah well, I don't think it only happens at conferences. I think people get harassed at work as well or elsewhere so.
Sophia:            right
Michael:          Have you ever been harassed in your work or?
Sophia:            I think you know, more verbally.
Michael:          How do you deal with that?
Sophia:            I try to handle it with grace. But I think I get red in the face to me.
Michael:          yeah
Sophia:            Yeah, I've been you know, it brings back a lot of unfortunate memories of me literally sitting with a group of men and having to defend the technical skills that I have which is unfortunate.
But you have the conversation and you present as much data. At least for me, I can at least say that I'm luckily sitting on a lot of data that I can kind of back that up. And then come up with creative ways to solve that problem that have worked well. But yeah, it can be very infuriating or it is very infuriating to sit there and have to defend why you're good at what you do.
Michael:          Do you think that's something… where is this coming from? Some men attack women's credibility.
Sophia:            I've seen it happen in the playground with my daughters to be honest. And it's hard for me to watch. Sometimes, I just want to go in there and favor and tell that little kid off. But you have to teach her these, you have to teach her all these things. For me, I had to teach her young how to stand up for yourself.
But also to teach boys too, right. If you're parents of boys how to teach them to play nice and it's hard. And I don't have boys so, I can't give you that perspective. But at least for girls to really understand like you're worth, your value and how to not let people talk to you that way.
Michael:          Yeah and I'm also just thinking right now maybe boys do this to other boys too as well. That's just how they're socially conditioned.
Sophia:            they are
Michael:          They're trying to figure out who's the top boy, who's the bottom boy and how can I need to lead other people to get what I want.
Sophia:            right
Michael:          That's part of the other side of this equation. Men are conditioned to behave a certain way. They lose out by that too because if they're always in a hierarchy where they're in competition and they can't trust other men you know, they've lost out on an honest resource there.
Sophia:            absolutely
Michael:          I think this weight issue is a big shift that's happening so, that's why I was very excited when I read your article.
Sophia:            Thank you for getting me on the show.
Michael:          Yeah so let's just close our way. Why are you so proud to be a woman in tech?
Sophia:            I think that this is what we're meant to do. We're innovative because we understand people and not to say that men don't. But we do really want to deeply understand people relatable and to really dig deep into the reasons why.
And being able to be on the technology side, to influence the products that are created to help whatever that problem is women, children, families. Whatever that product is to make people's lives better. I think it's so exciting to be at this point where I can influence both and help solve problems and well tell me. We all want to change the world.
So, I think that that's why it's so exciting and I'm trying to see how we can use this discrepancies in seeing women in technology for an advantage in terms of bringing more women into the fight with us. More companies; I was just a Go Pro not just Google but I was just at Go Pro the other week as well. So, it's been a busy time. But really working with them and helping them hire more women. And so, we hold these events. I hold a… actually I'm leading eight hundred member women supporting women group. And we work very closely with companies who are trying to bring in more diversity inclusion to their companies and businesses.
So, Go Pro is and all these high tech companies are now encouraging women to just get the skills that you need today because we're hiring, we need you. There was a study that said that in… researchers predict that in 2020, there will be one point four million jobs available. But women are only on track to fill twenty two percent of those jobs of the next ten years.
So, we've got to start with the next generation but, we've got to start with what we have today. You can solve this problem.
Michael:          Great! So, if people wanted to find you online, what are the best ways to do that?
Sophia:            Yeah so, you can go to Sofia Eng.com, join my email list and you'll get notified on when I launch my new site. And also, another way is to join my Facebook community. You find us on Facebook it's 32:08 [women in new growth] and it's basically to get support from other women in the industry fighting a good fight.
Michael:          Fabulous! Well, thanks so much for being on the show today.
Sophia:            Thank you so much Michael, really appreciate the time here.