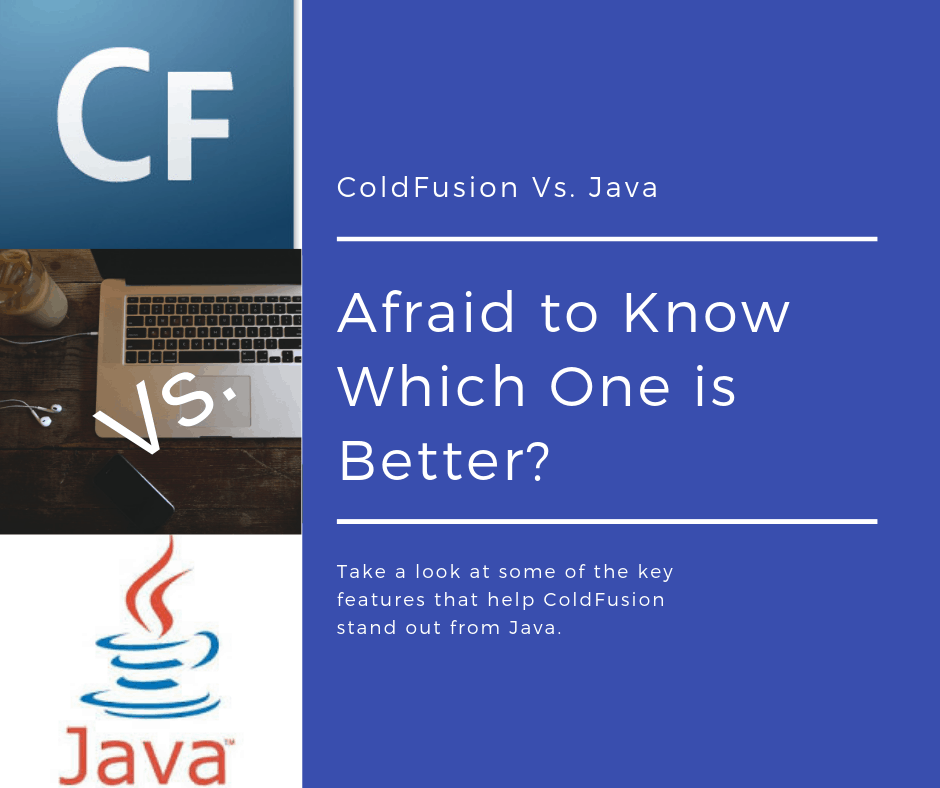 Java is one of the biggest programming languages out there. Although it's not as prolific as before, many programmers still use Java. It is widely considered to be one of those must-learn languages.
But why Java? Why not ColdFusion?
Let's take a look at some of the key features that help ColdFusion stand out from Java.
ColdFusion

Java

RAD

When it comes to Rapid Application Development, there is no other language like ColdFusion. CF was specifically designed so that any user (new or veteran) could pick up the language and easily design an application. From the ColdFusion Builder to native ORM support, ColdFusion accomplishes its goal of making difficult things easy.

Let's just face the facts. Coding in Java takes time. Whereas ColdFusion is a rapid development platform, Java needs the assistance of other applications to become a RAD platform. Among the most popular of these is the CUBA platform. It is an open source framework that provides some of the features that CF provides natively.

Speed of Development and Agility

It's hard to get more simple and elegant than CFML code. What may require many lines of coding with other languages is reduced down to a few simple lines with ColdFusion. In turn, the less time you spend writing code, the faster you actually complete projects. Not only that but, CF is extremely adaptable to Agile coding for complex projects.

From thought to launch, there is no way that Java can compete with ColdFusion. A lot of this is contingent upon the complexity of the coding. Where CF tags or CFScript are very user friendly, Java just isn't as nice to developers. Long strings of unnecessarily picky code can easily frustrate even the most senior of your development team. With Java, practice makes perfect. Java can also be an effective language for Agile methodology, but you must first download third party apps. This is very unlike ColdFusion with its native functions.

Security

ColdFusion is one the most secure development platforms out there. Plain and simple. Even when vulnerabilities do arise. they get taken care of. Adobe releases regular security updates and these can be manually or automatically installed. The dedication of the Adobe team and like-minded members of the CF community help keep security up-to-date and top notch.

You may believe that because since ColdFusion is so secure that its parent language is as well. This is not true. Java is definitely lacking in the security department. Recently though, Java has made some changes to their security with a Security Manager and Sandbox capabilities. But it seems to be too little too late.

User Interface

There's nothing worse than being unable to navigate around your own platform. In accordance with our State of the CF Union 2018, most CF'ers don't find a need to have a UI. However, the ones that do can easily create a homegrown UI with ColdFusion or use a CMS such as Mura to do so.

One of the biggest complaints about Java (besides its security) is the complete lack of a useful UI. In order to even use a GUI with Java, you must first create it yourself. This can be accomplished using one of several programs available such as Swing. Although even hardcore Java users claim that these UIs tend to take away the actual look and feel of Java.
As you can see, ColdFusion grew up to be an awesome language in its own respect. And Java is becoming a shadow of its former self. This is a classic example of how the mighty have fallen. But do you think this could happen with ColdFusion? Adobe has dedicated at least ten more years to ColdFusion. What are some important areas they should keep up with (or add to) in order to withstand the test of time? Let us know in the comments below! If you like what you read, go ahead and follow us on Twitter @TeraTechCF and never miss an update.
Cheers!
PS Here are some charts and CVE details for you to check out.
CVE details specify the number of critical vulnerabilities in comparison with other languages.
Most Secure Programming Language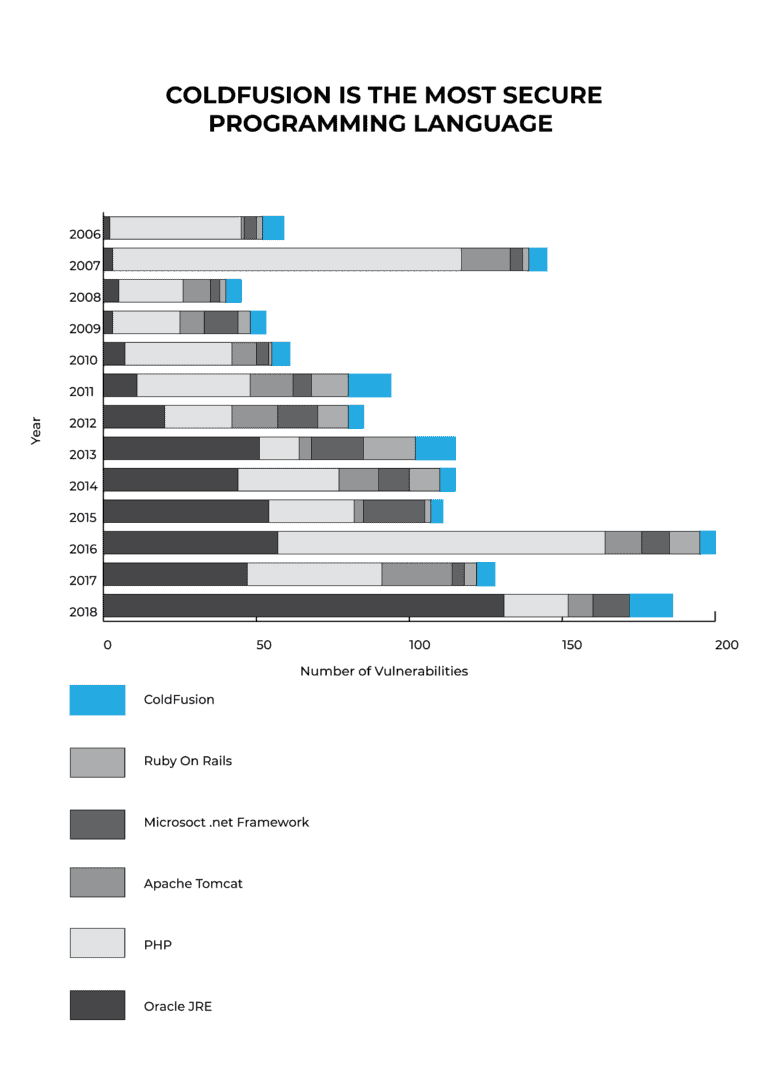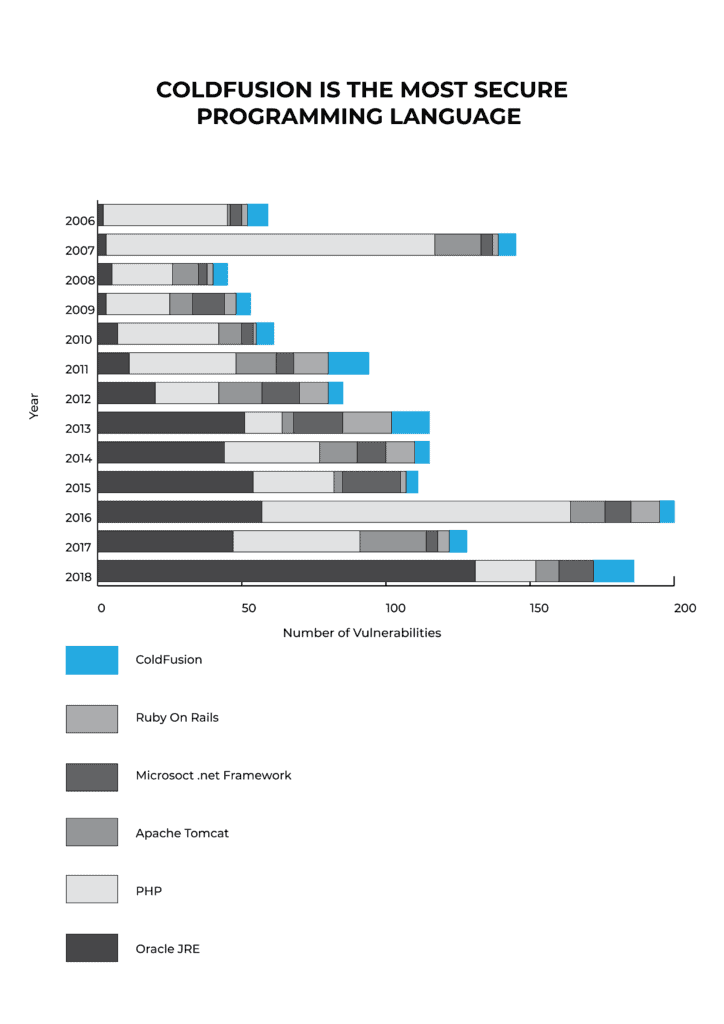 And to continue learning how to make your ColdFusion apps more modern and alive, I encourage you to download our free ColdFusion Alive Best Practices Checklist.
Because… perhaps you are responsible for a mission-critical or revenue-generating CF application that you don't trust 100%, where implementing new features is a painful ad-hoc process with slow turnaround even for simple requests.
What if you have no contingency plan for a sudden developer departure or a server outage? Perhaps every time a new freelancer works on your site, something breaks. Or your application availability, security, and reliability are poor.
And if you are depending on ColdFusion for your job, then you can't afford to let your CF development methods die on the vine.
You're making a high-stakes bet that everything is going to be OK using the same old app creation ways in that one language — forever.
All it would take is for your fellow CF developer to quit or for your CIO to decide to leave the (falsely) perceived sinking ship of CFML and you could lose everything—your project, your hard-won CF skills, and possibly even your job.
Luckily, there are a number of simple, logical steps you can take now to protect yourself from these obvious risks.
No Brainer ColdFusion Best Practices to Ensure You Thrive No Matter What Happens Next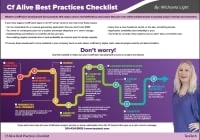 ColdFusion Alive Best Practices Checklist
Modern ColdFusion development best practices that reduce stress, inefficiency, project lifecycle costs while simultaneously increasing project velocity and innovation.
√ Easily create a consistent server architecture across development, testing, and production
√ A modern test environment to prevent bugs from spreading
√ Automated continuous integration tools that work well with CF
√ A portable development environment baked into your codebase… for free!
Learn about these and many more strategies in our free ColdFusion Alive Best Practices Checklist.