Adobe ColdFusion CF Summit East 2018 was on April 25th, 2018 in Washington DC and it was free to attend.  

As Adobe people told us and predicted, more than 200 people attended the conference.
This is the East coast counterpart of Adobe's more bigger event, the Adobe CF Summit (West) conference, which takes place in Las Vegas each year in the Fall. CF Summit East is mainly for the people who can't travel to LV for any number of reasons (including LV business travel restrictions, budget issues). This is their 6th year in a row to organize this conference in the East Coast. This is the last year's highlights


One of the things that are very interesting is that this is FREE. Yes, that's correct. It is free to go to this event. It even includes breakfast and lunch. Who said there is no such thing as a free lunch?
Speakers
Most of the speakers have been with the product for as long as it exists. We already know the names of the 10 speakers and what they will be talking about:
Rakshith Naresh – new features of CF 2018 (second half of 2018 release date)

Elishia Dvorak – CF API manager

Tridib Roy Chowdhury – Keynote State of CF with customers, Adobe's plans, customer experiences with CF

Charlie Arehart – new in CF 10, 11, 2016 that you may have missed

Pete Freitag – Securing mature CFML codebases

Masha Edelen – Power of Simplicity in FW/1 Framework

Eric Cobb – Building Better SQL Server Databases

Kevin Schmidt – PDF

Trip Ward – Angular.js and CF

Mike Collins – Distributed caching

Dave Watts and Theonic Way – Upgrading legacy CF servers
From Government CF to all CFers
Last year event was titled the CF government summit – but in reality it was not all CF government focused. This lead to some confusion on who should be attending and this is why this year it's does not include government in the name. All CFers (including government ones) are welcome to attend.
Why is it important?
It is important for all ColdFusion developers to go because you will learn about:
New features in CF

Direction of CF

Roadmap through 2025
This event is very important for the ColdFusion community, and everyone using ColdFusion. It's the largest developer event on the East Coast focusing just on ColdFusion and the place for all CF developers and users to network and to address all the problems and challenges they're facing and have people from Adobe directly present and involved and willing to listen and develop on that basis.
Adobe is committed in its roadmap until 2025 to improve and upgrade ColdFusion. It is nice to see Adobe's commitment towards the product marketing with the CF Summit event.
This year conference was recorded so you can expect a lots of good material as a follow-up. Make sure you attend the next one and let us know how it went.
And to continue learning how to make your ColdFusion apps more modern and alive, I encourage you to download our free ColdFusion Alive Best Practices Checklist.
Because… perhaps you are responsible for a mission-critical or revenue-generating CF application that you don't trust 100%, where implementing new features is a painful ad-hoc process with slow turnaround even for simple requests.
What if you have no contingency plan for a sudden developer departure or a server outage? Perhaps every time a new freelancer works on your site, something breaks. Or your application availability, security, and reliability are poor.
And if you are depending on ColdFusion for your job, then you can't afford to let your CF development methods die on the vine.
You're making a high-stakes bet that everything is going to be OK using the same old app creation ways in that one language — forever.
All it would take is for your fellow CF developer to quit or for your CIO to decide to leave the (falsely) perceived sinking ship of CFML and you could lose everything—your project, your hard-won CF skills, and possibly even your job.
Luckily, there are a number of simple, logical steps you can take now to protect yourself from these obvious risks.
No Brainer ColdFusion Best Practices to Ensure You Thrive No Matter What Happens Next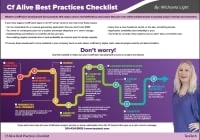 ColdFusion Alive Best Practices Checklist
Modern ColdFusion development best practices that reduce stress, inefficiency, project lifecycle costs while simultaneously increasing project velocity and innovation.
√ Easily create a consistent server architecture across development, testing, and production
√ A modern test environment to prevent bugs from spreading
√ Automated continuous integration tools that work well with CF
√ A portable development environment baked into your codebase… for free!
Learn about these and many more strategies in our free ColdFusion Alive Best Practices Checklist.