"What is CFCamp"
CFCamp was created with the purpose of providing general training for both beginner and advanced level CFML programmers. The conference began life in 2008 with 100 attendees and 9 sessions. In 2011 we revived the conference and hosted 120 attendees and 9 sessions.
CFCamp has established itself over the years as a very well known conference in the CFML community and is the only CFML conference in Europe."

Great news for all CFers out there.
This year's conference will be on 8.+9. November at Courtyard Hotel Munich Garching. It is a brand new hotel.*
As you know this is the only CF conference in Europe so book your ticket on time.
"*By brand new I we mean it literally: The hotel is currently a construction site and will open late spring this year."
Location
It is a new hotel about 15 minutes away from Munich airport and easily accessible via metro. As always, the organizers do find a nice spot for us to meet. I do know that they must have a nice bar area though…
Well, it seems there's been a change. Do to circumstances beyond their (organizers) control they are changing it to be at the Munich Airport Marriot Hotel. We hear it's very nice, and we heard also something about a special beer house…? 🙂
Read the full report about the change of venue here
Call for speakers
If you want to join and be more than just a guest and a listener, you're still able to apply for a speaker at the conference. You should apply here
Pricing and tickets
As you already know, Michi and the team always try to make it affordable for everyone and they promise to continue that this year. Tickets aren't available yet, but we will keep you updated.
Additional information and help
In case you need any help with the hotel or you might need a letter of invitation, feel free to contact the organizers by submitting this form
Become a sponsor
TeraTech was a media sponsor last year and we're looking forward to working with CFCamp team this year as well. If you are interested in supporting the conference here's the full info link
Looking forward to seeing so many of you this year at CFCamp 2018.
CF rocks!
And to continue learning how to make your ColdFusion apps more modern and alive, I encourage you to download our free ColdFusion Alive Best Practices Checklist.
Because… perhaps you are responsible for a mission-critical or revenue-generating CF application that you don't trust 100%, where implementing new features is a painful ad-hoc process with slow turnaround even for simple requests.
What if you have no contingency plan for a sudden developer departure or a server outage? Perhaps every time a new freelancer works on your site, something breaks. Or your application availability, security, and reliability are poor.
And if you are depending on ColdFusion for your job, then you can't afford to let your CF development methods die on the vine.
You're making a high-stakes bet that everything is going to be OK using the same old app creation ways in that one language — forever.
All it would take is for your fellow CF developer to quit or for your CIO to decide to leave the (falsely) perceived sinking ship of CFML and you could lose everything—your project, your hard-won CF skills, and possibly even your job.
Luckily, there are a number of simple, logical steps you can take now to protect yourself from these obvious risks.
No Brainer ColdFusion Best Practices to Ensure You Thrive No Matter What Happens Next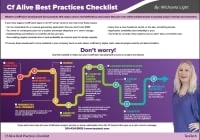 ColdFusion Alive Best Practices Checklist
Modern ColdFusion development best practices that reduce stress, inefficiency, project lifecycle costs while simultaneously increasing project velocity and innovation.
√ Easily create a consistent server architecture across development, testing, and production
√ A modern test environment to prevent bugs from spreading
√ Automated continuous integration tools that work well with CF
√ A portable development environment baked into your codebase… for free!
Learn about these and many more strategies in our free ColdFusion Alive Best Practices Checklist.