With only 9 weeks left to CFCAMP 2018, everyone is already buzzing about it. Since the venue has been changed, the organizers had a crazy ride and they were able to do it. Hopefully, from now on, it's smooth sailing.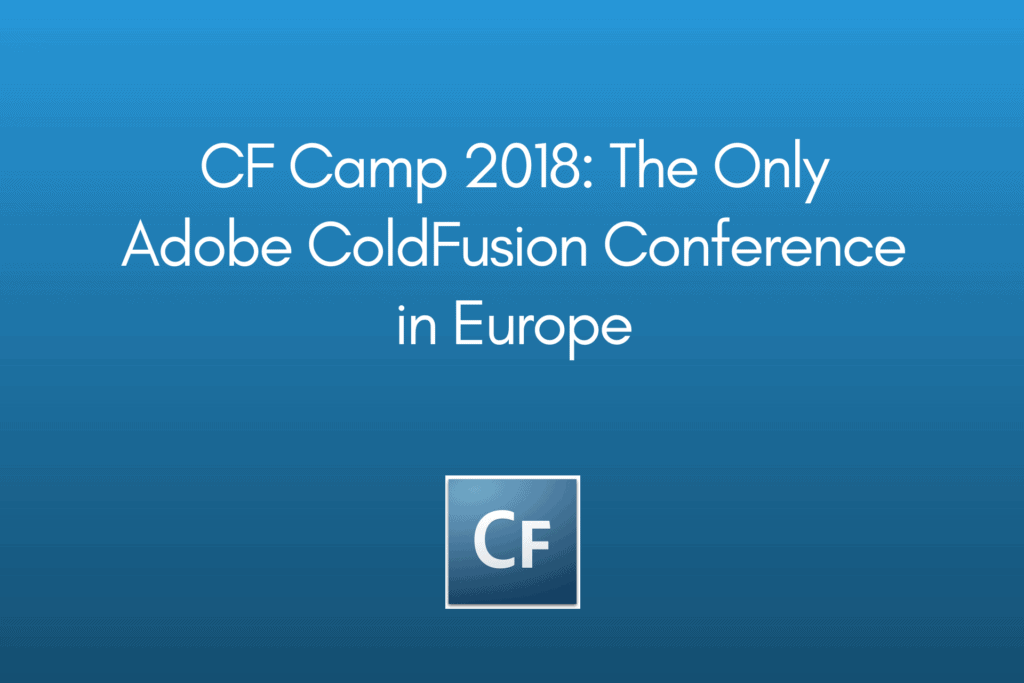 CF Camp 2018 is the only ColdFusion conference in Europe. Since last year, a lot has happened. The main thing is Adobe will be talking about the new version: CF 2018.
We expect that there will be a lot of talk about it. Still, no speakers from Adobe announced, but we're sure there will be. Kishore Balakrishnan had a very nice presentation last year.
Pre-conference activities
Once you get to Munich, I suggest you take a day or two to go around the city. It's beautiful. There's always something new to see. And for all of you who drink beer (I am tea fan) it should be extra- interesting to visit beer gardens that are at almost every step!
Once you are done with all of that, make sure you leave time to go to
PresideCon (Nov, 7th)
A day before the official start of the CF Camp 2018 you can go to a full day of presentation and insights of their application framework and enterprise content management system PresideCMS.
The sponsor of this event is Pixl8, and thanks to them the ticket price is only 45 euros for this full-day event. It also covers food and drink for the whole day.
Dom Watson will have a welcome speech after which there are 2 tracks.
Track 1
Preside 101, getting set up (

Michael Hnat

) 10:15

Customizing data manager + admin experience 11:15

Caching 12:15

Getting fancy with Preside admin forms (Jan Jannek) 14:00
Track 2
Preside as a platform 10:15 AM

Moving to Preside and creating multi-lingual sites (Steve Dowle) 11:15

A membership website case study 12:15

Message Pipes + Email center 14:00
Both tracks are having the end discussions and networking. Personally, this is always the best part for me. I love talking everything- CF with fellow developers and experts and Preside is a very interesting topic for me lately.
CF Camp 2018 Call for Speakers
If you are planning on coming to Munich, this is the perfect timing. CF Camp organizers still haven't closed their call for the speakers at the conference and I suggest you start applying. Let's get more involved and contribute both to the community and to the ColdFusion. Let's be active!
Here the official page to apply
19 speakers are announced already, but this is not final (obviously). Rather than pick the talks I am going to now, I'll just wait and see what the final topics are and decide at the last moment. I might even go from room to room, eavesdropping and making sure I don't miss anything 😉
See you at the CF Camp 2018!
And to continue learning how to make your ColdFusion apps more modern and alive, I encourage you to download our free ColdFusion Alive Best Practices Checklist.
Because… perhaps you are responsible for a mission-critical or revenue-generating CF application that you don't trust 100%, where implementing new features is a painful ad-hoc process with slow turnaround even for simple requests.
What if you have no contingency plan for a sudden developer departure or a server outage? Perhaps every time a new freelancer works on your site, something breaks. Or your application availability, security, and reliability are poor.
And if you are depending on ColdFusion for your job, then you can't afford to let your CF development methods die on the vine.
You're making a high-stakes bet that everything is going to be OK using the same old app creation ways in that one language — forever.
All it would take is for your fellow CF developer to quit or for your CIO to decide to leave the (falsely) perceived sinking ship of CFML and you could lose everything—your project, your hard-won CF skills, and possibly even your job.
Luckily, there are a number of simple, logical steps you can take now to protect yourself from these obvious risks.
No Brainer ColdFusion Best Practices to Ensure You Thrive No Matter What Happens Next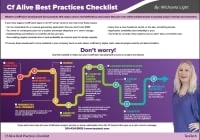 ColdFusion Alive Best Practices Checklist
Modern ColdFusion development best practices that reduce stress, inefficiency, project lifecycle costs while simultaneously increasing project velocity and innovation.
√ Easily create a consistent server architecture across development, testing, and production
√ A modern test environment to prevent bugs from spreading
√ Automated continuous integration tools that work well with CF
√ A portable development environment baked into your codebase… for free!
Learn about these and many more strategies in our free ColdFusion Alive Best Practices Checklist.