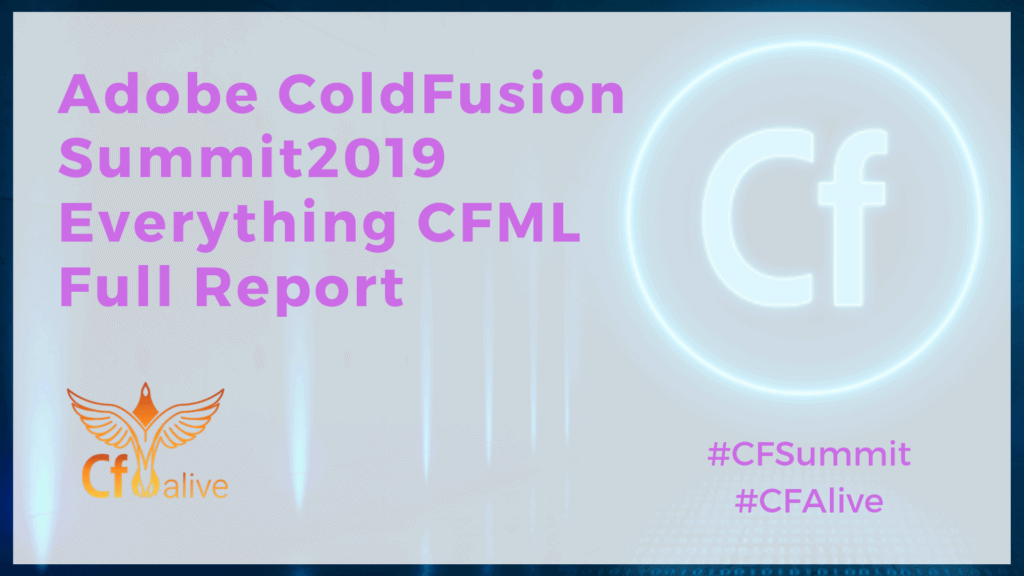 About ColdFusion Summit
The ColdFusion Summit is a confluence of everything in the realm of web applications. If you develop web applications, this is the place to be. For designers, developers, strategists and thought leaders, the ColdFusion Summit provides the perfect forum to exchange ideas, inspiration and experiences.
Not only that. As well as opportunities to interact with ColdFusion experts, domain leaders and peers get to learn about the latest technologies, techniques, and strategies to rapidly build and successfully deliver web applications to the market. With the web applications world evolving rapidly, explore how ColdFusion is driving change and how you can propel this dynamism.
Adobe ColdFusion Specialist Certificate Program


It was awesome! I was lucky to catch almost everything, and sad at the same time, because I didn't catch (everything 🙂 ) but, I will provide you with the full report soon. 
The Adobe ColdFusion Specialist is a full-day certificate classroom program, delivered by top Adobe ColdFusion experts. You will be enrolled in the course as soon as you register and will receive course instructions and prep materials two weeks prior to the on-site program date. Once you have completed the training, you will partake in an online assessment. And only upon successful completion will you be awarded your Adobe ColdFusion Specialist certificate. By the end of this program, participants will have mastered all the major features in the latest release of Adobe ColdFusion – to use CFML to develop, test, debug, and deploy web apps. It also shows how CF acts as a glue between different systems.
Adobe ColdFusion Summit West 2019- Two Days of "Everything CFML"


The main event starts in a few hours and I already feel tinkles. As usual, I will follow closely everything that is going on and provide you with all the details that you might have missed. Of course, it's not possible to transcend to that atmosphere, but I'll do the most I can.
See you soon!
Things are shaping up at The Mirage as the crew works hard to make things ready for #ColdFusion Summit 2019! Here's a little general info. (What time to wake up!)#Adobe @ColdFusion pic.twitter.com/ObdDaFxPV1

— Vicky Ryder 🎥💜🎙 (@QueenOfCBR) September 30, 2019
Speakers and sessions
Here's the full list of sessions for CF Summit 2019
Here's the full list of speakers for CF Summit 2019
CF Summit in general talk
At the CF Summit East 2019, we've heard much of the new and interesting stuff to come from the ColdFusion world. One of the high points for me, personally, was talking about ColdFusion Vision for the Next 10 Years, with Rakshith Naresh.

The Adobe Coldfusion Summit 2018
2018 was a very fruitful year for Adobe and ColdFusion. There were 3 conferences and they had an excellent response from the CFers.
Let's just wait and see what other CF gems Adobe will offer this and the coming year(s).
Join the CF Alive revolution
Discover how we can all make CF more alive, modern and secure this year. Join other ColdFusion developers and managers in the
CF Alive Inner Circle
today.
Get early access to the CF Alive book and videos
Be part of a new movement for improving CF's perception in the world.
Contribute to the CF Alive revolution
Connect with other CF developers and managers
There is no cost to membership.