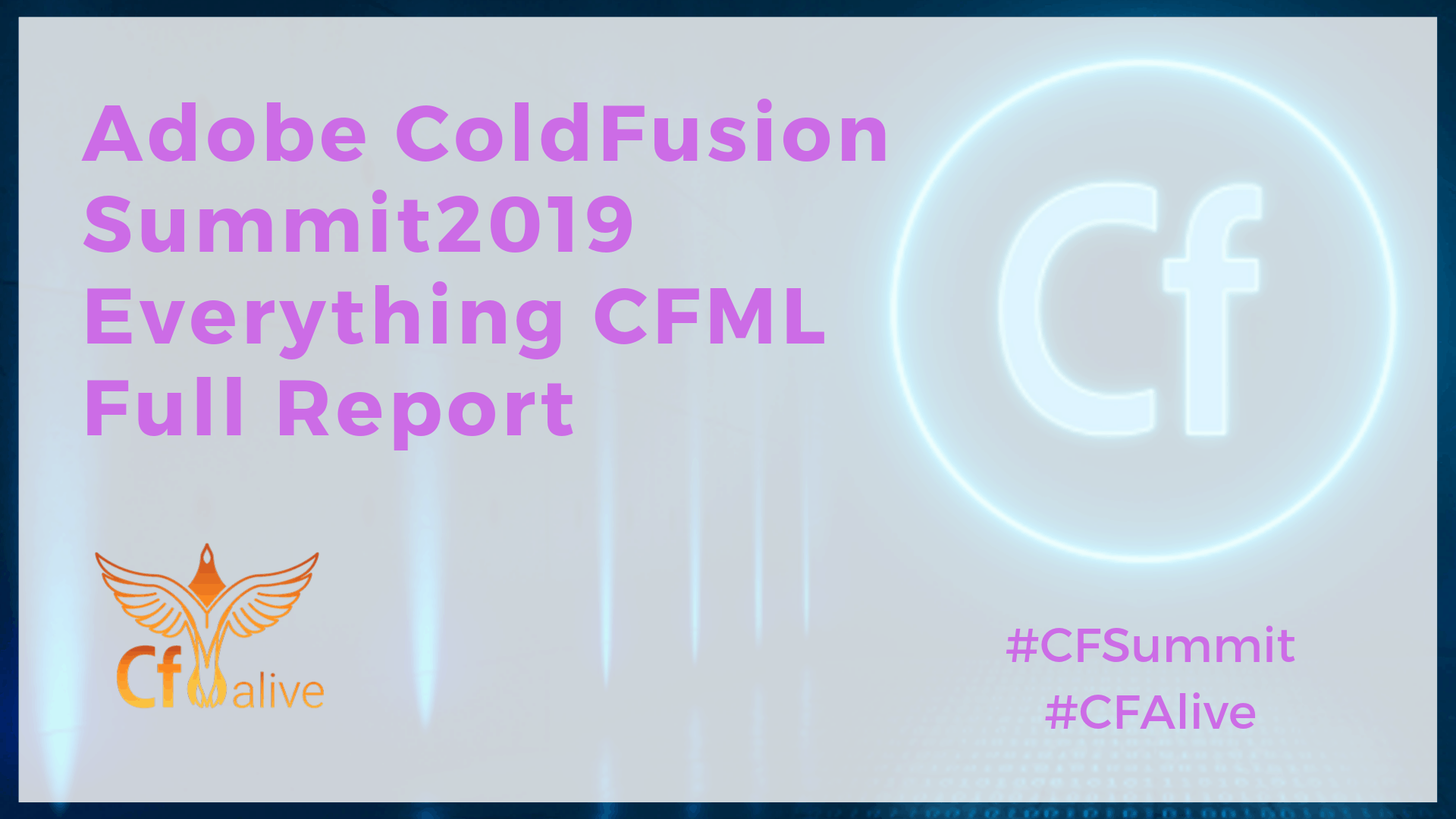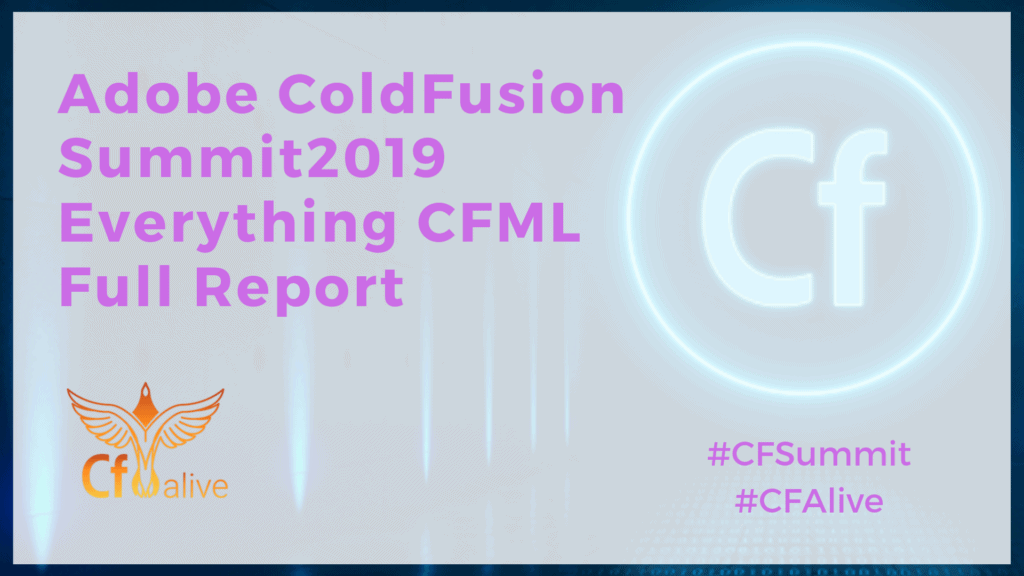 About ColdFusion Summit
The ColdFusion Summit is a confluence of everything in the realm of web applications. If you develop web applications, this is the place to be. For designers, developers, strategists and thought leaders, the ColdFusion Summit provides the perfect forum to exchange ideas, inspiration and experiences.
Not only that. As well as opportunities to interact with ColdFusion experts, domain leaders and peers get to learn about the latest technologies, techniques, and strategies to rapidly build and successfully deliver web applications to the market. With the web applications world evolving rapidly, explore how ColdFusion is driving change and how you can propel this dynamism.
Adobe ColdFusion Specialist Certificate Program

It was awesome! I was lucky to catch almost everything, and sad at the same time, because I didn't catch (everything 🙂 ) but, I will provide you with the full report soon. 
The Adobe ColdFusion Specialist is a full-day certificate classroom program, delivered by top Adobe ColdFusion experts. You will be enrolled in the course as soon as you register and will receive course instructions and prep materials two weeks prior to the on-site program date. Once you have completed the training, you will partake in an online assessment. And only upon successful completion will you be awarded your Adobe ColdFusion Specialist certificate. By the end of this program, participants will have mastered all the major features in the latest release of Adobe ColdFusion – to use CFML to develop, test, debug, and deploy web apps. It also shows how CF acts as a glue between different systems.
Adobe ColdFusion Summit West 2019- Two Days of "Everything CFML"


The main event starts in a few hours and I already feel tinkles. As usual, I will follow closely everything that is going on and provide you with all the details that you might have missed. Of course, it's not possible to transcend to that atmosphere, but I'll do the most I can.
See you soon!
Things are shaping up at The Mirage as the crew works hard to make things ready for #ColdFusion Summit 2019! Here's a little general info. (What time to wake up!)#Adobe @ColdFusion pic.twitter.com/ObdDaFxPV1

— Vicky Ryder 🎥💜🎙 (@QueenOfCodebass) September 30, 2019
Speakers and sessions
Here's the full list of sessions for CF Summit 2019
Here's the full list of speakers for CF Summit 2019
CF Summit in general talk
At the CF Summit East 2019, we've heard much of the new and interesting stuff to come from the ColdFusion world. One of the high points for me, personally, was talking about ColdFusion Vision for the Next 10 Years, with Rakshith Naresh.

CF Summit 2019, and CF Alive podcast with Darren Pywell

CF Summit 2019, and CF Alive podcast with Jason Long from Mura
CF Summit 2019, and CF Alive podcast with Luis Majano- Learn CF in 100 minutes
Adobe CF Summit 2019 Slides and Presentations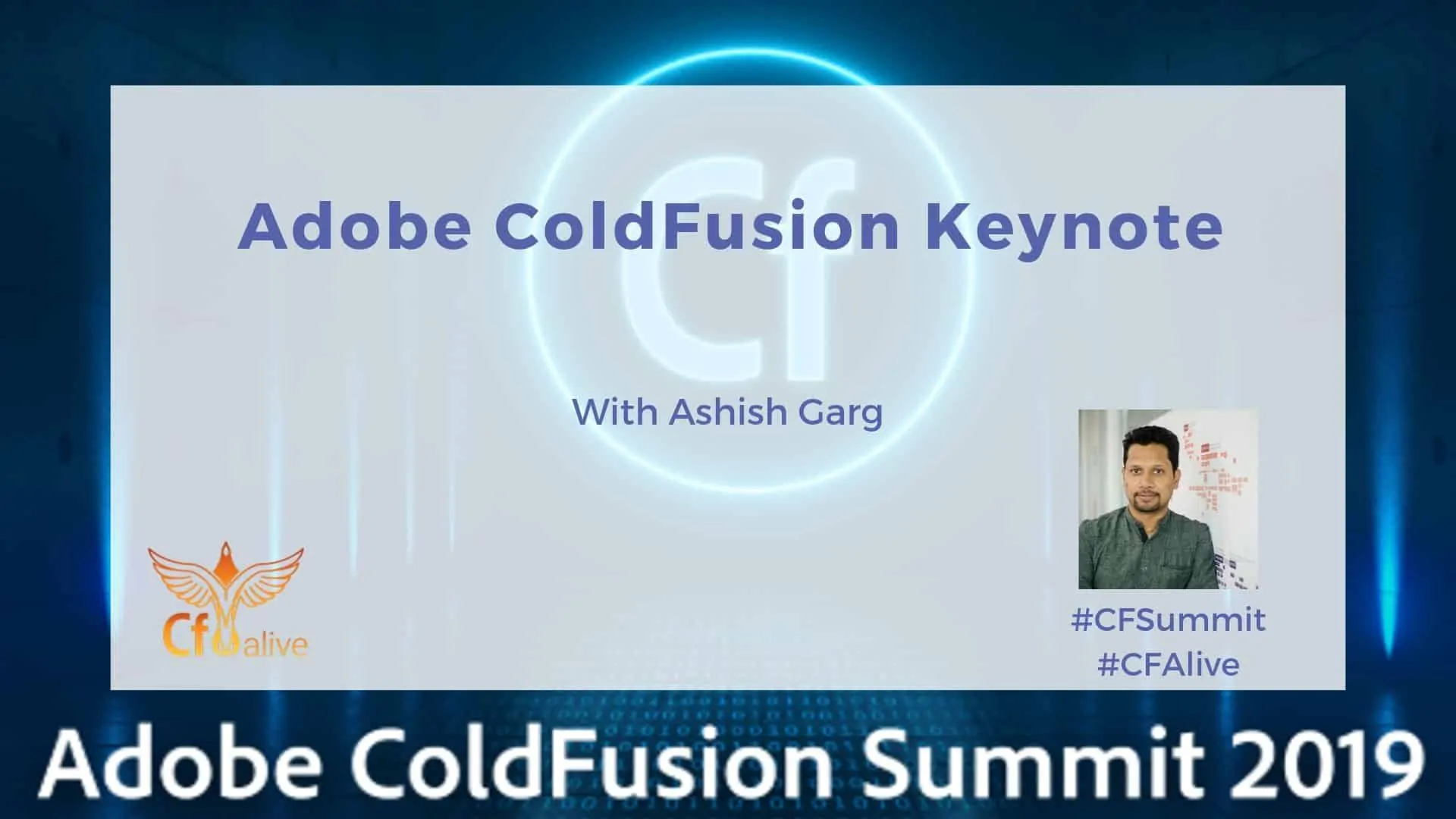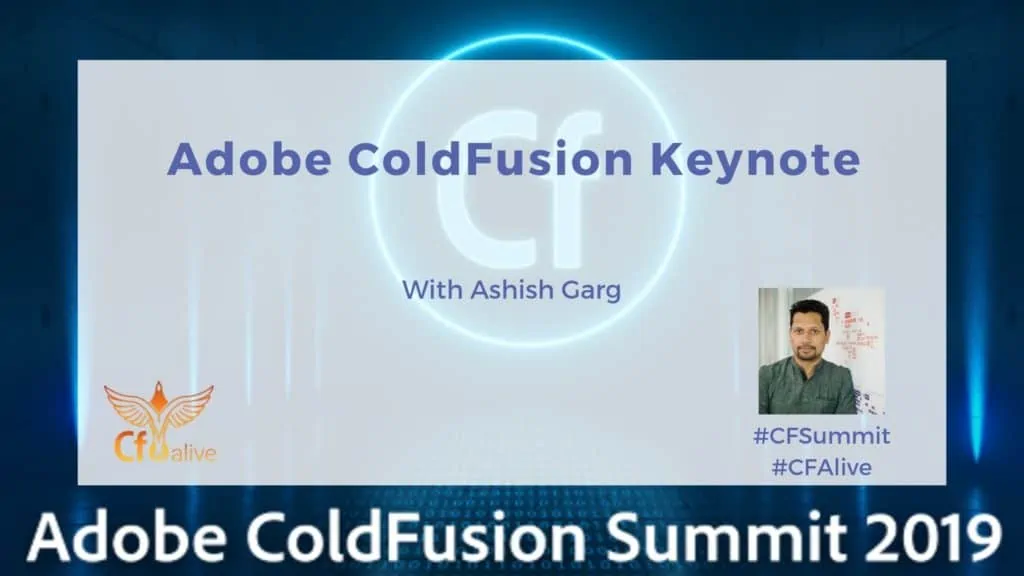 Adobe ColdFusion Keynote by

Ashish Garg
Ashish is Director of Engineering at Adobe Inc., Bangalore. Ashish leads the engineering teams for Adobe ColdFusion and eLearning products portfolio from Adobe, that includes Adobe Captivate, Adobe Captivate Prime and Adobe Connect. Ashish is associated with Adobe for close to 15 years and in this tenure, has worked on a numerous products and idea projects.
ColdFusion and Vue – building CFML-powered reactive applications by

Matt Gifford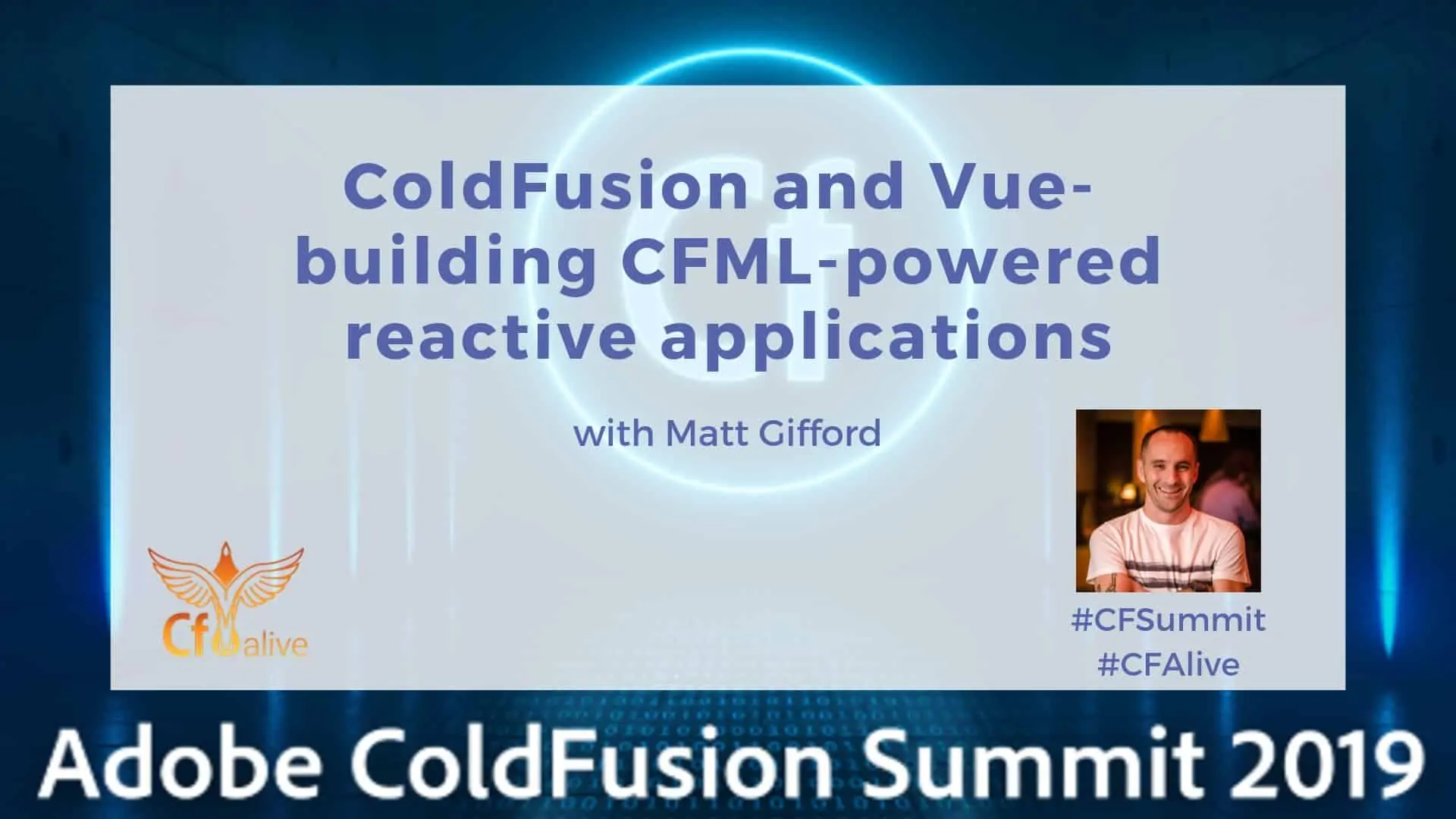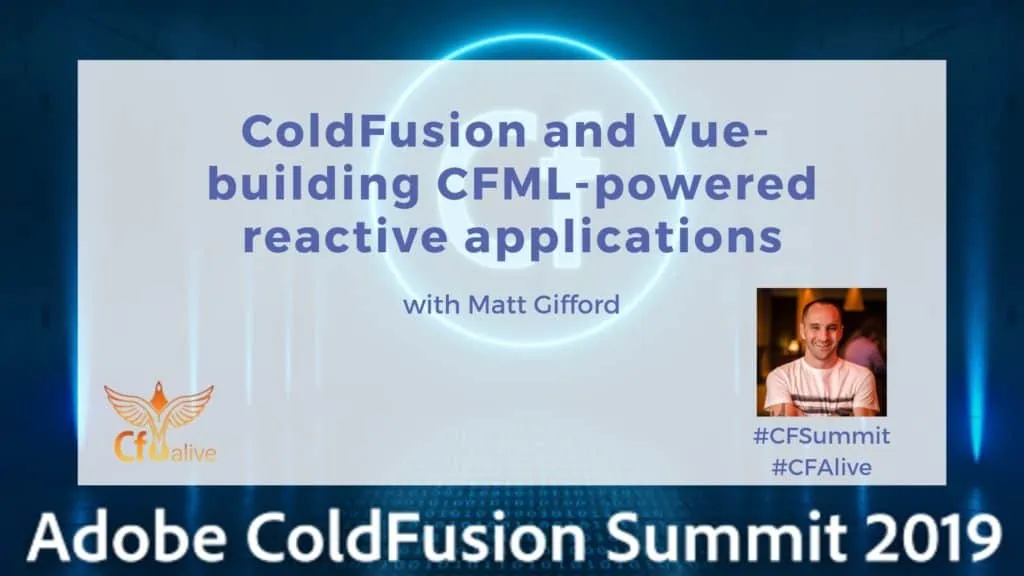 In this session Matt introduced Vue.js, the powerful reactive framework, and show the fundamental basics on how to use it.
Matt is Web & application developer, author, magazine contributor and conference speaker.
Practical Functional Programming in ColdFusion by

Abram Adams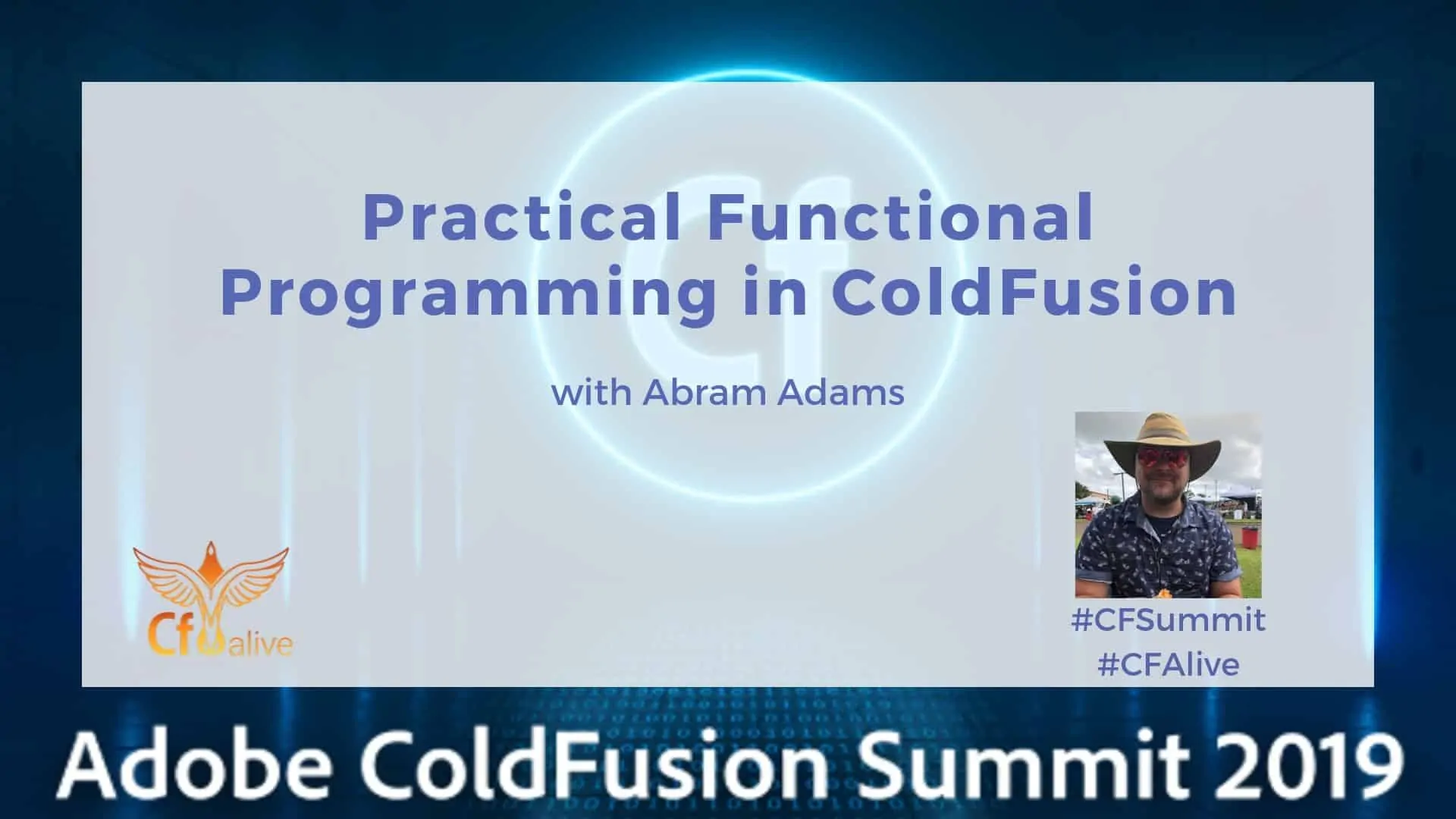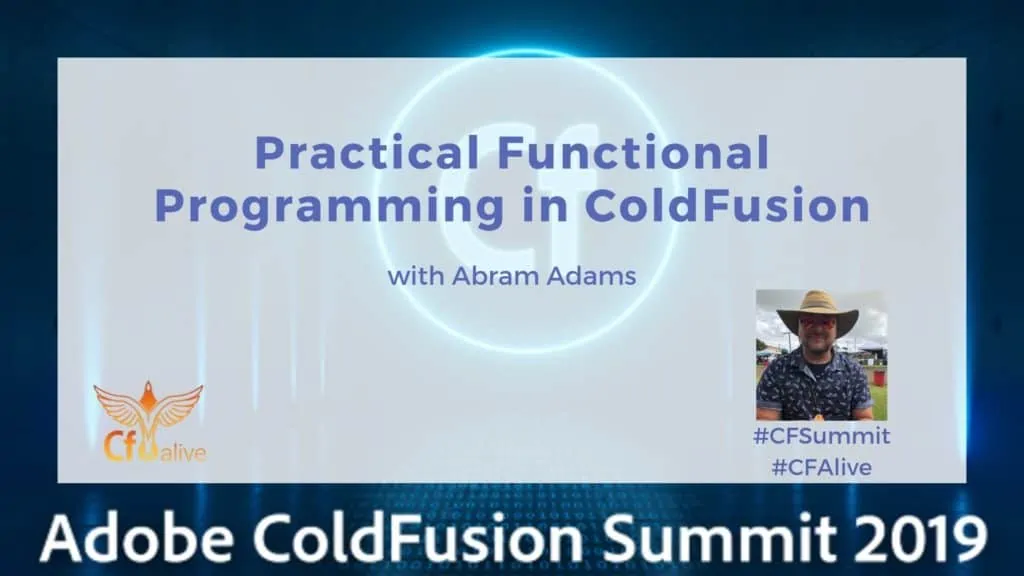 In this session Abram introduced some of ColdFusion's functional type functions (map, reduce, lambdas, closures, etc…) and when/how to use them. 
Abram Adams is Senior Software Engineer. He has been developing for the web and desktop since the turn of the century and has specialized in ColdFusion application development for most of that time.
Download the full presentation here: https://slides.com/abramadams/practical-fp-in-cfml#/
Shake N'Bake: Top 10 Performance Tuning Tricks to put you in First Place by

Elishia Dvorak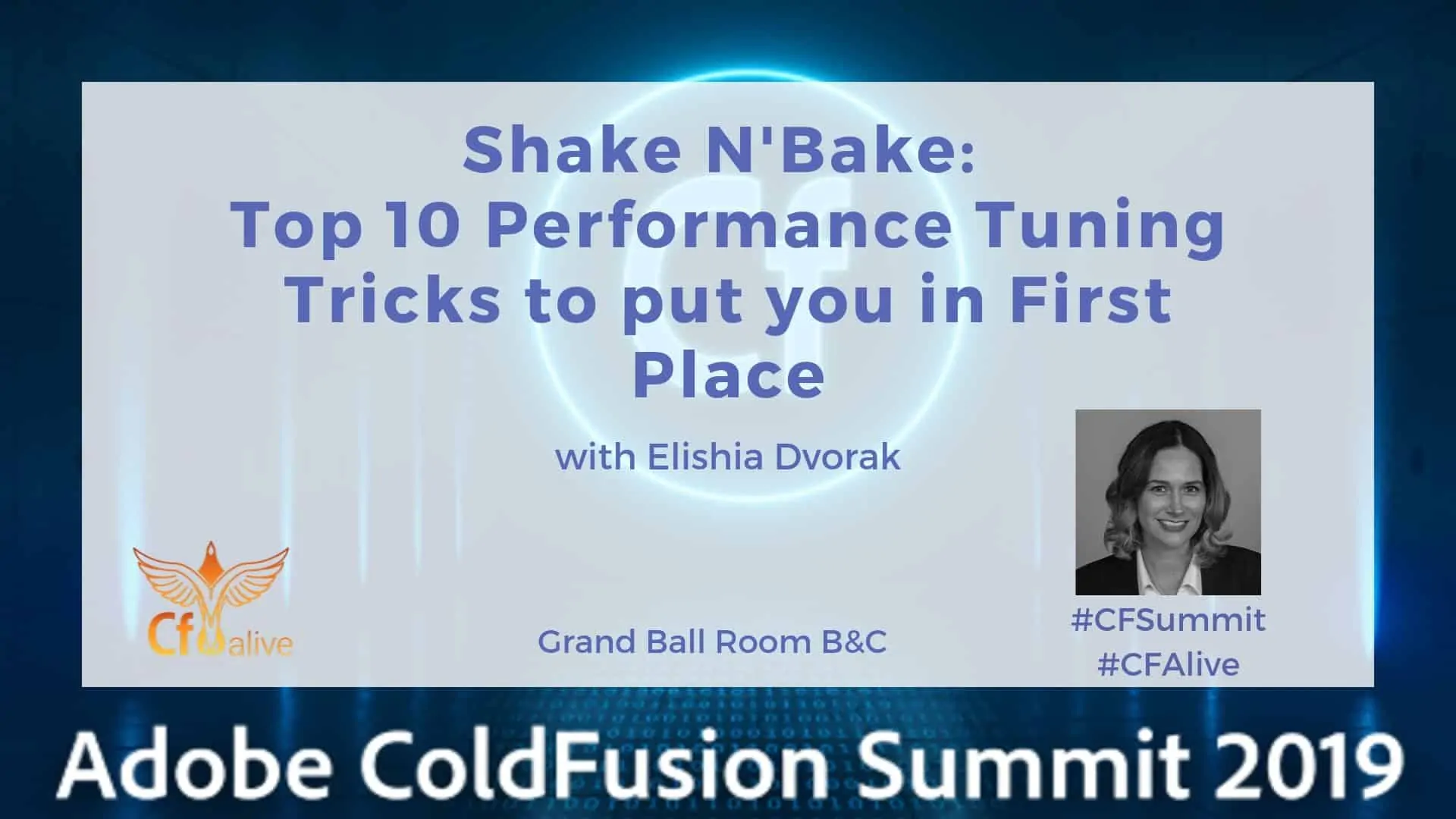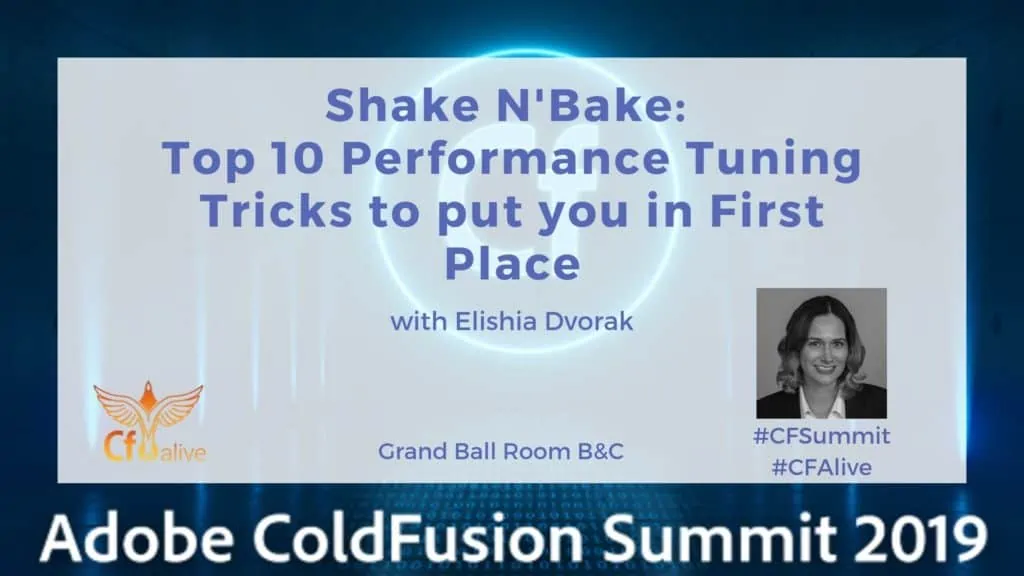 If you ain't first, you're last! Performance can make or break your win lose streak.
In this session Elishia has introduced the top 10 performance tuning tricks to diagnose and troubleshoot your most common performance issues with the new Performance Monitoring Toolset from ColdFusion 2018.
Elishia Dvorak is the Technical Marketing Manager at Adobe supporting both eLearning and ColdFusion product lines. In that role she provides sales & marketing support, technical guidance, education & training for those products and integrated technologies.
Try This At Home: Building Your Own ColdFusion Swarm by

Matthew Clemente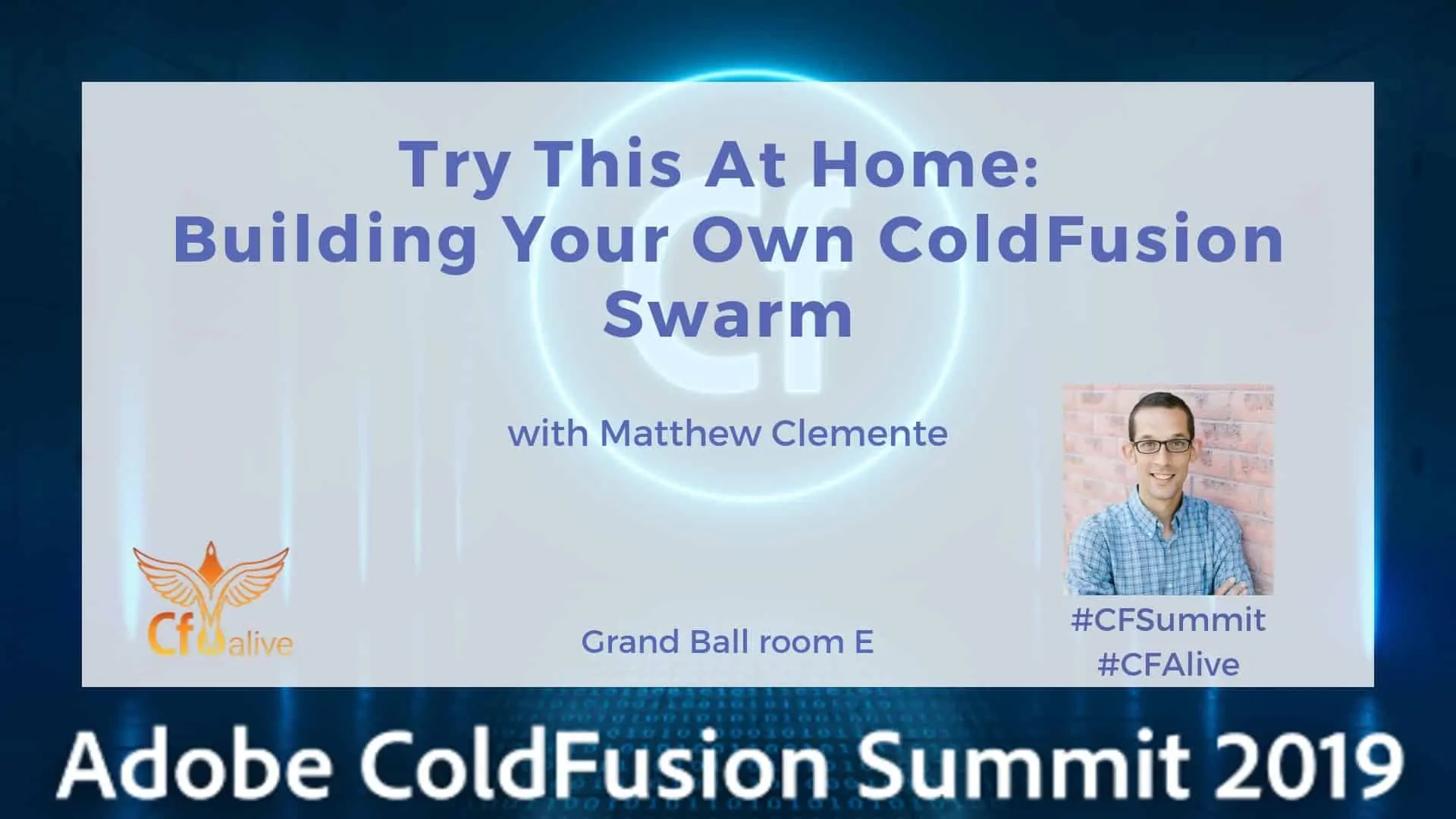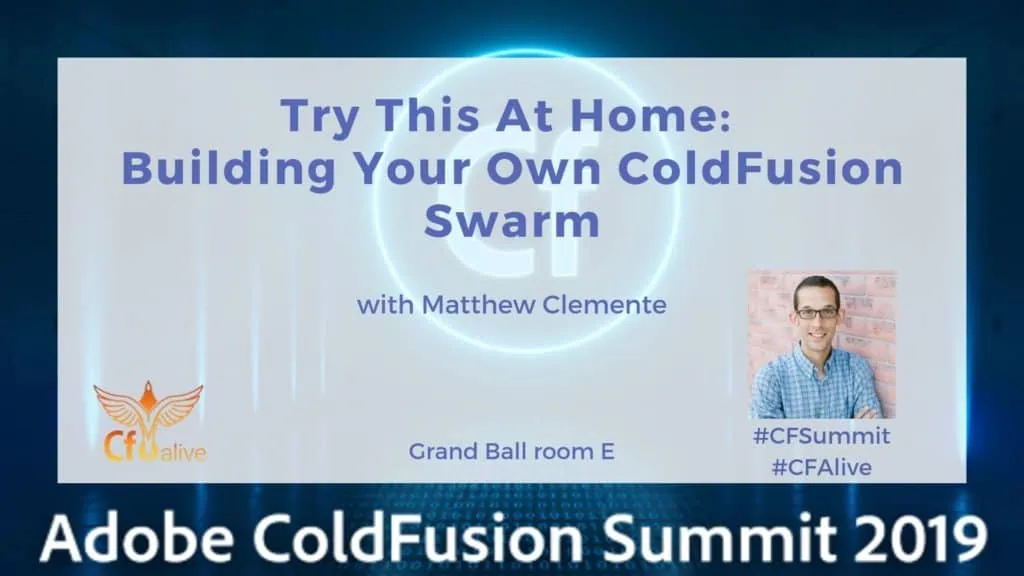 There's no shortage of excitement surrounding Docker. 
In this session, Matthew provided the code, examples, and step-by-step instructions to get them started, as we used CommandBox to take a real application from local development to replicated cloud deployment on a multi-node Swarm. 
Matthew Clemente is a Founding Partner with Season 4, LLC, a team of designers, programmers, and writers working in the legal industry.
Download the full presentation here: 
https://slides.com/mjclemente/coldfusion-docker-swarm-cfsummit-2019/fullscreen#/
ColdFusion for the next decade – All about the buzzworthy ColdFusion 2020 by

Rakshith Naresh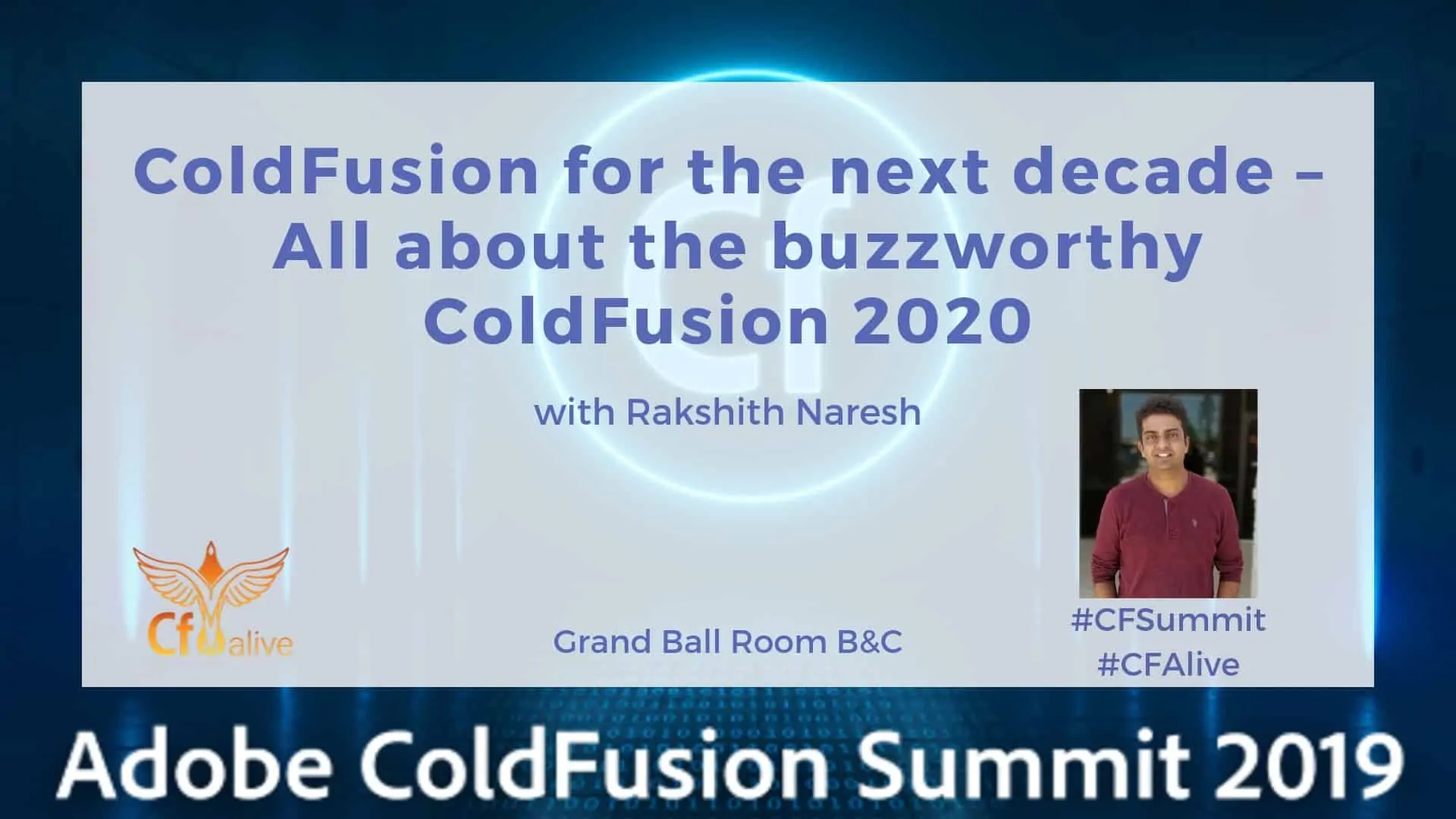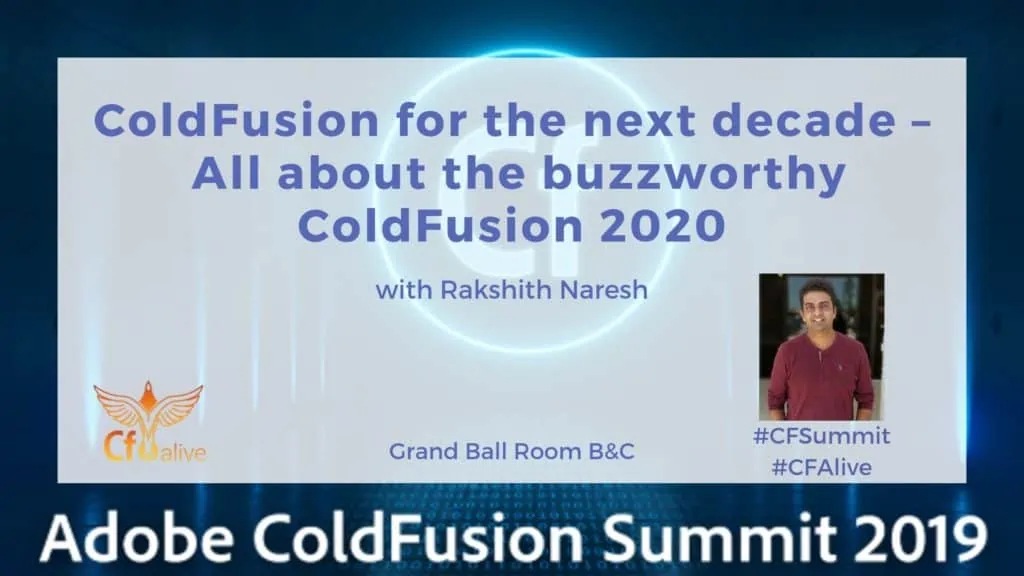 One of the reasons for ColdFusion's success right from its inception is that the platform has been able to pivot at regular intervals to remain relevant for the future.
There are very few technologies that have managed to stay in the game for so long and that is something all of us in the community are proud of.
ColdFusion 2020, slated to be released next year, is going one such pivotal release in the history of ColdFusion.
Rakshith Naresh is the Product Manager for ColdFusion and Captivate Prime Content Catalog. 
Customer Showcase: Learn How Central San uses ColdFusion to Interconnect and Manage Enterprise Infrastructure Assets by

Carl Von Stetten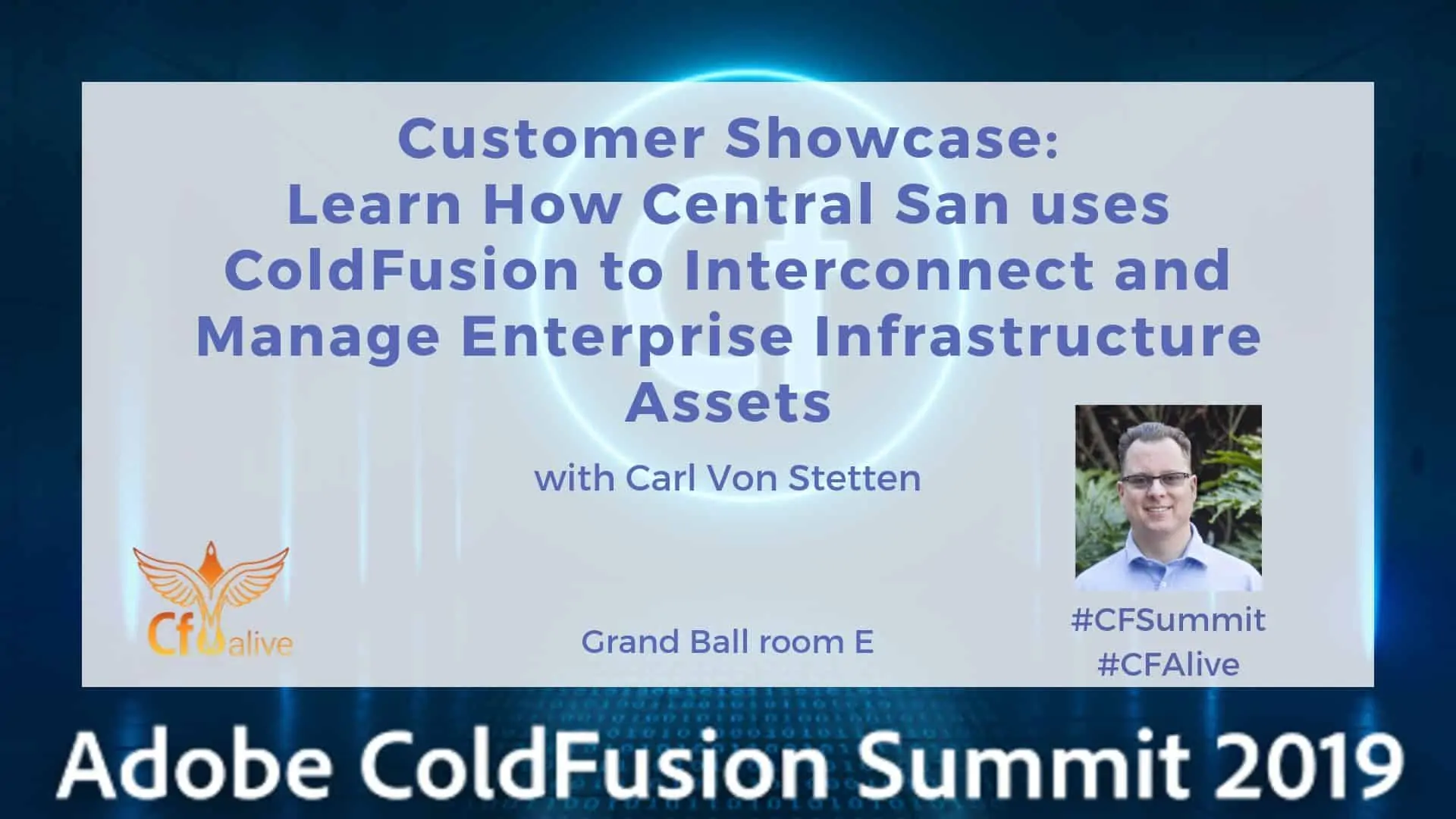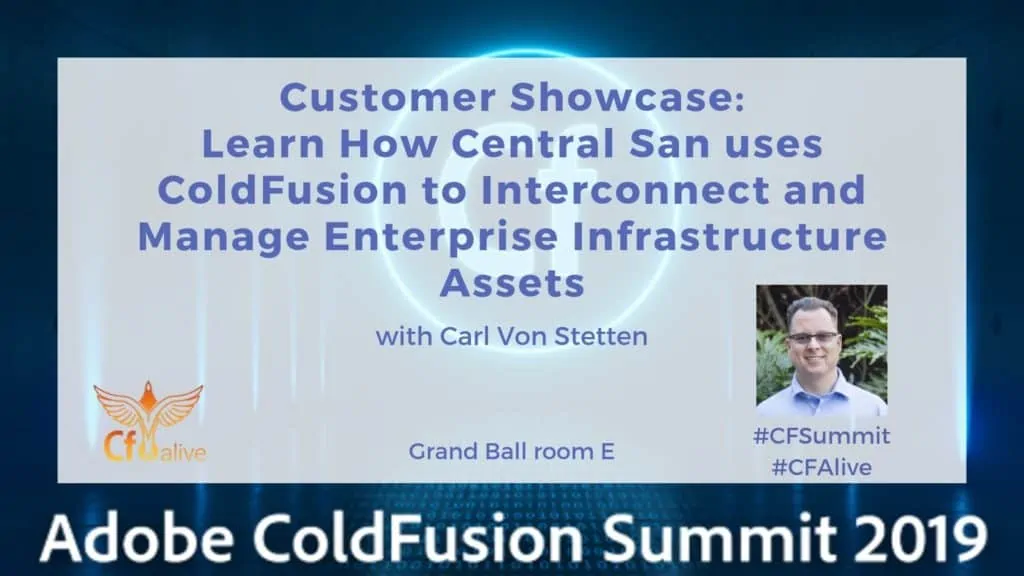 In this session, Carl showed how we can use several interconnected GIS and Asset Management systems in concert with ColdFusion-based applications to manage the entire life-cycle of our infrastructure assets and serve our customers effectively; and how we provide quick and easy access to information sourced from numerous enterprise, departmental, and work group databases.
Carl Von Stetten has served as a Geographic Information System (GIS) Technician and Analyst with Central San for 19 years. He has developed and maintained multiple internal ColdFusion-based GIS applications for use by District staff, and is well-versed in Microsoft SQL Server and Esri ArcGIS technologies. 
You can find the presentation here: https://www.slideshare.net/cfvonner/how-central-san-uses-coldfusion-to-interconnect-and-manage-enterprise-infrastructure-assets
Prepare for "Super Bowl" Traffic by

Bruno Zugay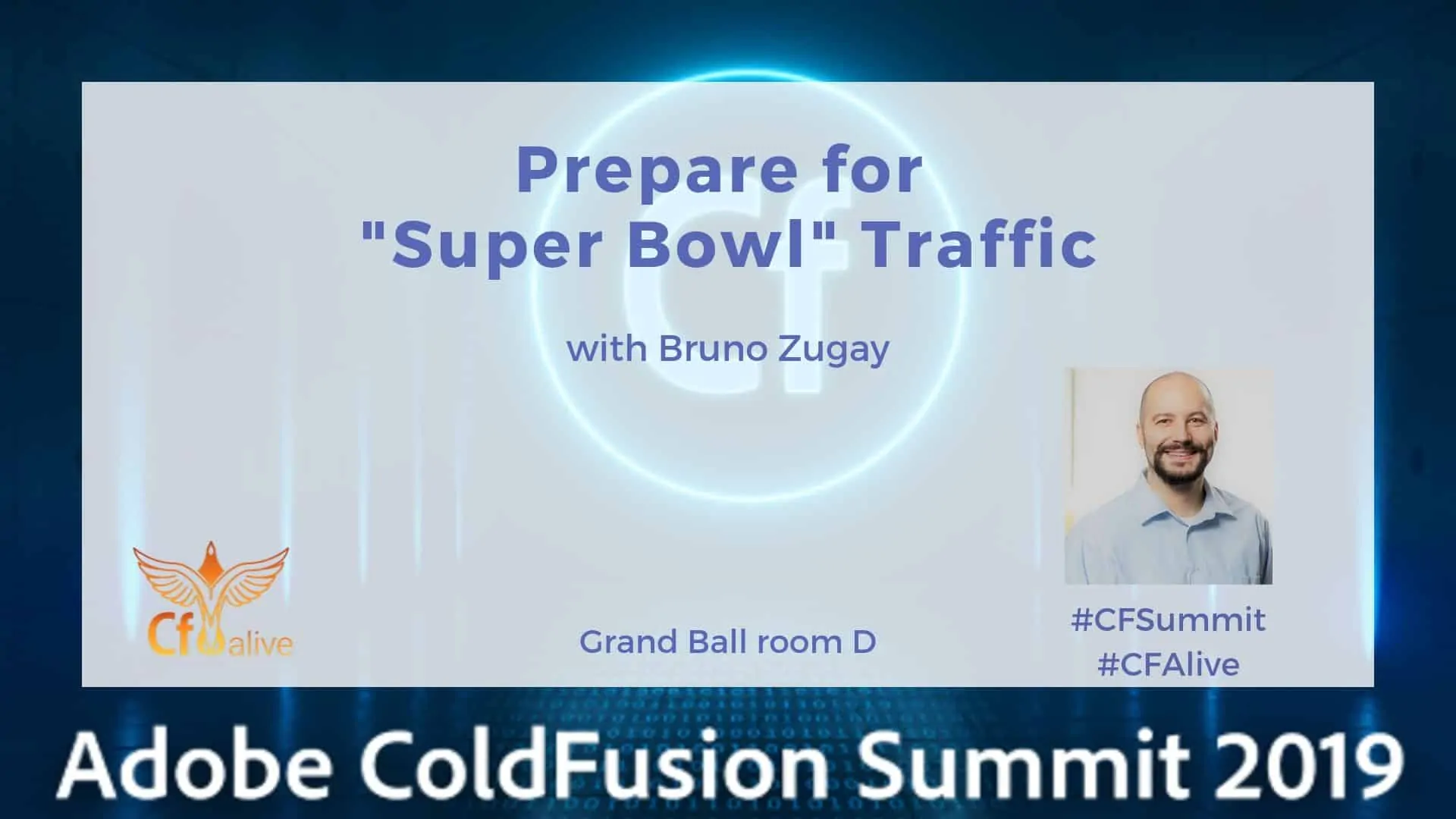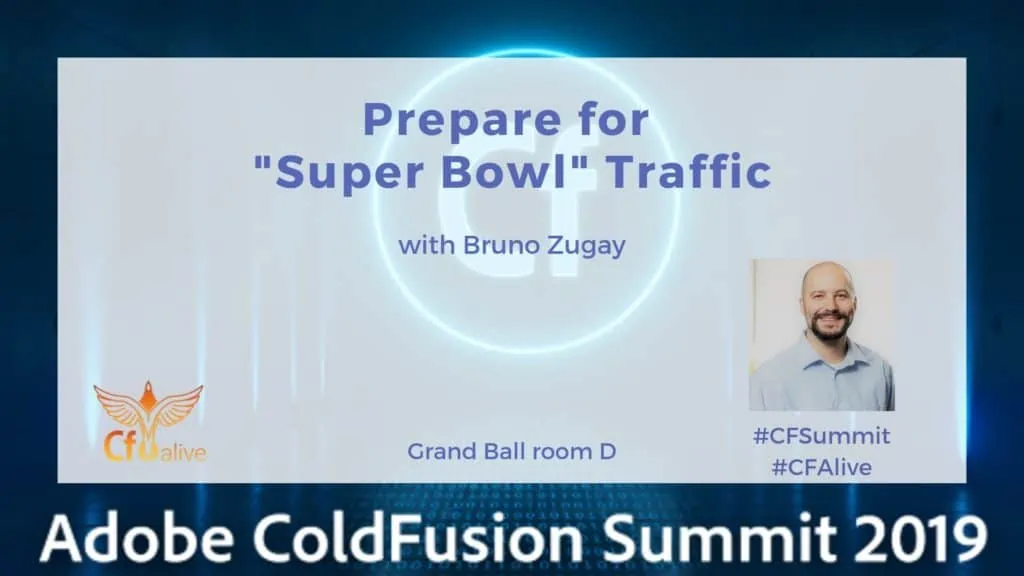 Build a High Availability Cluster: Make your application highly available with automatic failover and disaster recovery.
As your organization is growing and traffic to your site increasing, learn how to keep your infrastructure nimble and ready to scale at moment's notice.
Bruno is Director of Development. He is enjoying full stack development, DevOps, and making the internet a better place. Focusing on scalability, performance, and security.
WebSockets 101 : An Introduction to WebSockets on ColdFusion by

Giancarlo Gomez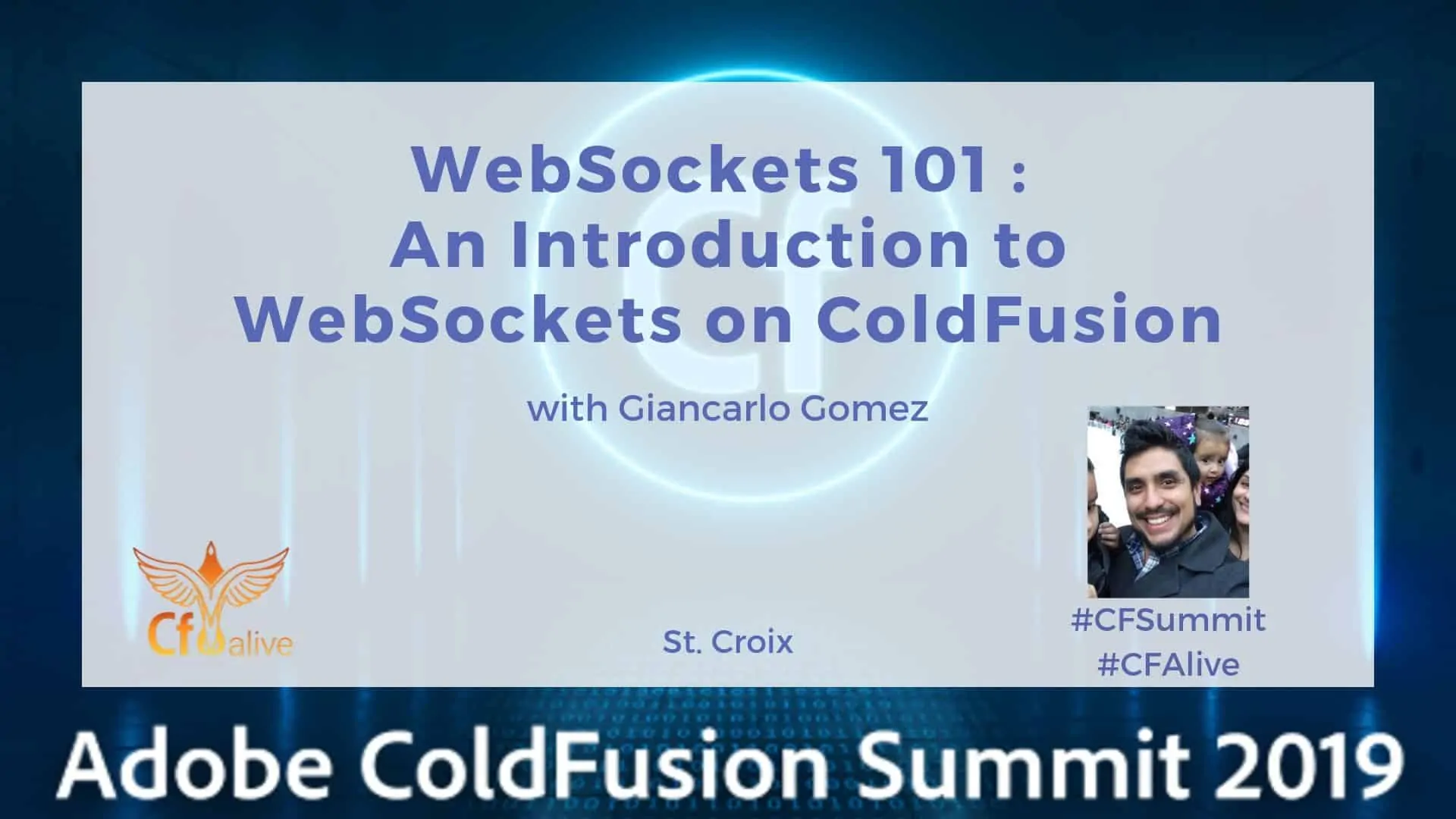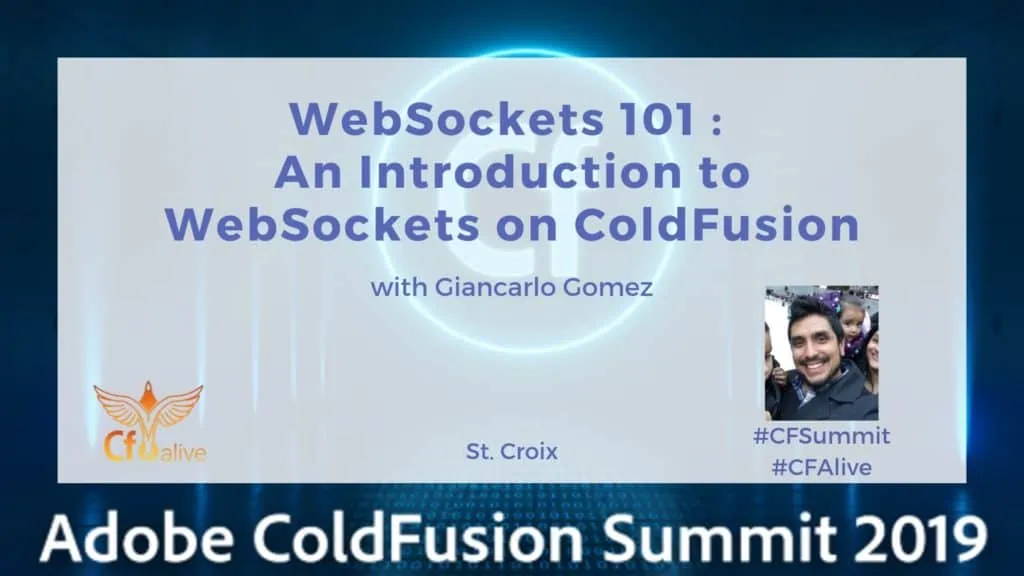 Did you know that you can easily leverage the power of WebSockets with your ColdFusion server? Would you like to know what WebSockets are? Why you should use them? And how to use them? Giancarlo Gomez reviewed those topics in this session.
Giancarlo Gomez is the owner/lead developer of Fuse Developments, Inc. established in 2004, his consulting business specializing in web and mobile development and CrossTrackr, Inc., a SaaS for the CrossFit community, targeted towards athletes and gym owners providing real-time insight into athletic progress and health metrics.
You can find the presentation here: https://www.dropbox.com/s/cedy1kxslsb5wg7/ColdFusionSummit-2019-WebSockets-201.pdf?dl=0
Approaches to more secure ColdFusion code by

Pete Freitag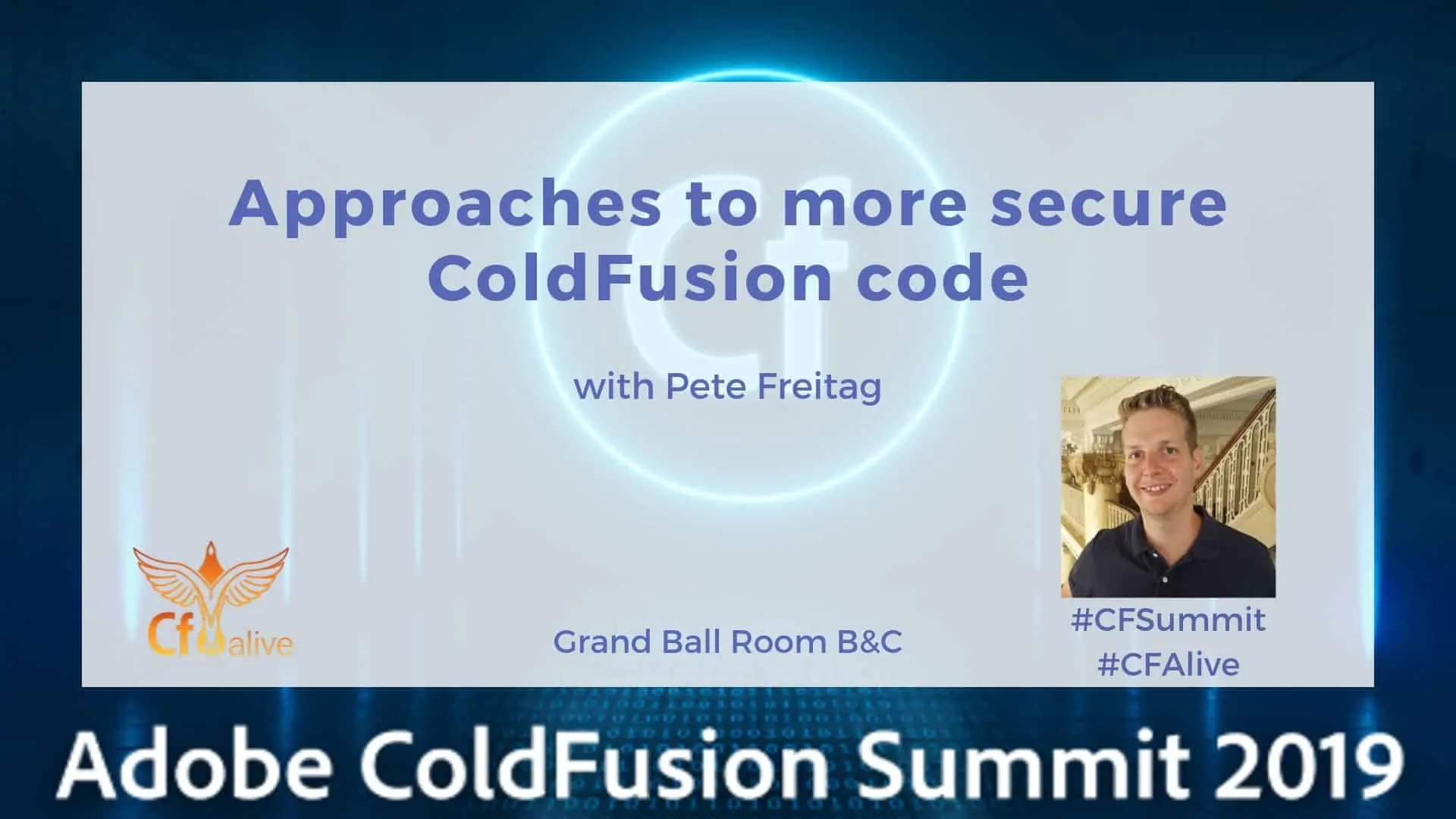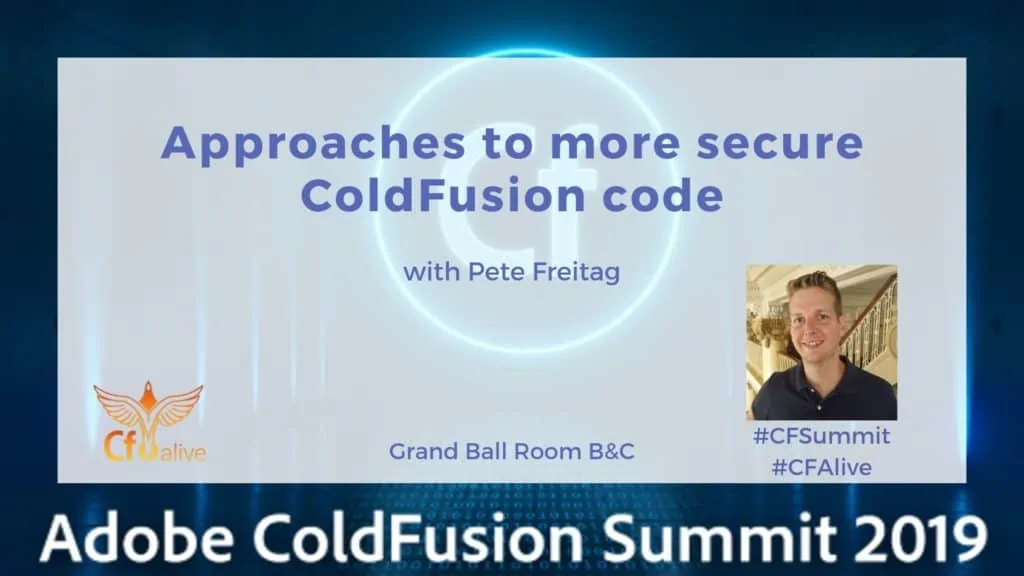 Security is a topic we as developers love to ignore as much as possible, but as the number of attacks increase year over year we need to grab hold of the security in our apps. He introduced some practical approaches to getting in there and making progress and reviewed some of the top vulnerabilities to watch out for, which also provide a good starting point.
Pete Freitag has over 20 years of experience building web applications with ColdFusion. In 2006 he started Foundeo Inc (foundeo.com), a ColdFusion consulting and products company. He has also built several products and services for ColdFusion including Fixinator (https://fixinator.app/), a CFML code security scanner, a Web Application Firewall for ColdFusion called FuseGuard (https://fuseguard.com) and a ColdFusion server security scanning service called HackMyCF (https://hackmycf.com). Pete holds a BS in Software Engineering from Clarkson University.
Start `Integrated` Testing – The biggest and easiest ( testing ) bang for your buck by

( George ) Gavin Pickin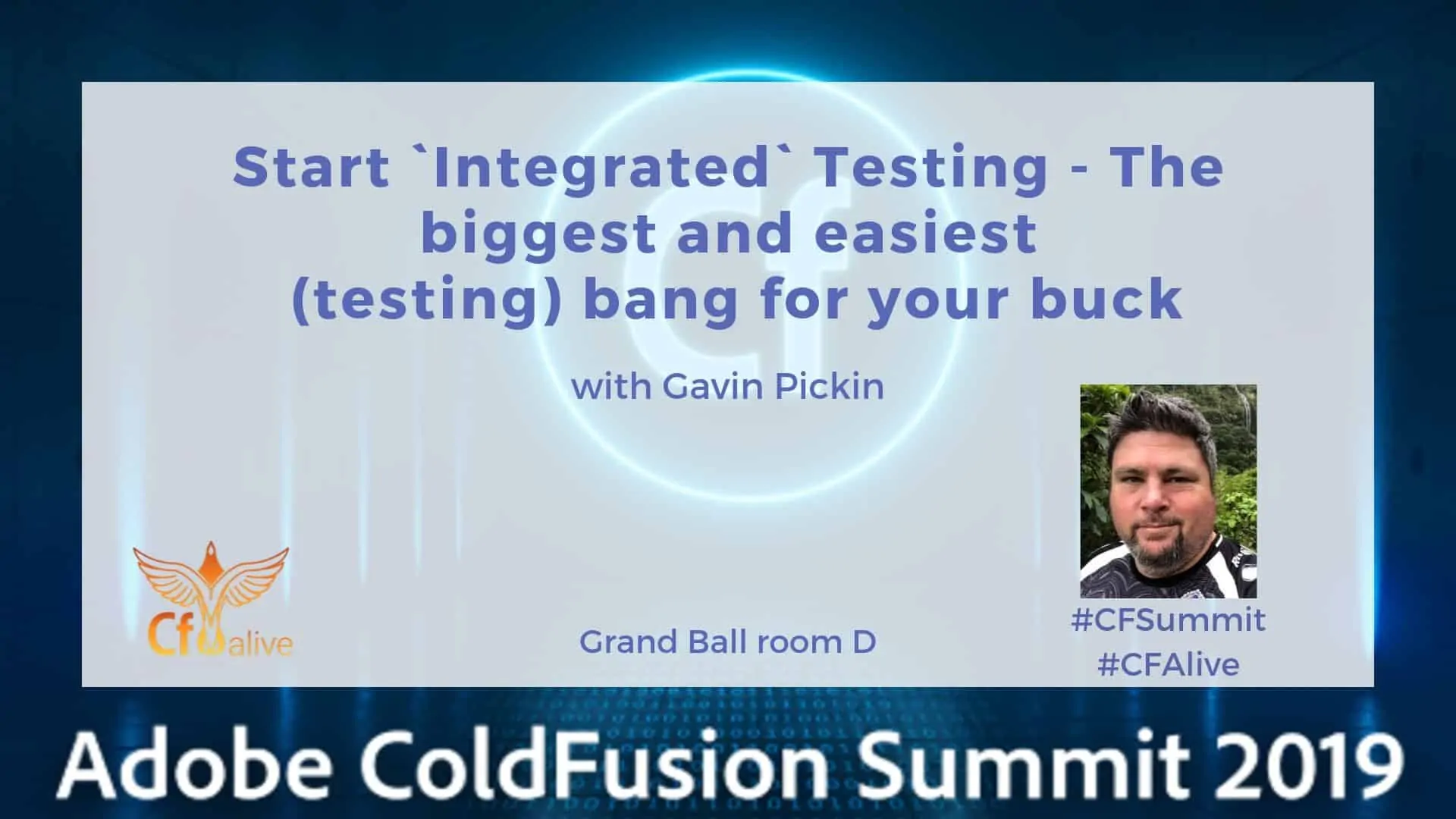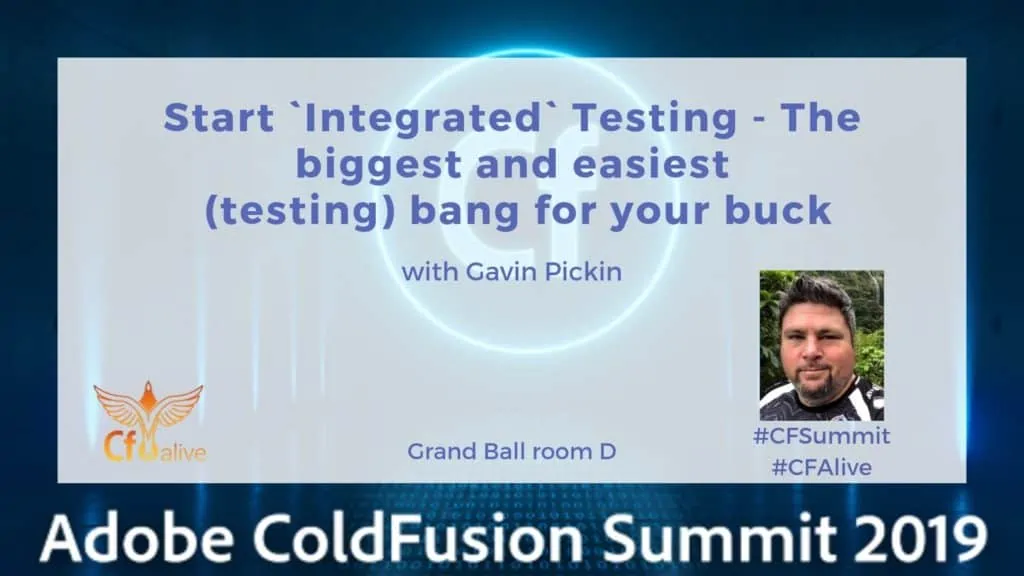 Sadly, most developers don't test their code like they should because testing can be hard, and its time consuming and the customer doesn't want to pay for it. In this session, He showed how easy testing can be, how quick it can be, and better yet, it's FUN!
Gavin is a proud ColdFusion developer, starting with ColdFusion in the late 90s. His first exposure to ColdFusion was while working for the University of Auckland under supervision of big ColdFusion Contractors.
The business case for upgrading ColdFusion in 5 easy steps by

Dan Wilson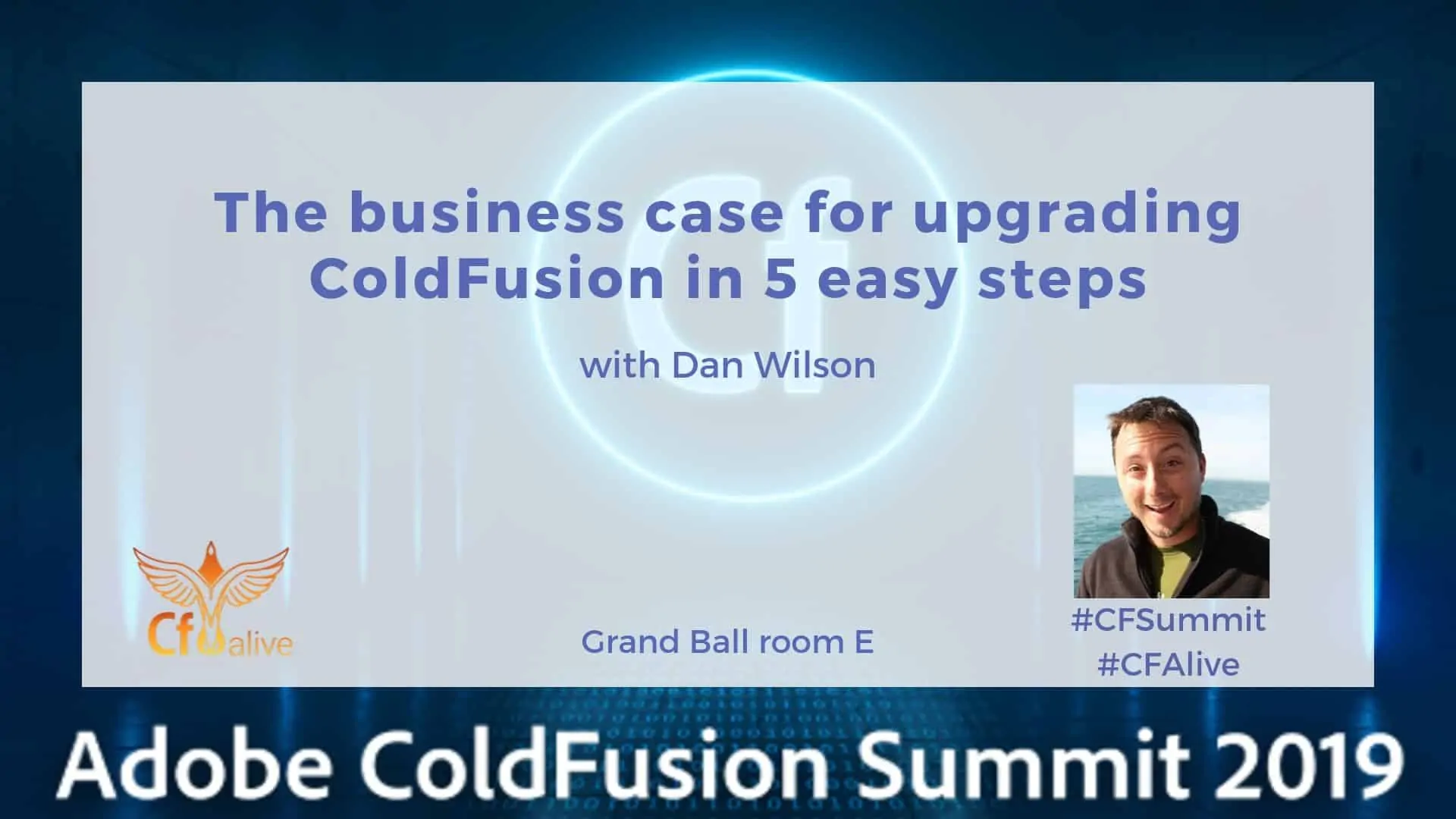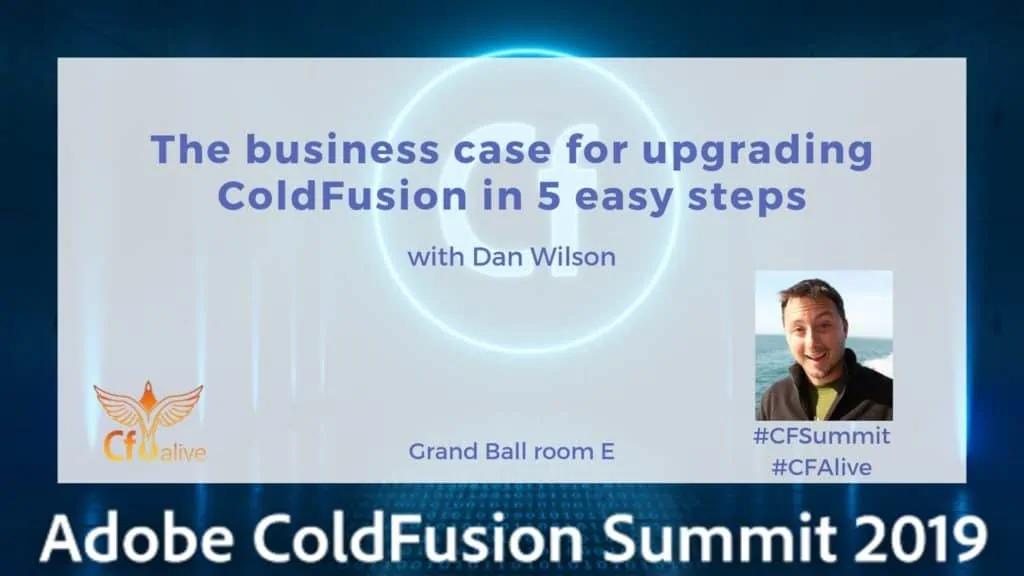 Ready to upgrade CF? 
Let's go over the top 5 business cases so you can help management understand why they should upgrade. In this presentation, learn how the most modern ColdFusion version makes your company better, and saves money.
A ColdFusion user for 20 years, Dan Wilson also has extensive experience growing developer focused products and services.
You can find the presentation here:
WebSockets 201 : Beyond the introduction by

Giancarlo Gomez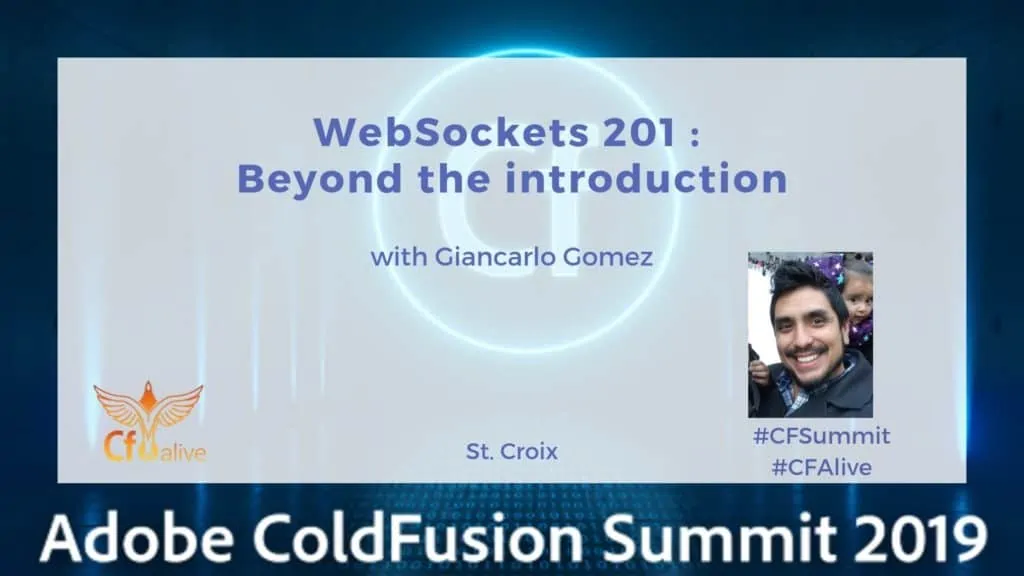 So you know what WebSockets are and how to configure them for your application, but now what?
Learn how to leverage listeners for your channels, handle authentication and how to view all your connections. 
Giancarlo Gomez is the owner/lead developer of Fuse Developments, Inc. established in 2004, his consulting business specializing in web and mobile development and CrossTrackr, Inc., a SaaS for the CrossFit community, targeted towards athletes and gym owners providing real-time insight into athletic progress and health metrics.
You can find the presentation here: https://www.dropbox.com/s/cedy1kxslsb5wg7/ColdFusionSummit-2019-WebSockets-201.pdf?dl=0
Automating your tasks using ColdFusion Scheduler by

Suchika Singh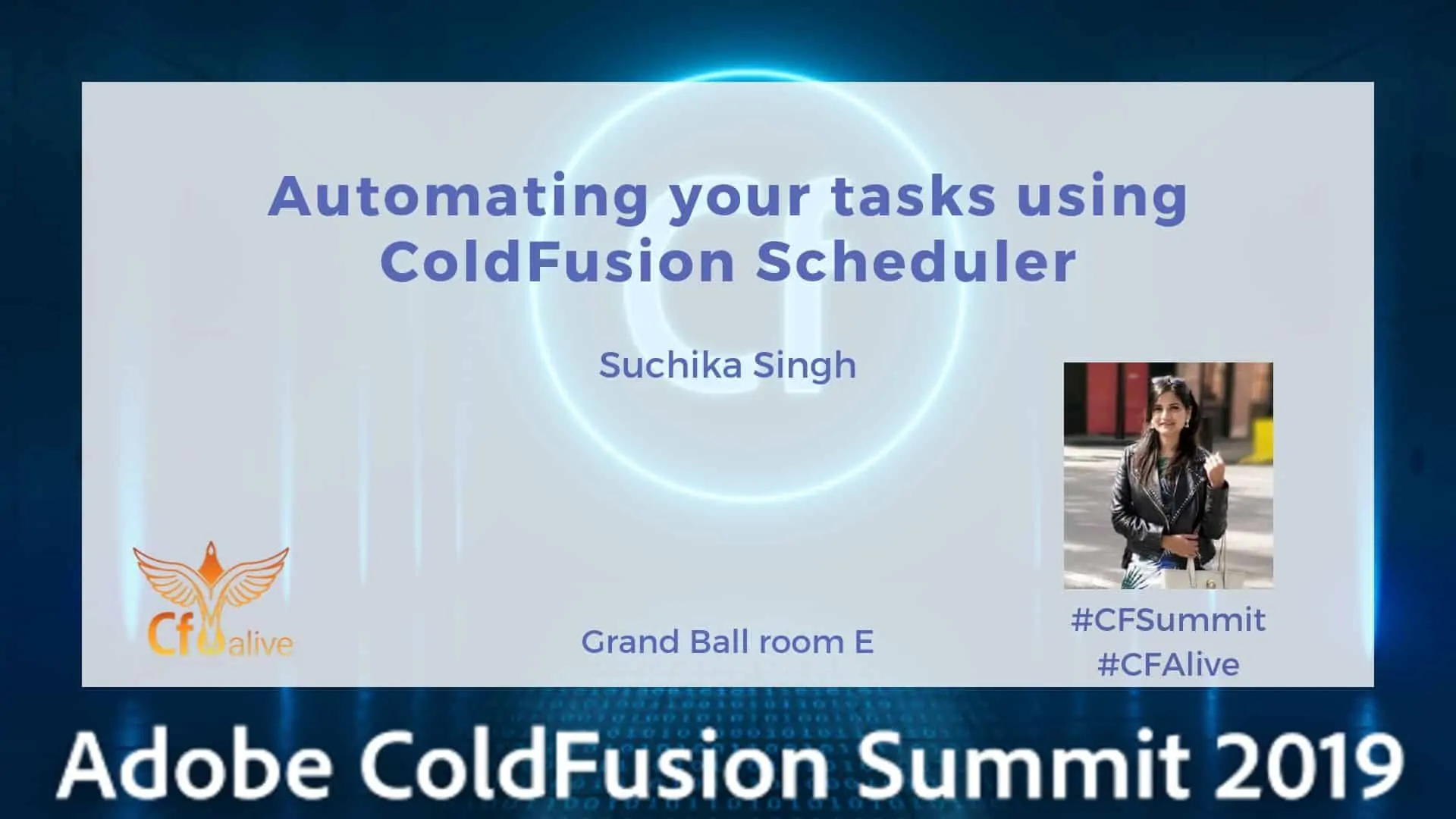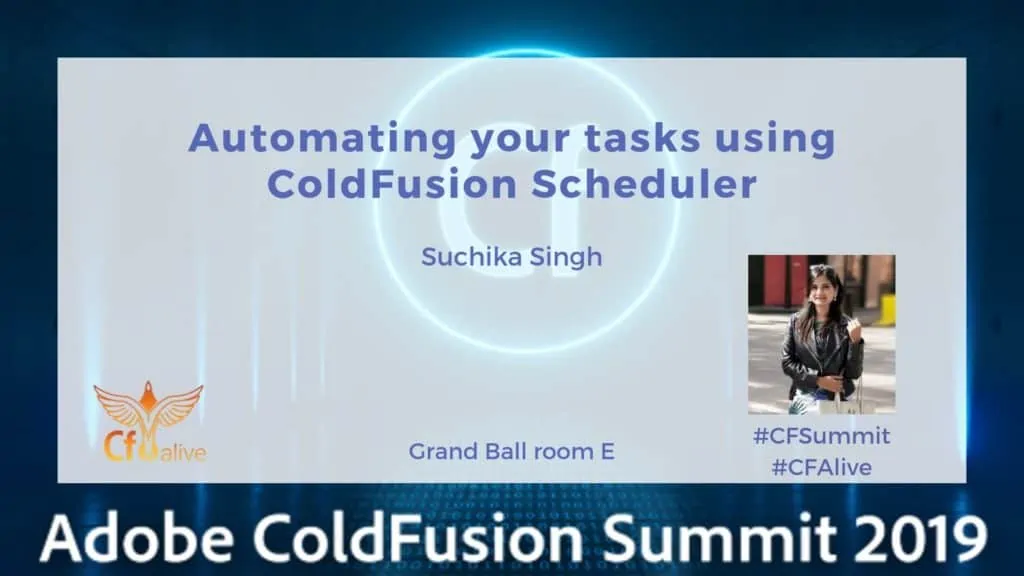 ColdFusion Scheduling engine empowered by Quartz has numerous features that can be used to automatically run your tasks. 
Presentation highlights:
Using CRON syntax to schedule tasks.

Running scheduler in cluster setups

Attaching handlers to schedule tasks

Making task management easy by setting task priorities

Customizing the scheduled tasks using the quartz properties for standalone and cluster setups.

Defining dependent tasks i.e. Chaining of tasks
Suchika Singh is Adobe, Lead Software Engineer and CF Team Member.
You can find the presentation here: COMING SOON
From Legacy to Modern, Techniques to update your Legacy Sites by

Daniel Fredericks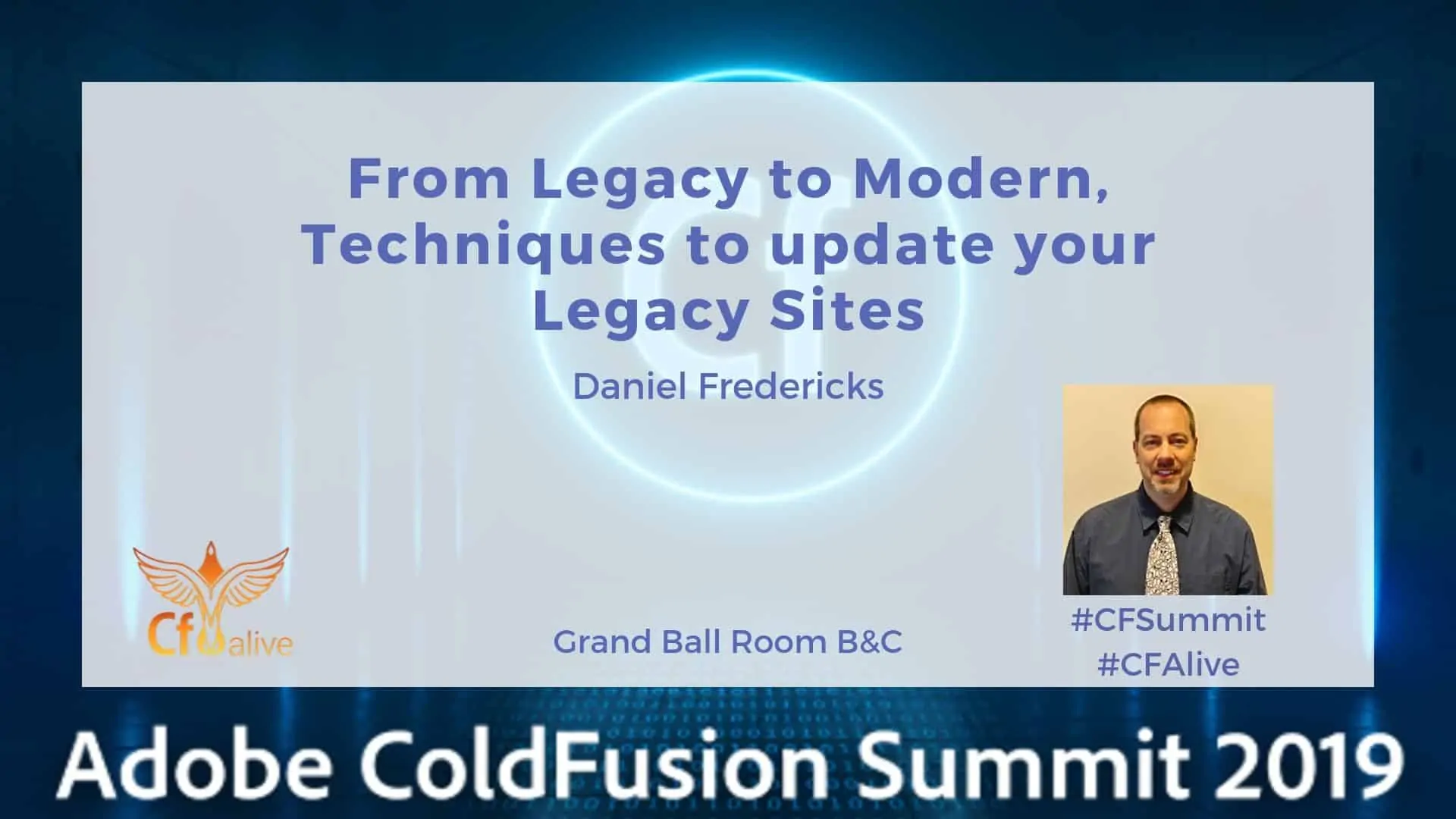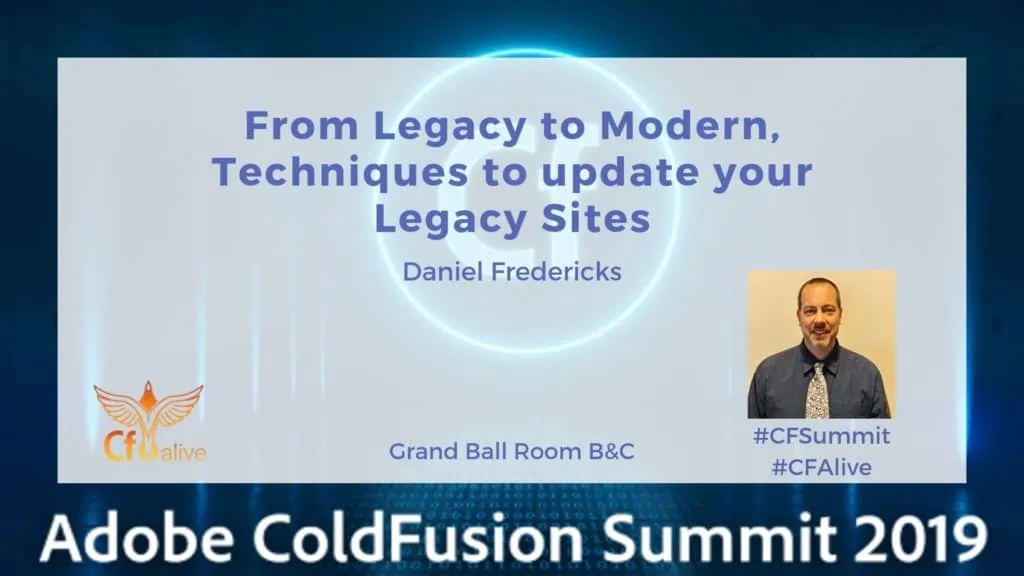 We all have worked on a spaghetti coded site that is old and hard to maintain.
This talk focus on some tips to take that legacy CFML site and make it more modern.
A ColdFusion Developer for over 15 years specializing in Government Contracts. Continuing to learn more modern techniques all the time such as OOP and API development.
Making Modules — Utilizing Reusable Code through ColdBox Modules by

Eric Peterson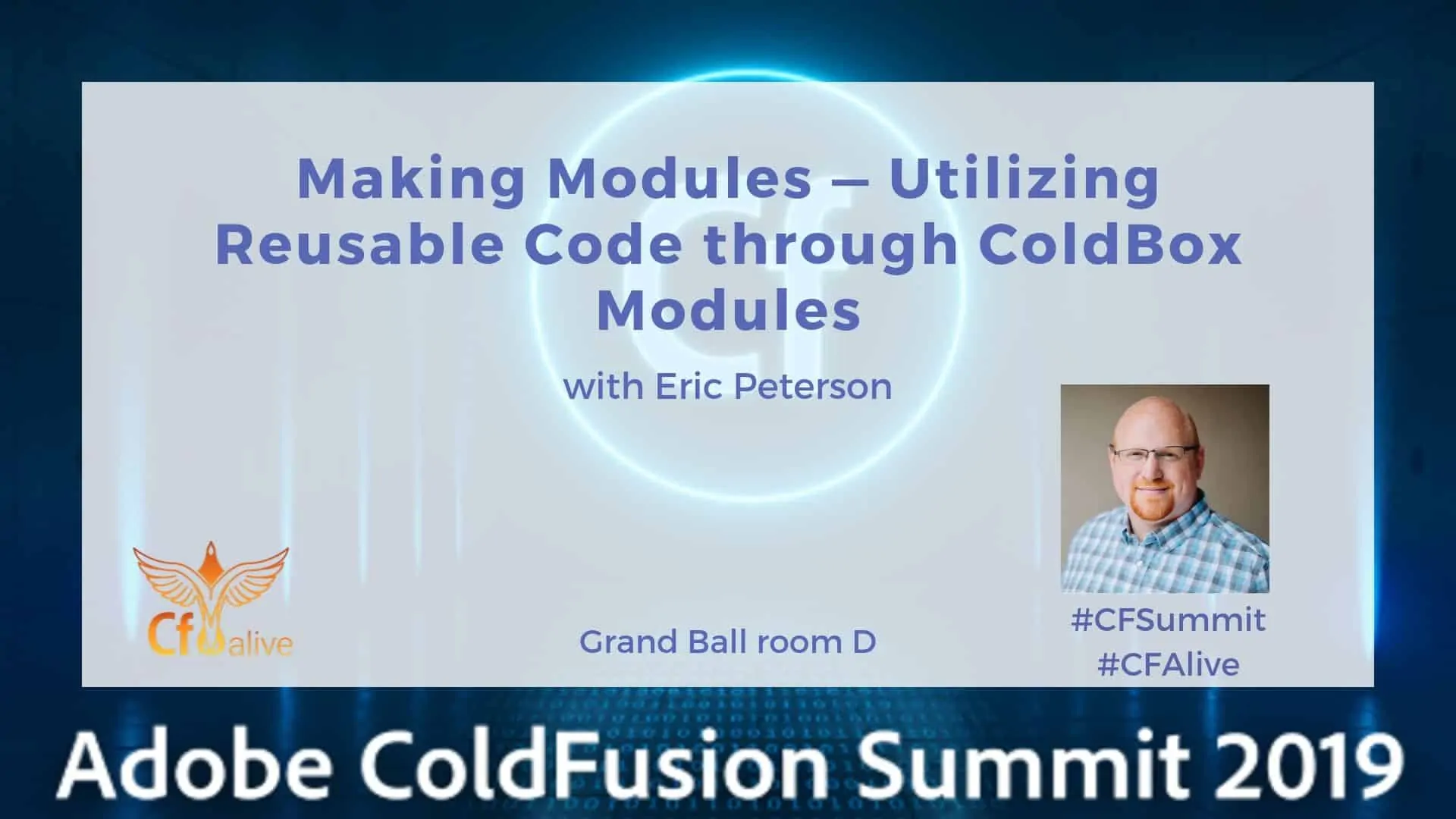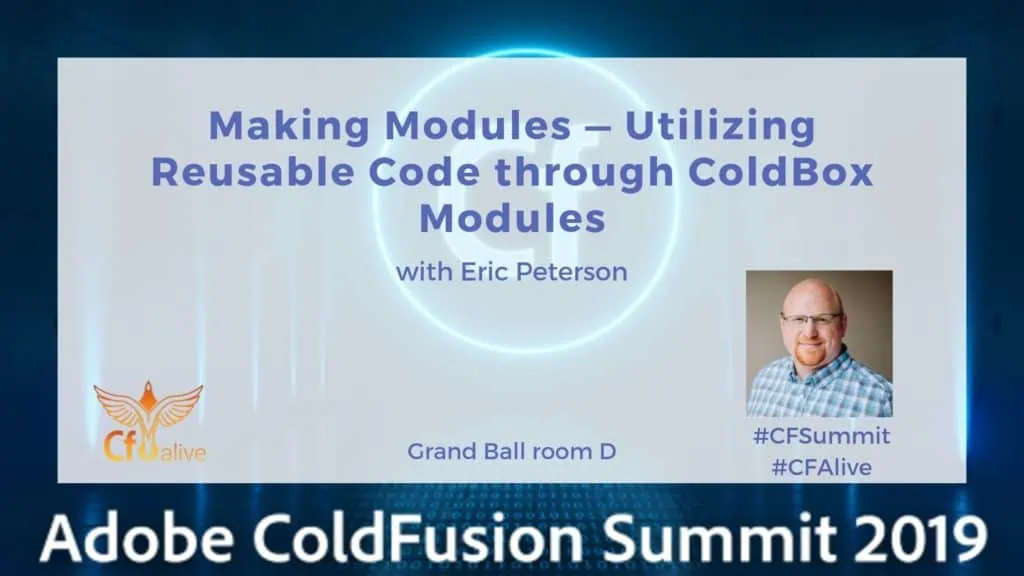 Leverage all the power of ColdBox Modules. 
Learn use cases ranging from simple libraries to automatic interceptors. 
Discover tools to quickly scaffold your own modules, set up testing (with and without a ColdBox app), and share your modules with the world!
Eric Peterson (@_elpete) is a CFML and javascript developer at Ortus Solutions (ColdBox, CommandBox, etc.). He is a prolific module developer and the creator of projects like qb, Quick, and ColdBox Elixir.
You can find the presentation here: 
https://slides.com/elpete/making-modules#/
Spreadsheet Magic with ColdFusion by

Kevin Wright
Gone are the days of dumping query results into an HTML table for formatting and layout and then using MIME types to force the browser to display the data using Excel.
Learn how to access and manipulate spreadsheet data programmatically with the CFSPREADSHEET tag in ColdFusion.
Through his consulting company, Kinetic InterActive, Kevin provides businesses insight into the use of technology to solve a variety of business challenges.
Providing business workflow analysis, user experience design, website usability, search engine optimization (SEO), and more. 
You can find the presentation here: COMING SOON
Reinforcement Learning with ColdFusion – Adding Practical Autonomy To Your Web Applications by

Minh Vo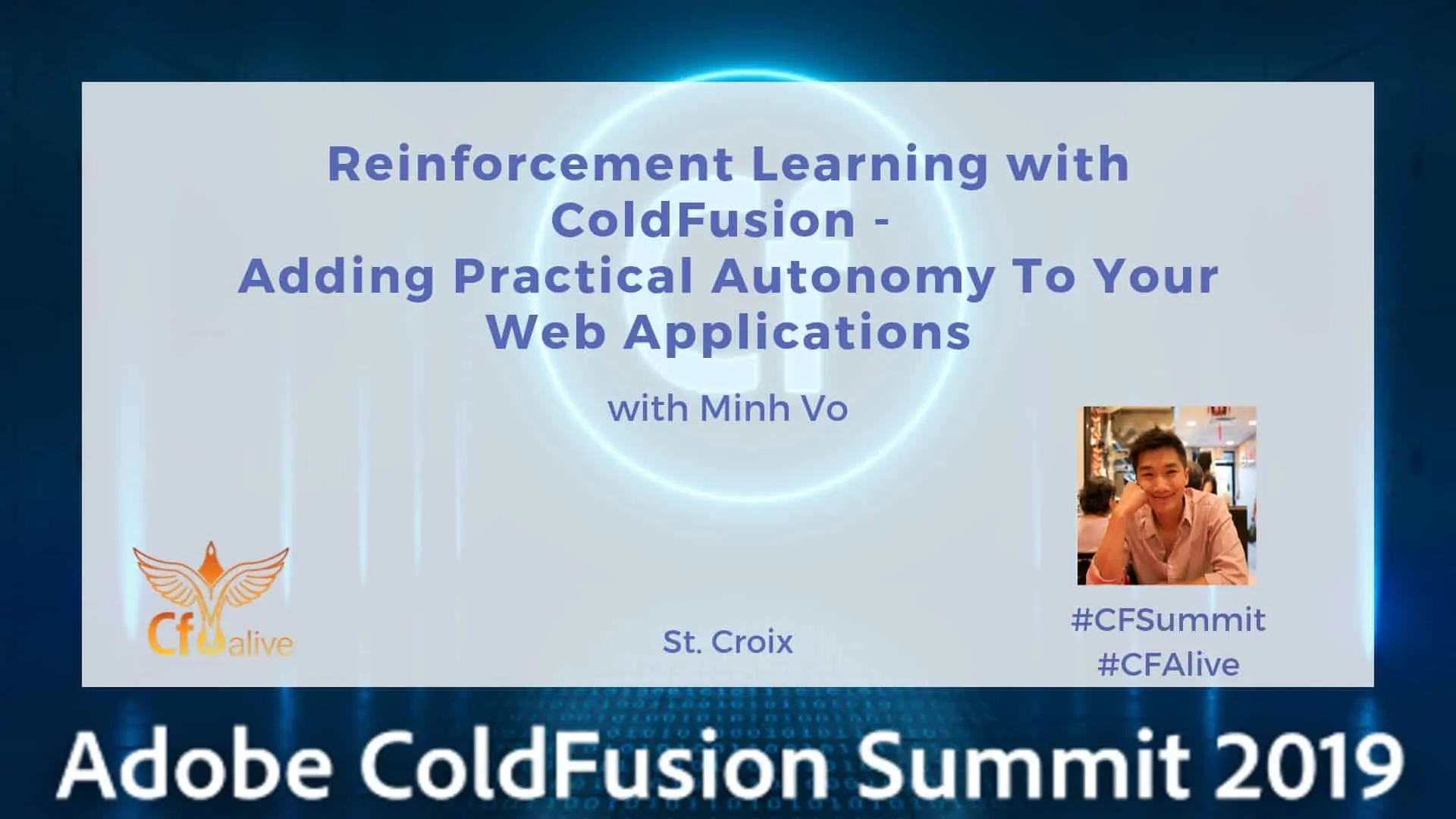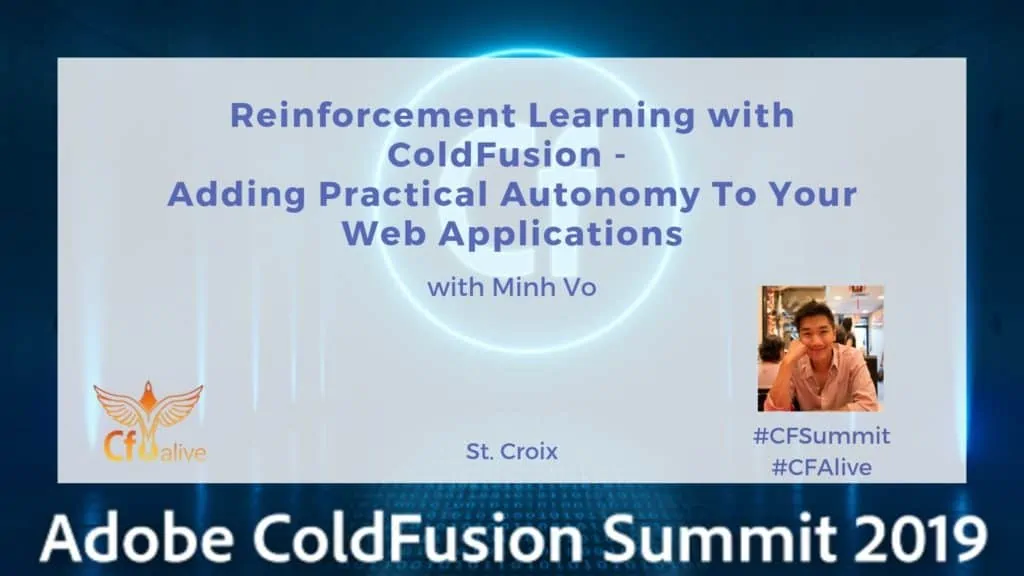 Explore Reinforcement Learning and how can use it in our daily work lives (within the context of a Web Application of course)! 
As many of you know, RL is the basic technology behind drones, self-driving cars, and bots for playing video games–but, did you know you can use it to strategize marketing, optimize UI/Banner/Button placements, and much more?
Minh is a full-stack developer, Oracle whiz, and pixel-perfect graphics artist who's worked on the bleeding edge of Technology.
You can find the presentation here: COMING SOON
Step-by-Step: Migrating Existing ColdFusion Workloads to the AWS Cloud by

Brian Bockhold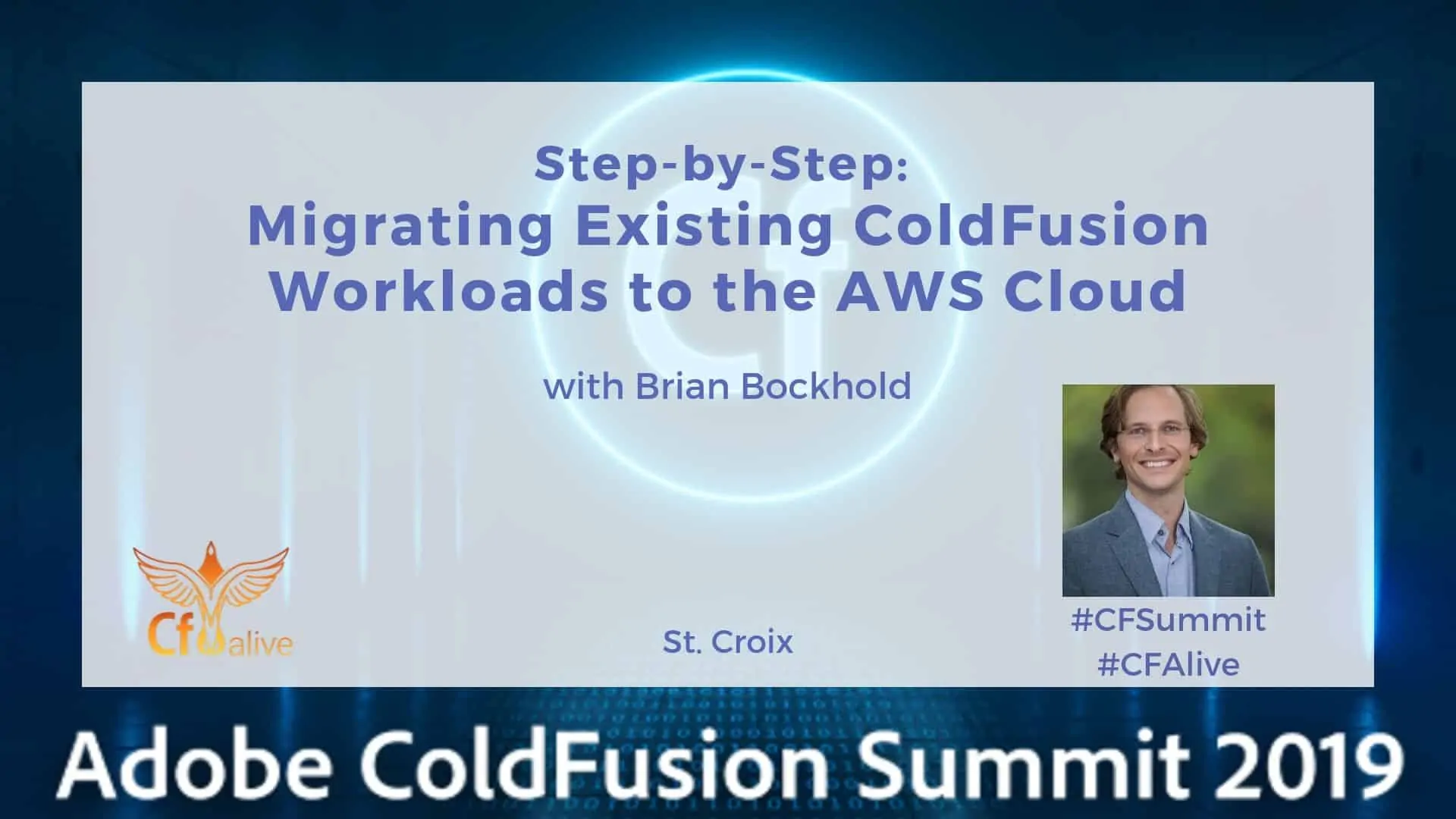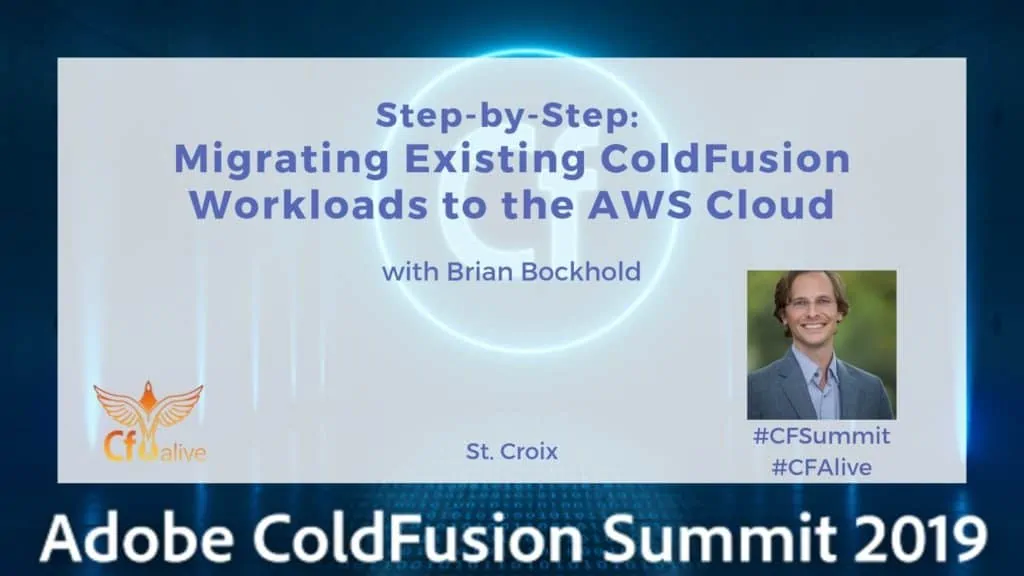 Considering migrating your existing CF on-premise workloads and licenses to AWS? Looking to license by subscribing through the AWS Marketplace, or already on AWS and interested in ColdFusion-specific best practices?
Presentation highlights:
The step-by-step process of migrating to AWS

ColdFusion-specific best practices for running even the most highly-regulated and secure workloads on AWS

Amazon EC2 servers, along with a practical list and explanation of the core AWS services you will need to quickly get your CF environment up and running

Utilizing CloudFormation templates to define your infrastructure as code and to ensure consistency across environments
Brian is co-founder of Coalesce Holdings and serves as Vice President and CIO. He has developed systems in ColdFusion for over 20 years, both in his current and prior roles leading system development and architecture teams for global organizations.
Brian is a certified AWS Solutions Architect – Associate and AWS Developer – Associate.
You can find the presentation here: COMING SOON
Testing – How Vital and How Easy to use by

Uma Ghotikar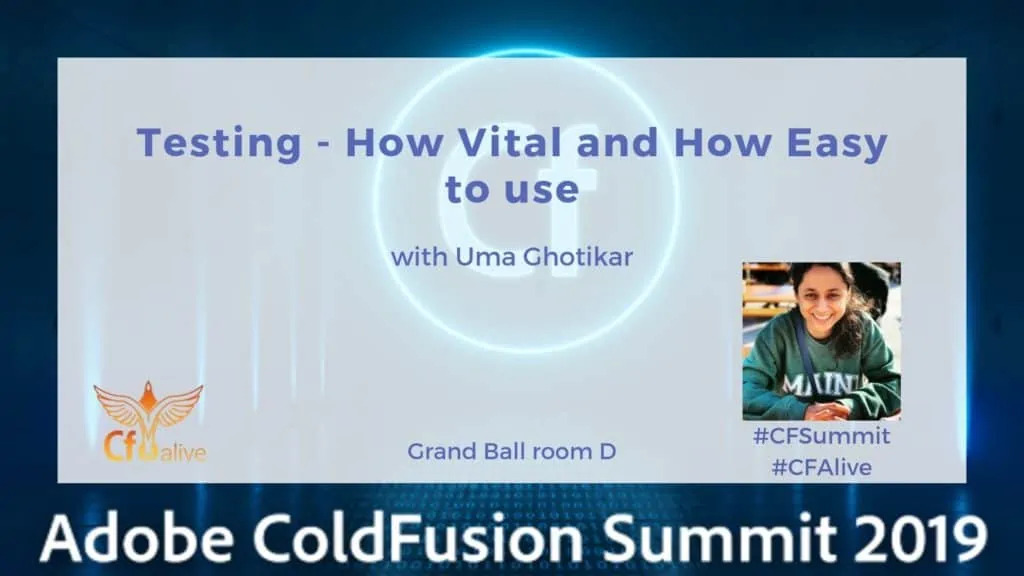 "Testing is just extra time we don't have."
This is the common answer given why not to implement unit testing or similar testing.
Uma tried to dispel this phrase.
She showed the basics of writing unit tests using TestBox, show how can update MXUnit tests to TestBox.
Uma is Web Application Developer. She did Master of Science in Information Systems from George Mason University, USA and Bachelor of Engineering in Information Technology from University of Mumbai, India.
She enjoys coding especially the back-end application development and learning new technical skills.
You can find the presentation here: 
https://www.slideshare.net/UmaGhotikar/testing-how-vital-and-how-easy-to-use
Using ColdFusion to produce Dynamic Financial Letters by

Mike Collins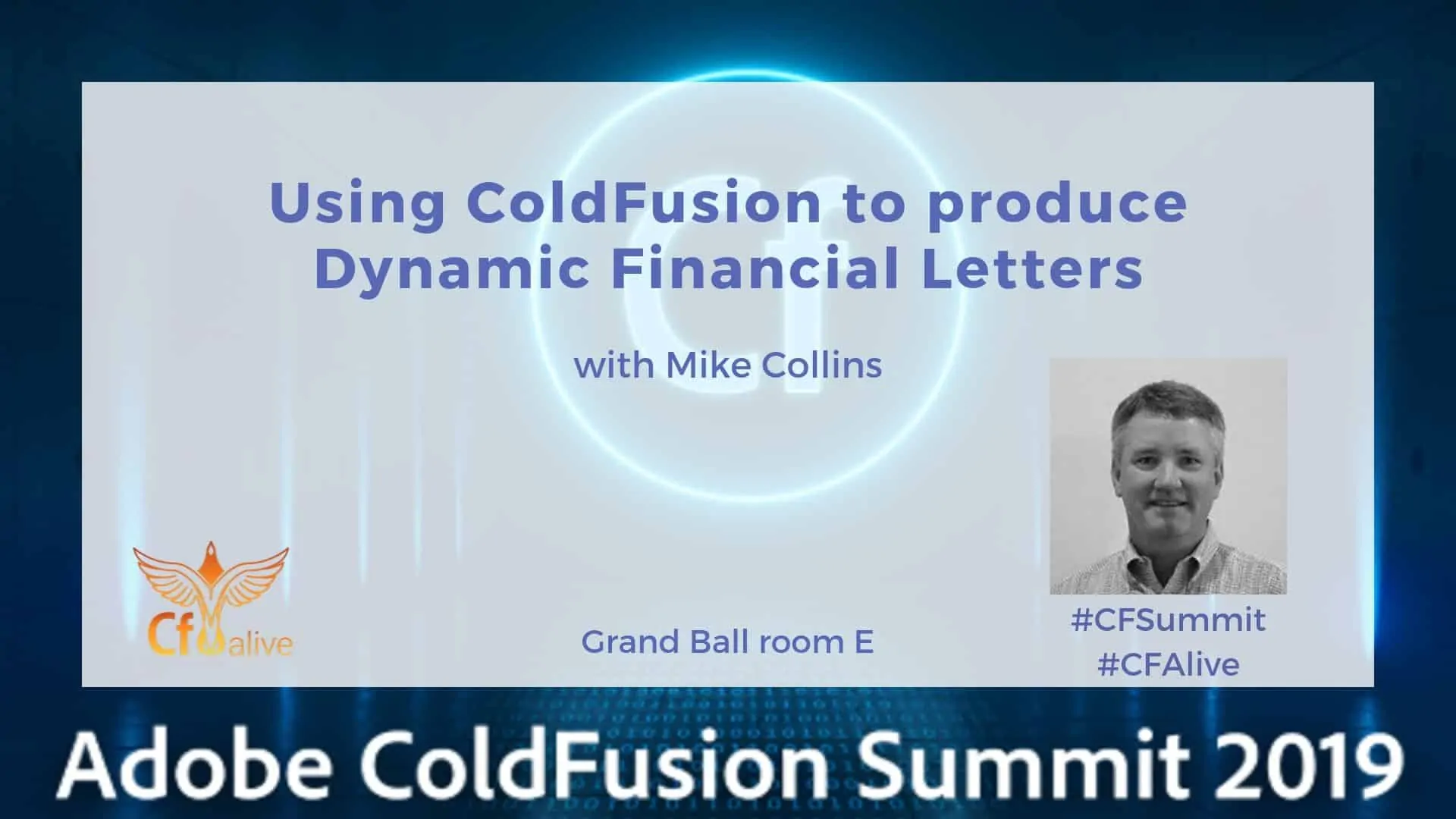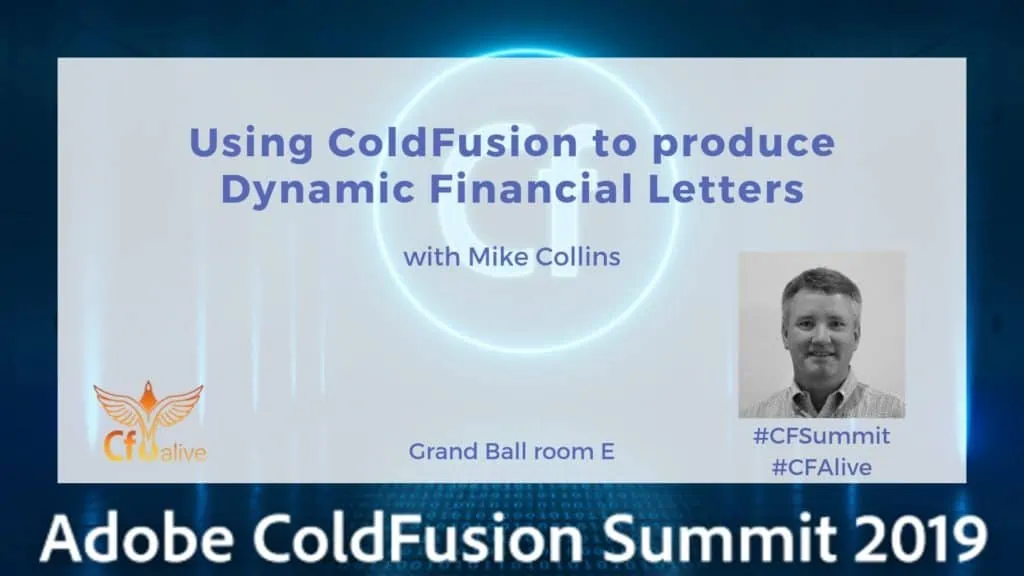 In this session, explore several use cases to produce complicated rule-based documents that meet corporate legal regulations.
Many large industries, including financial and insurance, need to produce legal letters with financial or contractual information. 
Mike Collins is
Senior ColdFusion Consultant, SupportObjective.
As a Senior ColdFusion Consultant he assists customers with development, server deployments, and troubleshooting.
Humor That Works: The Secret to Being More Productive, Less Stressed, and Happier by

Andrew Tarvin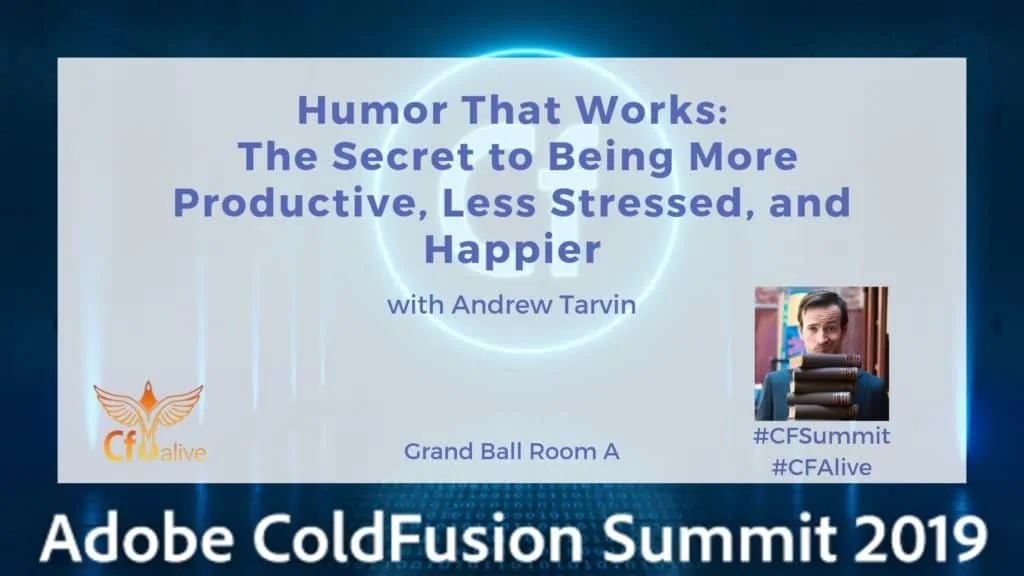 This interactive and experiential program teach us what humor at work means, why it is desperately needed, and how to use humor to create a positive work culture, increase team productivity, manage stress, and have more fun.
Learning Objectives:
Efficiency vs Effectiveness

The $500 Billion Problem at Work

30 Research-backed Benefits of Humor

Developing a Humor Mindset

How to Start Using Humor Today
Andrew Tarvin is an international project manager turned award-winning speaking and best-selling author.
You can find the presentation here: COMING SOON
GET /cfml – A Guide to Writing API Wrappers by

Matthew Clemente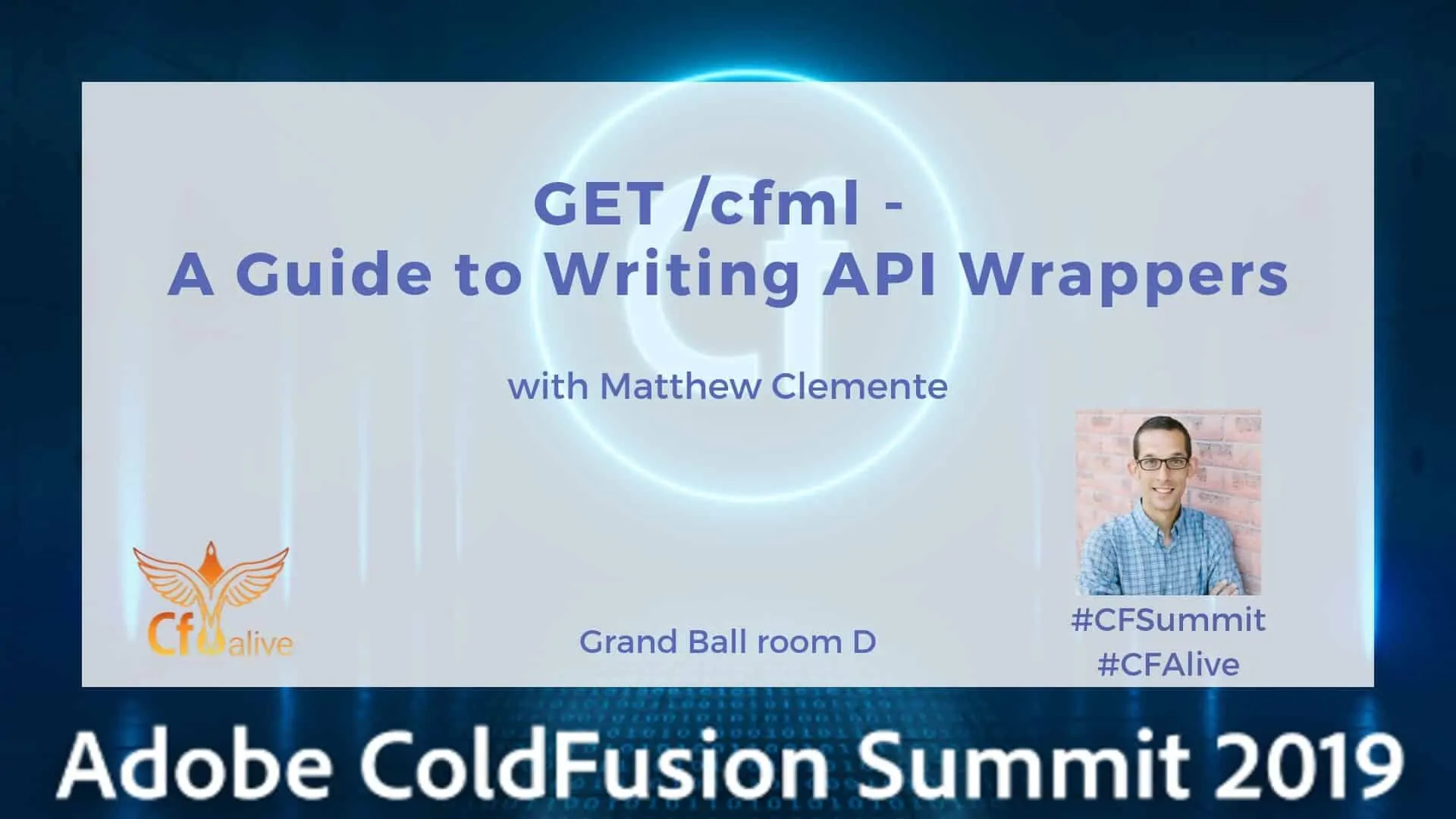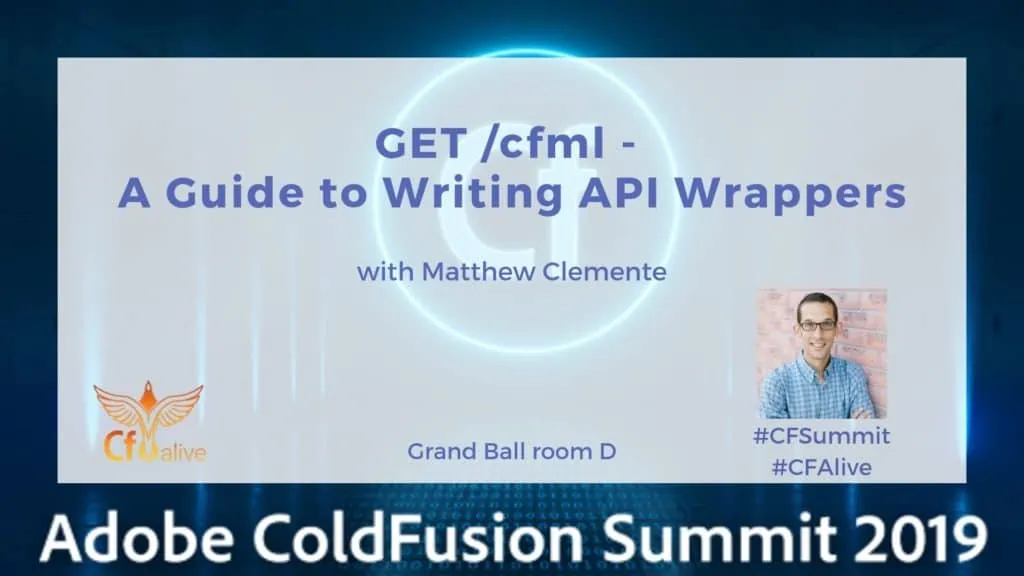 Nearly everything has an API; they are the language of the internet. With a simple HTTP call, you can process a payment, send a text, and yes, even return random cat pictures. While many API providers have official libraries, ColdFusion may not be one of the supported languages. In this session,Matthew showed how to craft coherent wrapper for APIs that don't already have ColdFusion support.
Matthew Clemente is a Founding Partner with Season 4, LLC, a team of designers, programmers, and writers working in the legal industry
You can find the presentation here:
https://southofshasta.com/blog/coldfusion-summit-notes-get-cfml-a-guide-to-writing-api-wrappers-matthew-clemente/
Getting Started With CF's Docker Images by

Charlie Arehart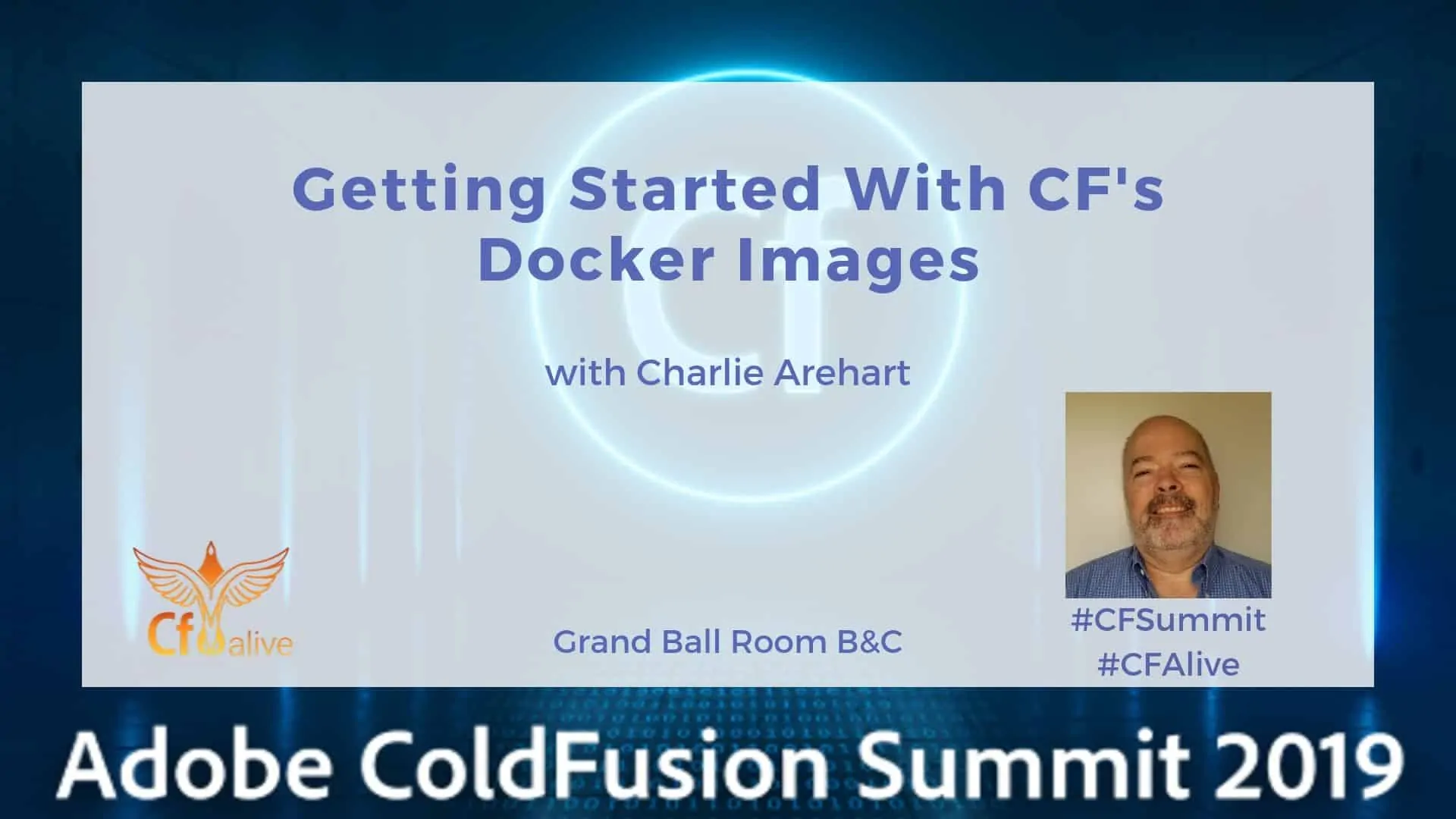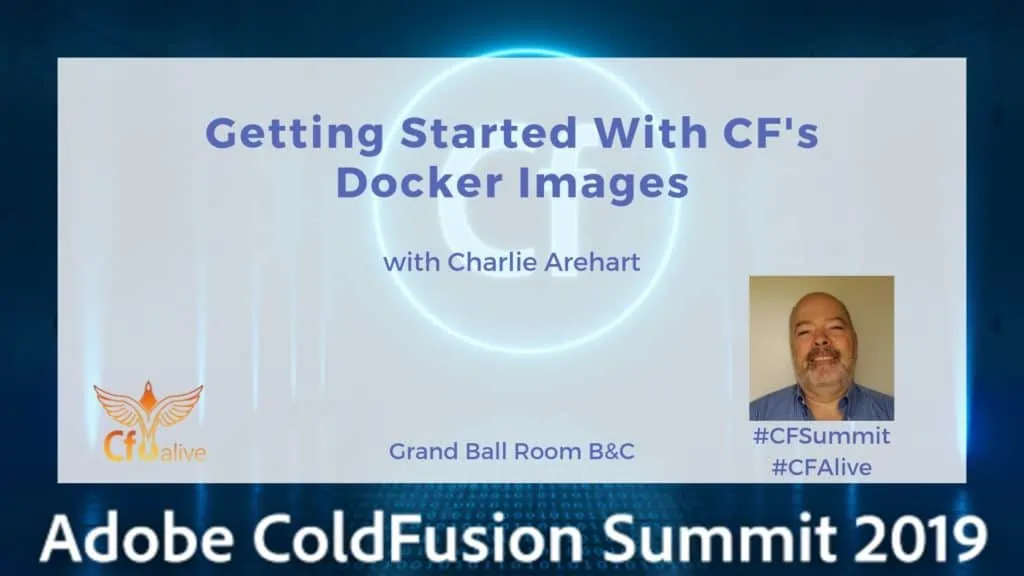 Did you know Adobe has provided Docker images since CF2016? Do you how to use them? Might you be new to containerization, even though Docker has been all the rage for some years? Hey, you're busy. It's understandable.
In this talk, veteran CFer Charlie Arehart lead us through a fast-paced introduction to Docker in general, and CF's images in particular, as well as communication among containers, orchestration of multiple containers, and more.
A veteran server troubleshooter with over thirty years experience in enterprise IT, Charlie Arehart (@carehart) is a longtime contributor to the community and Adobe Community Professional.
RuleBox : The natural rule engine for CFML by

Luis Majano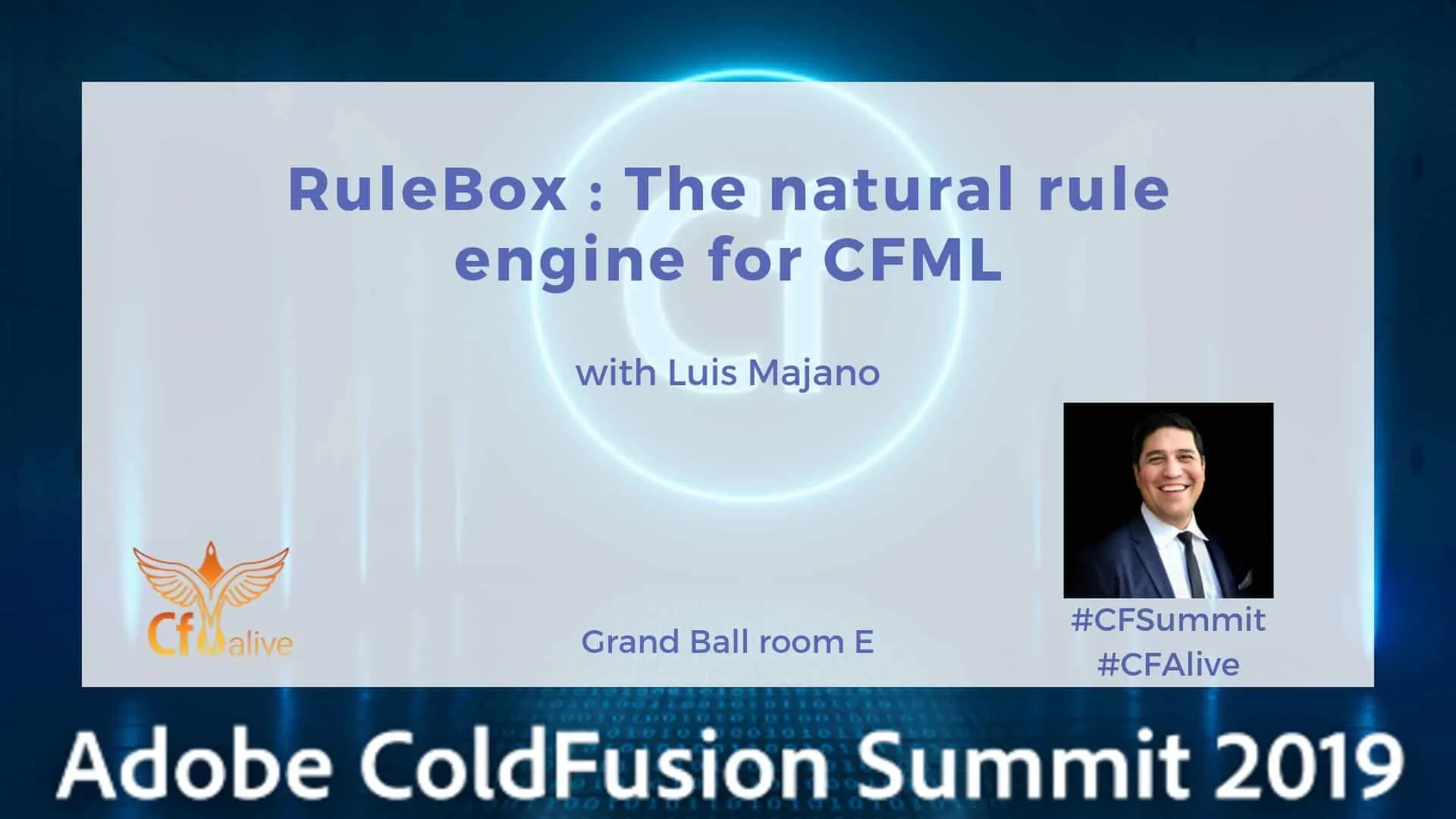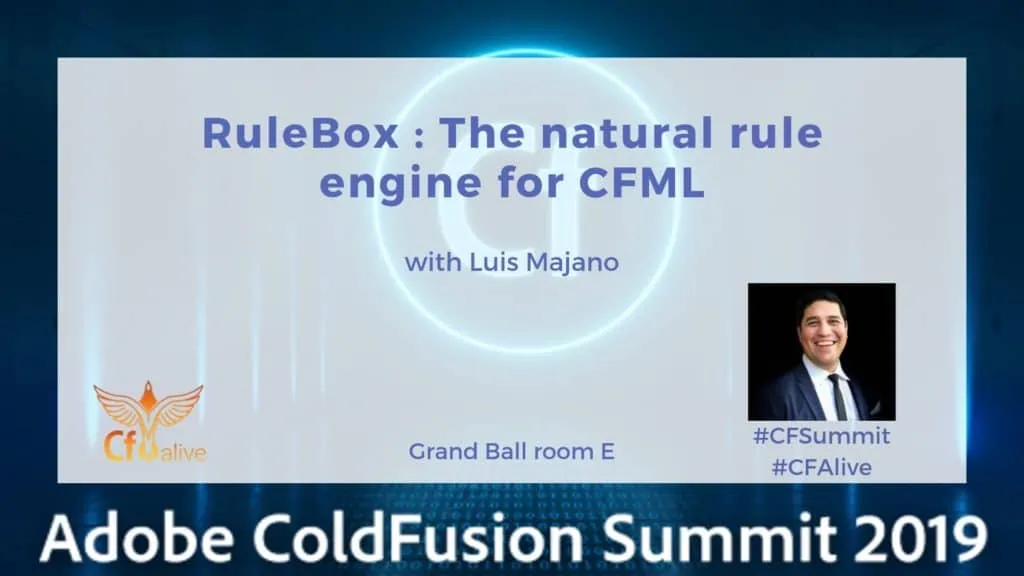 Tired of classes filled with if/then/else statements?
Need a nice abstraction that allows rules to be easily specified in a way that decouples them from each other?
Want to write rules the same way that you write the rest of your code [in ColdFusion]?
RuleBox is right for you!
Luis Majano is a Computer Engineer born in El Salvador and is the president of Ortus Solutions (www.ortussolutions.com), a consulting firm specializing in web development, architecture and professional open source support and services.
The What, When and How of Eerie Real-Time Personalization by

Brian Sappey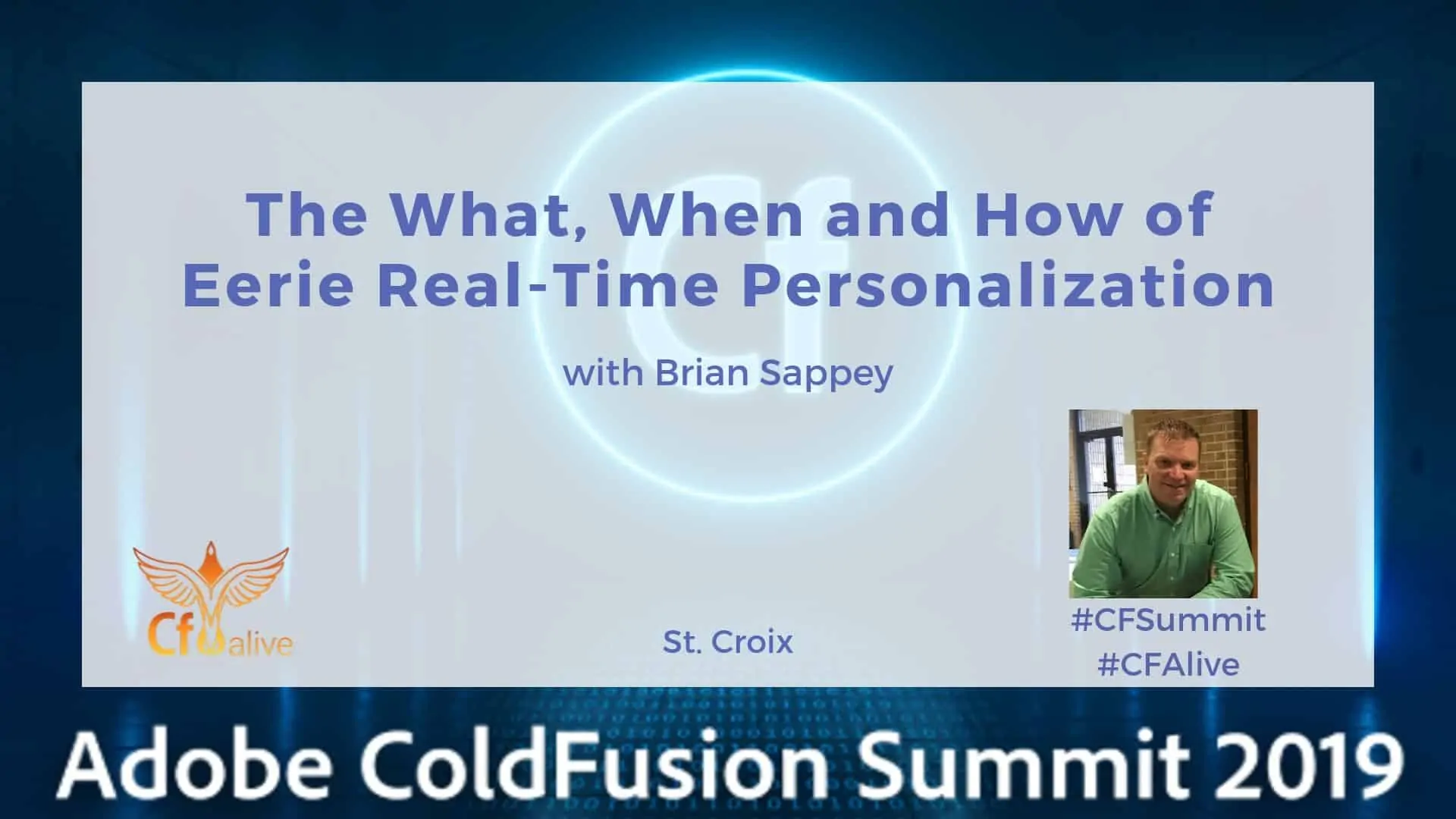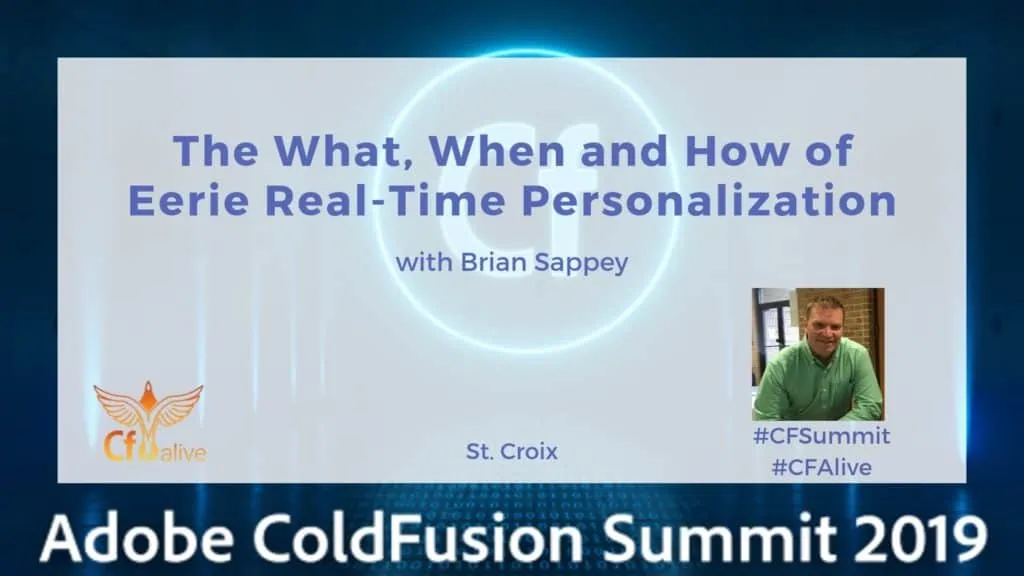 ["ColdFusion", "Kafka", "Divolte", "NiFi", "Druid", "Superset"] an array when paired together make an unstoppable force in personalizing your sites.
Learn how to capture your users DNA and gain immediate context of your users, be able to adjust engagement based on their "influence zone" in real time while they are still in session.
Brian Sappey is the Director of Engineering and Architecture.
His most recent focus has been advocating the use of API's in the Ecommerce infrastructure at Market America/SHOP.com.
You can find the presentation here: COMING SOON
Beyond "Read All": Build Fine-Grained Control of Amazon Web Services in Your ColdFusion App by

Brian Klaas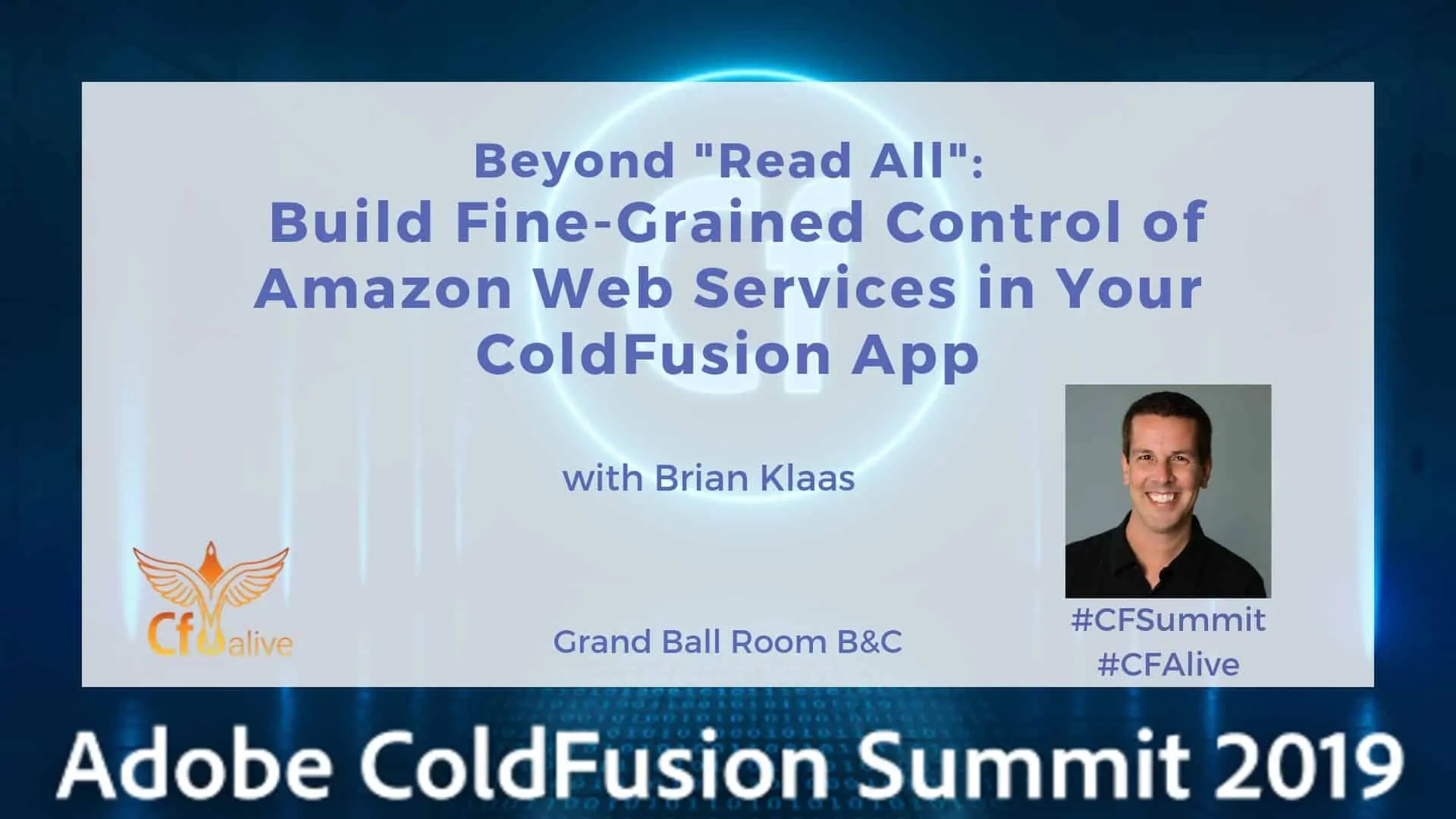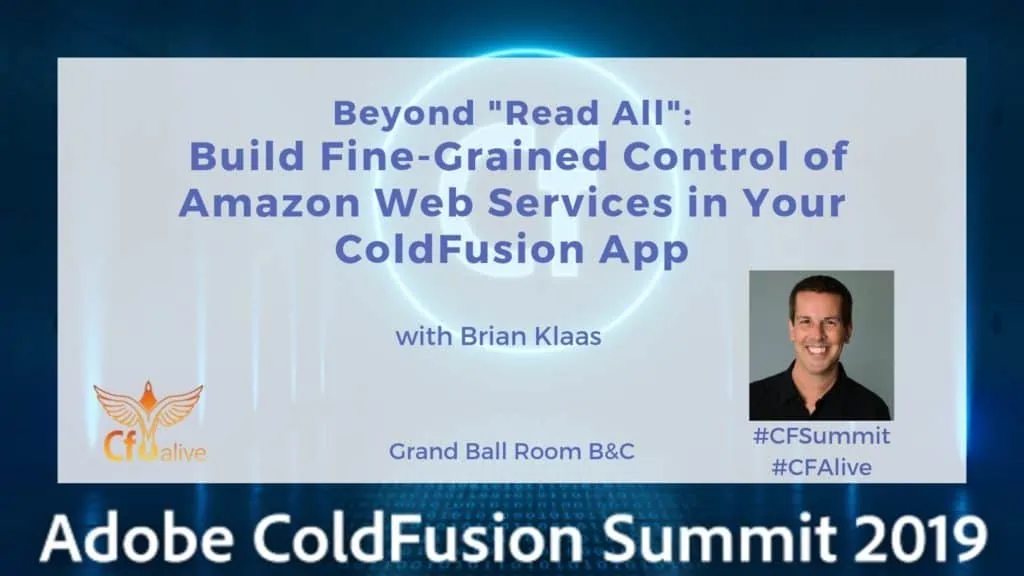 Developers across the world look to cloud providers like AWS, Google, and Microsoft to expand the capabilities of their applications.
ColdFusion has a number of built-in hooks to access Amazon Web Services (AWS).
In this session,learn how to use IAM from within your ColdFusion app to set up IAM roles and permissions so that you can start leveraging the real power of AWS, whether it's cloud-based file storage (S3), sending text messages (SNS), or working with a noSQL database (DynamoDB).
Brian Klaas is the Senior Technology Officer at the Johns Hopkins Bloomberg School of Public Health's Center for Teaching and Learning.
Document workflow and management made easy with ColdFusion by

Kailash Bihani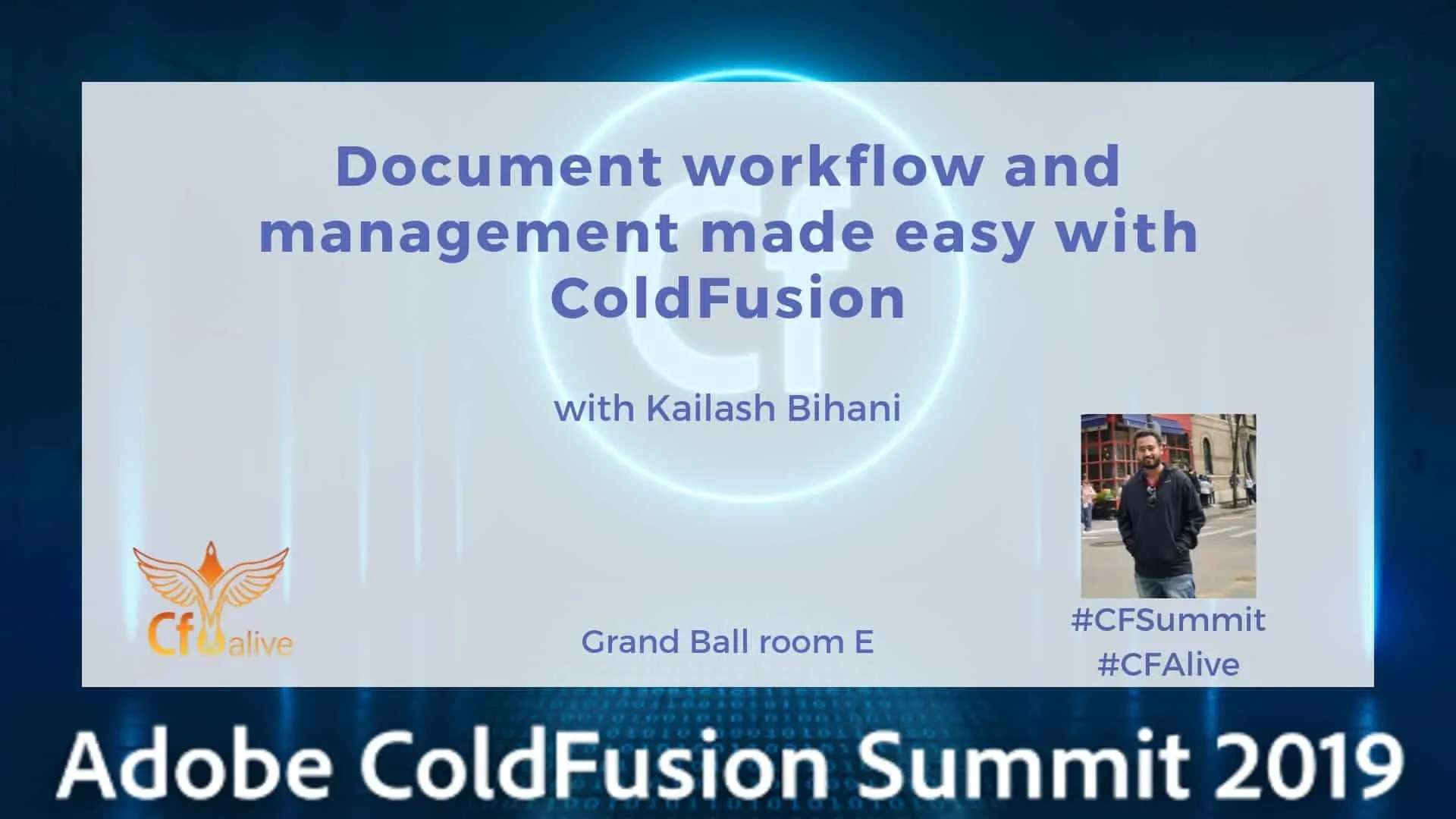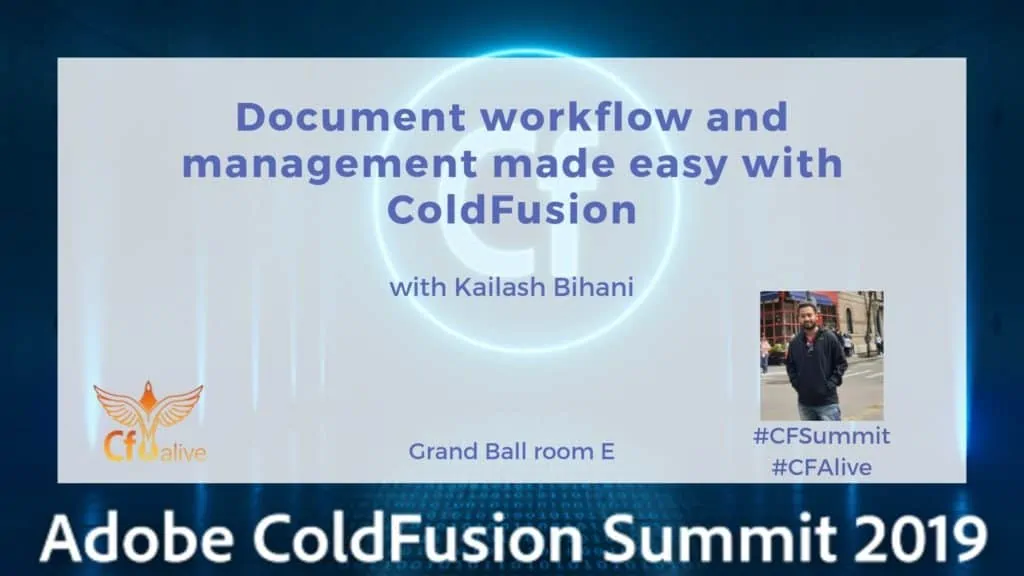 ColdFusion is the most powerful language out there when it comes to plus and play with various kinds of documents such as PDF's, Presentations, Spreadsheets, etc.
See how various document interconversions can happen using ColdFusion such as:
PPT to PDF

PPT to HTML

HTML to PPT

Word to PDF

Excel to Query

Query to Excel

Excel to HTML

HTML to PDF
Kailash Bihani is a Software Engineer in the Adobe ColdFusion team. His responsibilities for ColdFusion features include Security, HTMLtoPDF and PDF Manipulation, Websockets, Mobile and API Manager. When free, he is either working on AR technologies, or taking a trek somewhere in India.
You can find the presentation here: COMIN SOON
No more excuses – let FusionReactor instantly show you performance problems and defects in your code by

David Tattersal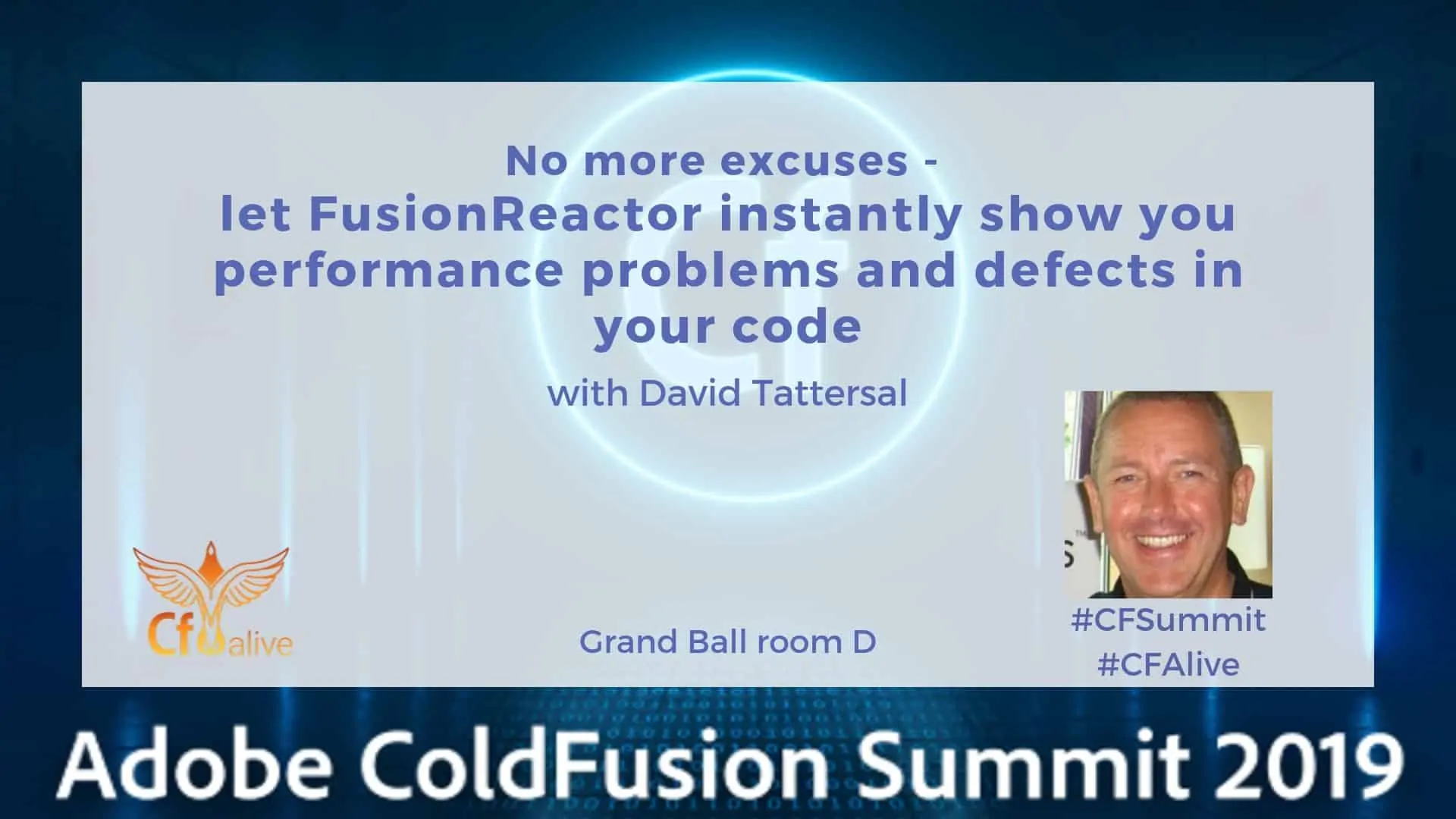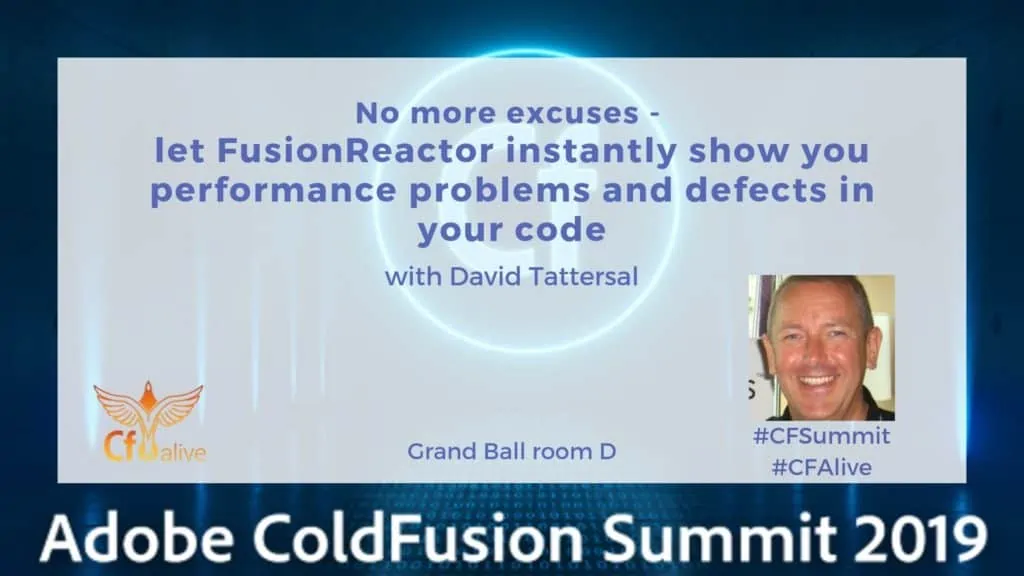 Ever have a defect in production and simply could not reproduce it in your test environment? You're not alone.
The presentation demonstrate how FusionReactor highlights performance problems and instantly spots issues as they unfold, pinpointing right down to the line of code that's the problem.
SQL, I learned enough to break everything by

Dave Ferguson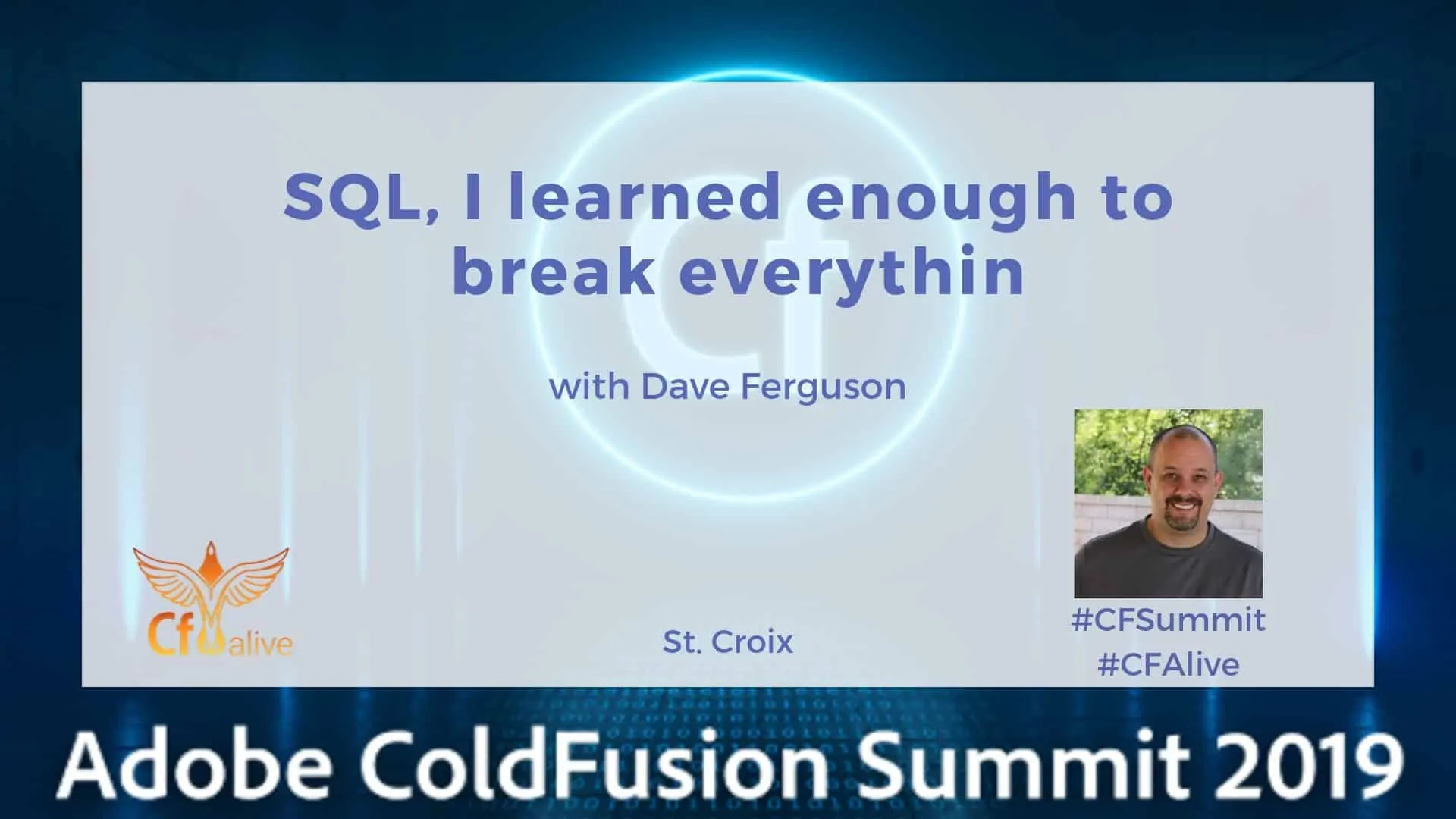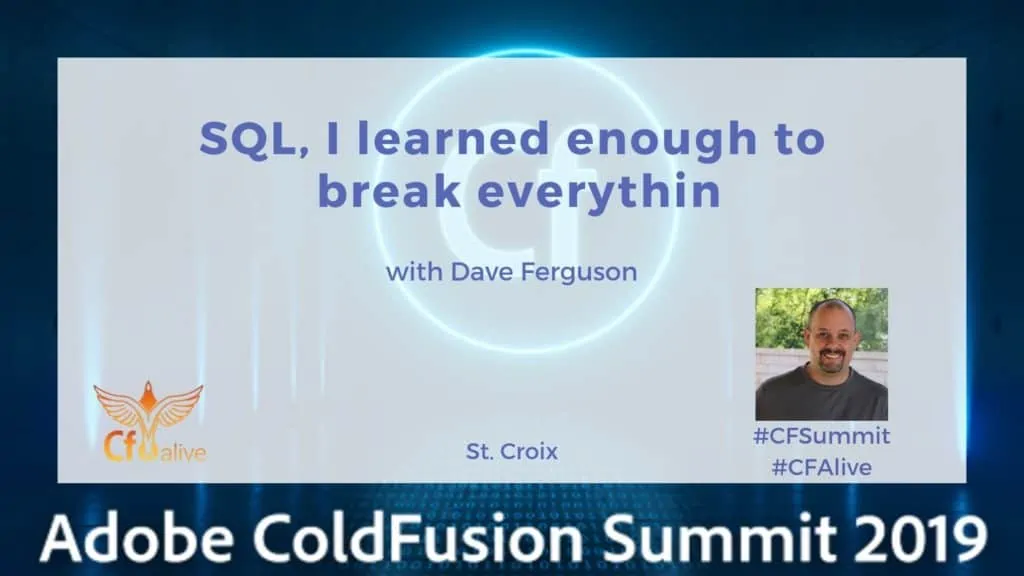 In this session, Dave explained why your SQL may not run the way you intended. We looked well beyond just the select statement and look deeper into how SQL runs. We gone over what the DBA's keep to themselves as well as other metrics. 
Dave has spent the majority of his life living in sunny Southern California. Over the past almost 20 years has worked in information technology.
You can find the presentation here: COMING SOON
Angular for ColdFusion Developers by

Josh Kutz-Flamenbaum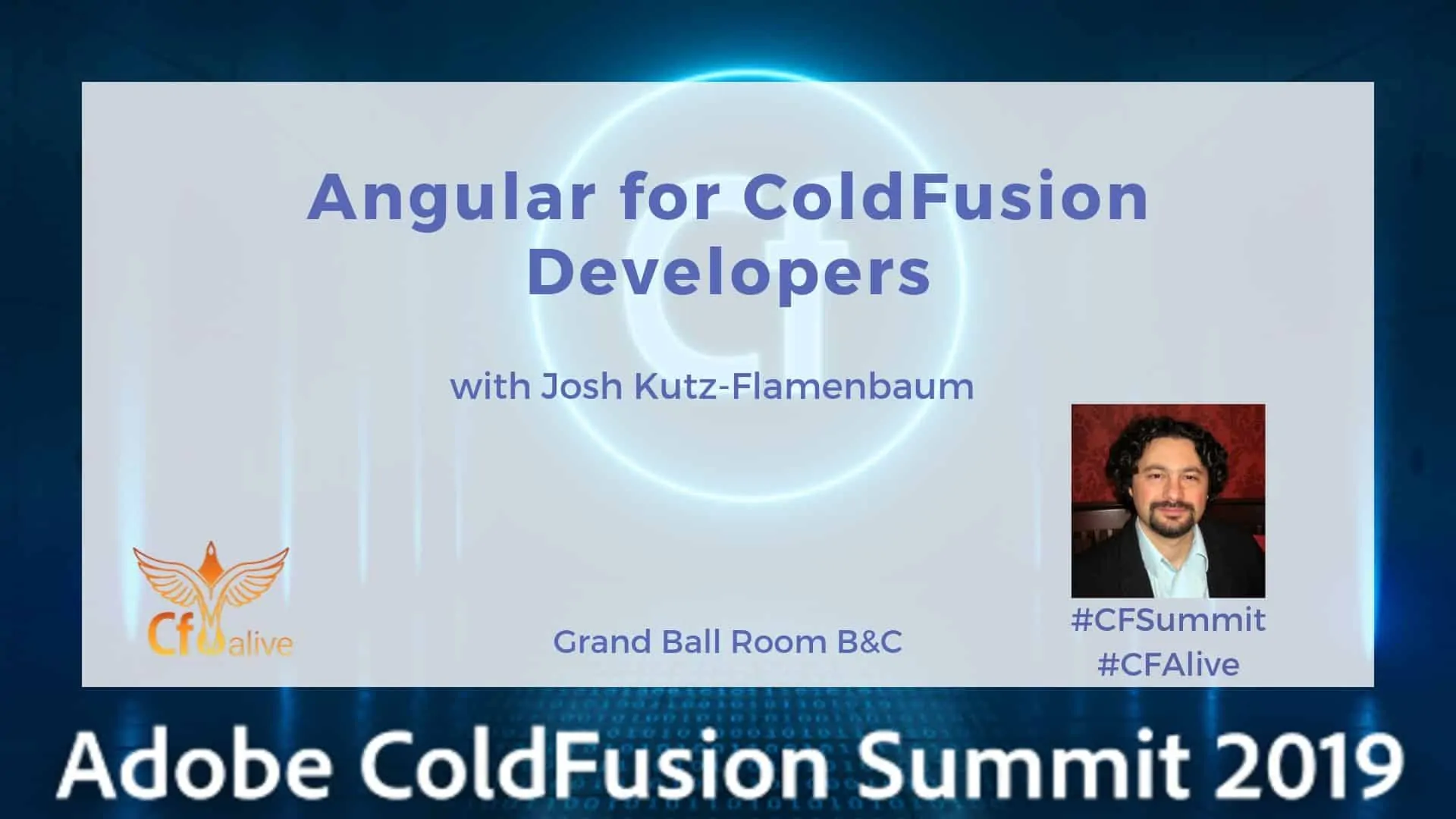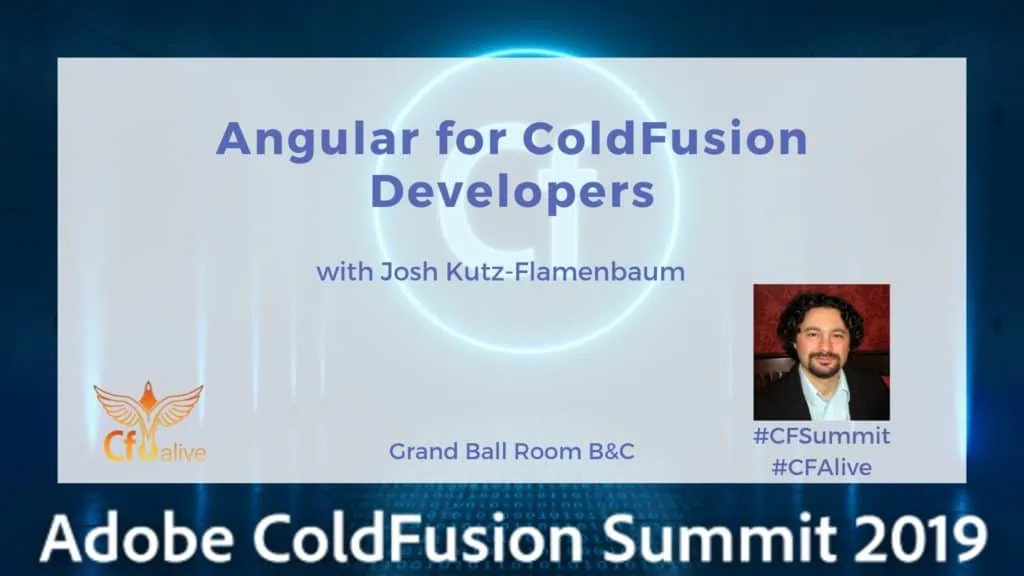 Angular is a popular framework for building JavaScript applications.
We discussed the benefits of building your application in the Web Browser and using ColdFusion as a great back-end.
Josh Kutz-Flamenbaum is a Senior Software Architect for Bumble and bumble, a prestige hair care brand owned by the Estee Lauder Corporation.
Meet Solr, ColdFusion's Search BFF by

Rick Buongiovanni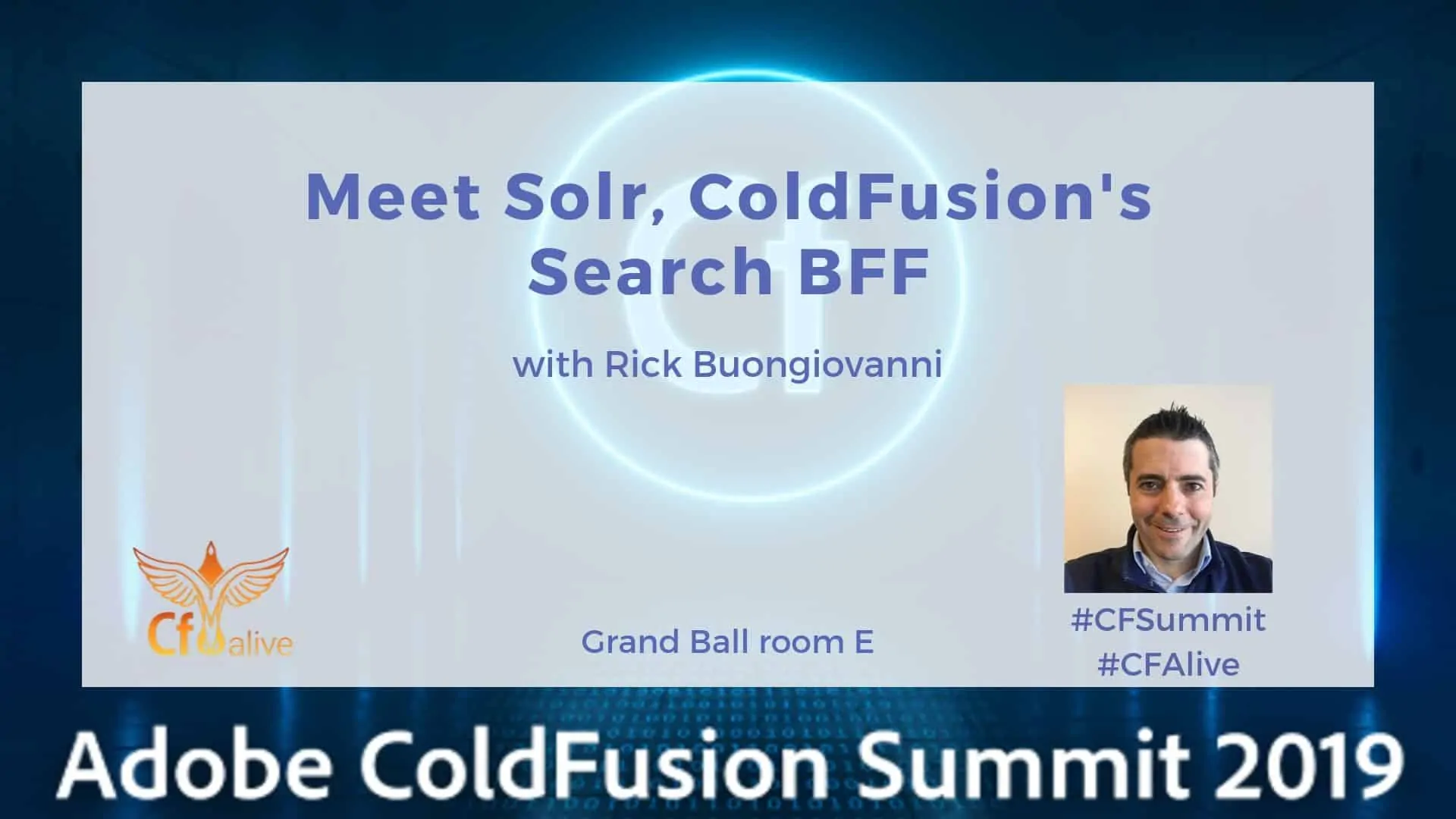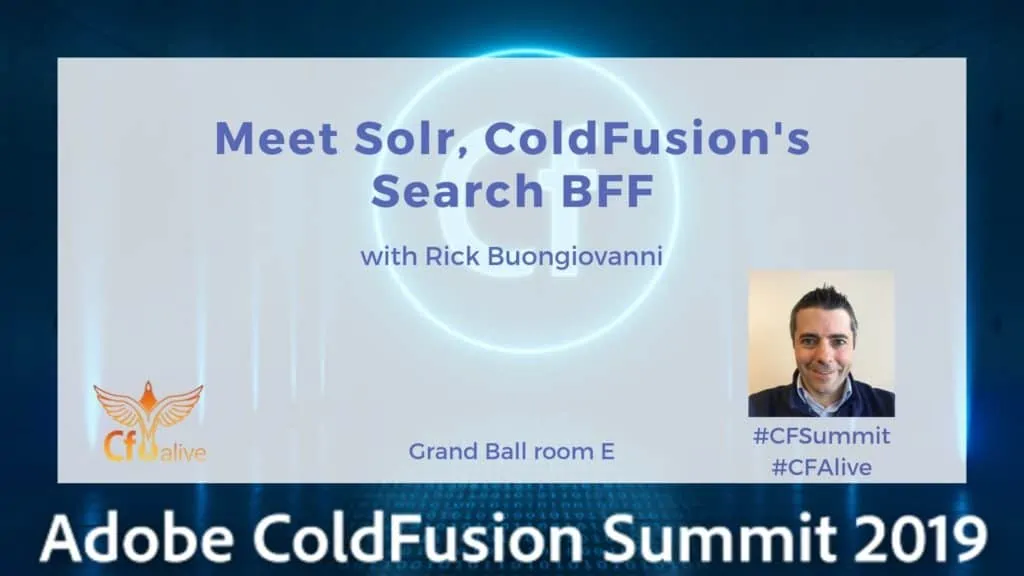 Solr is a powerful tool just waiting to be discovered! In this session, Rick talked about searching with Solr. If you are completely new to Solr, you can leave able to create your first Solr search application. If you have used Solr previously, this session provide new ideas for configuring and using Solr.
Rick Buongiovanni is the Director of IT at The Institute of Navigation, an international association headquartered in the Washington, D.C. area.
Shut the door to vulnerabilities in your code with these tools by

George Murphy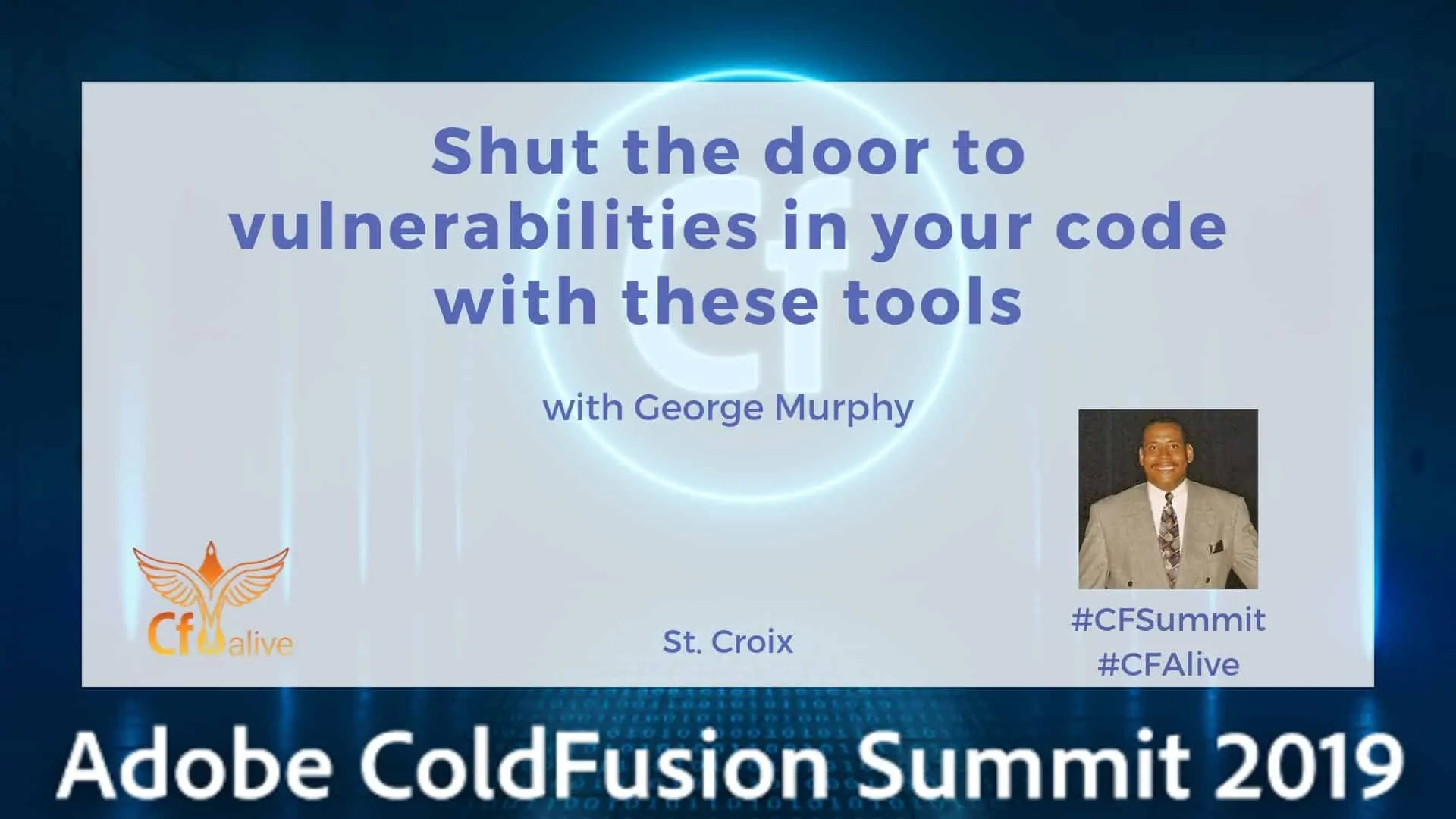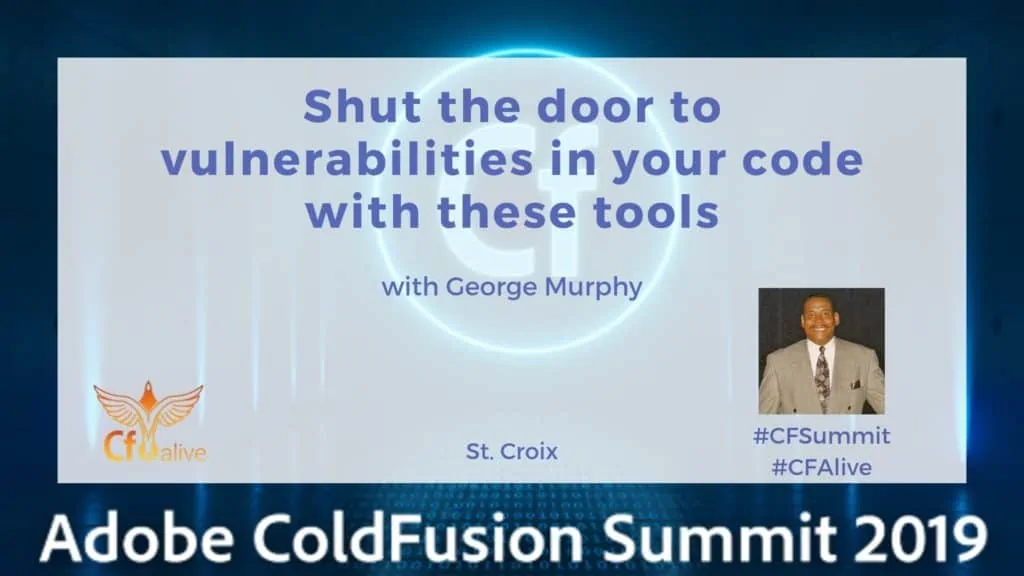 Do you have legacy code that you would like to run a report on, to look for different risks in your code that could open the door to some bad guy attacking your code?
We take a look at some tools which will help you reduce that risk level and close the door to those vulnerabilities.
George Murphy is a senior cloud software design engineer, manager, and contractor for various Federal agencies.
You can find the presentation here: COMING SOON
Unleash the Power of the Adobe API Manager by

Paul Dumas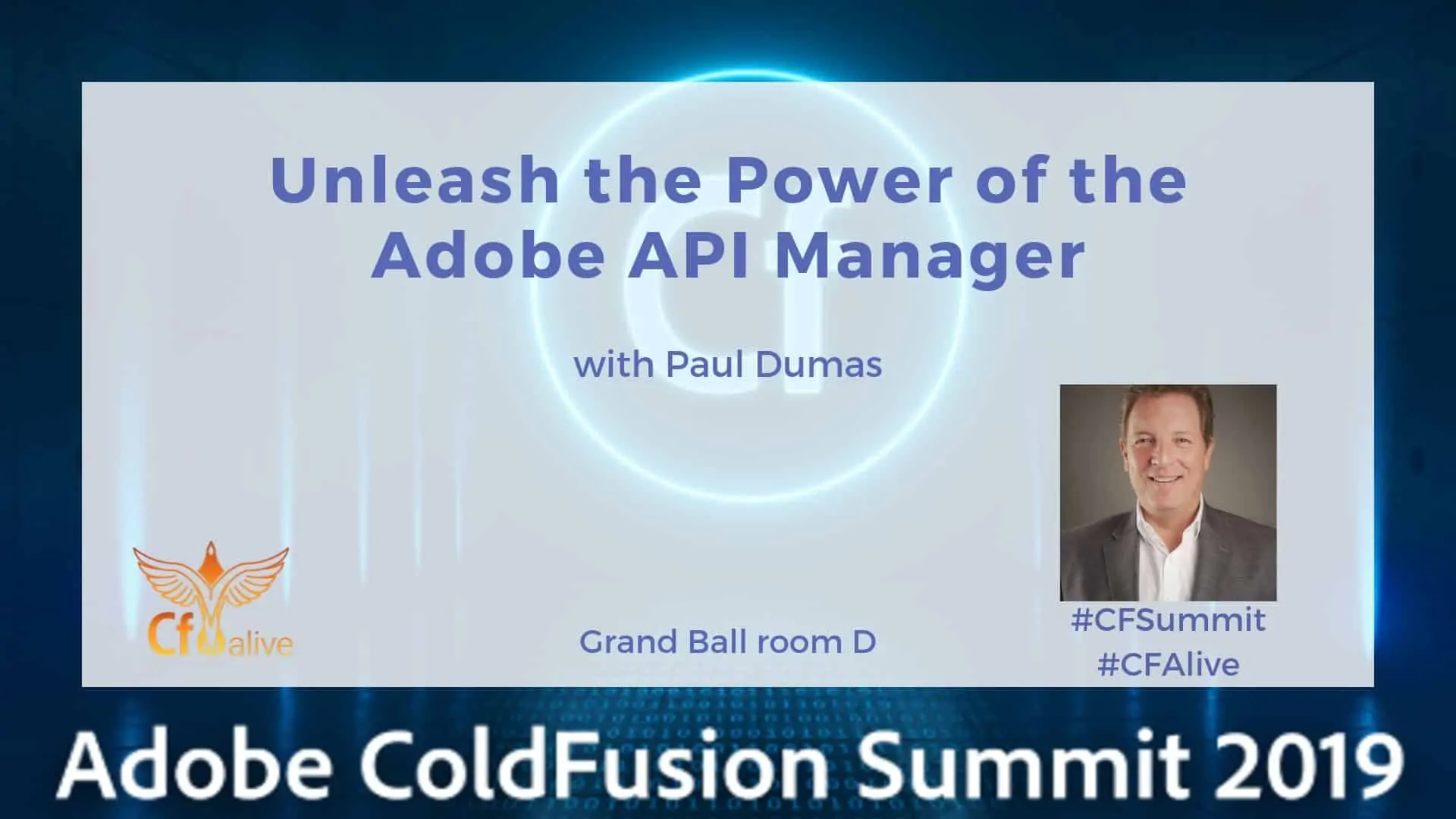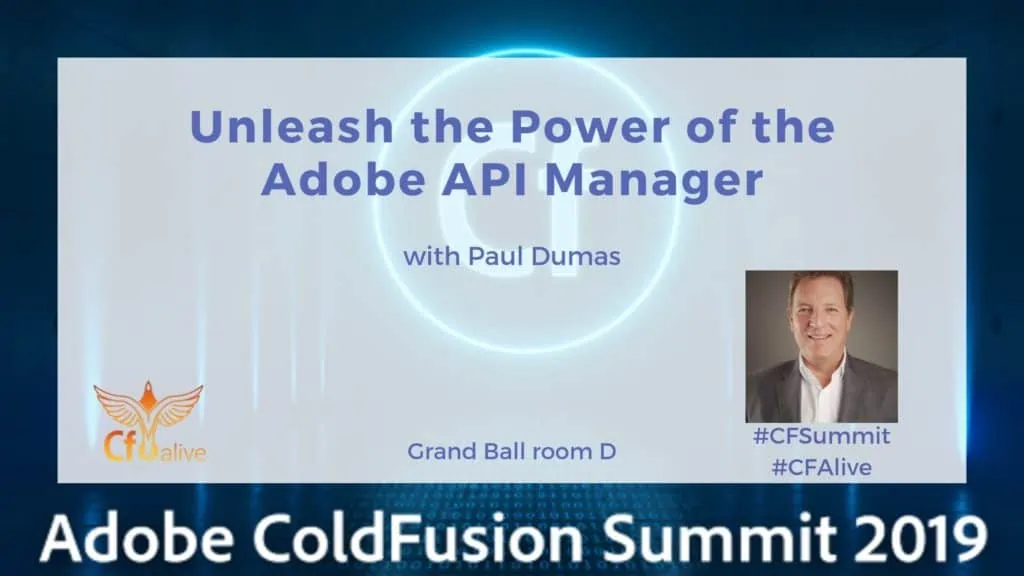 Think the Adobe API Manager is just another trend or cool buzzword.
Think again! 
This presentation covered the spectrum from the strategic importance of the platform to the technical leverage it gives you with REST compliance, security, analytics, and CI/CD (automation). 
Learn how to build an API, apply security, monitor its performance, and retrieve its definition via the platform's provided API.
Paul Dumas is a Senior Director of Engineering at Market America. Paul works to oversee API standards and strategies, evangelize Market America Public APIs, and manages strategic efforts and API related products.
You can find the presentation here: COMING SOON
[Angularjs + Reactjs + Vuejs] + CF – Integrating modern day JS frameworks with ColdFusion by

Uday Ogra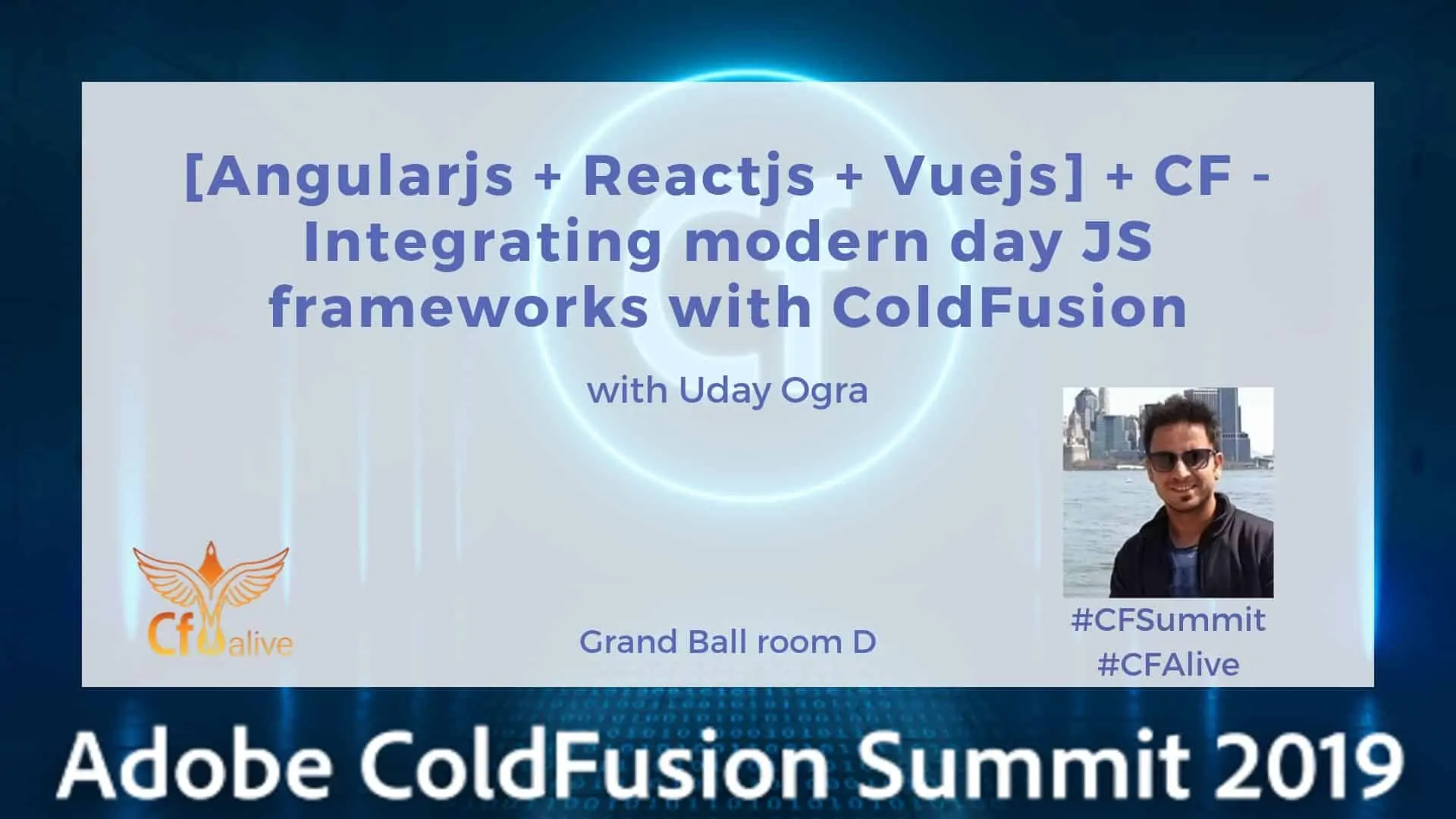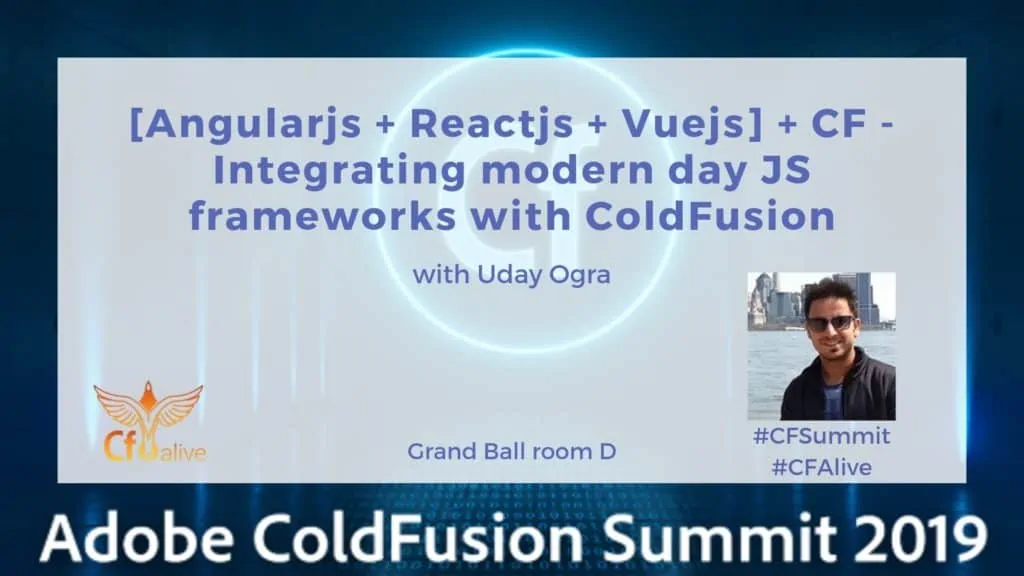 Uday introduced each of the top 3 modern-day JS frameworks. Learn how to build applications in them. He compared the pros and cons of each of them and also compare the code which have to write in each of these frameworks to achieve the similar output.
Uday Ogra is a passionate developer who is part of ColdFusion development team for more than 9 years.
Augmented Reality powered by React Native and ColdFusion – A transformation to mobile app development by

Edwin Samuel Jonathan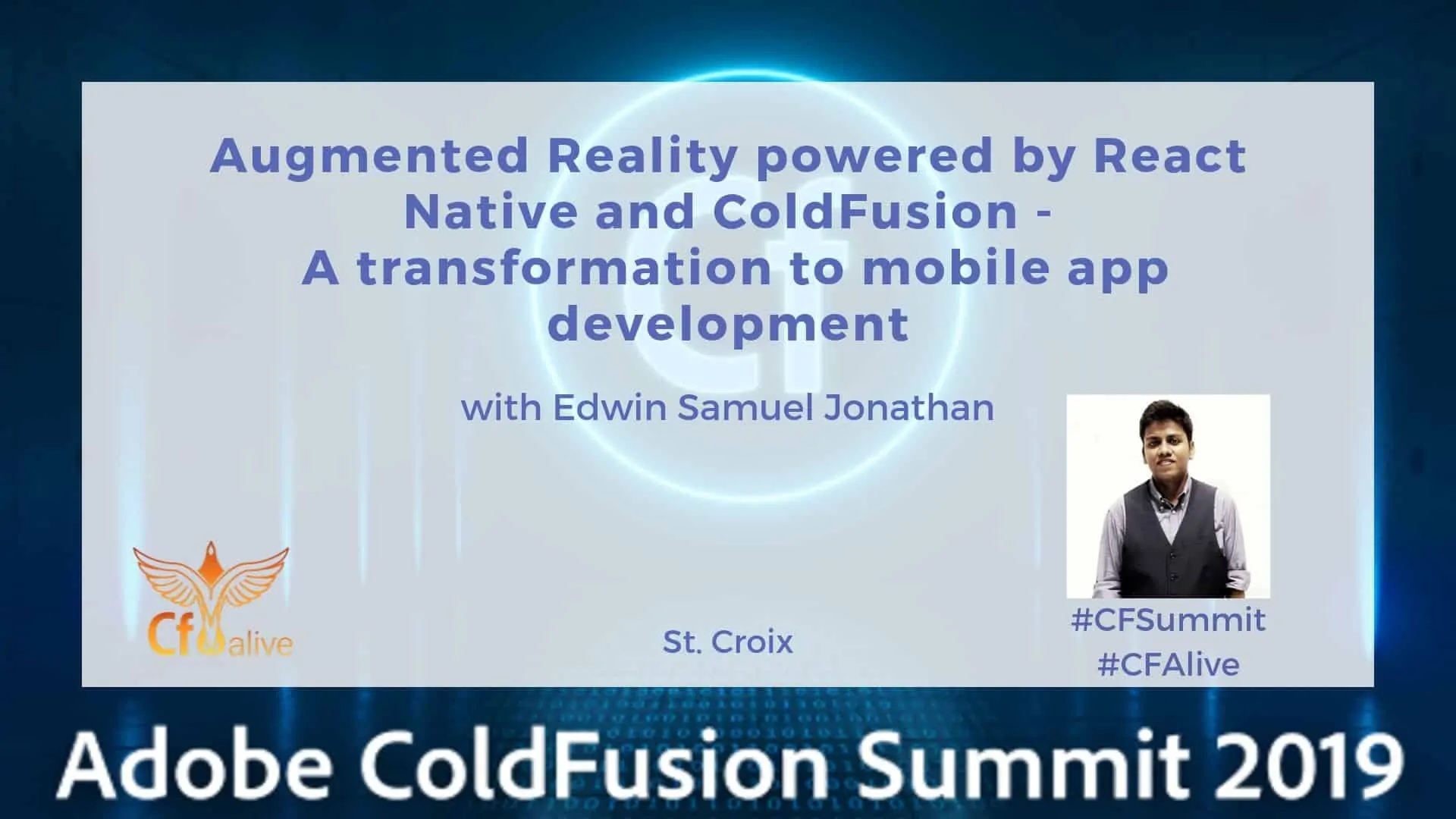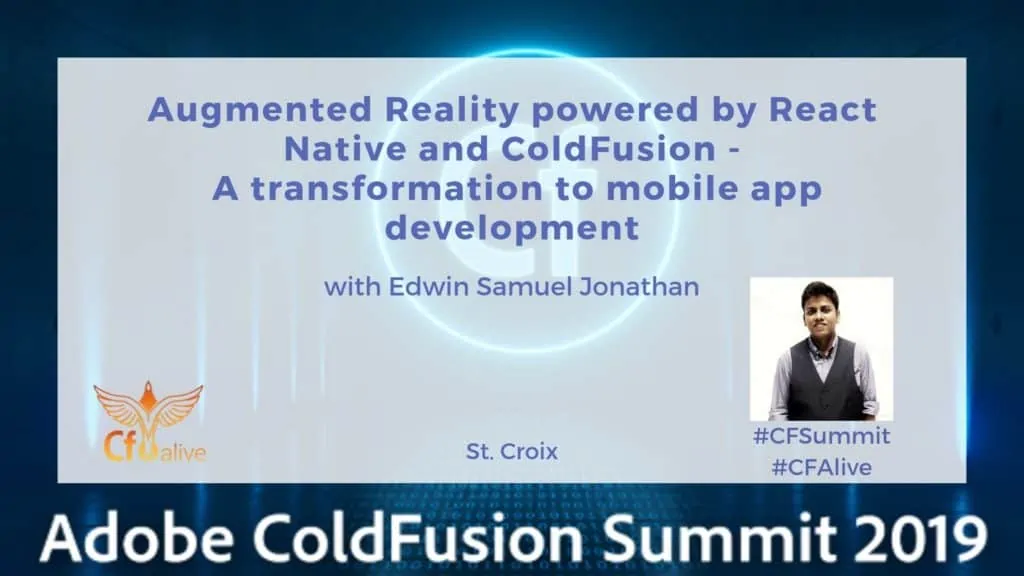 In the session, Edwin talked about how you can go about bringing in Augmented Reality to any of your ColdFusion Applications by combining the power of React Native's simplicity with ColdFusion's speed and reach.
Edwin Samuel Jonathan a software developer for Adobe ColdFusion team. He is a full stack developer having worked on features like WebSocket, ColdFusion Administrator, CfFiddle as well as the Performance Monitoring Toolset.
Caching and Performance in ColdFusion by

Denard Springle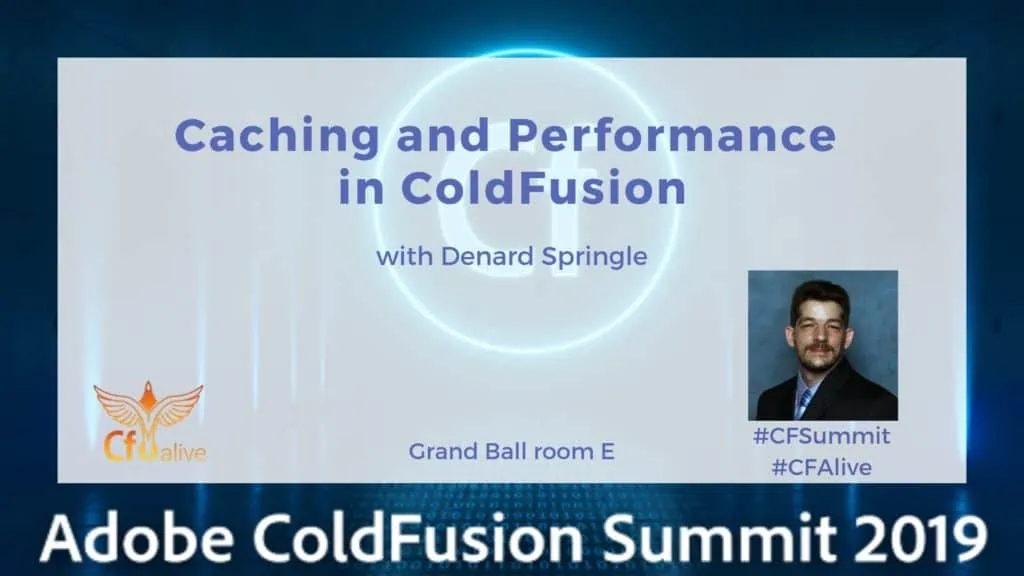 In this session we explored various ways to use caching to increase the performance of  applications including using page, query and object caching techniques.
We learned not only how to implement caching techniques, but where to use them to get the most value for your applications while avoiding common pitfalls and understanding the trade-offs. 
Denard 'Denny' Springle has worked extensively with ColdFusion since v4.5 and numerous additional languages including Perl, PHP and Java. 
Harness the Best of the Best: ColdFusion and Adobe Experience Manager (AEM) Integration by

Andy Lambert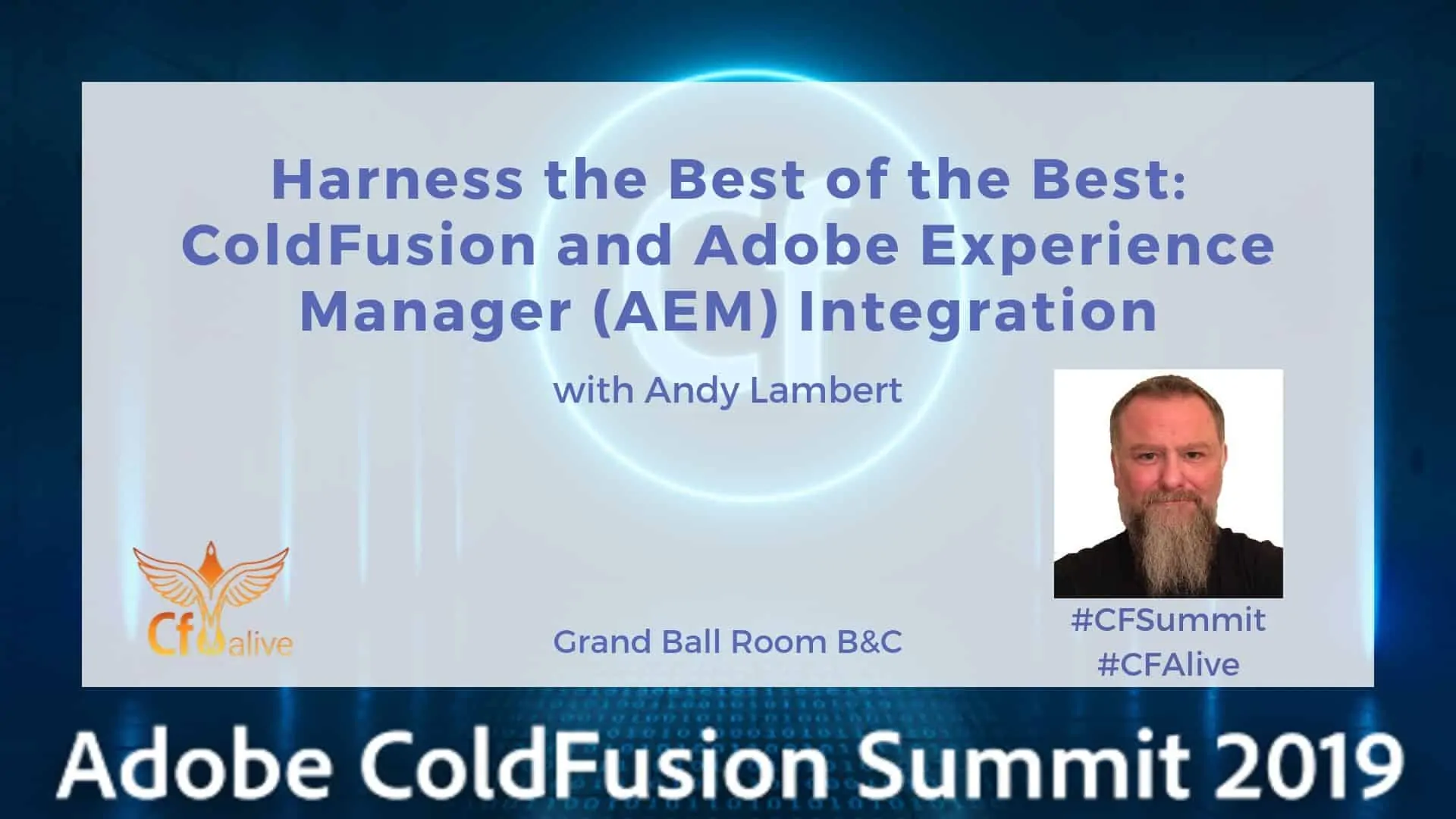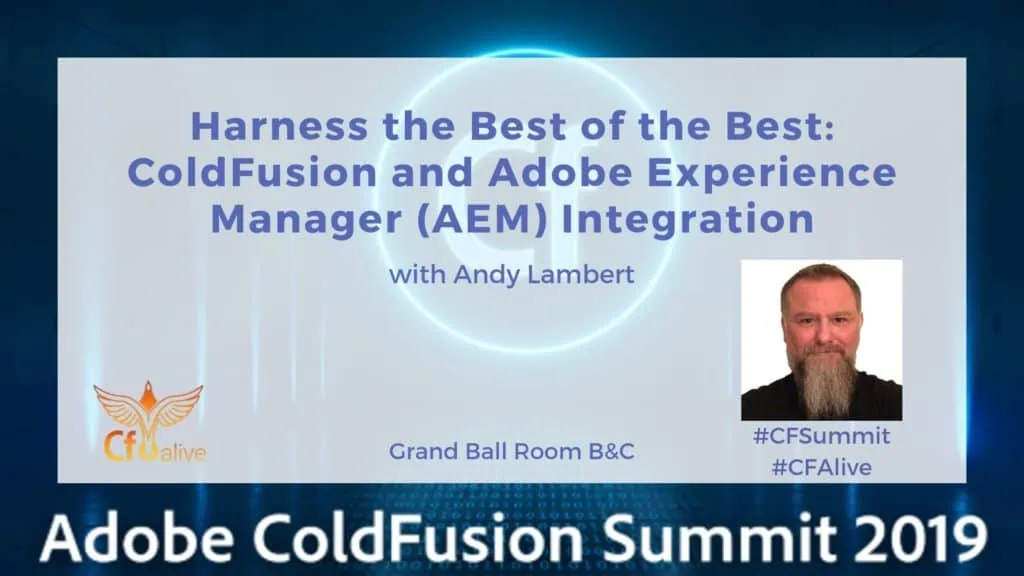 Adobe Experience Manager (AEM) is the leading platform for web content management (WCM), digital asset management (DAM), digital rights management (DRM), and online marketing.
Presentation highlights:
Digital asset management and retrieval to/from ColdFusion applications

RESTful integration via ColdFusion web services and the Apache Sling layer underlying AEM

Consumption of OSGi services in AEM

Content migration
Andy Lambert is a Technical Architect with the Adobe Customer Solutions group.
He has been with Adobe for over 6 years, working with both private and public sector customers to fully realize their online vision using Adobe Experience Manager and Adobe Marketing Cloud. 
You can find the presentation here: COMING SOON
Please pass the salt: Serve up passwords with a side of entropy by

Brad Wood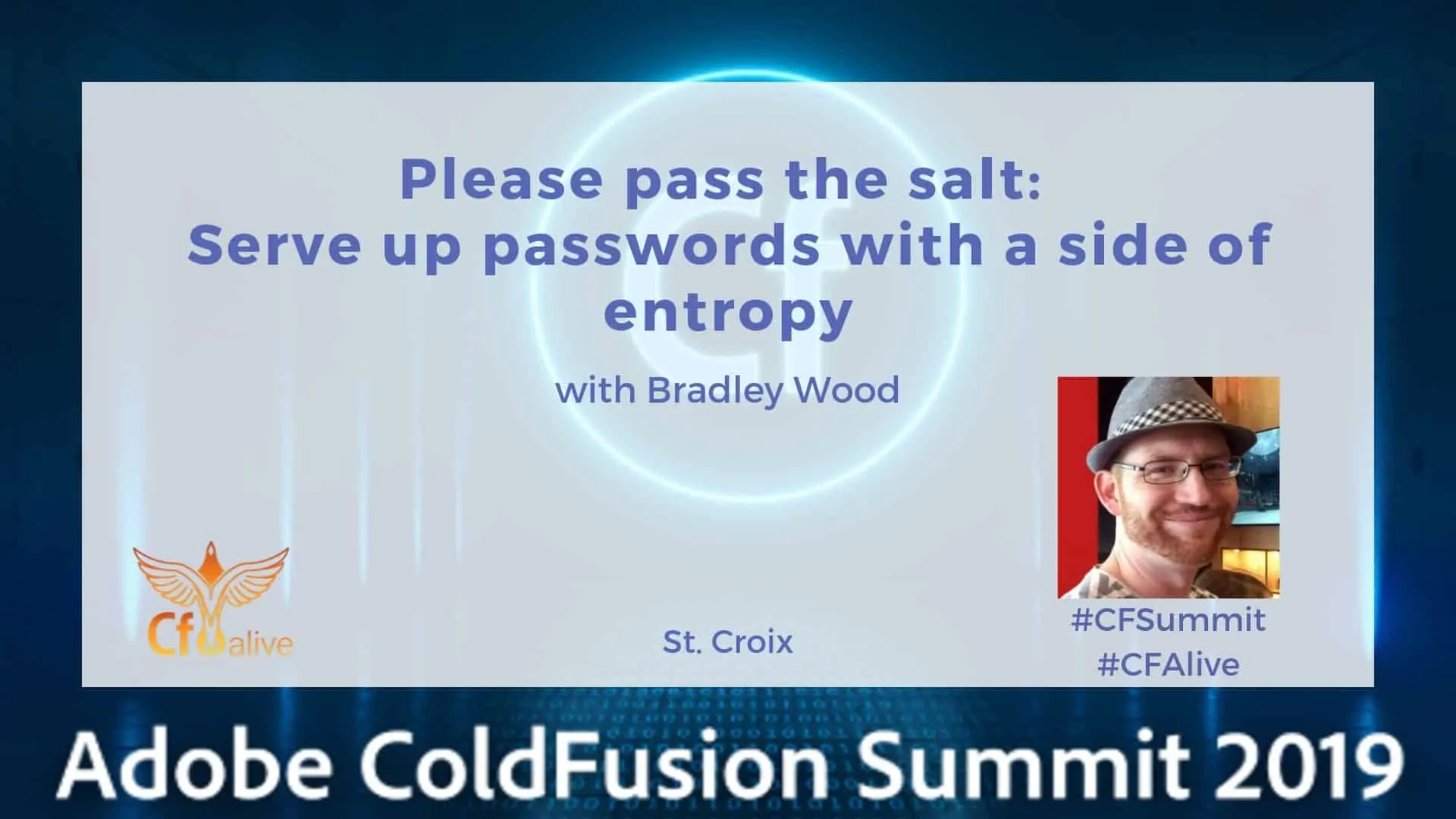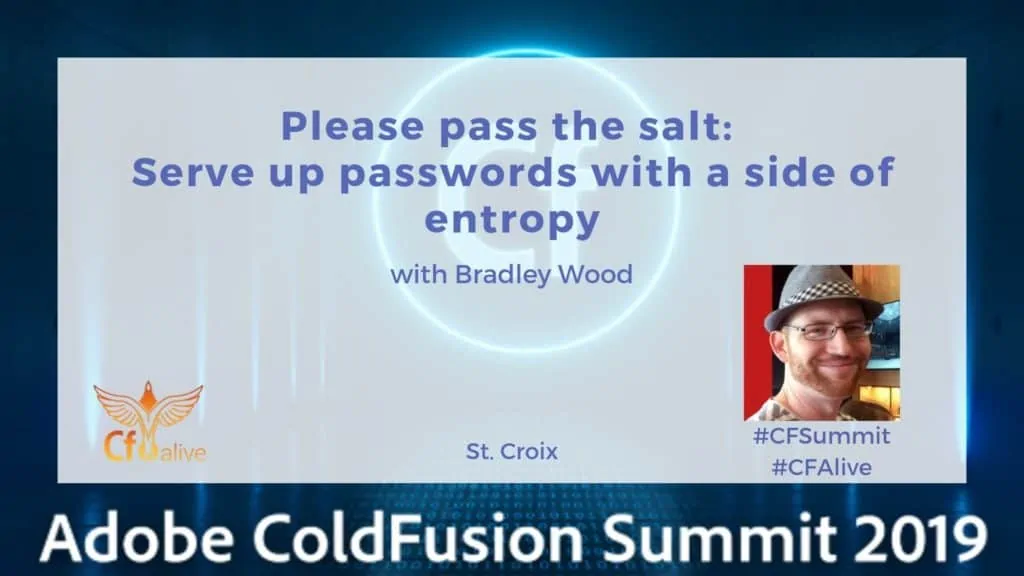 Passwords are like opinions, everyone has them and some are easier to figure out than others.
Let's take a practical look into the world of password storage by starting with the most basic approach and what's wrong with it. 
Brad has been programming ColdFusion for 12 years and has used every version of CF since 4.5. He first fell in love with ColdFusion as a way to easily connect a database to his website for dynamic pages. 
He enjoys configuring and performance tuning high-availability Windows and Linux ColdFusion environments as well as SQL Server.
Rapidly Prototyping Single-Page Applications with Coldfusion & Javascript by

Mark Takata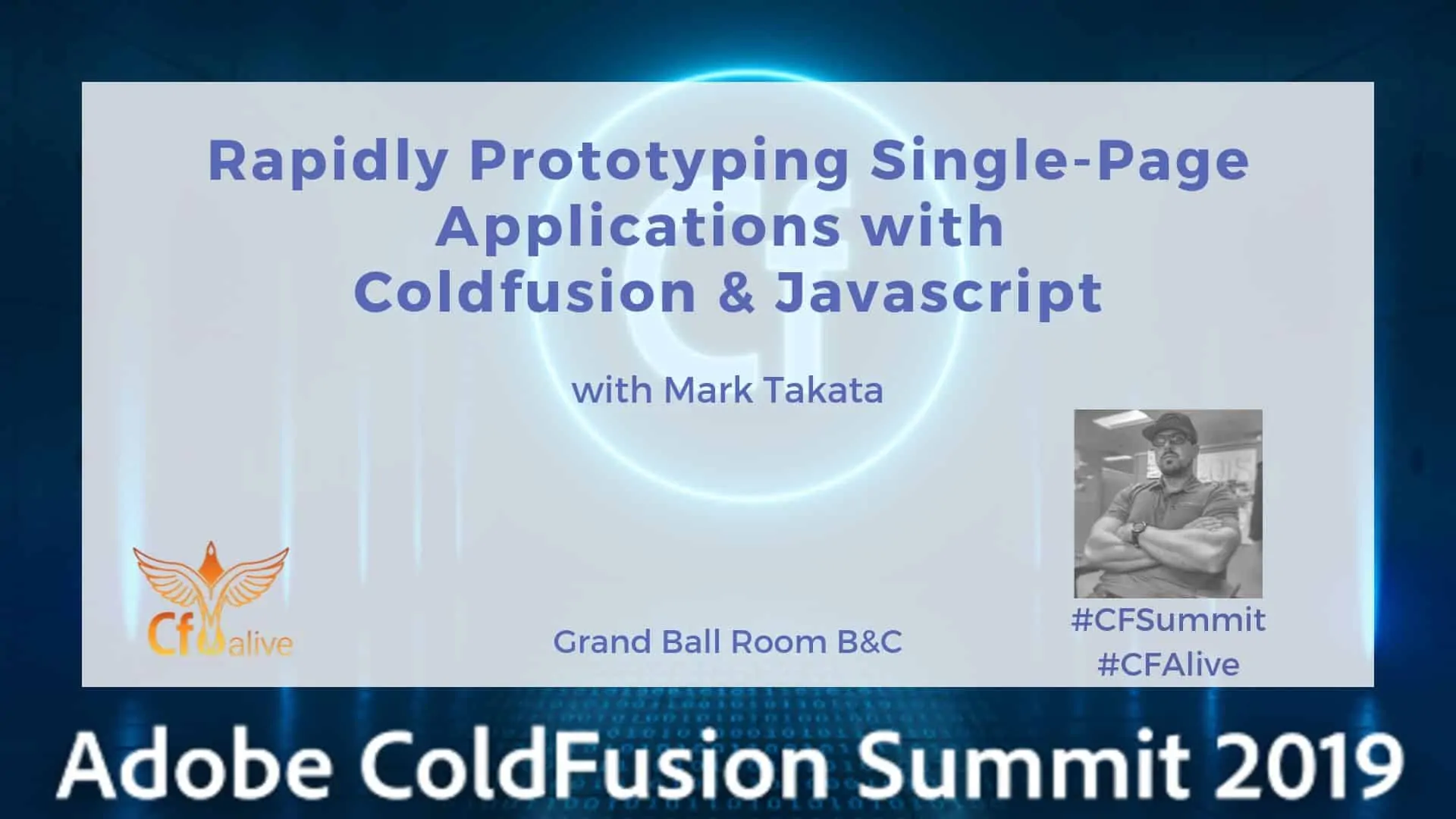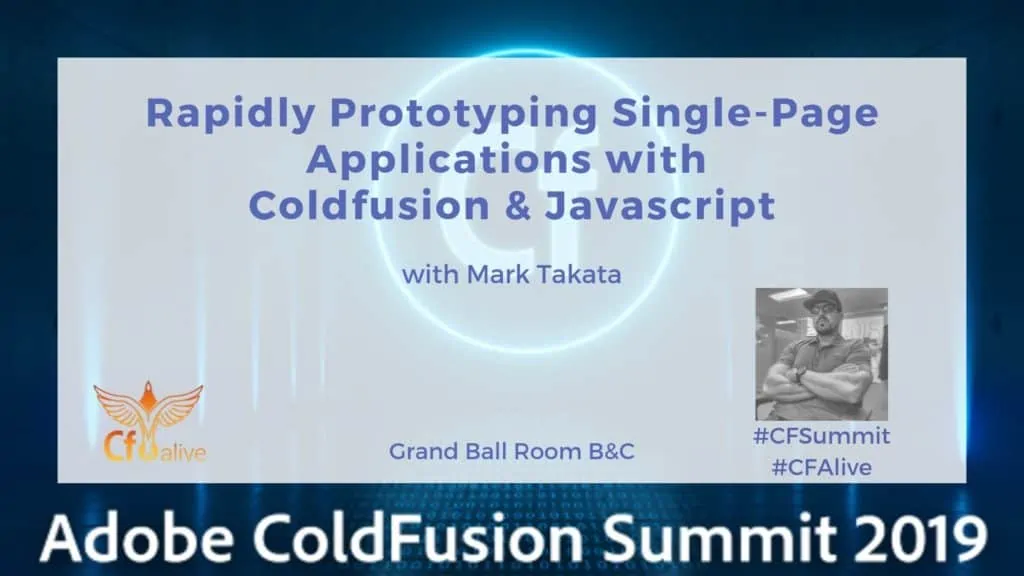 This session gave us the tools and ideas needed to quickly prop up SPAs (single-page-applications) using Coldfusion and a JavaScript framework.
The framework that Mark used is called Intercooler.JS and allows for a very similar "low-code-required" methodology of throwing together functionality.
A 20+ year veteran of development, Mark's programming journey began with Coldfusion. He's raised up the number of languages & frameworks he knows to 15 (and counting) and currently develops applications for the University of California, Davis and for private clients through his development firms Takata Technology Consulting and Pretty Good AI.
Real-time SMS Texting with ColdFusion & AWS by

Greg Stanley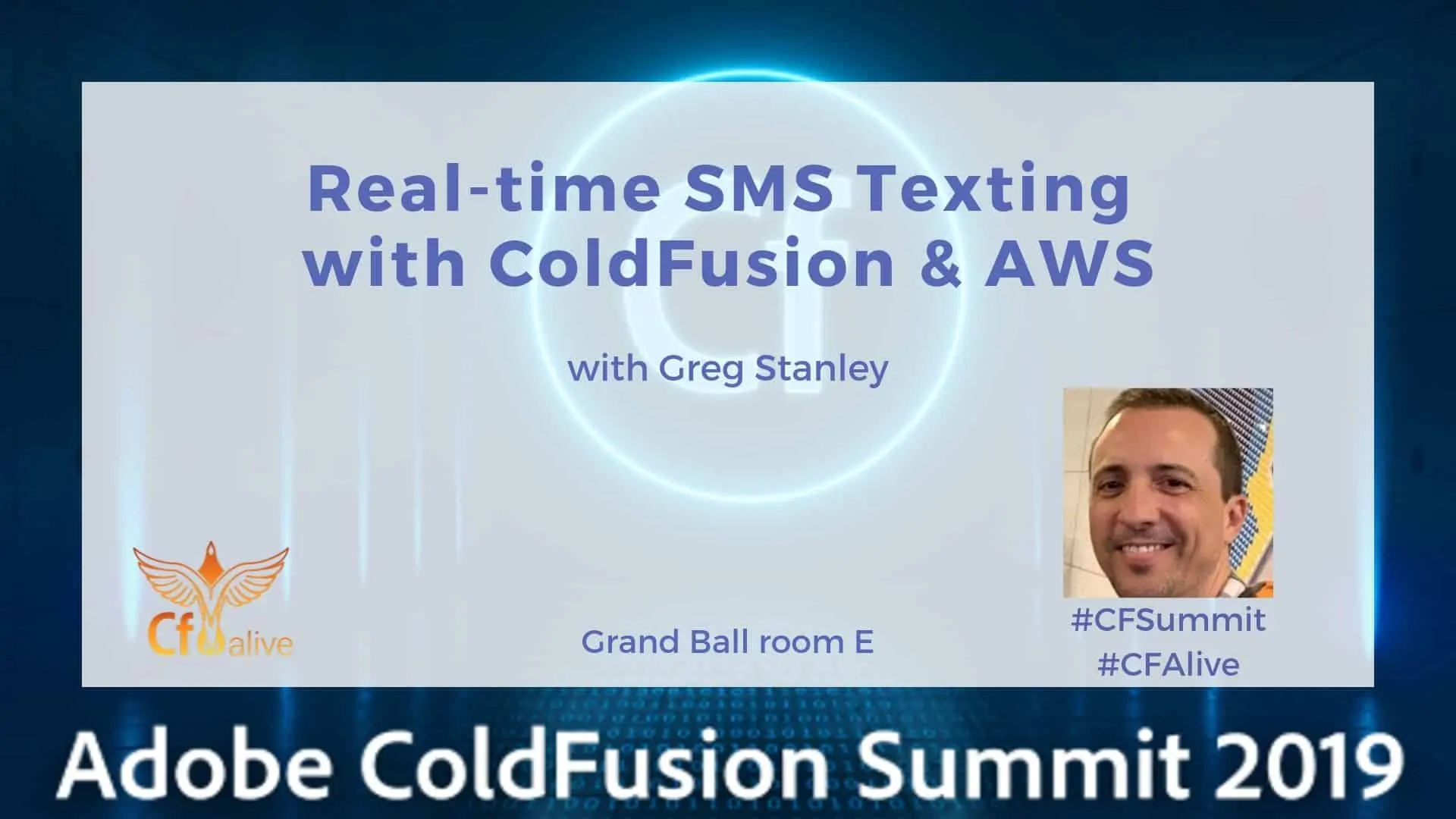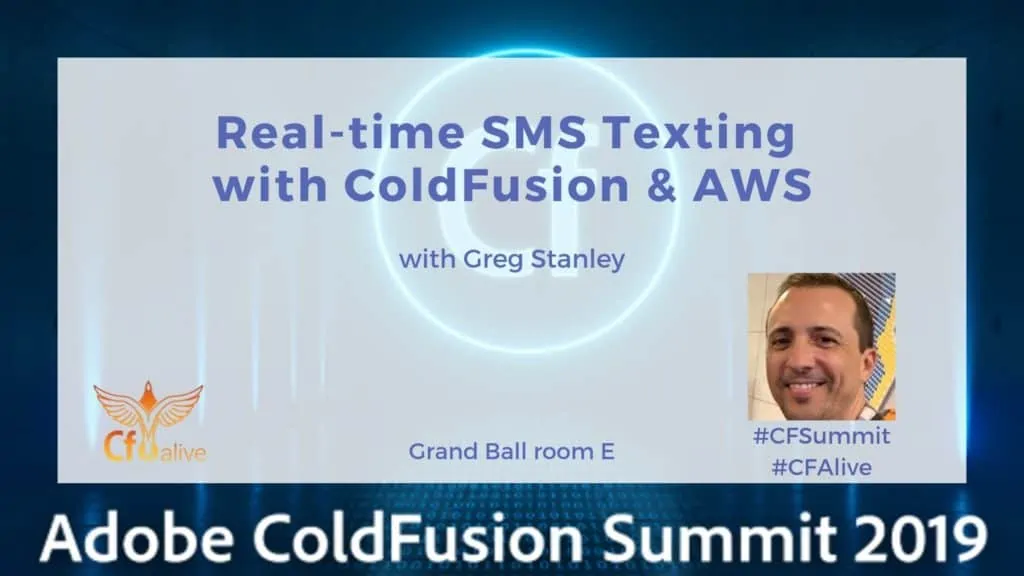 In this session Greg demonstrated how to send SMS text messages using ColdFusion and AWS PinPoint.
Session Outline:
Overview of how to use AWS modules in ColdFusion.

Using the AWS module PinPoint to validate and send SMS Text messages (US and internationally).

Applying the right Javascript plugins for a great UI experience.

Using the database to minimize AWS costs.
Greg Stanley leads software development operations for the Technology division of Retensa. He is an intrepid, adept, software engineer. 
Scaling enterprise applications with ColdFusion by

Piyush Kumar Nayak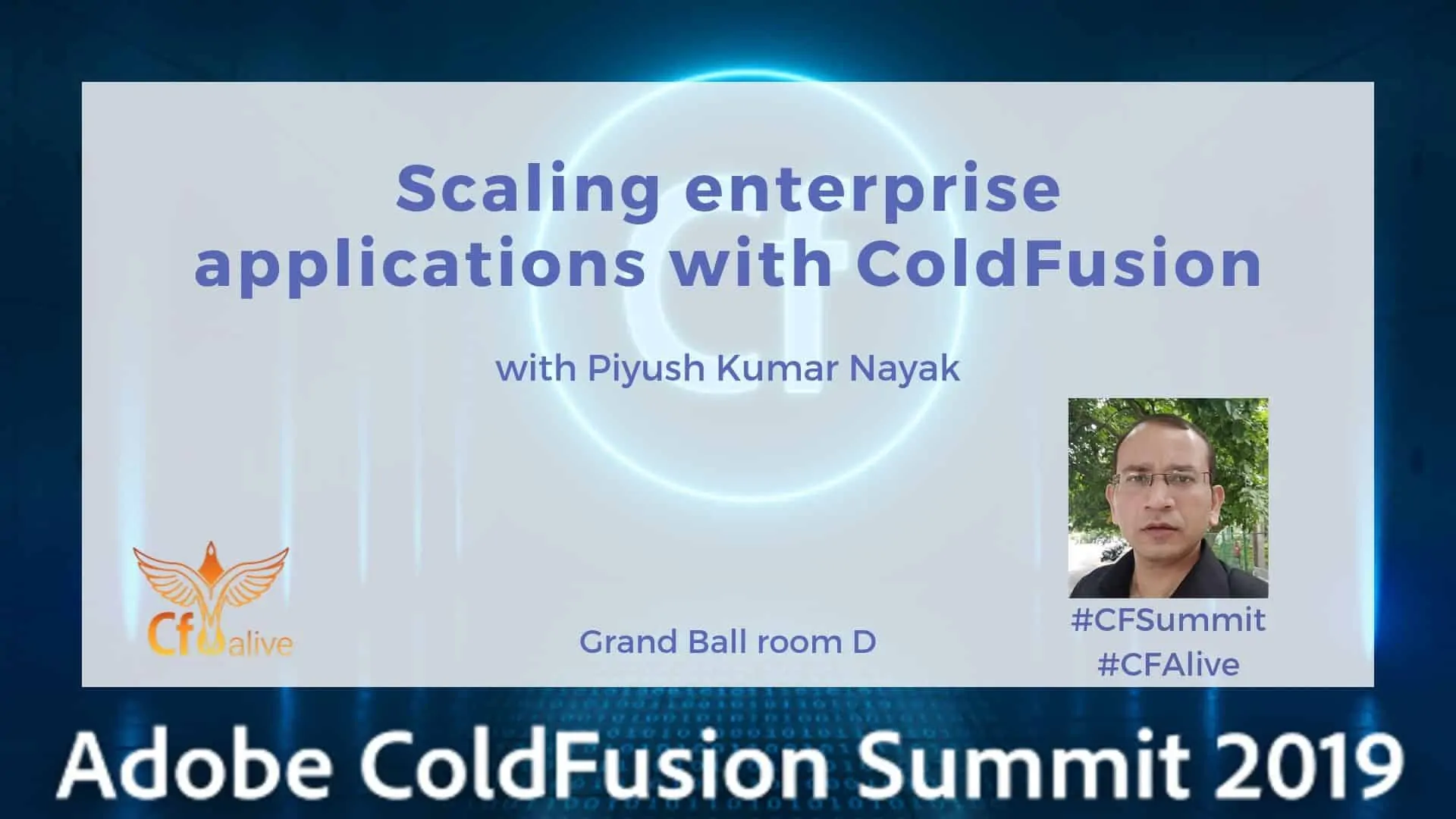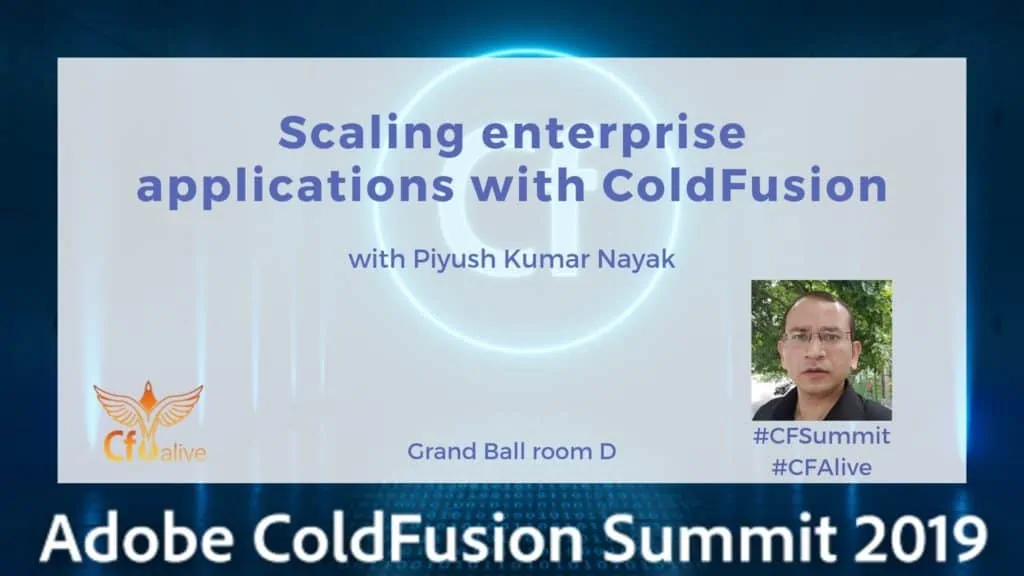 In this session Piyush Kumar Nayak talked about the features in CF that makes it a suitable platform for hosting high volume enterprise applications.
Presentation highlights:
clustering CF servers – different ways a CF cluster can be configured.

Using a web server connector for static content.

centralized distributed caching – how different caching engines can be used towards a centralized cache for a distributed CF application.

external session store – how Redis can be used to managing sessions in a large application.
Piyush is a QA engineer with the ColdFusion team where he works on performance and scalability amongst other areas. He has Master's degree in Computer Application.
You can find the presentation here: COMING SOON
CF Alive at CF Summit
I am happy to say that ColdFusion is much more alive now, than a year before. And it's growing still. That's great news for CFers. During the conference, I got to hang around with some cool people. Here's what it was like…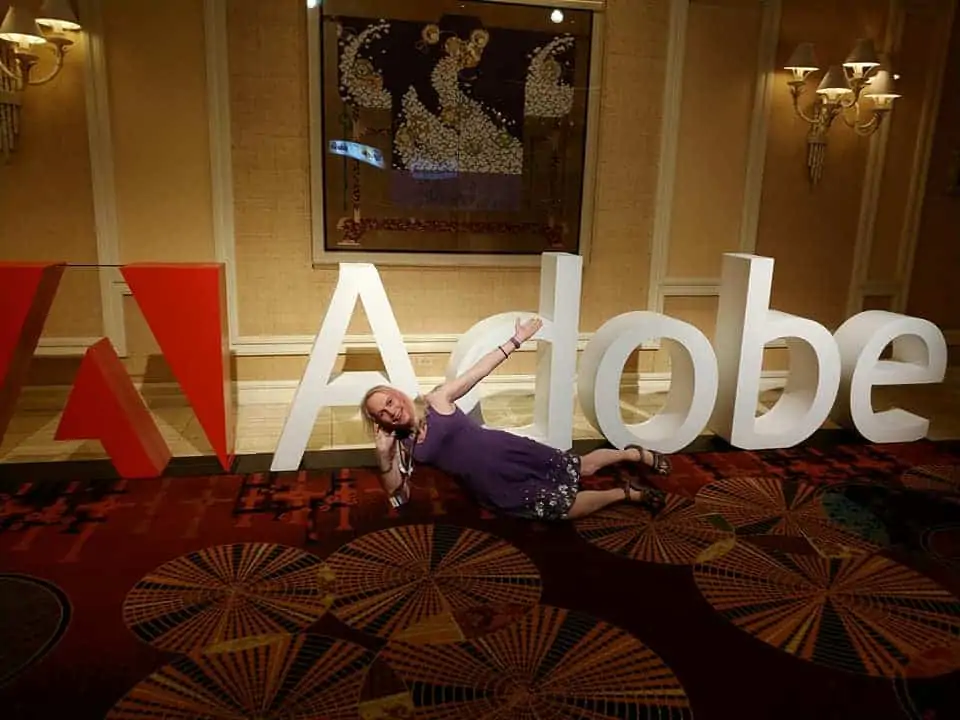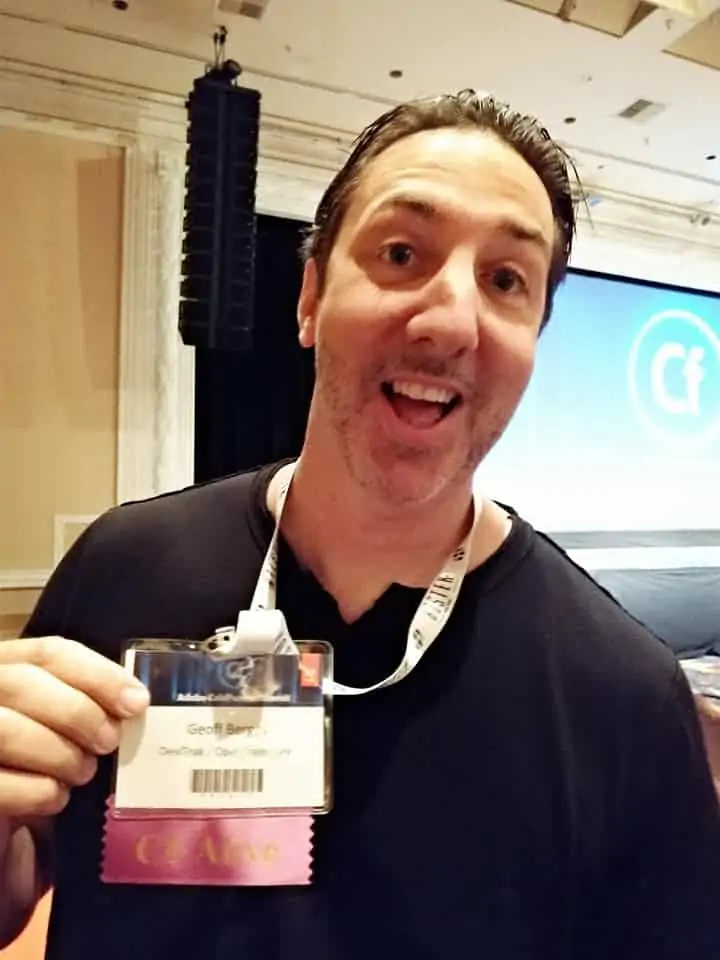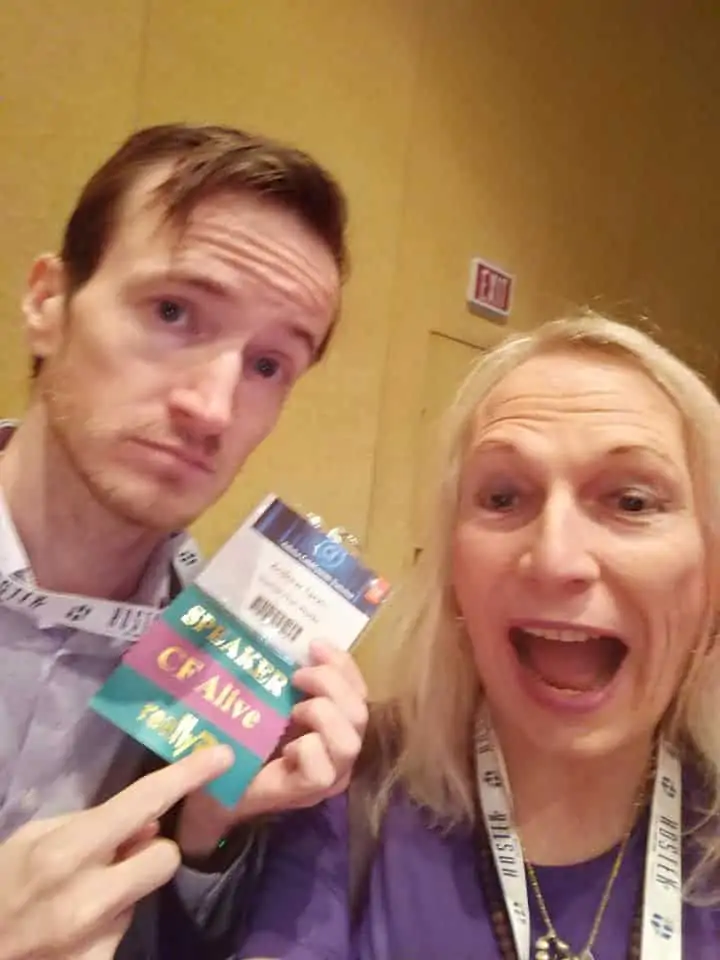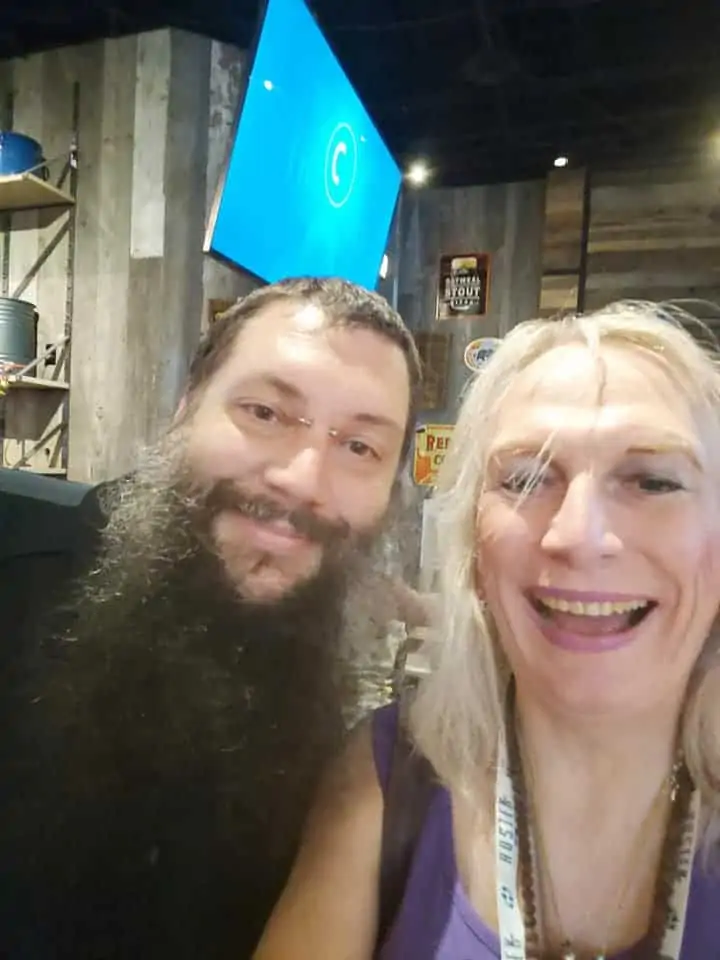 Rakshith Naresh from Adobe talks about ColdFusion 2020 at CF Summit

Learn ColdFusion in a Week with Carl Von Stetten, Daniel Fredericks and Dave Ferguson at CF Summit
The Adobe Coldfusion Summit 2018
2018 was a very fruitful year for Adobe and ColdFusion. There were 3 conferences and they had an excellent response from the CFers.
Let's just wait and see what other CF gems Adobe will offer this and the coming year(s).
Join the CF Alive revolution
Discover how we can all make CF more alive, modern and secure this year. Join other ColdFusion developers and managers in the
CF Alive Inner Circle
today.
Get early access to the CF Alive book and videos
Be part of a new movement for improving CF's perception in the world.
Contribute to the CF Alive revolution
Connect with other CF developers and managers
There is no cost to membership.