In the State of CF Union Survey 2018 (Amazing Final Results & Analysis) I asked:
What aspects of CF are preventing you or your company from embracing CF?
The top concern, which was given by 72% of the participants, says that is is because CF is seen as dying/legacy.
I am committed to changing his perception in both the CF Alive book and the CF Alive podcast!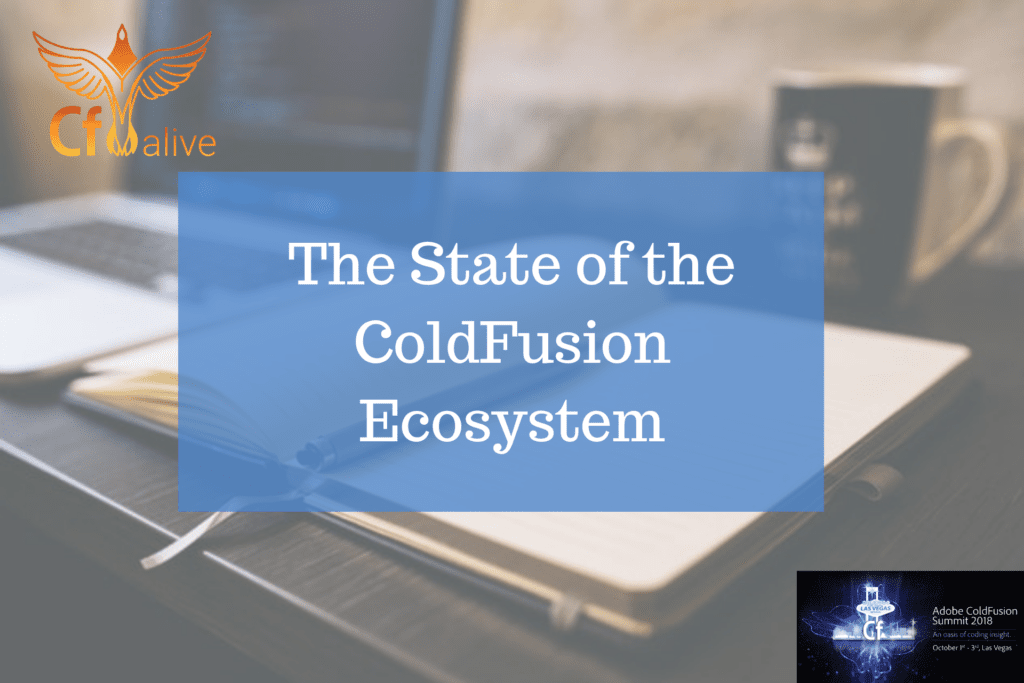 "Eric: What's it like being a new ColdFusion developer, versus many of the other people in the community who've been doing it for 10, 15 years? I only started programming about five years ago. When I got to my first job, ColdFusion was the language they had just started using. It was a brand new development team. All of us were pretty new at it. They had picked ColdFusion. I didn't know any better. I didn't know any different, I guess I should say. I started using it. It was our own, homegrown something. I'm not even gonna call it a framework. I know that my team listening would agree with that. There was a time where I got to the point developing on it that, I just wished that we had something else, because I could look into some other communities, and see all the tooling they had, all the packages, or modules that they had to share, and see how we were feeling like we were doing everything from scratch. It's just kind of the feeling like you hear ColdFusion is dying, and I remember subscribing to that belief. What changed-
Michaela: Well wait a minute, you didn't start it until after it had been dying for five years according to some bloggers, which is pretty ridiculous" – Eric Peterson, CFML and Javascript developer at O.C. Tanner in Salt Lake City, Utah in the CF Alive podcast episode "023 Modules Make Your Projects Have Superpowers, with Eric Peterson"
Adobe (and its predecessors) have been releasing updated versions of ColdFusion for the last 23 years, constantly adding new features and making sure that coding is faster and simpler with every new version. However, looking at a market share, it's not as popular as PHP, Java, ASP.NET, Ruby on Rails, Perl and Python.
It has gone through a lot of changes, and it has a lot of history. Some might say that's a bad thing, but I think that it is tried and trusted. It has proven to be a quality language to use for rapid application development. It has gotten to be easier and easier to use it. Everything is just a few tags away.
My vision:
We are confidently coding easy to maintain apps in CF. Enlivened by using a tried and trusted language. Unleashing the full efficiency of using ColdFusion in our work. We inspire other developers and young programmers to explore the power of CF.
Meanwhile, let's deconstruct the whole CF is dying myth.
Join the CF Alive revolution
Discover how we can all make CF more alive, modern and secure this year. Join other ColdFusion developers and managers in the
CF Alive Inner Circle
today.
Get early access to the CF Alive book and videos
Be part of a new movement for improving CF's perception in the world.
Contribute to the CF Alive revolution
Connect with other CF developers and managers
There is no cost to membership.