Raymond Camden talks about "Kick Your Server to the Curb and Go Serverless" in this episode of ColdFusion Alive Podcast, with host Michaela Light. Raymond is a developer advocate for IBM. His work focuses on LoopBack, API Connect, serverless, hybrid mobile development, Node.js, HTML5, and web standards in general. He's a published author and presents at conferences and user groups on a variety of topics.
"I look at my history of building websites of ColdFusion, and I see a lot of cases where I could have, and not all the time, but I could have replaced it with something a little bit simpler, like Serverless." – Raymond Camden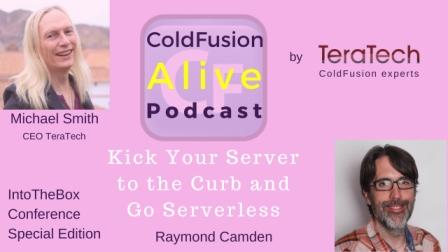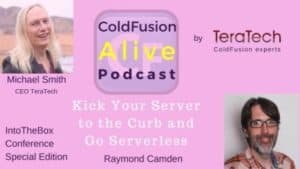 Episode highlights
Mentioned in this episode
Speaker details
Raymond is one of the speakers for the upcoming Into The Box  ColdFusion Conference, where he will talk about going Serverless.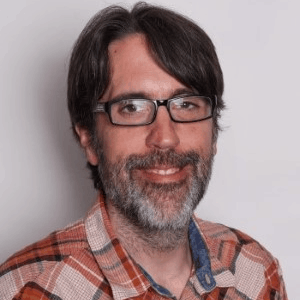 Links
Interview transcript
Michaela Light:                 Welcome back to The Box interviews. I'm here with Ray Camden, developer advocate for IBM, and a long time fan of ColdFusion, and he's speaking on, what are you speaking on, Ray? It sounded like a very interesting topic about OpenWhisk.
Raymond Camden:          Yeah. So I'm speaking about Serverless with Apache OpenWhisk, which is a project that IBM is heavily involved with, as well.
Michaela Light:                  And for those who haven't understood what OpenWhisk is, because it sounds like, from what I've read, it could do a number of things. Some of which are incredibly powerful. Ray, what exactly is it?
Raymond Camden:          Let me back up and talk about Serverless first, because I kind of avoided the topic for a while myself, because I knew the name was kind of stupid, and even more so than My Cloud, you know, Serverless, I knew, was the exact opposite, unless they were running on imaginary numbers, or something, but the best way to think of it is function as a service.
[contentoptin]