Executive Summary: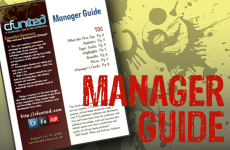 Why send your developers to CFUnited?
Give your company a competitive advantage by equipping your team with a wide range of new concepts, skills, techniques and best practices.

Arm your company with the knowledge and experience of the industry's top experts.

Avoid project disasters by making your team aware of what's available, what's hot, and what's not.

Build a free support network for your team by providing them with industry contacts and resources.

Improve team productivity and dramatically improve developer moral to boot.
During a recession it is the smart manager who makes calculated investments to get ahead of the competition. Bring valuable insight and knowledge in-house by investing in your development team today.
Table of Contents:
What the Pros Say

Statistics

Topic Tracks

Highlights

Benefits

Prices

Manager's Credo
To find out more please visit: cfunited.com/images/CFUnited2009_managerguide.pdf