CF Alive: Making ColdFusion Modern, Vibrant and Secure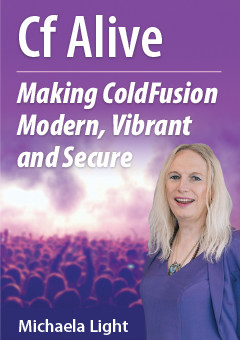 ColdFusion is a vibrant and modern language for complex, data-driven enterprise apps. While some companies have abandoned CF as dying, more farsighted dev teams have embraced CF. Learn how they are making it the most modern, secure and state-of-the-art web development ecosystem. Bar none.
The CF Alive Inner Circle is for ColdFusion developers and managers who want to be part of making CFML more alive, modern and secure this year.
Get early book access
Help with the CF Alive revolution
About the autor
Michaela Light is the host of the CF Alive Podcast and has interviewed more than 60 ColdFusion experts. In each interview, she asks "What Would It Take to make CF more alive this year?" The answers inspired this book.
Michaela has been programming in ColdFusion for more than 20 years. She founded TeraTech in 1989. The company specializes in ColdFusion application development, security and optimization. She founded the CFUnited Conference and runs the annual State of the CF Union survey.