Are you ready for Into The Box 2018 conference?
Some good news for everyone- for all of you non-early birds, guys from Ortus Solutions are offering you a late bird discount for the tickets.
You can grab 'em here
Only 28 days are left to the conference and we have heard that almost all the tickets are gone. Not too many rooms left in the hotel either.
Workshops
Workshop Coldbox 0-Hero has officially been filled. In this workshop by Gavin Pickin you will be introduced to the latest version of the most popular CFML MVC framework;
ColdBox 5. Learn more about the basics of installation, templating and configuration to the most advanced features like HMVC development with modules, RESTFul APIs, interception points and much more.
You still have time to make it to the other 3 workshops. Hurry up!
CommandBox DeepDive
Mr. Brad Wood will take you through the basics of using CommandBox CLI in your everyday workflow. Also, the focus will be on topics like managing servers, package management, and scripting command line tasks using CFML and Task Runners. Brad will cover extending the CommandBox core with modules to add your own behaviours.
More about the workshop here
BDD with TestBox
Luis Majano  will help you nderstand all types of testing and know when to apply them.
Review tools of the trade.

Implement TDD, BDD and CI (Continuous Integration).

Everything you wanted to know about the TestBox Framework.

Understand Mocking/Stubbing and its applications via MockBox.

Apply testing to your ColdBox Applications (Optional).
Wow. See you there with Luis! You can learn more about the workshop here
Containerizing CFML Apps
Did anyone say containers?
Jon Clause will introduce you to the magical work of Docker containers and how to deploy your
ColdFusion (CFML) apps to docker swarms and or many orchestration services. Get ready to take your applications to Container Land!
Want to know more about this workshop?
Foundeo will be giving a lunchtime session that you won't want to miss on April 27th!
See you at Into The Box 2018!
And to continue learning how to make your ColdFusion apps more modern and alive, I encourage you to download our free ColdFusion Alive Best Practices Checklist.
Because… perhaps you are responsible for a mission-critical or revenue-generating CF application that you don't trust 100%, where implementing new features is a painful ad-hoc process with slow turnaround even for simple requests.
What if you have no contingency plan for a sudden developer departure or a server outage? Perhaps every time a new freelancer works on your site, something breaks. Or your application availability, security, and reliability are poor.
And if you are depending on ColdFusion for your job, then you can't afford to let your CF development methods die on the vine.
You're making a high-stakes bet that everything is going to be OK using the same old app creation ways in that one language — forever.
All it would take is for your fellow CF developer to quit or for your CIO to decide to leave the (falsely) perceived sinking ship of CFML and you could lose everything—your project, your hard-won CF skills, and possibly even your job.
Luckily, there are a number of simple, logical steps you can take now to protect yourself from these obvious risks.
No Brainer ColdFusion Best Practices to Ensure You Thrive No Matter What Happens Next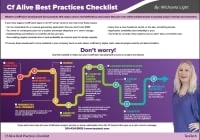 ColdFusion Alive Best Practices Checklist
Modern ColdFusion development best practices that reduce stress, inefficiency, project lifecycle costs while simultaneously increasing project velocity and innovation.
√ Easily create a consistent server architecture across development, testing, and production
√ A modern test environment to prevent bugs from spreading
√ Automated continuous integration tools that work well with CF
√ A portable development environment baked into your codebase… for free!
Learn about these and many more strategies in our free ColdFusion Alive Best Practices Checklist.