We are now less than 20 days away from the Into The Box 2018 conference.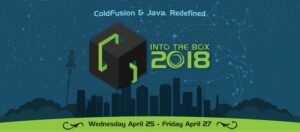 Did you reserve your seat? Now would be a good time to do that because there are only 15 tickets left, and you might stay outside (Hyatt hotel in Houston, Texas).
Hurry up and reserve the tickets here
You can take a more detailed look at all of the #sessions and workshops. For more information on event details view the Into the Box webpage
Speaker Highlights
Jon Clausen
Jon Clausen founded Silo, a full-stack development and technology consulting firm and has prolific career in CFML programming.
Brad Wood
Brad Wood has been programming ColdFusion for 12 years and has 5 sessions at this years Into The Box!
Raymond Camden
Raymond Camden is a senior developer advocate for Auth0 Extend. His work focuses on Extend, serverless, and the web in general.
See you at Into The Box 2018!
Into The Box 2018 Sponsors